Learn how to make a Stir Fry at home in less time than it takes to get a takeaway – and save money as well. The stir fry is quick, tasty and healthy as well as being easily customised to suit ingredients you may have on hand. Jamie from Drive Me Hungry has shared her Stir-Frying Tips for Success!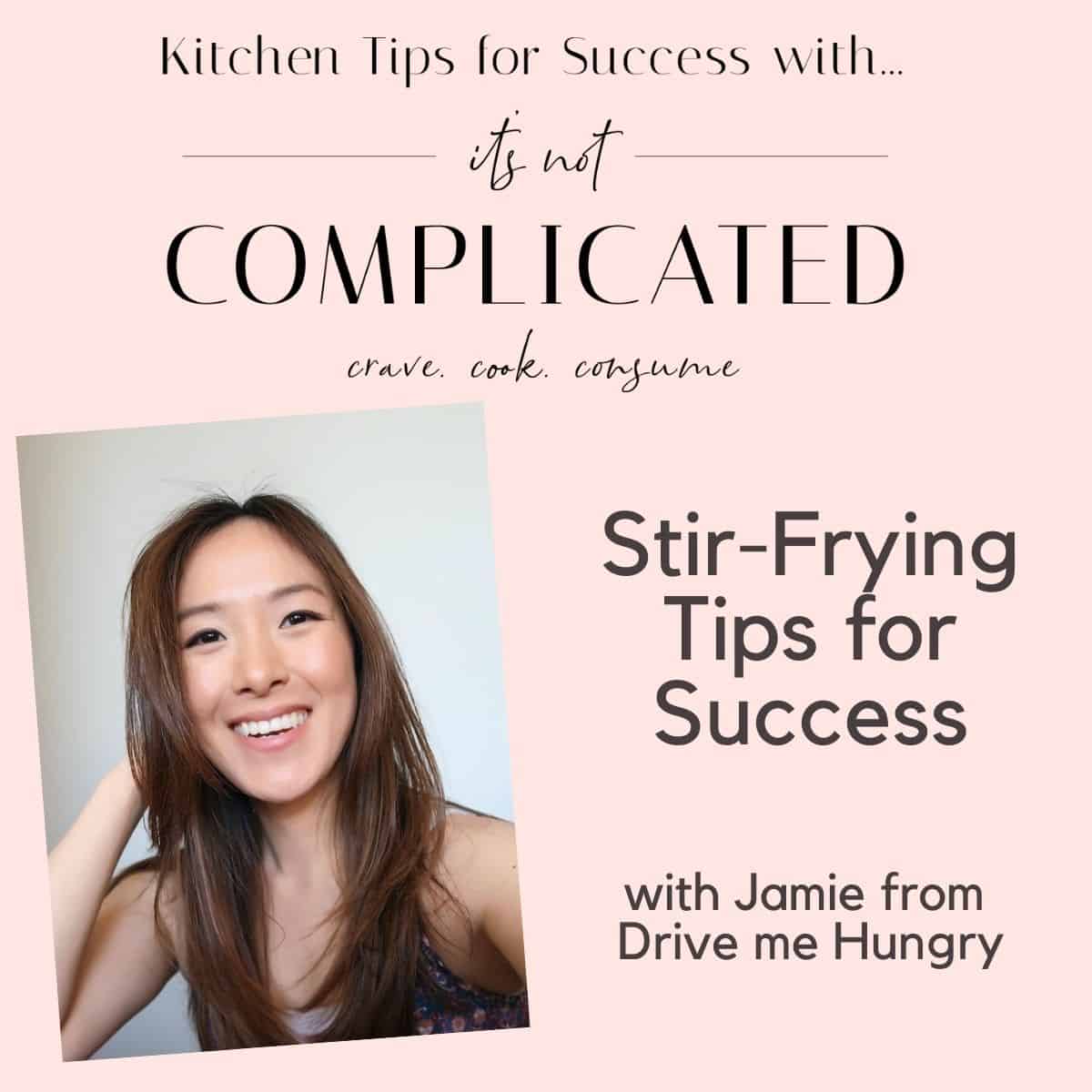 Stir fried food is popular across the world. As well as being quick and easy, it is a healthy way to prepare food. The cooked vegetables are deliciously crisp-tender and retain more nutrients due to their short cooking time. Further, the stir-frying technique uses just a small amount of oil so the fat content of the meal is low.
It is also an economical way to cook. Making a Stir Fry is a great way to make a piece of meat go further; use just a small amount and bulk up the dish with colourful, nutritious vegetables. It is also a great way to use odds and ends in your crisper.
Once you master the technique of Stir Frying at home, this ancient cooking method will become a regular addition to your meal planning. Stir fries are perfect for busy weeknights; they're quick to prepare whilst also providing a nutritious meal in one wok/pan.
If you are serving rice, have it ready to serve when the Stir Fry is done. I find that a rice cooker is a handy kitchen appliance; it's one less pot on the stove, the rice cooks by itself and it stays warm.
If you like to prepare healthy and tasty meals in a short time, the ancient technique of Stir-Frying is for you. Once you learn the basics, you can prepare numerous meals and dinner need never again be boring. To help you perfect the art of Stir-Frying, I spoke with Jamie from Drive Me Hungry, who has shared her top tips.
Have everything prepped beforehand:
Stir frying is all about quick and easy meals that are simple to make but don't lack in flavor.
The first step in making a great stir fry is to have all your ingredients prepped beforehand.
Once you get started, things move very fast and it's important to have all your ingredients ready to go. I try to wash, peel, and chop my vegetables in bulk so that I have enough prepped to make a few stir frys throughout the week. It's a great way to streamline the process so all that's left is the actual cooking.
Marinate the meat:
Marinating the meat is a great way to tenderize and flavor your meat! Since the meat is cut into small pieces, you don't need to marinate it for too long – even 15 minutes makes a difference!
I usually add chicken in my stir frys because it's accessible, easy, and lends well to marinades but you can use any protein you'd like – beef, shrimp, or pork! I like to marinate the meat while I'm prepping my other ingredients. Usually by the time I'm done, the meat has absorbed the marinade and it's ready to cook.
Cooking temperature:
Stir frys are always cooked over high heat. It's all about cooking things fast so that nothing gets soggy or overcooked. Your vegetables will stay crisp and your meat will stay juicy and tender.
I always make sure I can hear the sizzle of the pan when adding the ingredients. If you're not sure if your pan is hot enough, test it out by adding a small piece of meat or vegetable. If you don't immediately hear the sizzle, the pan's not hot enough and you should wait another minute.
But be careful when adding ingredients or sauces with a lot of sugar. Sugar burns easily and quickly so you may want to add those ingredients later or turn down the heat.
The cooking oil I recommend is avocado oil but you can use peanut oil, canola oil, or sunflower oil. Stick with oils that have a high smoke point since stir frying is done at a high temperature.
The Cooking Order:
I always cook my meat first and then take it out to cook the vegetables. This ensures your meat doesn't overcook and your pan isn't crowded with too many ingredients. The vegetables also pick up the flavor left from cooking the meat.
Most vegetables can be added at once if they are cut into even-sized pieces. Leave leafy greens for last. If you prefer larger pieces of vegetables, such as broccoli or carrots, I recommend blanching them first in water and draining them well.
Keep things moving:
You want to constantly move your ingredients around when stir frying because of the high heat you're using. This prevents burning and ensures even cooking. A tip is to use a cooking utensil that's able to handle high heat and allows you to toss the ingredients together. Since all the ingredients are cut into small pieces, you want to be careful that there are no hot spots to prevent burning.
Also avoid adding too many ingredients to your wok or pan. This makes sure everything is heated thoroughly without lowering the temperature inside your wok.
I recommend using a deep wok or pan because it prevents food from spilling over while you cook and the high sides allow you to easily toss your ingredients with a flip of the wrist.
Flavor:
A good rule of thumb when making stir frys is to always add soy sauce, garlic, and ginger. These three flavors are the base of any good stir fry.
Avoid adding the garlic and ginger at the beginning as they can end up burning, giving your stir fry a bitter taste. Reserve the garlic and ginger for halfway through or add them in with your soy sauce.
Another technique is to flavor your oil with garlic and ginger. Lightly fry minced garlic and ginger in a pan over medium heat. Once the garlic and ginger turn a golden brown, remove them and use that flavored oil in your stir fry.
Recipes to try:
Hello! I'm Jamie and I started Drive Me Hungry because I wanted to share quick and easy Asian recipes that you can make at home. My style of cooking is using fresh ingredients and combining them with Asian flavors to make homemade versions of your favorite takeout food. When I'm not in the kitchen, I'm usually outside with my dog or learning a new hobby.
It's Not Complicated Favourites:
Don't forget to check out our other Kitchen Tips for Success: