When researching food waste, I was shocked to learn that one-third of all food produced is lost or wasted. And approximately one-third of that wasted food is thrown out by households, supermarkets or shops. Much of the food that is thrown away is still fit for consumption. To learn more about tips for reducing food waste, I spoke with Courtney from Love & Good Stuff. Read on for her fantastic tips and suggestions!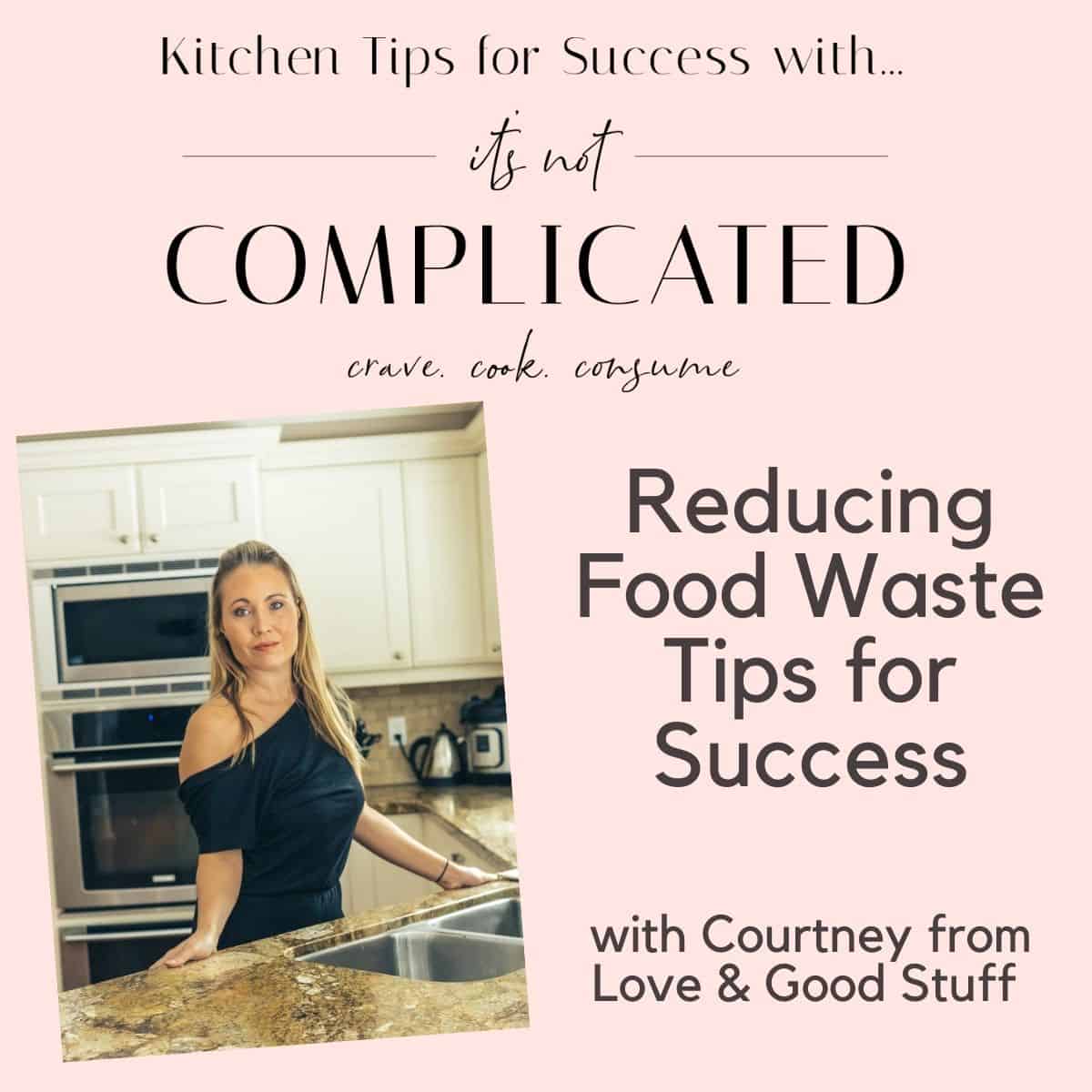 When I first started Kitchen Tips for Success, I asked my readers what they would like to see. A lot of the responses I received were to do with mastering food skills, but many wanted to know how to reduce food waste.
Food waste is a serious issue and has a significant impact on the environment and global economy. I hope that you are as keen as I am to discover ways to reduce this waste.
One of the practices that I have implemented is to buy some of the "ugly" foods which many supermarkets stock. These are foods that are mis-shapen, too small or too large to meet the cosmetic requirements of most supermarkets. If we don't buy these foods, the growers will not be able to sell their produce and the food will be wasted. As an added bonus, such foods are generally cheaper than the "perfect" specimens.
A simple way to reduce waste is to have a rotation plan for your foodstuffs. It's so simple. When you're unpacking your groceries, move the older items to the front of your store-cupboard/freezer/refrigerator so they are used before the newer items.
Another great idea is to dedicate one night each week when you make a meal using what you have on hand and needs to be used first. Pots of soup are a great way to empty the crisper.
Over to Courtney for her fantastic tips!
What are your top tips for reducing food waste?
1. Plan your meals weekly and only shop for what you need.
I plan our meals every week and only buy what we need and know we are going to eat. Knowing what we are planning to eat, and how much of each ingredient I need, keeps me from buying too much food – some of that inevitably will end up in the bin.
Also, before you plan your meals shop your cupboards first. Plan your meals around things that you already have and will need to use up. This also helps to keep the food budget down!
When you're out shopping, don't get sucked into buying extra food just because it's on sale unless it's shelf stable and you know you're going to eat it at some point. Stick to your list and avoid buying in bulk unless you truly need that amount.
If you like to take a night off cooking and order in, consider that in your meal planning as well.
2. Store food properly
Storing your food properly prevents it from spoiling early. Meats go in the freezer straight away if they are not being eaten the next day. I take them out to thaw the night before we plan to use them. Keep opened packages of things like cheese tightly wrapped after opening so it doesn't dry out creating food waste. For leafy greens and fresh herbs, I have plastic airtight containers for them, with a little grate on the bottom for storage. The grate keeps the greens off of any condensation that forms which is what causes rot. Using containers like these have extended the shelf life for these foods to over a week or more for me.
3. Freeze or repurpose leftovers
If I have enough of something leftover, and I know we won't eat it in the next couple of days, I'll pop it into the freezer to take out at a later time.
If any little odds and ends pile up after a few days of meals, they are perfect for throwing into a quiche. Any combination of leftover meats and veggies and cheese are great for this. Repurposing into salads and pasta is also a great way to use up tiny odds and ends.
4. Save your scraps
Whenever I have leftover bits of celery, onion or carrot (think of the tops and bottoms you cut off) I pack those away into a freezer bag for making stock later, and also throw stems from parsley and other herbs into the bag. I have another freezer bag where I store bones from any roasts or steaks we've eaten. When the bags are full, I will throw the bones along with some veggies, into my Instant Pot and make a stock which I then use to make soup.
5. Compost
Hopefully following some of the above tips will help you reduce food waste overall, but there are always pieces of food that we won't be eating. We are religious composters, and anything compostable that we will not be using goes into the compost bin to be recycled.
If you have a composting program where you live, you should be taking full advantage to use it to divert as much food waste from landfills as possible.
6. Feed wildlife
Because we live in a cold climate, and food is scarce for wild animals through the winter months, when the snow hits, some of the food scraps that we would put in the compost bin get put out in the yard for the animals. We have lots of rabbits and other small animals that frequent our yard and they are always grateful to find a meal of broccoli stems or carrot shavings lying around.
What prompted you to start thinking about ways to reduce food waste?
When I was a young single mom I was concerned about my grocery budget and reducing food waste was a good way to help keep that budget under control.
I'm at a different stage of my life now, but reducing food waste is still a big concern for me. I love watching documentaries, and although I can't remember which ones I watched at this time, I saw a couple that really opened my eyes to just how much food is wasted on a yearly basis and the impact of wasted food.
Wasted food is an issue on so many levels: at the household level it is a personal budget concern, and on a national and world level it is a waste of natural and human resources both in producing the food and then disposing of it as waste, and it's also an environmental concern.
Reducing your food waste is one way that you can not only lighten your food budget but also, on an individual level, make an impact on lightening the load on landfills and help conserve world resources.
Courtney is the recipe developer and photographer behind Love & Good Stuff. She has always been obsessed with eating great food and believes that anyone can eat restaurant quality meals at home. Her goal is to share delicious yet approachable recipes that highlight fresh ingredients. As both a lover of travel and an occasional vegetarian, her recipes reflect her love of world cuisines with a healthy dose of meatless meals.
It's Not Complicated Favourites:
Roast Chicken – perfect for a great meal and one that provides delicious leftovers with many uses!
Roasted Cherry Tomatoes – gives tomatoes great flavour, and can be used in salads, soups, pasta dishes and more!
Broccoli Stem Slaw – never throw your stems out again! This is a delicious salad which makes great use of the stems – an often discarded part of the broccoli.
Don't forget to check out our other Kitchen Tips for Success: