When life gives you lemons, I like to make my Gluten-Free Belgian Lemon Tea Cake. It is a simple, easily made cake which is likely to become one of your favourites. It has a sweet, crispy crust which perfectly contrasts, yet complements, the luscious richness of the lemon curd filling. And I don't know of many people who could resist that combination of flavour and texture. As the name implies, this lovely lemon cake is ideal for afternoon tea. However, it is equally delicious served with whipped cream as a dessert.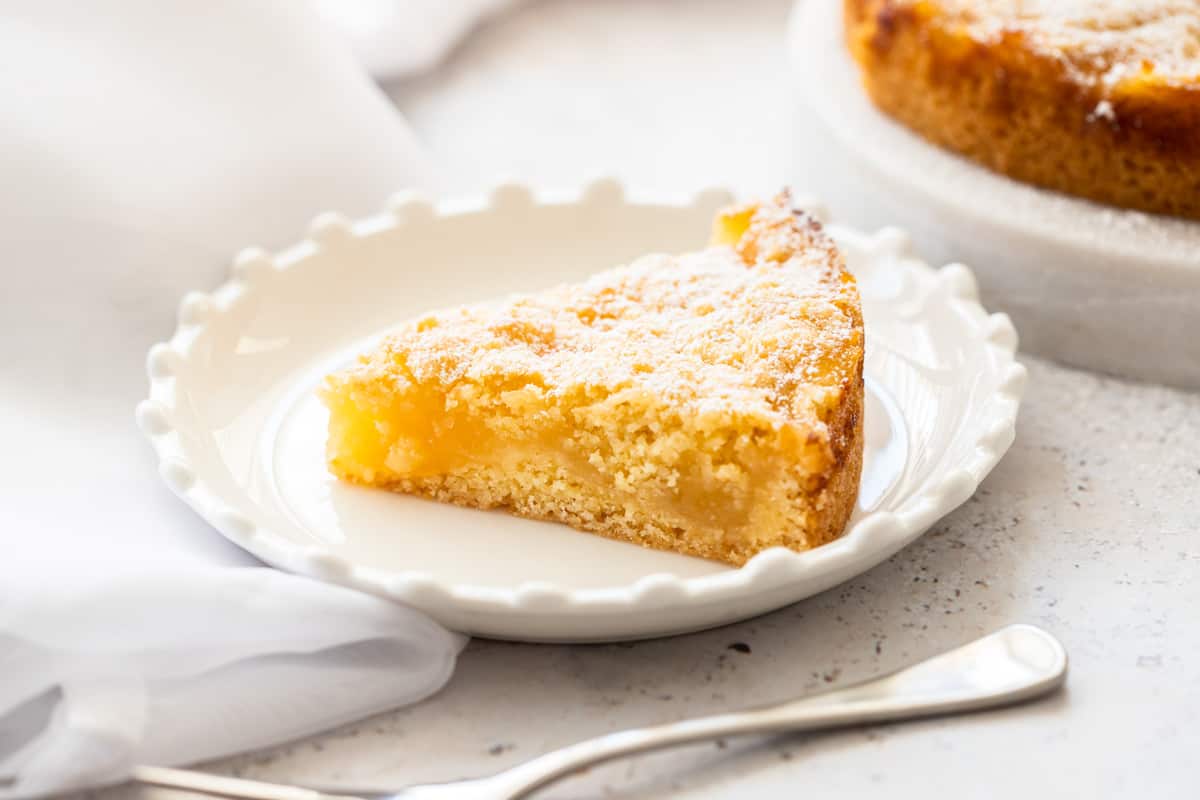 Jump to:
Inspiration for this Gluten-Free Lemon Cake:
This tea cake is the result of a wonderful gift from my friend, Barbara. Barbara has a beautiful Meyer lemon tree which produces a generous bounty of fruit.
We have been the grateful recipients of a large bag of this beautiful produce and have had a great deal of fun considering how we will use the fruit.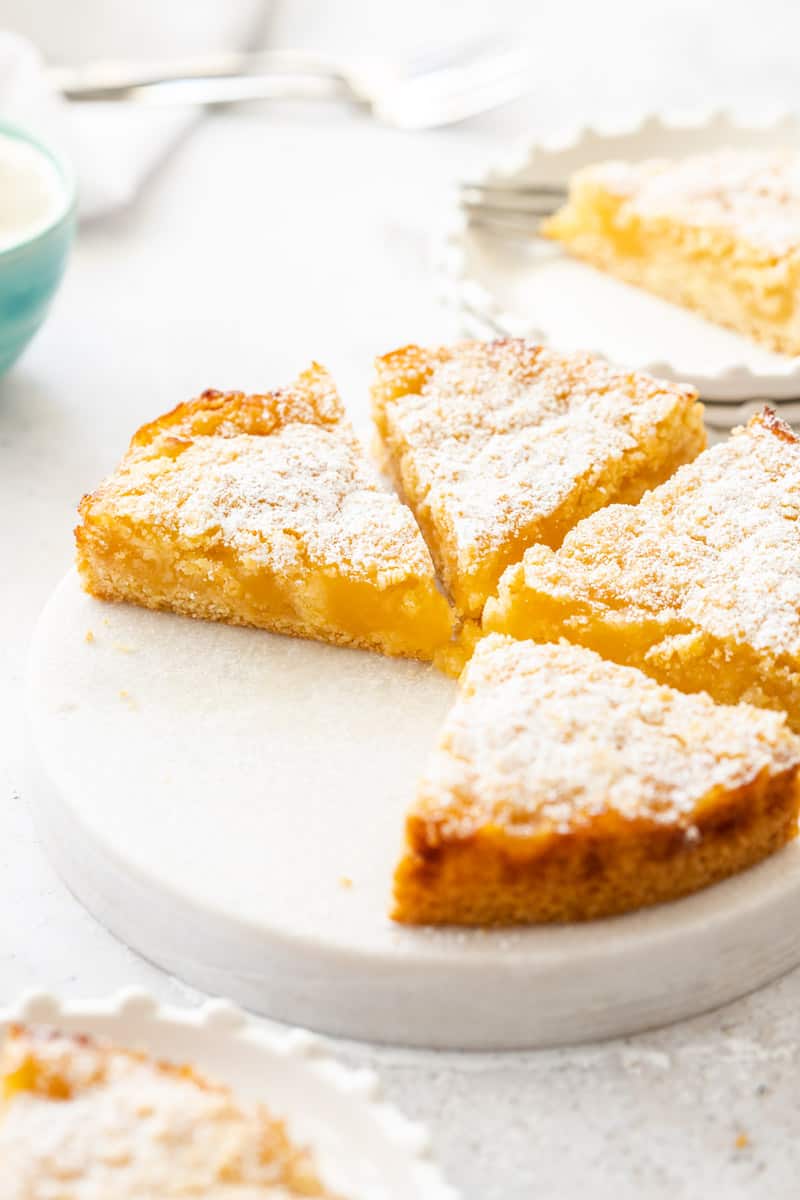 About the Meyer Lemon:
This beautiful citrus is thought to be a cross between a regular lemon and an orange or mandarine. Compared with other varieties, it is a sweeter lemon with a smooth, thin skin that turns yellow-orange when ripe.
The main crop of fruit is produced during late autumn to winter but in some areas, the variety will crop continuously throughout the year. It is more cold tolerant than regular varieties.
These golden droplets of sunshine are moderately acidic and produce a generous amount of juice. They may be substituted for other lemon varieties whenever you want the brightness of lemon flavour without the bite of acidity.
There are so many uses for this wonderful fruit. I use them in sweet or savoury dishes and, for me, a little of their zest or a squeeze of juice enhances the flavour of many dishes.
It is difficult to describe the flavour of their juice. To me, it tastes a little like sour lemon juice combined with the juice of a sweet orange.
Unlike other varieties of lemons, their higher amount of sweetness and lower acidity means that many people enjoy them raw. When cut into small cubes or very thinly sliced and added to salads they are a delicious accompaniment to roast chicken or seafood dishes.
The aesthetic pleasure they provide is a bonus; I have a bowl of this beautiful, aromatic fruit sitting on my kitchen bench. They brighten even the dullest day and immediately evoke a feeling of joy.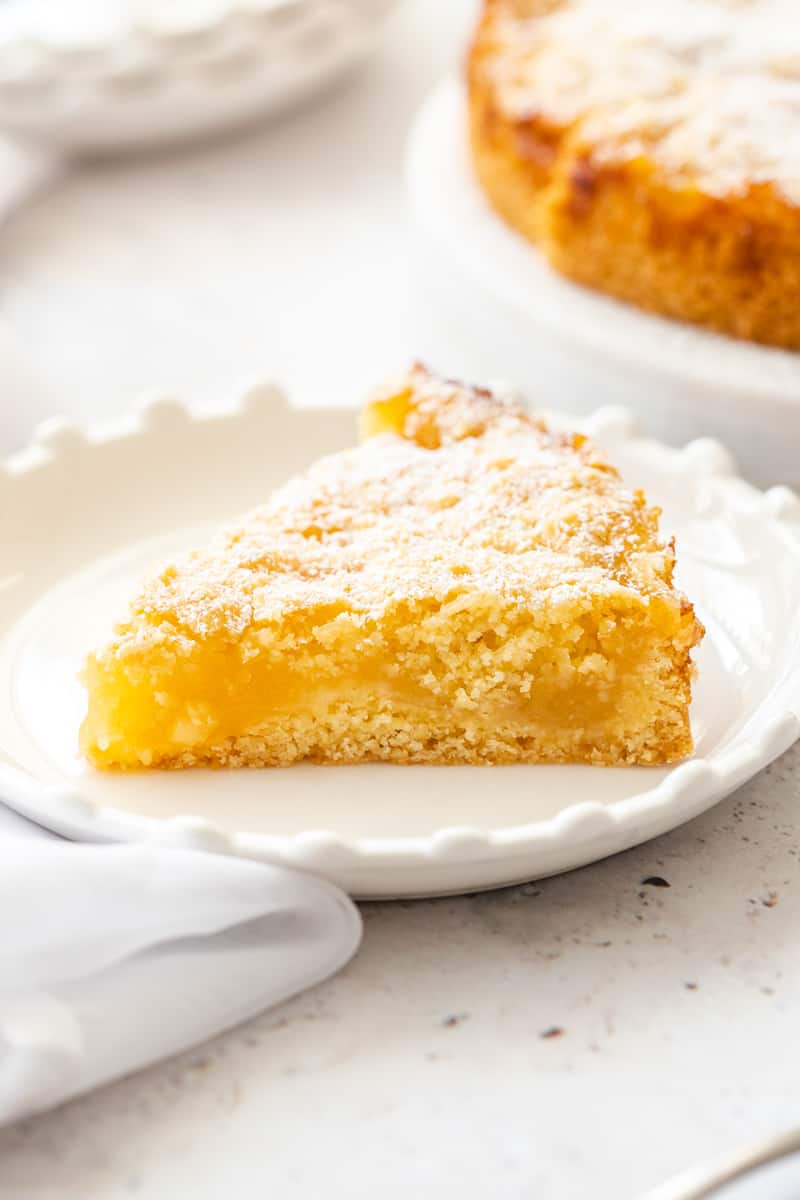 How to store Meyer lemons:
They will keep for a few days at room temperature; I love to put them into a bowl and enjoy their beauty for a short time. However, this is not the ideal way to keep them.
For longer storage, they will keep up to a month in the refrigerator, provided they are well sealed in a plastic bag. They will not last as long if placed directly into the crisper drawer.
When I have a plentiful supply of lemons I like to freeze the juice in ice cube trays. When frozen, I transfer the cubes to a zip-lock bag or an airtight container which is suitable for the freezer. The juice can be frozen for up to six months but will retain the best flavour up to four months. I then have a supply of juice to use when lemons are not so readily available.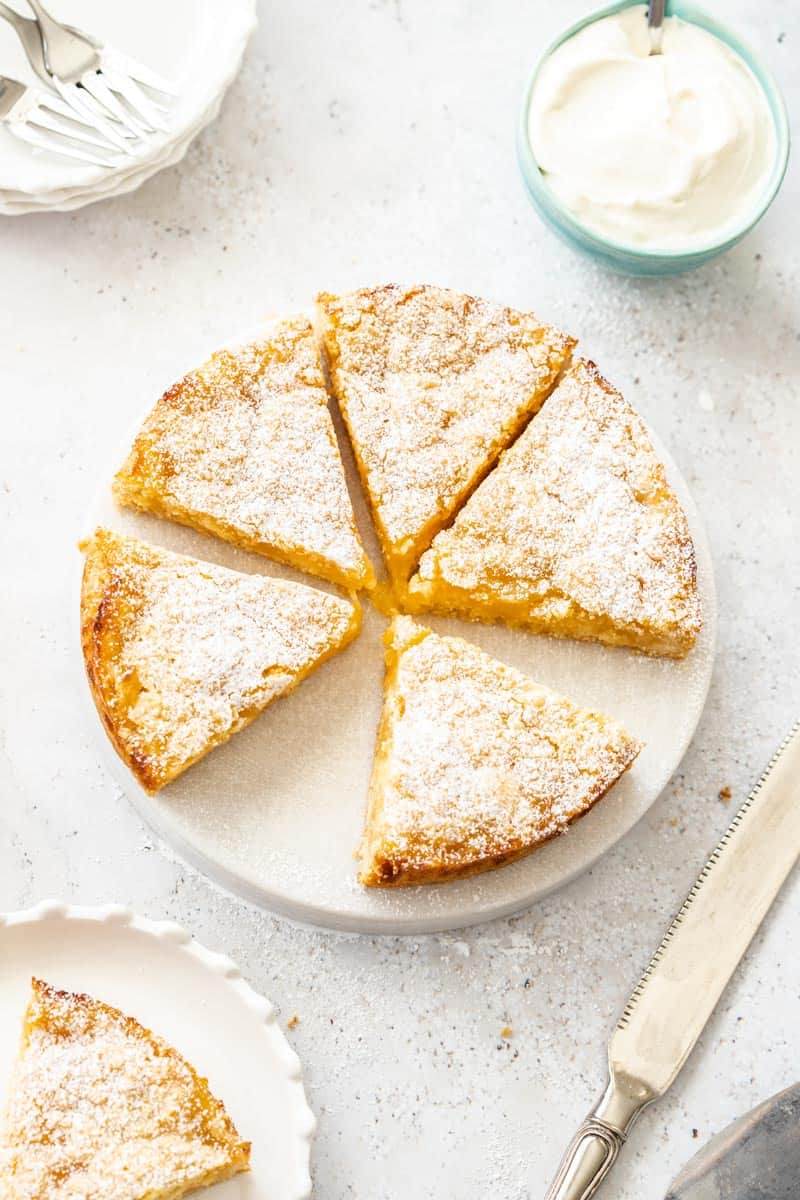 Why We Love This Recipe:
It is Gluten-Free, so suitable for more dietary requirements;
It is so simple – it may look impressive, but it couldn't be easier to prepare;
The base of the cake and the crumble like topping is made from the same mixture – we use two thirds for the base, and crumble the remaining on top;
The bright, lemon filling just reminds us of sunshine!
The cake is crumbly with crunchy edges and a rich, creamy, tangy, lemon curd filling. It is a wonderful combination of flavour and contrasting textures.
Ingredients in this recipe:
Please see the recipe card further along in the post for exact quantities of ingredients and the full method.
Gluten-Free Self-Raising Flour:
Gluten-free self-raising flour is made from a blend of naturally occurring gluten-free flours along with the addition of a raising agent.
These days there is a large range of commercially produced gluten-free flours available. They will have varied ingredients. You may need to try one or two brands before settling on one which you prefer.
Caster/superfine sugar:
The most obvious role of sugar in baking is the sweetness that it provides.
But that is not the only role that it plays. Sugar is hygroscopic which means that it holds onto moisture. This characteristic means that it tenderises baked goods and keeps them fresher for longer.
In addition, when sugar is heated, it caramelises which encourages the browning of baked goods. Further, it assists in producing the delicious crunch on the crusts of cakes and cookies.
Butter:
Butter is an important ingredient in many baked goods. One of the ways it provides benefit is the rich flavour which it adds.
It also assists in raising or leavening. Further, it benefits texture by adding moisture and making the baked goods tender.
Eggs:
Eggs have an important role in many baked goods. The protein content of eggs assists in binding together baked goods, thereby adding strength and structure.
They also have high water content and therefore assist with raising or leavening. This occurs when heat causes the moisture in the egg to produce steam, thereby lightening the product.
The egg white comprises mostly water and a little protein. As a result, they are neutral in flavour.
On the other hand, egg yolks contain a high proportion of fat as well as protein and water. The high percentage of fat provides a tender texture and a rich flavour to baked goods. Also, the yolks add colour.
Lemon juice:
Lemon juice is a popular ingredient in baking. The bright tang of lemon adds flavour to sweet and savoury dishes alike.
Here, it is used to make a brightly flavoured, easily made, lemon curd. To me, it is essential to use freshly squeezed lemon juice; the flavour of the bottled variety does not favourably compare.
A top tip – if you are planning on using both the zest and the juice in a recipe, always remove the zest before halving and squeezing the lemon. Be sure to not remove any of the white pith as it is extremely bitter.
Icing/confectioners' sugar:
Icing/confectioners' sugar is a fine, powdered form of white sugar. It is mainly used to make icing or frosting for cakes. For this recipe, I use it as a dusting for my tea cake. However, this is optional.
If you should find that you don't have any icing/confectioners' sugar, you can make your own. Place granulated sugar in a blender and pulse until it's a fine powder.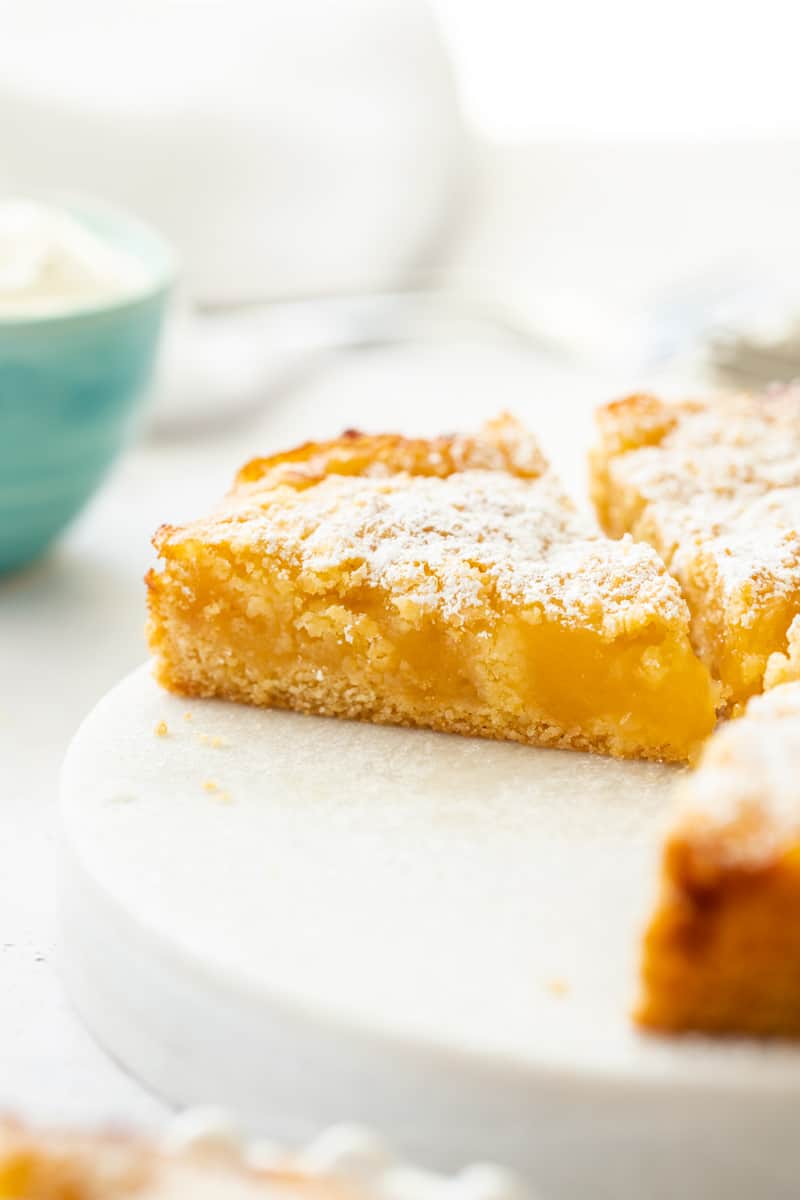 Step by Step Instructions:
The Gluten-Free Lemon Cake Cake has two parts, both of which are simply and easily made. There is the cake and the easily made lemon curd filling.
I begin by preparing the cake part in a food processor. The cake mixture actually is more like a pastry; it is not pourable as a traditional cake batter would be.
I add all the cake ingredients to the bowl of a food processor and whiz until the mixture just begins to come together. It should still be a little bit crumbly.
Next, I gently press two-thirds of the cake mixture into the base of a greased and lined spring-form tin. Then, I make the lemon curd. Don't be daunted by the thought of making lemon curd, it really is quite simple.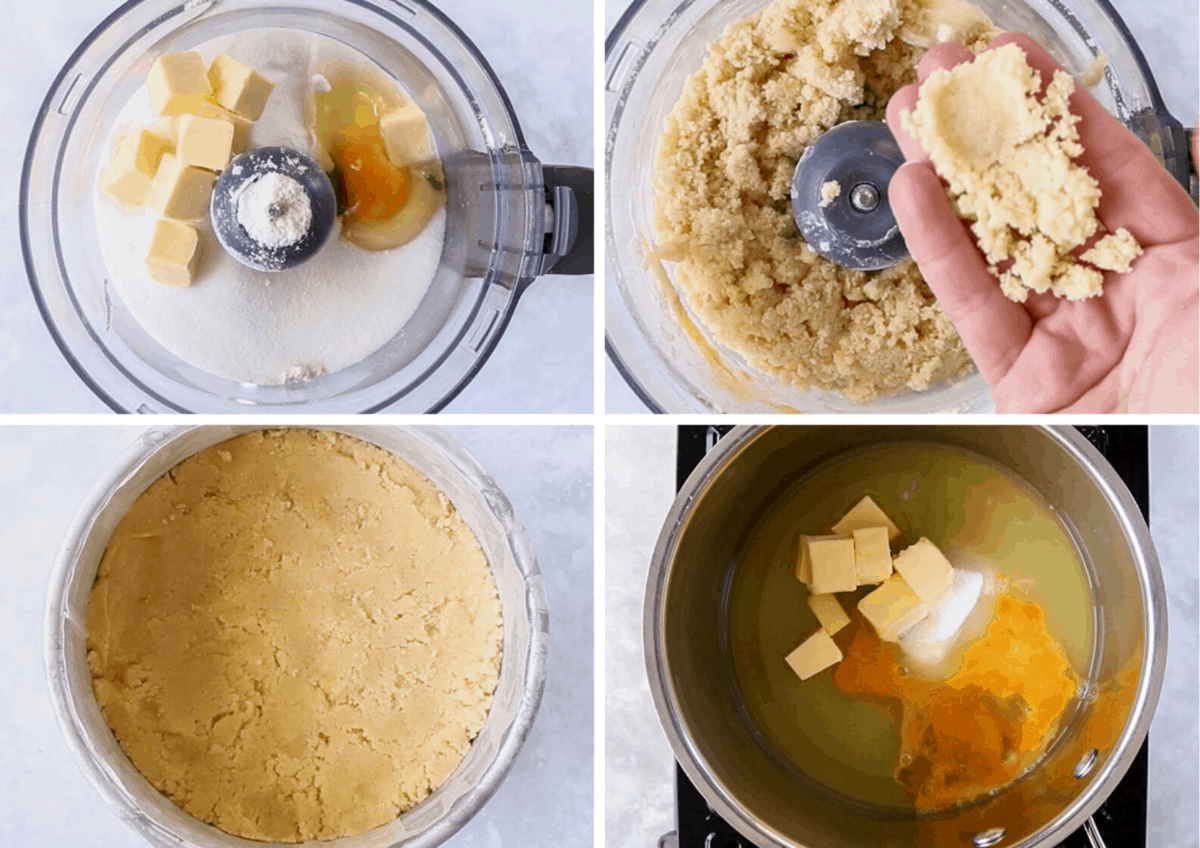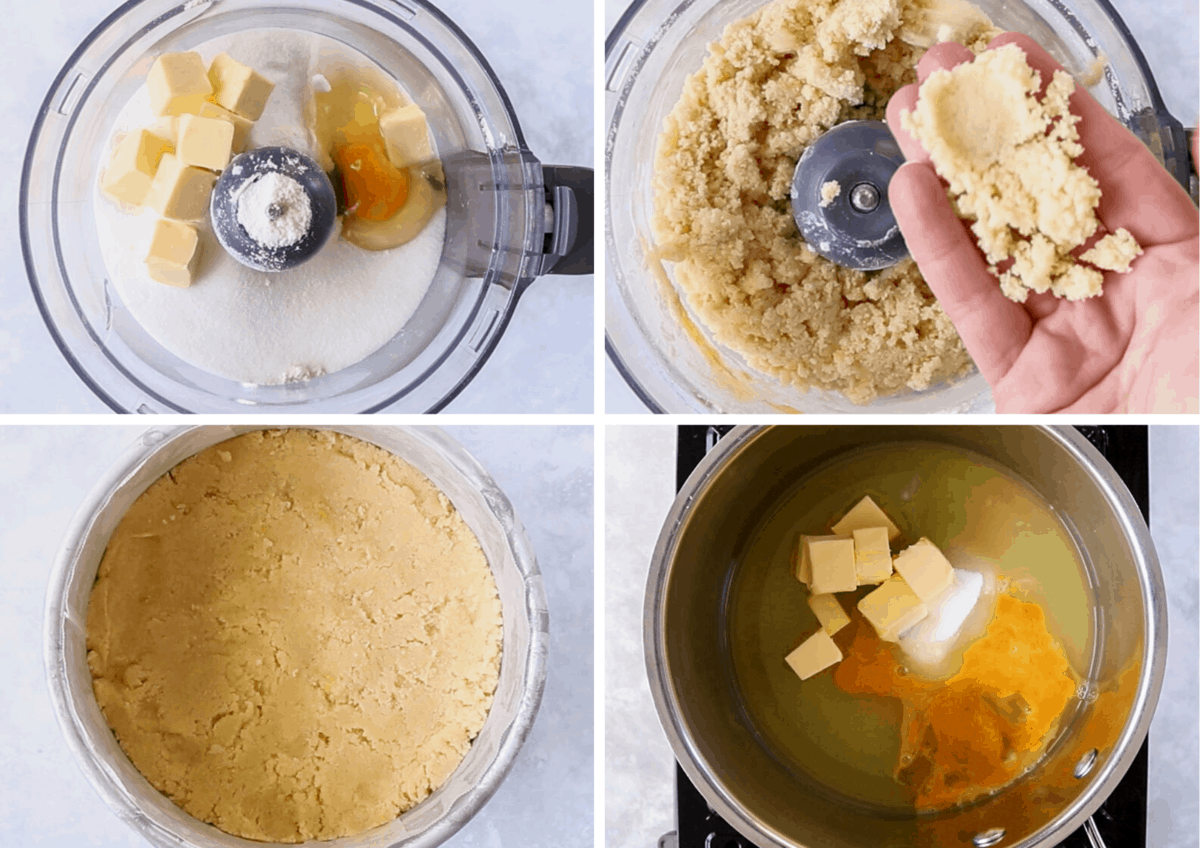 All the curd ingredients are added to a medium-size saucepan. They are stirred together over low heat until the butter has melted and the mixture begins to thicken. This is just below the boiling point. I add the hot lemon curd to the base.
Finally, I randomly crumble and place the remaining cake mixture over the top of the lemon filling.
I then bake the cake until golden-brown in a pre-heated 180C/350F oven for about 30 minutes. When baked, the sweet pastry on top of the tea cake spreads a little and covers the tangy, lemon curd filling.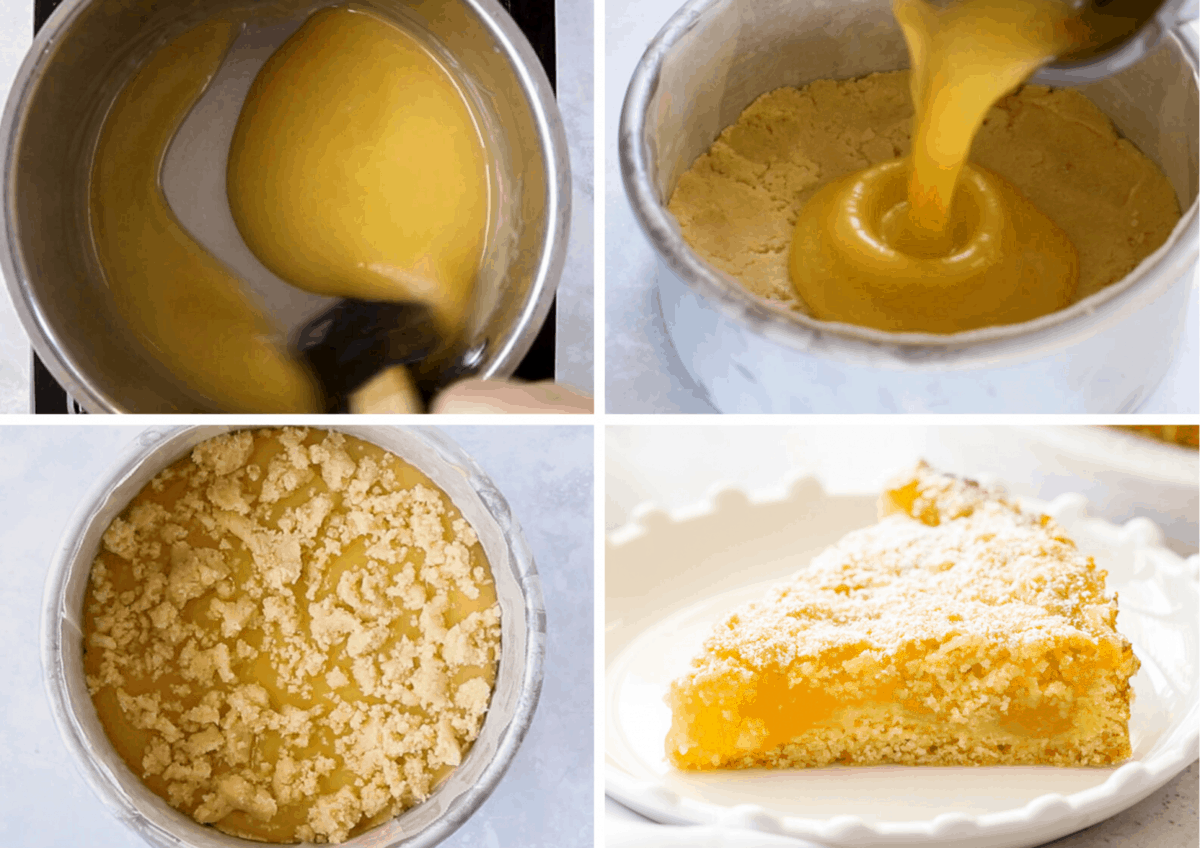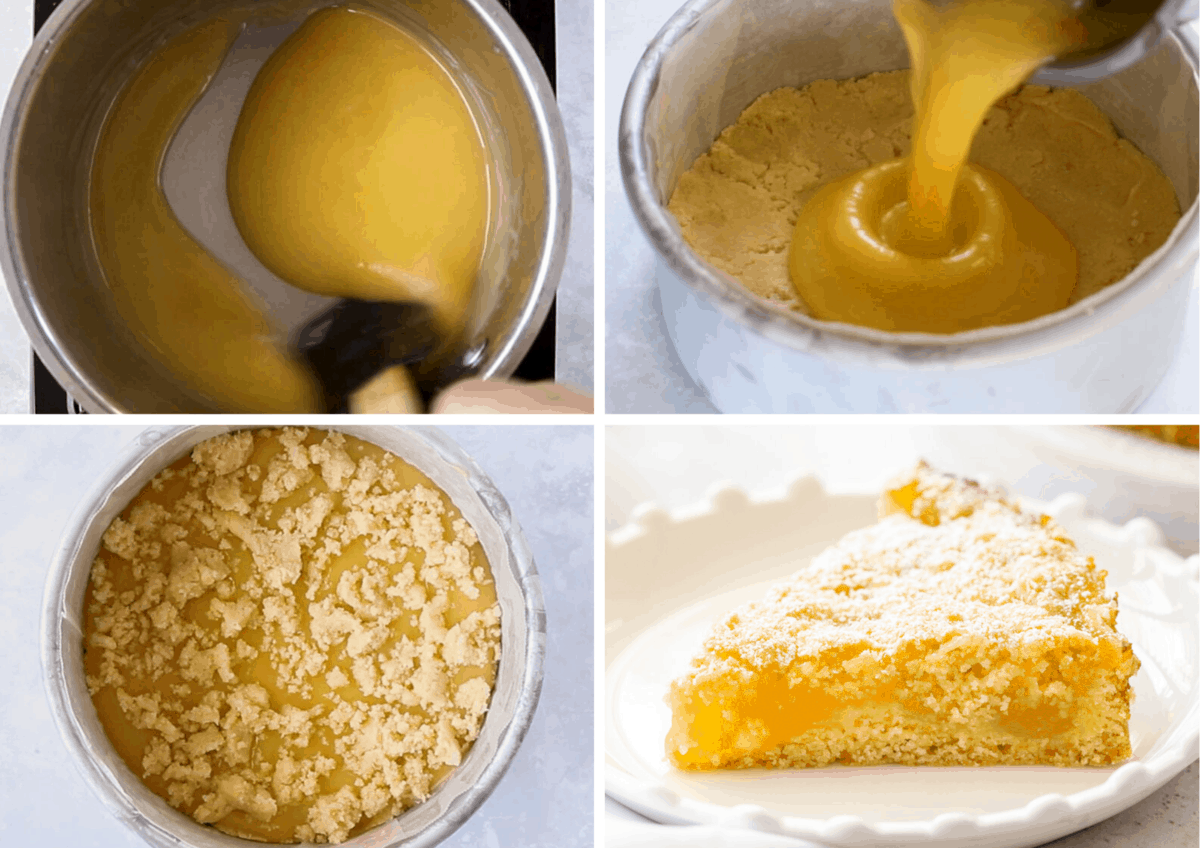 Tips for success and FAQs:
When mixing the cake dough, it is best to process it until it just comes together. It should still be a little crumbly.
It is important to cool the cake in the tin. Gluten-free cakes are more fragile than those containing gluten. You will need to be patient; however, it will be worth the wait.
The lemon curd is easily made. The ingredients are placed directly in a saucepan and not in a double boiler. However, for this reason, you must patiently stir it over low heat until the mixture thickens. It will be just below boiling point. Do not be tempted to speed up the process by using high heat or you may end up with scrambled egg.
Can you substitute regular lemons for Meyer lemons?
Yes, if Meyer lemons are stipulated in a recipe you can substitute the zest or juice with regular lemons on a 1:1 basis. However, the flavour will vary slightly. If you are swapping regular lemons for Meyer lemons, you may want to adjust the amount of sugar in the recipe. For instance, if you are following a recipe for lemonade which is made from Meyer lemons, and you are using regular lemons, you will need to increase the amount of sugar.
What is the difference between Meyer lemons and regular lemons?
The lemons we are most familiar with tend to be the Lisbon or Eureka varieties. These are the lemons which are generally found in the produce aisle of supermarkets or at the greengrocer. They tend to be available all year round. One of the key reasons for their popularity is that these lemons have thicker skin. This means that they have a longer shelf life than the thin-skinned Meyer variety.
Both these varieties are an oval shape with thick skin and yellow flesh. Although slightly sweet, they have a higher level of acidity than the Meyer lemon. For most people, a taste of raw lemon will make their mouth pucker.
Although I am using the Meyer lemon to make this Belgian Lemon Tea Cake, regular lemons will be equally successful.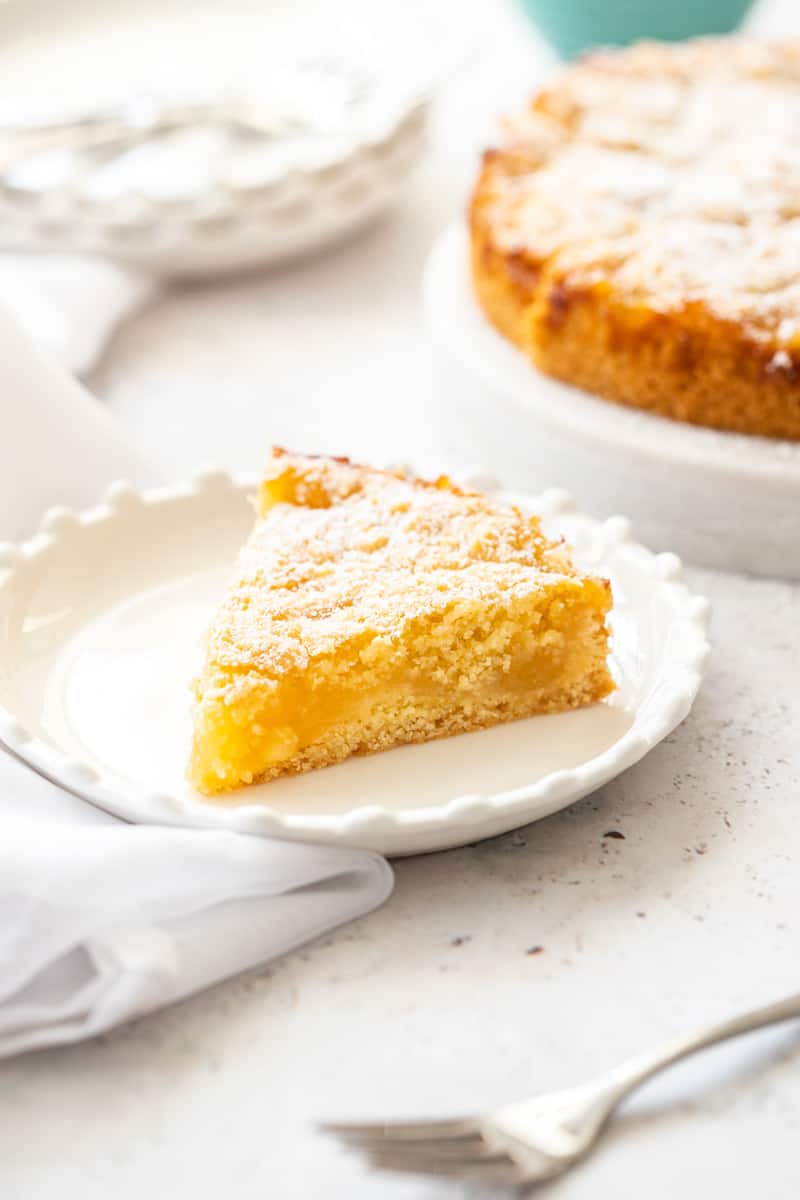 Other uses for lemons:
Lemons are the star in these delicious recipes:
More delicious Gluten-Free Cakes:
This tea cake looks more complicated than it really is. It looks especially lovely when presented on a pretty platter, the end result belying the ease of preparation.
I do hope you try it, I'm sure you will enjoy it. Eat it as is with a cup of tea or coffee. Alternatively, serve it warm for dessert with a dollop of rich cream or easily made Vanilla Ice Cream.
Enjoy!
Alex xx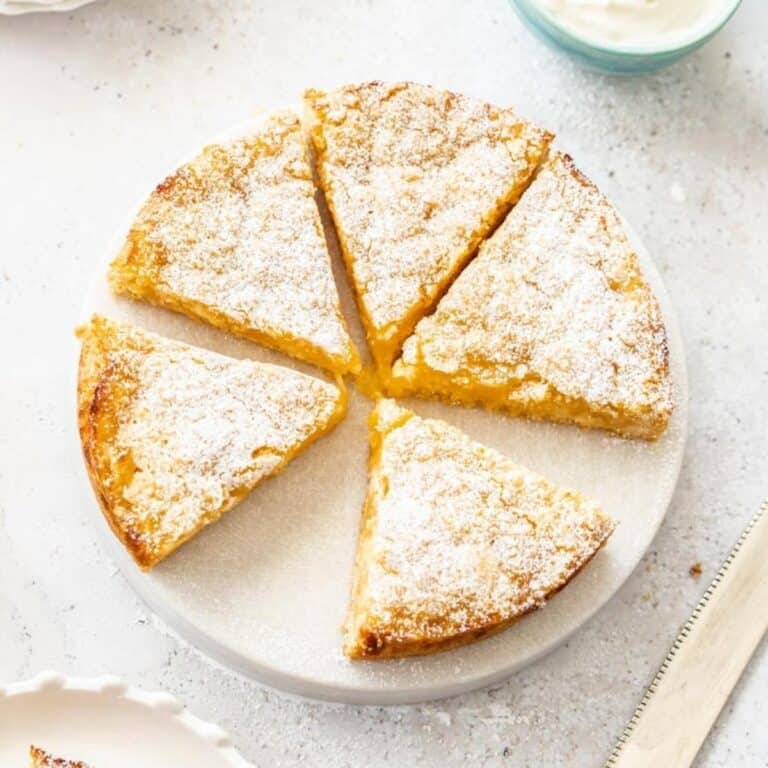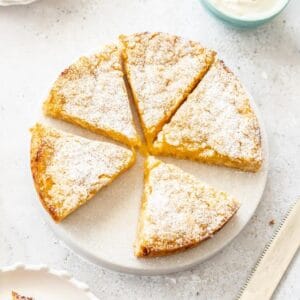 Belgian Lemon Tea Cake
This lovely gluten free tea cake looks as if it is difficult to make, yet it is really quite easy. Present it on a lovely platter and share it with family and friends. They will be impressed.
Print
Pin
Rate
Ingredients
Cake
1

cup

(150 g) self-raising flour

I used Orgran Gluten Free SR Flour

½

cup

(115 g) caster sugar

super fine

¼

cup

(60 g) butter

1

large

egg

lightly beaten

icing sugar/confectioners' sugar

optional, for dusting
Filling
½

cup

(120 ml) lemon juice

strained

½

cup

(115 g) caster sugar

super fine

1

large

egg

lightly beaten

¼

cup

(60 g) butter

chopped
Recipe Measurements:
For accuracy, we recommend weighing your ingredients. This will produce the best results.
Instructions
Preheat your oven to 180 Degrees C (350 F)

Grease and line the base and sides of a 17cm/6.5" spring-form tin* with non-stick baking paper.

Add flour, sugar, butter and lightly beaten egg to the bowl of a food processor fitted with the steel blade.




Pulse until the mixture just starts to come together.

Don't process until the mixture forms a ball of dough, you want it to still be a little crumbly.

Tip the mixture onto some cling wrap.

Divide the mixture and gently press ⅔ into the base of the prepared tin, reserving the remaining ⅓.

Make the lemon curd as per the instructions below. Pour the hot lemon curd onto the cake base.

As evenly as possible, crumble the remaining mixture over the top of the curd.

Bake until golden brown, about 30 minutes.

Remove from the oven and cool completely in the pan.

Gently remove the side of the spring-form tin.

Remove the baking paper, place the cake on a serving platter and dust the tea cake with icing/confectioners' sugar.

Lovely served on its own, or with a dollop of cream.
Lemon Curd Filling
Place all filling ingredients in a saucepan.*

Over a low heat, stir until the butter has melted and the curd thickens, just below boiling point.

Don't be tempted to use high heat to make the process quicker; you will end up with scrambled egg.
Notes
*You can also use regular wheat flour for this recipe.
*My tin was about 18.5 cm/7.25" – slightly smaller may be preferable, but I still had enough cake mixture for that size tin.  
*The curd is very simple to make. This curd does not require a double boiler as many recipes do. However, it does mean that you must cook it over a low heat. 
Nutrition Estimate:
Calories:
374
kcal
|
Carbohydrates:
49
g
|
Protein:
4
g
|
Fat:
18
g
|
Saturated Fat:
10
g
|
Cholesterol:
101
mg
|
Sodium:
166
mg
|
Potassium:
63
mg
|
Sugar:
33
g
|
Calcium:
17
mg
|
Iron:
0.5
mg
Nutritional Disclaimer:
The nutritional information is an estimate only, and is derived from online calculators. For accurate results, we recommend calculating the nutritional information based on the ingredients and brands you use.