The Air Fryer has become a popular household appliance. I recently purchased one myself and soon discovered there was much to learn. The first thing to remember is that an air fryer does not actually fry food. They use hot air, which is circulated by powerful fans, to cook food whilst using just a small amount of oil. What are the best things to cook in it, and what are some tips for success? To help you get the best out of your Air Fryer, I spoke with Cassie from Cook It Real Good for her top Air Fryer Tips!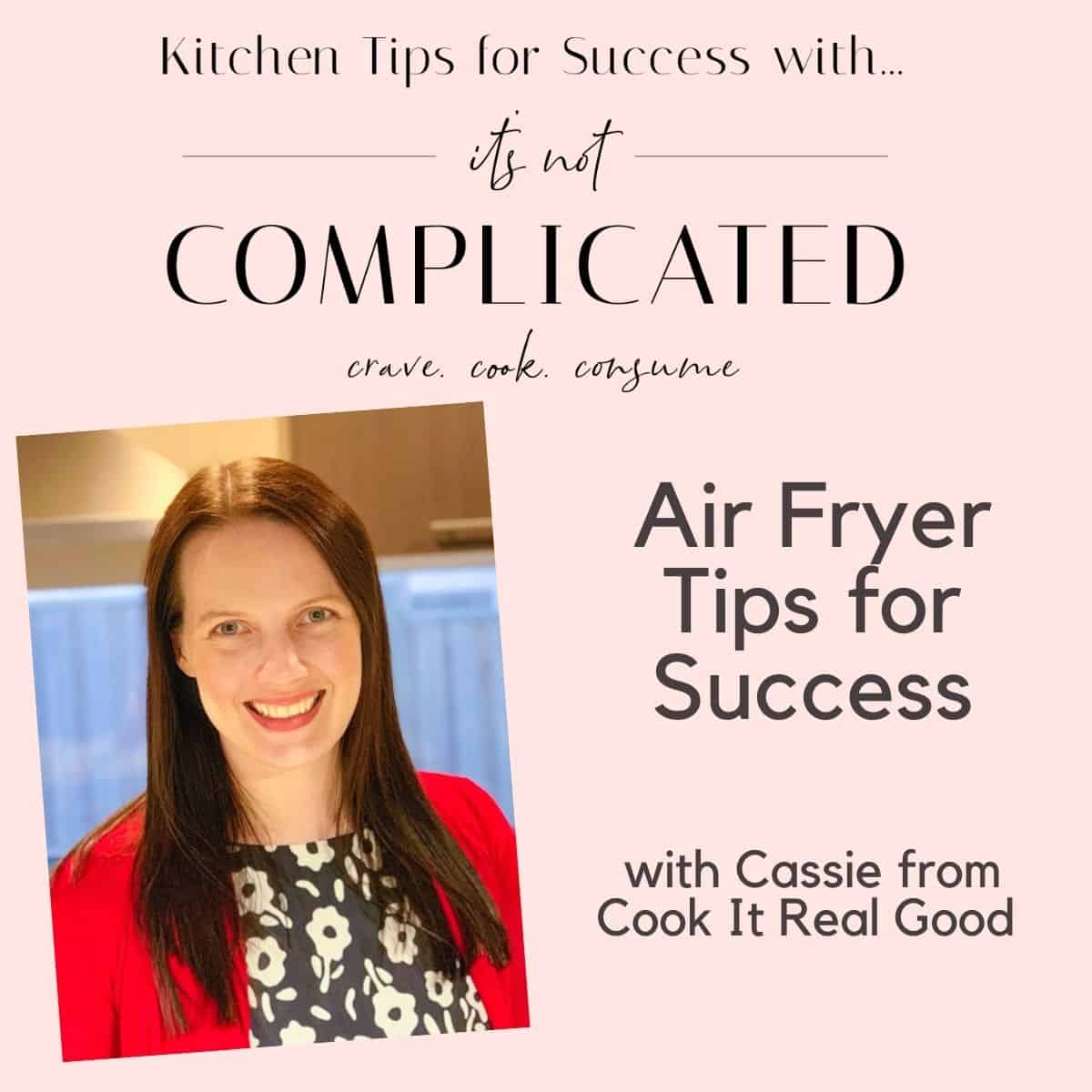 For first time users, what are your best tips for using the Air Fryer?
It's always intimidating learning to use a new appliance for the first time! My advice to first time users is to think of your air fryer as a "mini oven". Anything you can cook in the oven can be cooked in the air fryer, and any of your current accessories that are oven safe can be used in your air fryer – e.g. silicone muffin cups, mini loaf pans, even plates – anything that's oven safe and fits can be used!
I generally preheat my air fryer before I cook, especially if my end goal is to get something super crispy. Some air fryers have a preheat setting but if yours doesn't, don't worry – just run your air fryer for a few minutes before adding your food in.
When you're first learning to cook in your air fryer, just stick to similar temperatures you're used to cooking in the oven. For example, if you normally bake chicken thighs on 180C / 350F, do the same in the air fryer. The main difference will be how long you cook it for. The air fryer cooks most foods much faster than the oven, so just keep that in mind.
I have a free printable air fryer cooking chart that has times and temperatures for common foods that's really handy if you're unsure where to start.
You can open and close the air fryer basket (or door if you have an oven style air fryer ) as many times as you like while cooking without harming your cooking – so check your food regularly the first time you're trying something new. This will help you a) not overcook your food and b) get used to air fryer cooking.
Only ever cook in a single layer. Don't have food overlapping. And when you're cooking things like fries, tater tots or potato gems etc make sure you give them a good shake every few minutes while cooking so they crisp up and cook evenly.
What type of Air Fryer do you recommend?
I personally have both a basket and an oven-style air fryer and I love to cook in both. The easiest way to decide which one is right for you is how many people you are cooking for!
If you are cooking for one or two people, a basket-style air fryer will be perfect for your needs. If you're cooking for a family of 4, the oven-style air fryer would be better as you can fit more on the trays at one time.
For a very large family (say 5+) I wouldn't actually recommend the air fryer as you'd need to cook in batches and it would end up taking you longer to cook your dinner in the air fryer!
One thing to note as well is you don't need an expensive air fryer. My two air fryers are from K-Mart and Target here in Australia and I would happily buy both again. I use them almost every day and they've been going strong for over 12 months now.
What makes the Air Fryer such a must-have appliance?
There's so many reasons to get an air fryer!
It cooks most foods faster than the oven, which means you'll save time!
It makes food so wonderfully crispy, and you don't need to use much oil.
If you're only cooking for one or two, it's amazing to not have to turn on the whole oven to cook something small or even reheat something.
I live in Australia and for about 6 months of the year it's far too hot to turn on the oven. The air fryer has been a lifesaver during those months as I'm able to cook all my favourites without making my kitchen even hotter than it needs to be.
Air fryers also make great gifts! I give them to friends and family for Christmas and Birthday presents, because I know how handy they are!
What is your favourite thing to make in the Air Fryer?
This is such a hard question because honestly, I cook every day in my air fryer! But if I had to pick one, it would have to be my air fryer whole chicken. I can cook a small chicken in the air fryer in just under an hour that is perfectly crispy and juicy and will rival any store-bought rotisserie chicken!
Cassie Heilbron is the creator of Cook It Real Good, a food blog that focuses on making the most of simple ingredients. Cook It Real Good has one mission – to help you conquer the kitchen one delicious dish at a time. On the blog, you'll find quick, easy and healthy meals that don't sacrifice on taste. Cassie is also the host of the Cook It Real Good Podcast, which focuses on tips and tricks to better home cooking every week.
FAQs and final Tips:
The best Air Fryer Tips are:
Do I need to preheat the air fryer?
In general, you will get a better result if you heat your air fryer for 5 minutes before using it. 
Where do I put the oil?
You use a small amount of oil and put it directly on the food not in the air fryer basket. If you are cooking vegetables, toss them in a bowl with a little oil first.
Do I have to use oil?
Yes, you will need oil most of the time to achieve a crispy finish. The main exceptions are foods that are already fatty, such as frozen fish fingers, chicken nuggets or French fries. 
Can I fill the air fryer up completely?
Many air fryer baskets are quite small but don't be tempted to squeeze a lot of food in. If you over-crowd the basket, the results will likely be disappointing as air needs to circulate around food to become crisp. 
Should I check the food during cooking?
When cooking small items, such as French fries and chicken wings, you need to shake the basket frequently to ensure even cooking.
It's Not Complicated Favourites:
Many things can be cooked in the air fryer – both sweet and savoury. Easily adapt some of our favourite recipes to be cooked in the air fryer, such as:
Roast Chicken – perfect for a great meal and one that provides delicious leftovers with many uses!
Cooking times for the above will vary depending on the type of air fryer you have.
Don't forget to check out our other Kitchen Tips for Success: