Today on Kitchen Tips for Success, we are learning about Cooking with Chopsticks. This is a fascinating topic; one that I am sure we will all find interesting and from it learn a great deal. After reading this article, it is quite likely that you will decide you need some cooking chopsticks in your life too!
One of my favourite ways to use my cooking chopsticks is to pick out gherkins or olives from jars. And whilst it's far from conventional, I even use them to gently toss my salads. Their lighter touch means the leaves don't get bruised.
The tongs that I would normally use for specific tasks are getting much less use, as I have found the chopsticks to be so much more precise when picking up or turning specific food items. They also excel in performing delicate tasks. If you want to decorate your food with edible flowers or micro-herbs, the chopsticks are ideal.
I have asked Sarah and Laura, the girls behind Wandercooks, to tell us more about Cooking with Chopsticks.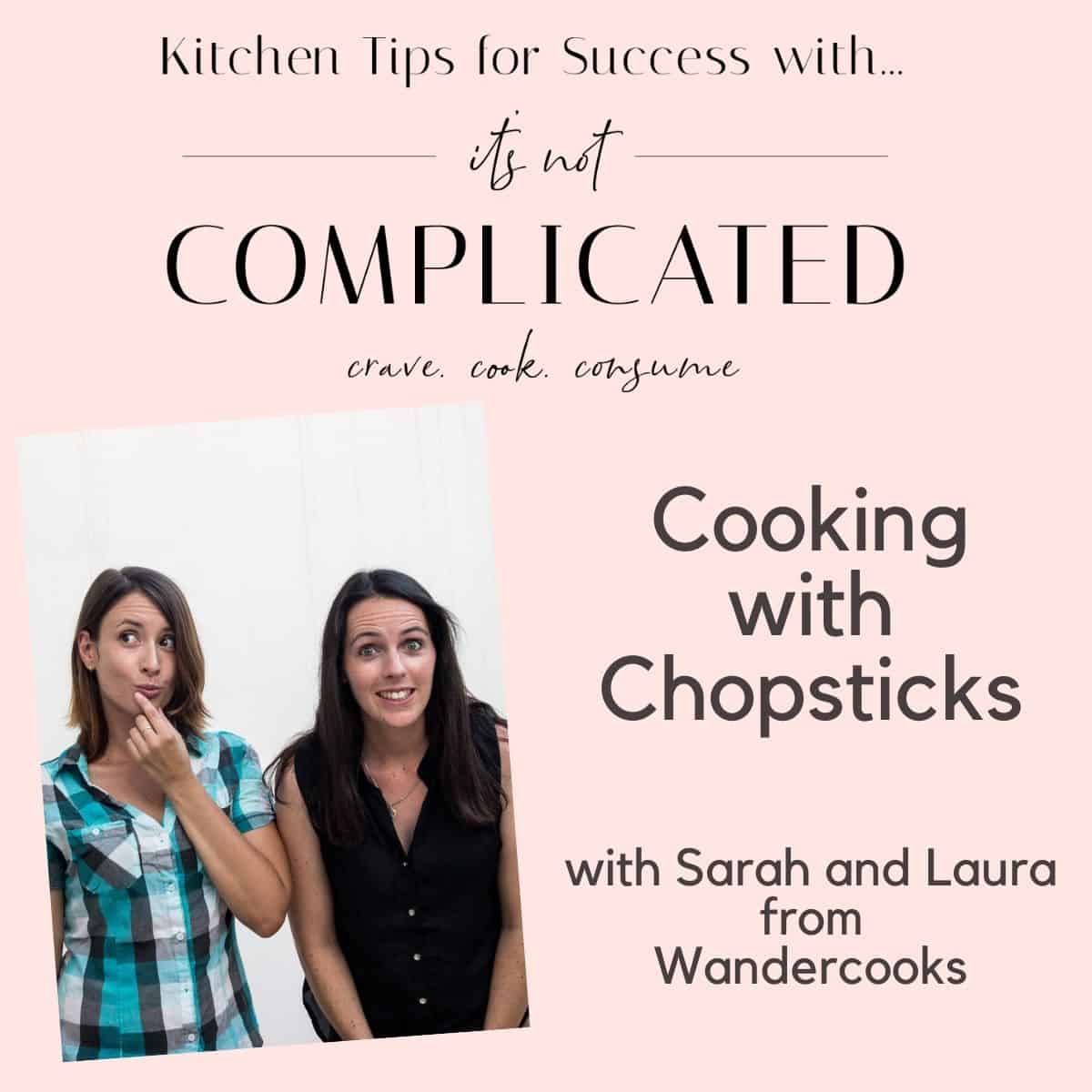 What are cooking chopsticks?
Cooking or serving chopsticks are known as ryoribashi or saibashi in Japanese. These are longer than regular chopsticks by around 10-20 cm / 4-8 inches. The extra length allows you to cook food in a frying pan or pot while keeping your hands a good distance away from the heat.
Fun fact: Cooking chopsticks are the first type of chopstick on record, and weren't originally used for eating when they were first invented in China. Cooking chopsticks are still used and are popular in many parts of Asia, including China, Taiwan, Korea, Vietnam and of course Japan.
Why are cooking chopsticks better than regular kitchen utensils?
Cooking chopsticks have higher precision than using tongs or spatulas. They allow you to target and manipulate specific pieces or areas of food, for a more even cooking result.
With more precision, comes more speed. You'll find yourself flipping meat or tofu much quicker than with regular kitchen utensils.
Unlike metal utensils, cooking chopsticks are usually made from bamboo or wood – so they won't scratch and mark your pans.
What's the difference between cooking chopsticks and regular chopsticks?
Size is one of the biggest differences with regular vs cooking chopsticks. Have a look at the average length below for each type of chopstick:
Standard – 22 cm / 8.5 inch
Regular Cooking Chopsticks – 33 cm / 13 inch
Extra Long Cooking Chopsticks – 42 cm / 17 inch
Standard chopsticks can be made from plastic or plastic/lacquer coated wood or bamboo which gives them the shiny coat. It's not recommended to cook with coated or plastic chopsticks, especially at high temperatures, so best to avoid using these!
What's the best size to use for cooking chopsticks?
Shorter chopsticks are easier to work with for beginners, so start with regular cooking chopsticks (33cm / 13 inch). This size will give you good control, while still keeping your hands far enough away from the food.
They're also lighter, so if you're holding them for a while, your hands won't get as tired!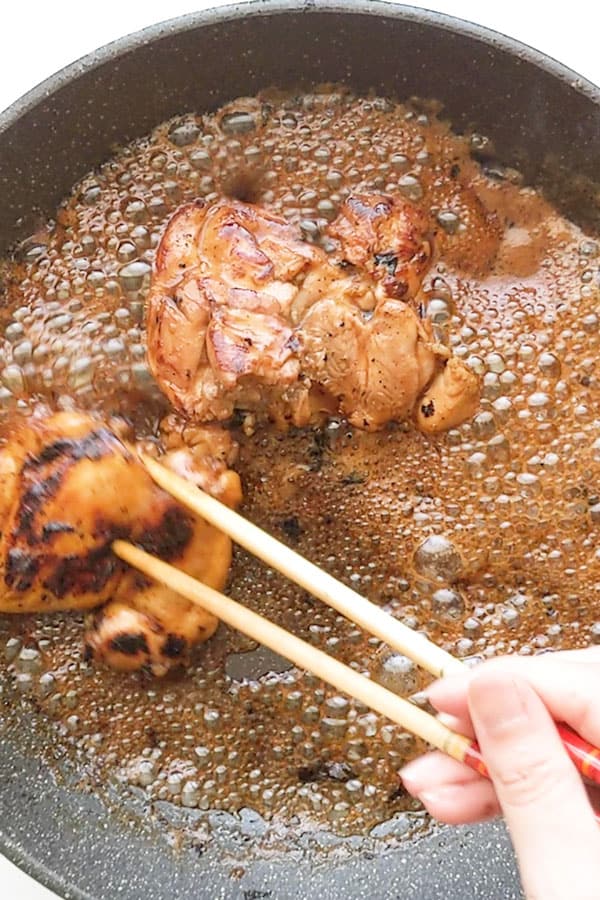 What recipes work well?
Japanese recipes are of course popular choices for using cooking chopsticks. We love using them to make teriyaki chicken, kinpira gobo and slow cooked soy mushrooms. You can even use just one chopstick to make the famous Japanese street food – takoyaki!
Cooking chopsticks are also good for whisking and cooking eggs, flipping pancakes, grilling meat – even cooking sausages on the barbie!
They're also perfect for noodle and pasta dishes. You can easily pick out a single noodle to test if it's ready, or grip a whole stack to slosh straight into a serving bowl.
Finally, use them for all your deep frying needs! Their long length and precision is perfect for picking out or flipping anything deep fried while keeping your hands out of the hot oil splash zone. As they're wooden, they also won't heat up like metal tongs would but their ends will darken over time, though this is purely cosmetic.
Final tips for cooking with chopsticks:
Brush up on your chopstick skills. Using a small bowl of peas, corn, rice or uncooked beans, practice picking up one at a time to eat or move to another bowl. You can then practise with different shaped food or items to either pick them up or practise flipping them over like you would in a frying pan.
Go wooden or bamboo over metal – Bamboo and wooden chopsticks are more grippy, and the best to use for cooking. You can also use metal, but it can be slippery and better for seasoned chopstick users.
Use take-away chopsticks in a pinch – Before you commit to buying cooking chopsticks, you can try using those 'break apart' wooden take-away chopsticks! Unlike other standard chopsticks, these are usually uncoated wood (without the plastic or lacquer coating), so you can safely cook with them. Just watch the heat as your hands will be closer when cooking due to the shorter length.
Test your cooking oil temperature – Stick the end of a wooden chopstick in hot oil, and it will have small bubbles coming off the tip when the oil is ready and hot enough for deep frying!
We're Sarah and Laura, the girls behind the food blog, Wandercooks. We've travelled to over 35 countries on a mission to bring you a world of fresh new food ideas. From Asian street food to Australian classics, come check out our edible adventures for the curious foodie.
It's Not Complicated Favourites:
Don't forget to check out our other Kitchen Tips for Success: