Although one of the most delicious desserts you can enjoy, making meringues and pavlova can be a little daunting if you do not know how. I spoke with Marie from Sugar Salt Magic, who has shared some amazing tips to prepare the best meringues and pavlova every time. Marie shows just how simple it can be to make a meringue and encourages everyone to give them a try.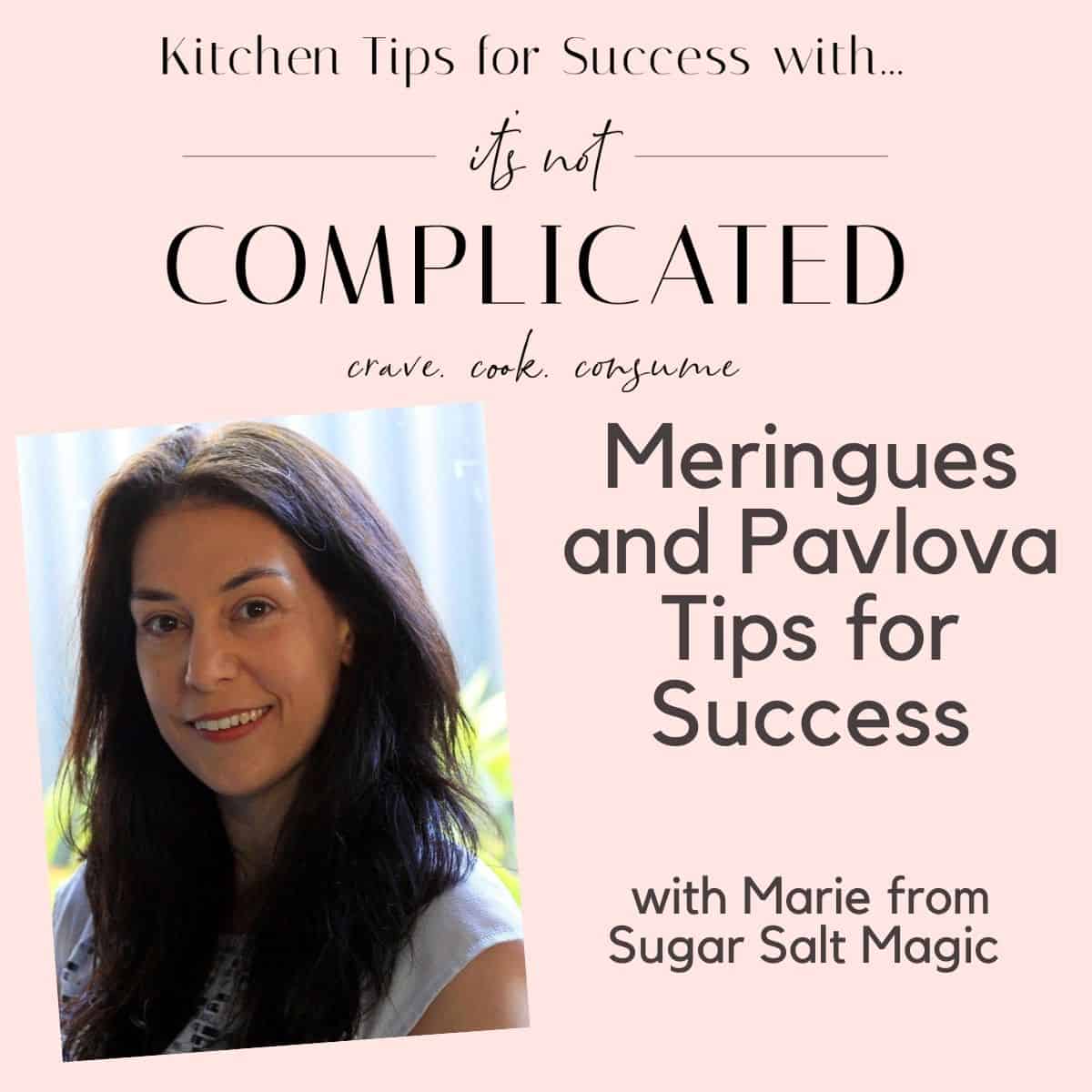 Learning to make a basic meringue will open up the many ways in which to use it. The technique is used, with slight variations, to make pavlova, cookies, and to top pies, to name just some.
Basic, everyday store cupboard ingredients are used to make meringue. It always seems to me that a magical transformation takes place as I watch the liquid egg whites transform to a white, fluffy cloud. However, there are some tips to achieve success.
One of the most important tips is to ensure that the beaters, and the bowl in which you whisk the egg whites, are scrupulously clean and dry. A speck of grease on the bowl, or a minute amount of yolk from the eggs that you are separating, will prevent you from whisking your egg whites to frothy peaks. Grease sometimes sticks to plastic bowls so we recommend that you use glass or metal.
As well, I recommend that you avoid making meringue on humid days. The sugar absorbs moisture from the air, making it impossible to whisk the whites to stiff peaks. As well, meringues made on humid days may soften and "weep".
For further advice, it is over to Marie from Sugar Salt Magic!
What are the key ingredients to achieving the best meringue?
Fresh eggs and sugar – combine these two ingredients and you will create meringue. Simple hey?!
That being said, a little acid – I like to use cream of tartar, but lemon juice and vinegar work too – will help to give stability. Extracts like vanilla for flavouring are optional. Add corn flour if you want the fluffy inside of a pavlova.
For people making meringues for the first time, what are your top tips?
While they don't take long to make, don't rush the process. Beat the egg whites to soft peaks first. Then begin adding the sugar slowly giving each spoonful time to dissolve before adding the next. I like to count to 20 between adding spoons of sugar.
And don't overbeat the meringue. Beat it just long enough to dissolve the sugar and get stiff peaks. If you take it beyond this, you risk a meringue that looks lumpy.
While there are loads of tips to make meringues perfect, they are actually very simple and very quick to make so I urge everyone to give them a try.
Can you make a meringue in advance?
Yes, meringues can be made in advance. If you're making meringues that are crisp all the way through, they'll last for weeks, stored in a cool, dry place in an airtight container. They can even be frozen.
Meringue of the pavlova variety, is best made the day before you want to serve it and left in the oven overnight to cool.
Do you make a pavlova using the same method and ingredients as meringue?
Pavlova is the next step in the meringue-making journey. As I mentioned above, you'll need a couple of extra ingredients – an acid for stability, corn flour for a marshmallowy centre – but the method is otherwise the same and still just as simple.
Final tips for success when making meringues and pavlova:
I would just say, give them a go. Start with meringue to get a feel for working with it, then take the next step to pavlova. It's a thoroughly satisfying dessert to create and eat with it's super crispy, yet delicate shell and with just 2-4 ingredients it really can't be simpler.
My How to make Perfect Pavlova post has all the tips, tricks and troubleshooting you'll need to make a gorgeous pavlova.
Be sure to have a look at these Swirled Chocolate Meringues for a delicious snack style meringue.
I'm Marie and I created Sugar Salt Magic when I decided I needed an outlet for my constant experimentations with food. I love that it's grown into a place I share all my favourite childhood recipes plus the new ones I create. It's the place to go for desserts and comforting meals, and I particularly enjoy creating food for sharing with family and friends since to me feeding people is a way to show you care.
It's Not Complicated Recipes Meringue Recipes:
Don't forget to check out our other Kitchen Tips for Success: