Nutritional Yeast is an ingredient frequently used in vegan and plant based recipes, along with many vegetarian options. If you haven't used this ingredient before, you may not know what its best uses are, or some of the many ways in which to use it. I spoke with Rosa from This Healthy Kitchen, who specialises in nutritious plant based recipes, and found out her tips for success when Cooking with Nutritional Yeast.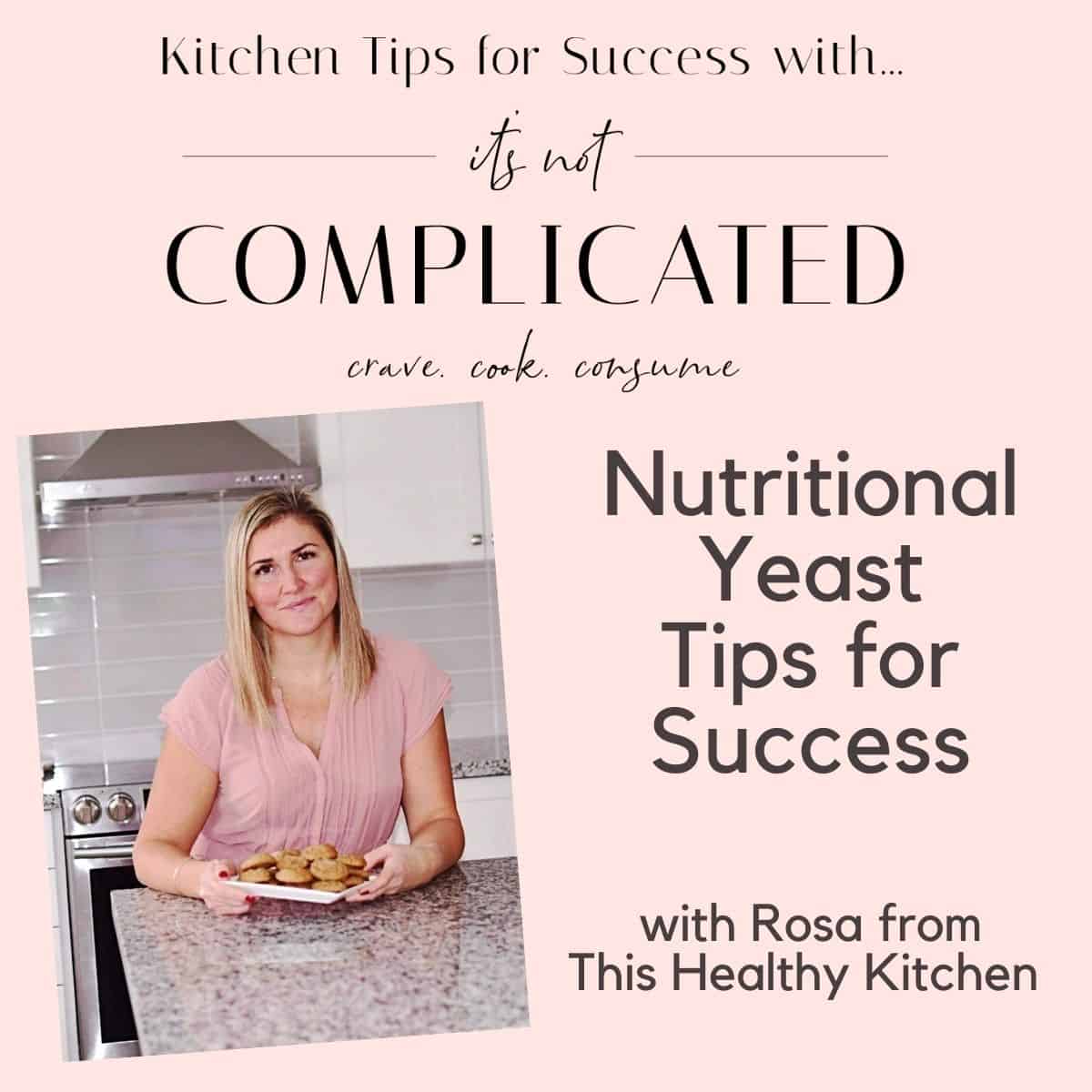 You may have heard of Nutritional Yeast but not be aware of what it is or the many ways in which to use it.
So, what is Nutritional Yeast?
It is a sugar-free, dairy-free and gluten-free ingredient which is frequently used as a flavour booster in vegan and vegetarian recipes. You can buy it in either golden-hued flakes or in powder form. It has a nutty, cheesy, savoury flavour and is a great addition to many dishes, either hot or cold.
However, you don't have to follow a vegan or vegetarian diet to appreciate Nutritional Yeast. It is a great seasoning, consider it as a flavour booster along with adding salt and pepper. Or, enjoy it as a low-calorie alternative to hard cheese. It adds a delicious umami flavour boost to many foods.
It is best stored in an airtight container for up to a year in a cool, dark location. To extend the life, it can be stored in the refrigerator.
To learn more about this versatile ingredient, it is over to Rosa!
Why is it good to use in cooking?
Nutritional yeast (also known by vegans as "nooch") is a deactivated yeast with the added benefit of being chock-full of vitamins and minerals. It's especially high in B vitamins and a great source of magnesium and dietary fibre. Nutritional yeast is yellow, most often flaky, but may also come in powder form. You can buy some in the health food section of most supermarkets.
It's great to use in cooking, especially among vegans and dairy free eaters. Not only does it have the benefit of being nutritionally dense, but it specifically provides B vitamins of which vegan eaters could potentially be low on from abstaining from animal products.
My favourite part? The undeniably "cheesy" flavour that it offers to some of my favourite dishes.
What is the difference between nutritional yeast and active dry yeast?
The difference between the two, is that nutritional yeast, as mentioned above is NOT active. It's deactivated yeast, and cannot replace active dry yeast in baked goods that require a rising agent.
Nutritional yeast is mainly used as a flavour enhancer and to add key nutrients to a meal. It is never used to replace active yeast in the baking of fresh goods.
When you first start using nutritional yeast, what are some tips and tricks to keep in mind?
Some things to keep in mind, is that sometimes, less is more! When I first started using nutritional yeast, I was craving that cheesy flavour and adding a ton of it to my meals. Of course, it depends on what you're making, but always start with a smaller amount (or follow a recipe) and then increase, as desired.
Another tip is that all brands are not created equally. So if you've tried nooch before and did not care for the taste, please don't write it off just yet. Give some other brands a try first! The flavour varies from brand to brand, and if you're buying from the bulk section of your store, try and find out which brand it is.
What is your favourite way to enjoy nutritional yeast?
It's next to impossible to pick just one favourite. But, my favourite way to enjoy nutritional yeast, on its own, without being mixed with other ingredients, is sprinkled on popcorn.
Now my favourite recipe that calls for nooch is my homemade bouillon powder. It's such a versatile, delicious way to add that extra oomph to all your dishes. From soup, to rice or pasta water and sprinkled on baked potatoes, the uses for this bouillon powder are virtually endless.
But there are so many ways to incorporate nooch in your meals. Use it in sauces and dips, homemade mac and cheese, pasta dishes, casseroles, salad dressings, vegan cheeses, meatballs and burgers, and anything else your heart desires.
Rosa is the recipe developer and photographer of This Healthy Kitchen. She loves creating and sharing approachable, healthy plant based recipes that are completely and utterly delicious. Rosa hopes to help others in their journey to becoming plant based, as well as provide inspiration to those that are just curious about a plant based diet. She aims to keep all recipes under 400 calories per serving, to help aid in healthy weight loss. No crash dieting, just nutrient dense, delicious meals. She was born in Canada, but raised by Italian-born parents. As such, she was exposed to Italian cuisine since childhood, which you'll find has inspired many of her recipes.
IT'S NOT COMPLICATED FAVOURITES:
Eating a plant-based diet? Here are some recipes we love:
Don't forget to check out our other Kitchen Tips for Success: