Reduce food waste, save time and money and start repurposing your leftovers! There are many creative ways of using leftovers, which can result in delicious new meals and family favourites. I spoke with Robyn from Mrs Jones's Kitchen, who is an expert on using leftovers in a family friendly way.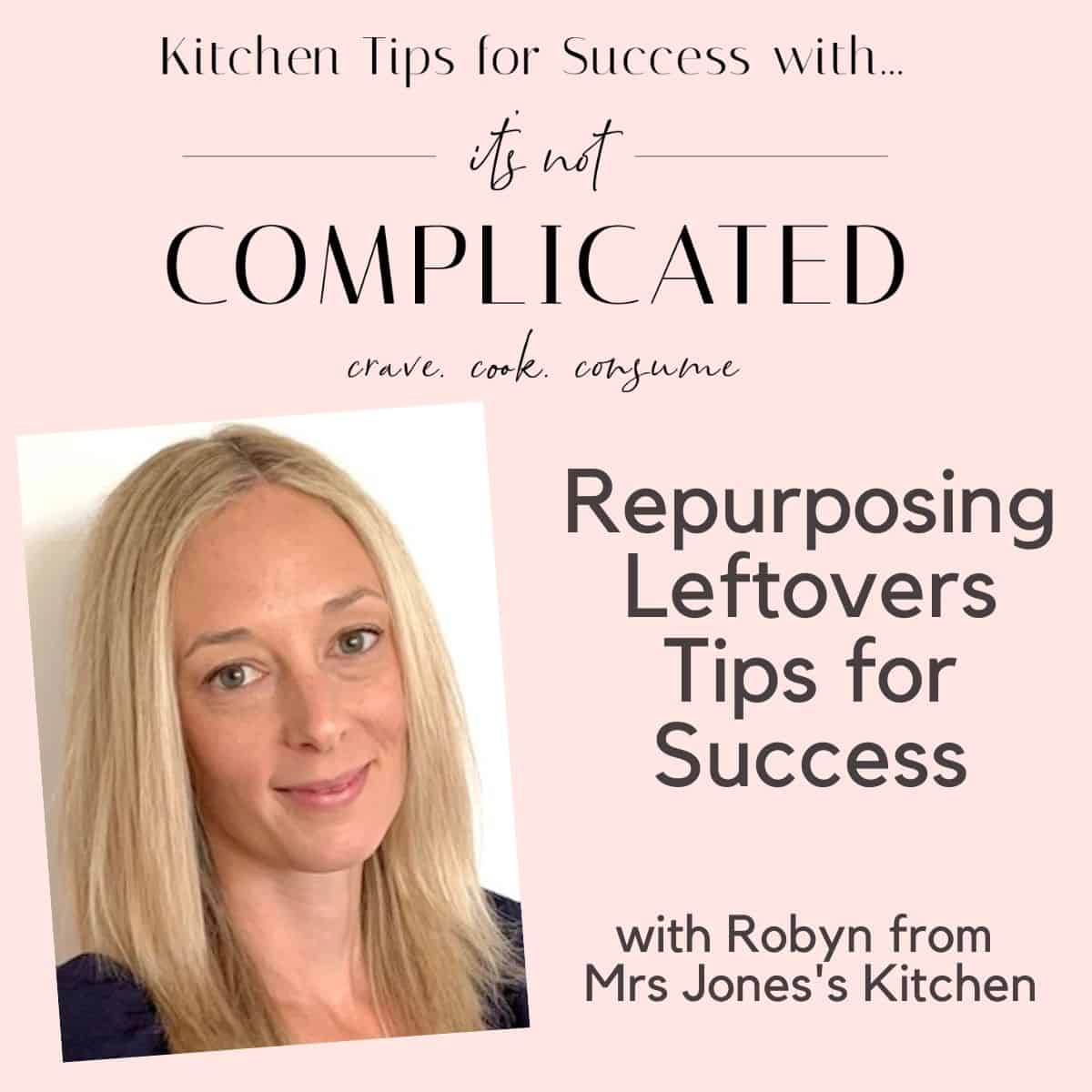 Repurposing Leftovers is a passion of mine. The amount of food that is wasted is extremely disturbing. I have found that with some inspiration and creativity we can turn leftovers into new dishes.
Roast Chicken makes an appearance in my home at least once a fortnight. After enjoying the original roast, I use leftovers the following day. The leftovers are great in sandwiches, pasta, in fried rice or added to soup. And when all the meat is gone, I use the bones to make a rich flavoured stock. I store the stock in the freezer to use in soups, braises or casseroles. That's tremendous value from one chicken.
Bechamel sauce is a terrific vehicle for leftovers and it's easily made from ingredients I usually have on hand. Add some leftover roast chicken and vegetables to the bechamel, top with tasty cheese, and bake until the top is golden and crispy. Or, if you have leftover broccoli, cauliflower or other veg, make a delicious gratin. Add some tasty, grated cheese to your bechamel, spread the bechamel on top of the veg, sprinkle with more cheese and a few breadcrumbs and bake until the dish is hot and the topping gloriously golden.
Leftover rice? Add some to soup, just long enough to warm it up. Or, make fried rice; this is a great way to use a variety of ingredients. And if you want to add some protein? Fry an egg separately and add that to the top of the rice. So good! Please note: Leftover rice should be refrigerated as soon as possible and used within 4 days.
Has your baguette or loaf of crusty bread dried out? Simply run it very quickly under running water to dampen the top and the bottom. Place it into a pre-heated oven 180 degrees C (355 F) for about 6 or 7 minutes or until the bread is dry and crisp. Enjoy!
I find it useful to store leftovers in glass containers so that I can see what they contain; it helps me plan better. And if I'm organised, I write a list of leftovers that I have stored in the fridge – because life gets busy and it's easy to forget!
Keen to discover more ways to use up leftovers, I spoke with Robyn!
What are your best tips for repurposing leftovers?
The thought of leftovers can sometimes be daunting – and dull. But if you start to think of them as a way of saving you time and money, it can help. And they needn't be dull – taking inspiration from different cuisines can help a lot!
So can being flexible. If a recipe calls for a certain amount of leftover chicken, say, but you only have half the amount, add a tin of chickpeas or lentils to bulk it out.
Pasta can be used as a side, but it can also be added to a chunky soup – think minestrone – or mixed into a frittata and eaten hot or cold.
I – try to – keep an area of the fridge dedicated to leftovers, to prevent them from getting shoved to the back and being forgotten about.
A well stocked pantry really helps too: dried herbs and spices, tinned coconut milk, tinned tomatoes, tinned beans/lentils, flour, a few flatbreads/naan breads, and eggs! So if I am struggling with what to do with a number of bowls of cooked meat, vegetables and grains sitting in front of me I will heat it up in a pan, add a few eggs and it's a hash/scramble. If you have a small space to grow herbs, they can transform a dish too – just by sprinkling over the top!
When planning meals, do you consider what might be leftover?
Yes, as much as possible. Although with a 3 year old in the house, I sometimes have more leftovers than I'd hoped for! One week my son may eat his weight in broccoli, the next he won't touch it. On these occasions I tend to blitz it into a soup and then freeze for the following week, when broccoli may be back in favour, or because it's now a soup and not broccoli florets, is seen as something different and eaten.
Whilst I meal plan as much as possible, I do find it hard to stick to meal planning to be honest. So often I plan for the week, and jot down the protein or vegetable I need to use, and then make a meal around that on the night.
However I always try to include 1-2 'leftovers' nights a week. Currently, these are often either a frittata – great for leftover veggies, potatoes, cooked meat; pizza – cooked veggies, meat and cheese – sometimes on a homemade base, other times if time and energy are in short supply, I'll use a naan bread or some Turkish bread for the base; and of course, soup!
If you cannot eat the leftovers the next day, what are your tips for ensuring they don't go to waste?
Freeze them! I love my freezer! As soon as leftovers are cold, I place them in a Tupperware container or sealable bag, label it with the contents and put the date. I used to just place the container in the freezer without labelling – that was until I confused chocolate sauce with gravy…
If any fruit or vegetables are beginning to look brown or shrivelled, then I make a note to cook them the next day.
Most fruit or vegetables need cooking before freezing, otherwise they can end up mushy and not nice to eat. So I'll quickly blanch them in boiling water, or for mushrooms, I'll fry in a little olive oil until golden, cool, then freeze and put them in a stew or soup. If I have a lot of leftover milk too, then I often make a white sauce/bechamel and add mushrooms or broccoli or cauliflower and then freeze it to heat and pour over pasta or rice, perhaps add a tin of tuna for a quick meal.
For berries and fruit I'll add a little water and cinnamon and make a compote to have with yogurt for breakfast, on rice pudding or ice cream for dessert, or freeze for later use.
I love my freezer!
What is your favourite meal to prepare which you know will lead to delicious leftovers?
A roast dinner, chicken or lamb especially, can make a variety of meals over the next few days, with minimal effort. Roast lamb and potatoes, boiled carrots and peas the first night, turn into cold sliced lamb with potato and cooked veg patties the next day – ready in 15 minutes, and then the third day crispy lamb wraps – again on the table in 15 minutes. If I have extra lamb then I freeze it on day 2 and then we will eat it in a curry a couple of weeks later. A roast is much more economical than buying smaller cuts of meat too – so saves both time and money. Be sure to check out my post on creative ways of using leftover turkey also!
For vegetarian and vegans, a tray of roast veggies – zucchini (courgette), capsicums/bell peppers, carrots, squash is so delicious, and versatile. They can be eaten warm the first night as a side, cold as a salad next, with some leaves, goats cheese or toasted walnuts, then pureed into a soup or with a tin of tomatoes into a pasta sauce the third night, or heated with some green curry paste and coconut milk.
Any final tips for repurposing leftovers?
Don't be intimidated by leftovers. It's easy for me to say that, I am fully aware! But if you try a meal and it doesn't work, don't be put off – you'll know for next time.
Patties may stick to the pan, or collapse; sometimes leftovers don't stretch as far as you'd hoped, but if your family is anything like my husband and son, a slice of hot buttered toast served on the side or underneath, often saves the day!
Robyn Jones is the recipe developer and photographer at Mrs Jones's Kitchen, a blog focusing on easy and delicious family friendly meals. Having been lucky enough to live in a number of countries, many of the internationally inspired recipes on the blog reflect this. Being raised in a farming family with a tight budget, she has been bought up to be frugal and inventive with leftovers and respectful of the time and energy that goes into produce.
It's Not Complicated Recipes Favourites:
Roast Chicken – perfect for a great meal and one that provides delicious leftovers with many uses!
Roasted Cherry Tomatoes – gives tomatoes great flavour, and can be used in salads, soups, pasta dishes and more!
Broccoli Stem Slaw – never throw your stems out again! This is a delicious salad which makes great use of the stems – an often discarded part of the broccoli.
Don't forget to check out our other Kitchen Tips for Success: