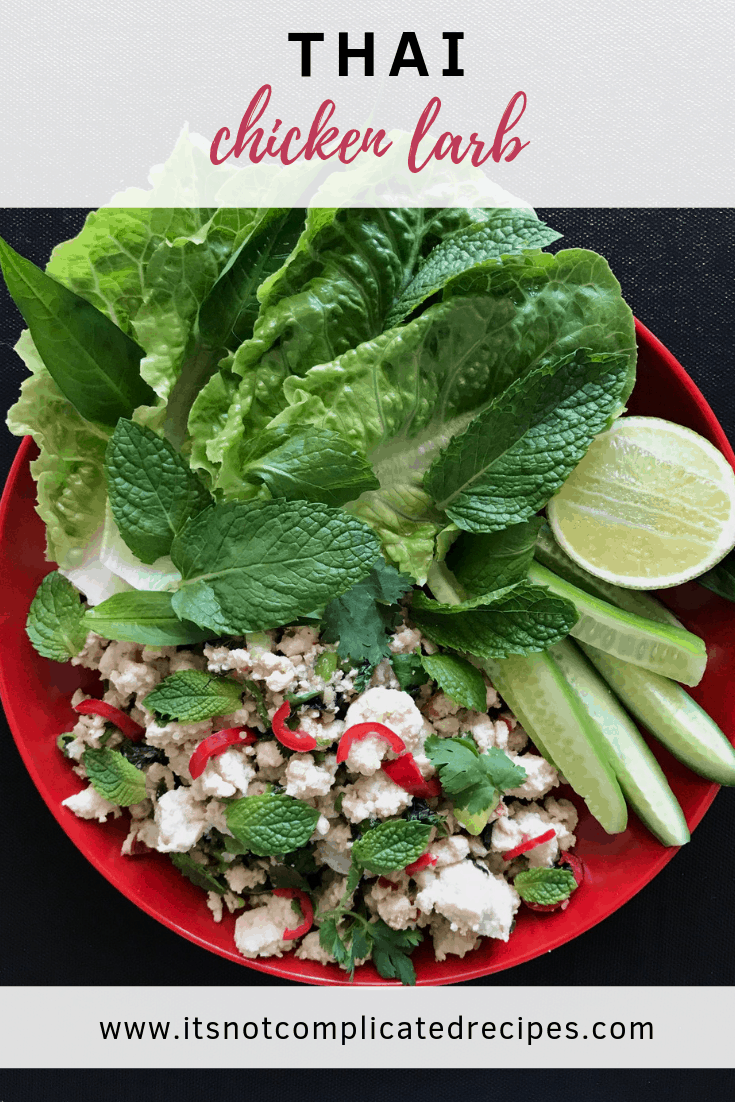 On days when you feel like a lighter meal option, Thai Chicken Larb is an ideal dish. Larb is a Thai mince-meat salad, made with lime juice, fish sauce and fresh herbs. Although regarded as the "unofficial" national dish of Laos, Larb is also enjoyed throughout Thailand. With this version I have used chicken mince but it can also be made with minced (ground) pork, beef, duck or fish.
I love to make Thai Chicken Larb. It is a dish which is light to eat, delicious at any time of year but especially suitable for the warmer months. It is fragrant and fresh tasting, with a perfect combination of hot, sour, salty and sweet flavours.
This is a dish which is quickly and easily made. Once you have all the ingredients prepared, it takes minutes to assemble. For those interested in low-fat or low-carbohydrate dishes, this is the recipe for you. Many recipes for Larb stir fry the chicken in a little oil. However, this dish differs in that I poach/steam the chicken mince in a small amount of water. This results in tender, moist chicken. The cooked chicken is put into a bowl and the remaining ingredients added. It is that simple; there's no complex cooking technique. If you are a novice cook, you will be successful with this recipe. I add flavour to the chicken with spring onion/scallion and fish sauce, the flavours heightened by the bright notes of lime juice, coriander and fragrant mint.
The recipe does contain chilli, however, you are able to customise the amount to your personal taste.
Toasted rice powder is also used in Thai Chicken Larb. If you're unfamiliar with toasted rice powder it is an ingredient which is widely used throughout South-East Asia. It is not readily available but can be purchased from Asian grocers. However, it is very simple to make at home. It is just rice, frequently sticky/glutinous white rice, which is toasted in a wok or frying pan and then ground to a coarse powder. It adds a nutty flavour and absorbs liquids. But, other white rices will also work well and for this recipe I have used Jasmine rice.
There are several ways in which to serve this dish. I like to serve it on a platter with fresh, crisp lettuce leaves, slices of cucumber, wedges of lime and an assortment of fragrant herbs.
My favourite lettuce for this purpose is the wonderfully crisp iceberg. However, leaves of cos/romaine lettuce are also suitable. Served in this manner this is a great dish for sharing, allowing guests to assemble their own lettuce cups.
It can also be served as an appetiser on crispy, fried wonton wrappers. Additionally, it is extremely portable, ideal for a picnic or a healthy work lunch. Or, serve it at room temperature with a bowl of freshly cooked Jasmine rice.
Thai Chicken Larb is such a great, healthy and flavourful meal. With this recipe you'll be able to enjoy this popular and exotic Thai salad that you have made yourself.
Love Thai flavours as much as we do? Make sure to give our Thai Prawn Salad and Vermicelli Noodle Salad a try also!
Please let me know in the comments below if you try this recipe.

Alex and Faye xx

P.S. Prefer a vegetarian option? Try our Mushroom San Choy Bow!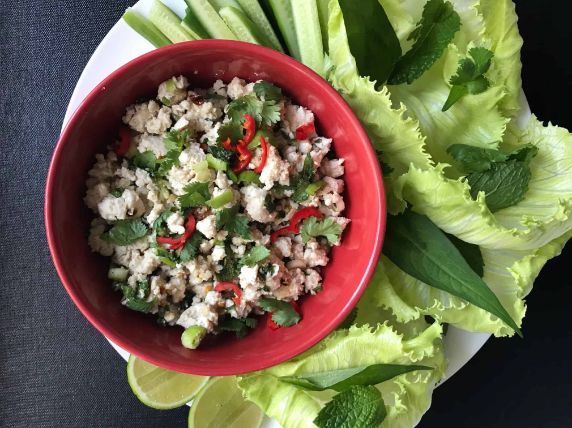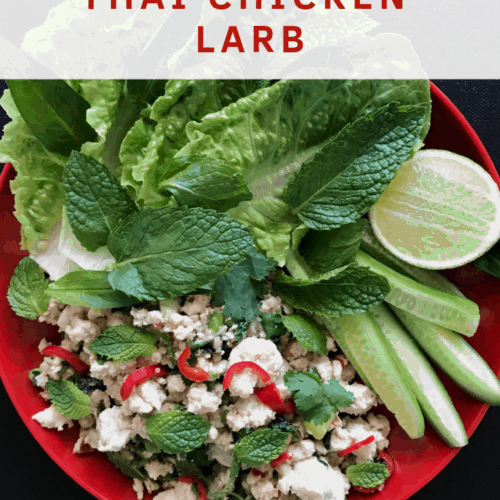 Thai Chicken Larb
I love the clean, vibrant flavours in Thai Chicken Larb. In fact, I'm convinced that I actually feel healthier after eating this dish. It is easy to make; with very little effort you will have this very tasty Thai dish to serve. Furthermore, you will have the satisfaction of knowing that you made it yourself.

Print
Pin
Review
Recipe Measurements:
For accuracy, when weights are provided, we recommend weighing your ingredients. This will produce the best results.
Ingredients
For the Larb Gai:
500

g

(17.5 oz) ground chicken mince

¼

cup

(60 ml) water

¼

cup

(60 ml) Thai fish sauce

¼

cup

(60 ml) lime juice – freshly squeezed

2

teaspoon

caster/superfine sugar

2

tablespoon

coriander/cilantro – stem and leaves, roughly chopped

See Note 1

2

tablespoon

mint leaves – finely sliced

2

spring/green onion – white and some of the green, finely sliced

1

teaspoon

ground chilli powder – or to taste

1 ½

tablespoon

toasted ground rice powder – made from glutinous rice

See Note 2

1

long red cayenne chilli – sliced thinly – optional
Serving Suggestions:
long red cayenne chilli – sliced thinly and sprinkled on top
cos lettuce leaves – for wrapping
lime wedges
cucumber wedges
fresh herbs: mint, coriander, Thai basil
Instructions
Place the rice in a medium-sized frying pan and dry fry over low heat, until fragrant and golden.

This will take 6-10 minutes and will vary depending on the type of pan you are using.

Cool the rice before grinding it to a powder in a spice grinder or a mortar and pestle. 

Place the water and chicken mince in a medium-sized frying pan over medium heat.

Stir the chicken until it is cooked, gently breaking it up.

Remove from the heat and turn the chicken and the liquid which remains, into a bowl.

Add the fish sauce and lime juice and stir through. Allow the mixture to cool down slightly.

Add the remaining ingredients and mix them together.

Check that the seasoning is well-balanced and to your taste.

Serve the salad in a bowl, sprinkled with additional fresh chilli or herbs if using.

Serve alongside lettuce leaves, cucumber and lime wedges.
Notes
Tablespoon: we use a standard Australian tablespoon which is 20 ml (4 teaspoons).
Toasted Rice Powder: this is frequently made from glutinous rice, but I have also used Jasmine rice in the past. You can buy commercial toasted rice powder, however, it is very easy to make your own.
Seasoning: ensure the dish is seasoned to your liking before serving – add more fish sauce, lime juice, chilli etc to your taste. 
Nutrition Estimate:
Calories:
225
kcal
|
Carbohydrates:
10
g
|
Protein:
23
g
|
Fat:
10
g
|
Saturated Fat:
3
g
|
Polyunsaturated Fat:
2
g
|
Monounsaturated Fat:
5
g
|
Trans Fat:
0.1
g
|
Cholesterol:
108
mg
|
Sodium:
1226
mg
|
Potassium:
794
mg
|
Fiber:
1
g
|
Sugar:
4
g
|
Calcium:
31
mg
|
Iron:
2
mg
Tried this Recipe? Please rate and leave a comment!
Nutritional Disclaimer:
The nutritional information is an estimate only, and is derived from online calculators. For accurate results, we recommend calculating the nutritional information based on the ingredients and brands you use.