There is nothing quite like a delicious bowl of pasta – but there is something really special about making your own homemade pasta. I spoke with Marcella from Marcellina in Cucina, and she has shared her homemade pasta tips for success. Homemade pasta is very special yet requires simple ingredients. Read on to learn how to perfect this classic Italian favourite, and also download a free printable on how to make Eleven Simple Pasta Shapes!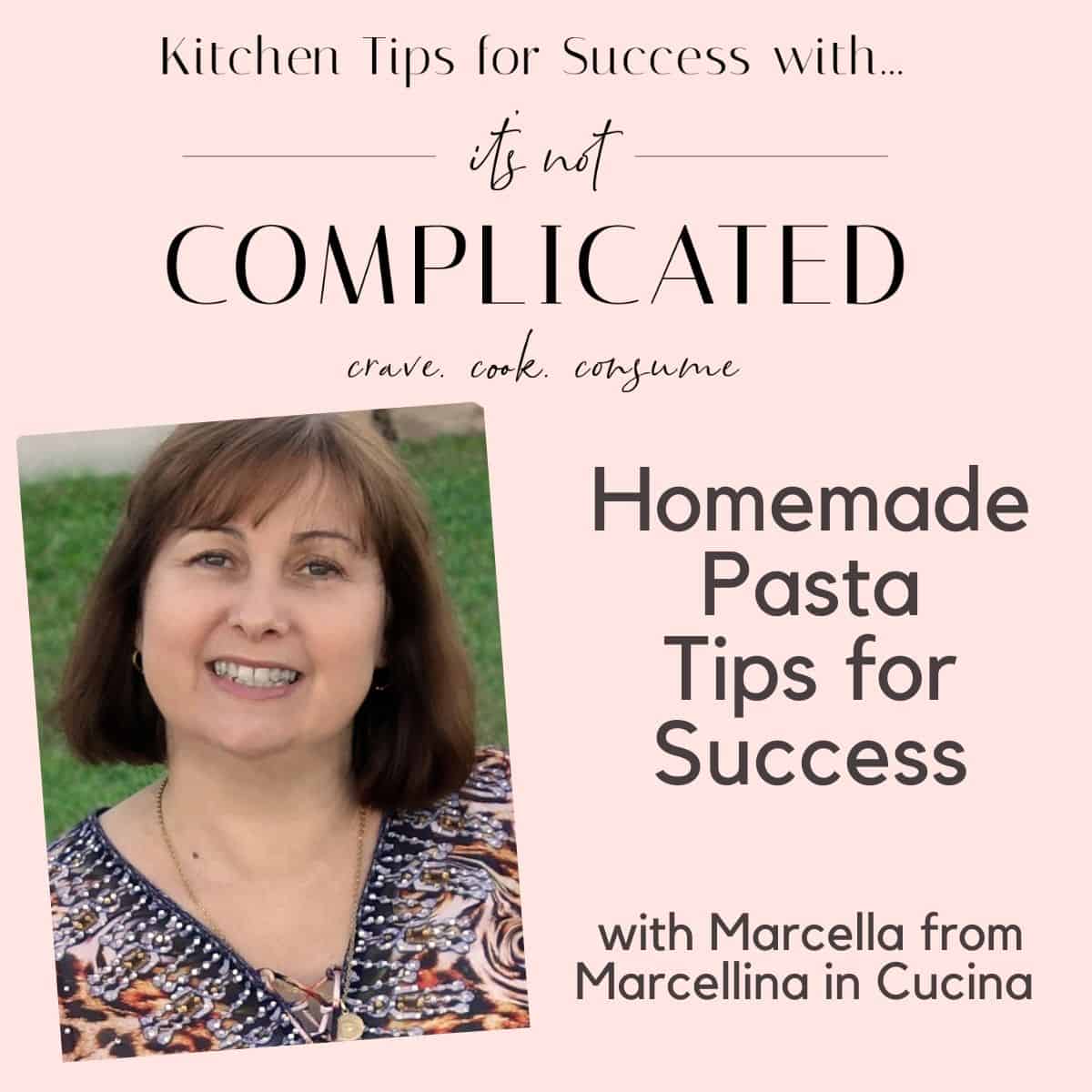 When first starting out making homemade pasta, what are your best tips for success?
Firstly, I would say work the pasta dough really well. This will take some muscle and time but it's worth it! It will take at least 10 minutes of kneading to bring it together to smooth dough. Next, rest the dough, even just for 30 minutes. This will help the dough relax and the flour to absorb all the moisture from the egg. After the rest, the dough will be softer and easier to work with. Don't let the dough dry out – keep the dough you are not working on well wrapped. Lastly, if you are using a pasta machine be sure to laminate the dough. This means rolling and folding the dough several times.
What are the important ingredients to use when making fresh pasta?
Eggs and flour are all you need to make fresh egg pasta. Whole eggs or yolks can be used or a combination of both.
Don't fuss too much about which flour to use. My family always used regular all purpose (plain) flour. But if you have access to semolina flour or 00 flour, experiment with those. Semolina flour gives the pasta a rougher texture. If you decide to go with 00 flour, choose one that is specifically for pasta. I like to use a 50/50 ratio of semolina flour to all purpose or 00 flour.
There is no need to add salt because the pasta will absorb salt from the well salted cooking water.
Pasta can also be made eggless. Semolina flour is best in this case. Many pasta varieties from Southern Italy are made with eggless pasta dough.
How far in advance can you make fresh pasta?
Pasta dough can be made 3 hours in advance. It's better not to keep pasta dough much longer than that. I find that pasta dough that has been in the fridge overnight seems to have a greyish tinge though the flavour is fine. If you want to keep pasta dough longer, wrap well in plastic, pop into a zip lock bag and freeze for a month or so.
Dried pasta keeps well and can be frozen for several months. To dry pasta, toss with a little bit of flour and spread onto a clean tablecloth or tea towel to dry at room temperature. Turn the pasta occasionally until completely dry. When dry arrange in an airtight container and freeze.
Can you use the same recipe for fresh pasta for different pasta shapes and filled pasta?
That's the beauty of pasta – one dough but many shapes. Plus, the same dough can be used to make filled pasta as well. There are 100's of different pasta varieties in Italy. All use the basic same dough either with eggs or without.
You can find my recipe for homemade pasta here.
Final tips for success to perfecting Homemade Pasta:
Trust your instinct rather than measurements. You may need more or less flour depending on humidity.
Pasta dough doesn't need oil or salt.
The hardest part is kneading the dough – you'll need a bit of muscle power.
Pasta machines which roll the dough are not that expensive and make rolling so much easier and faster.
Don't pile up the finished pasta before it has dried. You'll end up with a clump of dough which has all stuck together.
Finally, be sure to cook in plenty of well salted water (don't be afraid of salting!) and be aware that fresh pasta cooks in much less time than store bought dried pasta. Cooking time depends on the size of the pasta. Small thin pasta will only take a minute or two. Thicker pasta like papparadelle will take 5-6 minutes. If cooking from frozen, pasta will need a little longer.

Download your free printable – Eleven Simple Pasta Shapes here!
I am Marcella, the founder of the blog Marcellina in Cucina and a first-generation, Italian-Australian. I learnt to cook naturally by spending time in the kitchen with my Italian family. Sharing recipes and my knowledge is what I am passionate about. Not everyone has a nonna or a mamma to learn from. With my blog, I aim to fill that gap.
It's Not Complicated Recipes Pasta Favourites:
Don't forget to check out our other Kitchen Tips for Success: