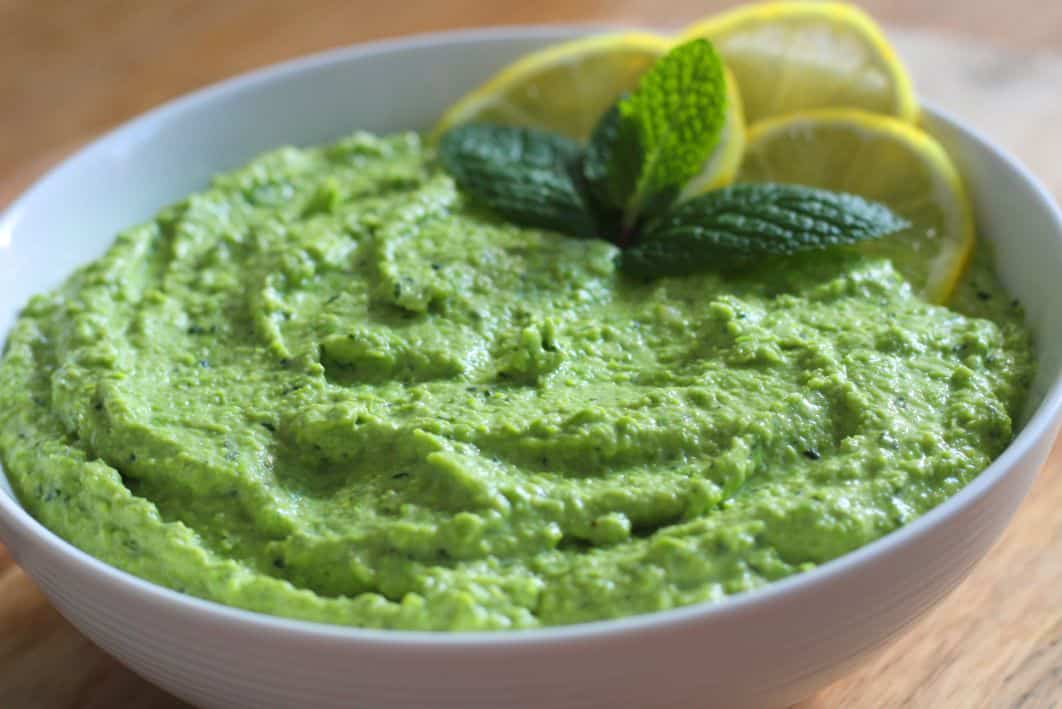 This Easy Pea and Mint Dip not only tastes great, but it also looks fantastic. For entertaining or casual snacks at home, dips are always popular. This one has a light, fresh flavour and is quickly and easily made.
I make this dip in minutes using frozen peas. Most of us have a packet of peas in our freezer. The frozen pea is a humble vegetable, frequently taken for granted. When time is short we often turn to frozen peas for an easy, green side dish. However, there are many other ways in which to enjoy them and I always ensure that I have a packet in my freezer.
Without doubt, peas which have been freshly picked and cooked are a real treat. However, they're just not practical for weeknight meals. Further, unless you grow them yourself, it is impossible to know how old they are. The problem with fresh peas is that the moment they're picked their natural sugars begin converting to starches. This means that to enjoy the natural sweetness of the pea you really need to pick them and immediately cook them.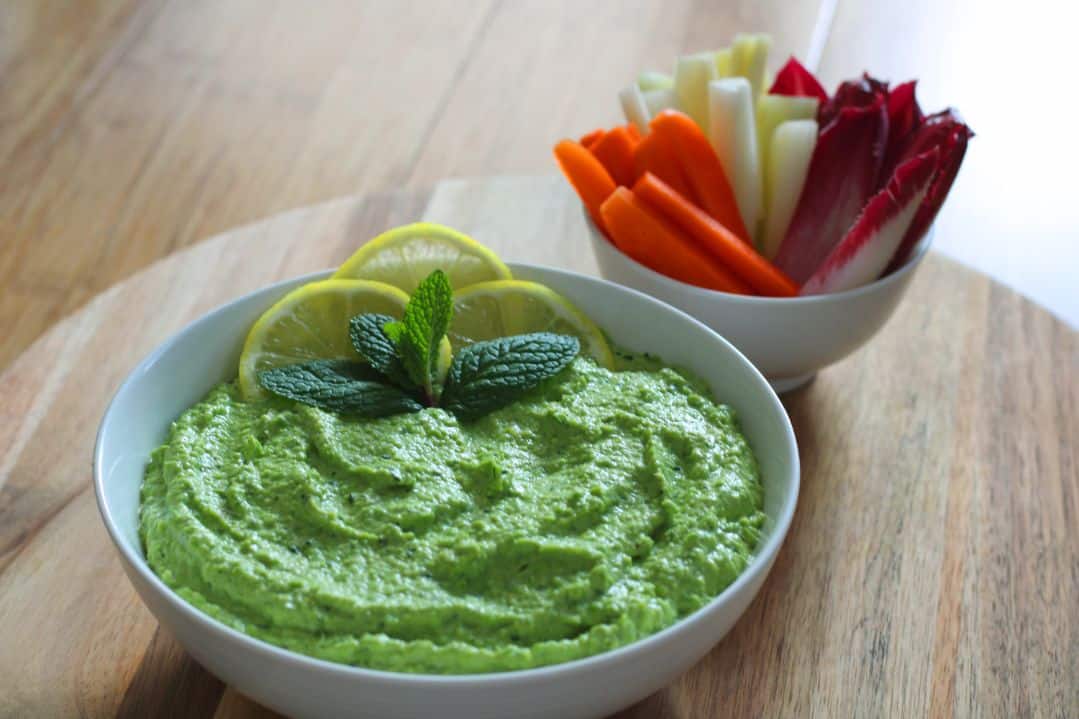 On the other hand, frozen peas are reliably sweet and tender.
I use these ingredients in my Easy Pea and Mint Dip:
Frozen peas:
The frozen pea is a quick, easy vegetable and is in no way inferior to its fresh counterpart; in fact, in many ways, it is superior. The frozen pea has been flash frozen almost immediately after picking. This ensures that nutrients are preserved and the peas retain their natural sweetness. Frozen peas work perfectly in my Easy Pea and Mint Dip.
Green peas are a great addition to your meals. They contain a number of health benefitting phytonutrients and antioxidants along with anti-inflammatory benefits. They are a good source of omega-3 fatty acids Vitamins A, B1, C, K, folate, protein and fibre.
Garlic:
Garlic is a plant in the Allium family. It is closely related to onions, shallots, spring onions/scallions, chives and leeks.
Whilst it is a popular ingredient in cooking, historically, its main use was for health and medicinal purposes. Many ancient cultures prescribed garlic for medicinal purposes. In fact, Hippocrates, who is also known as "The Father of Medicine", prescribed garlic for a range of health conditions.
Garlic is still praised for its health benefits today. It contains a number of nutrients including Vitamin C, a number of B group vitamins, along with manganese and selenium.
Garlic contains a sulphur compound, allicin. Cutting or crushing a clove of garlic will release allicin. It is this compound which gives garlic its pungent aroma and taste. Garlic is thought to boost immunity, improve cardiovascular health and have anti-inflammatory properties. For these reasons, garlic is a healthy addition to our diet.
When buying garlic, choose bulbs which are firm and not beginning to sprout. To prevent garlic sprouting, store it at room temperature in an open container in a cool, dark place.
Extra virgin olive oil:
Extra virgin olive oil is the highest quality olive oil available and is recognised as one of the healthiest. It is simply the juice of fresh olives. A natural extraction process, whereby the olives are crushed to release the oil, ensures that it retains the antioxidants and nutrients of the olive fruit. It is a heart-healthy fat and a staple ingredient of the Mediterranean diet.
Extra virgin olive oil contains more health-benefiting properties than any other grade of olive oil and is a worthy addition to our diet.
Lemons:
Lemon juice is one of my favourite flavour boosters. If a dish tastes a little dull or flat, the addition of some freshly squeezed lemon juice will often boost the flavour. To retain the fresh flavour, it is best to add the lemon juice at the last moment. Aside from adding a boost of acidity the lemon juice often means that the dish will require less salt.
To me, one of the great cooking secrets is the addition of lemon zest. It is so versatile; some of the many ways in which to use it include marinades, pasta, salads, in cakes or to add a bright note to risotto. Further, it is an essential ingredient in many desserts.
When selecting lemons, I look for those that are bright yellow, firm to the touch and heavy for their size. The best way to store them is in your refrigerator crisper drawer. However, chilling makes it more difficult to extract the juice. To get the maximum juice you can warm the lemon in a microwave for a few seconds or roll the lemon back and forth with the palm of your hand across your kitchen bench.
Lemons contain a high amount of Vitamin C along with generous amounts of antioxidants, believed to have anti-inflammatory properties and help boost immunity.
Lemon adds a lovely flavour boost to my Easy Pea and Mint Dip.
Tahini:
Tahini is a thick paste which is made from roasted, ground sesame seeds. It has been used in Eastern cuisines for thousands of years. It has a delicate sesame flavour with a consistency which is similar to peanut butter. You will most likely be familiar with its use in a number of dip recipes.
However, there are many other ways in which to use it. It is often the base for a number of Middle Eastern sauces, is delicious as a nutritious spread in sandwiches in lieu of butter, lovely when included in a salad dressing or an ingredient in a number of baking recipes.
Tahini is nutrient dense. It is protein rich, contains generous quantities of B group vitamins, Vitamin E and is a good source of omega-3 fatty acids, magnesium and health-benefiting antioxidants. The fats found in tahini are good fats, believed to be beneficial to the heart and overall health.
Look for tahini made from 100% sesame seeds; avoid those that have oil added.
Mint:
Mint is a popular herb and a favourite ingredient of mine. Bursting with flavour and fragrance, mint is a great flavour booster. It adds bright, fresh notes to both sweet and savoury dishes.
Mint has been used medicinally since ancient times. It was and still is, often used to treat gastrointestinal issues.
Mint contains anti-oxidant and anti-inflammatory compounds along with Vitamins A and C together with manganese.
It is an easy herb to grow. However, it is best not planted directly into the garden. It is extremely invasive and will put down roots, sending new shoots in all directions.
Pea and Mint are a classic combination, and work well together in my Easy Pea and Mint Dip.
More suggestions for these ingredients:
You will find that I use a number of these ingredients throughout my blog.
Peas and mint are a classic combination; I have used them in my Potato Salad with Peas and Mint, Frittata and Pea and Mint Fritters.
Frozen peas also feature in these recipes from some of my favourite food bloggers:
I have used tahini in my Roasted Carrot Hummus, Easy Hummus and The Best Baba Ganoush.
Lemon zest or juice will feature often in recipes. For instance, there is my delicious Belgian Lemon Tea Cake or Gluten Free Lemon Madeleines.
This is how I make the Easy Pea and Mint Dip:
This dip is quickly and easily made. I add all the ingredients to the bowl of a food processor and blend them together. It's as simple as that. You are able to choose whether you would like the dip smooth and creamy or left slightly chunky.
When it comes to serving:
I turn the dip into a serving bowl, garnish with a few thin slices of lemon and a sprig or two of mint. I serve it with crudites and crackers. A drizzle of extra virgin olive oil is the finishing touch. Alternatively, use it as a sandwich spread with slices of tomato or cold roast lamb. Further, I make delicious crostini by spreading the dip onto toasted bread and topping with crumbled feta.
Do let me know if you try this delicious dip!
Enjoy!
Alex xx
Easy Pea and Mint Dip
This easy, tasty dip is a great impromptu appetiser. Take some peas from the freezer and blend with a few simple ingredients; you will have a tasty dip with health benefiting nutrients. Further, its bright green colour is a great contribution to a colourful grazing platter or a selection of dips.
Print
Pin
Rate
Ingredients
2

cups

frozen peas

thawed *

1

clove

garlic

peeled *

2

tbsp

olive oil

extra virgin *

2

tsp

lemon zest *

4

tsp

lemon juice *

2

tbsp

tahini

2

tbsp

fresh mint

lightly chopped

sea salt to taste

freshly ground black pepper

to taste, optional
Instructions
Place the defrosted peas and the remaining ingredients in the bowl of a small food processor.

Blend to a smooth paste, adding more oil or lemon juice to reach desired consistency and flavour. Season to taste.

Serve with crackers, toasted pita bread or a selection of colourful crudites.
Notes
*To thaw the peas quickly, I spread them out on a large dinner plate.
*I prefer baby peas, they are sweeter.
*Add more garlic if you prefer.
*I have used extra virgin olive oil for the extra flavour it adds and for the health benefits.
*When zesting citrus, it is important to use just the coloured skin and not the white pith which has a bitter flavour.
*As peas are naturally sweet and the acidity of lemons varies enormously you may need to add more lemon juice to suit your taste. 
*The Australian tablespoon is 20ml or 4 teaspoons. In most other countries the tablespoon is 15ml or 3 teaspoons.
Nutrition
Calories:
112
kcal
|
Carbohydrates:
9
g
|
Protein:
4
g
|
Fat:
8
g
|
Saturated Fat:
1
g
|
Sodium:
5
mg
|
Potassium:
141
mg
|
Fiber:
3
g
|
Sugar:
3
g
|
Vitamin A:
390
IU
|
Vitamin C:
22
mg
|
Calcium:
19
mg
|
Iron:
0.9
mg