My Almond Cookies are an easy and delicious recipe to make, and best of all, they are both gluten-free and dairy-free.
This is one of the easiest recipes we will share on the blog. The cookies are very simple to make; to the degree that I believe they are foolproof.
Both the experienced cook and the novice will enjoy how easy it is to make these Almond Cookies.
Containing just 5 ingredients they will take about 10 minutes to mix and another 15 minutes to bake.
You will be enjoying these with a cup of tea or coffee in roughly 30 minutes.
There's no creaming of butter and sugar; the dough is easily stirred together by hand in just a couple of minutes.
Just mix the almond meal, caster sugar, almond essence and egg whites in a bowl.
Roll the dough into small balls, roll the balls in flaked almonds and then bake. That's it! They're so simple.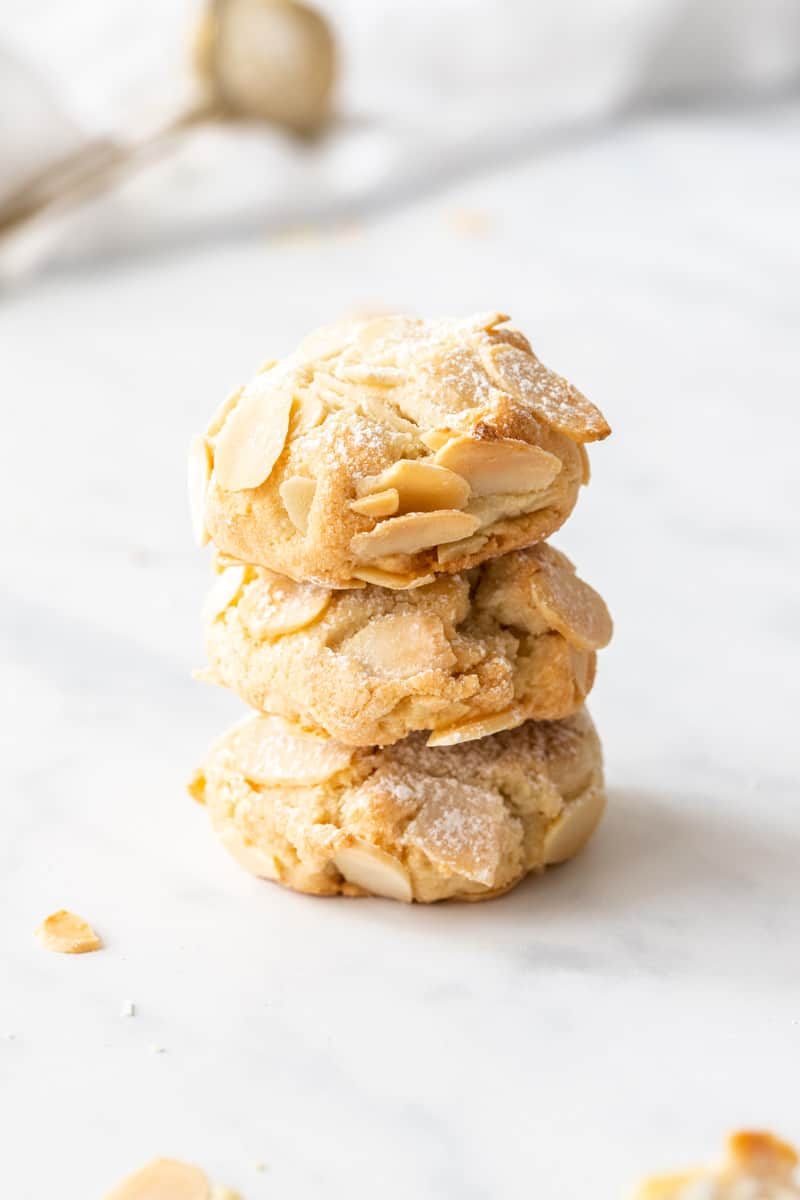 Inspiration for this recipe:
This recipe was given to me by a dear Italian friend. It has been in her family for many years. Some years ago, I made these biscuits for a shop I was working in at the time.
At that time, more and more people were discovering they couldn't tolerate gluten, and the biscuits sold out on a daily basis.
I am so happy to be sharing this recipe with you today, so more people can continue to enjoy it. Even if you do not need to eat a gluten-free or dairy-free diet, I am sure you will appreciate these cookies just as much.
Further, this is a great way to use egg whites which are leftover from recipes which require egg yolks only.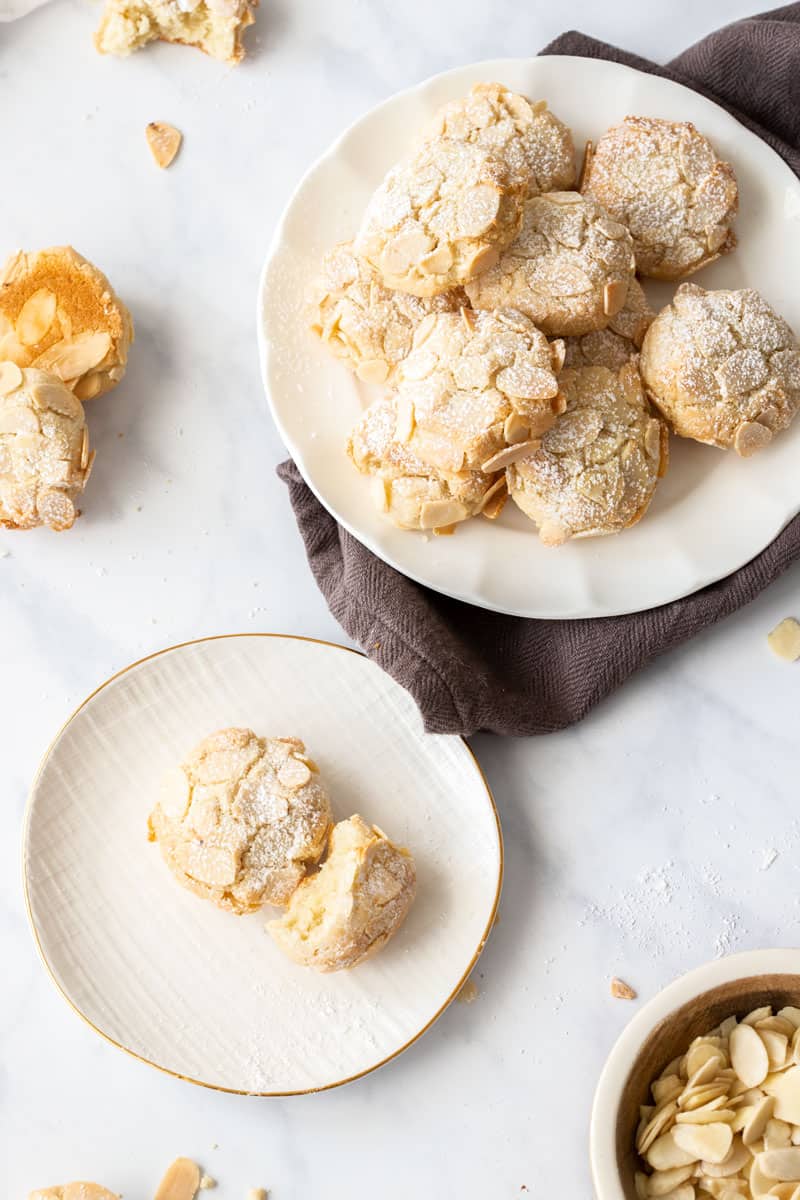 Why we love these Gluten-Free Almond Cookies:
This is a great way to use egg whites which may be leftover from recipes which require egg yolks only.
My Almond Cookies are quickly and easily made. They are so simple to make that I believe they are foolproof.
They are ideal for those who have baking experience. Additionally, if you lack experience these will be a great confidence booster.
Being both gluten-free and dairy-free they are suitable for many people with specific dietary requirements.
You can freeze the Almond Cookies both prior to baking and after. This is a great advantage around the festive season. You can freeze them for one month.
If freezing those which are baked, ensure that you freeze them on a baking tray, covered with cling wrap so they don't dry out.
Ensure that they are not touching each other and when frozen transfer them to an airtight, freezer container.
Similarly, if you have rolled them you can freeze them individually, on a baking tray and covered with cling wrap, before storing in an airtight, freezer container.
Ingredients in the Gluten-Free Almond Cookies:
Almond Meal/Flour
Caster/Superfine Sugar
Almond Extract/Essence
Egg Whites
Flaked Almonds
Almond Meal/Flour:
The terms almond meal and almond flour are often used interchangeably. The meal/flour can be made from whole or blanched almonds.
What are blanched almonds?
Blanched almonds are whole, raw almonds that have had their skins removed. To do this I add the almonds to a heatproof bowl and cover them with boiling water.
After a minute I drain the almonds in a colander and run some cold water over them to cool them down. I then add them to a clean kitchen towel and pat them dry. The skins will easily slip off; just pinch one end of the almond and it will pop out of the skin. Allow them to dry thoroughly.
Almond meal/flour is not actually "flour" but finely ground almonds. When ground from whole almonds the texture will be slightly more coarse than when ground from blanched.
The finer, blanched meal is best suited to French macarons, airy cakes or baked items with a light texture. In addition, it is pale in colour without the little specks of almond skin.
Almond meal/flour is also an invaluable ingredient in diets with specific requirements such as gluten-free, Keto and paleo.
Ground almonds, due to their high oil content and greater exposure to oxygen, are prone to becoming rancid. For this reason, I recommend that you store the meal/flour in an airtight container in the fridge or for a longer time in the freezer.
If you find yourself without almond meal/flour, it is easy and more cost-effective to make your own. Add blanched or whole almonds to a blender or food processor and pulse in short bursts until you have the texture of sand. Stir occasionally. If you take it too far you will have almond butter.
Caster/Superfine Sugar:
Caster sugar refers to sugar which is more finely ground than granulated sugar but not as fine as icing/confectioners' sugar. It dissolves easily making it ideal for recipes such as meringues, sponge cakes, custards and mousses.
If you don't have any it is easy to make your own. Use a high-speed blender or food processor and pulse a few times until the sugar grains are smaller in size.
They won't be as even as commercially prepared caster sugar but will still be suitable. Just be sure to not over-process or you'll end up with icing/confectioners' sugar.
Almond Essence/Extract:
This is a popular flavour ingredient in baking although it is one that tends to divide people. Even those who love almonds often dislike the flavour which the essence/extract imparts.
I've tried to discover why but it seems that this is a complex area. One reason may be that the essences/extracts are often not actually made from almonds.
They are often made from the oil of the almond which is found inside a peach or apricot stone. Alternatively, they may be synthetically produced. Or, they may actually be produced from bitter almonds.
Although I always recommend reading labels, this may not provide clarification as details can be vague at best.
Where possible, I recommend using a pure version. It will have a fresher almond aroma and flavour which will hold up better when baked.
Use this ingredient with caution until you are familiar with its strength.
Egg Whites:
Egg Whites are a fantastic ingredient to have on hand – if you have leftover whites, you can store them in the freezer in an airtight container.
I clearly label with the date and the number of whites. There are so many ways in which to use them.
I will share with you some recipes below that you can also use just the egg yolk for!
Flaked Almonds:
This is an ingredient that I do not attempt to make myself. It is labour intensive and would be impossible for me to cut almonds into evenly-thin slices.
Commercial manufacturers use special equipment to make the flaked almonds which are readily available in supermarkets.
We love almonds and feature them in many of our recipes – both savoury and sweet. You'll find some of our favourites listed further below!
This is how I make the Gluten-Free Almond Cookies:
I start by preheating my oven and preparing my baking tray.
Next, I prepare a flat bowl or plate with my flaked almonds.
In a bowl, combine the almond meal, sugar and almond essence. Add the lightly beaten egg whites, and combine well.
Roll small balls of the mixture and coat in the flaked almonds.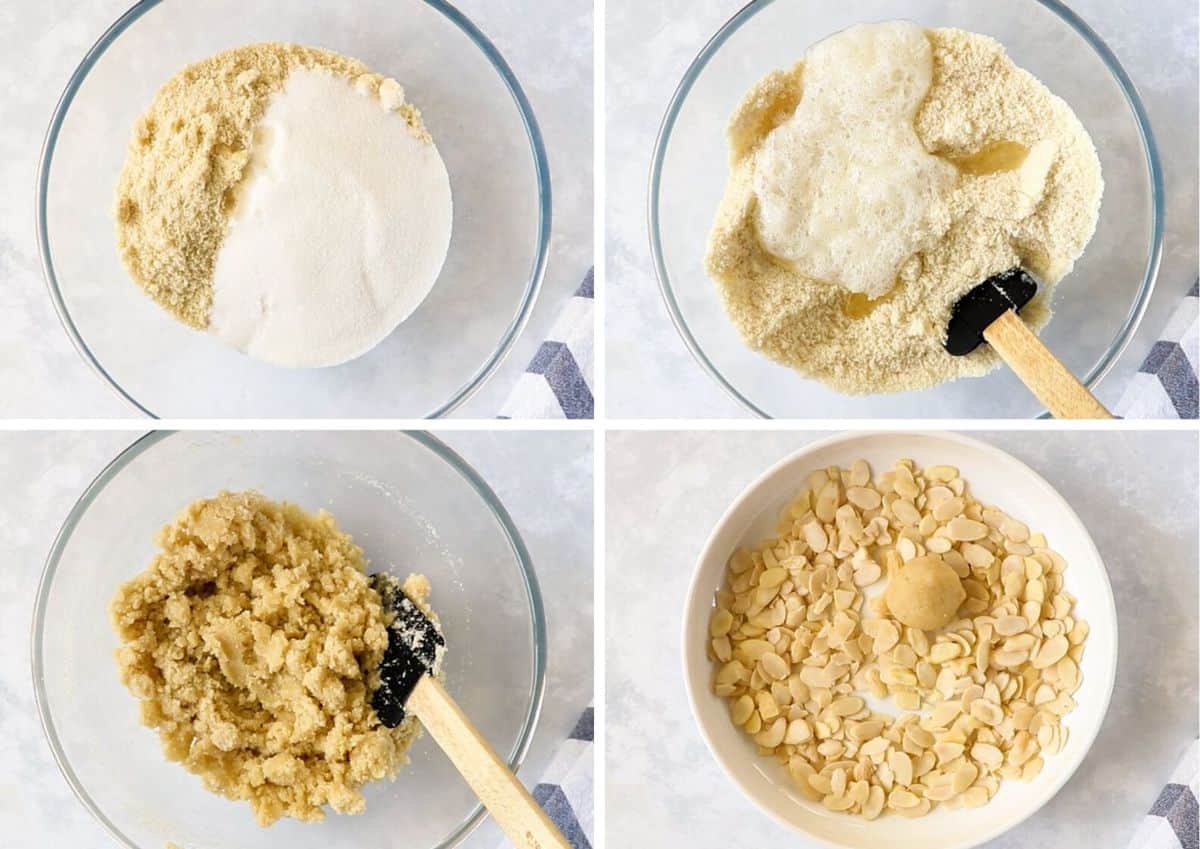 Place on a baking tray, and lightly press down to flatten.
Bake until the cookies are lightly browned. Allow to cool, and enjoy!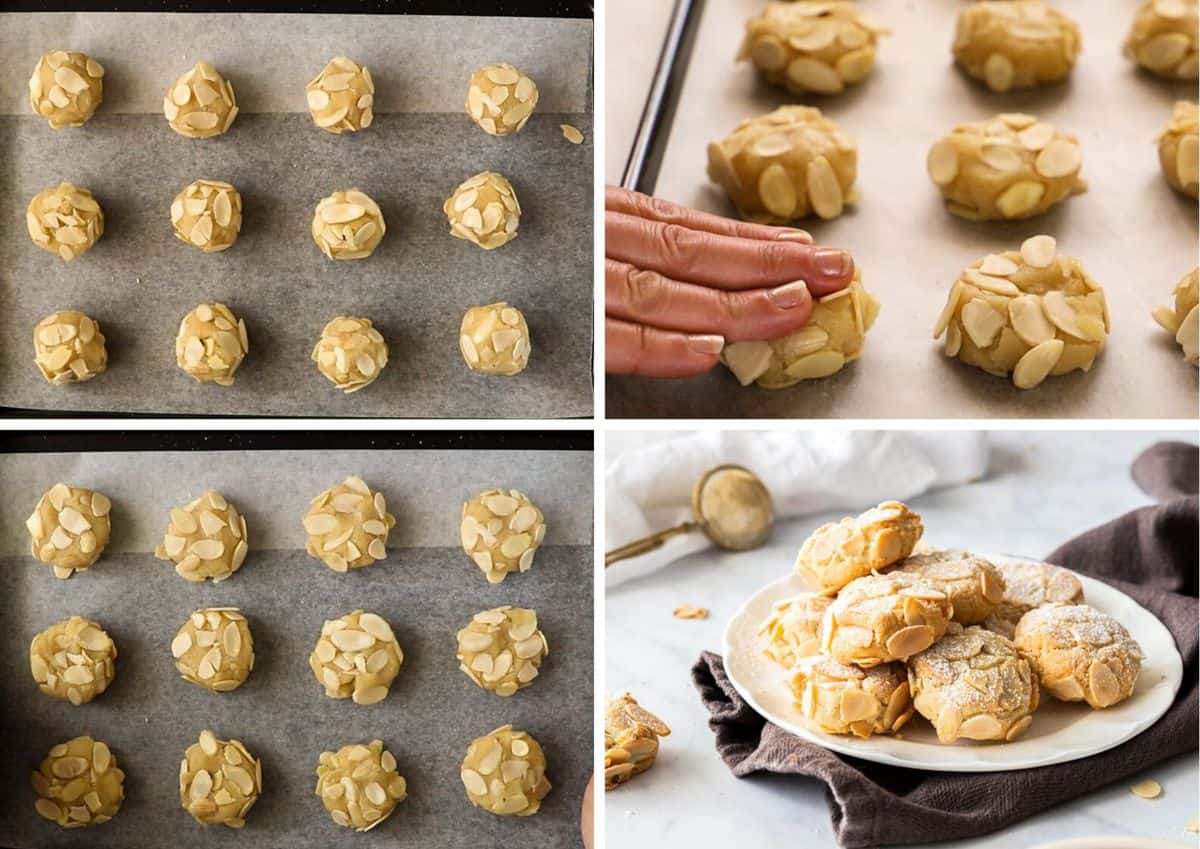 Tips for Success:
If you are just venturing into the world of gluten-free baking, these Gluten and Dairy Free Almond Cookies are a good place to start.
It can be a minefield when beginning to eat gluten-free. There are so many labels to check as gluten is an ingredient in many foods.
There are many flours to experiment with – and there will sometimes be disappointment with the results. However, with this recipe, you will not be in the least deprived.
The biscuits contain almond meal which is a great substitute for flour. Almond flour is high in healthy fats, protein and fibre, and adds a sweet, nutty flavour to baking.
When you bite through the crunchy exterior of these biscuits you will discover a rich, chewy interior. The dense texture that the almond meal provides is deeply satisfying.
A good biscuit recipe is a must-have in your repertoire and you will find this one a keeper.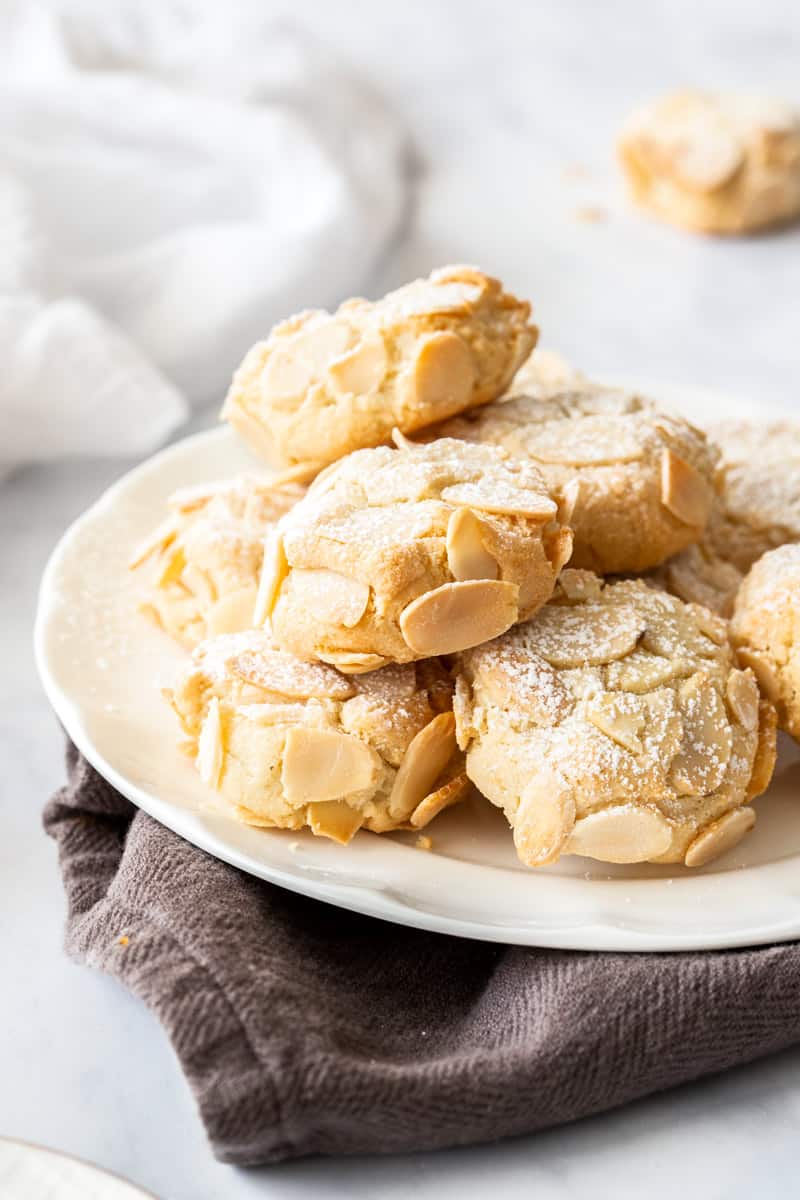 Can you freeze the Almond Cookies?
Yes! You can freeze the Almond Cookies both prior to baking, and after! I have tried both methods and they are delicious either way.
If not freezing, be sure to store your cookies in an airtight jar or container.
More suggestions for these ingredients: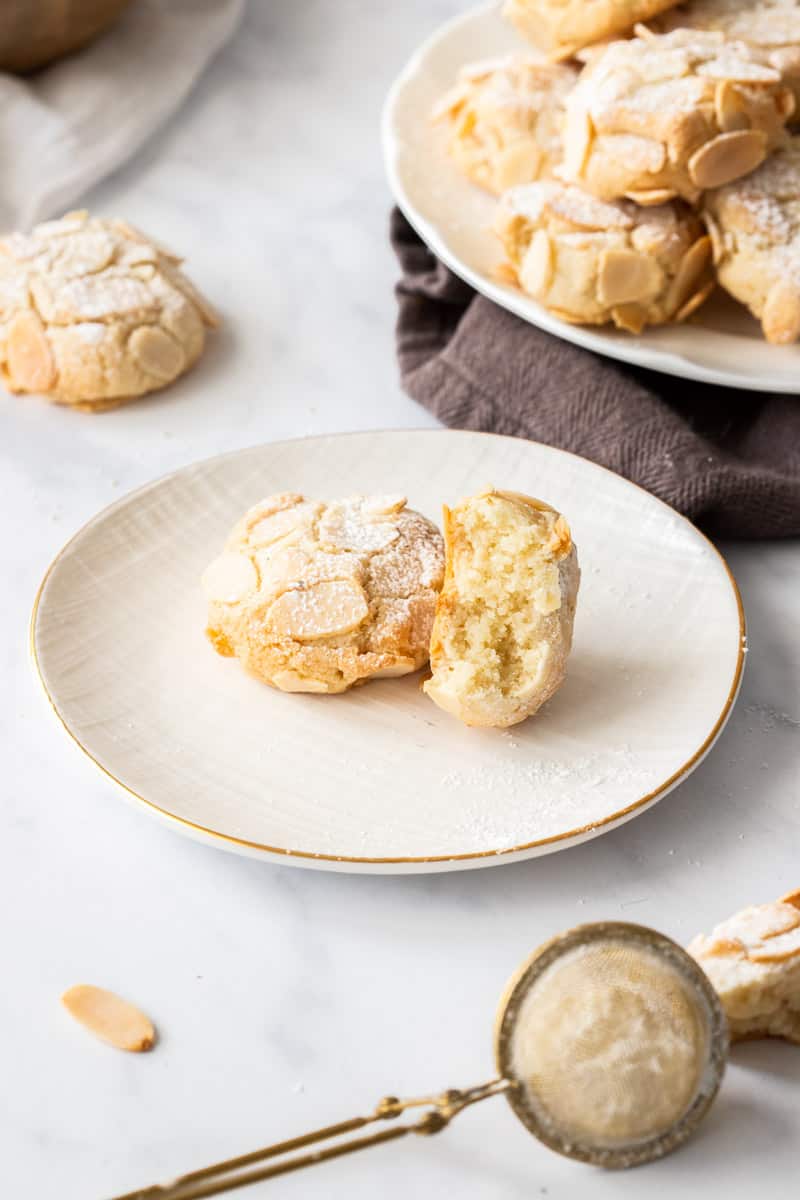 Recipes to use your leftover egg yolks in:
Don't let those egg yolks go to waste! Here are some great ways to use them up:
Or, make a custard or use as an egg wash on pastry!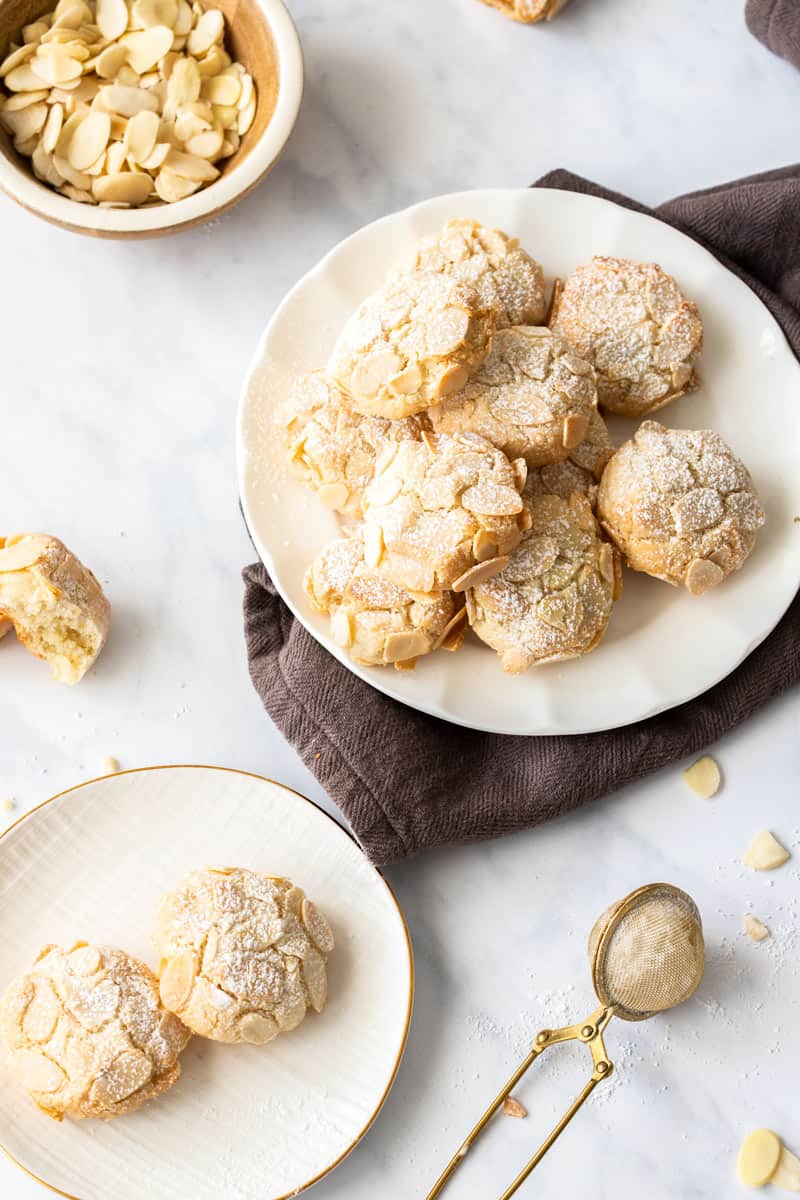 More delicious biscuit and cookie recipes for you to try: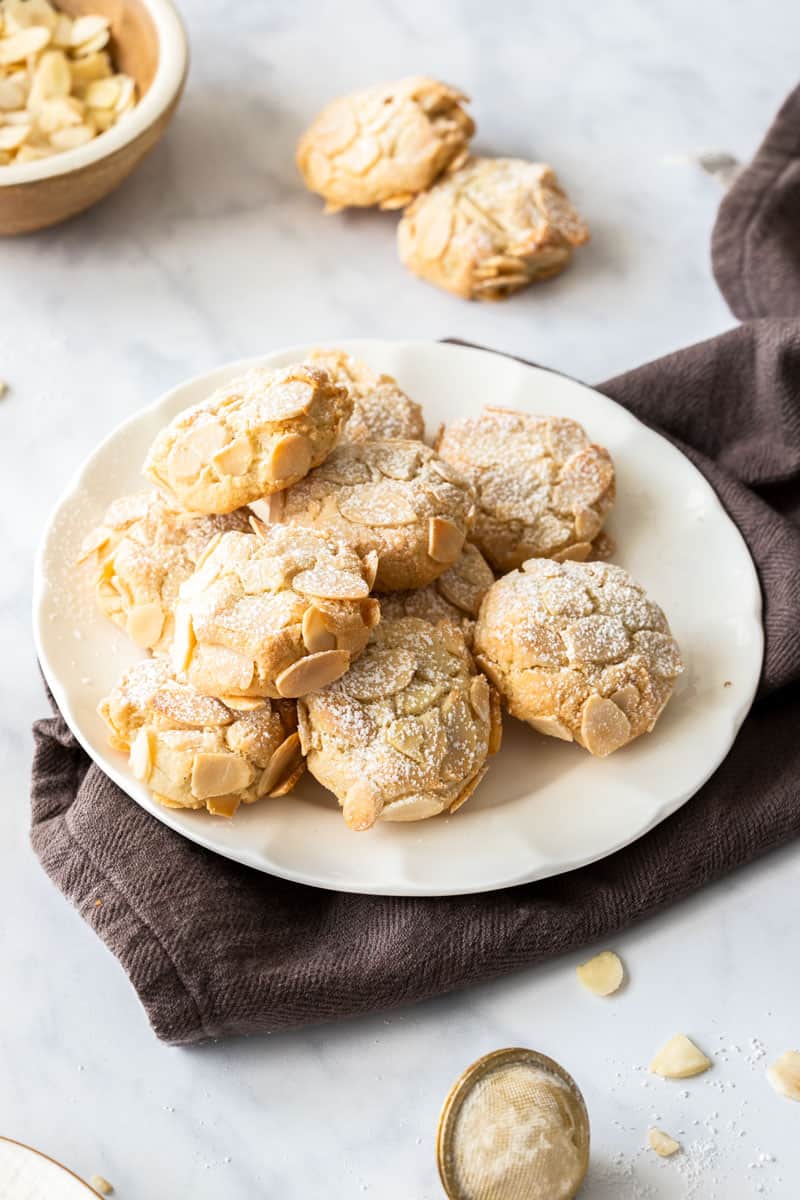 I would love to know your thoughts when you try my delicious Gluten Free and Dairy Free Almond Cookies.
Be sure to leave a comment below!
Alex xx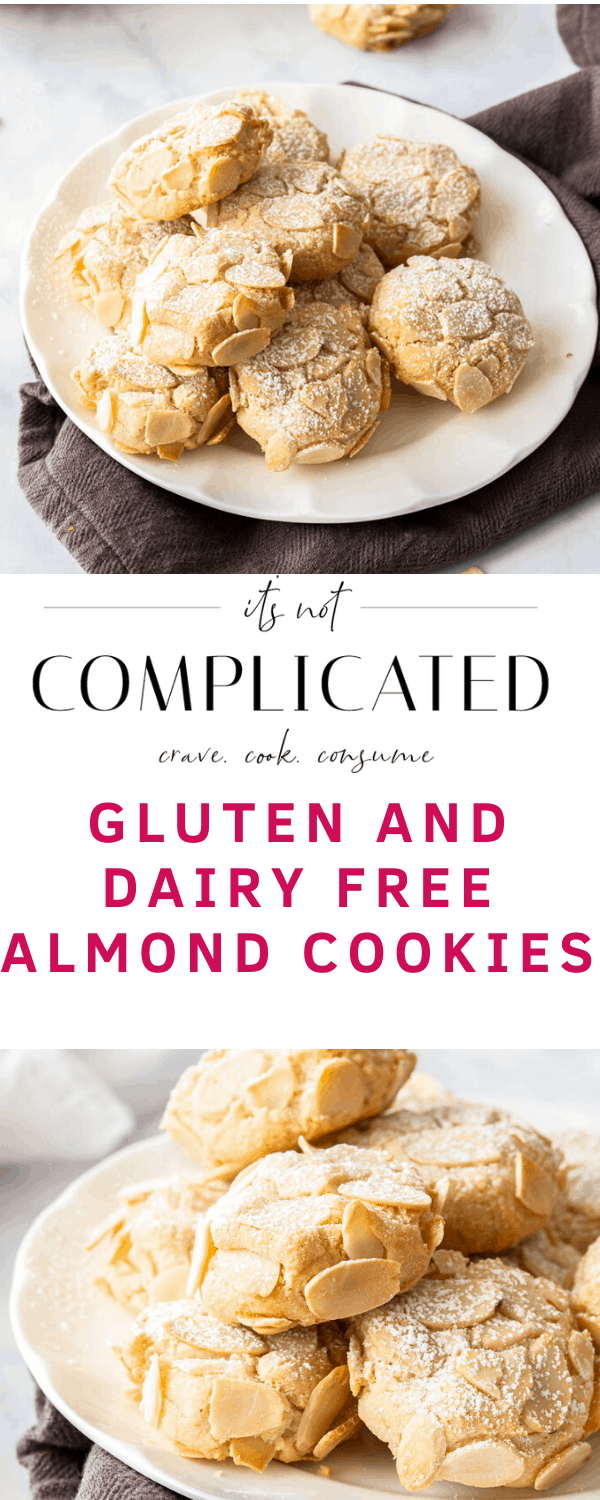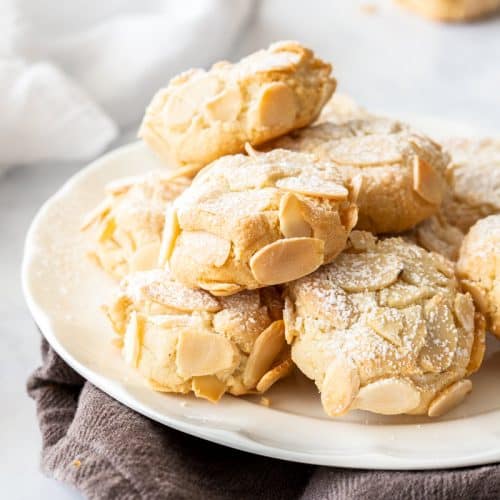 Gluten-Free Almond Cookies
These 5 ingredient cookies will become your new favourite sweet treat!
Print
Pin
Rate
Ingredients
3

cups

almond meal

spooned into the cup, loosely packed – See Note 1

1

cup

caster/superfine sugar

1/8

tsp

almond essence

or to taste

3

egg whites

1

cup

flaked almonds

icing sugar to dust

optional
Instructions
Preheat oven to 180 Degrees C (360 F).

Place non-stick baking paper onto oven trays.

Put almond flakes into a flat bowl or onto a plate.

Combine almond meal, sugar and almond essence in a large bowl. Add the lightly beaten egg whites and stir until the mixture forms a firm paste.

Roll small balls of the mixture, about 3 cm (or 1 1/4 inch) in diameter in the flaked almonds.

Place the balls onto baking paper-lined oven trays and gently flatten them a little.

Bake for about 12-15 minutes or until the biscuits are lightly browned.

Cool on racks.

Store in an airtight container for up to a week.
Notes
Spoon the almond meal into the cup gently.
Never use the cup to scoop your ingredients – you may compact the contents in the measuring cup, and this will cause the recipe to not work accurately.
All ovens vary in temperature slightly, and as such we have provided a time range for doneness on this recipe. 
Nutrition
Calories:
139
kcal
|
Carbohydrates:
12
g
|
Protein:
4
g
|
Fat:
9
g
|
Sodium:
6
mg
|
Potassium:
37
mg
|
Fiber:
2
g
|
Sugar:
9
g
|
Calcium:
41
mg
|
Iron:
0.7
mg