Share
108
271
49
40.2K

40.6K

Shares
Last Updated on
Almond Cookies are an easy and delicious biscuit recipe. They are also Gluten and Dairy free. The biscuits are very simple to make, to the degree that I believe they are foolproof. Both the experienced cook and the novice will enjoy how easy it is to make these Almond Cookies.
Containing just 5 ingredients they will take about 10 minutes to mix and another 15 minutes to bake. You will be enjoying these with a cup of tea or coffee in roughly 30 minutes.
There's no creaming of butter and sugar; the dough is easily stirred together by hand in just a couple of minutes. Just mix the almond meal, caster sugar, almond essence and egg whites in a bowl. Roll the dough into small balls, roll the balls in flaked almonds and then bake. That's it! They're so simple.
This is a great way to use egg whites which are left over from recipes which require egg yolks only, such as my No-Churn Vanilla Ice Cream. I put the egg whites into an airtight container, label with the date and number of egg whites, and freeze.
If you are just venturing into the world of gluten-free baking, these biscuits are a good place to start. It can be a minefield when beginning to eat gluten-free. There are so many labels to check as gluten is an ingredient in many foods. There are many flours to experiment with – and there will sometimes be disappointment with the results. However, with this recipe, you will not be in the least deprived. The biscuits contain almond meal which is a great substitute for flour. Almond flour is high in healthy fats, protein and fibre, and adds a sweet, nutty flavour to baking.
When you bite through the crunchy exterior of these biscuits you will discover a rich, chewy interior. The dense texture that the almond meal provides is deeply satisfying.
A good biscuit recipe is a must-have in your repertoire and you will find this one a keeper.
More delicious cookie recipes:
Do let us know when you try these delicious cookies!
Enjoy!
Xx Alex and Faye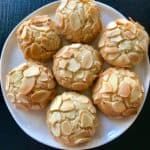 Almond Cookies – Gluten and Dairy Free
Containing just 5 ingredients and mixed by hand, these delicious biscuits are crunchy and chewy with a sweet nutty flavour and are made in 30 minutes.

Ingredients
3

cups

almond meal

spooned into the cup, loosely packed*

1

cup

caster sugar

superfine

8

drops

almond essence

or to taste (approximately 1/8 tsp)

3

egg whites

1

cup

flaked almonds
Instructions
Preheat oven to 180 Degrees C (360 F).

Place non-stick baking paper onto oven trays.

Put almond flakes into a flat bowl or onto a plate.

Combine almond meal, sugar and almond essence in a large bowl. Add the lightly beaten egg whites and stir until the mixture forms a firm paste.

Roll small balls of the mixture, about 3 cm (or 1 1/4 inch) in diameter in the flaked almonds.

Place the balls onto baking paper-lined oven trays and gently flatten them a little.

Bake for about 12-15 minutes or until the biscuits are lightly browned.

Cool on racks.

Store in an airtight container for up to a week.
Recipe Notes
To measure the almond meal, spoon it into the cup. You will get a different measure if you push the cup down into the almond meal.
You can sprinkle sifted icing sugar over these biscuits if you wish.
Nutrition Facts
Almond Cookies – Gluten and Dairy Free
Amount Per Serving
Calories 139
Calories from Fat 81
% Daily Value*
Fat 9g14%
Sodium 6mg0%
Potassium 37mg1%
Carbohydrates 12g4%
Protein 4g8%
Calcium 41mg4%
Iron 0.7mg4%
* Percent Daily Values are based on a 2000 calorie diet.
Share
108
271
49
40.2K

40.6K

Shares