Making your own pastry can make all the difference when it comes to a delicious tart or quiche. When I think of pastry based dishes, I find it hard to not think of Sylvie from A Baking Journey. Sylvie's passion for baking shines through her recipes, and I spoke to her to gather her top tips for perfecting pastry for tarts and quiches. These tips will help to ensure you will have success when you next make your own pastry!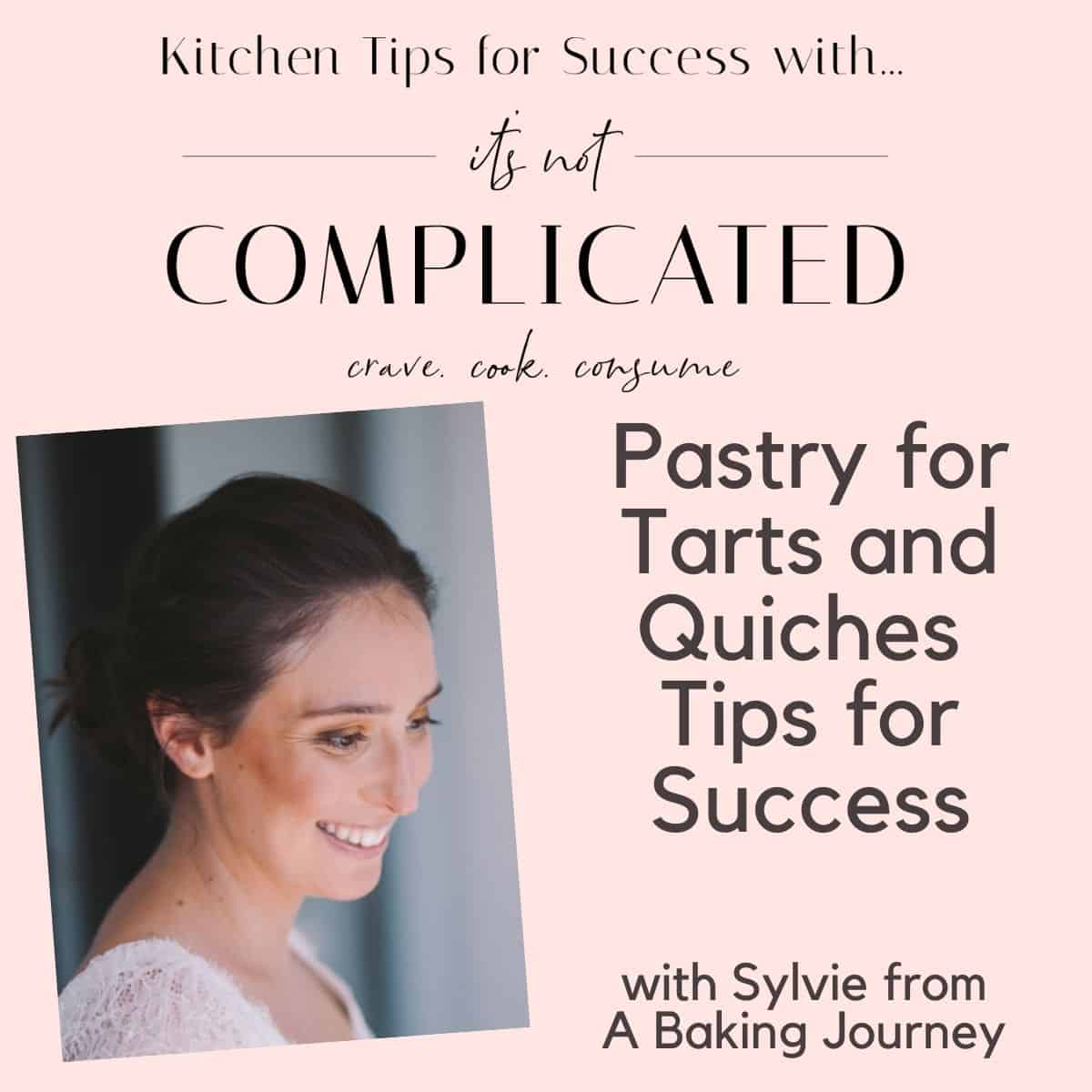 One of the great advantages is that when we make our pastry, we know exactly what it contains. There are just 4 ingredients in a savoury shortcrust pastry, all of which you are likely to have on hand. There's flour, butter, salt and water, not the long list of ingredients you may find listed on a pack of commercially prepared pastry.
However, many of us are daunted by the thought of making our own so we have some tips to help you achieve success.
I often make pastry a day ahead of time. It is important to remove the pastry from the refrigerator 30 – 40 minutes before attempting to roll it. When cold, it will be difficult to roll without it cracking.
To prevent my tart or quiche baking with a soggy bottom, I prefer to use a metal tin over a ceramic one. Metal tins are best for baking pastry as they are good conductors of heat and hold it well.
As well, whilst some pastry recipes advise that you roll your pastry on a lightly floured bench, I prefer to roll my pastry between two sheets of baking paper. This means that I do not use extra flour thereby upsetting the fat to flour ratio and potentially making the pastry dry and tough.
For some great advice, it is over to Sylvie from A Baking Journey!
For people making pastry for the first time, what is important to remember?
Ingredient temperatures are really important and will have a huge impact on the final texture of the pastry. Unless you are using a 'creaming' method, the butter and water should always be very cold, which will create a nice, flaky texture.
It is also key to follow the recommended resting and chilling time if you want to get a perfect crust. I even like to freeze the pastry for 15 minutes before baking it to make sure the butter is extra cold.
If you rolled and baked the pastry straight away without resting it, the gluten from the flour won't have had time to relax and the pastry will probably move, shrink or collapse when baked.
What are the key ingredients in achieving the best pastry for tarts and quiches?
My go-to quiche crust recipe is made from 4 basic ingredients: Flour, Salt, Butter, and Water. Some people like to use lard or shortening but for me, the best flavour and texture always comes from using a good quality butter!
How far in advance can you make pastry?
Pastries can be made quite far ahead. They will last a couple of days in the fridge unbaked (I like to pre-roll the pastry and store it flat in the fridge between two layers of baking paper) but you can also freeze it if needed.
A good tip is to line your tart or quiche pan with the un-baked pastry then freeze it. This way, you have a pastry shell ready to be put in the oven when needed!
Is it important to blind bake pastry and why?
It really depends on the filling and the type of pastry you use. For quiches specifically, I like to blind bake the pastry because the filling is very liquid, so you want to make sure that the bottom of the crust is baked first. Otherwise, you will end up with a pastry that is either underbaked or turn soggy.
I personally don't use weights or baking beads when I blind bake quiche pastry as I want the crust to be as dry as possible without over-baking it. Remember the quiche will spend another half an hour to an hour in the oven once you add the filling!
What is your favourite tart or quiche to enjoy and why?
This is a hard one because I love quiches so much! But one of my favourite is probably a Spinach and Feta Quiche.
You can also find my recipe for Savoury Short Crust Pastry for Tarts and Quiches here.
Final Tips for Success for Perfect Pastry for Tarts and Quiches:
I know that making your own pastry can be a bit intimidating, but it is much easier to make than it seems! Here are a few more tips:
Depending on the flour you use, you might need a little bit more or less water than recommended. Always slowly add your water and stop when you get the desired consistency.
Do not overwork or knead pastry. You do not want gluten to develop inside the pastry, which would make it shrink or collapse in the oven.
Always chill and rest the pastry for as long as you can for the best results.
Use a tart or quiche pan that has a removable bottom plate. It's the easiest way to get your quiche out of the pan!
I'm Sylvie, a Belgian expat who lives in Melbourne, Australia. I am a baker who loves to share my favourite French-inspired Pastry and Easy Baking Recipes on my blog 'A Baking Journey'. I am passionate about sharing my love for pastry and making home-baking accessible to everyone!
It's Not Complicated Recipes Pastry Favourites:
Or, browse our collection of Savoury Pastry Recipes here.
Don't forget to check out our other Kitchen Tips for Success: