Meatless Monday is a popular global movement that has become more prevalent in recent years. It has a simple message – skip meat once a week. For regular meat-eaters, you may wonder how you could possibly give up your favourite food for one day a week, but you will find some suggestions here that will make it easy to achieve. To get the best advice, I spoke with Caitlyn from Erhardts Eat – a blogger passionate about vegetarian food for the whole family to enjoy. Caitlyn shares her favourite Meatless Monday Tips below!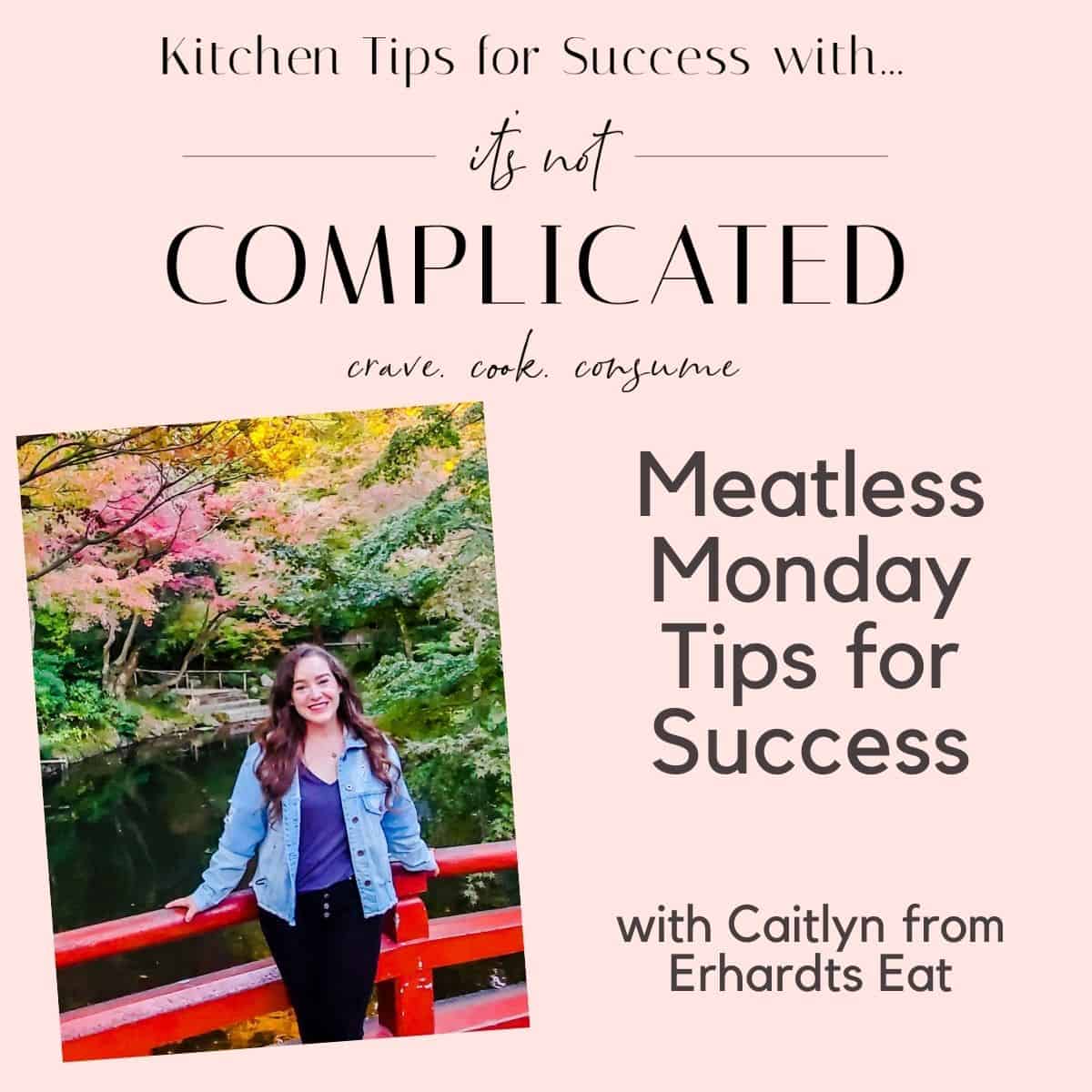 Recently, I have been attempting to include Meatless Monday in my week. This is what I found:
That I will not be missing out on protein. There are many meat-free sources, such as yoghurt, cheese, tofu, eggs, quinoa, beans and lentils to name a few.
Please bear in mind, forgoing meat for one day of the week and eating like a vegan are not the same thing. You are simply being asked to go without meat, not all animal products. Of course, do try a vegan diet if you prefer.
Eating meat-free for one day will provide your palate with new flavours and textures. My top tip is to ensure that your food is well seasoned and flavoured. Bland, boring meals are certain to give you reason to not want to try Meatless Monday ever again. Be sure to include spices and herbs in your meals; they will make a huge difference. And consider texture; foods such as mushrooms have a "meaty" texture and are a great alternative. Nuts are a great part of a meal; they add protein, flavour and crunch. To get the best out of them, I like to first toast them in the oven.
Now, over to Caitlyn for her Meatless Monday Tips!
What are your tips for making Meatless Monday more interesting?
First off I like to add a variety of colors to each meal/plate. I feel like this engages my kids more and encourages them to try more things. I like to incorporate at least three types of veggies at each dinner instead of just a lot of one. Along with this being more engaging to my kids it lets them try a variety of different things. Plus, everyone can usually find one thing they like while still getting to try something new.

Next, meatless doesn't have to mean boring. I incorporate different sauces, textures, and flavors into a dish. A basic dish like roasted vegetables can be easily transformed with some zesty Chimichurri Sauce or fresh Pesto Sauce.

What are your tips for simplifying family meals and getting the family to eat together?
My number one thing is to prep as much ahead of time as possible. I often slice vegetables, make sauces or just lay out all my ingredients in the morning. This saves me time later on at dinner and makes it easier for me when things get crazy around 4pm (why is it that everyone loses their minds right before dinner!)

Another thing I always do is a meal plan for the week. For me meal planning for the month just isn't realistic and I have to divert too much for it to be useful. Weekly meal plans allow me to grocery shop ahead of time, and allows all my produce to stay fresh for our weekly meals.

Meal planning also helps me plan "easier" dinners for busy nights during the week, and more prep heavy dinners on days we have more time.

My most important tip for family dinners is to have a "fallback" meal. This is something you always have the ingredients for on hand, quick and easy to make and your family loves. Let's be honest life and kids get crazy sometimes and no matter how well we meal plan sometimes it just doesn't work out.
Instead of defaulting to take-out, I have my easy fall-back meal I can whip up. The meal doesn't have to be crazy adventurous, just something that works for your family. Mine is a simple vegetarian taco. I roast whatever veggies I have on hand, add in some taco seasoning, sauce and cheese and away we go. My oldest son also likes being a taco builder so he has fun making these as well.
What is your favourite vegetarian dinner recipe and why?
My all-time favorite vegetarian dinner recipe is my Vegetarian Quesadillas. They are quick and easy to prepare and my whole family loves them. Even my meat-loving husband enjoys them, so that's how I know they are good. This recipe is ready in under 30 minutes and keeps well for lunch the next day, making lunches simple, so win-win in my book.
Any last tips?
The best advice I have is to not over-complicate your dish. Maybe add one new ingredient to your plate and see how it goes. Don't necessarily aim for the perfect roasted tofu right out of the gate when you have never used the ingredient before. Stick with something simple you already know and build from there. 

Oh, and add cheese to everything it makes life better.
Hey there! My name is Caitlyn and I am the tummy behind Erhardts Eat. My family and I love food and travel and we currently live in Japan. Some of my favorites outside of food include binge watching Netflix, adventuring with my family and doing yoga.
I focus mainly on family friendly recipes that can work for everyone that ensure you won't be making several different meals each night. My personal favorite recipes to create are vegetarian recipes and I feature many of them on my blog.
It's Not Complicated Recipes favourite Meatless Monday Meals:
Don't forget to check out our other Kitchen Tips for Success: