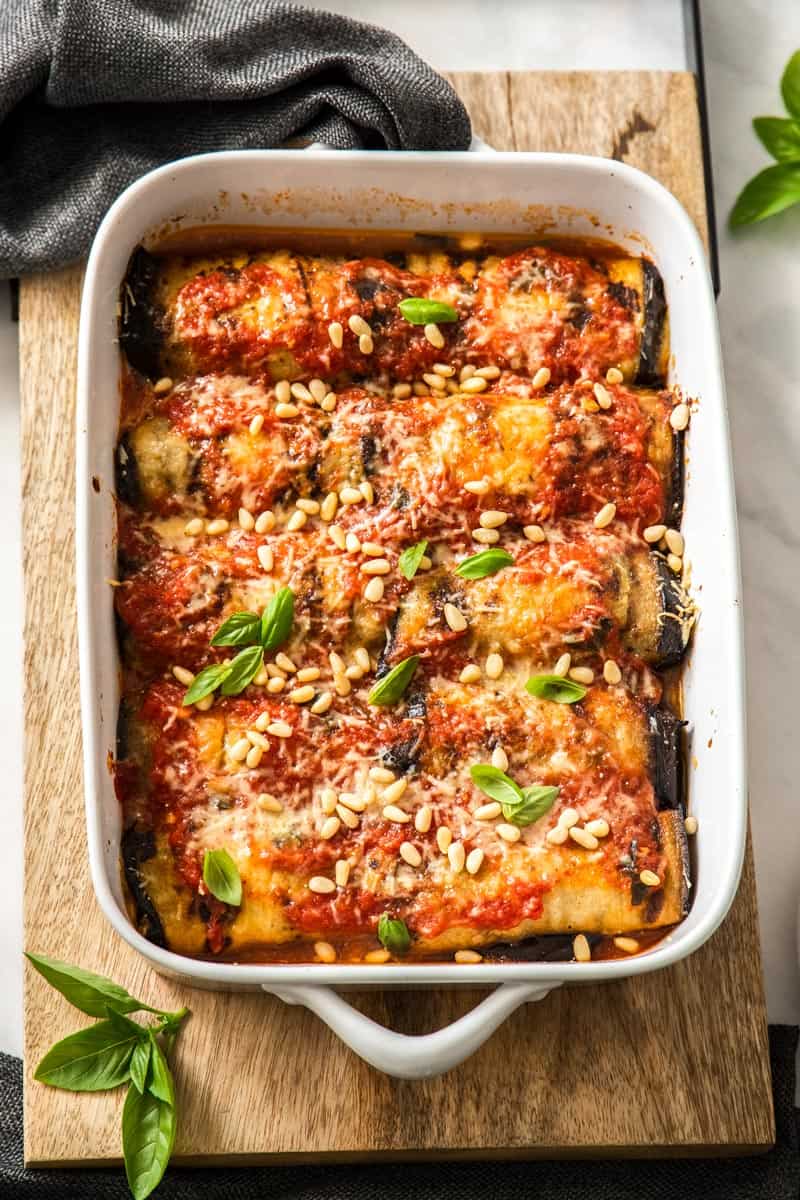 Eggplant Involtini is the ideal Italian comfort food.
Involtini loosely translates as small bundles of food. That is, food which has an outer layer wrapped around a filling. Veal is frequently used but chicken, fish or vegetables are also used. Here I have slices of shallow fried eggplant wrapped around a flavour filled, creamy ricotta filling. The small bundles are placed into a basic tomato sauce and baked to rich, flavoursome, deliciousness.
Whilst I love eggplant in many preparations, this dish is one that I find myself making over and over again. It is a wonderfully versatile dish, being suitable to serve to carnivores or vegetarians alike. I serve it as a starter, as a side dish with meat or poultry or as a stand-alone, meat-free meal. To serve as a main meal I accompany the Involtini with a green salad and crusty bread. The Eggplant Involtini are so delicious and satisfying that I doubt even the most enthusiastic meat eater will complain.
For this dish, I use eggplant which I slice lengthways. I soak the eggplant for 30 minutes in a brine solution. Whilst the eggplant is soaking I prepare the filling. I make a mixture with ricotta, egg, parmesan, salt, pepper, parsley and currants. Then, I remove the eggplant slices from the brine, pat them dry, coat them in rice flour and shallow fry them. Once the eggplant has cooled slightly, I add the ricotta filling to each slice, roll them up and place them in a baking dish with a simple tomato sauce.
After a sprinkle of parmesan, I bake the Involtini until they are meltingly tender.
It was previously necessary to salt eggplant slices to remove bitter juices. That tendency to bitterness has mostly been bred out of the eggplant so in general I no longer follow this practice. However, that procedure did help prevent the eggplant from soaking up a bucket load of oil. So, whilst it's not essential to salt the eggplant, I soak the slices in a bowl of water with a couple of tablespoons of salt for about 30 minutes. I find that after bathing in brine, the fried eggplant absorbs less oil. It is also essential that the oil be hot but not smoking. This way, the eggplant will cook without soaking up all the oil. After frying, I place the eggplant slices on paper towel to drain off any excess oil. I find that by shallow frying the eggplant slices the flesh becomes tender and creamy.
The tomato sauce that I use for this dish is a simple one, made with olive oil, finely chopped garlic, tomato passata, salt, pepper and fresh basil. It is briefly cooked so that it retains its fresh flavour.
My Eggplant Involtini is a great dish for entertaining as it can be assembled ahead of time and baked just before serving.

I love a dish that you can have prepared in advance, so you can spend time with your guests. My Spinach and Ricotta Pasta Shells or Pumpkin Shells are other great make-ahead dishes.
Please let me know if you make this classic, Italian comfort food. It is delicious served with my Olive and Rosemary Focaccia.
Alex xx
Eggplant Involtini
This classic Italian dish will be enjoyed by carnivores and vegetarians alike. The small bundles of eggplant, filled with a seasoned ricotta mixture, are rich, flavoursome and extremely satisfying. For stress-free entertaining, serve this dish which can be made ahead.

Print
Pin
Rate
Servings:
4
people (as a main course)
Ingredients
For the Eggplant:
2

large

eggplants

1/4

cup

rice flour *

1/2

cup

olive oil

extra virgin
For the Ricotta Filling:
250

g

fresh ricotta

1

egg

1/4

cup

currants

2

tbsp

red-wine vinegar

40

g

parmesan

grated, divided

100

fresh mozzarella

cut into 1 cm thick sticks

sea salt and black pepper

to taste
For the Tomato Sauce:
1 1/2

tbsp

olive oil

extra virgin

2

small

garlic cloves

finely chopped

500

ml

tomato passata *

1

tsp

sugar

1/4

cup

basil leaves

divided

sea salt and black pepper

to taste
For the Topping:
2

tbsp

pine nuts *

toasted lightly in a dry frying pan (optional)
Instructions
For the Eggplant:
Cut off the stem end of the eggplant.

Stand the eggplant upright on the cut end.

Cut the eggplant lengthways into 1cm thick slices discarding the first and last slice that has the skin*.

Add 1 tablespoon of salt to a large bowl of water. Add the eggplant slices to the brine.

Top with an upturned plate and a weight on top to keep the eggplant submerged.

Soak for a half hour. Prepare the filling whilst the eggplant is soaking as per the instructions below.

Soak the currants in the red wine vinegar for 5 minutes. Drain the currants*.

Drain the eggplant slices and pat dry with a tea towel or kitchen paper.

Lightly coat the eggplant slices in the flour.

Heat ¼ cup of olive oil in a large frying pan. The oil should be sufficiently hot but not smoking.

Cook the eggplant in the frying pan 1-2 minutes each side until tender and golden, adding more oil as necessary.

Drain the eggplant slices on a plate covered with kitchen paper. Layer with more kitchen paper as each layer is covered with eggplant.



For the Ricotta Filling:
To make the filling, mix ricotta with the egg and season with sea salt and freshly ground black pepper.

Add the drained currants & half the grated parmesan to the ricotta mixture. Mix well.



For the Tomato Sauce:
Heat the olive oil and add the finely chopped garlic. Heat gently until the garlic is fragrant and pale golden, ensuring that it does not burn.


Add the tomato passata, sugar, sea salt, freshly ground black pepper and 8 large basil leaves, torn into small pieces.




Stir well, bring to a simmer and simmer for 2-3 minutes.

Remove from the heat.
To Assemble:
Preheat your oven to 180 Degrees C (350 F).

Brush the base of a large ovenproof dish* with 2 teaspoons of olive oil.

Spoon about 1 tablespoon of the ricotta filling onto the narrow end of an eggplant slice.

Top with a stick of mozzarella before rolling tightly.

Add ½ cup of the tomato sauce to the baking dish.


Place the eggplant rolls on the sauce with the join side down so they don't unroll. Keep them tightly packed.

Top with the remaining tomato sauce.

Sprinkle with the remaining parmesan.

Cover the dish with foil, bake 30 minutes then uncover & bake another 10 minutes.

To serve, add a few of the remaining basil leaves and toasted pine nuts (optional).
Notes
*I have used rice flour to keep the dish gluten-free. You can use regular plain/all-purpose flour if this is not a requirement for you.
*The Australian tablespoon is 20 ml or 4 teaspoons. In many other countries, the tablespoon is 15 ml or 3 teaspoons. You may need to adjust your measurements accordingly.
*When I drain the currants I keep the vinegar to use in a salad dressing. It has a slight sweetness which has infused from the currants.
* Tomato Passata is an uncooked tomato purée that has been strained of seeds and skins. It generally comes in tall glass jars. As an alternative, use tinned, pureed tomatoes or put tinned tomatoes through a food mill.
*The sugar is added to counter any acidity in the tomato passata.
*Instead of discarding the first and last slices of the eggplants, do as I do. Fry them and enjoy with a sprinkle of sea salt. These are cook's perks. They are delicious.
*I used a medium and a small size baking dish.
*I have added some toasted pine nuts for textural contrast; they add a nice crunch. If you would like to add some, place the pine nuts in a dry (oil-free) frying pan. Over moderate heat, stir or toss the pine nuts until they are golden. Immediately remove them to a small dish so that they don't continue cooking.
Nutrition
Calories:
714
kcal
|
Carbohydrates:
39
g
|
Protein:
23
g
|
Fat:
53
g
|
Saturated Fat:
15
g
|
Cholesterol:
99
mg
|
Sodium:
1047
mg
|
Potassium:
1157
mg
|
Fiber:
9
g
|
Sugar:
21
g
|
Vitamin A:
1260
IU
|
Vitamin C:
14.9
mg
|
Calcium:
430
mg
|
Iron:
3.2
mg