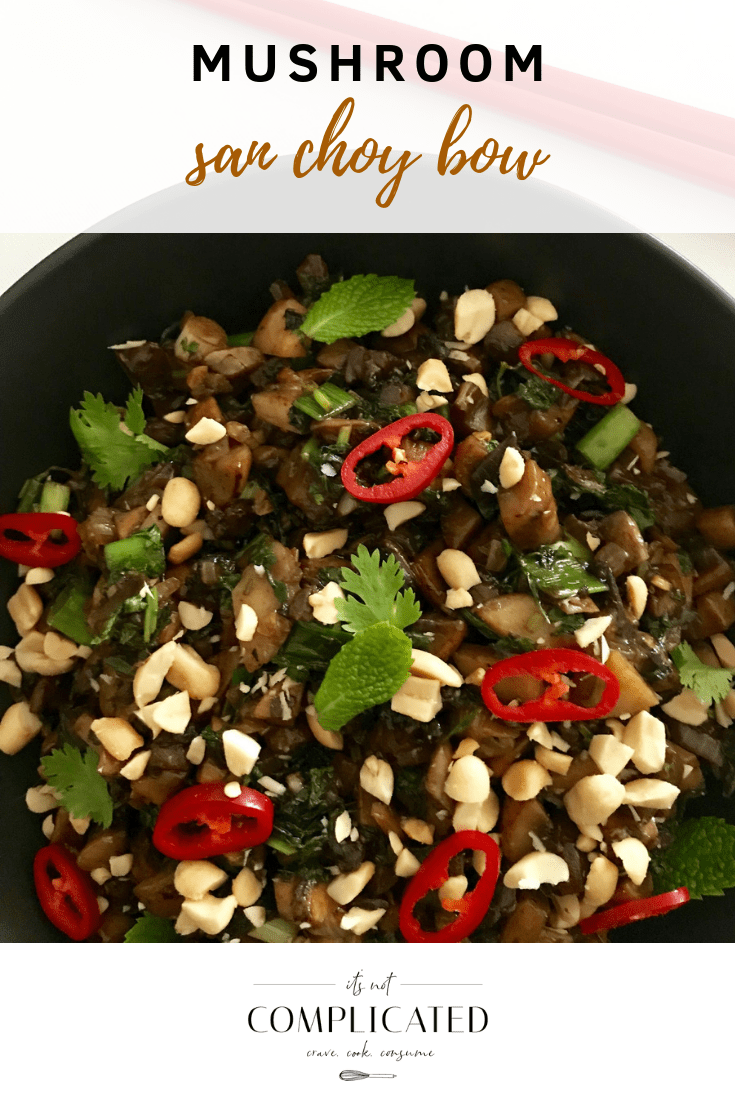 Mushroom San Choy Bow is a fabulous meal for vegetarians and carnivores alike. San Choy Bow is a popular dish, served in most Chinese restaurants. It is one of my favourites and one that I frequently order. On a number of occasions, I have enjoyed the pork, chicken, duck and quail versions of this dish. However, the idea of creating a flavoursome mushroom version appealed greatly. The dish is vegetarian, however, easily adapted to vegan with the omission or replacement of oyster sauce.
Although I have made several different versions of this dish on many an occasion, I wanted to do some research to learn about the origins. The many different ways of spelling San Choy Bow had made me curious. I discovered on Wiktionary that there are 18 different combinations of three words; san/sung/sang choi/choy bow/bao/bau. So, I am no wiser regarding the correct way to spell the name. Maybe all the combinations are correct?
The dish is thought to have Cantonese origins, possibly coming from Hong Kong. However, Google, unusually, does not offer definitive information. What I did find is that San Choy translates as "lettuce" and Bow as "wrap".
Thus, I present Mushroom San Choy Bow, the ideal lettuce wrap. I have adapted this recipe from a recipe I previously made with chicken. Mushrooms play a central role in many meat-free dishes. The reason is that they have a dense," meaty" texture when cooked.
I have used button mushrooms. They have a mild flavour which becomes more intense as they cook. Mushrooms contain the fifth taste sense, umami. The other four are sweet, sour, salty and bitter. Umami is a Japanese term which loosely translates as "pleasant, savoury taste". Some other foods which contain umami are soy sauce, bacon, parmesan cheese and that Australian icon, Vegemite.
To begin, I make this meat-free version of San Choy Bow by dicing some mushrooms.
I toss them in a hot wok until almost cooked. Mushrooms contain a great deal of water. Therefore, to achieve the best flavour it is essential to remove that water. Then, you can begin adding your flavour elements.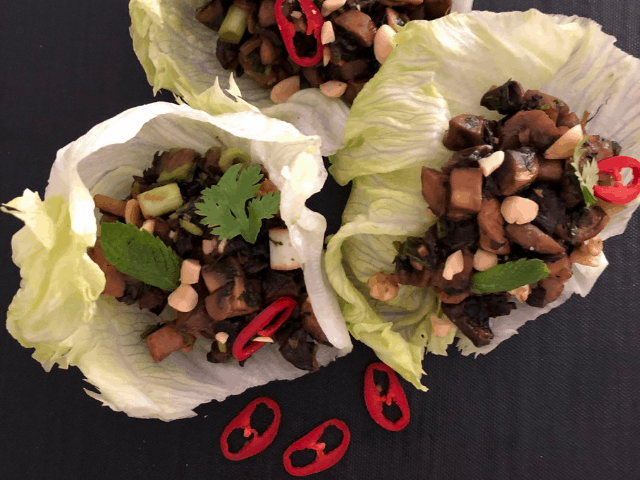 To the wok, I add diced onion, grated ginger and garlic. I toss them all together for a few minutes and then add several Asian sauces. Finally, I add diced water chestnuts, scallions, chopped mint and coriander. I turn the mushrooms into a serving dish and top with chopped peanut and sliced chilli. I serve crisp lettuce leaves to encase the mushroom filling. All the classic flavours of San Choy Bow are here.
There are a couple of essential elements to bear in mind when making Mushroom San Choy Bow.
An element which I feel is essential is water chestnuts. Water chestnuts are a staple in Chinese cooking. They have a neutral flavour but their tremendous value is in the crunchy texture they provide. To maintain this texture it is best to add them toward the end of cooking time. They are available, canned, in most supermarkets. I encourage you to include them if you can find them.
Another important element is the lettuce. The lettuce has a vital role; it is the vessel which holds the cooked filling. To me, there is only one lettuce to use; the Iceberg. The Iceberg fell out of favour a while back. However, no other lettuce is comparable when it comes to providing the crunch which is necessary for this dish. Further, it is a sturdy leaf which can hold the warm filling without wilting.
You can customise this recipe to suit your taste.
To add extra vegetables to your meal, you could add some shredded carrot or baby corn. However, if you do add ingredients it is wise to check the seasoning before serving. Adding extra ingredients may dilute the flavours. Whilst this is a simple dish, there is a good deal of preparation initially. Cooking time, however, is brief.
Looking for some more delicious Asian inspired recipes? Have a look at these:
I do hope you will try Mushroom San Choy Bow. Please let me know in the comments below if you do.

Enjoy!
Alex and Faye xx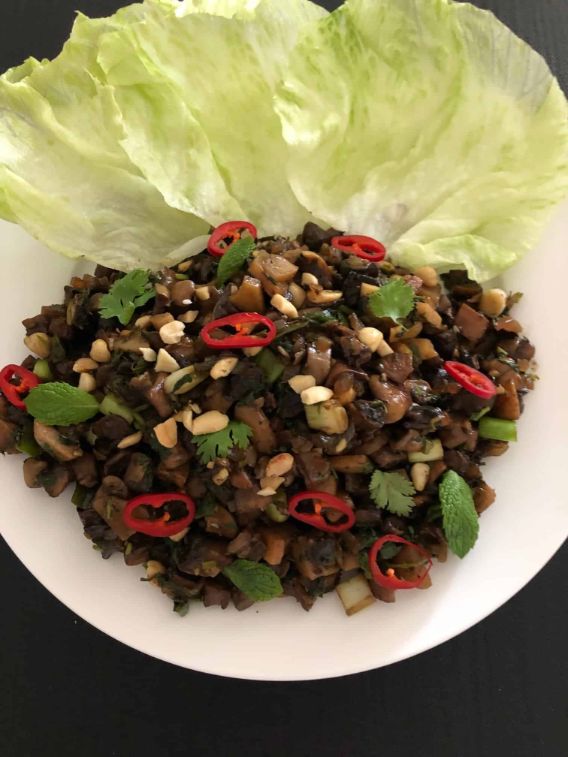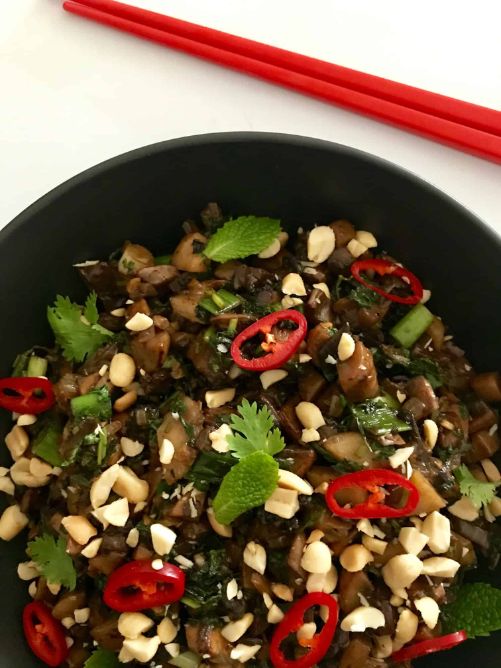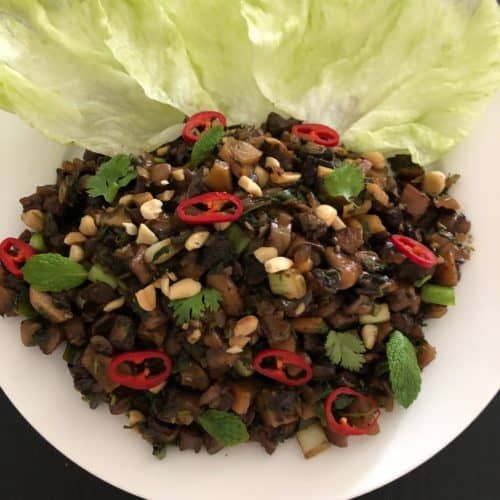 Mushroom San Choy Bow
Enjoy the vibrant flavours of my Mushroom San Choy Bow. This is a great vegetarian version of a Chinese classic dish. It will be enjoyed by vegetarians and carnivores alike. Serve it as a starter, as part of a share meal or as a healthy, stand-alone, meat-free meal. Just make sure to chill your Iceberg lettuce cups to ensure they are very crisp.

Print
Pin
Rate
Ingredients
500

g

white button mushrooms

2

tbsp

peanut oil/neutral flavoured oil *

1

medium

brown onion

finely chopped

2

large

garlic cloves

finely chopped

1

tsp

fresh ginger

grated

2

tsp

lime juice

freshly squeezed

2

tsp

soy sauce/tamari *

2

tsp

hoisin sauce *

2

tbsp

oyster sauce *

use vegan option if you wish

2

scallions/green onions

the white and some green cut in 1 ½ cm/ ½" slices

1/2

cup

canned water chestnuts

cut in 7mm/¼" cubes

1/2

cup

fresh mint leaves

roughly chopped

1/2

cup

fresh coriander/cilantro leaves

roughly chopped

1

tsp

roasted sesame oil

1

long red chilli

finely sliced – optional

1/4

cup

roasted peanuts

chopped

8

large iceberg lettuce leaves

washed and trimmed
Instructions
Note: As with all Asian stir-fries, you need to ensure that you have all your elements prepared. The preparation takes time but the cooking time is brief so everything needs to be ready to use. It is best to read through the method before starting to cook.

Clean the mushrooms by wiping with damp kitchen towel*.

Cut into rough cubes about 1 ½cm/1/2", stem included.

Heat the oil over high heat in a wok or large frying pan. When the oil is hot it will begin to shimmer*.

Add the mushrooms to the pan. Leave them undisturbed for about 1 minute. If they are frequently moved they will release a lot of moisture.

Stir-fry or toss the mushrooms and again leave them for 1 minute. Repeat this process.

The mushrooms will cook down to half their original size.

After 3-4 minutes cooking time add the onion and ginger and stir well.

Cook for about another 2 minutes, stirring or tossing the mushrooms until the onion has softened.

Add the garlic and stir-fry for a further minute.

Meanwhile, add the lime juice, soy, hoisin and oyster sauces to a small bowl. Mix them together well.

Add the combined sauces and lime juice*. Toss to combine and cook a further minute or two. If the mixture needs a little extra liquid, add a tablespoon of water.

Add the scallions, water chestnuts, mint, coriander/cilantro and sesame oil. Toss to combine.

Turn the mushroom mixture into a serving dish. Garnish with chopped peanuts and red chilli.

Accompany with iceberg lettuce leaves.

To serve Mushroom San Choy Bow, spoon some filling onto a lettuce leaf, wrap up and enjoy.
Notes
*The Australian tablespoon is 20ml/4 teaspoons. In many other countries, the tablespoon is 15ml/3 teaspoons. You will need to adjust the measurements accordingly.
*To keep this dish gluten-free check the label on your sauces. Tamari is generally gluten-free but it is wise to always check the label if this is important to you.
*It is best to not put mushrooms into water to clean them. They are like sponges and will readily absorb the water.
* The oil needs to be hot, but not smoking otherwise the mushrooms will release a large amount of moisture. However, if this does occur, just continue to cook the mushrooms until most of the moisture has evaporated.
*It is best to have the sauces and lime juice measured out and mixed together in a small bowl.
Nutrition
Calories:
202
kcal
|
Carbohydrates:
17
g
|
Protein:
8
g
|
Fat:
13
g
|
Saturated Fat:
2
g
|
Sodium:
501
mg
|
Potassium:
659
mg
|
Fiber:
4
g
|
Sugar:
6
g
|
Vitamin A:
620
IU
|
Vitamin C:
26.3
mg
|
Calcium:
46
mg
|
Iron:
1.8
mg