Mushroom San Choy Bow is a fabulous meal for vegetarians and carnivores alike. It is a classic Chinese starter, one of my favourites and one that I frequently order when eating out. These Vegetarian Lettuce Wraps are full of flavour and simple to prepare.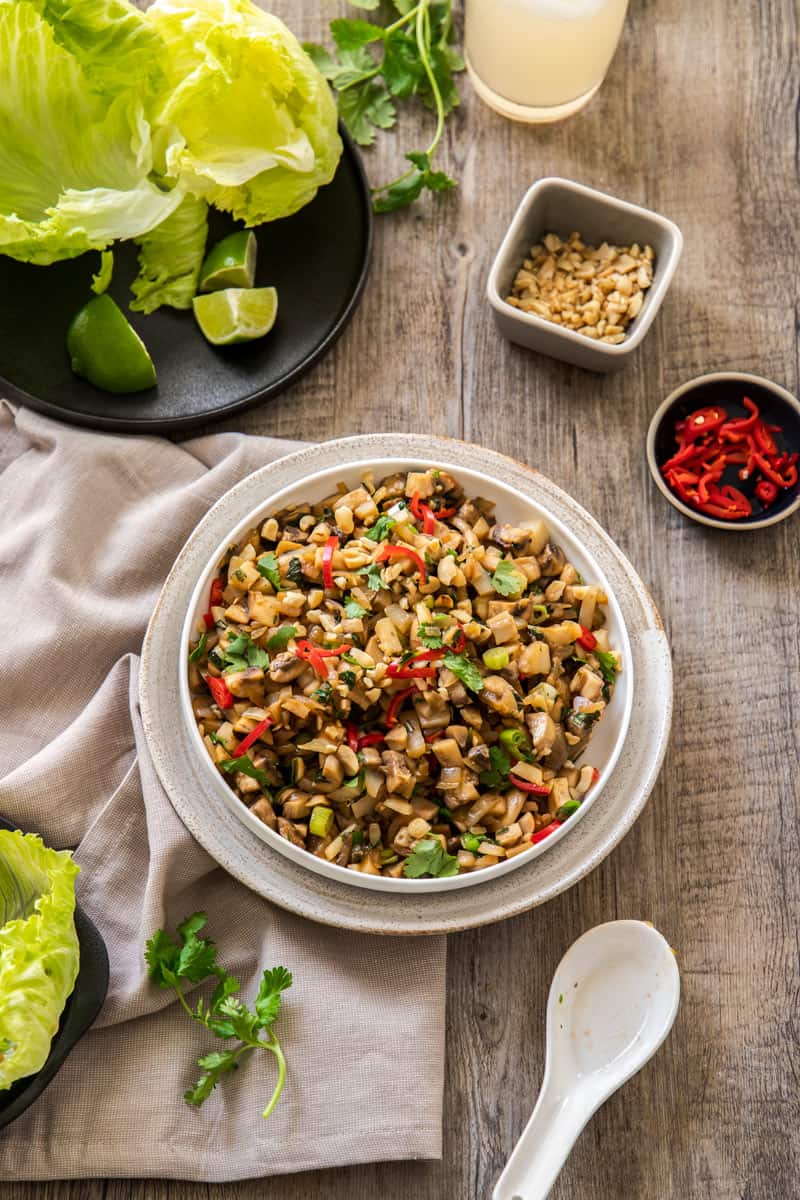 On several occasions, I have enjoyed the pork, chicken, duck and quail versions of this dish. However, the idea of creating a flavoursome vegetarian version appealed greatly. Whilst the dish is vegetarian, you can easily adapt it to vegan with the replacement of oyster sauce.
Jump to:
Inspiration for this recipe:
With many people choosing to eat less meat, I set out to make this classic Chinese dish using mushrooms in place of the various proteins which normally feature.
Mushrooms are a great meat alternative. When you want that "meaty" taste and texture in a recipe, mushrooms are ideal.
They are healthy and filling and a great meat substitute. In fact, mushrooms play a prominent role in many meatless recipes.
Mushrooms have a rich, savoury flavour known as "umami". Wikipedia describes umami as one of the five basic tastes, along with sweet, sour, bitter and salty.
Other foods with an umami flavour include cheese, soy sauce or the Australian icon Vegemite.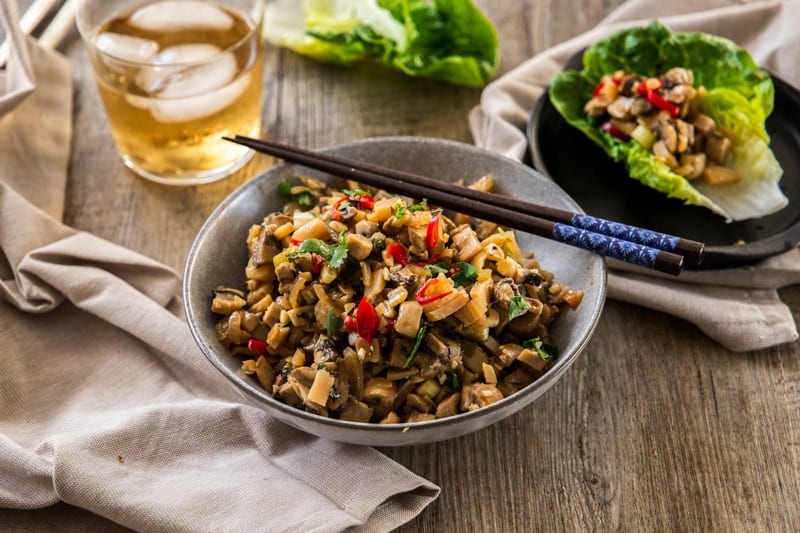 About this dish:
Whilst doing some research for this dish, I discovered many different ways of spelling the name. I discovered on Wiktionary that there are 18 different combinations of three words; san/sung/sang, choi/choy and bow/bao/bau. So, I am no wiser regarding the correct way to spell the name.
Maybe all the combinations are correct? Perhaps the different spellings are due to regional differences? However we spell it, this is a quick-cooking and full of flavour vegetarian meal. It is light, and also full of nutrients.
The dish is thought to have Cantonese origins, possibly coming from Hong Kong. However, Google, unusually, does not offer definitive information. What I did find is that "san choy" translates as "lettuce" and "bow" as "wraps".
San Choy Bow is most often made with minced/ground meat and finely chopped vegetables which are cooked together in a wok. A full-flavoured, traditionally flavoured sauce, binds the dish together.
The mixture is then piled into crispy lettuce cups and wrapped into a roll to eat with your hands.
It is with delight that I get to share with you my Mushroom San Choy Bow, the delicious, vegetarian lettuce wrap. This delicious meal is made from ingredients that you can get at any supermarket.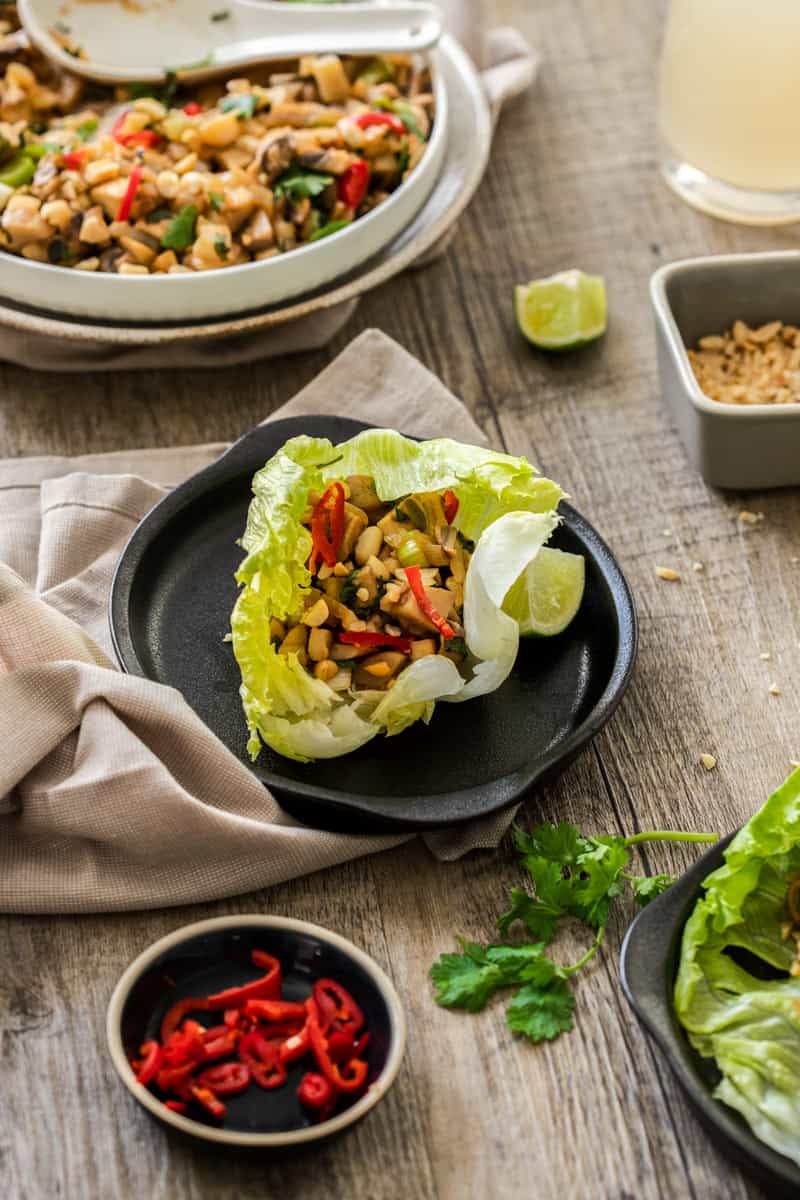 Why we love this recipe:
This dish is extremely versatile. The wraps are ideal as a light, meat-free meal, an appetiser or as part of a selection of shared plates.
This is food which is healthy, colourful and totally delicious. There's an array of colours, flavours and textures in this dish. The flavours are fresh, savoury and spicy.
The crispy lettuce and the crunchy peanuts contrast with the savoury meatiness of the mushrooms. Fresh herbs and lime juice add vibrant flavour and chilli adds spiciness, as much or as little as you like.
The deliciously flavoured mushroom mixture is wrapped in crisp lettuce leaves and eaten with the hands. You can set out the lettuce leaves and mushroom filling on the table and let everyone build their own version.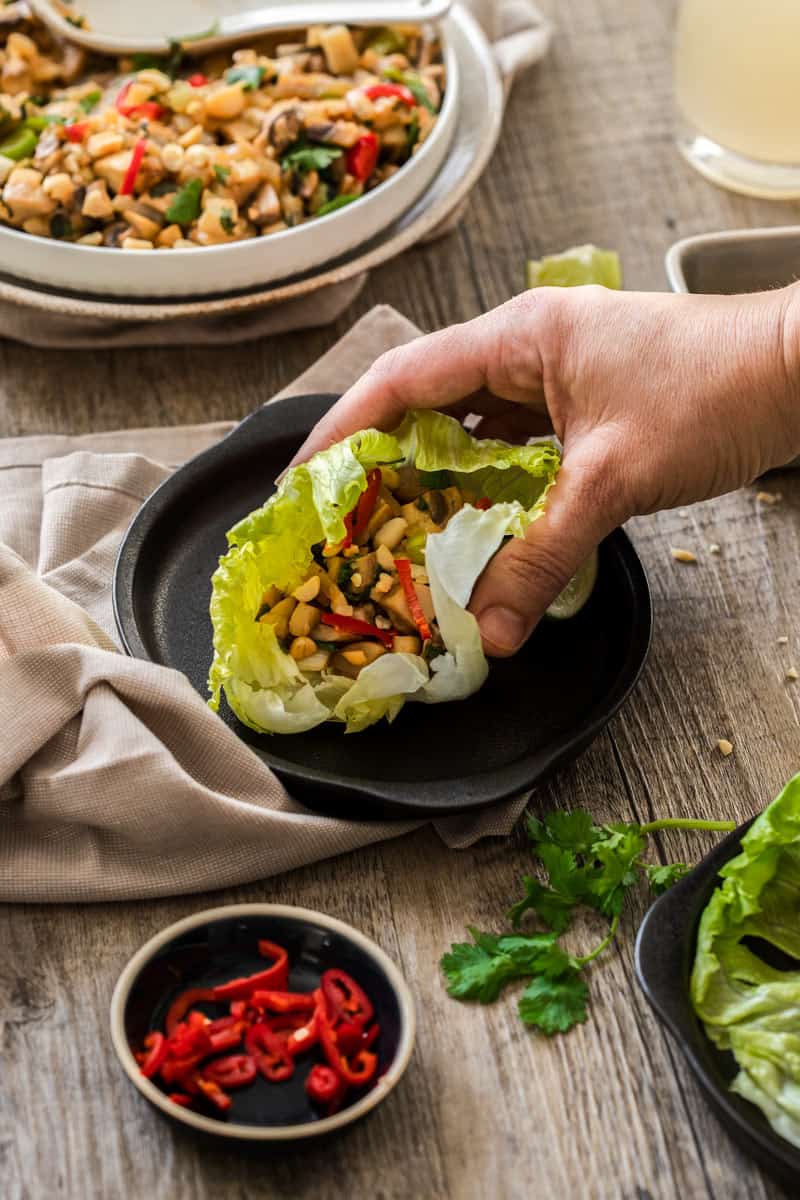 This is fun, enjoyed by adults and children alike. Children love to assemble their own plates of food and love that they have an excuse to eat with their hands – without judgement.
Ingredients in this recipe:
Please don't be discouraged by the long list of ingredients. The dish is prepared in several stages, none of them difficult and all the ingredients are readily found in most supermarkets.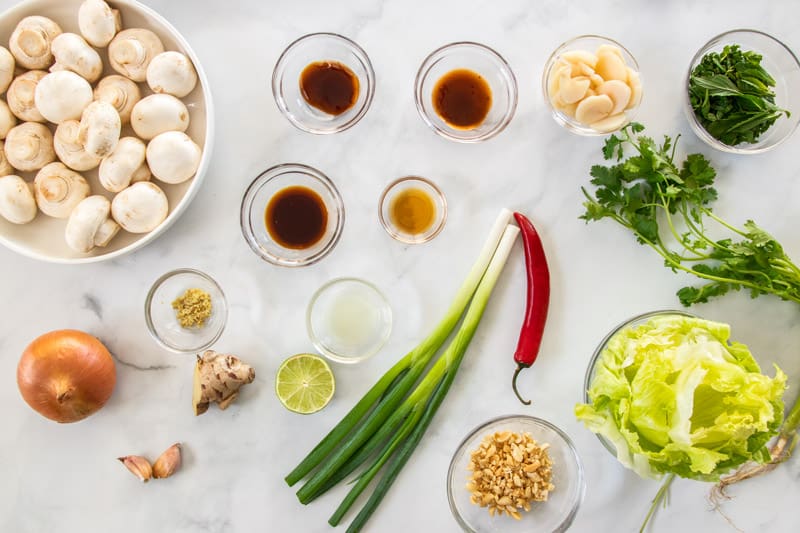 White Button Mushrooms:
White button mushrooms are the most cultivated mushroom in the world. Mushrooms play a central role in many meat-free dishes. The reason is that they have a dense," meaty" texture and a deep, full flavour which develops when they are cooked.
Although a great replacement for meat, they are not a nutritional substitute. They lack the protein that meat contains so it is best to include some nuts, beans or quinoa in your meal.
They are, however, low in calories and fat. Also, they provide several important nutrients which are hard to find in a plant-based diet, such as Vitamins D and B12.
Several other minerals that may be difficult to obtain from a plant-based diet, such as selenium, potassium, copper, iron, and phosphorus are also available in mushrooms.
Peanut oil/neutral flavoured oil:
Peanut oil, also known as groundnut oil, has a high smoke point and is a popular choice in Asian cookery. However, if you are cooking for someone with a peanut allergy be sure to use another type of oil such as olive oil or neutral flavoured oil such as grapeseed.
Brown onion/yellow onion:
We use the brown/yellow onion here as it is a great all-purpose onion. It is the one most widely cultivated. However, if you have only a white onion, that is fine as a replacement.
Garlic:
Garlic is a plant in the Allium family. It is closely related to onions, shallots, spring onions/scallions, chives and leeks.
It is an ingredient which is used in many cuisines throughout the world, its small cloves providing an enormous flavour boost to many dishes.
Ginger:
Although often referred to as ginger root, it is actually from the rhizome of a flowering plant. A rhizome is a horizontal stem which sprouts roots.
Ginger is widely used as a spice for culinary purposes. Further, it is believed that it has been used for medicinal purposes since ancient times. In fact, it is still used today to prevent nausea and to stimulate digestion.
Lime juice:
I use freshly squeezed lime juice; it is superior to the bottled variety. The flavour is more vibrant and fresh.
Soy sauce/Tamari:
Soy sauce is a very common ingredient in Asian cuisine. It is a great way to add umami, that fifth taste which is deeply savoury.
The sauce is typically made by combining soy and crushed wheat and allowing the two to ferment for several days. I generally prefer to use Tamari which is most often made using only fermented soybeans.
However, there are no certainties here. Soy sauce is sometimes gluten-free and tamari sometimes contains gluten. With this in mind, you will always need to check labels.
Hoisin Sauce:
Hoisin Sauce is typically made from fermented soybeans. It is a popular ingredient in Chinese cookery, being generally used in stir-fries or as a marinade. It is thick, darkly coloured, and fragrant with a pungent, sweet/salty flavour.
Oyster Sauce:
Oyster Sauce is an important ingredient in many Chinese dishes. Made from oyster extract, it has a rich, concentrated flavour. Surprisingly, it doesn't taste fishy, but rather, has a savoury, slightly sweet flavour.
Vegan versions are available. Their flavour base is mostly from mushrooms.
Spring onions/Scallions/Green onions:
Although they are known by different names, these onions are the same. They have a flavour which is milder than regular onions.
I use the white of the onion and some of the green. Many cooks use just the white and discard the green part. However, it is all edible and the green leaves are delicious when sliced thinly and added to salads, to top stir-fries, or as a garnish for soups or stews or added to stocks.
Water chestnuts:
A good San Choy Bow recipe benefits from the addition of some texture. One of the ways we include texture is with the addition of chopped water chestnuts.
Their taste is mild so they do not contribute to the overall flavour of the dish. However, they are indispensable for textural contrast.
Fresh water chestnuts are sometimes available but for ease and convenience, I use the canned variety available in most supermarkets.
Mint:
Without a doubt, fresh mint is one of my favourite herbs to boost flavour. It is wonderfully fragrant and adds fresh, bright notes to sweet or savoury dishes.
Coriander/cilantro leaves:
This herb divides opinion. Whilst many people love its fresh, citrus-type flavour, some people are unable to eat it as they detect a dish-soap flavour.
Their perception of this flavour is linked to a gene. According to certain medical studies, some people may have a genetic predisposition that changes the way cilantro is perceived by their taste buds, making it taste metallic, or like soap.
If you can't eat coriander, I recommend replacing it with parsley. They are closely related and have a similar appearance.
However, parsley has a milder flavour and lacks the citrus note of coriander. To compensate, add a small, additional amount of lime juice, adjusting according to your taste.
Roasted Sesame Oil:
There are two types of sesame oil; there is regular/light sesame oil and there is roasted sesame oil.
Light sesame oil is mild flavoured oil which is extracted from raw sesame seeds. It can withstand high heat, making it suitable for frying, roasting or stir-frying.
On the other hand, there is roasted sesame oil which is made from roasted/toasted sesame seeds. It is darker in colour than regular sesame oil and the two cannot be used interchangeably.
It has a strong aroma and fragrance and a rich, nutty flavour. A little goes a long way.
Generally speaking, the light sesame oil is used at the beginning of cooking and the roasted sesame oil is used toward the end of cooking to add its rich, nutty flavour.
Chilli:
I use a long red chilli. In general, this is chilli with mild heat – but not always! So you will have to adjust the amount of chilli according to your personal preference. With this variety of chilli, I have found that the stem end of the chilli is often the hottest part, tapering off toward the tail.
Roasted peanuts:
I use unsalted dry roasted peanuts to finish this dish. They add flavour and provide textural contrast.
However, if you're cooking for someone with a peanut allergy you can substitute with roasted cashews.
If you have raw cashews, simply stir fry them in a small pan with a little oil until they are coloured golden. This will take 1-2 minutes. Be careful, they burn easily.
Iceberg Lettuce:
Of course, this is a very important element in this recipe. The lettuce is the vehicle which carries the mushroom filling. I prefer the crisp and crunchy texture of Iceberg lettuce.
It does, however, have a tendency to split when being rolled around the filling.
You may prefer to use the soft leaves of Butter lettuce, also known as Boston or Bibb lettuce. Being a softer leaf it is less inclined to crack when wrapping the filling.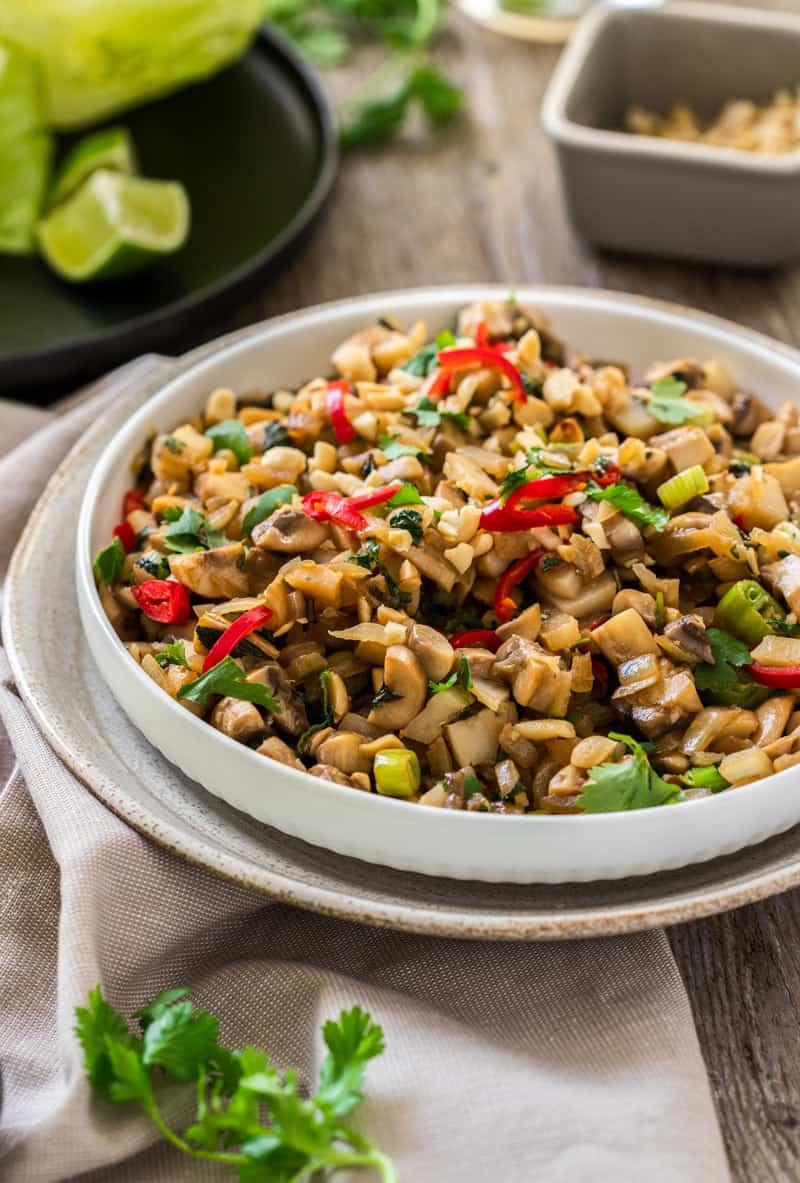 Step by step instructions:
I begin by cutting the mushrooms into small dice and then toss them into a hot wok until they are almost cooked. After the mushrooms brown a little and any moisture reduced, I begin to add the flavour elements.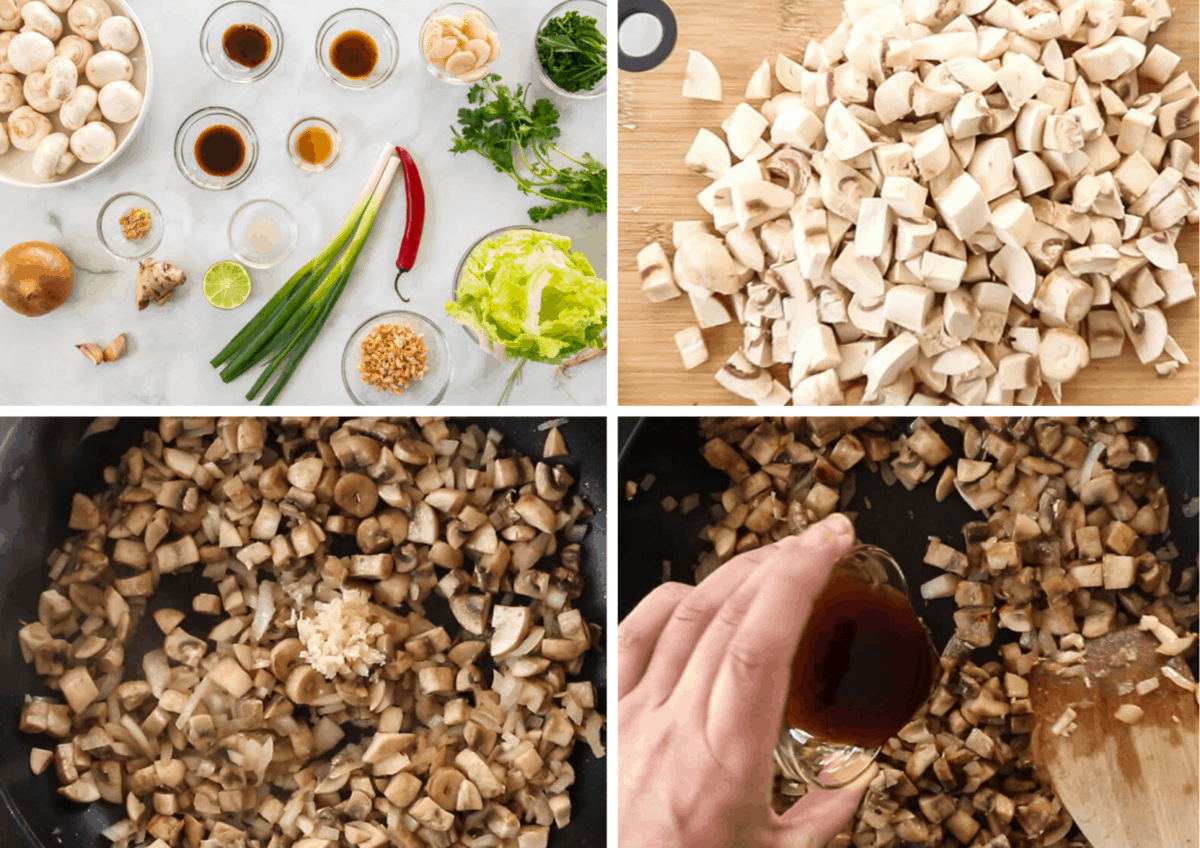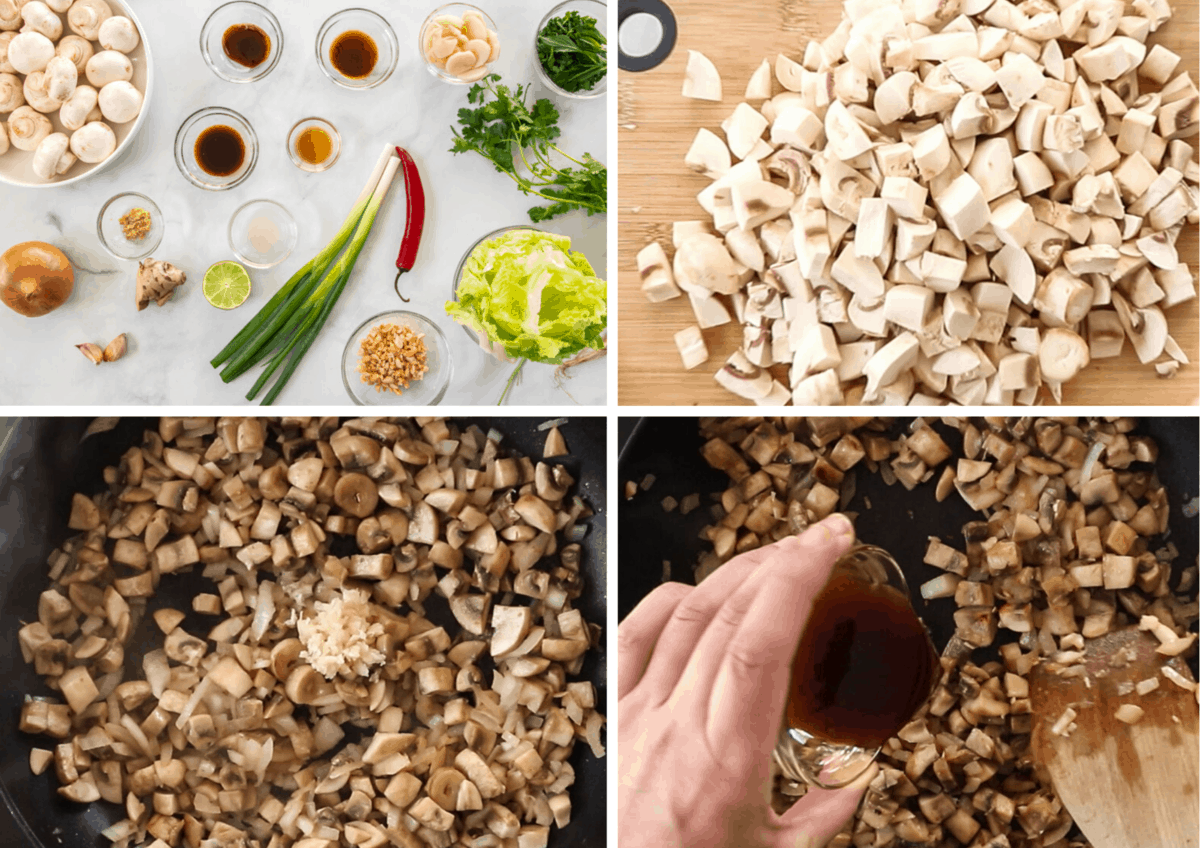 To the wok, I add diced onion, grated ginger and garlic. I toss them all together for a few minutes and then add several Asian sauces.
Finally, I add diced water chestnuts, scallions, chopped mint and coriander. I turn the mushrooms into a serving dish and top with chopped peanuts and sliced fresh chilli.
I serve crisp lettuce leaves to encase the mushroom filling. All the classic flavours of San Choy Bow are here.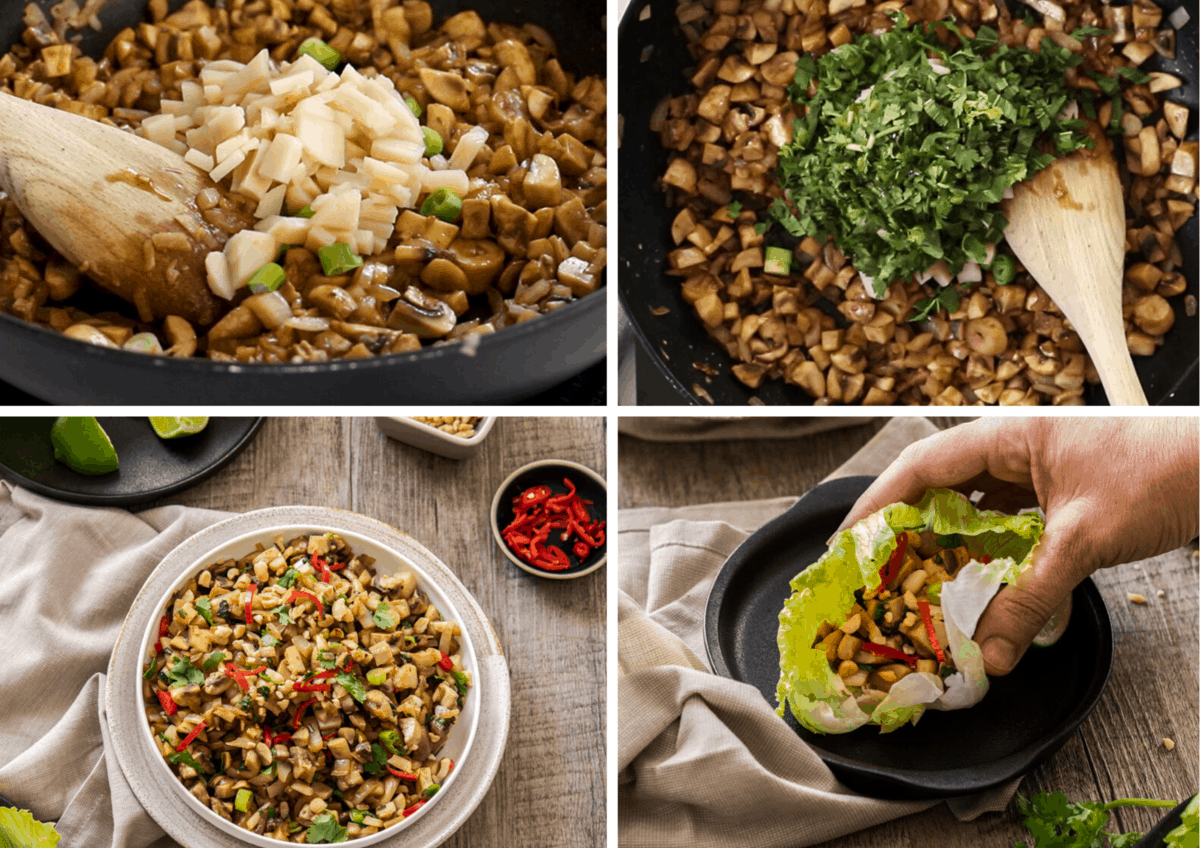 Tips for success:
There are a couple of essential elements to consider when making Mushroom San Choy Bow.
One which is essential is a staple in Chinese cooking, namely water chestnuts.
Water chestnuts have a mild, neutral flavour but their great contribution to the dish is the deliciously crunchy texture they provide.
I add them toward the end of cooking time so that they maintain their crunch. They are readily available, canned, in supermarkets or Asian grocers. If you have not yet tried them, I encourage you to include them.
Another important element is the lettuce. It plays a vital role as it is the vessel which holds the cooked filling.
To me, there is only one lettuce to use; the Iceberg. The Iceberg fell out of favour a while back as we discovered many other varieties of lettuce.
However, I am a strong supporter. No other lettuce is comparable when it comes to providing the crunch which is necessary for this dish. Further, it is a sturdy leaf which can hold the warm filling without wilting.
It is the leaf which is served in most Chinese restaurants with San Choy Bow. In fact, in some restaurants, the leaves are trimmed with kitchen scissors into neat, round cups to encase the cooked filling.
I have used white button mushrooms. They have a mild flavour which becomes more intense as they cook. However, you could use Portobello if you prefer.
To obtain the best result when cooking the mushrooms, it is important to follow a few steps to help them become brown and enhance their flavour.
Firstly, mushrooms should not be washed. They are like sponges and will readily absorb moisture. Instead, it is preferable to clean them with a piece of damp paper towel or to gently brush them clean with a pastry brush.
You should cook mushrooms over medium-high heat. If the temperature is too low they will release their natural moisture into the pan and they will "stew" rather than become tasty and brown.
Also, do not move them around too much in the wok, as again, this will encourage them to release moisture.
As with all Asian stir-fries, you must prepare all the ingredients before you begin to cook. Although the preparation takes time, the cooking time is brief so everything must be ready when you start.
It is best to read through the recipe before starting to cook to be clear of the sequence of ingredient additions.
How to make crisp lettuce cups:
When buying an Iceberg lettuce, I choose one which is dense and heavy for its size. I first remove and discard the tough, sometimes damaged, outer leaves. Then, with a sharp knife, I cut around and remove the white central core.
I hold the lettuce, core side up, in the palm of my hand under cold running water, allowing it to run through the central part of the lettuce. The water will fill the lettuce and make it easier to remove the leaves. Drain the lettuce in a colander and then pat it dry with a clean tea towel.
Carefully remove the leaves, place them in a large plastic bag and then refrigerate for several hours so they become crisp. Arrange on a platter for serving.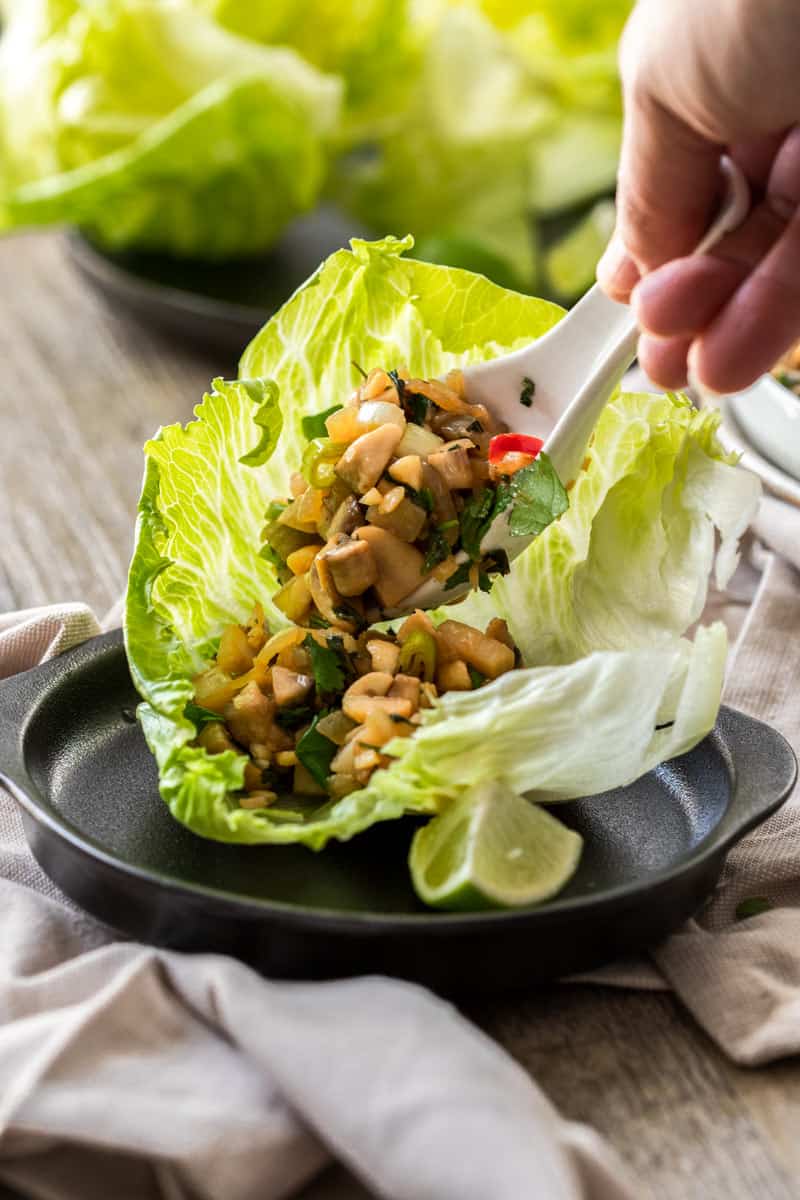 When it comes to serving:
These lettuce wraps are ideal to serve as a starter or part of a shared meal. For serving, you can fill the lettuce cups with the mixture. Or, to make the meal even easier, serve the filling and lettuce leaves separately and allow people to assemble their own wraps.
Although my preference is for Iceberg lettuce, you may prefer the softer leaf of Butter lettuce.
Alternatively, serve as an appetiser on baby Cos leaves.
They also work well as a packed work/school lunch. Pack the mushroom mixture in a small container with the leaves to the side. They are delicious whichever way you chose to serve them.
You can customise this recipe to suit your taste:
To add extra vegetables to your meal, you could add some shredded carrot or baby corn. However, if you do add ingredients it is wise to check the seasoning before serving. Adding extra ingredients may dilute the flavours.
So today I would like to share with you one of my favourite meat-free meals. You will be pleasantly surprised by the rich, savoury flavours in these easily made mushroom lettuce wraps.
The San Choy Bow is a little bit spicy, but you can adjust the heat by the amount of chilli that you include.
If you are serving to children, use a moderate amount or none at all and serve separately with a dish of thinly sliced red chilli for people to add as much or as little as they choose.
Serve them in crisp lettuce cups, either as a snack, a starter, packed lunch, a meal for two or as part of a shared meal. One thing is certain – you will find it difficult to stop at one.
This quick and healthy weeknight meal has the crispness of Iceberg lettuce combined with the savoury mushroom mixture and the crunch of water chestnuts and roasted peanuts.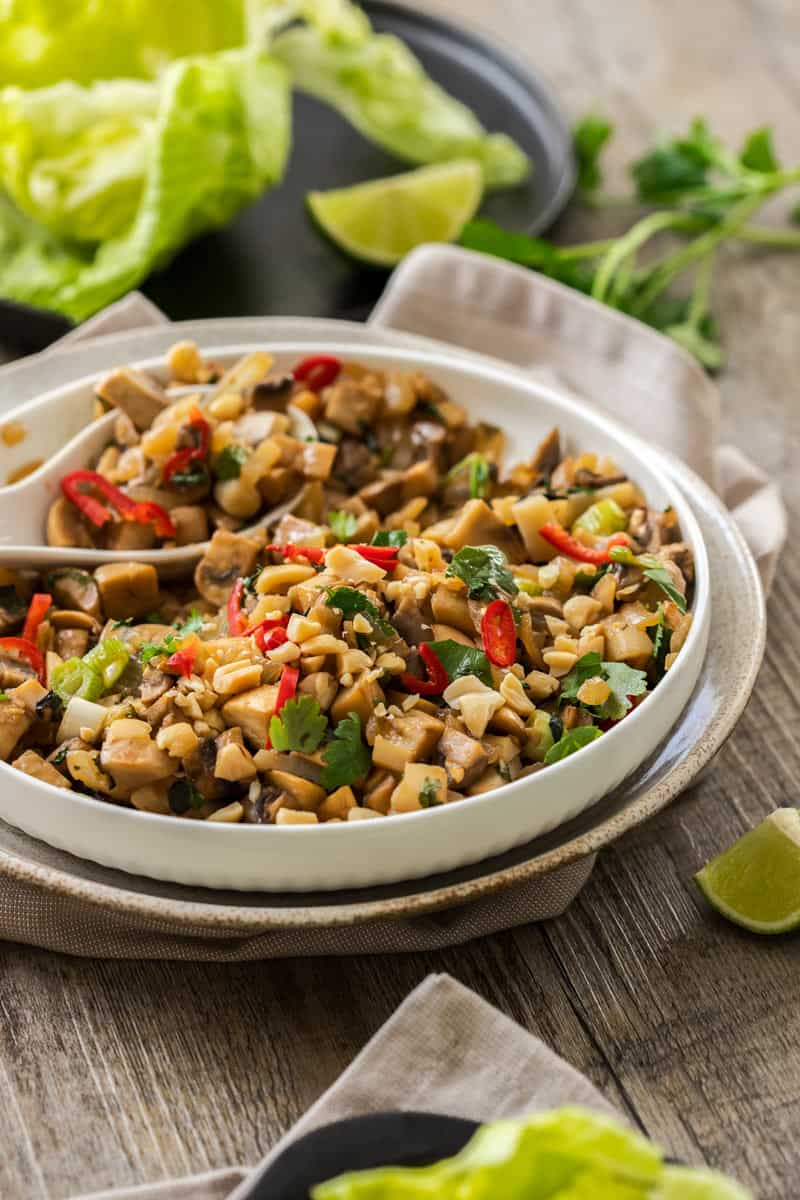 Looking for some more delicious Asian-inspired recipes? Have a look at these:
More recipes where Mushrooms are the star:
I do hope you will try Mushroom San Choy Bow. Please let me know in the comments below if you do.
Alex xx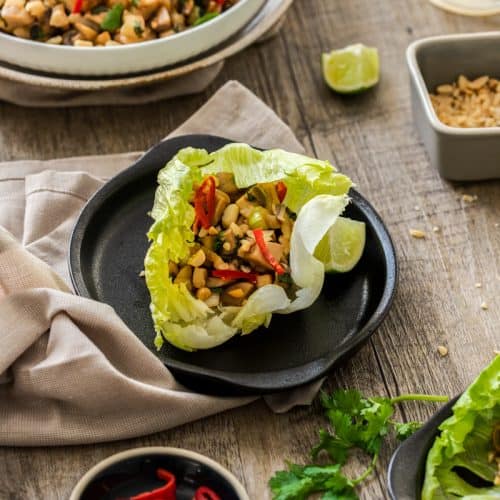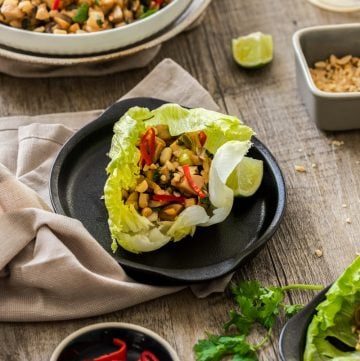 Mushroom San Choy Bow
Enjoy the vibrant flavours of my Mushroom San Choy Bow. This is a great vegetarian version of a Chinese classic dish. It will be enjoyed by vegetarians and carnivores alike. Serve it as a starter, as part of a share meal or as a healthy, stand-alone, meat-free meal. Just make sure to chill your Iceberg lettuce cups to ensure they are very crisp.

Print
Pin
Review
Recipe Measurements:
For accuracy, when weights are provided, we recommend weighing your ingredients. This will produce the best results.
Ingredients
500

g

white button mushrooms

2

tablespoon

peanut oil/neutral flavoured oil

See Note 1

1

medium

brown/yellow onion, finely chopped

2

large

garlic cloves, finely chopped

1

teaspoon

freshly grated ginger

2

teaspoon

lime juice, freshly squeezed

2

teaspoon

soy sauce/tamari

See Note 2

2

teaspoon

hoisin sauce

2

tablespoon

vegan oyster sauce (or regular)

2

scallions/green onions

the white and some green cut in 1 ½ cm/ ½" slices

½

cup

canned water chestnuts

cut in 7mm/¼" cubes (drained of liquid)

½

cup

fresh mint leaves, roughly chopped

½

cup

fresh coriander/cilantro leaves, roughly chopped

1

teaspoon

roasted sesame oil

1

long red chilli , finely sliced

optional

¼

cup

roasted peanuts, chopped

8

large iceberg lettuce leaves

washed and trimmed
Instructions
Note: As with all Asian stir-fries, you need to ensure that you have all your elements prepared. The preparation takes time but the cooking time is brief so everything needs to be ready to use. It is best to read through the method before starting to cook.

Clean the mushrooms by wiping with damp kitchen towel. See Note 3.

Cut into rough cubes about 1 ½cm (½"), stem included.

Heat the oil over high heat in a wok or large frying pan. When the oil is hot it will begin to shimmer. See Note 4.

Add the mushrooms to the pan. Leave them undisturbed for about 1 minute. If they are frequently moved they will release a lot of moisture.

Stir-fry or toss the mushrooms and again leave them for 1 minute. Repeat this process.

The mushrooms will cook down to half their original size.

After 3-4 minutes cooking time add the onion and ginger and stir well.

Cook for about another 2 minutes, stirring or tossing the mushrooms until the onion has softened.

Add the garlic and stir-fry for a further minute.

Meanwhile, add the lime juice, soy, hoisin and oyster sauces to a small bowl. Mix them together well. See Note 5.

Add the combined sauces and lime juice. Toss to combine and cook a further minute or two. If the mixture needs a little extra liquid, add a tablespoon of water.

Add the scallions, water chestnuts, mint, coriander/cilantro and sesame oil. Toss to combine.

Turn the mushroom mixture into a serving dish. Garnish with chopped peanuts and red chilli.

Accompany with iceberg lettuce leaves.

To serve Mushroom San Choy Bow, spoon some filling onto a lettuce leaf, wrap up and enjoy.
Notes
If you are unable to eat peanut/groundnut oil, use a neutral flavoured oil such as grapeseed oil or a mild olive oil.
To keep this dish gluten-free check the label on your sauces. Tamari is generally gluten-free but it is wise to always check the label if this is important to you.
It is best to not put mushrooms into water to clean them. They are like sponges and will readily absorb the water which they will release when heated, causing them to stew. They can be cleaned with a damp paper towel or gently brushed clean using a pastry brush.
The oil needs to be hot, but not smoking. When the oil is ready it will begin to shimmer. If the oil is not hot enough, the mushrooms will release a large amount of moisture. However, if this does occur, just continue to cook the mushrooms until most of the moisture has evaporated
It is best to have the sauces and lime juice measured out and mixed together in a small bowl.
The Australian tablespoon is 20ml/4 teaspoons. In many other countries, the tablespoon is 15ml/3 teaspoons. You will need to adjust the measurements accordingly. 
Nutrition Estimate:
Calories:
202
kcal
|
Carbohydrates:
17
g
|
Protein:
8
g
|
Fat:
13
g
|
Saturated Fat:
2
g
|
Sodium:
501
mg
|
Potassium:
659
mg
|
Fiber:
4
g
|
Sugar:
6
g
|
Calcium:
46
mg
|
Iron:
1.8
mg
Tried this Recipe? Please rate and leave a comment!
Nutritional Disclaimer:
The nutritional information is an estimate only, and is derived from online calculators. For accurate results, we recommend calculating the nutritional information based on the ingredients and brands you use.