Getting your children involved in kitchen activities from an early age has many advantages. You will be encouraging them to develop skills that will be of benefit to them for the rest of their lives. We spoke with Andrea from The Cooking Collective, who has shared her tips for success for Cooking with Kids.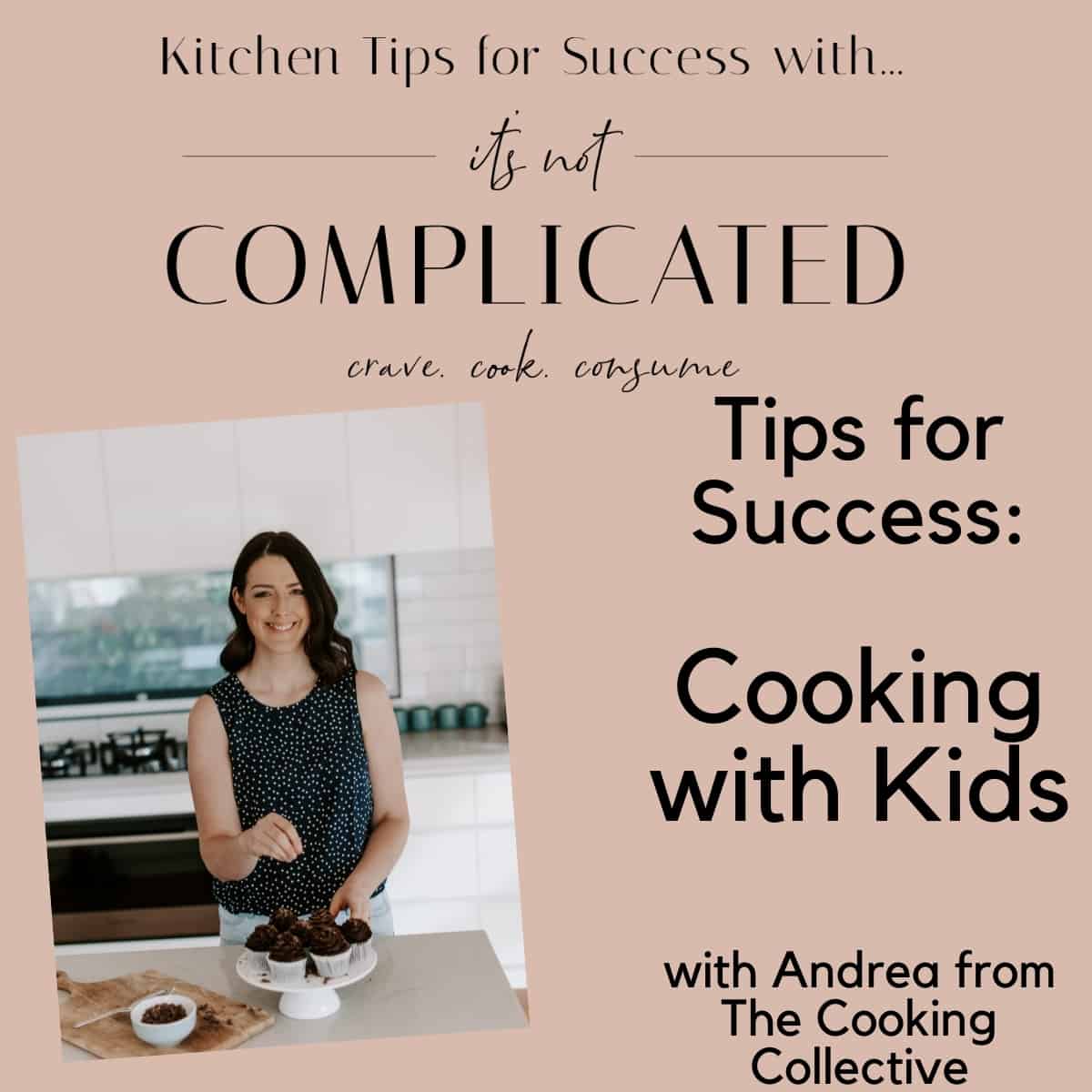 Cooking with kids is educational without them realising. They learn so much: what seems like a fun activity is actually helping their development.
As well, it is a great way to encourage fussy eaters to try new things. When they help with the cooking process, they are more likely to try new foods. After all, a child will find that food is more interesting if they help to prepare and make it.
It will give you the opportunity to discuss nutrition and healthy food choices. They will discover that "fast food" is often not as fast as simple, nutritious, homemade meals which don't have the negative health aspect.
When carefully planned, cooking with children enables a family to spend quality time together, both in the preparation and cooking and ultimately when they sit down and enjoy the rewards of their labour. It will help your kids develop an interest in food and cooking that will last for life.
In the post below, Andrea has some terrific tips for you to ensure that the time you and your children spend together in the kitchen is fun – for all of you. 
What are your favourite ways to get kids involved in the kitchen?
How you introduce kids to cooking will depend on their age, skills and ability. You will know your children best, so choose tasks appropriate to their level of development. Below is a list of suggestions to get started;
Cooking with and pre-schoolers (2-5);
Toddlers and young children love to touch, taste and explore with their senses. They can also have short attention spans! So shorter, faster recipes are best. Consider starting with a simple recipe with five or fewer ingredients. Bliss balls or an easy cookie recipe are a great place to start.
Ways they can help;
Helping to find and identify the ingredients you need
Add patty cases to baking trays
Sprinkling cheese or other toppings
Pouring pre-measured ingredients into the mixing bowl
Counting ingredients (like eggs)
Stirring the mixture
Rolling dough in their hands
Cutting soft ingredients with an age-appropriate safety knife
Cracking and beating eggs
Cooking with primary school aged kids (6-12)
As children start to get a little more confident in the kitchen and their cooking skills develop, they can start to undertake more complicated tasks with less guidance (while still supervising around hot temperatures and sharp objects).
Ways they can help;
Planning out a family meal. Work out which ingredients are required and help with the shopping
Read through and follow simple recipe steps
Peeling fruits and vegetables and cutting ingredients with an age-appropriate safety knife
Using a microwave with supervision
Work independently with easy recipes
Helping with clean-up at the end (my favourite!)
Grating vegetables (be sure to watch little fingers).
Cooking with teenagers
Once kids have confidently mastered the skills developed in the earlier stages above, teenagers can start to gain complete independence in the kitchen and start to make more complex recipes. It is the perfect time to be teaching them an arsenal of simple, go-to recipes to prepare them for adulthood. They could even start to prepare a recipe book of their favourite recipes and healthy meals on a budget.
What are some great recipes/food ideas to make with kids?
Toddlers and young children can help to make simple recipes like these simple jam drop biscuits or easy bliss balls. They can also help assemble homemade pizzas or add ingredients to muffins, cakes or slices.  My 5 year old loves to help with "hands on" steps, like crumbing chicken or fish by dredging it through egg and breadcrumbs.
Older kids can start to work on more complex recipes with less guidance and eventually prepare meals on their own, like these chicken and bacon pies, or pasta, soups or zucchini slice.
Why do you think it is important to introduce kids into the kitchen?
Cooking is one of the most important, lifelong skills that we can learn. It helps children in so many ways by promoting conversation, basic maths, turn-taking, team work and developing their fine motor skills. Even helping with a few steps will help them gain a sense of pride and accomplishment. It also encourages fussy eaters to try new tastes, textures and flavours!
As children get older, they can start to gain independence in the kitchen and begin to make more complex recipes to set them up with basic cooking skills for adulthood. A good education around food and cooking will equip them with the knowledge to make healthier food choices later in life.
Any final tips for Cooking with Kids?
Cooking with kids can take patience and is far more time consuming compared to when you are working independently. So here are my final tips to relax and have fun in the kitchen, at any age or ability;
Choose a recipe suited to your child's age and ability.
Plan ahead; choose a time where you won't be rushed and when the kids aren't tired or frustrated. For younger children, prepare the ingredients and equipment before they start to help. For example, prepare any muffin or cake tins, wash or peel fruit or veggies, gather ingredients.
Safety first! Always supervise around hot temperatures and sharp objects.
Be ok with getting messy! Dress them in clothes that you don't mind getting dirty or find a good quality apron to help protect their clothing. You can even place a plastic tablecloth over the workspace if it helps.
Let them be hands-on and be in charge where possible. As long as it's safe, let them touch, feel and taste the ingredients as they go.
Enjoy! Even the simplest recipe is helping to teach them an incredible skill that will be with them for life. So have fun and enjoy your creations!
The Cooking Collective helps busy families save time and money in the kitchen by offering simple, fresh and affordable family food from scratch, including fast and affordable weeknight meals, healthy lunchbox recipes, desserts and fun recipes to cook with kids.
It's Not Complicated Favourites:
Don't forget to check out our other Kitchen Tips for Success: