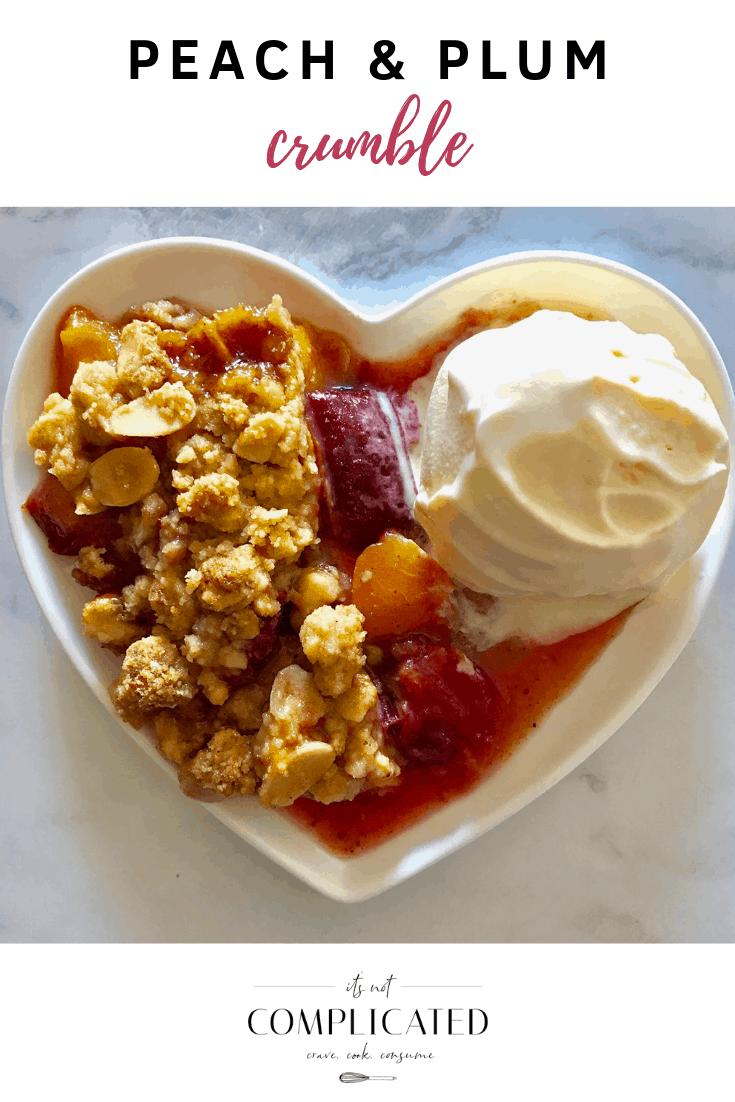 This delicious Peach and Plum Crumble will have your friends and family coming back for more. As summer draws to a close, I am making the most of the wonderful stone fruit which grows so well in South Australia.
I was recently given some beautiful peaches by my dear friend, Jasmine. After enjoying the sweet, juiciness of several, I decided to also use some in this beautiful fruit crumble.
Apart from the sheer deliciousness of this dessert, the other advantage is that it is gluten-free – and without doubt, nobody will know.
I have tried a number of gluten-free crumble recipes but they have mostly been disappointing, never achieving the crisp, crunchy topping which is so desirable. However, this recipe will not disappoint.
This fresh Peach and Plum Crumble bakes to perfection; the crowning glory being golden, crunchy, crumble topping. After all, the aim is to achieve such delicious crunchiness.
This fruit crumble is a fabulous dessert and I make it frequently. On this occasion I've used peaches and plums. However, it's also extremely versatile. At other times of the year you could substitute these fruits with strawberries and rhubarb or apples and raspberries. The options are endless and all delicious.
Try stopping at just one bowl of this luscious dessert. My Peach and Plum Crumble is perfection.
And should there be any left over, it is delicious for breakfast, warmed through and served with yoghurt. You will be set for the day!
This fruit Crumble is as easy to make as it is delicious. Toss chunks of peaches and plums with melted butter, maple syrup, cinnamon and vanilla and place into a greased baking dish. Cinnamon and vanilla heighten and brighten the flavours of the summer fruits, whilst the maple syrup adds sweetness without sickliness. A simple crumble mixture is strewn evenly over the fruit. And finally, put the dish into the pre-heated oven and bake until the top becomes golden and delightfully crunchy. The fruit juices will bubble up between the crumble forming pockets of sheer bliss.
If summer fruits are not in season where you are, I encourage you to share or save this recipe. You will want to keep this recipe to make when the fruits are in season in your location.
This is truly comfort food at its finest. Serve it with our Vanilla Ice Cream or a dollop of rich, thick cream. Sit back and enjoy!
Of course, you may also be looking for more ways to enjoy delicious stone fruit. In addition to the crumble, I encourage you to try our recipes for:
Please let me know in the comments below if you try this delicious recipe.
Enjoy!
Alex xx
P.S. Looking for more delicious recipes featuring stone fruit? Be sure to try our Apricot Jam and Peach and Mint Smoothie!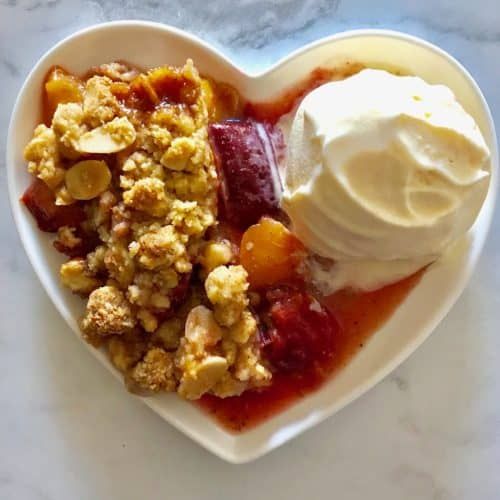 Peach and Plum Crumble
Who doesn't love a crisp, crunchy, fruit crumble? I don't think too many hands went up then. This Peach and Plum Crumble is quickly and easily made and will delight the whole family. Make the most of delicious summer fruit and try this beautiful dessert. You will love it.
Print
Pin
Rate
Ingredients
For the fruit:
3

large

peaches *

6

large

plums

1/2

cup

pure maple syrup

30

g

butter

1

tsp

ground cinnamon

1

tsp

vanilla extract *
Crumble topping:
2/3

cup

almond meal

2/3

cup

gluten-free plain flour

I used Orgran

1/4

cup

light brown sugar

1/4

cup

flaked almonds

60

g

butter

melted
Instructions
Preheat oven to 180 Degrees C (350F).

Lightly grease a baking dish*.

Peel the peaches if desired*. Cut in half, remove the stone and cut into bite-size chunks.

Cut the plums in half and remove the stone. Cut further in half if the plums are large.

Add the fruit to a large bowl.

Meanwhile, over low heat, melt the butter with the maple syrup. Add the ground cinnamon, vanilla extract and maple syrup and stir through. Drizzle over the fruit and mix well.

Turn the mixture into the prepared baking dish.

Crumble Topping:

In a medium sized bowl combine all the ingredients.

A handy tip – press some of the crumble together, forming knobbly pieces. It's the knobbly pieces which give it that delicious crunch.

Sprinkle evenly over the fruit and bake for 20-30 minutes until the fruit is tender and the top golden and crunchy.

Notes
*Whether or not to peel the peaches is optional. I peeled mine but they were perfectly ripe and the skin was easily removed with a knife. However, if your peaches are slightly firm the peel will not be easy to remove. If slightly under-ripe, use a sharp knife and mark the top of the peach with a cross. Bring a large pan of water to a boil. Place the peaches in the boiling water for 15-20 seconds. Have ready a large bowl of iced water and immediately plunge the peaches into the water. When cool enough to handle you will find the skin will be easily removed.
*For the best flavour, always use good quality vanilla. Imitation "vanilla" is not made from a vanilla bean, it is synthetically made, containing artificial flavours and often unwanted additives
*My baking dish was 28cmx18cm/11"x7 ½"
Nutrition
Calories:
429
kcal
|
Carbohydrates:
57
g
|
Protein:
6
g
|
Fat:
21
g
|
Saturated Fat:
8
g
|
Cholesterol:
32
mg
|
Sodium:
112
mg
|
Potassium:
389
mg
|
Fiber:
4
g
|
Sugar:
39
g
|
Vitamin A:
890
IU
|
Vitamin C:
12
mg
|
Calcium:
93
mg
|
Iron:
1.7
mg