These Spicy Roasted Almonds can be prepared quickly and easily, taking less than 30 minutes from start to finish. Furthermore, there are just four ingredients. This makes them an ideal appetiser when you're short of time or when unexpected guests arrive.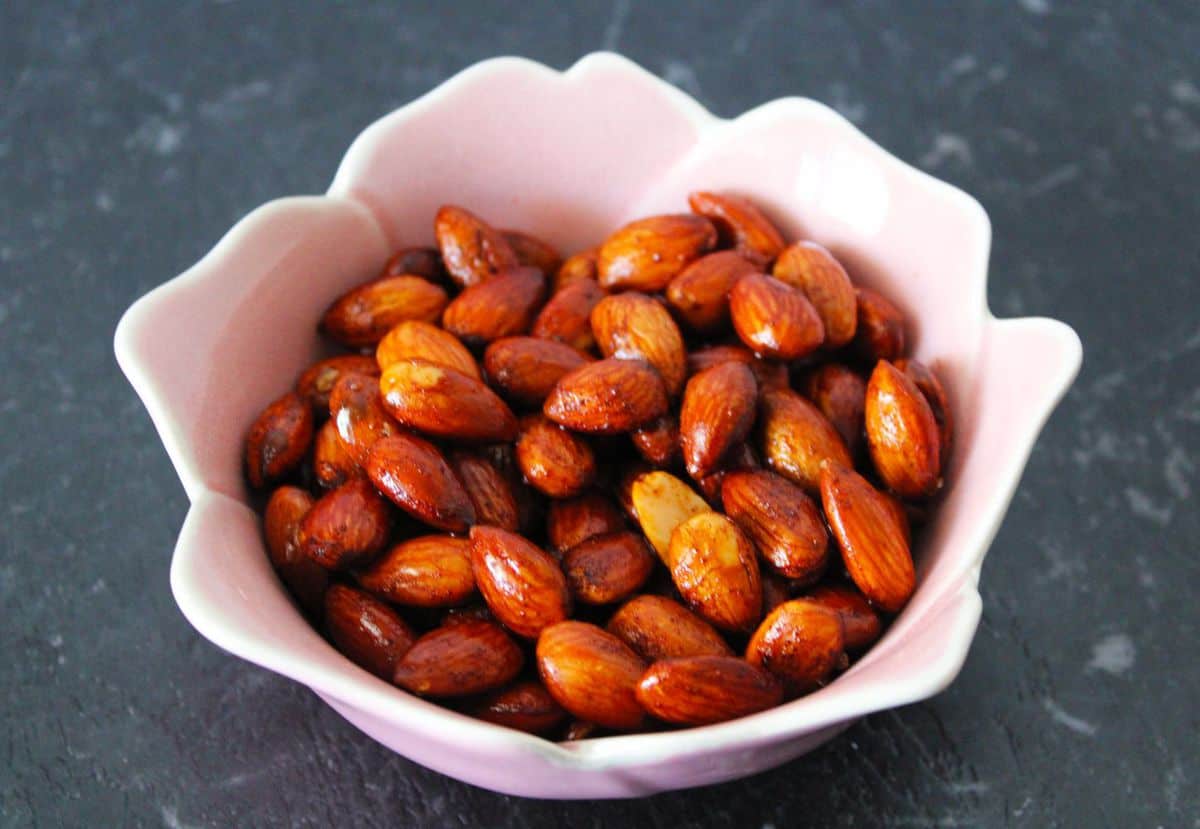 Why we love these Spicy Roasted Almonds:
I'm a huge fan of roasted nuts. It's a simple process which intensifies their flavour and enhances their crispness.
And if almonds aren't your favourite nut you could use raw cashews. Their gentle flavour works well with spice. However, I prefer to roast a single variety rather than a mixture as they roast at different times.
These nuts have a moderately spicy flavour. However, the amount of spice that you use is entirely up to you.
If you don't want the almonds to have too much bite, reduce the amount of cayenne. But if you want the almonds to have some real "kick", you may wish to add more to suit your personal taste.
I do, however, encourage caution. The amount of heat will depend on the freshness of the cayenne pepper and possibly on the brand.
We enjoy these roasted almonds as nibbles with drinks or to add textural interest to a salad. And, if like me, you often have a mid-afternoon hankering for a snack, these Spicy Roasted Almonds are ideal.
They are filling whilst also being nutritious and a few of these will tide me over until dinner time. And no guilt is attached.
Seasoned nut mixes can be expensive to buy which is one of the reasons that I prefer to make my own. In addition, I am able to use spices to suit my taste and know that the nuts have been freshly roasted.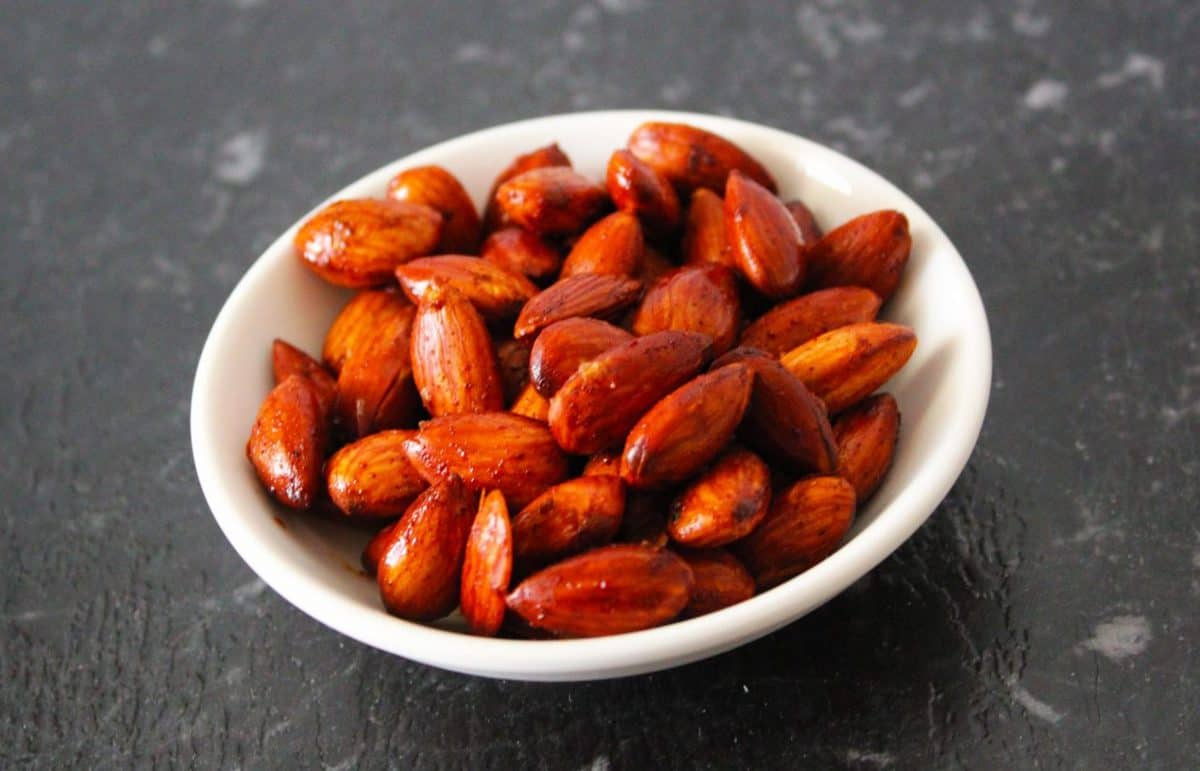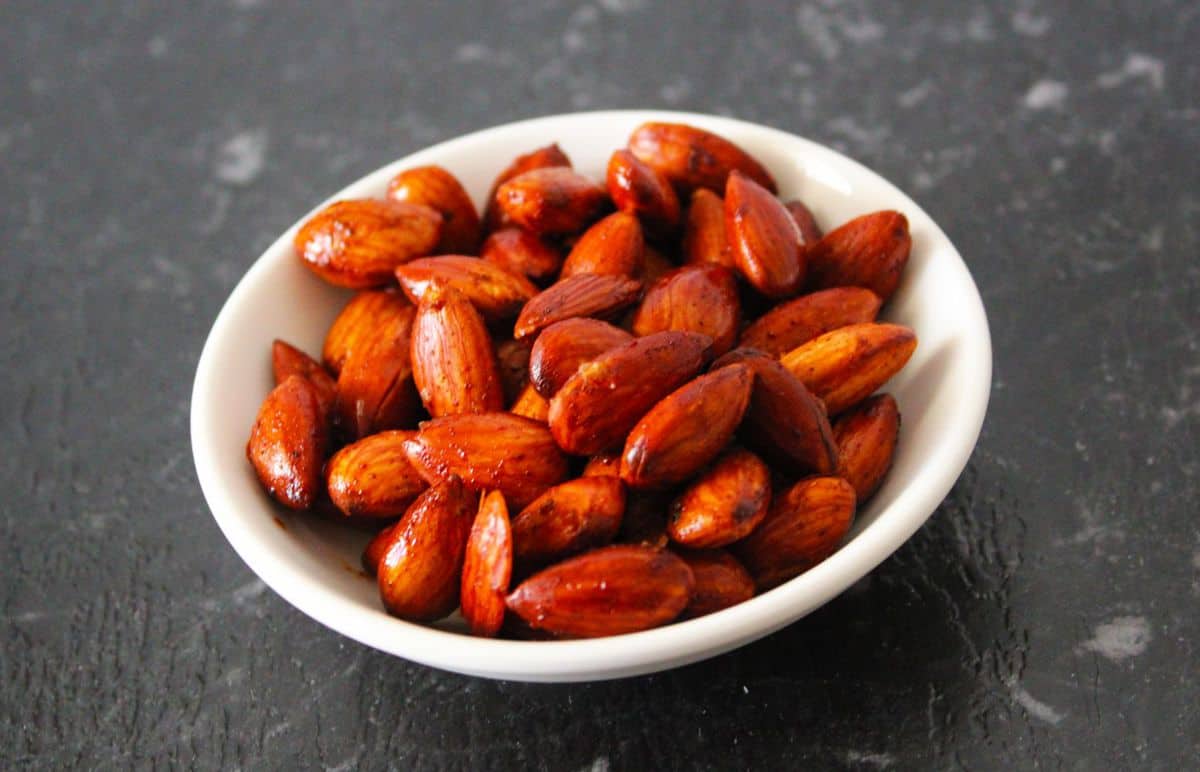 I use these ingredients in the Spicy Roasted Almonds:
Almonds:
Although we refer to almonds as nuts, in actual fact they are a stone fruit, related to peaches and plums.
They were one of the earliest domesticated fruit trees. According to Wikipedia there is evidence of their being cultivated in Jordan (Numeria) as early as 3,000 – 2,000 BC.
Nearly every ancient civilisation used almonds. An archaeological example is the fruit which was found in King Tutankhamen's grave.
They can be eaten alone or ground into a flour which can be used in gluten-free baking.
They are high in protein, low in carbohydrates, contain generous amounts of dietary fibre along with healthy fats. In addition they are rich in antioxidants, vitamins and minerals.
Extra Virgin Olive Oil:
Regular followers of the blog will know our love for this ingredient! I regularly use extra virgin olive oil for the best flavour.
Despite some reports to the contrary, extra virgin olive oil has a high smoke point and is suitable to use for cooking. Extra virgin olive oil is the highest grade of olive oil available.
Sea salt flakes:
I prefer to use sea salt flakes, for better flavour and a slight crunch.
Cayenne pepper:
Cayenne pepper is made from dehydrated, ground cayenne chillies. The cayenne chilli is native to South America and is regarded as being moderately hot.
Chilli powder can be used as an alternative. However, the heat is not as consistent as cayenne pepper; chilli powder may be made from different varieties of chillies.
This is how I make the Spicy Roasted Almonds:
I toss the almonds, olive oil, cayenne and salt in a bowl, and place on a baking tray lined with parchment/baking paper. I then roast the almonds for 15 minutes, stirring them halfway through. Keep a close eye on the almonds in the final minutes to ensure they do not burn.
Be careful when opening the oven door. The active ingredient in cayenne is capsaicin and the fumes which are released by the heat may be quite strong.
After the almonds are completely cool, store them in an airtight container.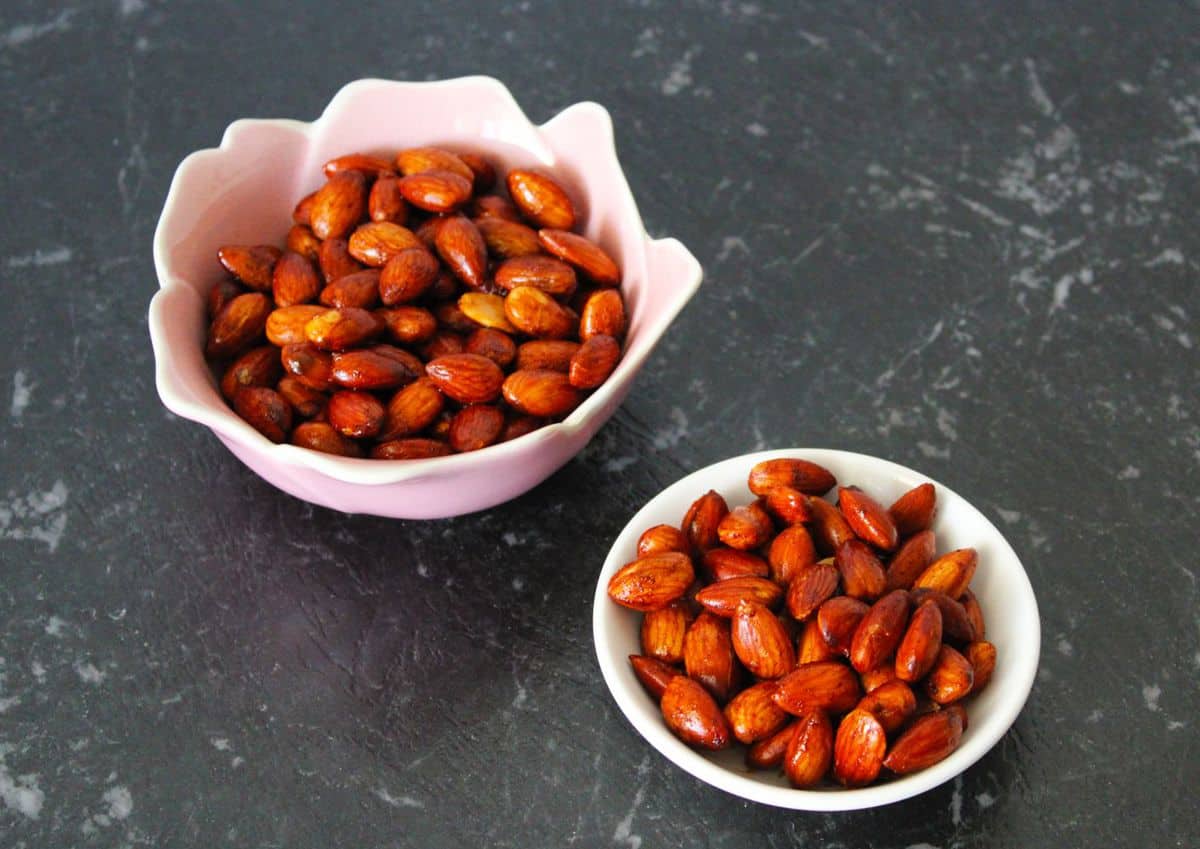 Tips for Success:
As with any recipe, poor quality ingredients will produce a poor result. Buy good quality, fresh, raw almonds from a source that has a great turnover.
Do not crowd the baking tray; there needs to be room for the heat to circulate around the almonds. Moving them once or twice during roasting will help them roast more evenly.
Importantly, spice the almonds to suit your taste. Consider cumin, coriander, smoked paprika or turmeric.
Keep an eye on the nuts while they are roasting. They have a tendency to go from almost done to overdone the minute you turn your back.
Whilst some recipes recommend roasting nuts in a frying pan I prefer the oven method. Roasting in a frying pan may be slightly quicker but using the indirect heat of the oven means that the nuts will roast more evenly.
Be sure to remove the nuts from the baking tray as soon as you take them from the oven. Otherwise, the residual heat will mean that they will continue cooking and possibly become overdone.
To maintain freshness, store them in an airtight container for about a week.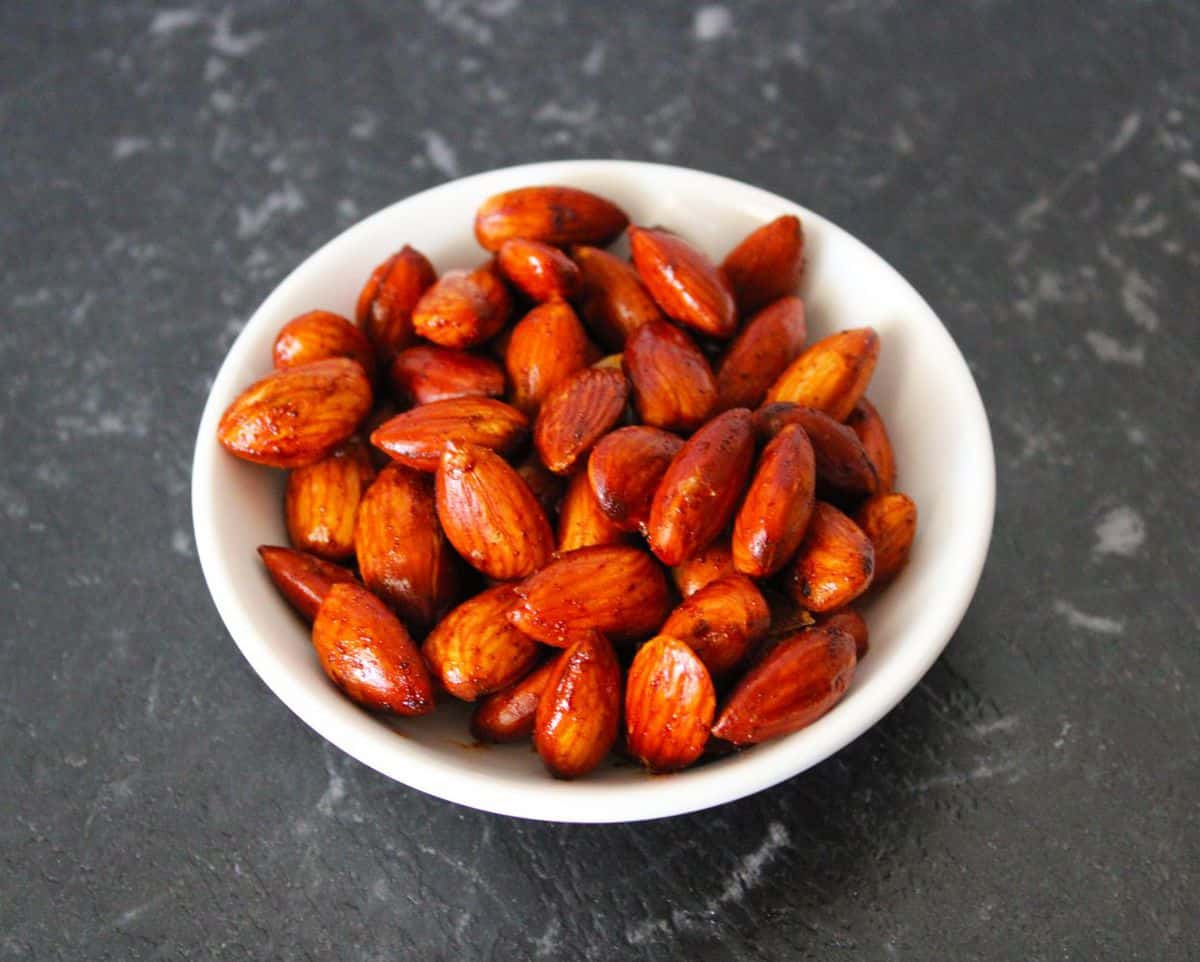 When it comes to serving:
These Spiced Roasted Almonds are ideal to serve with drinks. Place a bowl of them on the table and watch them disappear.
Alternatively, they are a healthy nibble, perfect to add to a lunch box or to enjoy when the mid-afternoon snack-attack strikes. In addition, I like to add them to salads to provide additional nutrients and to add textural contrast. They can be added whole or chopped a little according to your preference.
I also like to add some chopped almonds and parsley to top smooth, creamy soups. Depending on the flavour of the soup I may also add some lemon zest or crumbled blue cheese.
The Spicy Roasted Almonds also make a lovely gift. Put them into a pretty jar and tie a coloured ribbon around the top.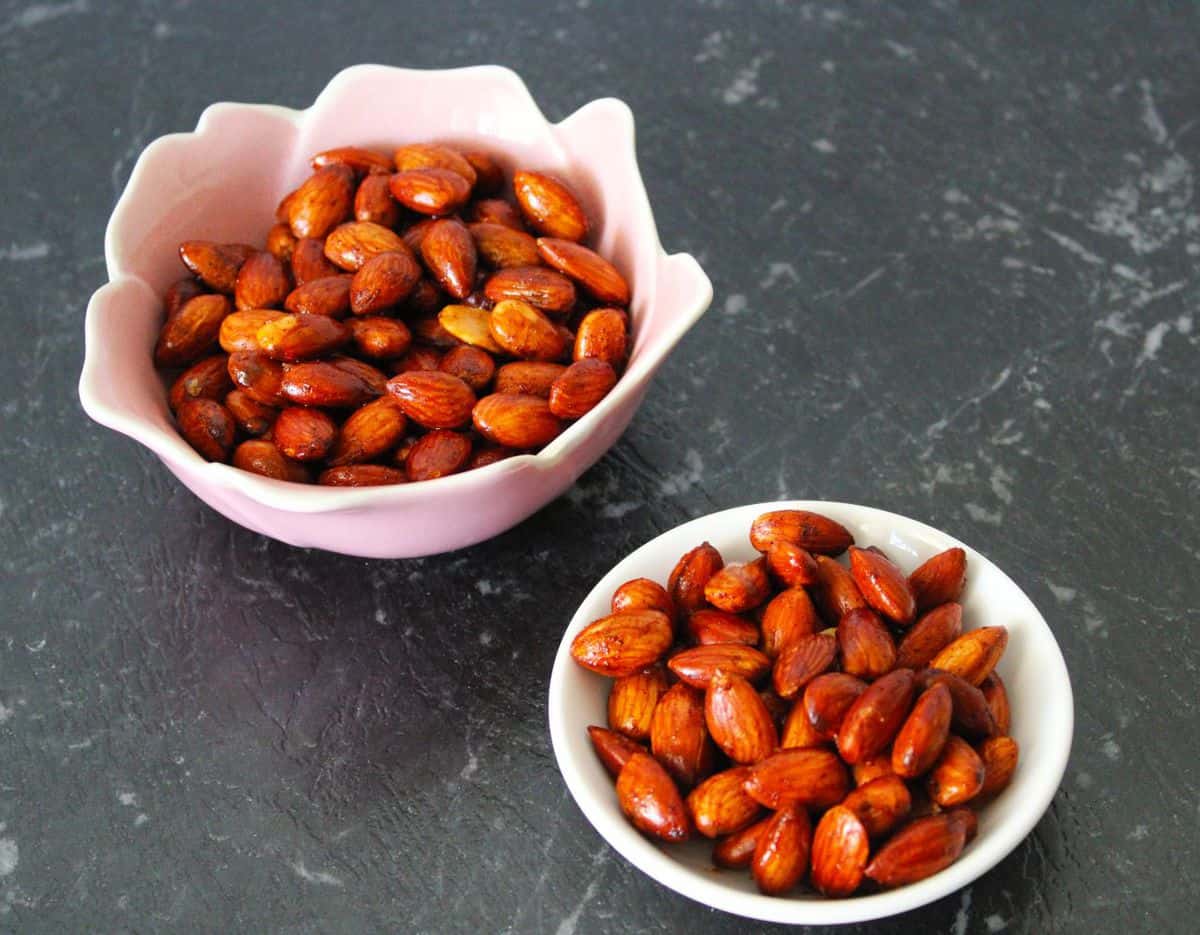 More suggestions for these ingredients:
Almonds:
We love to use whole almonds, almond meal, flaked almonds and more! Here are some more almond recipes for you to try:
Gluten-Free Strawberry Almond Cake by A Baking Journey
Peach, Feta, Almond Toast by Mrs Jones's Kitchen
How to Make Biscotti by Marcellina in Cucina
Cayenne Pepper:
An ingredient which adds a lovely bit of heat to your recipes! We also use it here:
Other delicious recipes for you to try:
Love nibbles and small bites as much as we do? They're ideal for entertaining. Also, simple to make and delicious to eat!
Have a look at these recipes for some tasty inspiration!
It is so much more satisfying to serve nuts that you have roasted yourself. As we head towards festive and new year celebrations I am certain that you will find this quick and easy recipe very useful.
I would love to hear from you in the comments when you have tried this delicious recipe.
Alex xx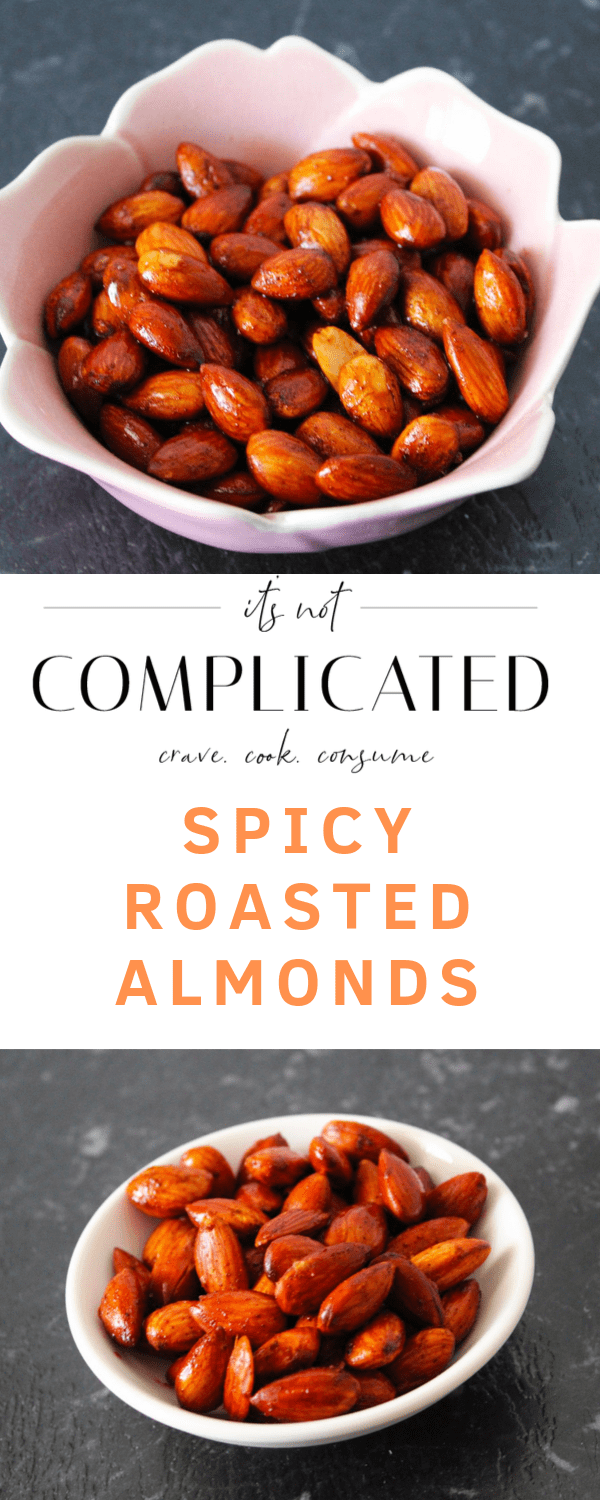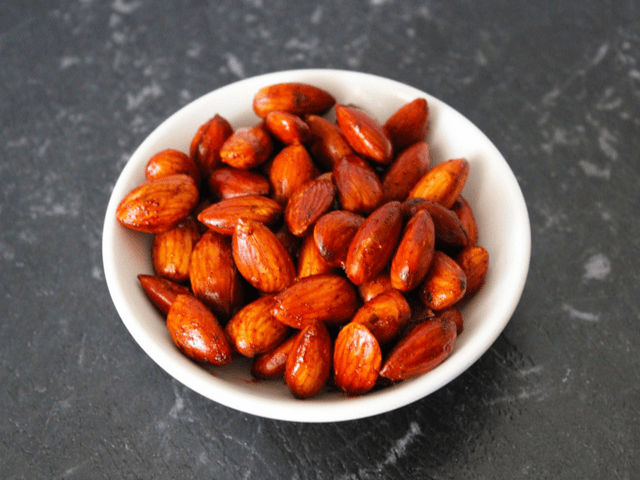 Spicy Roasted Almonds
You can have these tasty Spicy Roasted Almonds ready to serve in less than 30 minutes. They are ideal for many specific dietary requirements being gluten-free, vegan and low carb. Keep them in an airtight container and enjoy them often. This is one irresistible snack which carries no guilt.
Print
Pin
Review
Ingredients
1

cup

raw almonds

See Note 1

1

teaspoon

sea salt flakes

See Note 2

1

teaspoon

cayenne pepper

See Note 3

2

teaspoon

extra virgin olive oil

See Note 4
Recipe Measurements:
For accuracy, when weights are provided, we recommend weighing your ingredients. This will produce the best results.
Instructions
Preheat your oven to 180 Degrees C (350 F).

Line a baking tray with some baking/parchment paper.

Mix the almonds, oil, cayenne pepper and salt together in a bowl.

Place the coated almonds on the baking tray, and roast for 15 minutes in the oven.

Turn the almonds halfway through to ensure even cooking. 

Serve immediately if enjoying warm, or allow to cool completely before storing.
Notes
Ensure your almonds are fresh and in good condition. (Rancid nuts are horrible, and broken nuts will become rancid quicker!)
 You may need more salt – I taste at the end and adjust accordingly.
 Similarly to the salt, you may need more (or less) cayenne. The strength of the cayenne will vary depending on the freshness.
 I use olive oil, but grapeseed oil also works well.
I recommend using baking/parchment paper to make cleaning easier.
Allow the nuts to cool completely before storing, if not eating straight away.
Nutrition Estimate:
Calories:
227
kcal
|
Carbohydrates:
8
g
|
Protein:
8
g
|
Fat:
20
g
|
Saturated Fat:
2
g
|
Sodium:
582
mg
|
Potassium:
261
mg
|
Fiber:
4
g
|
Sugar:
1
g
|
Calcium:
94
mg
|
Iron:
1
mg
Tried this Recipe? Please rate and leave a comment!
Nutritional Disclaimer:
The nutritional information is an estimate only, and is derived from online calculators. For accurate results, we recommend calculating the nutritional information based on the ingredients and brands you use.