Although this recipe contains just a handful of basic ingredients, there is one, very clever, little cooking tip which will enhance the dishes in which you use these nuts. The clue is in the title; you roast the nuts!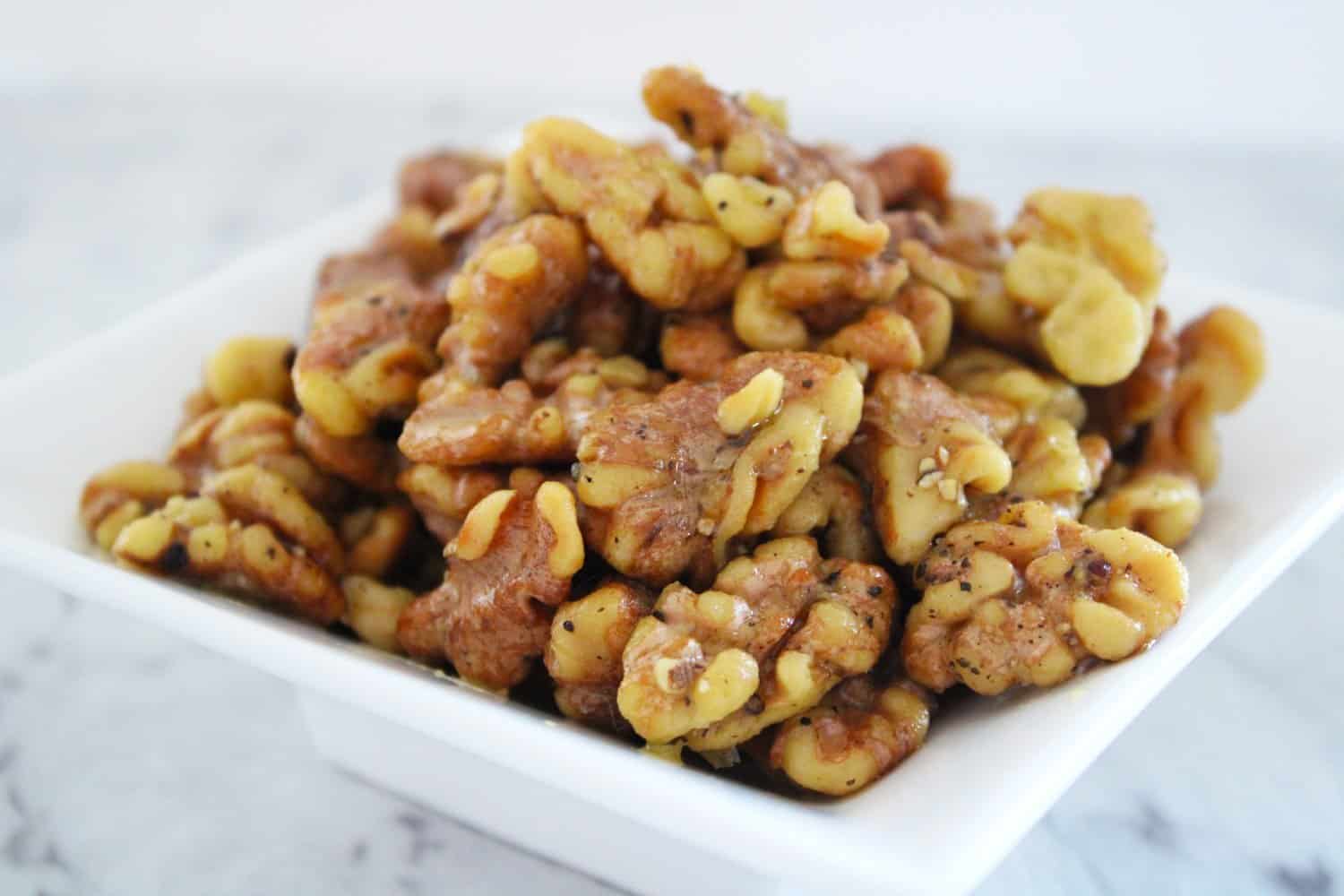 This easy recipe for Salt and Pepper Roasted Walnuts is deceptively simple.
It is, however, very versatile. These roasted nuts are a welcome addition to many savoury dishes.
If you've never roasted nuts before, this technique will be a revelation. When you apply heat to the walnuts, you release their essential oils and enrich flavours that would not be present if the nuts were raw. Roasting the walnuts reduces their moisture content, thus causing them to become deliciously crisp and crunchy.
In this recipe, after roasting the walnuts, I add them to a tea towel and rub them vigorously to remove as much of their skin as possible. Walnut skins are high in tannins which many people find bitter. Roasting the nuts and removing as much skin as possible, enhances their deep, nutty flavour and minimises any potential bitterness.
I further enhance the flavour of these crispy, Salt and Pepper Roasted Walnuts by coating them lightly in olive oil, sea salt and coarsely ground black pepper.
You will find many ways in which to use these roasted walnuts which are ready in less than 20 minutes. They will add a crunchy texture and earthy flavour to many dishes. Keep some in an airtight container and I guarantee that they will not last long.
Why should we roast walnuts?
I learnt this tip from one of Australia's favourite cooks, the wonderful Maggie Beer. She advises that the high oil content of walnuts makes them prone to becoming rancid. Furthermore, she says that those which are sold shelled are often rancid and advises to never omit the step of roasting them.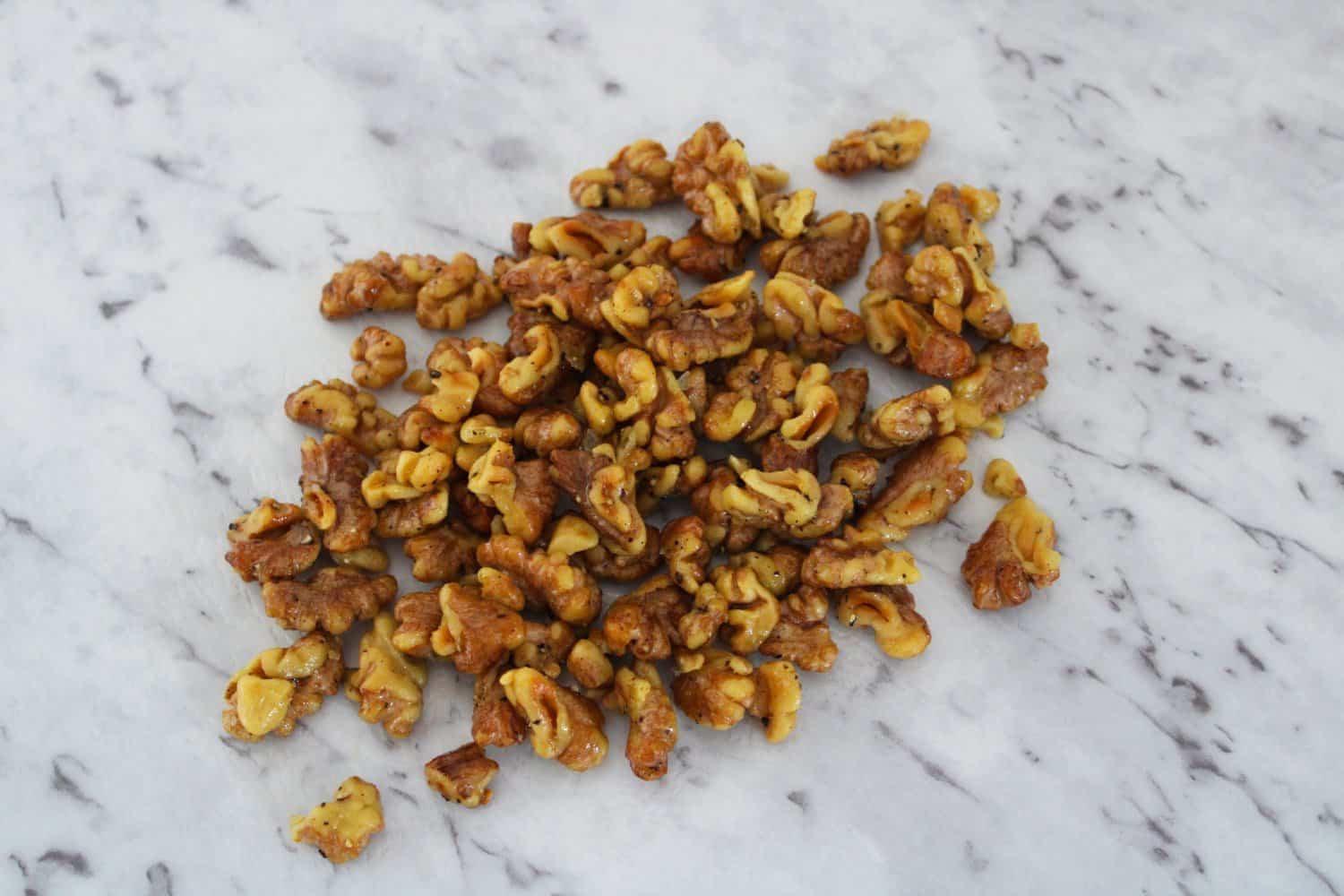 I use these ingredients to make the Salt and Pepper Roasted Walnuts:
Walnuts:
The history of walnuts dates back thousands of years. They are one of the oldest tree foods, dating back to 7000 B.C. However, technically, walnuts are not a true, botanical nut; they are actually a seed.
Walnuts are sold in two forms; shelled or still in their shell. They contain a lot of health-benefiting oil and for this reason, they can turn rancid very quickly.
To extend their life, shelled walnuts should be kept in an airtight container in the fridge or freezer.
However, for longer-term storage, it is best to buy unshelled nuts. If you plan on using them soon you can keep them in a cool, dark place. Alternatively, store them in an airtight container in the fridge or freezer.
Olive Oil:
Olive oil is one of the healthiest oils to use, but if you prefer, you could use oil with a more neutral flavour, such as grapeseed oil.
Sea salt:
My choice is for Maldon Sea Salt flakes as it adds great texture and flavour. However, you could also use regular sea salt.
Black Pepper:
For the best flavour, always add freshly ground black pepper.
How to buy walnuts:
If you want walnuts with the longest shelf life, I strongly advise to buy them whole, in the shell. However, realistically speaking, this is not always convenient as it does take some time to shell them.
If buying them in the shell, they should seem heavy and full. The shells should not have cracks, holes or stains; this may be a sign of mould.
Shelled walnuts should appear plump and pale. Avoid those that are shrivelled or discoloured.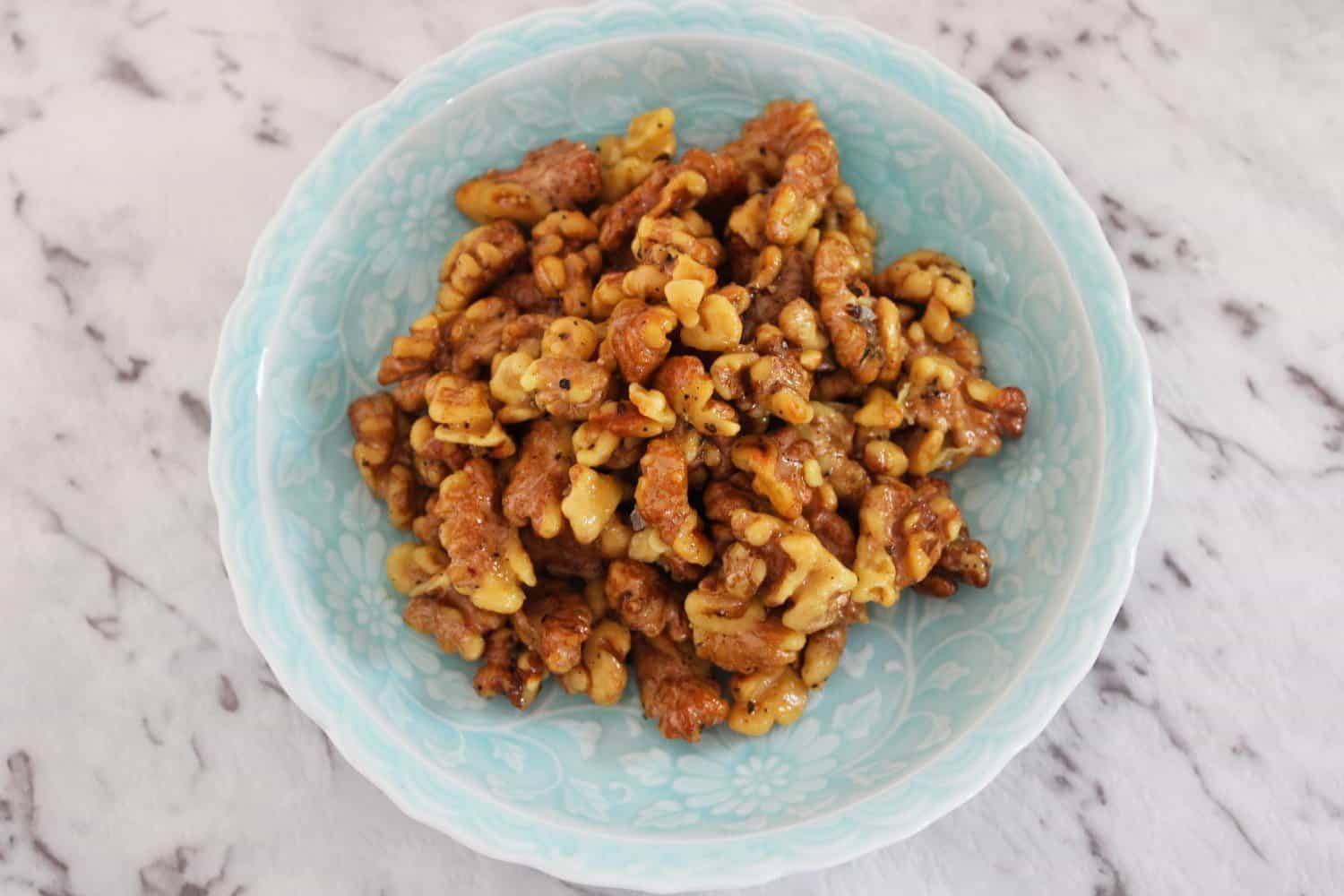 Tips for success for Salt and Pepper Roasted Walnuts:
The most important tip is to always start with good quality walnuts. See the tips above for purchasing walnuts.
I always roast nuts in the oven. The dry, indirect heat of the oven ensures that the nuts roast evenly. Although some recipes stipulate roasting nuts in a frying pan, I find the heat to be less even and you may end up with some charred spots. Cooking on the stove may lessen the actual cooking time but it does require constant vigilance and the result may be less than satisfactory.
When it comes to serving the Salt and Pepper Roasted Walnuts:
Other uses for Walnuts: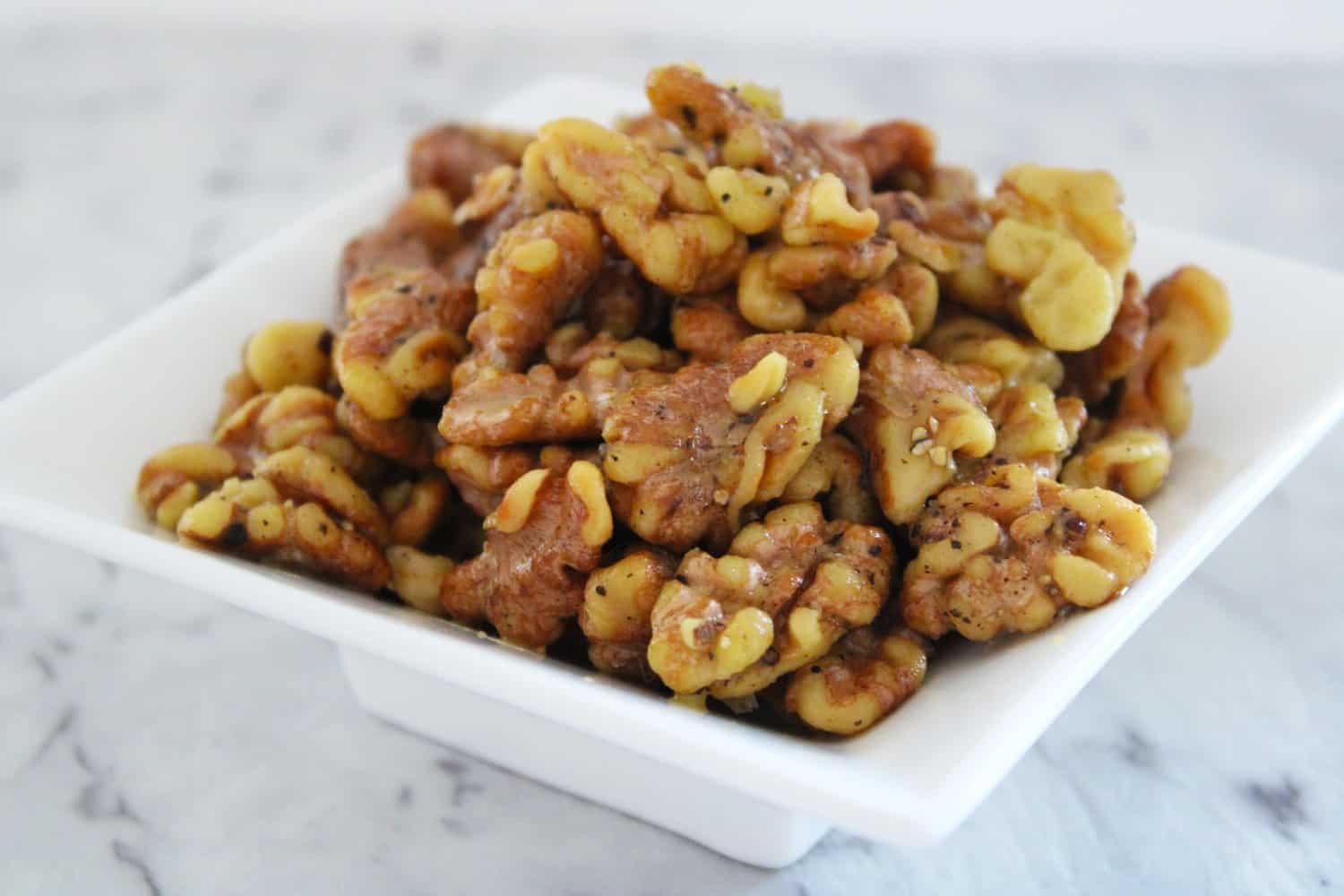 You will find these Salt and Pepper Roasted Walnuts are a great addition to many dishes.
Do let me know in the comments below when you try them!
Alex xx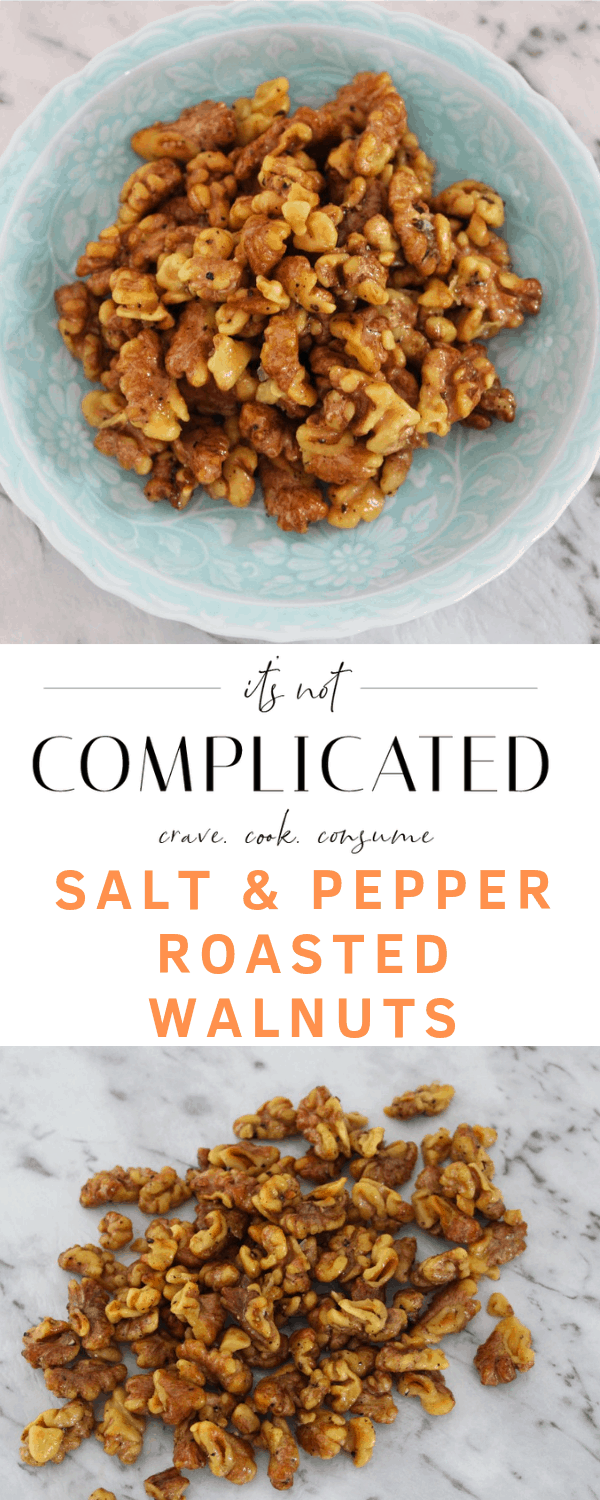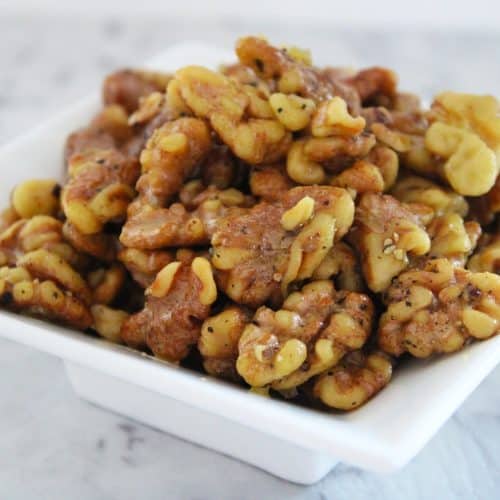 Salt and Pepper Roasted Walnuts
If there is one simple way to greatly enhance many recipes, it is this; roasting the nuts.  When you roast nuts, you enhance their flavour and texture, making them ideal as a snack or addition to many savoury dishes. These crunchy, salty snacks become delightfully crispy in the oven. You will find that they are great to have on hand when friends drop by.  Or, add them to many savoury dishes for textural contrast and the rich flavour they provide.
Print
Pin
Review
Recipe Measurements:
For accuracy, when weights are provided, we recommend weighing your ingredients. This will produce the best results.
Ingredients
1

cup

shelled walnuts

See Note 1

1

tablespoon

olive oil

See Notes 2 & 3

1

teaspoon

sea salt flakes

See Note 4

½

teaspoon

freshly ground black pepper
Instructions
Preheat your oven to 180 Degrees C (350F).

For easy clean-up, line a small baking tray with non-stick baking paper or aluminium foil.

Spread the walnuts on the tray in one layer, ensuring there is space between them for the heat to circulate.

Roast the walnuts for 8-10 minutes, stirring them halfway through, until they are fragrant and lightly browned.

Remove the tray from the oven and place the walnuts in the centre of a clean tea
towel. Bundle the towel into a pouch and rub the walnuts vigorously to remove as much of the walnut skin as possible.

Tip the walnuts into a colander and shake it to remove the fine particles of walnut skin.

Return the walnuts to the baking tray and toss with the olive oil, salt and pepper. Return the tray to the oven for 2-3 minutes.

Remove the tray from the oven and turn the walnuts onto some paper towel to absorb any excess oil.

When the walnuts are completely cool, place them into an airtight container.
Notes
If you have purchased walnuts in the shell you will need a nutcracker, or, as I do, the flat side of a meat tenderiser, to crack the shell and remove the pulp. The flesh should appear plump and pale. Avoid those that are shrivelled or discoloured.
Walnuts can go rancid quickly, so ensure they're as fresh as possible.
I always use olive oil for flavour and health benefits. However, you could use a mild-flavoured oil, such as grapeseed, if you prefer.
The Australian tablespoon is 20 ml or 4 teaspoons. In many other countries, the tablespoon is 15 ml or 3 teaspoons. You may need to adjust the recipe accordingly.
Different types of salt vary in their intensity. This is the amount I add when using Maldon Sea Salt flakes. If using another type, add it according to your preference and taste.
The nutritional information is based on one cup of walnuts. (Not an individual serve!)
You could customise the spicing to suit your taste; consider curry powder, cayenne pepper, cumin, chilli flakes, lemon thyme or rosemary. 
Nutrition Estimate:
Calories:
891
kcal
|
Carbohydrates:
17
g
|
Protein:
18
g
|
Fat:
90
g
|
Saturated Fat:
9
g
|
Sodium:
2328
mg
|
Potassium:
516
mg
|
Fiber:
8
g
|
Sugar:
3
g
|
Calcium:
115
mg
|
Iron:
3
mg
Tried this Recipe? Please rate and leave a comment!
Nutritional Disclaimer:
The nutritional information is an estimate only, and is derived from online calculators. For accurate results, we recommend calculating the nutritional information based on the ingredients and brands you use.