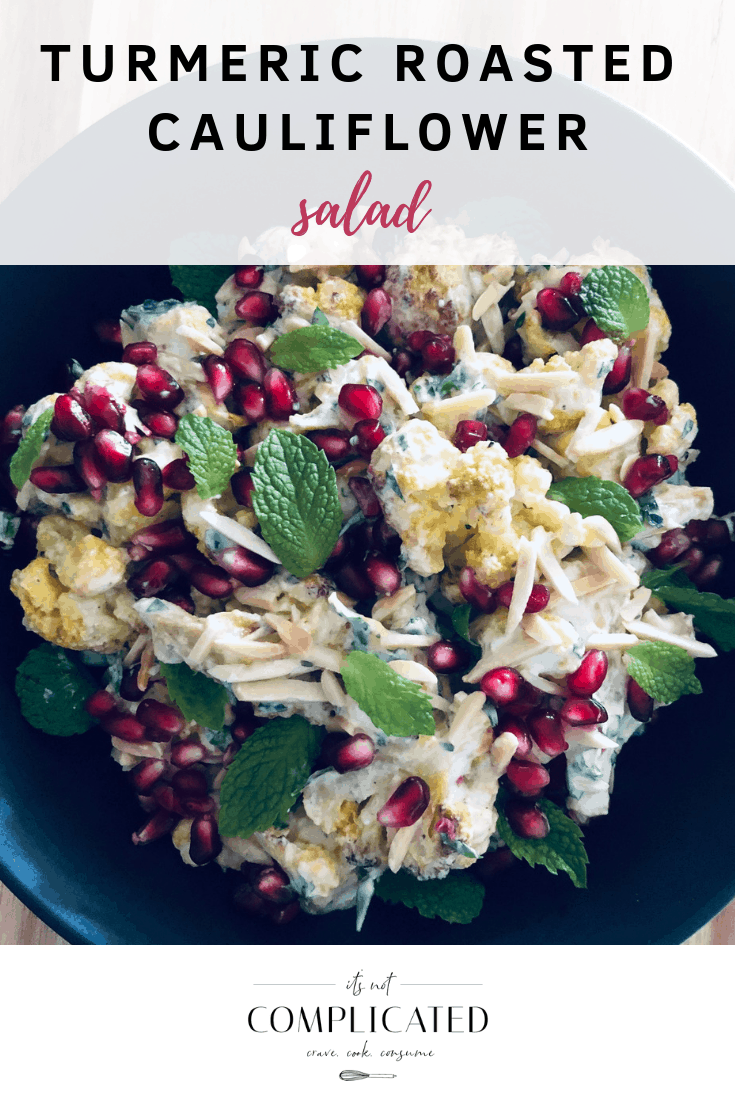 My Turmeric Roasted Cauliflower Salad with pomegranate and mint is healthy, satisfying and totally delicious.
This is a great salad which is easily prepared. It is full of health-benefiting nutrients, bright flavours and contrasting textures. Furthermore, it is very pretty to look at. The bright green herbs lift the neutral colours of the salad. A sprinkle of pomegranate arils adds a ruby-coloured sparkle. This is an ideal side dish for many meals or fantastic as a vegetarian meal.
Cauliflower is currently enjoying a surge in popularity, being prepared in all manner of ways.
Perhaps we became more adventurous with its preparation when we discovered that roasted cauliflower is totally delicious. Prior to this wonderful discovery it was frequently served boiled, and far too often it was over-boiled. It was soggy, bland and unappetising.
However, the mild flavour of cauliflower has many advantages. It means that it is ideal to be made into a mash. I must say, cauliflower mash is absolutely delicious and many people do not realise that it is not potato. I also love to serve it as a rice substitute. It works well when used this way and is far more nutritious than its substitute. Whereas, roasting cauliflower takes it to new heights as it caramelises and develops sweet and nutty flavours.
To make my Turmeric Roasted Cauliflower Salad, I initially cut the cauliflower into florets.
I toss them in olive oil which has been mixed with turmeric, salt and pepper. The turmeric adds lovely colour and mild flavour.
After 20 minutes roasting in a hot oven, the florets emerge slightly charred and full of caramelised flavours. Cauliflower florets quickly become charred in a hot oven.
I toss the cauliflower florets with a nutritious yoghurt, tahini, garlic and lemon dressing.
The tahini and yoghurt dressing beautifully complements the caramelised, nutty flavour of the cauliflower. A generous quantity of chopped parsley and mint adds bright flavour. After distributing the salad on a serving platter I sprinkle it with toasted, slivered almonds and pomegranate arils.
Pomegranates are a wonderful addition to many dishes. They add sweet, yet tart, flavour and welcome texture. They are extremely versatile, being suitable to use with sweet or savoury dishes. Additionally, they contain generous amounts of Vitamin C and beneficial antioxidants.
I love the flavour combinations in my Turmeric Roasted Cauliflower Salad.
Sweet elements, such as pomegranate, combine with the savoury flavours of roasted, caramelised cauliflower and toasted slivered almonds. Fragrant mint and lemon add brightness to the salad. The toasted almonds add vital crunch and further textural contrast. Altogether, these ingredients are a great combination.
I have a few tips to achieve the best result when roasting cauliflower. Firstly, to ensure even roasting, it is important to have the florets a similar size. You will need to cut some to achieve this. After washing the cauliflower, it needs to be as dry as possible. Too much moisture will mean that the cauliflower will steam. For this recipe, we want the caramelised edges which are so delicious. Further, I mix the oil and the spices in a large bowl and toss the cauliflower in the mixture. This will ensure more even coating. Finally, roast the florets in a single layer with some space between each one. Placing the cut side down will make for better caramelisation. Use two baking trays if necessary.
This Cauliflower Salad is a great way to obtain many nutritional benefits.
Cauliflowers are members of the Brassica family. (Along with broccoli, cabbage, kale, Brussels sprouts and many others). All members of this family contain several beneficial nutrients. Cauliflowers are a great source of dietary fibre. Further, they contain generous amounts of antioxidants, are rich in anti-inflammatory compounds and a number of essential vitamins. We are encouraged to eat these nutrition powerhouses on a regular basis and this is one great way to enjoy them.
Please let me know in the comments below if you try this recipe.
Alex xx

P.S. For more delicious ideas, check out our post on Salad Recipes!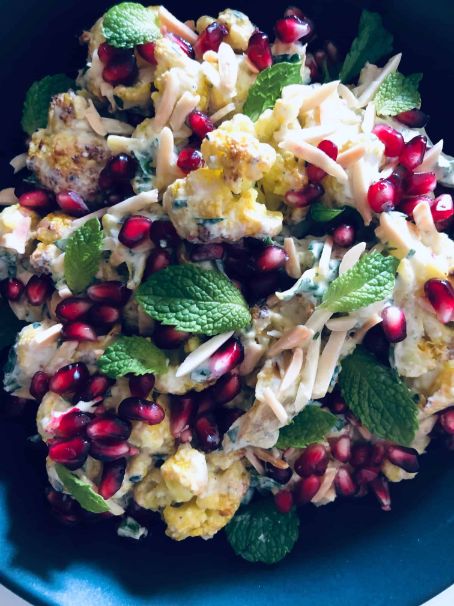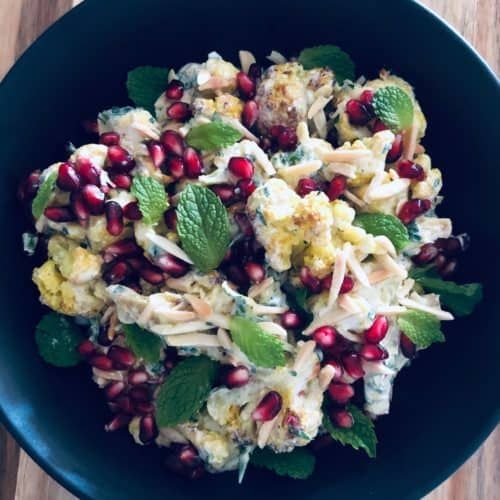 Turmeric Roasted Cauliflower Salad
Turmeric Roasted Cauliflower Salad is easy to make, pretty to serve, and delicious to eat! It contains large amounts of nutrients and health-benefiting antioxidants. It's an all-around winner. Do try it.

Print
Pin
Rate
Ingredients
Salad:
1/2

cauliflower

small

3

tbsp

olive oil

1/2

tsp

sea salt

1/4

tsp

black pepper

freshly ground

1/4

tsp

ground turmeric

1/4

cup

slivered almonds

toasted

1/4

cup

fresh mint

finely chopped

1/4

cup

Italian/flat leaf parsley

finely chopped

1/2

pomegranate

arils removed
Dressing:
1/2

cup

yoghurt

plain

1

tbsp

tahini

hulled

2

tbsp

lemon juice

freshly squeezed

1

small

garlic clove

grated or finely chopped

1

tsp

maple syrup or honey

sea salt and black pepper to taste

1

tbsp

water, if necessary *
Instructions
Preheat your oven to 220 Degrees C (425F).

Line a baking tray with baking paper.

Chop the half cauliflower into bite-sized florets, ensuring they are a similar size. You will need to cut through the centre of some.

To a large bowl, add olive oil, salt, pepper and turmeric. Whisk to combine.

Add the cauliflower florets to the bowl and toss well with the dressing to ensure they are evenly coated.

Turn the cauliflower onto the lined baking tray. Place the cauliflower cut sides down to achieve the best caramelisation. Keep them in one layer and ensure there is some space between each one.

Roast in the preheated oven about 20 minutes or until the florets are tender and caramelised on the edges.

Remove from the oven and transfer to a large bowl.

While the cauliflower is roasting, add the almonds to a small baking tray and roast in the oven for about 5 minutes or until a light golden colour. Stir them once halfway through. Keep an eye on them, they will burn quickly. If you prefer, you could toast them in a small frying pan.

Meanwhile, make the dressing.

Dressing:

In a small bowl, mix together the yoghurt, tahini, lemon juice, garlic, sea salt, pepper and maple syrup/honey. Check that the seasoning is to your taste and thin with a little water if necessary. I used thick Greek yoghurt and added 1 ½ tablespoons of water.

Add the dressing to the cauliflower along with the chopped mint and parsley. Toss together gently.

Turn into a serving dish and sprinkle the toasted almonds and pomegranate arils on top.

Notes
*The florets weighed about 500 gm/1 lb after removing from the main stem.
*You may need to add a little extra water, depending on the thickness of your yoghurt. I used very thick Greek yoghurt.
* An easy way of working with a pomegranate is to cut in half, and bang the skin with a wooden spoon – you will find the arils will fall out.
Nutrition
Calories:
202
kcal
|
Carbohydrates:
10
g
|
Protein:
4
g
|
Fat:
17
g
|
Saturated Fat:
2
g
|
Cholesterol:
3
mg
|
Sodium:
331
mg
|
Potassium:
363
mg
|
Fiber:
2
g
|
Sugar:
4
g
|
Vitamin A:
465
IU
|
Vitamin C:
43.6
mg
|
Calcium:
88
mg
|
Iron:
1.2
mg