Even if you're a novice cook you will find that these Caprese Bread Tartlets are very easy to prepare.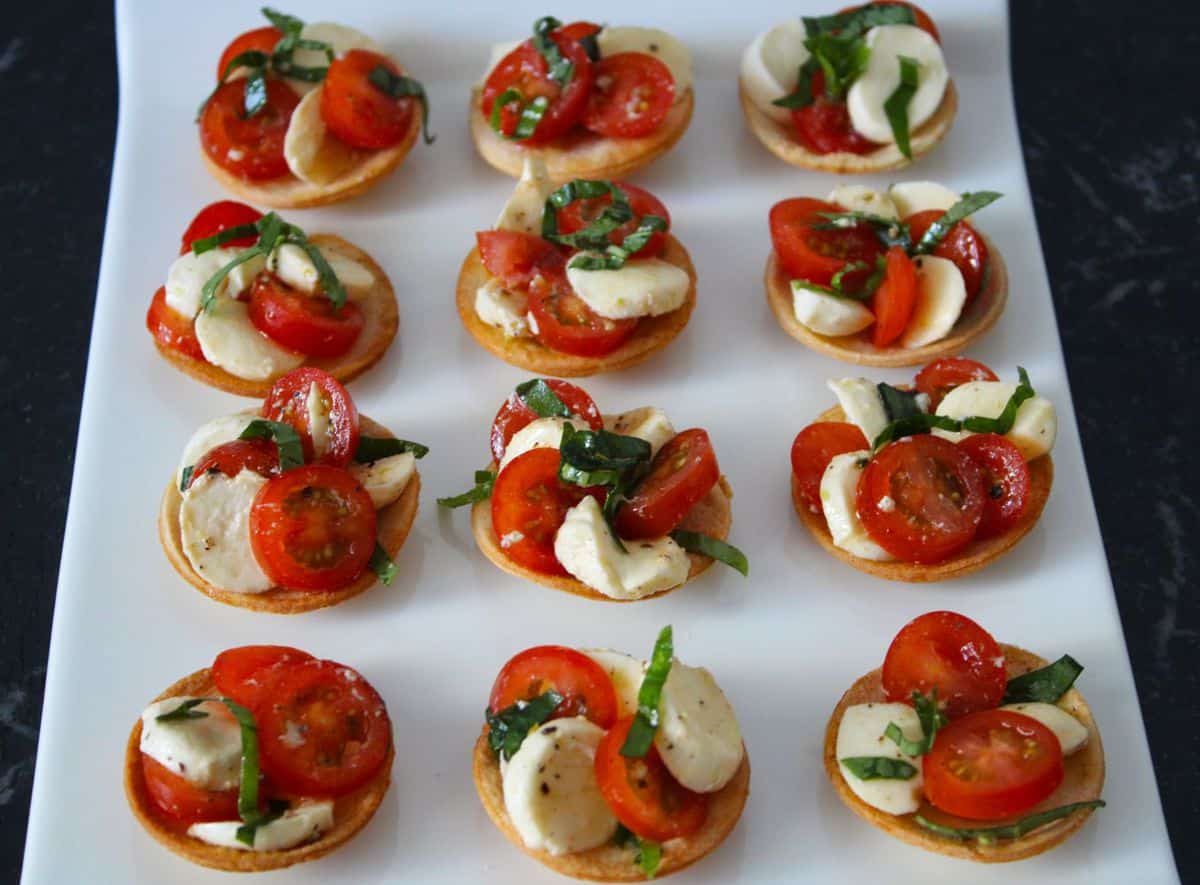 They are great for entertaining and suitable for large or small groups of people. And, best of all, the flavours are fresh, bright and totally delicious.
Using bread cases as the tartlet base is a brilliant way to make these easily prepared appetisers. The bread cases are first baked to golden, crispy perfection and filled with the Caprese Salad shortly before serving.
These bread tartlet cases are perfect for those who lack the confidence to make their own pastry or, like many of us, simply do not have the time.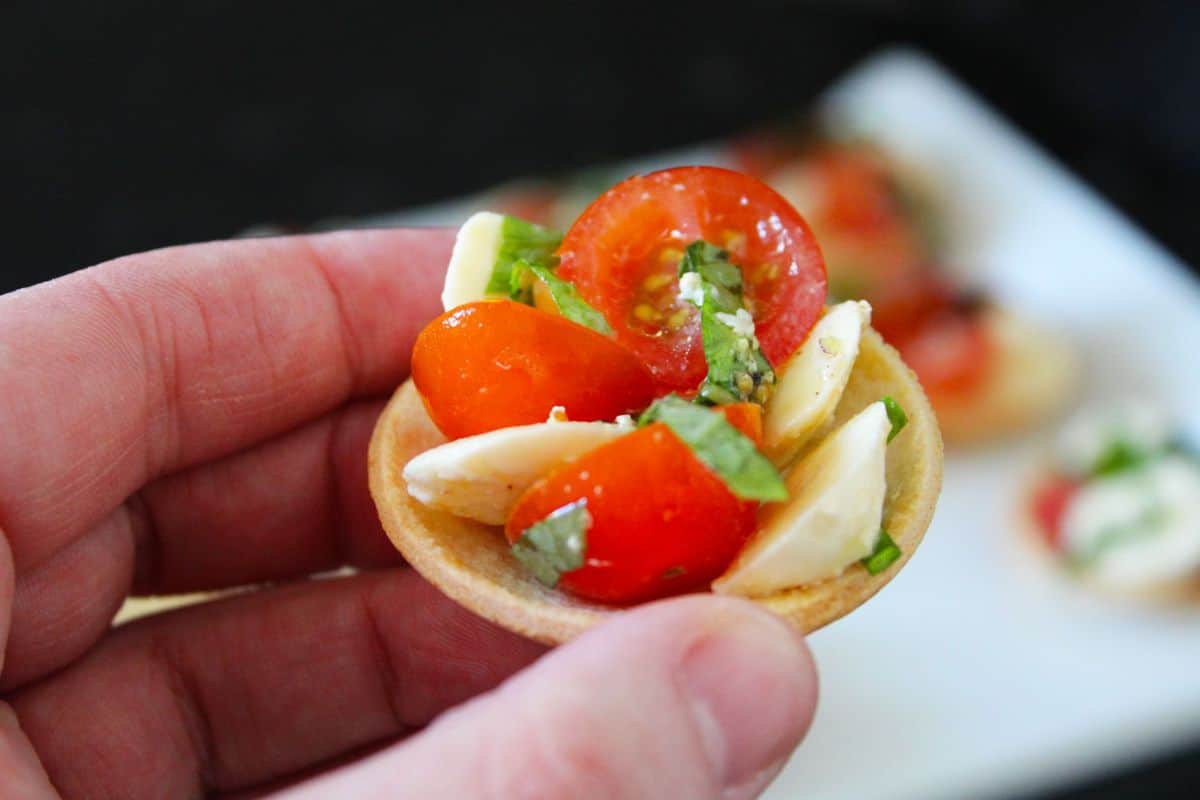 I use these ingredients for the Caprese Bread Tartlets:
Sliced sandwich bread:
I make the bread cases from run-of-the-mill, supermarket, thinly sliced sandwich bread. I generally use white but you could use wholemeal if you prefer.
Olive oil:
I have used extra virgin olive oil for both the bread cases and the Caprese salad. It is the finest quality olive oil and I prefer to use it for its flavour and well-known health benefits.
Cherry tomatoes:
I have used cherry tomatoes as they generally are less acidic than larger tomatoes and therefore more reliably sweet. For the best flavour check that they are perfectly ripe. They should be a vibrant shade of red.
Bocconcini:
Bocconcini are small, round balls of fresh mozzarella that are generally made from cows' milk. They range in size from the small, cherry-sized bocconcini that I have used here through medium and large sizes.
You can purchase bocconcini loose from delis or supermarkets or in plastic tubs which contain whey. If sold loose, I use shortly after purchase. If you purchase in a plastic tub, they are best to eat two or three days after opening the container.
Fresh basil:
Basil is a highly fragrant, popular herb which is a member of the mint family. It is an essential ingredient in many Italian dishes. It is perhaps most famous for its use in pesto, the delicious combination of fresh basil, garlic, pine nuts, Parmesan cheese and olive oil.
Basil leaves bruise easily so handle it carefully.
Sea Salt and Black Pepper:
I prefer to use sea salt as it is naturally derived by the evaporation of saltwater.
For the best flavour, I freshly grind the black pepper as required.
This is how I make the Caprese Bread Tartlets:
To begin, I remove the crusts from the bread and set them aside for another use.
Using a rolling pin I flatten the bread slice and roll it as thinly as possible. Then, using a 6cm/2 ½" round cookie cutter, cut rounds from each slice. Depending on the size of the bread I generally get two bread cases per slice.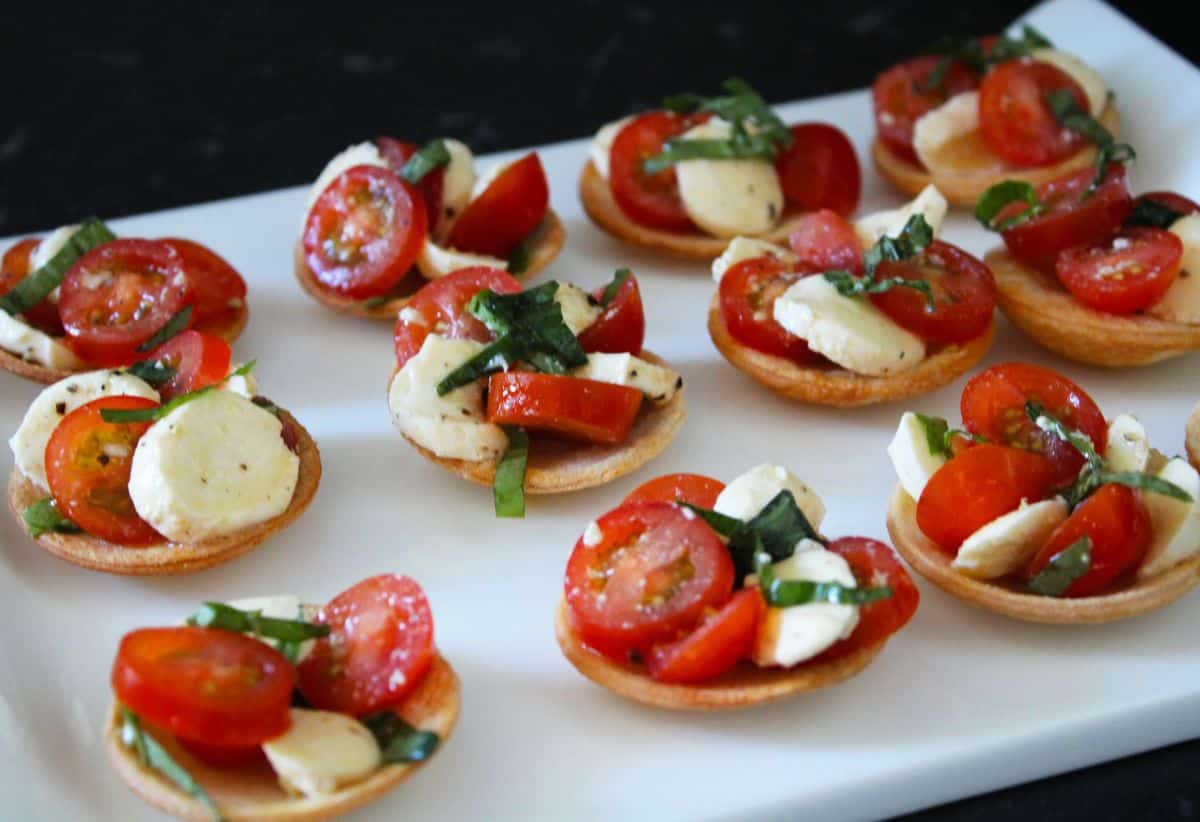 And for all the bread that's leftover:
I place it in the food processor and whiz it to make breadcrumbs. I store the breadcrumbs in freezer appropriate containers for future use. The tartlet cases can be made a day in advance.
To make the Caprese mixture:
It really is so very simple:
I slice each cherry tomato in four;
Slice the basil leaves thinly;
Cut each mini bocconcini in four;
Drizzle a little olive oil on top and season with salt and pepper, when you are ready to serve.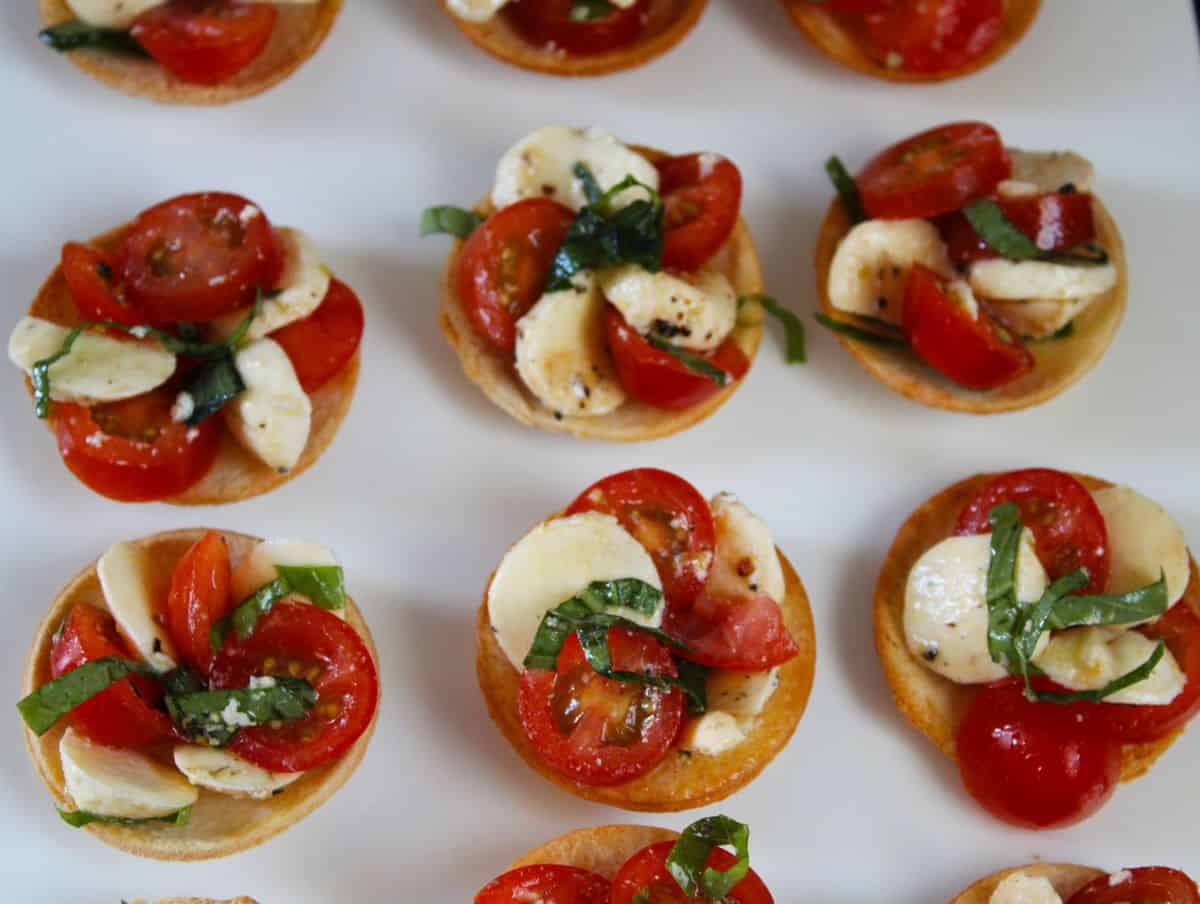 In order to be organised, I prepare the filling for the tartlets an hour in advance. If preparing several hours ahead there are three important things to note.
First, do not season the salad until ready to assemble the tarts as the salt will draw moisture from the tomatoes. This will make the tartlets soggy;

Second, do not slice the basil in advance as the leaves will go black. It should be added at the last moment;

Third, if refrigerating the salad be sure to bring it to room temperature for serving. Cold tomatoes have no flavour.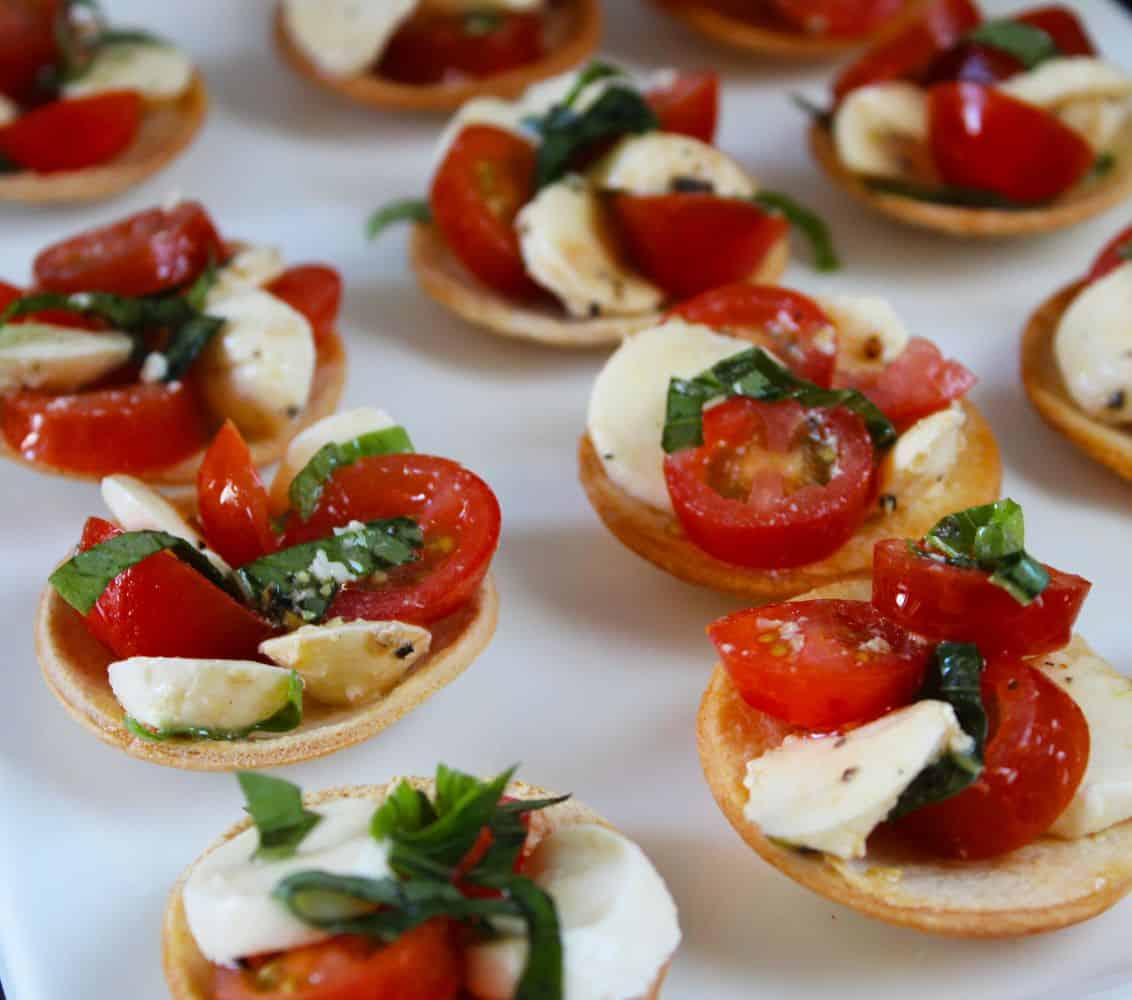 About the Caprese Salad:
Continuing the notion of creating an easy appetiser, I make a Caprese salad filling. There's minimal effort involved here, there is just a little chopping and no cooking.
The Caprese salad, known in Italy as Insalata Caprese, originated on the Isle of Capri in the 1950s.
In its standard form, it is made from fresh tomato, fresh mozzarella, fresh basil, olive oil, salt and pepper. The red, white and green reflect the colours of the Italian flag and the flavours are bright and fresh.
The ingredients just seem to be made to go together. Traditionally, vinegar is not added to this salad. However, it is not uncommon these days to see it with balsamic vinegar or balsamic glaze.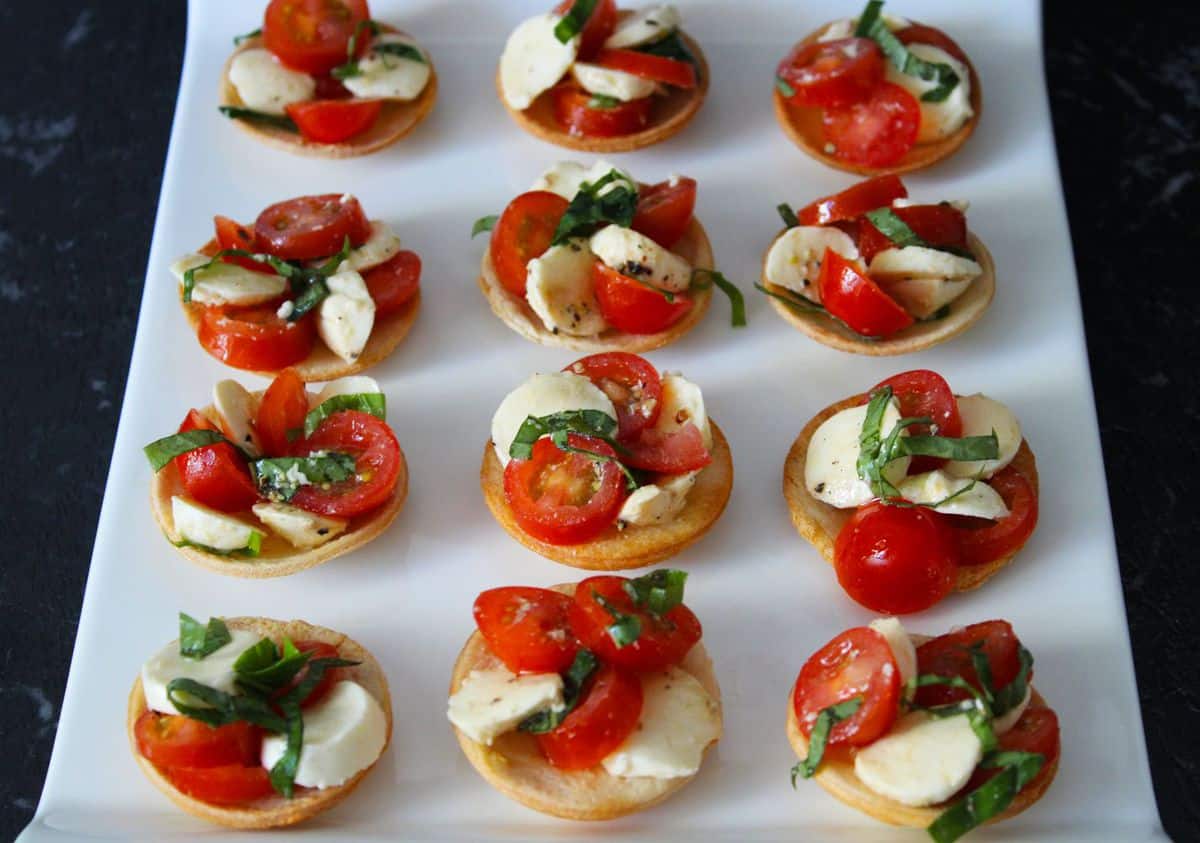 Tips for success:
You can use day-old bread, but this is not the time to use bread which has become dry as it will be difficult to roll thinly.
The salad should not be made more than an hour or so in advance. However, you can separately prepare the ingredients. The mozzarella balls can be cut and kept cool in the fridge. I suggest that you wash the tomatoes and basil and set them aside. If you cut them early, the flavour of the tomatoes will become dull by refrigeration and the basil will become black and unattractive.
Do not season it until you are ready to assemble the tarts as the salt will draw moisture from the tomatoes and make the bread cases soggy.
You can make the bread cases a day ahead and store them in an airtight container.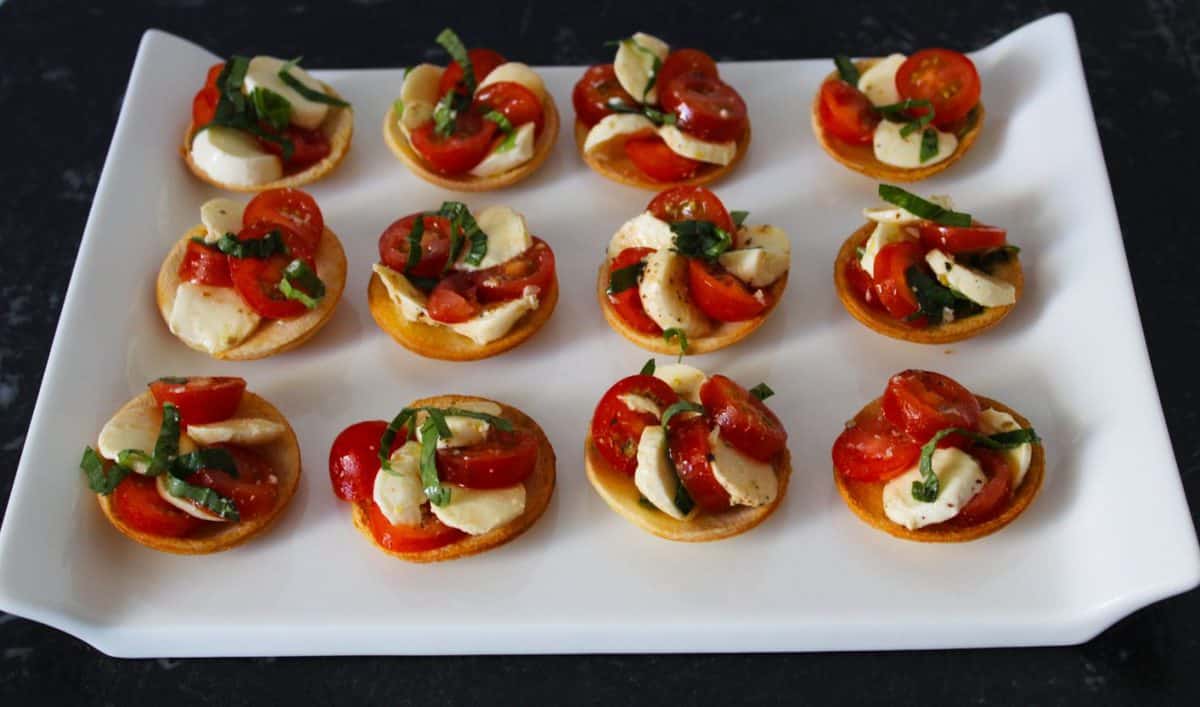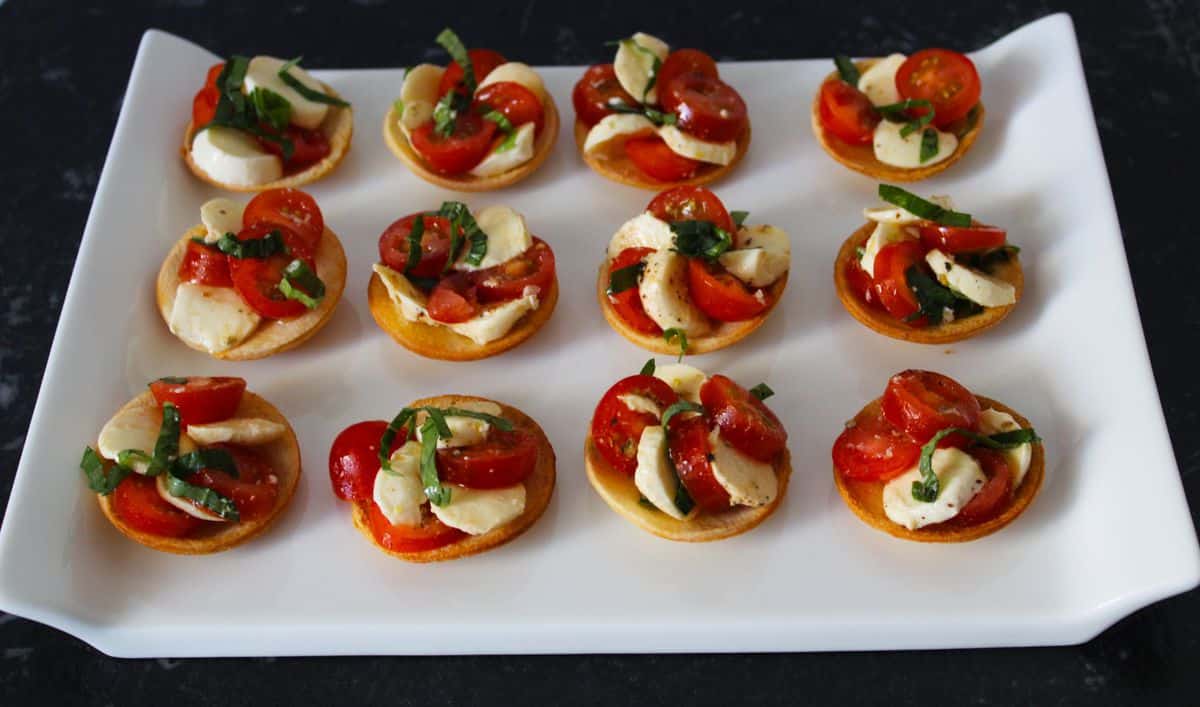 To make a good Caprese Salad you must begin with good quality ingredients. Perhaps the most important here is the quality of the tomatoes. They must be at peak perfection ripeness and full of flavour.
Fresh basil adds vibrant flavour which can not be replicated by using dried basil.
It is essential to use fresh mozzarella; please do not use the hard, yellow variety which you may use for pizza.
Although I use very little olive oil, my preference is for extra virgin olive oil which will add a further depth of flavour.
Easily adapt this recipe to be gluten-free by using an alternative bread of choice.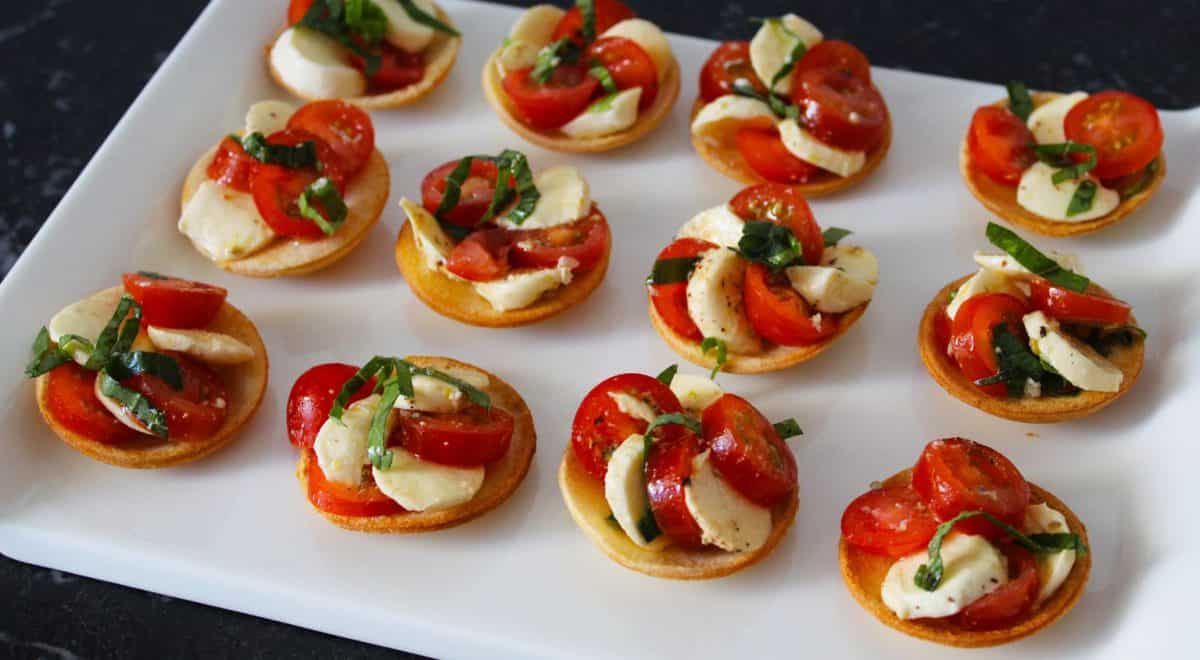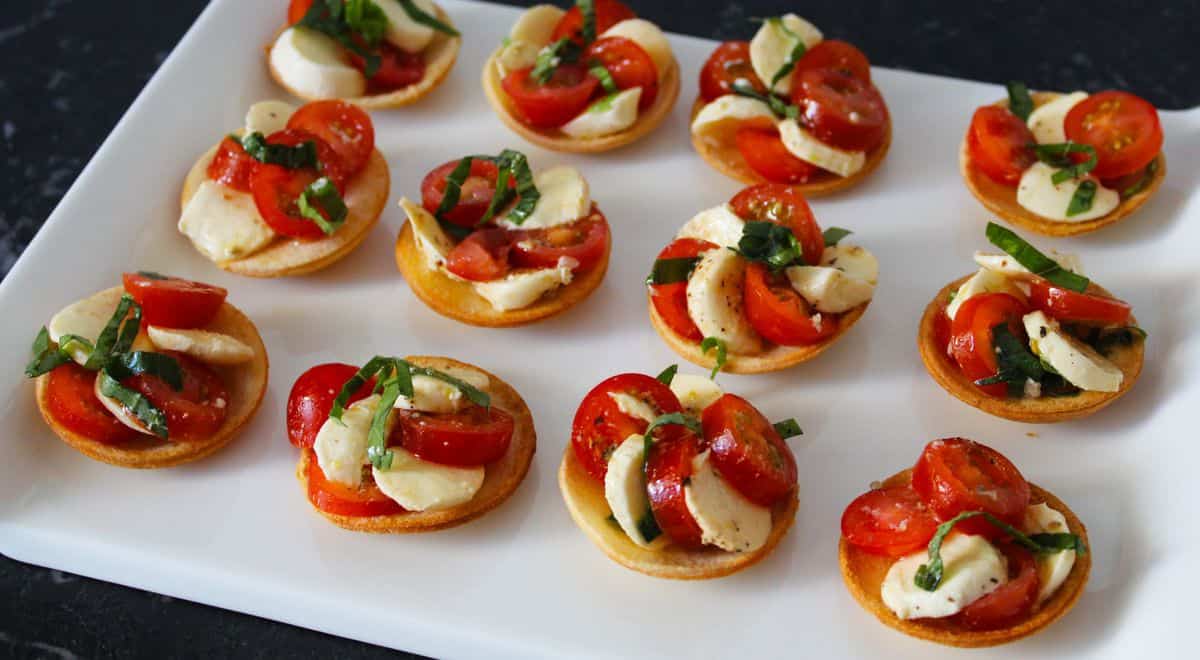 More suggestions for these ingredients:
Tomato:
Semi-Dried Tomato Savoury Madeleines by A Baking Journey
Bocconcini:
Basil: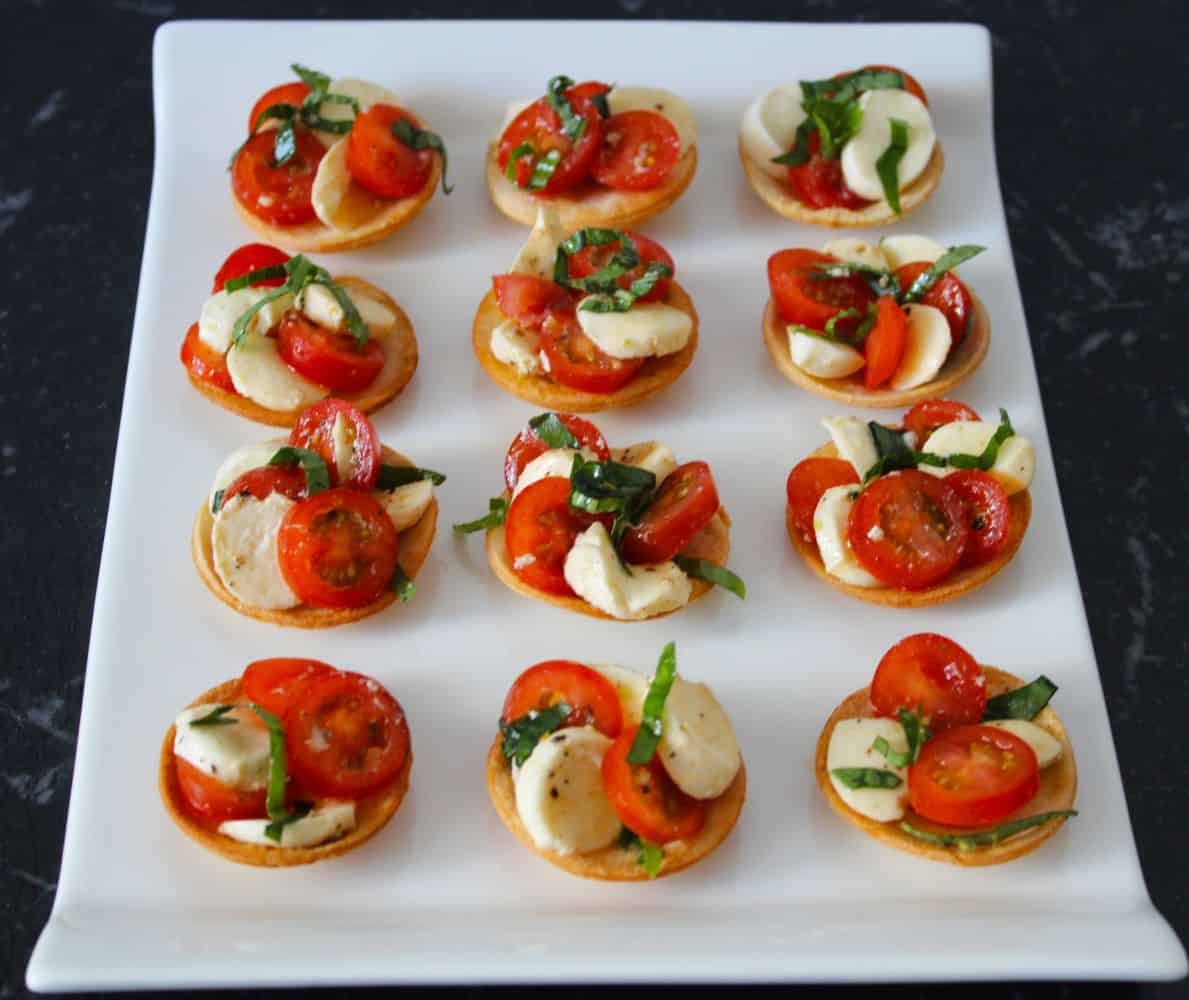 Other easy appetiser ideas:
I absolutely love to entertain. The idea for the name of the blog actually came about one night when I had some of my dear friends over. I kept repeating, with respect to the food, that "it's not complicated to make, honest"! And here we are today!
Here are some of the easy appetisers that I like to serve regularly (that evening included):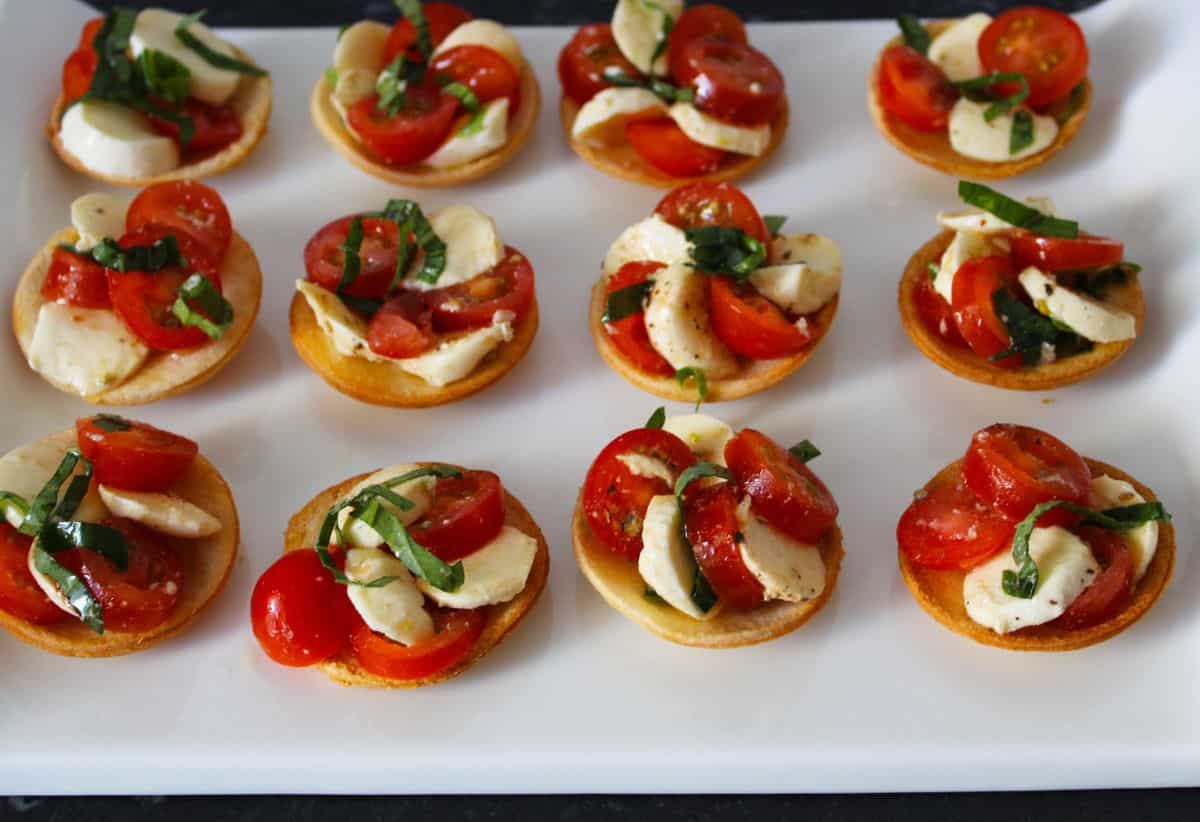 These Caprese Bread Tartlets are very simple to put together.
Don't be afraid to vary the recipe. You can customise the fillings to suit your taste.
Enjoy, and let me know in the comments below when you try this!
Alex xx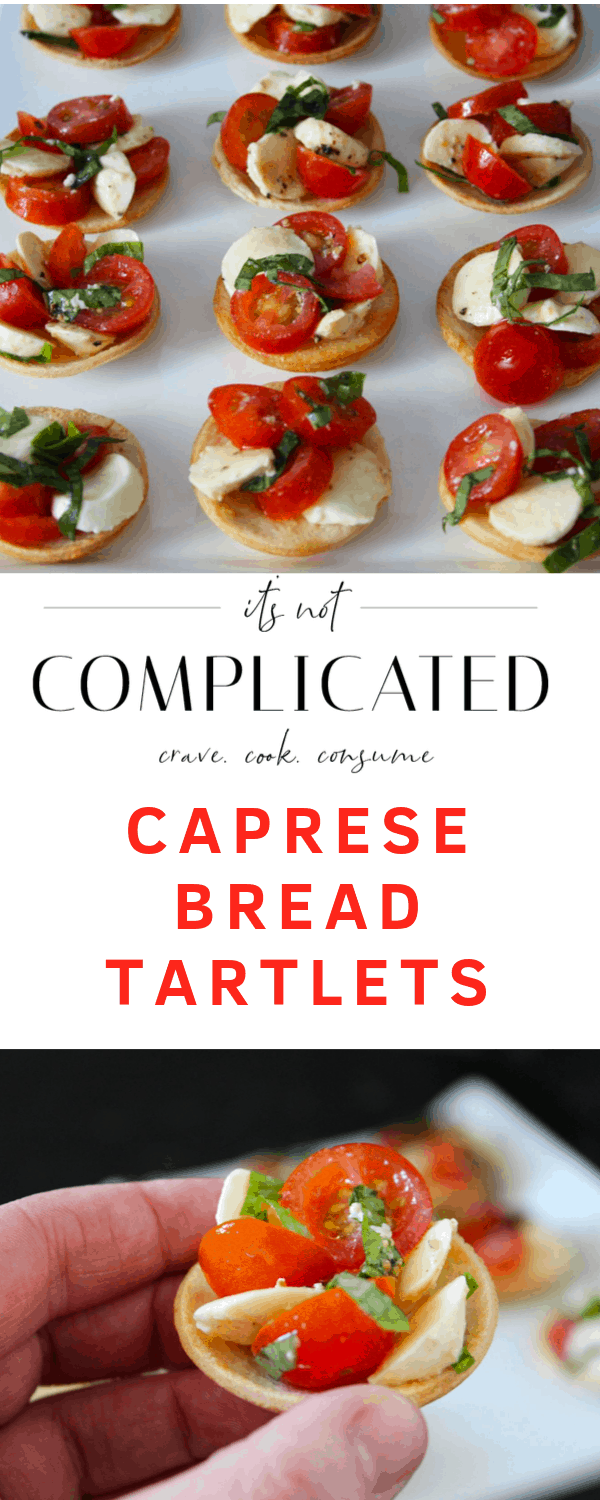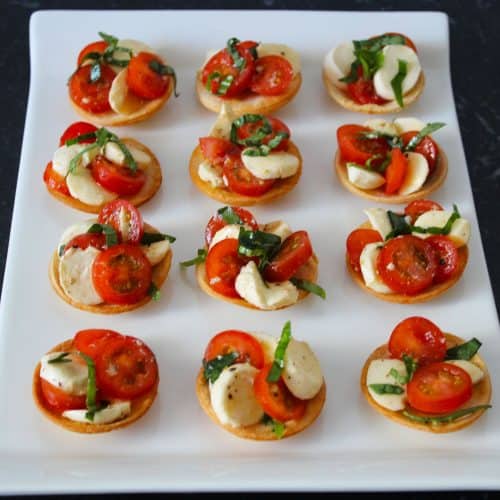 Caprese Bread Tartlets
These crisp and crunchy bread cases are the perfect base for an easily prepared, full of flavour appetiser. These are perfect for entertaining yet simple enough for your pre-dinner drinks.
Print
Pin
Review
Recipe Measurements:
For accuracy, when weights are provided, we recommend weighing your ingredients. This will produce the best results.
Ingredients
6

slices

white sandwich bread

See Note 1 – use gluten-free bread if required

9

cherry tomatoes

See Note 2

6

leaves

basil

See Note 3

10

cherry bocconcini

See Note 4

⅛

cup

olive oil

for brushing the bread

1

teaspoon

olive oil

extra virgin, for the dressing

sea salt and black pepper

to taste
Instructions
Preheat oven to 180 Degrees C (350 F)

Use a sharp knife to remove the crusts from 6 slices of bread. (See Note 1).

Using a rolling pin, roll each bread slice to flatten as thinly as possible.

Once flattened, use a 6cm/2 ½" round cookie cutter, cut 2 rounds from each slice.

Brush the rounds of bread on both sides with olive oil or spray each side with olive oil.

Firmly press the bread rounds into a 12-hole patty tin.

Bake for 12-15 minutes, turning around the pan halfway through cooking, until the cases are lightly browned.

Remove from oven and transfer to wire racks to cool completely.

Prepare your filling. Slice each cherry tomato and mini bocconcini into four pieces. Thinly slice the basil.

Combine the tomato, basil and bocconcini in a bowl, along with the olive oil. Season with salt and pepper.

Fill your bread cases and serve immediately.
Notes
Depending on the size of the loaf of bread, I usually get two rounds cut out per slice. 
I slice the cherry tomatoes into four.
Thinly slice the basil leaves.
I have used cherry bocconcini – sliced into 4. You can certainly use a larger bocconcini – you may find one would be suitable for the 12 tartlets.
Nutrition Estimate:
Calories:
58
kcal
|
Carbohydrates:
7
g
|
Protein:
1
g
|
Fat:
3
g
|
Saturated Fat:
1
g
|
Sodium:
63
mg
|
Potassium:
42
mg
|
Fiber:
1
g
|
Sugar:
1
g
|
Calcium:
34
mg
|
Iron:
1
mg
Tried this Recipe? Please rate and leave a comment!
Nutritional Disclaimer:
The nutritional information is an estimate only, and is derived from online calculators. For accurate results, we recommend calculating the nutritional information based on the ingredients and brands you use.