My Roasted Mediterranean Olives are an easily prepared, tasty appetiser which is an ideal accompaniment to a glass of wine.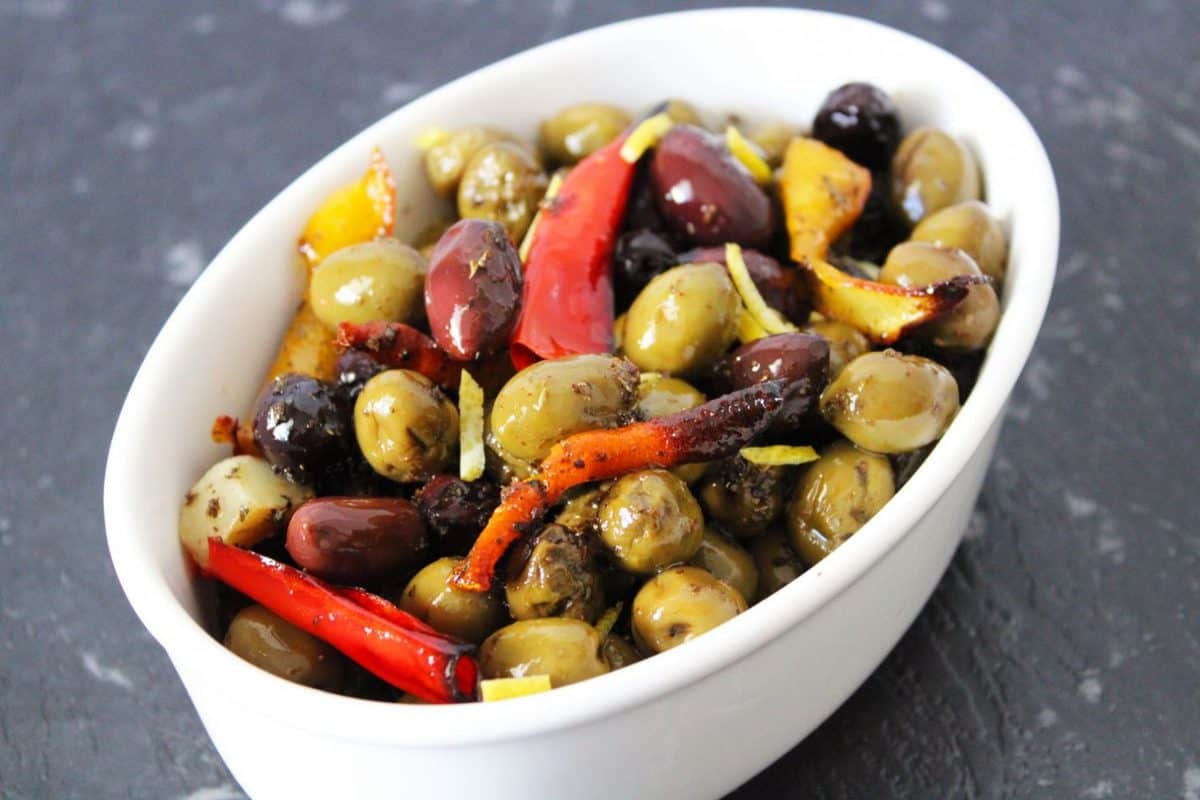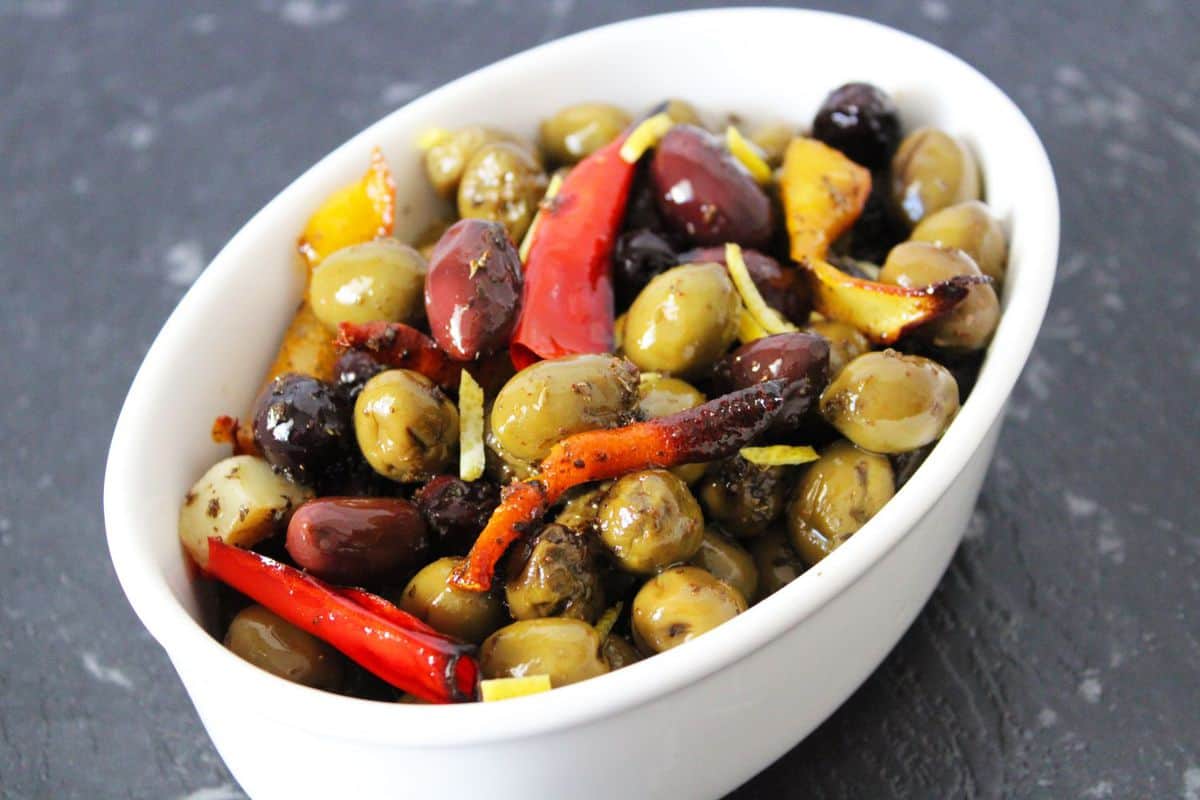 It's as simple as combining a few varieties of olives, adding a few colourful, flavoursome aromatics and roasting for about 20 minutes. The olives become more tender and the flavours intensify.
Roasting the olives brings them to life, their flavour enhanced by the additional seasonings. I have used fresh chilli, dried oregano and citrus peels. The citrus, herbs and chilli beautifully complement the briny, salty olives. Some garlic slivers and a generous quantity of extra virgin olive oil bring the flavours together.
Why we love Roasted Mediterranean Olives:
This recipe is extremely easy to make and I believe that we all need a few quickly and easily prepared recipes. After all, a relaxed host makes for a successful party.
Sitting down in front of a platter of these delicious roasted olives evokes feelings of the Mediterranean way of life. Simple products are combined in such a way that makes them special.
Serve with some crusty bread and make sure that you enjoy the delicious, full-flavoured marinade juices.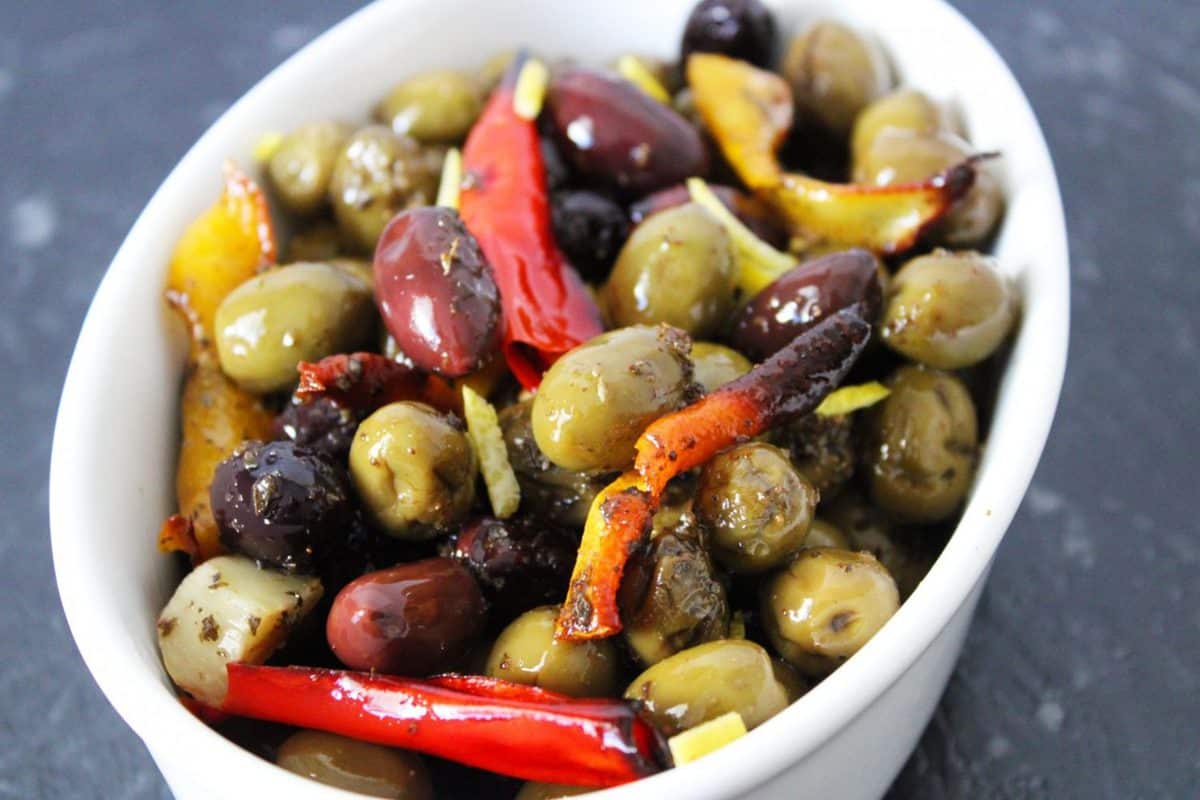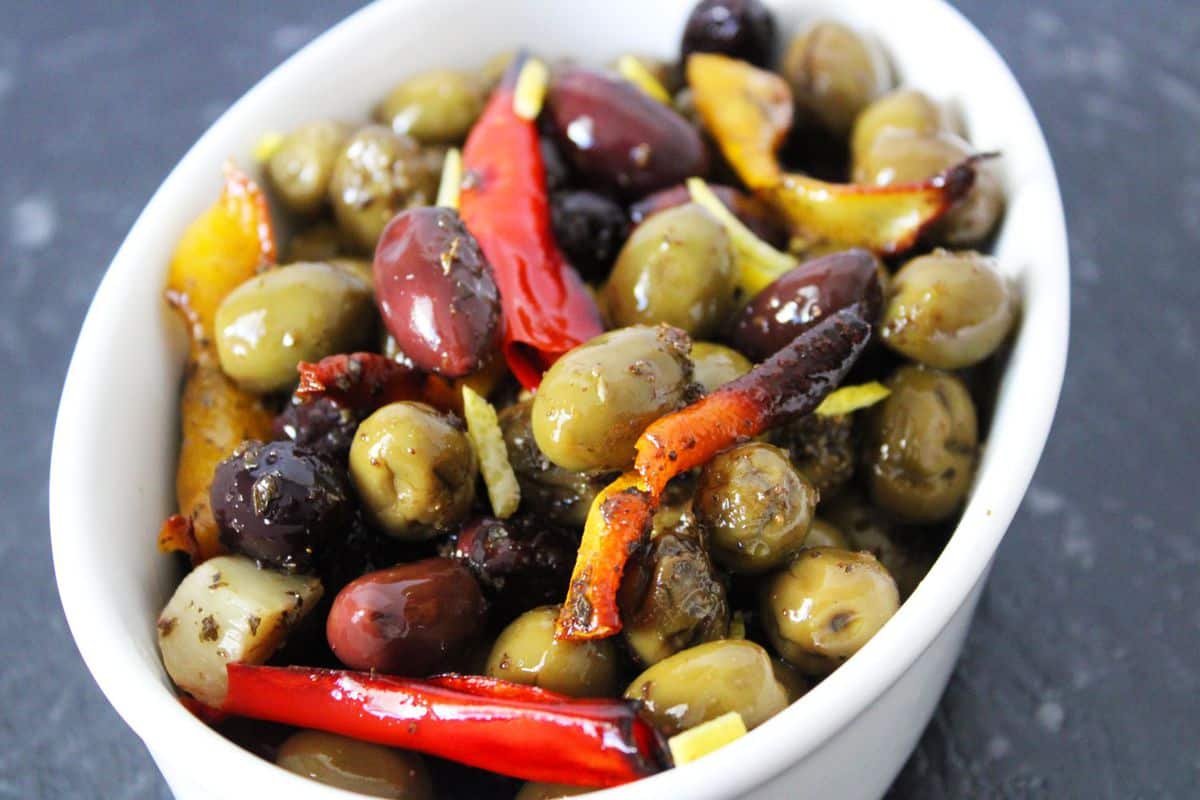 How I make the Roasted Mediterranean Olives:
To begin, I add the mixed olives to a medium-sized ovenproof baking dish. Then I add garlic, dried oregano, a sliced fresh, olive oil, red chilli and thinly sliced orange and lemon peel.
After baking for about 30 minutes the olives become fragrant and infused with the citrus and herb notes. The olives are brightened and boosted by the delicious flavours of their roasting companions.
I remove them from the oven, allow them to cool and marinate for about 10 minutes before serving warm or at room temperature.
Served with crusty bread for mopping up the delicious juices this is a simple and satisfying appetiser.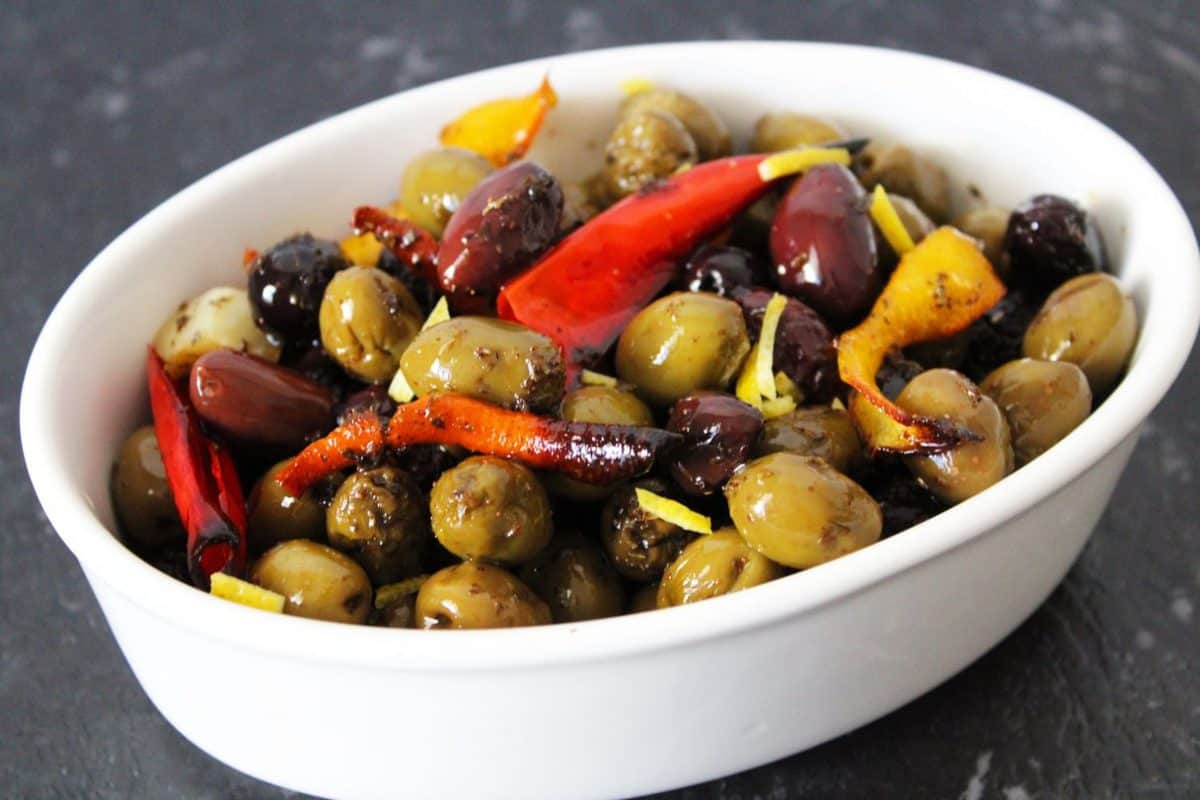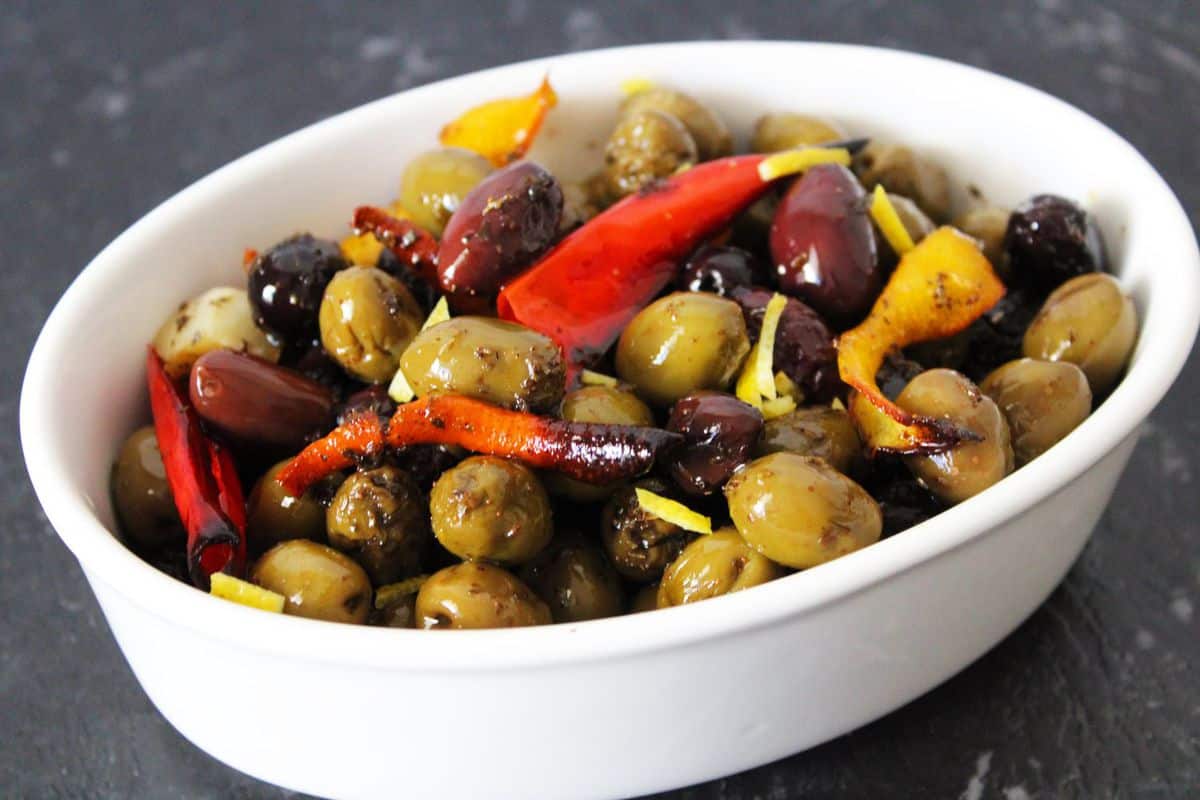 These are the ingredients I use in the Roasted Mediterranean Olives:
Olives:
You can make these Roasted Mediterranean Olives using just one variety of olive. However, I prefer to use a variety of olives as it makes for a more attractive presentation. A multi-coloured dish of Roasted Mediterranean Olives is visually appealing.
I use olives with the stone in as I believe they are generally better quality and have better flavour. However, if you prefer to use pitted olives that's fine. I don't, however, recommend that you use a mixture of pitted and non-pitted olives. You don't want any nasty surprises for your guests.
Extra Virgin Olive Oil:
It goes without saying that the best oil to use with the olives is olive oil. I use extra virgin olive oil for the best flavour.
Despite some reports to the contrary, extra virgin olive oil has a high smoke point and is suitable to use for cooking.
Dried Oregano:
Oregano grows wild throughout the Mediterranean and is a staple cooking ingredient. Whilst in most instances cooks prefer to use fresh herbs, oregano is one instance when many cooks prefer the dried herb rather than the fresh herb. The flavour of dried oregano is more subtle than the fresh and better complements the other ingredients without dominating them.
Garlic:
In many cuisines throughout the world, garlic is an indispensable ingredient. The Mediterranean diet has long been praised for its many health benefits and garlic plays an important role, being used widely throughout the region.
The pungent flavour of the garlic mellows with cooking and is a great addition to the Roasted Mediterranean Olives.
Chilli:
I have used a long red chilli with the olives. Their flavour is often quite mild – but not always. Test a small piece, if it is hotter than you would like I recommend that you remove the membrane and the seeds and use less if you prefer.
Alternatively, you could use some dried chilli flakes.
Lemon and Orange Rind:
I have used a few small strips of lemon and orange rind. They add subtle, bright, citrus flavours.
If your fruit is not organic it is important that you wash it thoroughly before removing the peel.
When it comes to serving:
The Roasted Mediterranean Olives can be served in the bowl in which you roast them. Alternatively, add them to another bowl for serving. They will look beautiful on your table.
If you are serving a number of other dishes you may prefer to serve the olives just as they are. However, if you want a more substantial starter serve them with crusty bread for soaking up the delicious juices. When served this way you will need to provide a spoon for serving.
Some other delicious dishes to serve the olives with are: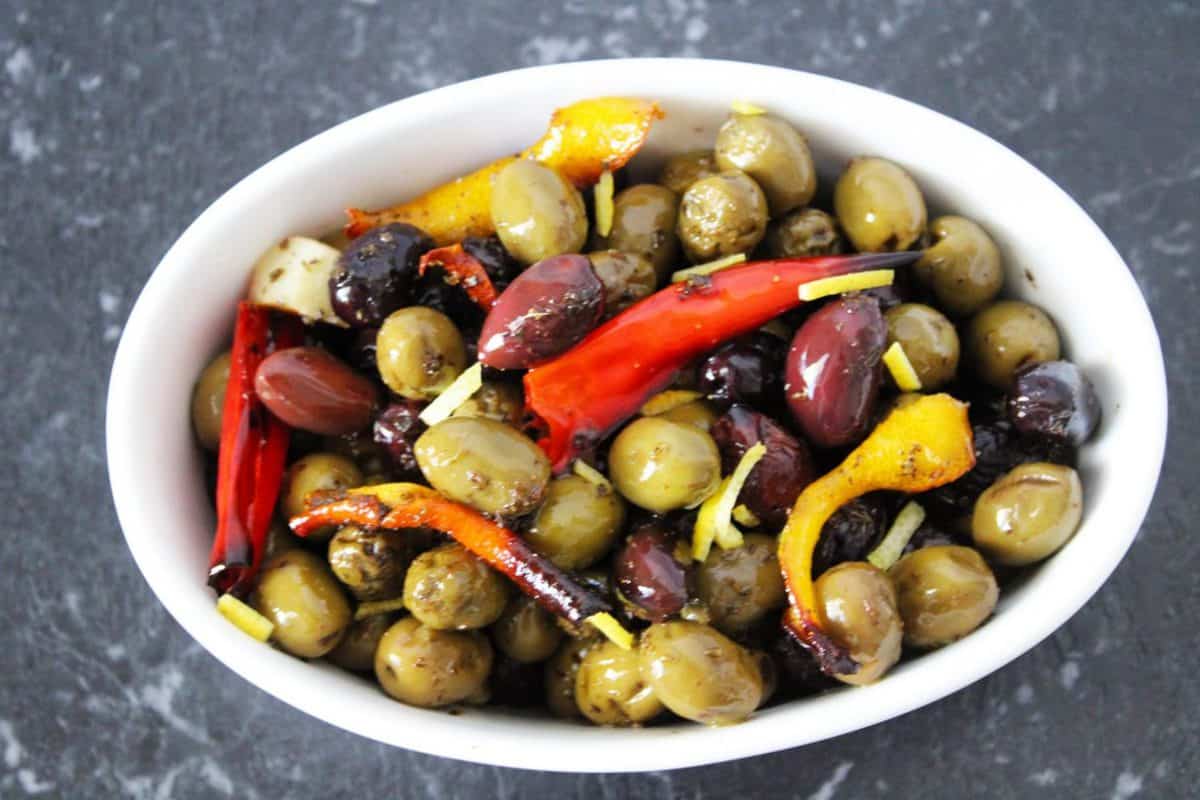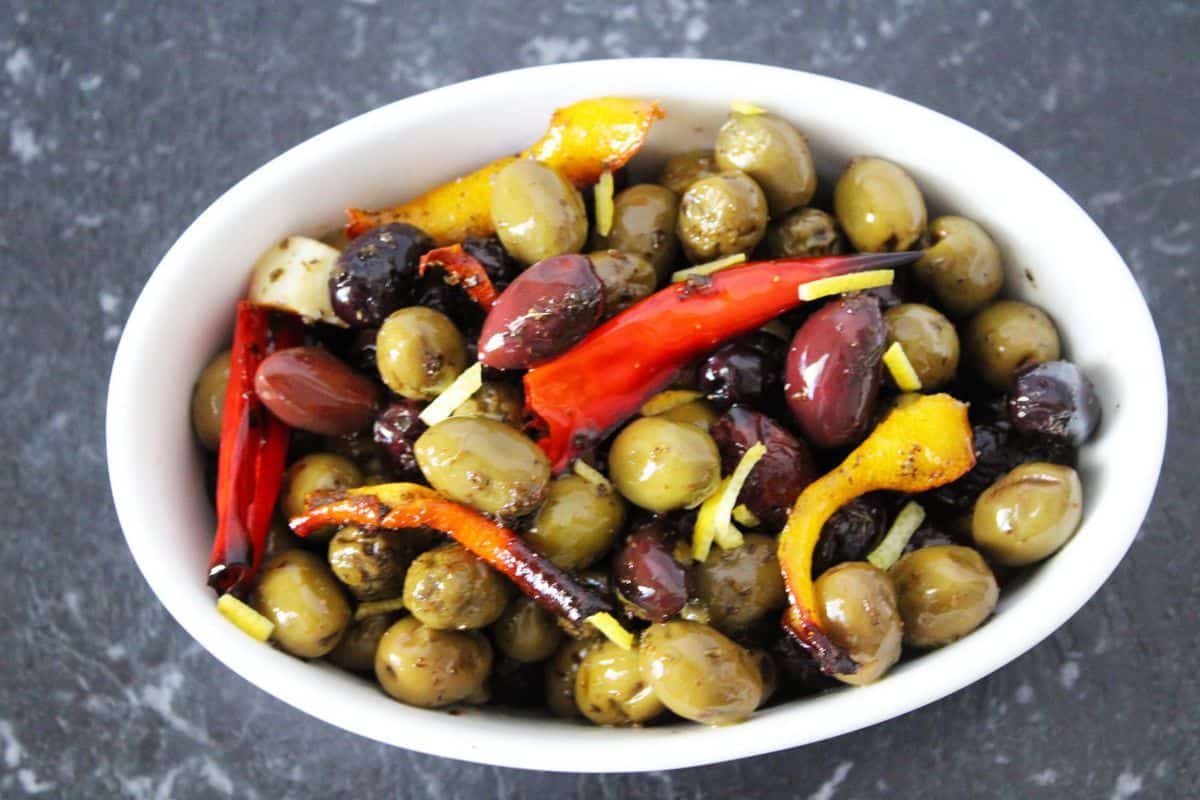 If there are any leftover olives:
This makes quite a large batch of olives. If you have leftovers, store them in an airtight container for a week. The olive oil will solidify in the refrigerator so they will need to be brought to room temperature for serving.
They are delicious served in a salad, with pasta or with cubes of feta.
Tips for success:
To achieve the best results you must start with quality ingredients. I prefer to buy my olives from a good Italian or Greek delicatessen rather than the supermarket. They generally have a better variety and better quality.
Feel free to customise the olives to suit your taste. You may prefer to use fresh rosemary or thyme instead of oregano. Omit the chilli if you prefer. Or add cubes of feta to the warm olives.
It is, however important to use good quality olive oil, ideally extra virgin olive oil. Substituting with another oil will diminish the flavours.
There is no mention of salt in the recipe as the olives are sufficiently salty and no extra is required.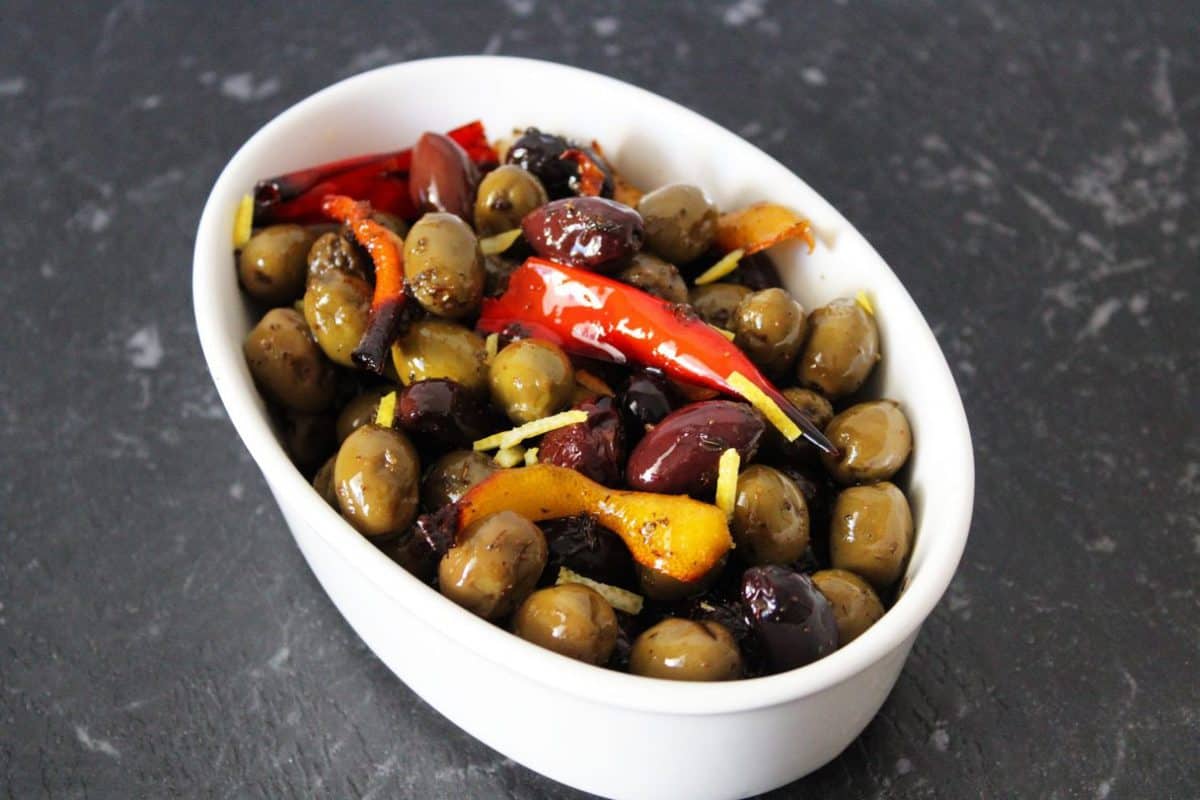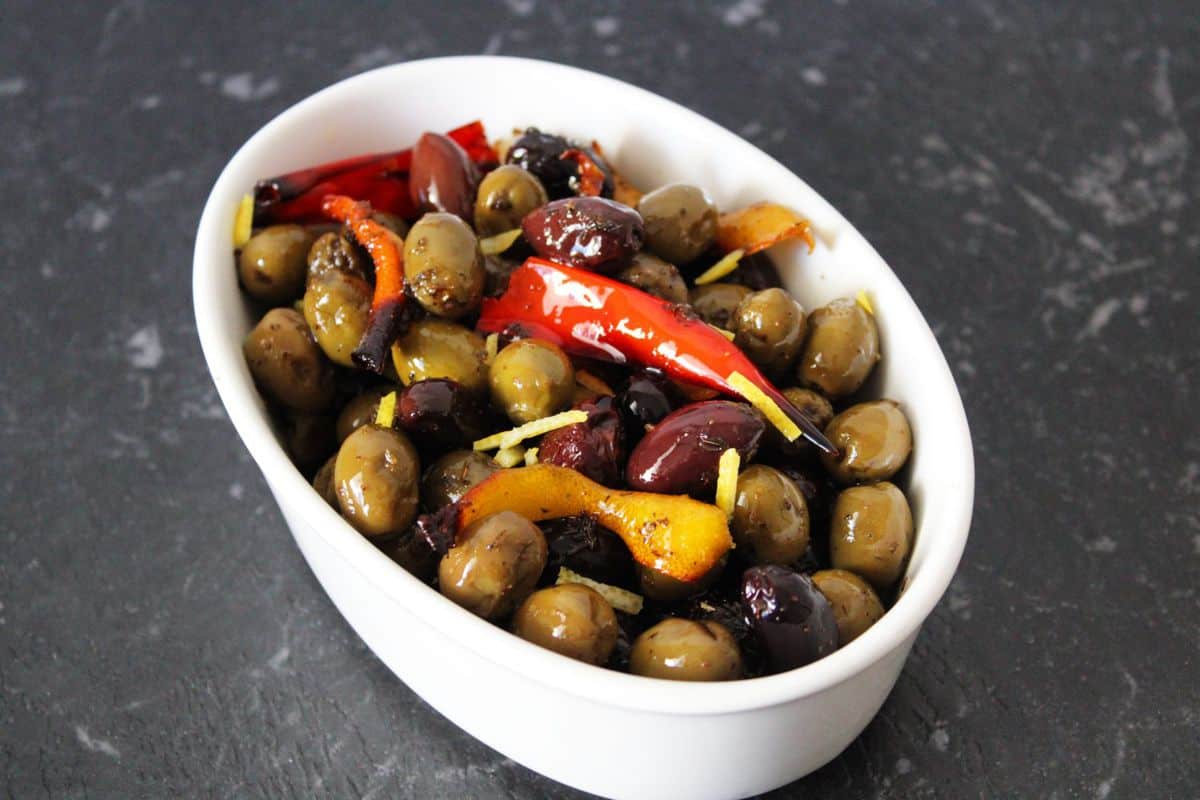 Other uses for these ingredients:
Olives:
Extra Virgin Olive Oil:
This is an important ingredient in many of my recipes, such as:
This is a fantastic appetiser, ideal with a glass of wine, and perfect for entertaining!
I would love to know in the comments below when you have made these delicious Roasted Mediterranean Olives.
Alex xx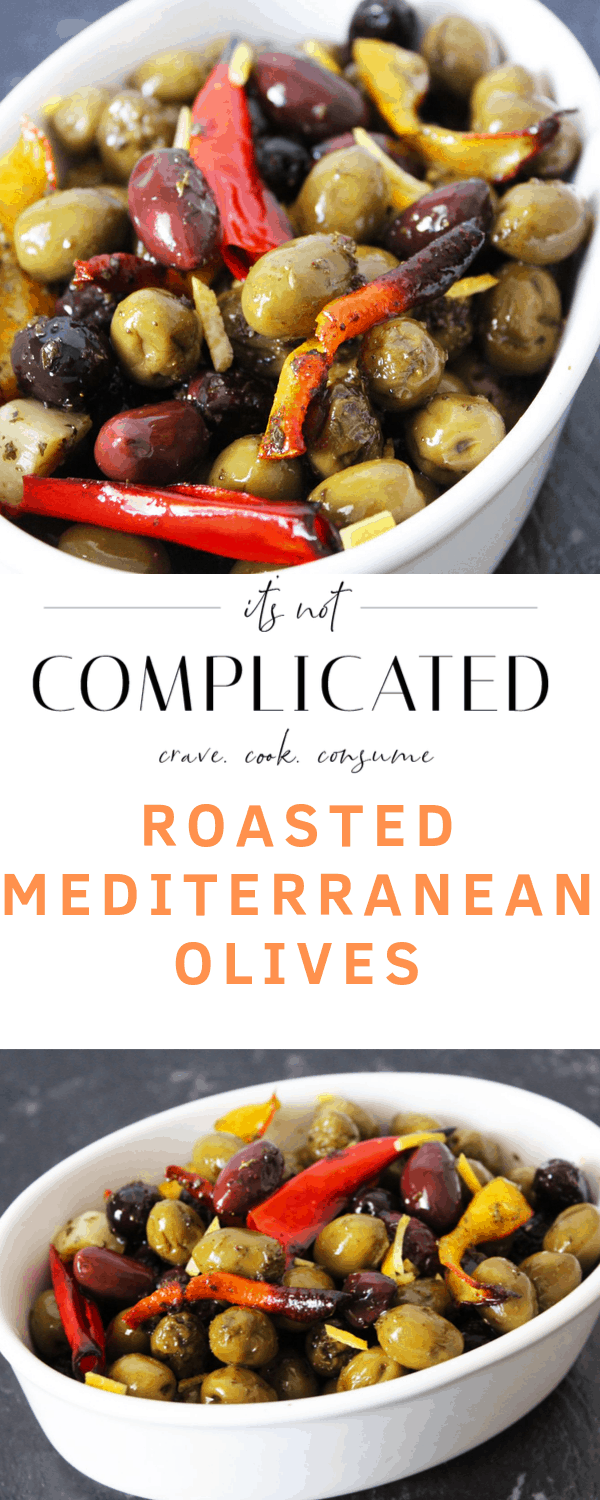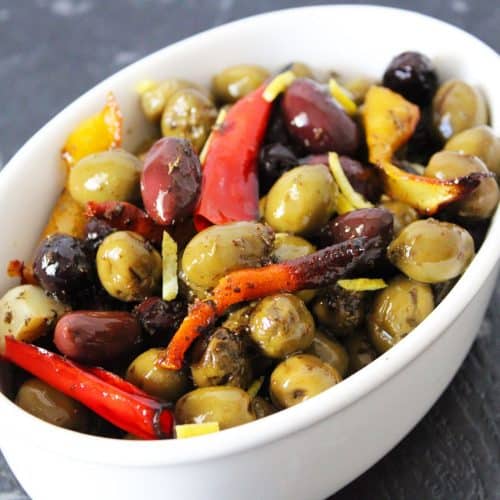 Roasted Mediterranean Olives
My Roasted Mediterranean Olives are a delicious and simple appetiser – perfect to enjoy with a glass of wine!
Print
Pin
Rate
Ingredients
3

cups

olives

See Note 1

6

strips

lemon peel

See Note 2

6

strips

orange peel

See Note 2

4

cloves

garlic

peeled and halved

1

long

red chilli

halved and seeds removed. See Note 3

2

teaspoon

dried oregano

¼

cup

extra virgin olive oil
Recipe Measurements:
For accuracy, we recommend weighing your ingredients. This will produce the best results.
Instructions
Preheat your oven to 180 Degrees C (350 F).

Drain any excess liquid from your olives, and place them into a baking dish that is about 8 x 6 inches.

Prepare your other ingredients: strips of peel, garlic cloves and chillies. Place in the baking dish with the olives.

Add the olive oil and dried oregano to the dish, and toss the ingredients together.

Bake for 30 minutes, stirring halfway through.

Allow the olives to cool slightly before serving.
Notes
I like to use olives that have the stones in. I use a mix of varieties of olives, for a great contrast of colour.
I use a vegetable peeler for the strips of peel. Avoid the white pith, as this is bitter.
I have removed the seeds from the chilli for this recipe, however if you prefer the additional heat, you can certainly leave them in.
The Australian tablespoon is 20ml or 4 teaspoons. In most other countries the tablespoon is 15ml or 3 teaspoons.
Nutrition Estimate:
Calories:
198
kcal
|
Carbohydrates:
3
g
|
Protein:
1
g
|
Fat:
21
g
|
Saturated Fat:
3
g
|
Sodium:
788
mg
|
Potassium:
35
mg
|
Fiber:
2
g
|
Sugar:
1
g
|
Calcium:
39
mg
|
Iron:
1
mg
Nutritional Disclaimer:
The nutritional information is an estimate only, and is derived from online calculators. For accurate results, we recommend calculating the nutritional information based on the ingredients and brands you use.