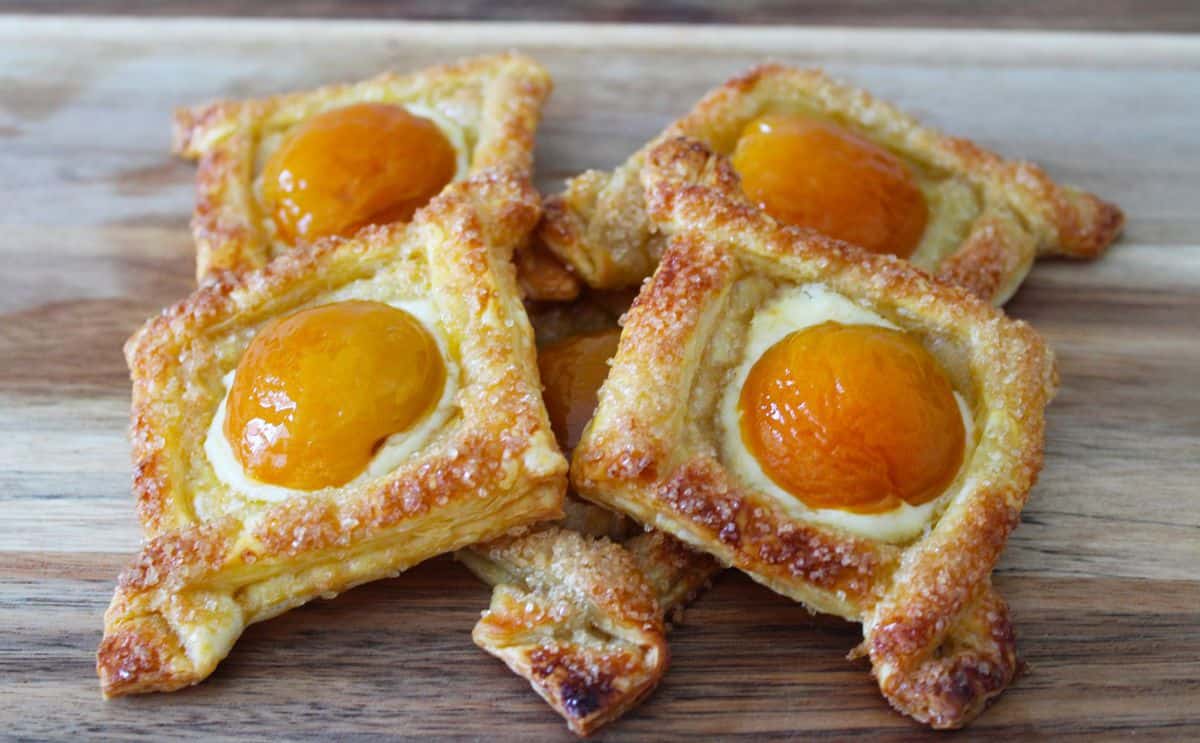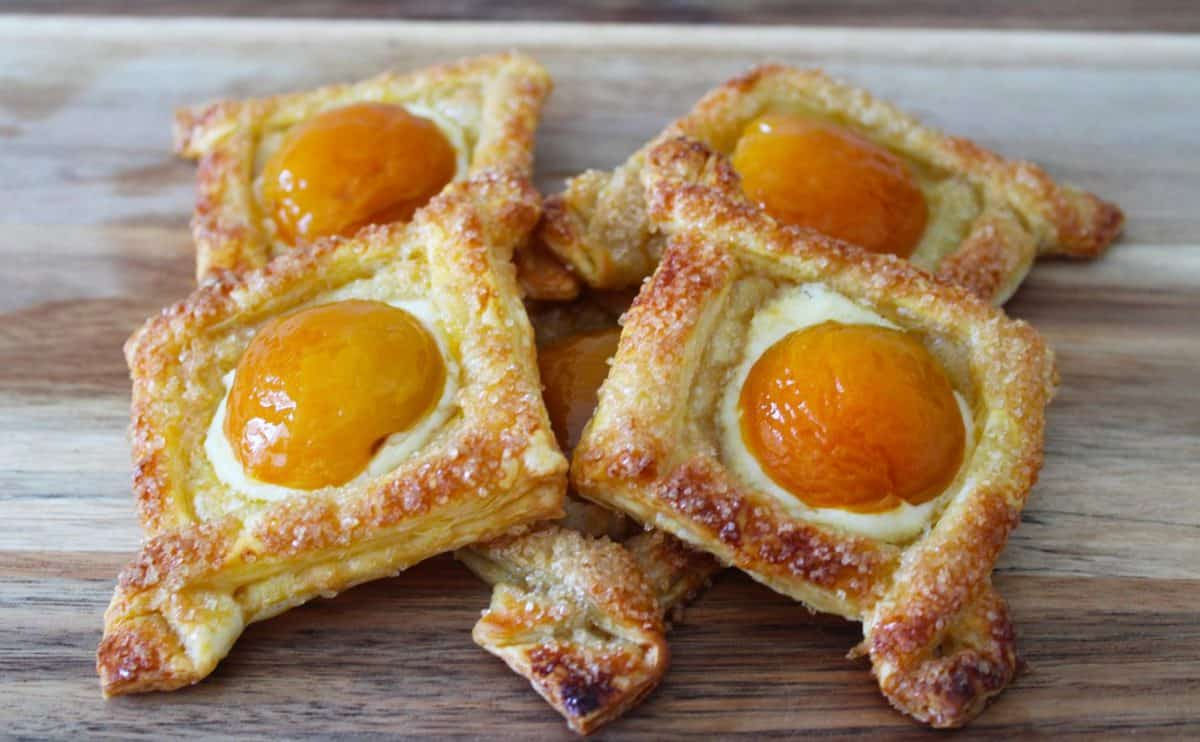 I have been looking forward to enjoying an Apricot and Cream Cheese Pastry for a while now. However, as fresh apricots are not yet in season, and I can wait no longer, I am using canned apricots in these pastries. The combination of the flaky pastry, the cheesecake-style filling and the fresh-tasting apricots is delicious.
Do not be deterred by the thought that you will be spending hours in the kitchen to make these. On the contrary, these pastries are quickly and easily made.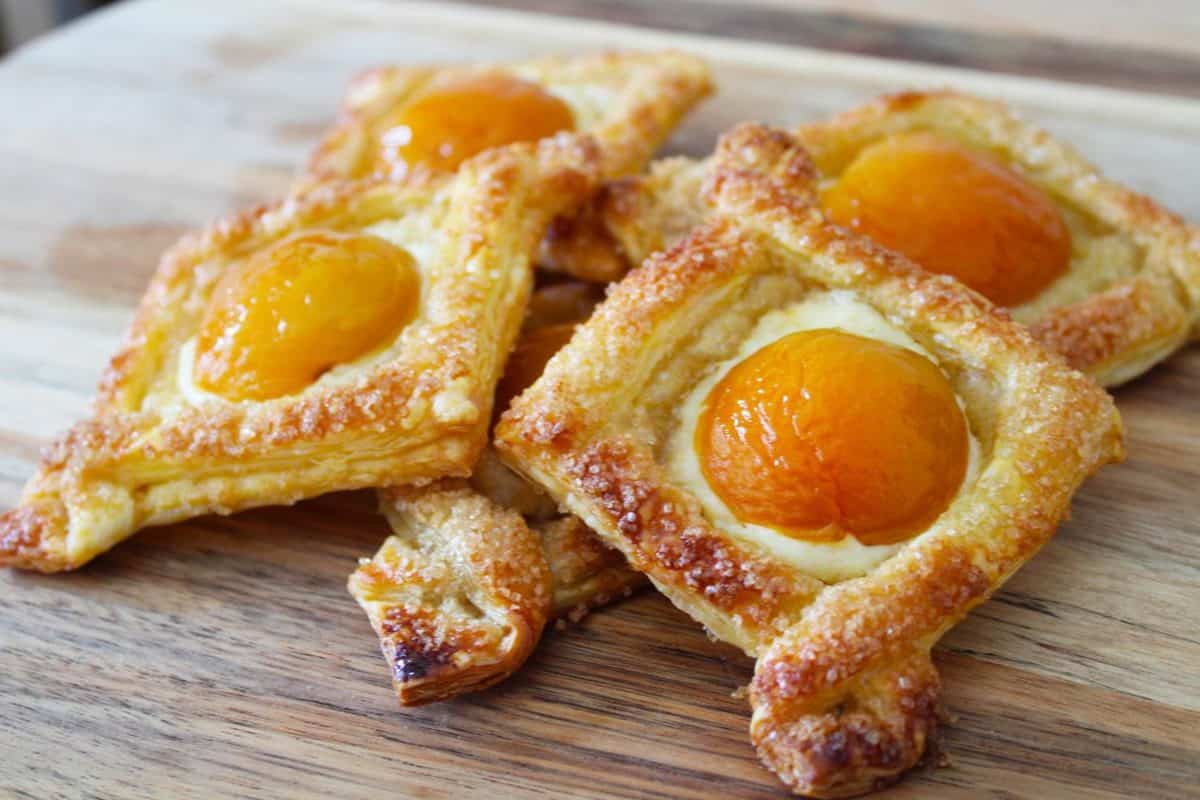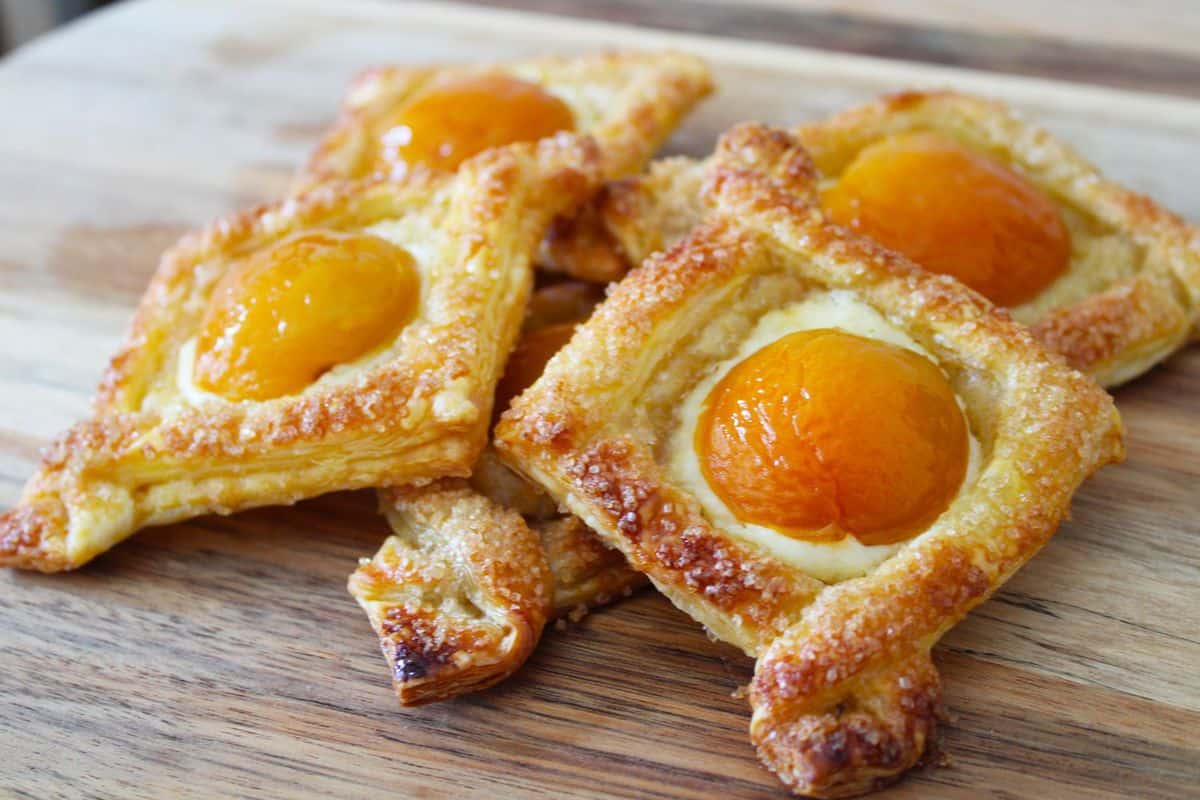 When developing this recipe, we wanted to make something which had a similar taste to a Danish pastry. Danish pastries are traditionally made from sweet yeast dough. But for the sake of convenience and ease, I am using one of my favourite ingredients, store-bought frozen puff pastry.
Ready-made frozen puff pastry has so many uses, from savoury to sweet dishes. It is easy to use and will enable you to make a pastry that looks as if it came from a bakery.
Why we love this Apricot and Cream Cheese Pastry:
This is a lovely, simple pastry that will make a great breakfast, brunch or dessert. It doesn't require any special equipment or even a great deal of skill.
Feel free to improvise with these pastries. I like this shape and whilst it is not difficult to make, it does require that you follow a few steps. If you prefer, you can cut square or round shapes and use the edge of a knife to gently lift and fold over the edges of the pastry. This will form a border which holds the lovely apricot and cream cheese filling.
When stone fruits are in season you could use fresh apricots, nectarines, peaches or plums on these pastries. At other times strawberries, raspberries or sliced apple would also be delicious. You could use custard instead of the cream cheese mixture, and a sprinkle of flaked almonds before baking would be a nice touch. You are only limited by your imagination with the pastries.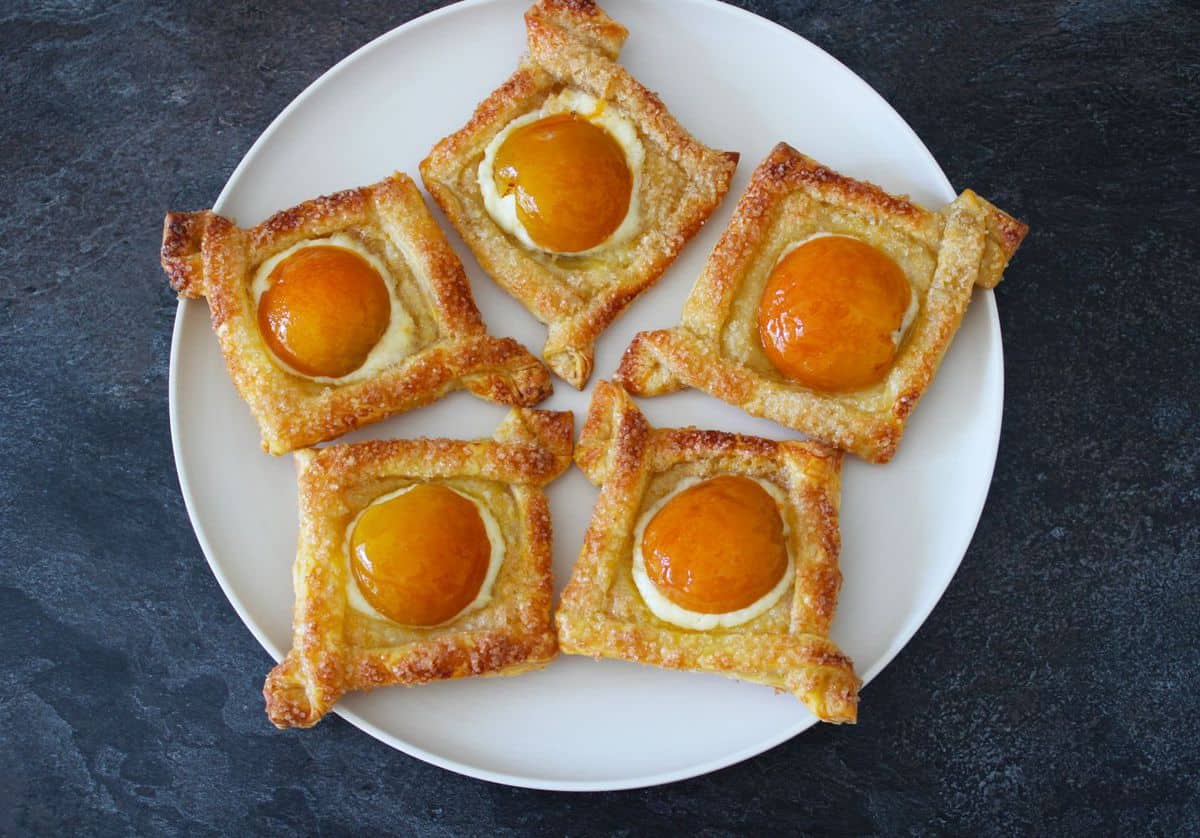 Ingredients in the Apricot and Cream Cheese Pastry:
Puff Pastry:
As our blog is about simple, easy and delicious recipes, I generally don't make my puff pastry. It is one of the most time-consuming, labour-intensive things to make in the kitchen. Instead, I recommend using frozen butter puff pastry, an ingredient that I always have on hand. If you like to make your own, please, by all means, do so.
Cream Cheese:
Cream cheese is a fresh, cows' milk cheese. The flavour is mild and sweet, with a slight tang of acidity.
The soft, creamy cheese lends itself to a variety of uses. It makes a delicious cake frosting, is essential on a smoked salmon bagel and gives pastry crusts a light flaky texture.
Vanilla Extract:
Vanilla is an ingredient which I add to almost everything that I bake but it is not just useful in sweet recipes, it is also sometimes used in savoury dishes.
When buying vanilla, I recommend that you check the label to ensure that it is made from vanilla beans and has not been synthetically produced as the terms vanilla extract and vanilla essence can vary between countries.
Icing/Confectioners' Sugar:
Icing sugar, which is also known as confectioners' sugar or powdered sugar is produced by grinding granulated sugar to a very fine powder.
It is sold in two forms; the first is pure icing sugar and the second, which is sometimes known as icing mixture, has an anti-caking ingredient added. If you follow a gluten-free diet you will need to read the label to ensure that a wheat-based product has not been added.
If you find yourself without icing/confectioners' sugar, it is easy to make your own. Just whiz some granulated sugar in a food processor, a spice grinder or a high-powered blender. The blender will produce the best result.
Canned Apricots:
When fresh fruit is not available for the Apricot and Cream Cheese Danish, canned fruit is an ideal alternative. However, the fruit is sometimes packed in heavy syrup which contains a great amount of sugar. Even light syrup will contain a lot of sugar. With this in mind, I prefer to use fruit packed in natural juice.
Fresh apricots are tender and highly perishable. For this reason, they are harvested while slightly under-ripe making them more suitable for packing and transportation. They will continue to ripen a little after picking.
However, apricots which are intended for canning are generally picked at peak ripeness and canned very shortly after. This means that their vitamin and mineral content is mostly preserved and they also have a much better flavour.
Demerara Sugar:
Demerara is a type of raw cane sugar that is minimally refined. It is a pale brown colour, has a large grain, a gentle caramel flavour and a crunchy texture.
When baking, a sprinkle of demerara sugar provides a crunchy finish to cookies, muffins and cakes.
Also, use it in place of brown sugar to sweeten tea or coffee.
Apricot Jam:
I use my Apricot Jam to make a glaze for the apricots. When brushed on the fruit, the glaze adds shine and colour to the pastries. To begin I heat the jam and then strain it through a fine sieve to remove any pieces of fruit. Then, using a pastry brush, I lightly coat the fruit with the glaze.
The two most popular jams for making a glaze for fruit pastries are apricot jam or red currant jelly for red fruits, such as strawberries and raspberries.
How I make my Apricot and Cream Cheese Pastry:
I begin by defrosting the puff pastry.
While I'm waiting I drain the canned apricot halves and make my cream cheese mixture.
After cutting the pastry to the shape I prefer, I add a little of the cream cheese mixture and then place an apricot half on top.
Next, I brush the pastry with egg wash and sprinkle with demerara sugar to add some crunch.
After baking the pastries in a hot oven I remove them and then brush the apricot with a little warmed apricot jam to make it shine.
Finally, I wait impatiently for the pastry to cool a little so that I can enjoy it with a cup of coffee.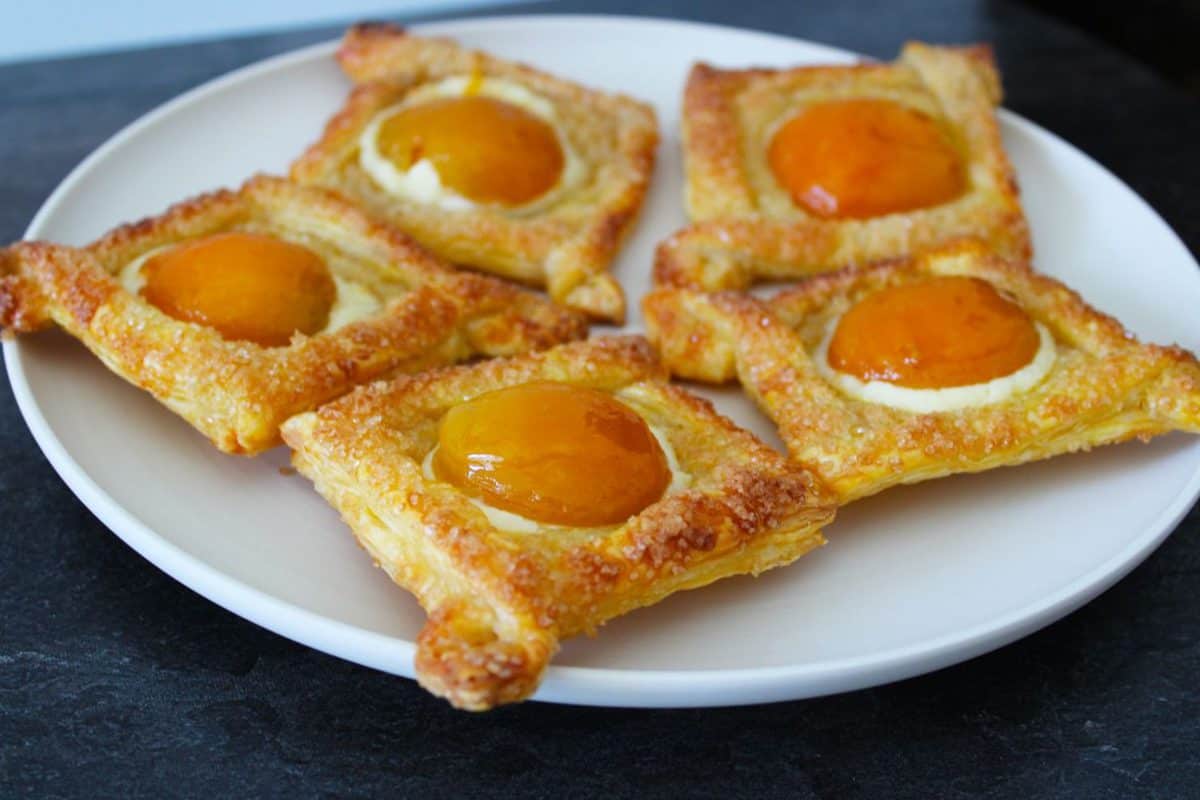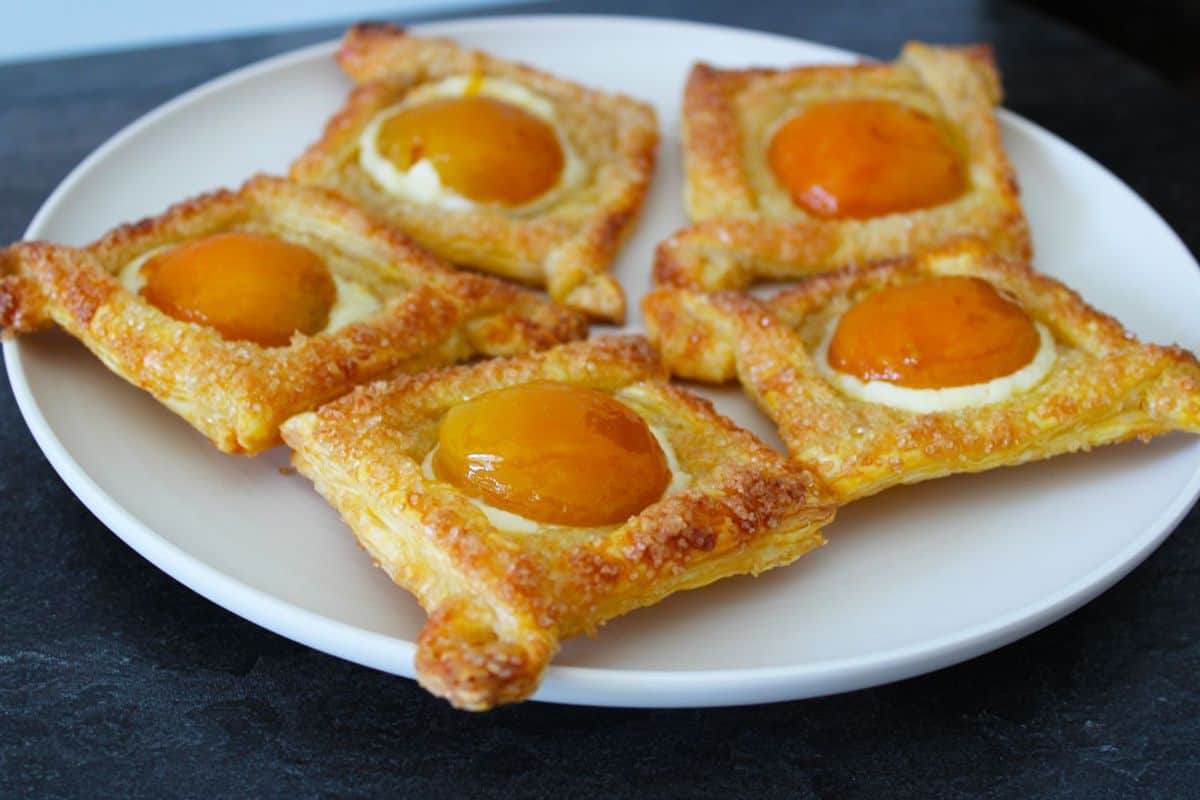 Tips for success:
Take out the required number of pastry sheets and return the rest to the freezer.
Ideally, thaw the dough in the fridge for 3 to 4 hours. However, if you're like me and in a hurry, you can thaw it quickly at room temperature.
If your pastry is in a roll, don't attempt to unfold it until it thaws as you will likely crack or tear the pastry.
Puff pastry dough should be kept cold. If your pastry thaws and you're not yet ready to use it, return it to the fridge.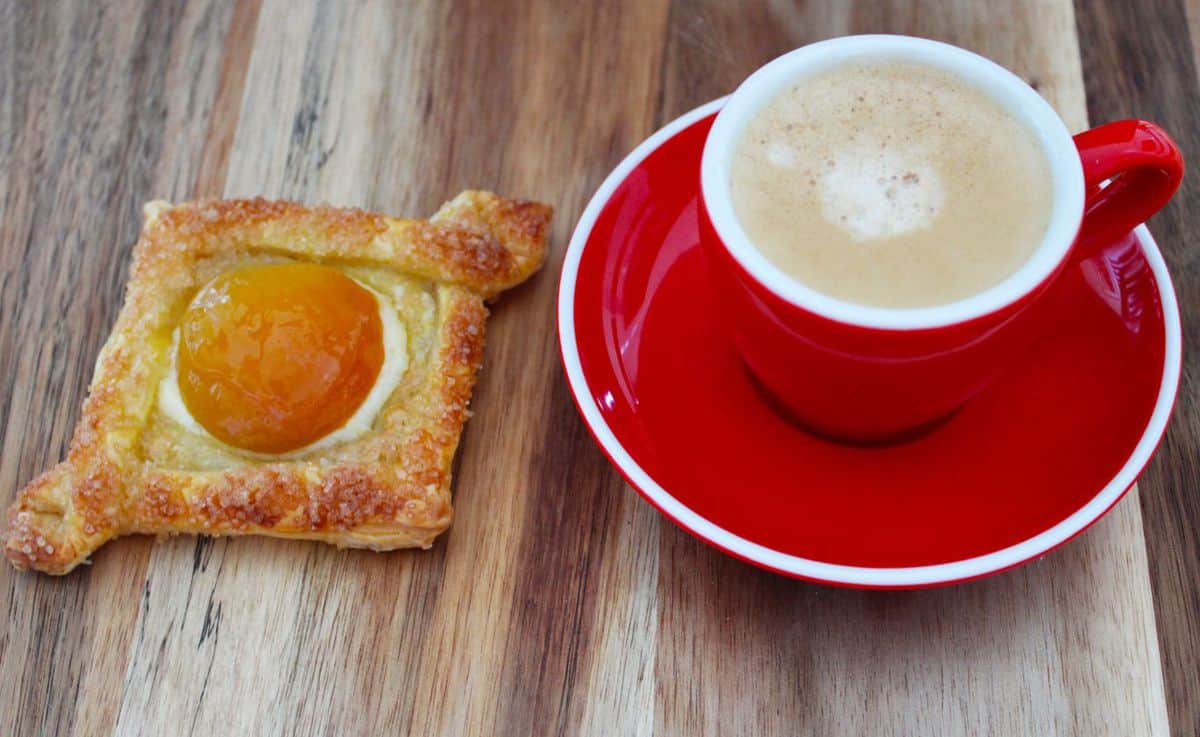 Drain the apricots well to ensure they do not make your pastry soggy. First, drain them in a strainer and then place onto some kitchen towel, cut side down, to absorb excess moisture.
Before adding the topping to the pastry, place the pastry on your baking tray. This is much easier than trying to move the pastries to the tray once you have assembled them.
Glaze the pastry with egg wash, which is just a beaten egg. The egg wash serves two purposes. First, it makes the baked pastry shiny and a beautiful golden-brown colour. Second, it helps a sprinkle of demerara sugar adhere. The sugar adds sweetness and sparkle.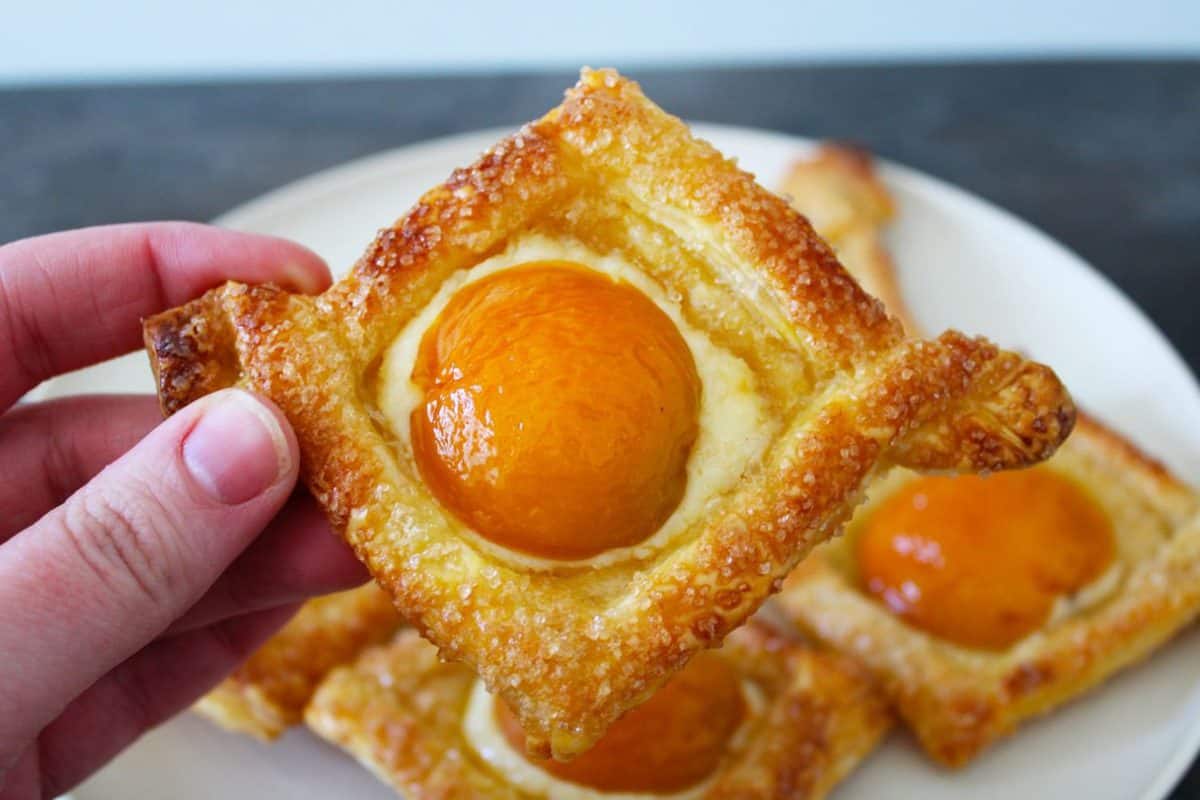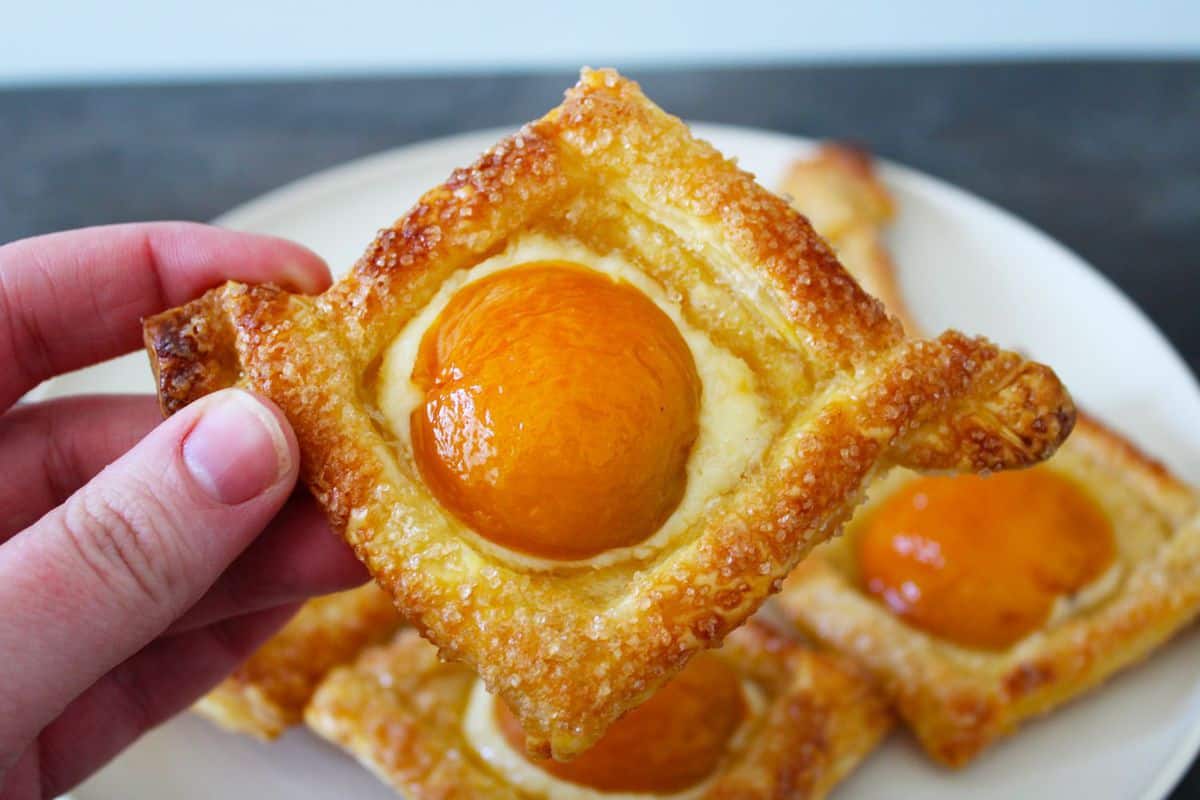 Other uses for these ingredients:
Puff Pastry: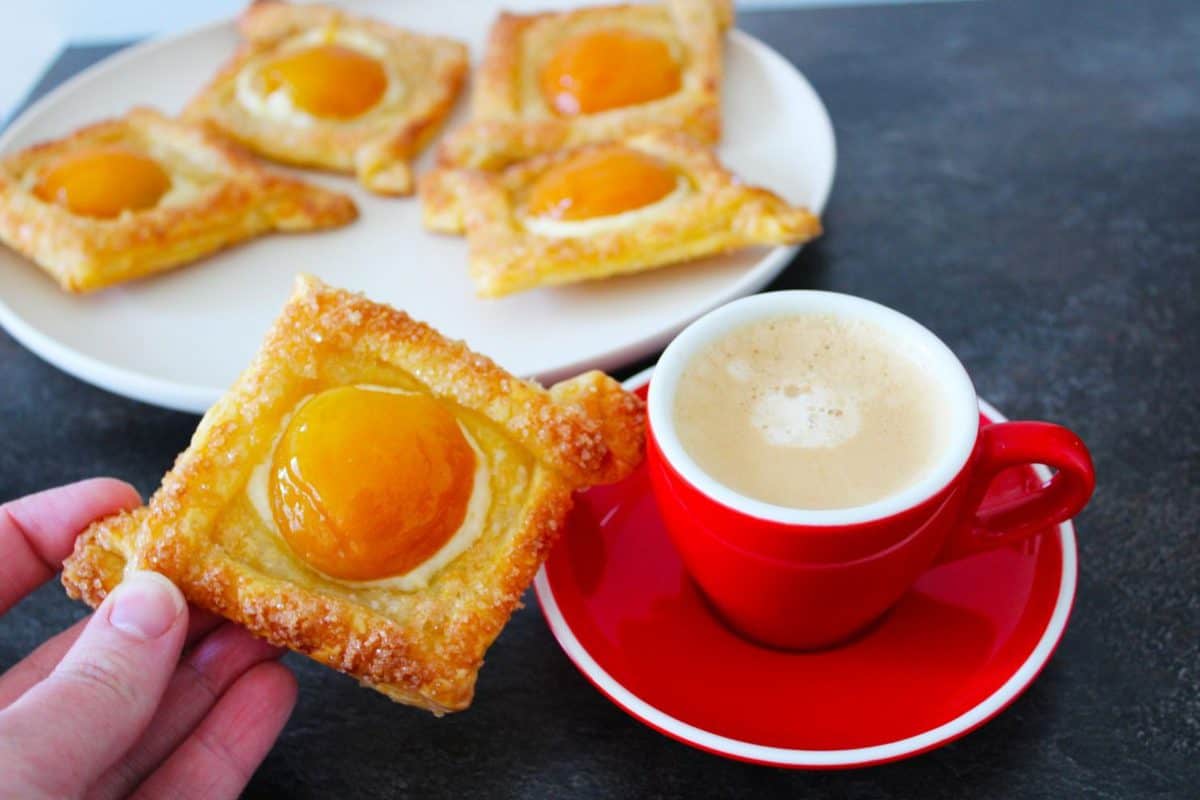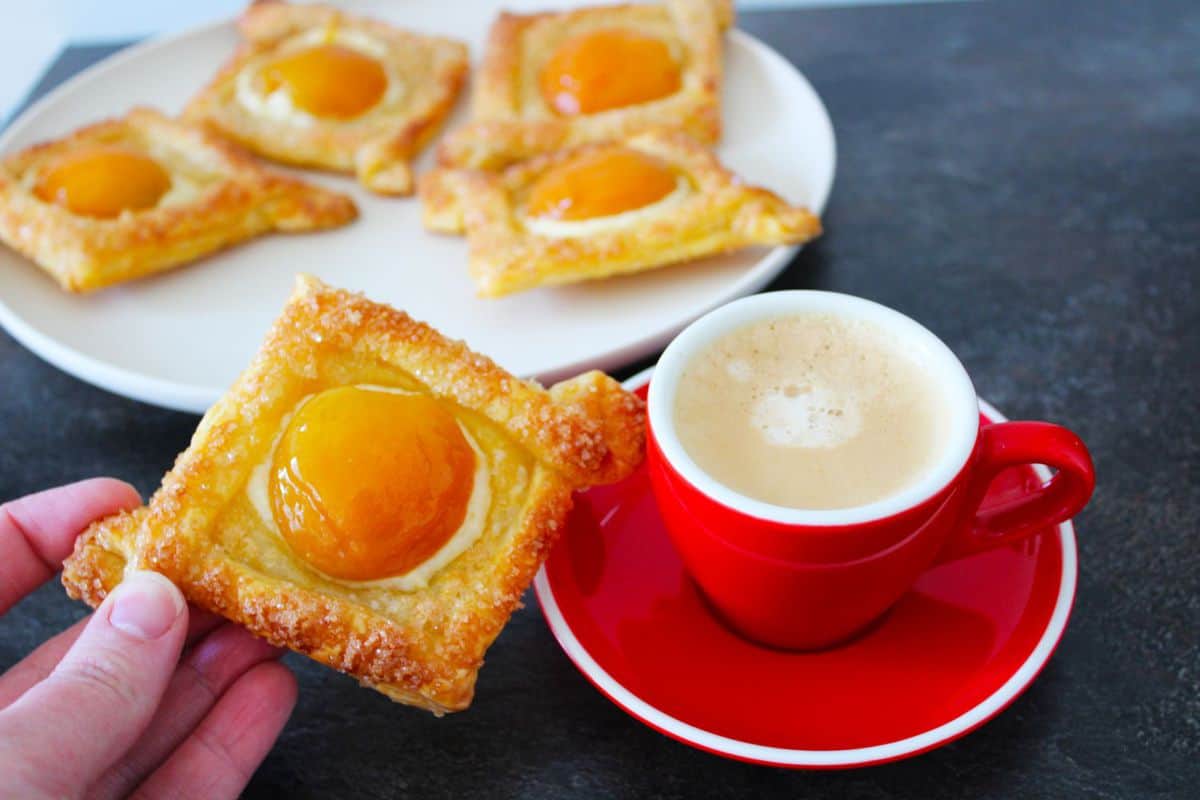 Cream Cheese:
Apricots:
Apricot Tarte Tatin with Lemon Caramel by A Baking Journey
Fruit Leather by Peter's Food Adventures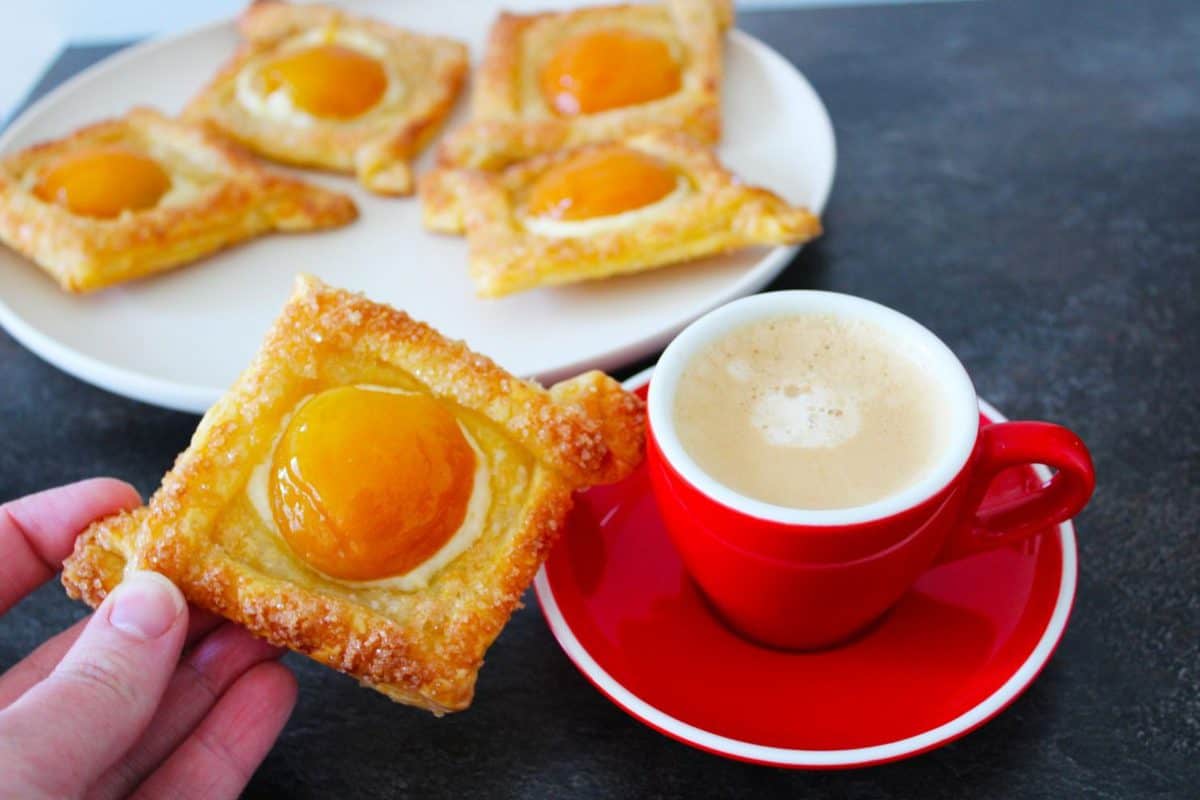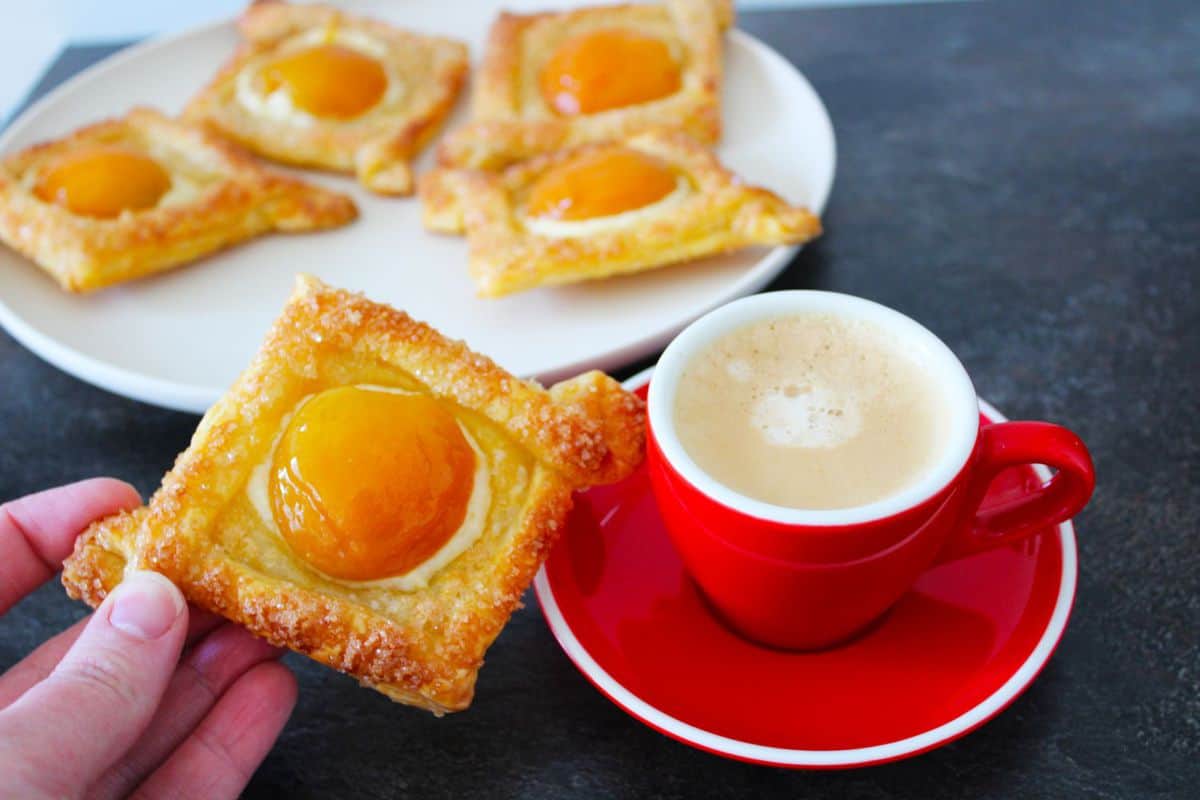 When it comes to serving:
These Apricot and Cream Cheese Pastries are so easy to make. The filling is a little like cheesecake and the glazed apricot adds bright flavour. With a flaky crust and a creamy centre, this is a delicious pastry.
Make a platter of these pastries and watch them disappear. Serve them for breakfast, a leisurely brunch, with a coffee for morning or afternoon tea, or as dessert. Also, they would be ideal to take to a pot-luck party or as a gift to a friend who is having a difficult time. Be assured, they will be popular.
Let us know in the comments below when you have tried them!
Alex xx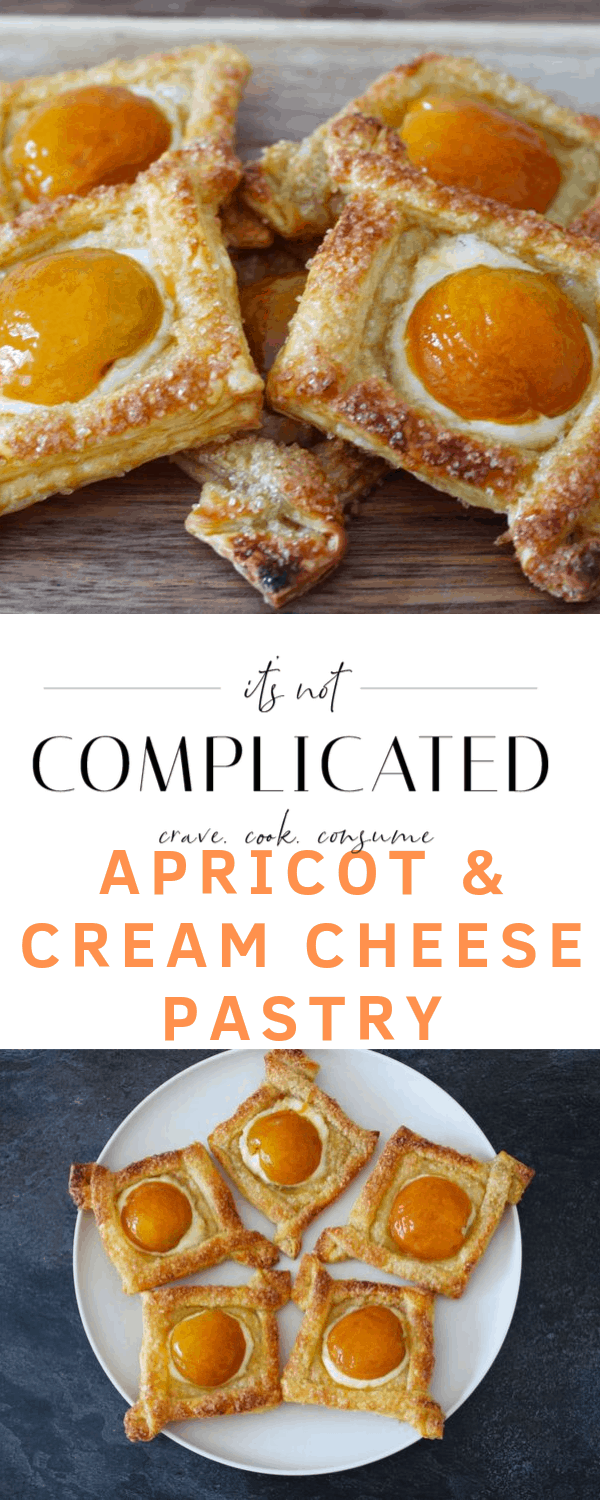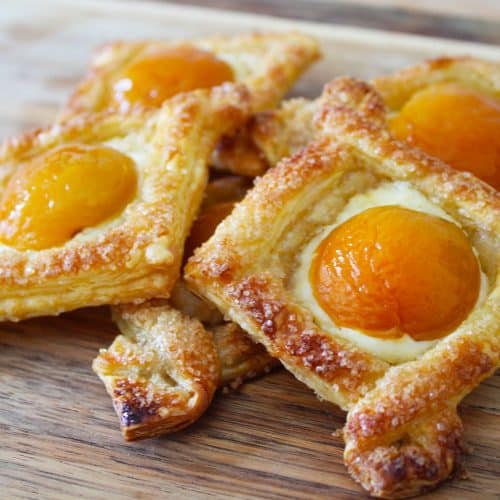 Apricot and Cream Cheese Pastry
There's no need to make a trip to the bakery and pay a small fortune for some sweet pastries. Now you can make your own and treat yourself whenever you want. Customise these pastries according to the seasons and your taste by adding the fruit of your choice. And if you're entertaining, a platter of these easily made pastries will be a welcome addition.
Print
Pin
Review
Ingredients
2

sheets

butter puff pastry

See Note 1

6

tablespoon

cream cheese

at room temperature. See Note 2

1

teaspoon

vanilla extract

See Note 3

4

tablespoon

icing/confectioners' sugar

See Note 2

8

canned apricot halves

See Note 4

1

egg

lightly beaten

2

tablespoon

demerara sugar

See Note 5

2

tablespoon

apricot jam
Recipe Measurements:
For accuracy, when weights are provided, we recommend weighing your ingredients. This will produce the best results.
Instructions
Line a baking tray with baking paper – See Note 6
Remove the pastry from the freezer and defrost – See Note 7


Preheat oven to 200 degrees C (400 F).

Drain the canned apricots through a sieve. Then place on some kitchen towel, cut side down, to remove as much moisture as possible and avoid making your pastries soggy.

Combine cream cheese, vanilla and icing/confectioners' sugar and mix well.

Cut the puff pastry into eight 10 cm/4" squares.

To make the shape that I have used, fold the square loosely in half diagonally to form a triangle. – See Note 8.

To shape the pastry, use a very sharp knife and make two cuts along the outside edge of the triangle, about ½ " wide, but not cutting right through to the tip of the triangle.

Open the triangle and gently lift the right-hand strip of pastry over to the left, placing it on the square of pastry.

Place pastry on baking tray to shape and top. (It is difficult to move once assembled).

Repeat with the left-hand strip, taking it to the right-hand side. The pastry creates a frame around the filling.

Divide the cream cheese mixture between the pastry shapes.

Place an apricot half on top of the cream cheese.

Brush the edges of the pastry with the beaten egg and sprinkle with a teaspoon of demerara sugar.

Bake in the preheated oven for 15-20 minutes until the pastry becomes golden-brown.

Meanwhile, add the jam to a small saucepan and heat over medium heat, adding a teaspoon of water if necessary to thin it a little. If there are large pieces of jam it will be best to push the jam through a sieve. If not, brush each apricot with some of the jam to give them a nice shine.

Allow the pastries to cool for a few minutes before serving.

However, if not serving immediately, store the cold pastries in an airtight container in the fridge for a day or two or freezer if keeping longer. Re-heat for a few minutes before serving.
Notes
Remove the required amount of pastry from the freezer. For me, it was two squares which were 22 ½ cm/9".
In Australia, the tablespoon is 20 ml or 4 teaspoons. The tablespoon in many other countries is 15 ml or 3 teaspoons. You may need to adjust your measurements accordingly.
For the best flavour, I recommend that you use vanilla which is made from vanilla beans and not synthetically produced.
Any leftover apricot halves are delicious served with breakfast cereal or Greek yoghurt. If you wish, you could use the juice to make smoothies.
Demerara is a type of raw cane sugar which has been minimally refined. It is a pale brown colour, has a gentle caramel flavour and a crunchy texture. When baking, a sprinkle of demerara sugar provides a crunchy finish to cookies, muffins and cakes.
Depending on the size of your baking trays, you may need to use two trays.
The pastry must remain chilled. If the puff pastry defrosts before you have prepared the filling, place the puff pastry in the refrigerator until you are ready to use it.
Gently flatten the pastry, do not push it completely flat as it will be difficult to unravel, especially if the pastry is not chilled.
Nutrition Estimate:
Calories:
440
kcal
|
Carbohydrates:
42
g
|
Protein:
6
g
|
Fat:
28
g
|
Saturated Fat:
8
g
|
Cholesterol:
32
mg
|
Sodium:
198
mg
|
Potassium:
151
mg
|
Fiber:
2
g
|
Sugar:
13
g
|
Calcium:
24
mg
|
Iron:
2
mg
Tried this Recipe? Please rate and leave a comment!
Nutritional Disclaimer:
The nutritional information is an estimate only, and is derived from online calculators. For accurate results, we recommend calculating the nutritional information based on the ingredients and brands you use.