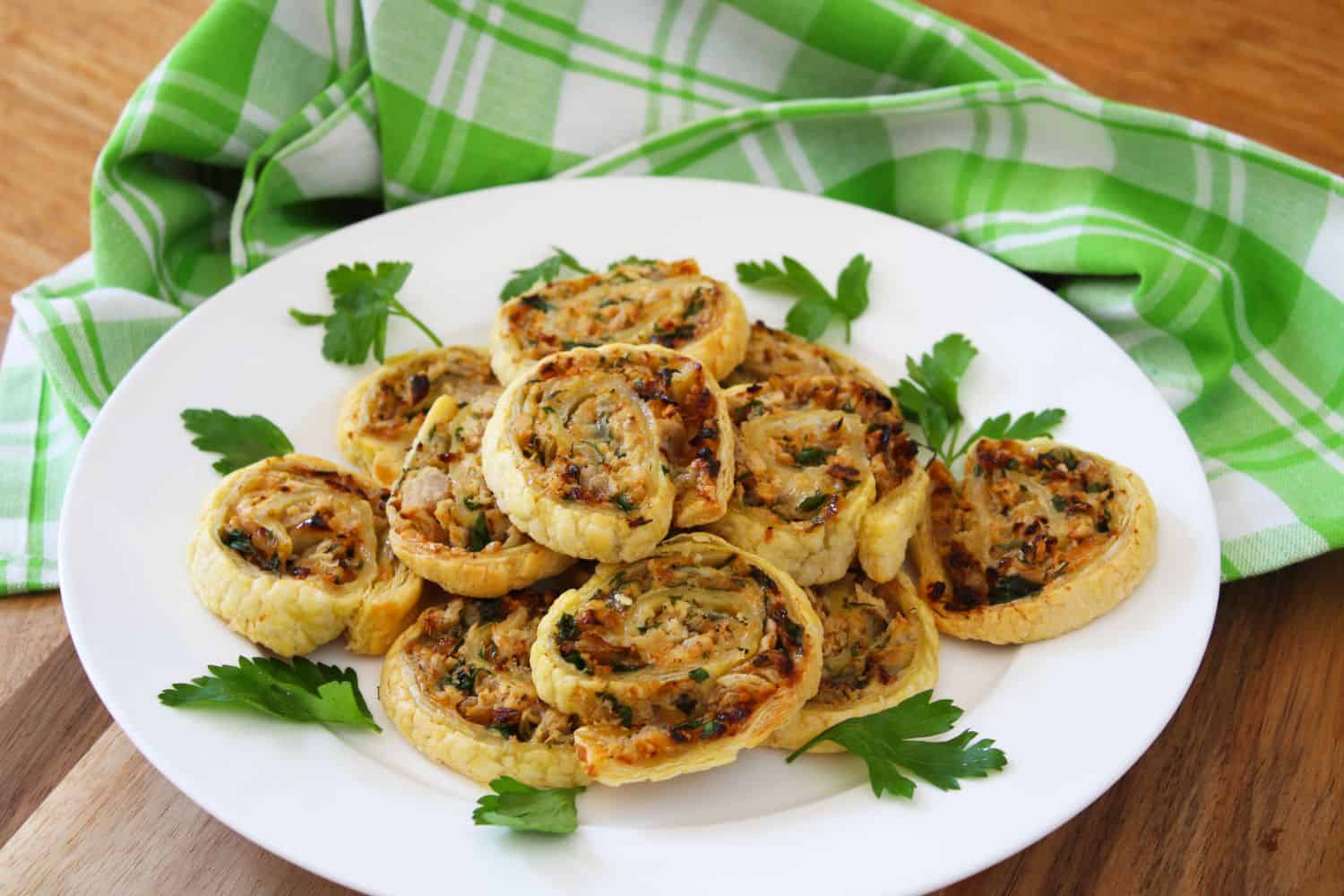 My Tuna Puff Pastry Pinwheels are simple to make and full of flavour. This is one of my favourite appetisers to prepare from ingredients which I always have on hand. There are some culinary items which I feel are essential to always have; here, canned tuna and butter puff pastry are two of these items.
With a can of tuna in the pantry, I am confident that a quickly prepared appetiser or main course is always at hand. It is a versatile ingredient; in fact, the ways in which to prepare it almost seem limitless.
Frozen butter puff pastry is equally versatile and useful. There are numerous ways in which to use it in either sweet or savoury dishes.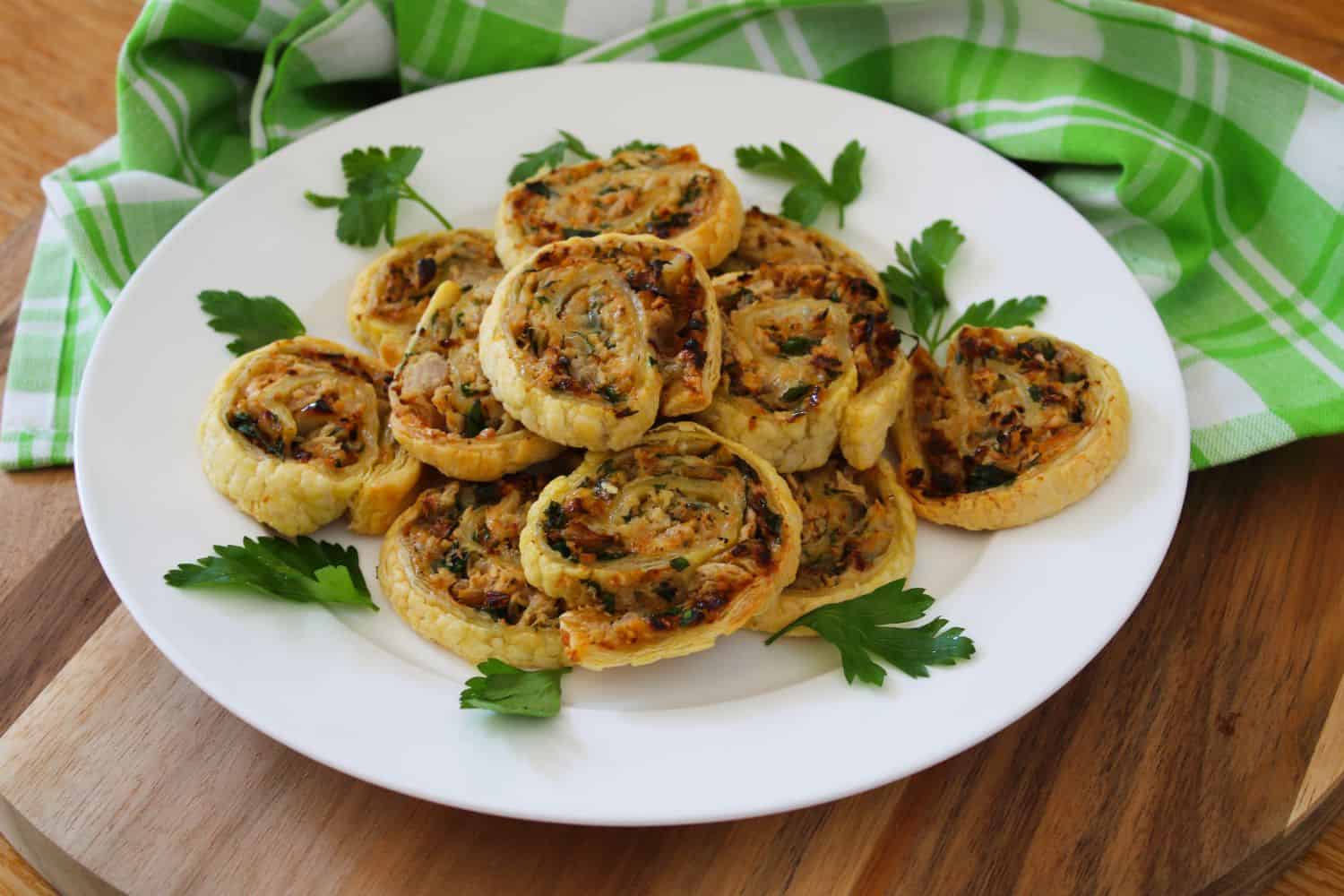 By now, many of you know that my preference is for recipes which are "not complicated" and these Pinwheels fit that description. They are the ultimate, easily-prepared snack or appetiser, suitable to serve either hot or at room temperature. However, I don't just make them when I'm entertaining. These pinwheels are ideal for the entire family. They are great additions to school or work lunch boxes.
When I'm entertaining I like to be organised (as much as possible) and that's why my preference is for food which is quickly and easily made and prepared in advance. These pinwheels meet all my required criteria. I can make them on the day and reheat for serving. Alternatively, they are also delicious when served at room temperature. Or, I can make them days or weeks ahead, store in an airtight container in the freezer, defrost when required then warm in the oven.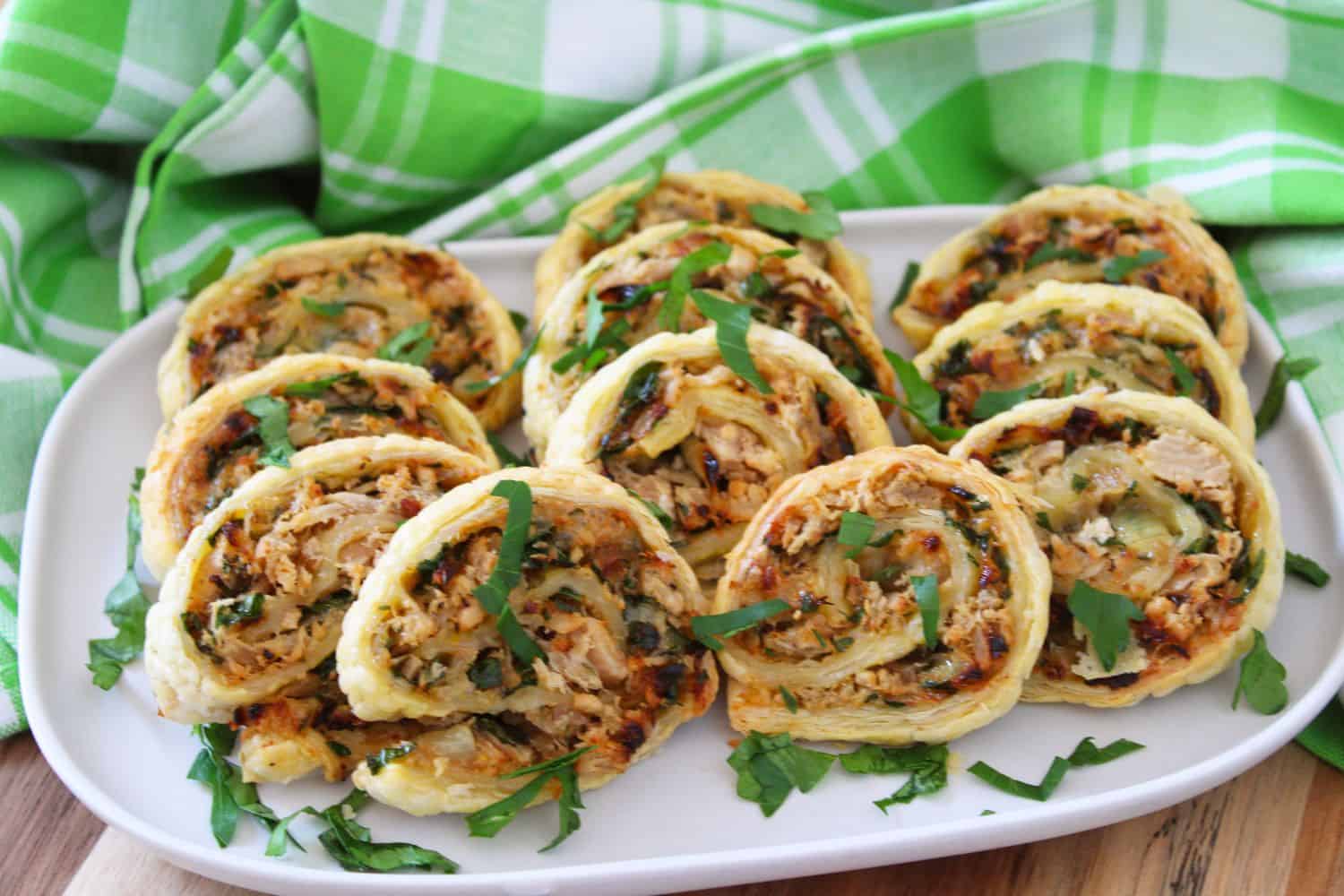 I use these ingredients in the Tuna Puff Pastry Pinwheels:
Frozen butter puff pastry:
Whilst it is extremely important to me that most recipes on my website are made from scratch, I do have a confession. I draw the line at puff pastry. Puff pastry is one of the most time-consuming, labour-intensive things to make in the kitchen. It's great to make it yourself for a special occasion when you have the time but for general use, I find that frozen puff pastry works very well. I prefer to use butter puff pastry.
Canned tuna in oil:
I always use good quality tuna, packed in oil, as I feel that it has more flavour than tuna packed in water. It is, however, a matter of personal preference. Tuna which has been packed in water, whilst losing some flavour, has fewer calories.
Brown onion:
The brown onion, also known as the yellow onion, is the one most commonly used. You could, however, substitute with a white onion.
Olive oil:
I use olive oil but you could use a mild flavoured oil if you prefer.
Cheddar cheese:
I use a full-flavoured cheese. Cheddar is sometimes also known as matured cheese or tasty cheese.
To give the mixture extra flavour, I add:
Continental/Italian parsley:
Continental/Italian parsley is the flat-leaf variety. To me, the flavour and texture is far superior to curly parsley.
Lemon zest:
Whilst many of us mainly use lemons for their juice, I regard the zest as a bonus. It is a wonderful addition to both sweet and savoury dishes, providing a bright boost of flavour. And then, I still have the juice to use for other purposes.
Sea salt and freshly ground black pepper:
Unlike refined salts, sea salt is produced using natural methods of evaporation with minimal processing. This natural method ensures that the salt retains its natural minerals.
On the other hand, table salt undergoes heavy processing and often has the addition of chemicals.
For the best flavour, I freshly grind black pepper as required.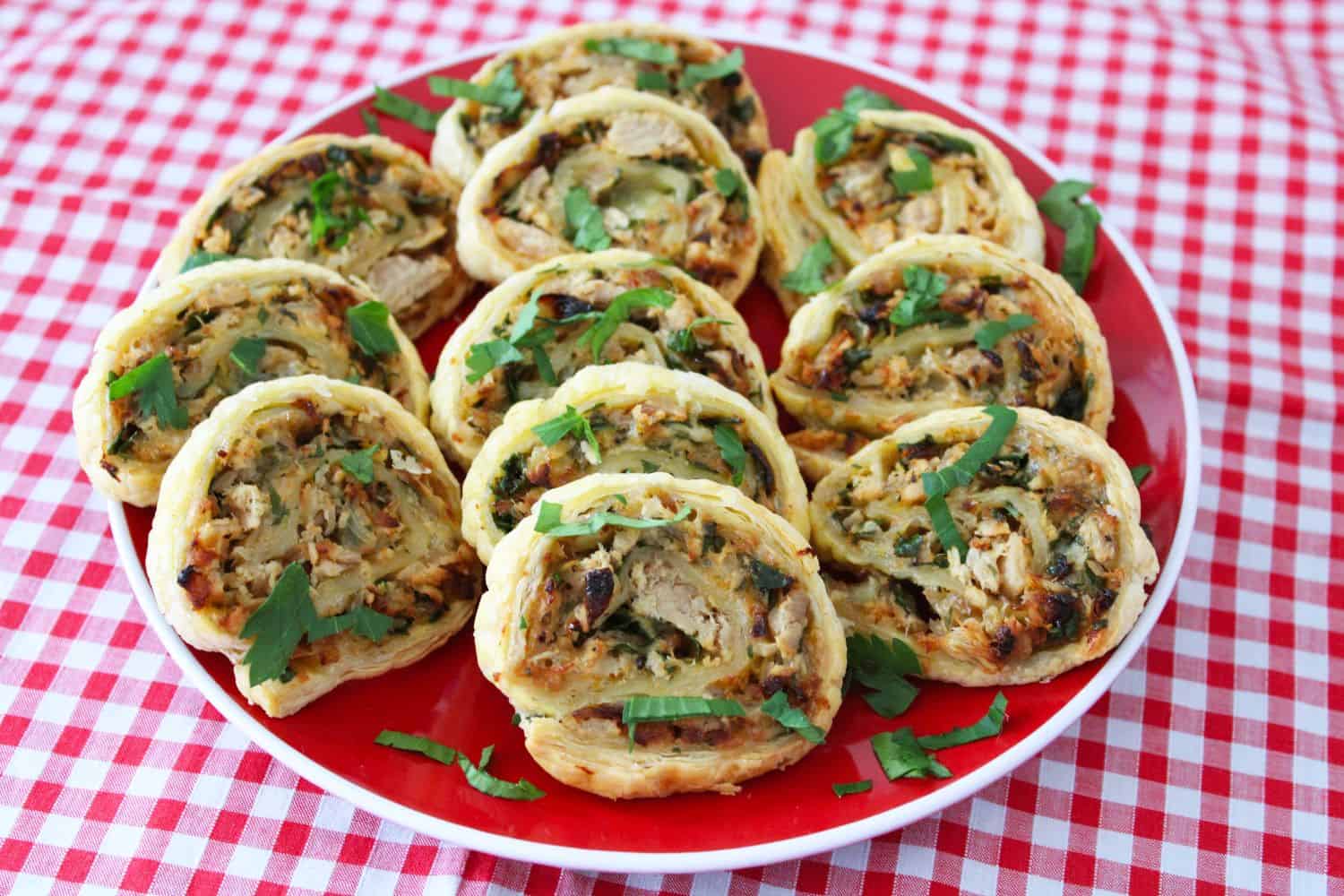 This is how I prepare the pastry for the Tuna Puff Pastry Pinwheels:
To begin, I remove a sheet of puff pastry from the freezer. If I have time, I will slowly defrost the pastry in the refrigerator but if not I defrost it on the kitchen bench. However, if the pastry defrosts before I'm ready to use it I place it back in the refrigerator to remain chilled.
When working with pastry it must always be kept cold. If left too long at room temperature the butter in the pastry will begin to soften and melt. It is essential to keep the pastry cold to obtain the pockets of air which give puff pastry its delicious, much-desired flakiness.
This is how I make the filling for the Tuna Puff Pastry Pinwheels:
To begin, I finely chop an onion and cook it, along with some olive oil, in a frying pan until it is slightly caramelised.
I add the onion to the well-drained tuna along with parsley, lemon zest and grated cheese. I add some sea salt and freshly ground black pepper to taste and mix the ingredients until they are well combined.
Then, I spread the filling on the sheet of puff pastry leaving a small border on each side. Beginning with the side nearest me, I roll up the pastry and return the pastry roll to the refrigerator to chill.
When the rolled pastry has firmed up I remove it from the refrigerator. Using a sharp, serrated knife I remove and discard about 1 cm from both ends. I then cut the remainder into 1 ½ cm/1/2 " slices.
Finally, I carefully place slices on a baking tray which has been lined with non-stick baking paper.
The pinwheels then go into a pre-heated oven and bake for 15-20 minutes.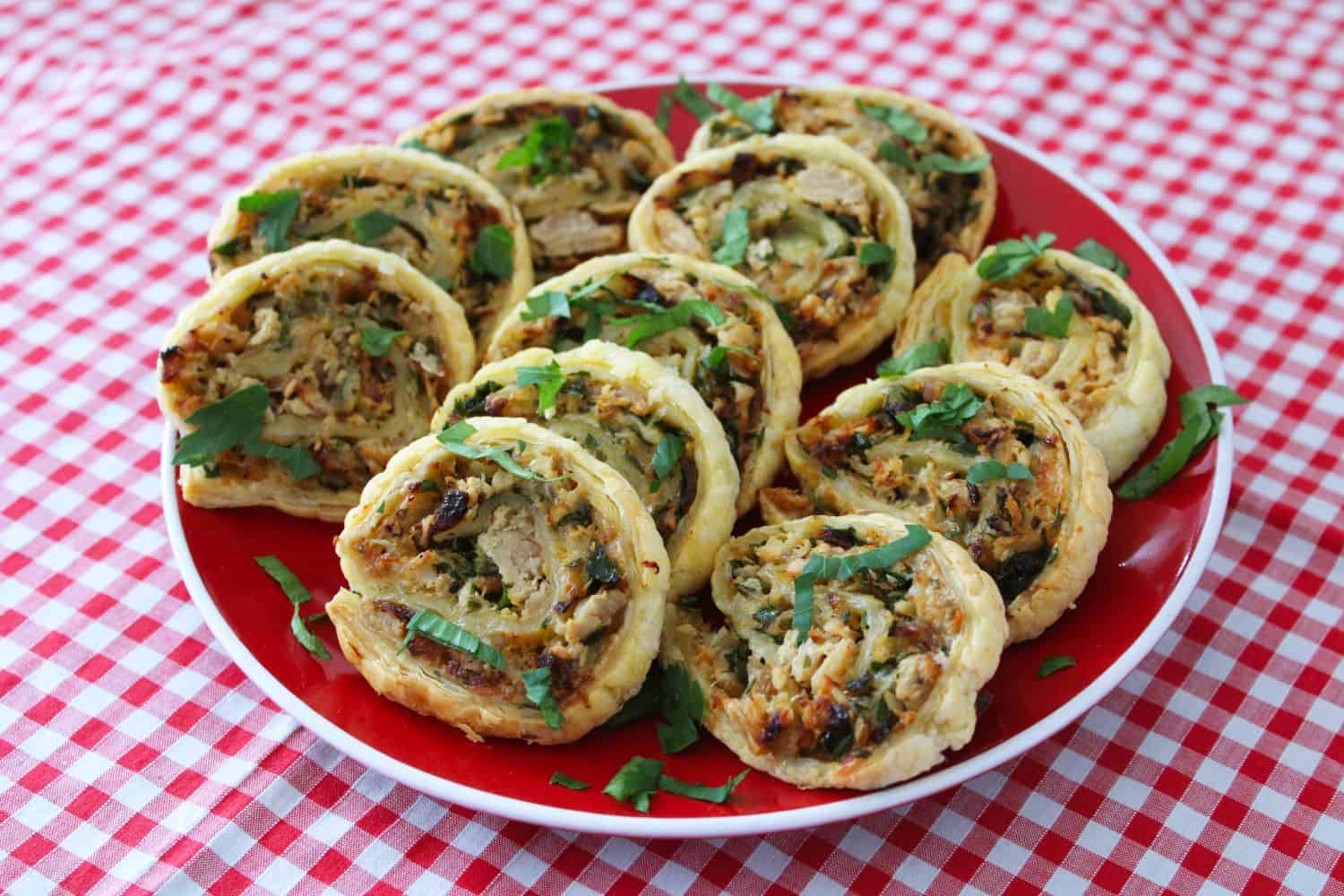 Tips for success with my Tuna Puff Pastry Pinwheels:
To achieve the best flavour and colour, I always use butter puff pastry.
The pastry must always be kept cold. When the pastry is almost defrosted, I add my filling and quickly roll up the pastry. I return the filled pastry to the fridge for about 15 minutes to firm up before cutting. A sharp, serrated knife is best for cleanly cutting the pastry.
Place the pinwheels onto a baking tray which has been lined with non-stick baking paper.
Always pre-heat the oven. For the best rise, cold puff pastry must go into a hot oven.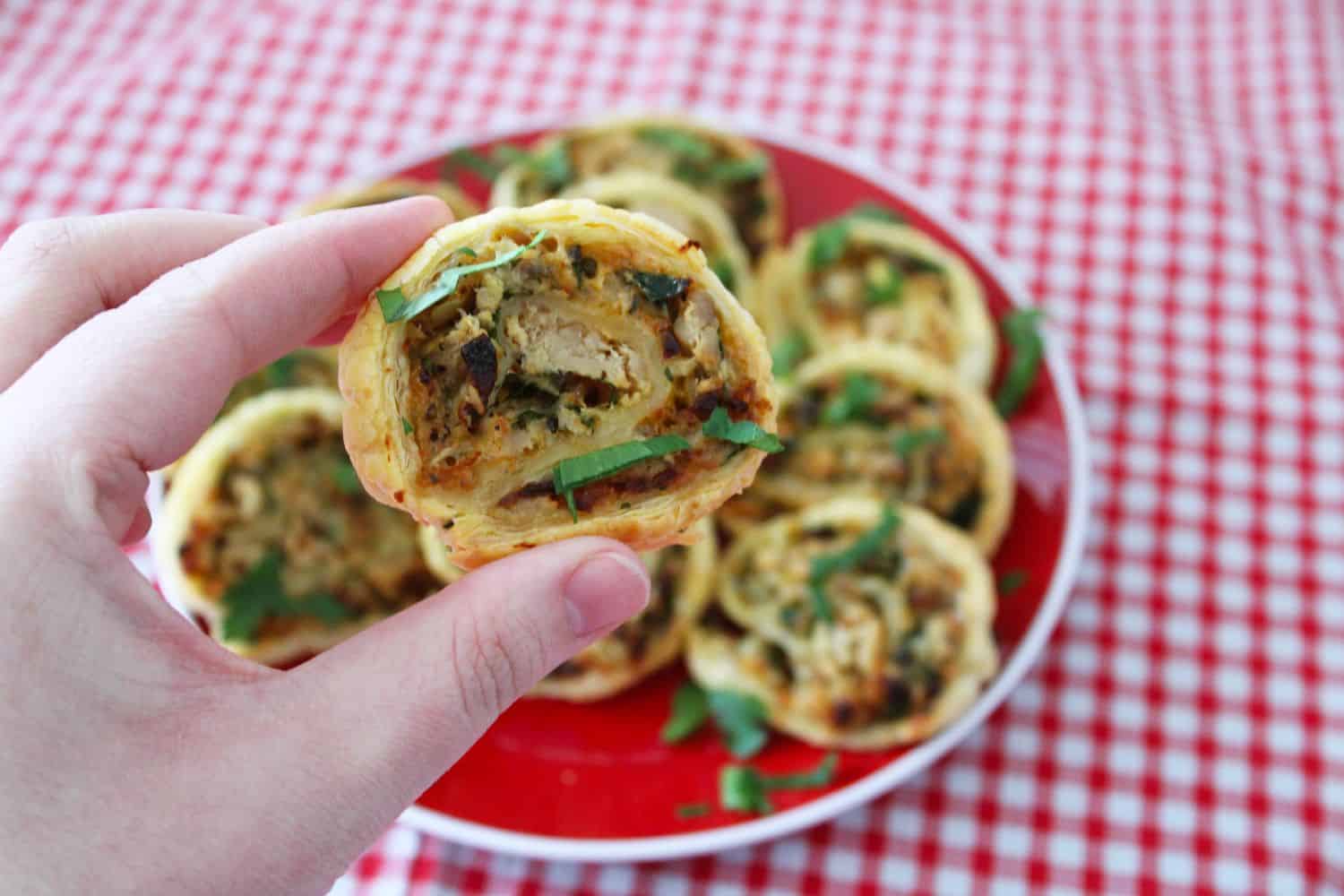 More suggestions for these ingredients:
I use butter puff pastry in these recipes:
Canned tuna is used in these recipes:
There is something irresistible about these crisp, flaky, Tuna Puff Pastry Pinwheels. As a result, most people love them. Further, they are so easy to make. Serve them as appetisers, snacks or add them to lunch boxes.
I would love to hear what you think when you make them! Let me know in the comments below.
Alex xx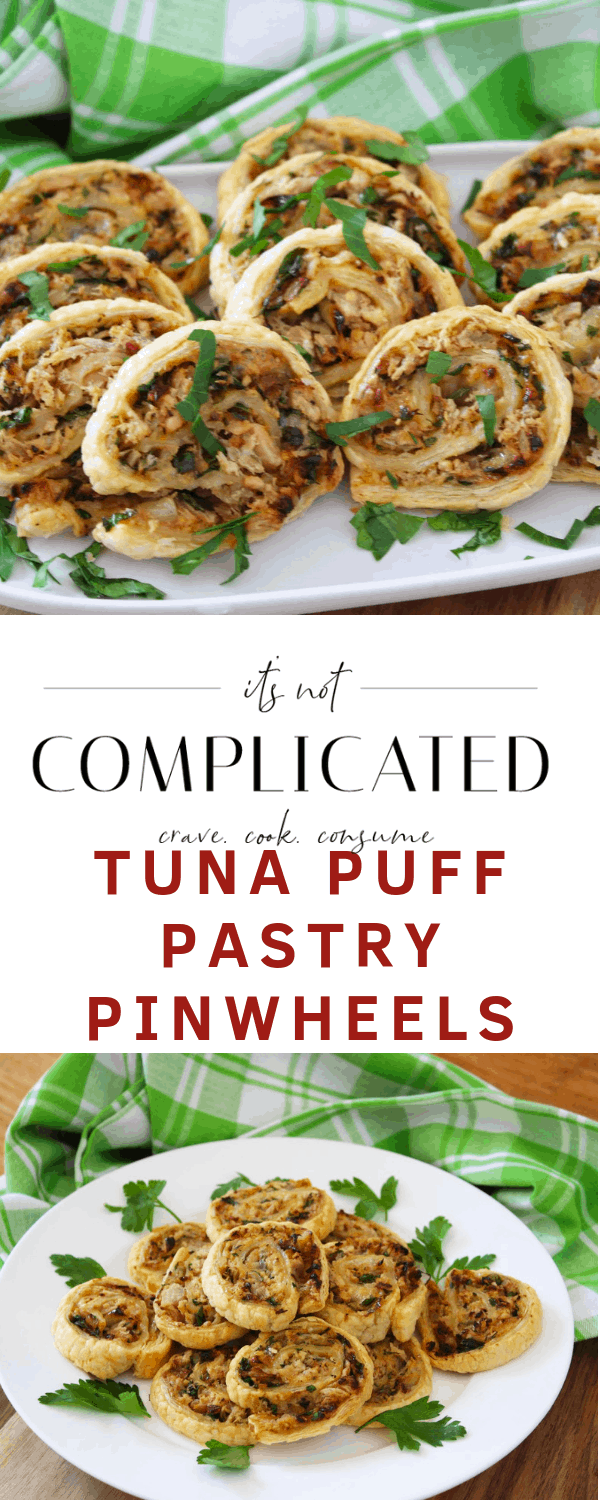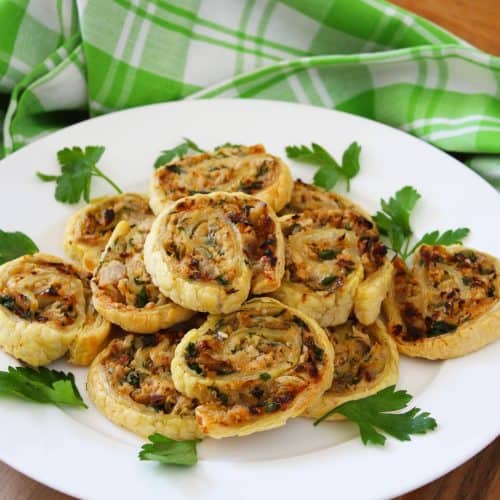 Tuna Puff Pastry Pinwheels
These Tuna Pinwheels, which make for stress-free entertaining, are, without doubt, crowd-pleasers.  They are ideal for all kinds of gatherings. Serve them at brunch parties, cocktail parties, with pre-dinner drinks, morning tea or take to a pot luck gathering. You will find this simple recipe easy to prepare and extremely popular.
Print
Pin
Rate
Ingredients
1

sheet

butter puff pastry

See Note 1

185

g

canned tuna in oil, well-drained

See Note 2

1

brown (yellow) onion

finely diced

2

tsp

olive oil

1/3

cup

cheddar cheese, grated

See Note 3

3

tbsp

Continental parsley, finely chopped

See Note 4

1

tsp

lemon zest, finely grated

1/4

tsp

cayenne pepper

optional

sea salt and freshly ground black pepper

to taste
Instructions
Preheat your oven to 200 degrees C (390 F).

Remove the puff pastry from the freezer and defrost.

Prepare a baking tray with baking paper and place the pastry on the tray.

Finely chop your onion, and fry gently in olive oil for about 8-10 minutes, or until slightly caramelised. Set aside to cool slightly.

Drain the can of tuna, and add to a bowl. Mash slightly to break up any larger pieces.

Add your cooked onion and other ingredients to the tuna, and mix well to combine.

Check that the seasoning is to your taste, adding more salt, pepper or lemon zest if necessary.

Top the pastry with your tuna mixture. Evenly spread mixture, being sure to leave a small gap around the edge of the square of pastry.

Press down on the mixture to compact it.

Slowly start to roll the pastry from the end nearest you. Keep rolling forward, reasonably firmly, until you have come to the end of the roll.

Trim the ends with a serrated knife and discard.

Slice each pinwheel approximately 1.5cm/1/2 " thick.

Place your pinwheels on a baking tray – don't worry if a little mixture falls out, just put it back into place.

Bake for 15-20 minutes, or until golden brown and the pastry is cooked through.

Serve warm from the oven, or allow to cool to room temperature (this is my favourite way to enjoy them!)

They freeze well, and reheat perfectly!
Notes
My puff pastry sheet was square, measuring 24 cm/9 1/2″ each side. If the puff pastry defrosts before you have prepared the filling, place the puff pastry in the refrigerator. It must remain chilled.
I find that tuna packed in oil has a better flavour. However, if you prefer you can use tuna packed in water.
I use a full-flavoured cheese. Cheddar is sometimes also known as matured cheese or tasty cheese.
Continental/Italian parsley is the flat-leaf variety. To me, the flavour and texture is superior to curly parsley. 
Use a serrated knife to cut the pastries.
On a warmer day, you may need to chill your pinwheels once you have sliced them, before placing in the oven.
Nutrition
Calories:
119
kcal
|
Carbohydrates:
8
g
|
Protein:
4
g
|
Fat:
8
g
|
Saturated Fat:
2
g
|
Cholesterol:
7
mg
|
Sodium:
87
mg
|
Potassium:
49
mg
|
Fiber:
1
g
|
Sugar:
1
g
|
Vitamin A:
109
IU
|
Vitamin C:
2
mg
|
Calcium:
25
mg
|
Iron:
1
mg