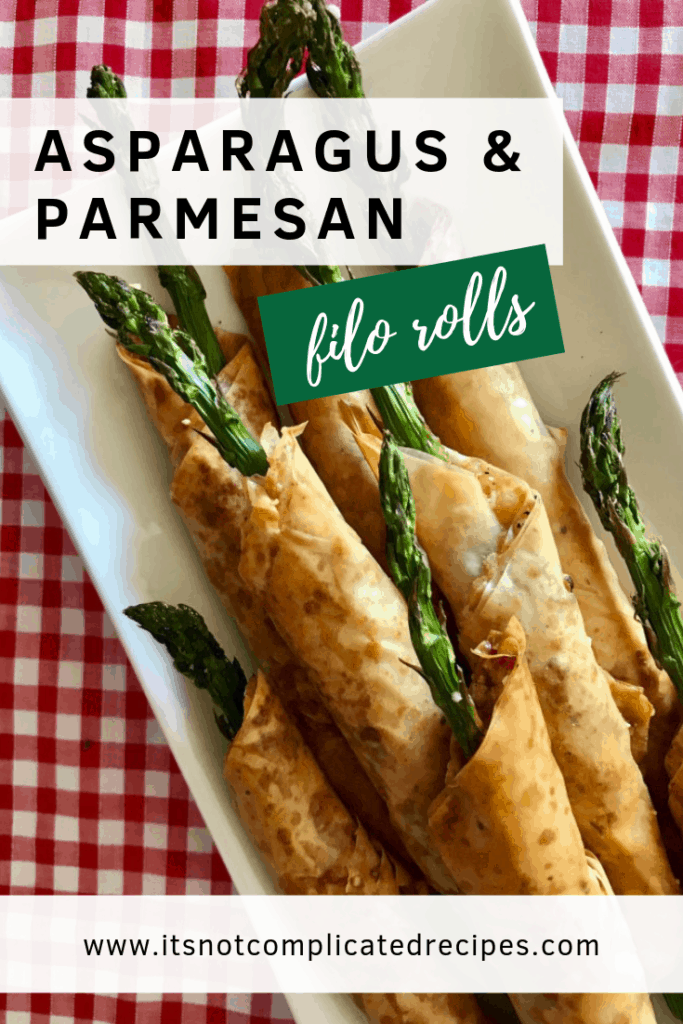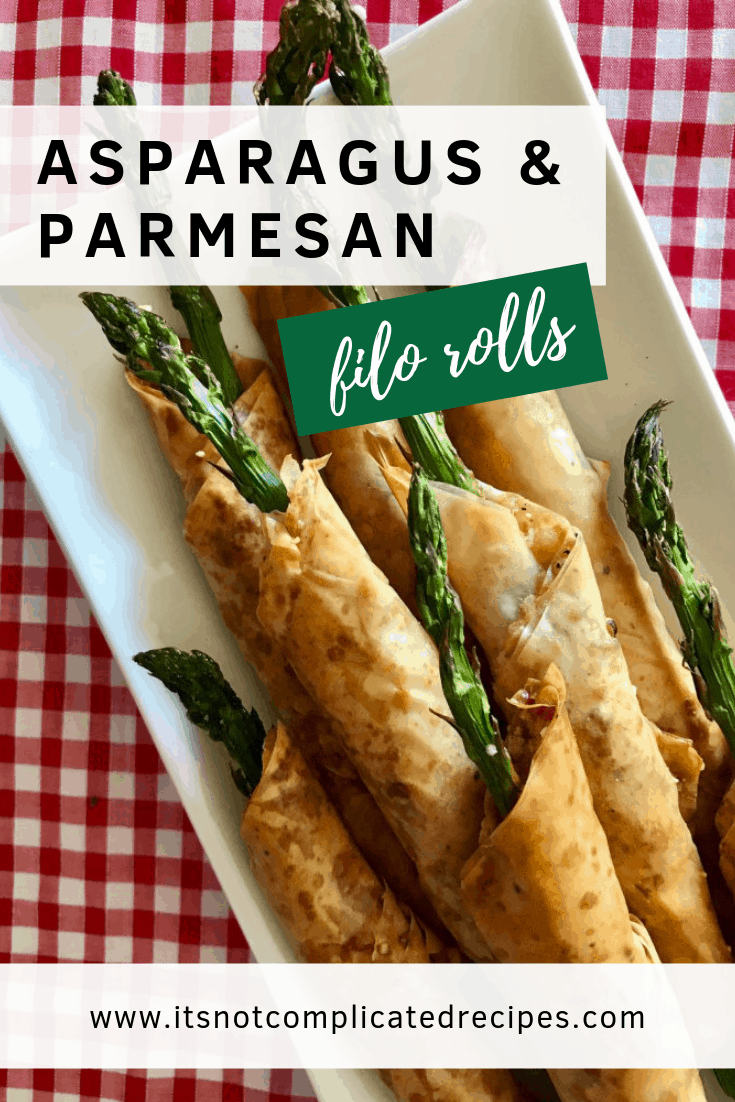 Fancy looking and festive, these Asparagus and Parmesan Filo Rolls will make a veggie lover out of anyone. Even someone who generally avoids this vegetable will enjoy asparagus wrapped in a crispy, cheesy, filo blanket.
Asparagus spears wrapped in filo are one of my favourite appetisers. Wrapping them in this crunchy pastry makes this ideal finger food. If you need to prepare food in advance, even up to a day ahead, this recipe is ideal. Just prepare the rolls, cover them well with cling wrap and refrigerate until ready to bake. 15 minutes later you will be enjoying these delicious, seasonal rolls.
Asparagus is so good right now and I want to enjoy it in as many ways as possible during its short season. The sight of asparagus assures us that Spring has really arrived. Asparagus is truly a seasonal vegetable, and the season is very brief. Yes, it is available out of season, but it's generally tired and jet-lagged after a long flight from Peru so I encourage you to celebrate its arrival and enjoy its brief appearance. The imported vegetable does not compare in flavour or quality with locally grown, freshly picked asparagus.
If you're not familiar with the use of filo pastry, don't be daunted.
It's basically tissue-paper thin sheets of pastry. You will find it in the supermarket, either fresh in the refrigerator section or frozen. If you're using frozen filo, you need to carefully thaw it first. This is usually best done overnight in the refrigerator. Follow the package directions. You can't rush the defrosting process for filo pastry. If it's not fully defrosted it will tear as you try to unfold it.
I have several tips for success when working with filo pastry. First, prepare the filling before you start. For this recipe, you must wash the asparagus and trim the stems. Have a dish of olive oil and a pastry brush ready and your parmesan cheese grated.
Carefully thaw the frozen dough, remove it from the package, open the plastic bag, and carefully unroll the dough. If you're using fresh filo, you can remove it from its package just as you're ready to use it.
Filo pastry is very delicate and dries out easily so when you remove one sheet of dough you must cover the remainder with plastic wrap and a damp (not wet) kitchen towel. Place filo, 1 sheet at a time, on a clean work surface and brush each sheet with oil. For this recipe, for one bunch of asparagus, you will need just 3 sheets. If you're making these for a large gathering you can multiply the ingredients as required. Store the rest of the filo in the refrigerator but use within a day or two of opening.
These lovely Asparagus and Parmesan Filo Rolls are tasty, crunchy and very easy to make.
You don't even have to pre-cook the asparagus. It's important that you use a medium-size asparagus for this recipe and not the very thin spears that are sometimes available. The asparagus will cook as the pastry crisps. Thin asparagus will cook too quickly and your filo won't have enough time to get crispy and brown. If you use very large spears, you will need to first blanch them in a pan of boiling water for a minute or two and then add them to a bowl of iced water to stop the cooking process.
As you roll the asparagus, the pastry it may tear. Don't worry if this does occur. This recipe is very forgiving. Just continue to roll them; they will taste great, I promise.
I love to serve the Asparagus and Parmesan Filo Rolls with our Balsamic Glaze.
I do hope you will try this very easy, very tasty canape which is suitable for carnivores and vegetarians alike. It could also be made vegan, either by using vegan cheese or eliminating the cheese and brushing the pastry with Dijon mustard for an additional flavour boost. Please let me know in the comment section below if you make these.
Enjoy!
Xx Alex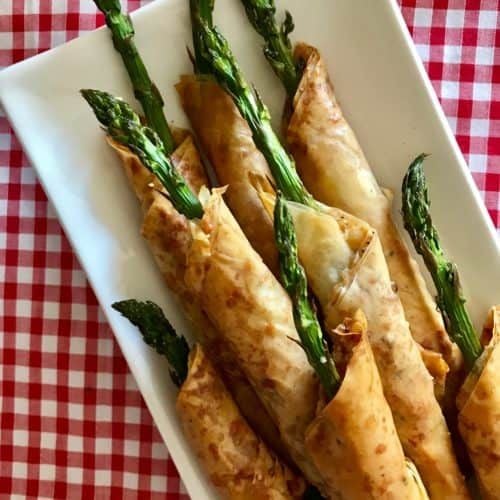 Asparagus and Parmesan Filo Rolls
Asparagus wrapped in cheesy filo pastry is an appetiser worthy of a special celebration but easy enough to prepare for casual drinks at home or as a snack. I know you will enjoy the tender asparagus inside the cheesy, crispy filo shell. It's a great way to enjoy this very seasonal vegetable.

Print
Pin
Review
Ingredients
3

sheets

Filo pastry

defrost overnight if frozen *

2

tablespoon

olive oil

extra virgin

9

asparagus spears

medium sized – washed and ends trimmed *

½

cup

Parmesan cheese

grated

freshly ground black pepper

Balsamic Glaze to serve

optional
Recipe Measurements:
For accuracy, when weights are provided, we recommend weighing your ingredients. This will produce the best results.
Instructions
Preheat your oven to 180 Degrees C (350 F)

Remove one sheet of filo pastry and lay it on your work surface.




Ensure that the remainder of the filo is covered with cling wrap and a damp tea towel.*

Brush the filo with a layer of olive oil.

Place another layer on top and brush with oil, cheese and pepper until you have 3 layers.

Cut the filo into 5 equal strips and then through the centre so you have 10 rectangles.

Position an asparagus spear on the bottom edge of one of the filo rectangles and roll it up. Brush the tips of the asparagus and the top of the pastry with olive oil and place the rolls on a baking paper lined sheet pan, seam side down.*

Bake until golden brown, approximately 15 minutes.

Serve hot with Balsamic Glaze.

Notes
*See advice in the notes above regarding defrosting filo pastry. You need to prepare this a day in advance. Fresh filo pastry can be used immediately.
*Always cover the dough you aren't currently using. It will dry out very quickly, becoming brittle to the touch and impossible to work with.
*The end of the asparagus is almost always woody and tough and needs to be removed. To do this, hold the end of the asparagus with both hands, between your thumb and forefinger, and bend until it breaks. The tough, woody end will automatically break off leaving you with the tender part. Or, as I do, line the asparagus up so the tips are level. You will be able to see how much of the bottom of the spear is woody, usually about 3 ½ cm/1 ½". Just cut this off.
*Don't worry if the pastry tears. Just brush oil on it and layer on another sheet. If it tears while you are rolling just continue. It will be fine.
*If preparing in advance, place the rolls on a plate and cover well with cling wrap. Refrigerate until ready to bake.
*The number of rolls you make will, of course, depend on the number of spears in your bunch of asparagus. For this recipe, I had 9.
Nutrition Estimate:
Calories:
71
kcal
|
Carbohydrates:
4
g
|
Protein:
2
g
|
Fat:
4
g
|
Saturated Fat:
1
g
|
Cholesterol:
3
mg
|
Sodium:
119
mg
|
Potassium:
42
mg
|
Calcium:
70
mg
|
Iron:
0.6
mg
Tried this Recipe? Please rate and leave a comment!
Nutritional Disclaimer:
The nutritional information is an estimate only, and is derived from online calculators. For accurate results, we recommend calculating the nutritional information based on the ingredients and brands you use.