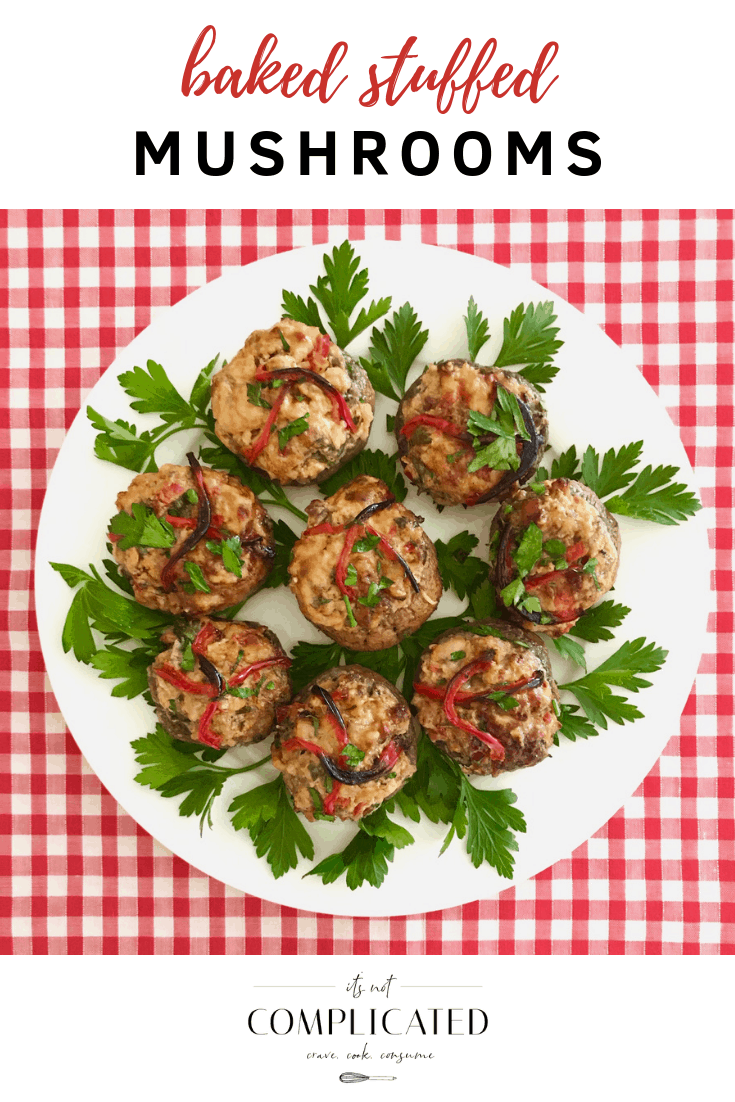 My Baked Stuffed Mushrooms are delicious and easily prepared. Even non-mushroom lovers will be won over – and I speak from a personal perspective. I'm not a huge fan of mushrooms but I really enjoy them when prepared this way. Part of the reason that I dislike mushrooms is textural; there can be a sliminess which I find off-putting. However, roasting them dries out some of their moisture and ensures there is no trace of sliminess.
When served at parties, these baked mushrooms are so popular that I usually double the recipe.
It's the flavourful filling which makes them so delicious. They contain chopped mushroom stems, bacon, onion and red capsicum (bell pepper) which are lightly fried together. To this mixture, I add chopped parsley, freshly ground black pepper and parmesan cheese. Cream cheese acts as a binding agent keeping this dish low in carbohydrates. Put them into a hot oven, savour the delicious aromas as they bake and patiently wait to sample these tasty bites.
Although I have made Baked Stuffed Mushrooms bite-size, you can also use this filling for large, flat mushrooms. They make an ideal side dish when served alongside barbecued meats.
I have a few important tips for you when purchasing mushrooms.
Firstly, if possible, avoid buying packaged mushrooms; buy loose ones instead. The loose ones have a number of advantages. Not only does this allow you to buy exactly the number you require, but the loose ones are also usually cheaper. Additionally, you'll be able to inspect them to make sure you're selecting the best ones. Choose ones that aren't broken or bruised. They should be firm, evenly coloured, and have a fresh, earthy smell.
Furthermore, you will be helping the environment by not selecting those packaged in plastic.
Secondly, do not store them in a plastic bag. The plastic will cause them to sweat thus shortening their lifespan. Store them in a paper bag; it will absorb any excess moisture. They are best kept in the fridge up to about 5 days after purchase.
Finally, keep them separate from any strong smelling food that you may have in your refrigerator. They have a tendency to absorb odours.
I encourage you to try these Baked Stuffed Mushrooms, enjoyed by carnivores and vegetarians alike. Furthermore, if you have friends or family who eat gluten free, you will have ticked that box also.
Please let us know in the comments below if you try them.
Alex and Faye xx
P.S. Looking for more great ideas to serve at parties? Check out our Savoury Appetisers!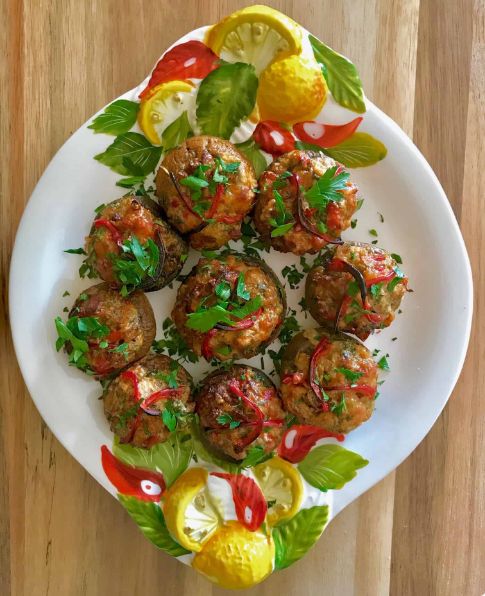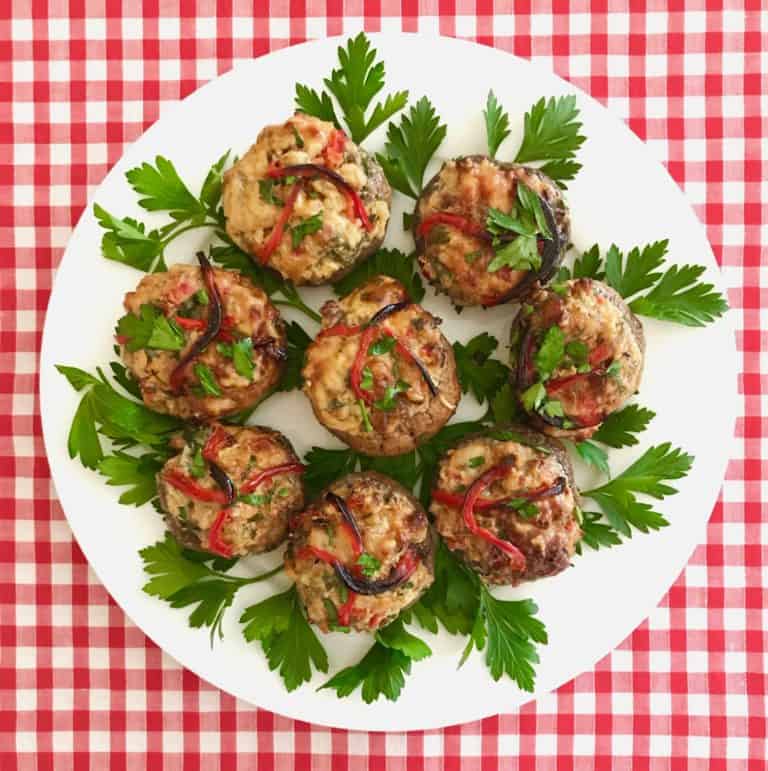 Baked Stuffed Mushrooms
These Baked Stuffed Mushrooms are a simple and delicious appetizer that won't last long once you serve them! You can be assured they will be popular. So if you're having a party, to be on the safe side, I suggest doubling or even tripling the recipe.

Print
Pin
Rate
Ingredients
12

medium-sized

mushrooms *

2

teaspoon

olive oil

1

medium

brown onion

finely chopped

½

medium

red capsicum/bell pepper *

divided

1

shortcut bacon rasher *

1

tablespoon

chopped parsley

3

tablespoon

freshly grated Parmesan *

divided

2

oz

cream cheese

at room temperature

sea salt * and freshly ground black pepper

to taste

olive oil spray
Serving Suggestion:
a sprinkle of chopped parsley
Recipe Measurements:
For accuracy, we recommend weighing your ingredients. This will produce the best results.
Instructions
Preheat oven to 200 Degrees C (400 F).

Line a baking tray with baking paper. Use a rimmed baking sheet so that any liquid released by the mushrooms will stay in the pan.

Clean the mushrooms using a dry paper towel. Only use a damp paper towel if they are especially dirty.

Carefully break the stems from the mushrooms, chop the stems finely and set aside.

Place the empty mushroom caps on the prepared tray.

Finely chop the bacon. I have used short cut bacon which is from the loin section only. It's about 6 ½"/16 ½cm in length and is very lean. Back bacon or side bacon is also fine.

Cut the piece of capsicum in half (each piece will be a quarter of the whole capsicum/bell pepper). Finely slice one piece to use as a garnish and set aside. Finely chop the other piece.

Over medium heat, add the olive oil to a medium-sized frying pan. Add the mushroom, onion, finely chopped capsicum and bacon. Stir occasionally until the moisture from the mushrooms evaporates. Then stir frequently until the ingredients are beginning to caramelise. Lower the heat if necessary.

Remove the cooked ingredients to a small bowl and cool for about 10 minutes.

Add the chopped parsley, 2 tablespoons of the grated parmesan and the cream cheese. Mix well. Ensure that all the ingredients are well blended. Season to taste.

Spray the empty mushroom caps with olive oil.

Using a teaspoon, fill the mushroom caps, pushing the filling in place with your fingertips and mounding the mixture a little. Sprinkle the mushrooms with the remaining 1 tablespoon of grated parmesan and decorate with the finely sliced capsicum/bell pepper.

Bake in the preheated oven about 20 minutes or until the mushroom feels cooked when tested with a skewer. Set aside for a few minutes.

If your mushrooms have released a lot of moisture, sit them on some paper towel before placing on a serving platter.

Serve with a sprinkle of chopped parsley (optional).

Notes
*My mushrooms are about 2"/5 ½ cm from edge to edge. The mushrooms shrink quite a lot when cooked.
*Don't wash the mushrooms in water. They soak it up like a sponge, losing flavour in the process. Wipe away any soil or grit with a piece of dry kitchen paper. Only choose damp kitchen paper if the mushrooms are very dirty.
*If you don't care for capsicum/bell pepper you could use chopped celery instead.
* I prefer to grate parmesan myself thus avoiding unnecessary additives. Frequently, additives are incorporated into pre-grated cheese to prevent it from forming a clump or becoming mouldy. Additionally, grating your own cheese is generally cheaper. I frequently buy a large block of parmesan, whiz it in the food processor until it forms fine crumbs and then store it in the freezer and use it as required. A real time-saver and I assure you it tastes better.
*Check that the seasoning is to your taste. With the saltiness of the bacon and Parmesan cheese, you may not need to add any salt.
Nutrition Estimate:
Calories:
136
kcal
|
Carbohydrates:
6
g
|
Protein:
5
g
|
Fat:
10
g
|
Saturated Fat:
4
g
|
Cholesterol:
22
mg
|
Sodium:
144
mg
|
Potassium:
292
mg
|
Fiber:
1
g
|
Sugar:
3
g
|
Calcium:
62
mg
|
Iron:
0.5
mg
Nutritional Disclaimer:
The nutritional information is an estimate only, and is derived from online calculators. For accurate results, we recommend calculating the nutritional information based on the ingredients and brands you use.