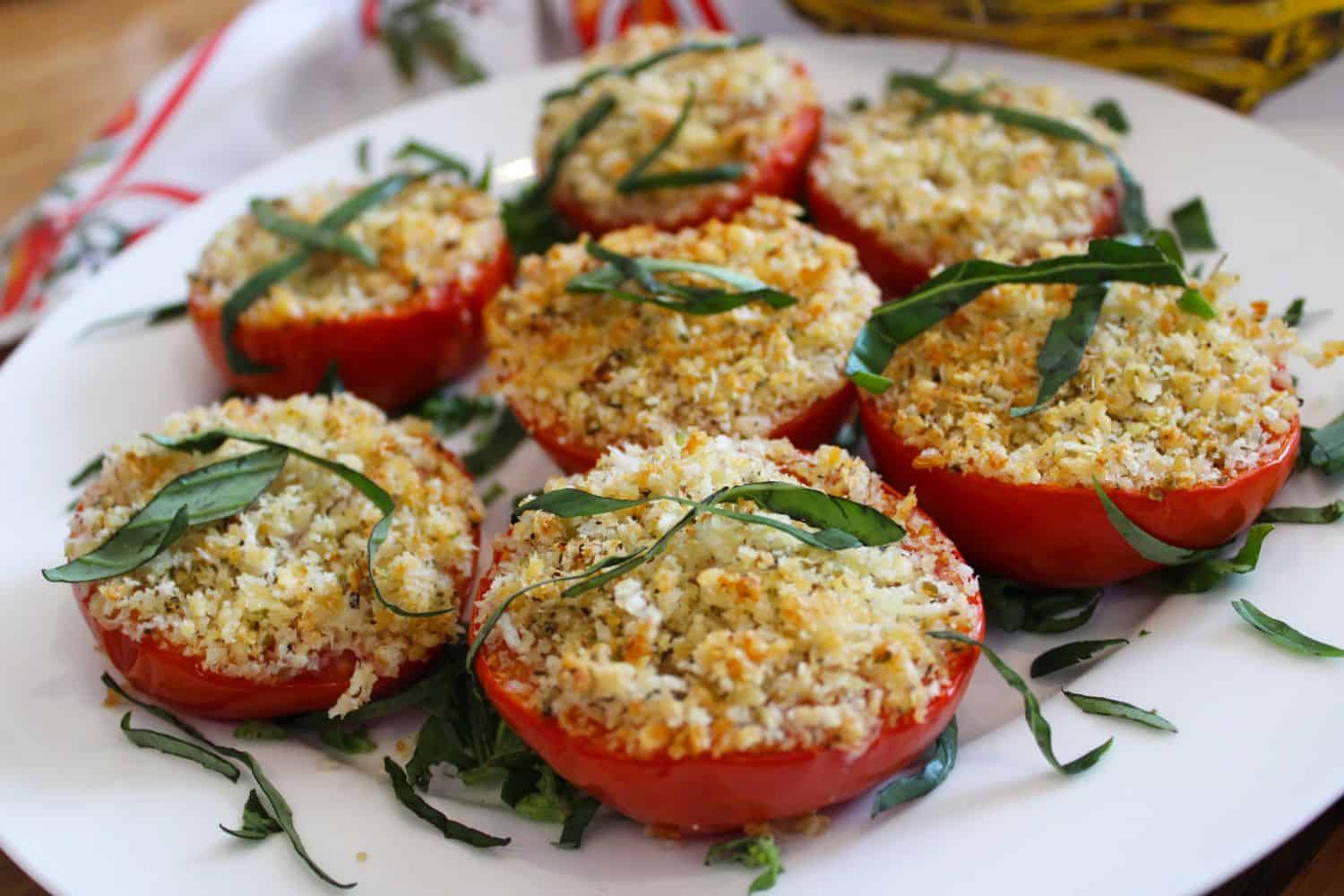 These Crispy Baked Parmesan Tomatoes are one of my favourite side dishes.
They are easy to make with ingredients you may have to hand. I fill ripe, flavoursome tomatoes with a mixture of panko breadcrumbs combined with dried oregano, parmesan cheese, parsley and garlic. Then I bake the tomatoes until they are soft and the breadcrumb topping is golden and deliciously crispy. The aroma when they are baking is seriously enticing.
This side dish has been inspired by similar, traditional Italian dishes. We can depend on the Italians to take simple ingredients and produce a dish with tremendous flavour. Except for the panko breadcrumbs, which are Japanese, all other ingredients are typically used in many Italian recipes. This dish is proof that sometimes the best dishes are made with simple ingredients.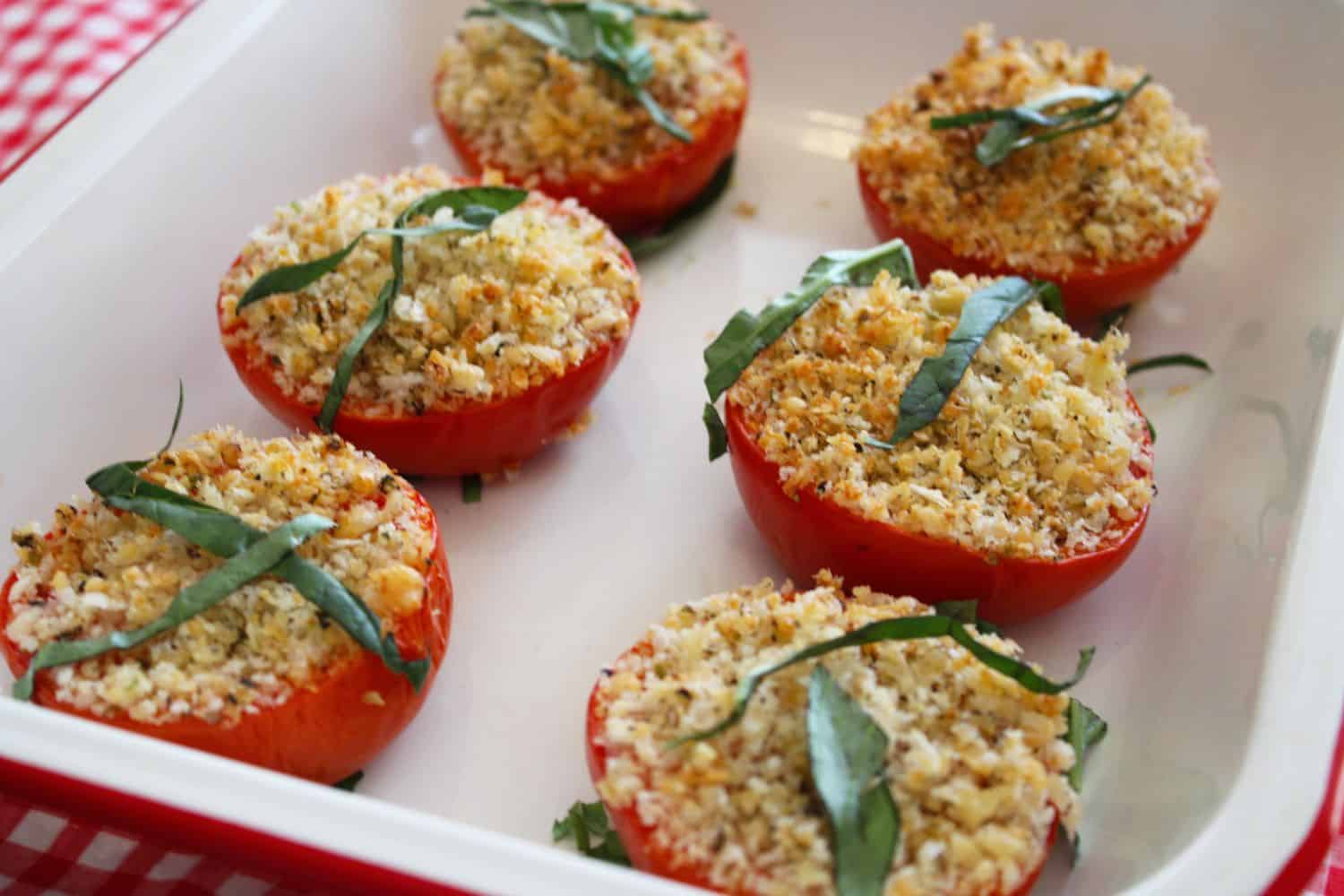 Aside from being an easy, foolproof dish, the ingredients are not expensive making this an ideal addition to the family dinner table. This is an easily prepared side dish, suitable even for weeknight meals and generally enjoyed by the entire family.
The tomatoes are the star of this dish so it is essential that they be good quality. Home-grown tomatoes, picked ripe from the vine, would, of course, be ideal. However, most of us will get our tomatoes from a greengrocer or supermarket. My preference is for tomatoes on the vine; they are generally better quality with better flavour. The tomatoes need to be perfectly ripe but still firm. Very ripe tomatoes will be too soft and will collapse when baking.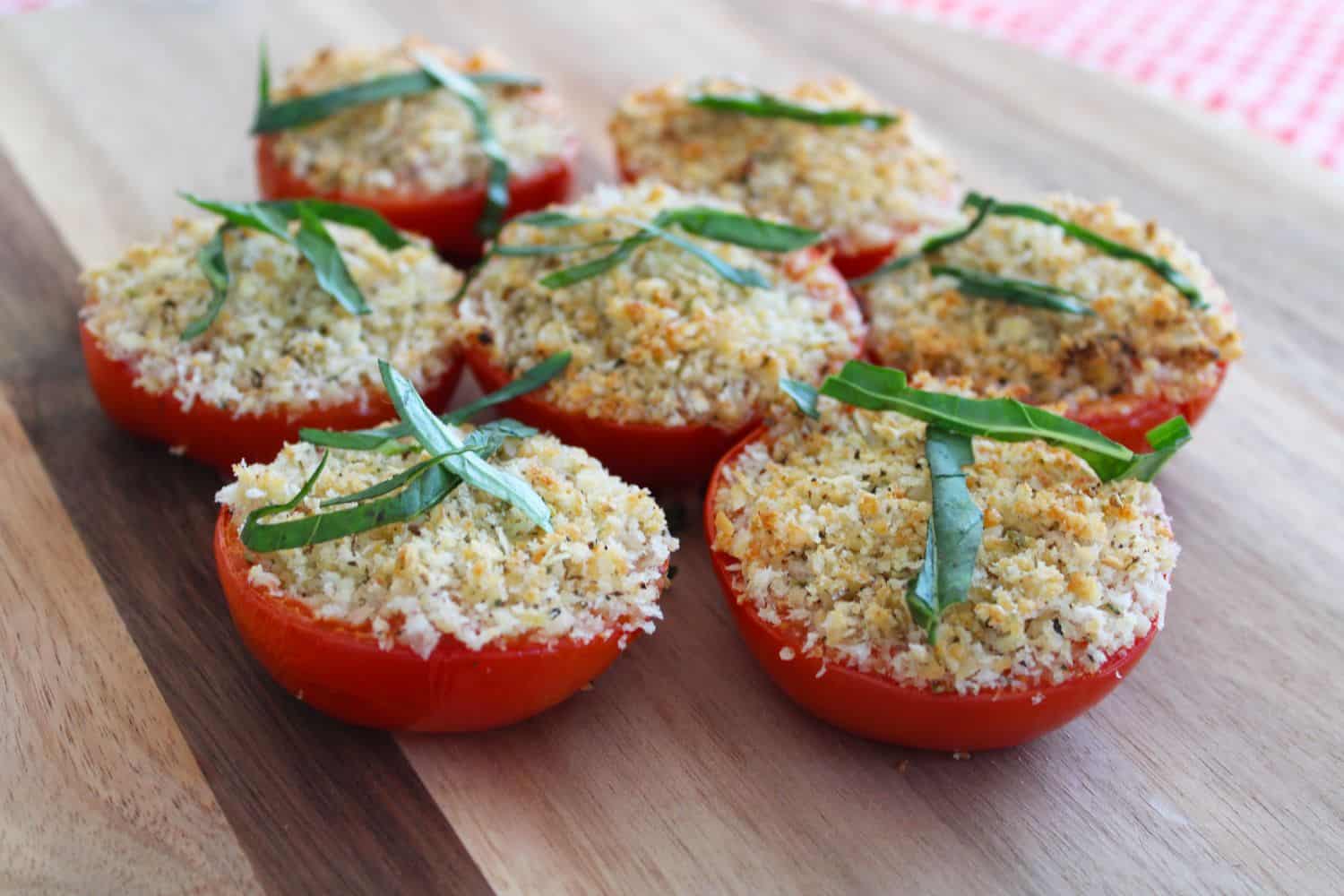 As a side dish, these Crispy Baked Parmesan Tomatoes are extremely versatile. They partner well with meat, poultry or fish. Alternatively, enjoy them as a lovely, light lunch with a green salad.
I use these ingredients to make my Crispy Baked Parmesan Tomatoes:
Please see the recipe card further along in the post for exact quantities of ingredients and the full method.
Tomatoes:
It is important that the tomatoes be ripe but still slightly firm. Very ripe tomatoes will not hold their shape when cooked. For the best result, and even cooking, the tomatoes should be a similar size. Home-grown tomatoes are perfect but for those of us purchasing tomatoes, I generally find that vine-ripened tomatoes are ideal.
Panko breadcrumbs:
Panko is a Japanese-style breadcrumb. The method of processing produces flakes rather than crumbs. The flakes are larger than regular crumbs, with a light and airy texture which becomes crispy when cooked.
For those who are unable to eat gluten, you could use gluten-free breadcrumbs or gluten-free cornflake crumbs.
Parmesan Cheese:
With so few ingredients they must be good quality. Here I have used Italian Grana Padano. It is less expensive than Parmigiano Reggiano but has tremendous flavour.
Further, I strongly encourage you to always freshly grate your parmesan; the flavour is definitely superior. Or, for convenience, buy a block of cheese and whiz it in your food processor. You can store it in an airtight container in the freezer.
However, please don't buy the containers of pre-grated parmesan, stored on the supermarket shelf. I've heard this described as "sawdust" and that description is alarmingly closer than you may think. Grated cheese mixtures often contain cellulose to prevent the cheese clumping. And the source of cellulose is – cotton or wood pulp!
Garlic:
It is very difficult to define garlic. Is it a herb, is it a spice? Well, the truth is, it is neither. It most closely fits into the vegetable category along with its relatives, onions, leeks and shallots.
Regardless of definition, garlic is an indispensable ingredient in many cuisines in the world.
It is one of the most important ingredients in these Crispy Baked Parmesan Tomatoes. The pungent flavour of raw garlic becomes mellow with cooking and is a great accompaniment to the tomatoes.
Dried Oregano:
Oregano is a staple seasoning ingredient in many Italian dishes. We all know the role it plays in pizza and pasta sauces. However, in its fresh form, it has a pungent flavour. Oregano is one of the few herbs preferred dried rather than fresh as the flavour is more subtle.
Extra Virgin Olive Oil:
Extra virgin olive oil is at the heart of the Mediterranean Diet. It is the highest quality olive oil available, having been naturally extracted from the olive without the use of heat or chemicals. It has been proven to be a healthy fat and an excellent source of health-benefiting antioxidants.
Basil:
Basil, which is a member of the mint family, is a highly fragrant herb, used as a seasoning in many dishes. It is very well known for its use in pesto. The basil we use in this dish is a classic addition to Italian cuisine.
There are other types of basil, however, which are used in Asian cookery.
Basil has an impressive nutrient profile. It is rich in antioxidants, magnesium, vitamins A, C and K.
This is how I make my Crispy Baked Parmesan Tomatoes: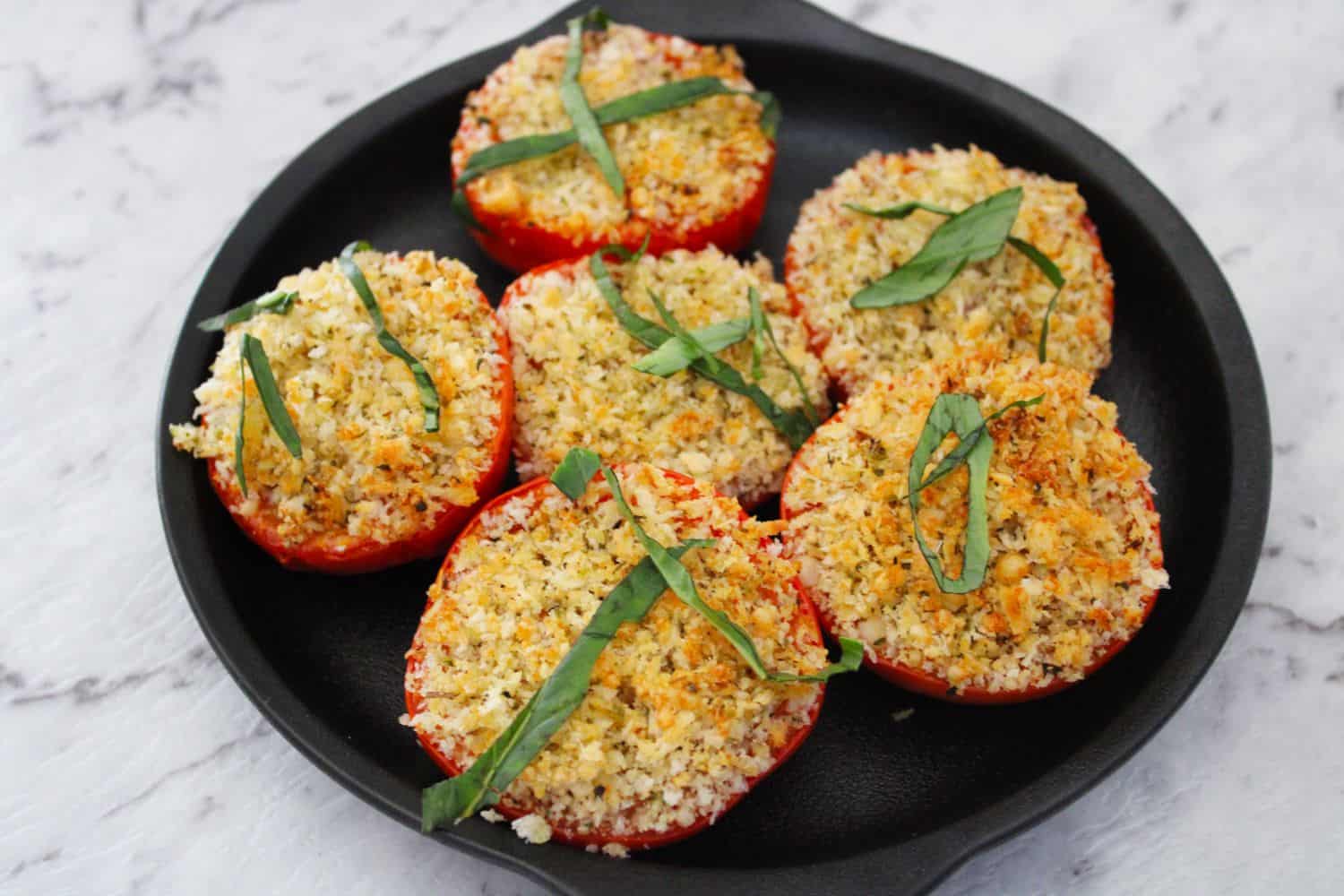 I begin by slicing the tomatoes, horizontally, in half. Then I use a teaspoon to remove the seeds and turn them cut side down on kitchen towel to drain. While they are draining I prepare the stuffing. To a small bowl, I add panko breadcrumbs, dried oregano, grated parmesan cheese, olive oil and minced garlic. I season the mixture with sea salt and pepper and mix well.
I stuff my halved tomatoes with the seasoned breadcrumb mixture and place on a baking tray which has been lined with baking paper. The tomatoes are then baked until golden brown. I garnish with fresh basil prior to serving.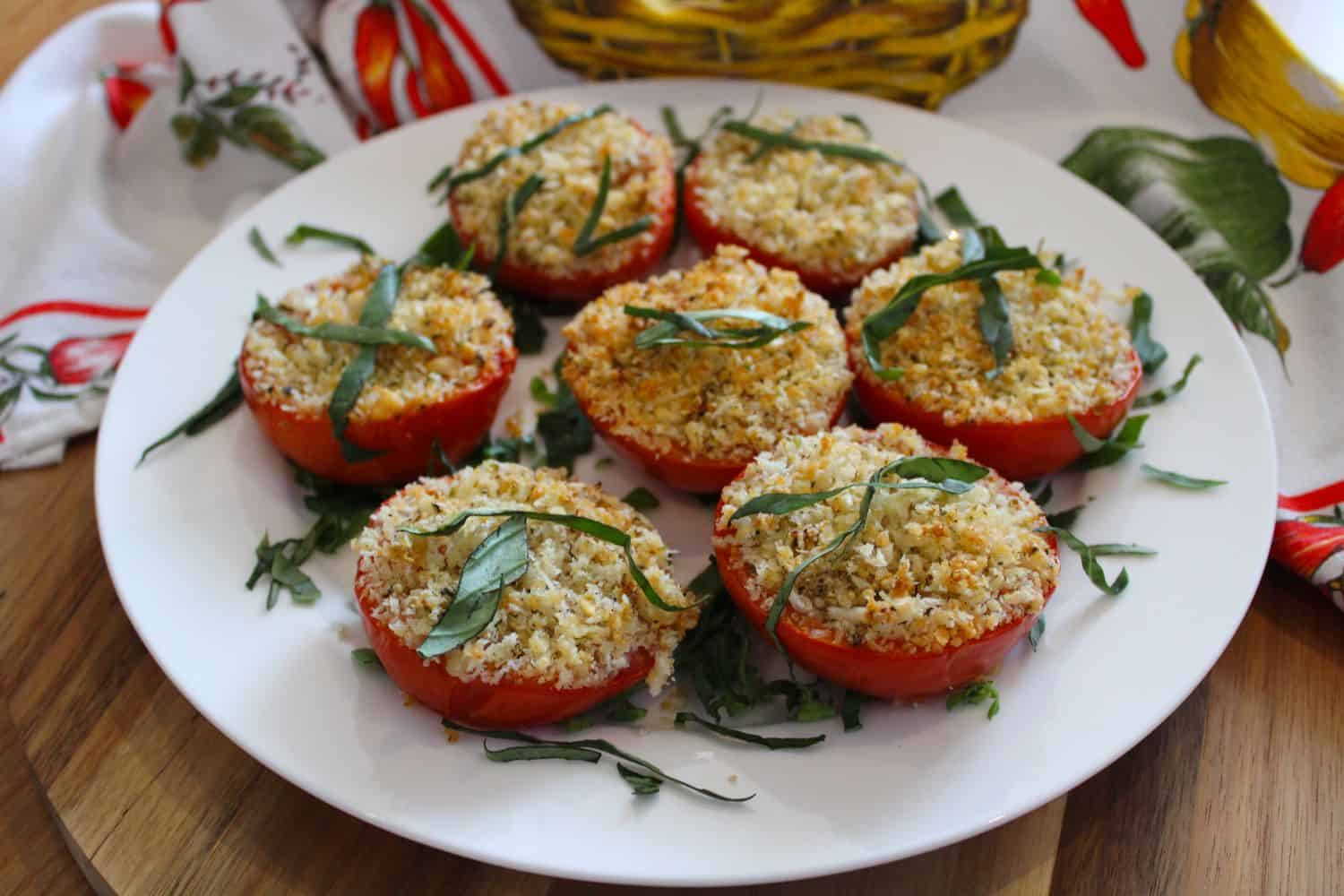 Other Uses For Tomatoes: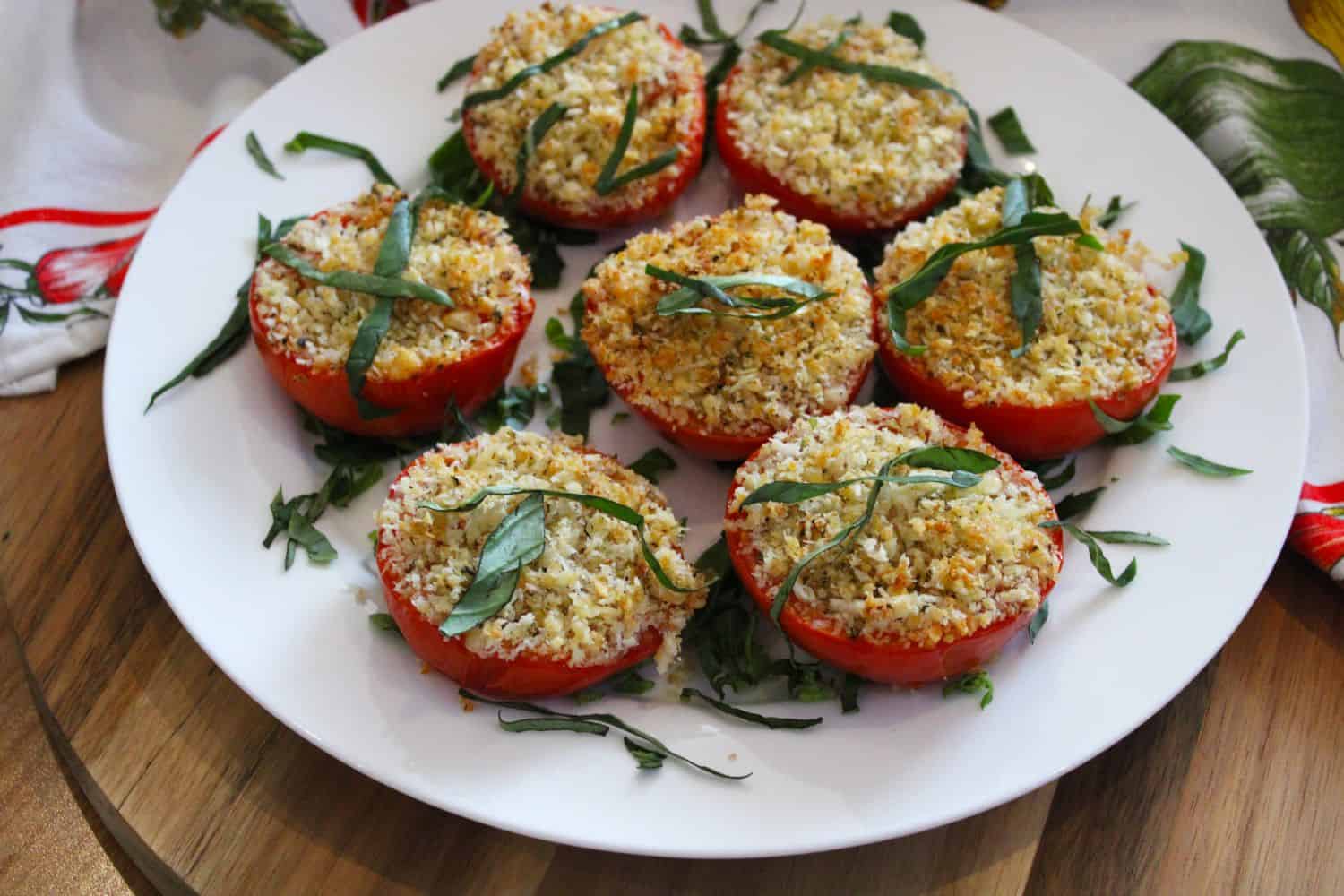 A Serving Suggestion:
For spectacular presentation, serve the Crispy Baked Parmesan Tomatoes on a large, white platter with some basil sprinkled on top;
As a delicious, make-ahead appetiser, fill hollowed-out cherry tomatoes with the flavoursome crumb mixture;
Serve with a poached egg for a scrumptious breakfast!
Not only do these Crispy Baked Parmesan Tomatoes taste fantastic, but this is also an extremely easy recipe to make. And should there be any leftovers, whilst most unlikely, the tomatoes will reheat perfectly.
Please let me know in the comments below if you try the recipe.
Alex xx

P.S. I leave you with a favourite quote…
"Knowledge is knowing that a tomato is a fruit. Wisdom is knowing not to put it in a fruit salad". Brian O'Driscoll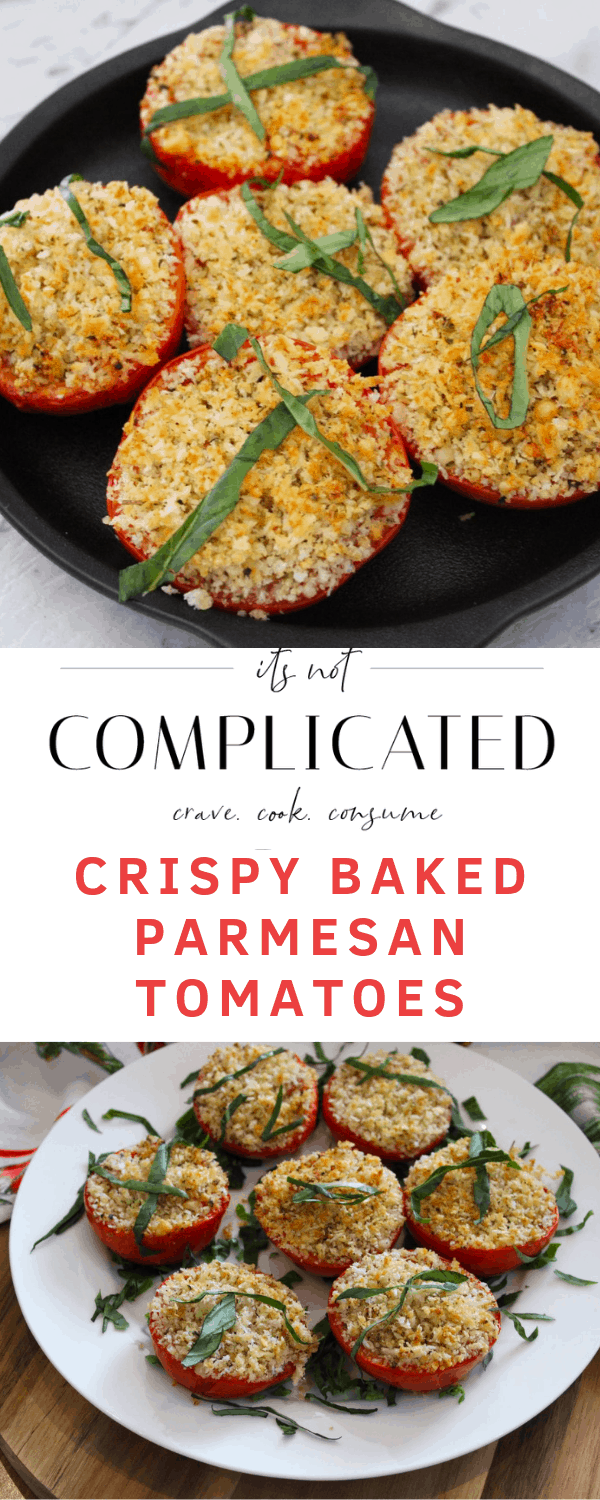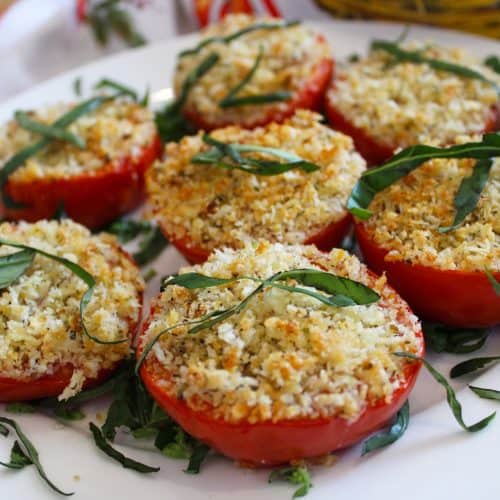 Crispy Baked Parmesan Tomatoes
I think that "crispy" may be one of my favourite words and I am fairly sure that most people will agree with me. These quick and easy vegetarian baked tomatoes are perfect as a side dish. Just a few simple ingredients transform tomatoes into an elegant, flavoursome side dish. I top ripe, juicy tomatoes with crispy breadcrumbs, full of the flavours of garlic, parmesan and dried oregano. They bake to crispy perfection which the entire family will enjoy.
Print
Pin
Rate
Ingredients
6

tomatoes

See Note 1

1

cup

panko breadcrumbs

1

cup

Parmesan cheese

freshly grated

2

cloves

garlic

minced

2

tsp

dried oregano

1

tbsp

olive oil

extra virgin

sea salt and freshly ground black pepper

to taste

fresh basil leaves

to garnish
Instructions
Preheat your oven to 180 Degrees C (350 F).

Cut the tomatoes in half horizontally.

Using a teaspoon, scoop out the seeds.

On a plate lined with a paper towel, place the halved tomatoes upsidedown to drain excess moisture.

In a bowl, mix all of the ingredients, except for the fresh basil.

Line a baking dish or tray with baking paper.

Fill the tomatoes evenly with the breadcrumb mixture, patting down slightly to compact.

Bake for 15-20 minutes, until golden brown and cooked.

(If you are making in advance, I would bake for 15 minutes and then reheat when required).

Garnish with fresh basil, and enjoy!
Notes
My tomatoes were approximately 6-7 cm.
Serving size is based on one tomato per person.
The tomatoes can be prepared in advance – I would cook for slightly less, to allow for reheating.
If you require this dish to be vegetarian, ensure you use an alternative to Parmesan Cheese.
If you require this dish to be gluten-free, use breadcrumbs that are free from gluten.
Nutrition
Calories:
150
kcal
|
Carbohydrates:
13
g
|
Protein:
8
g
|
Fat:
7
g
|
Saturated Fat:
3
g
|
Cholesterol:
11
mg
|
Sodium:
347
mg
|
Potassium:
326
mg
|
Fiber:
2
g
|
Sugar:
4
g
|
Vitamin A:
1155
IU
|
Vitamin C:
17
mg
|
Calcium:
235
mg
|
Iron:
1
mg