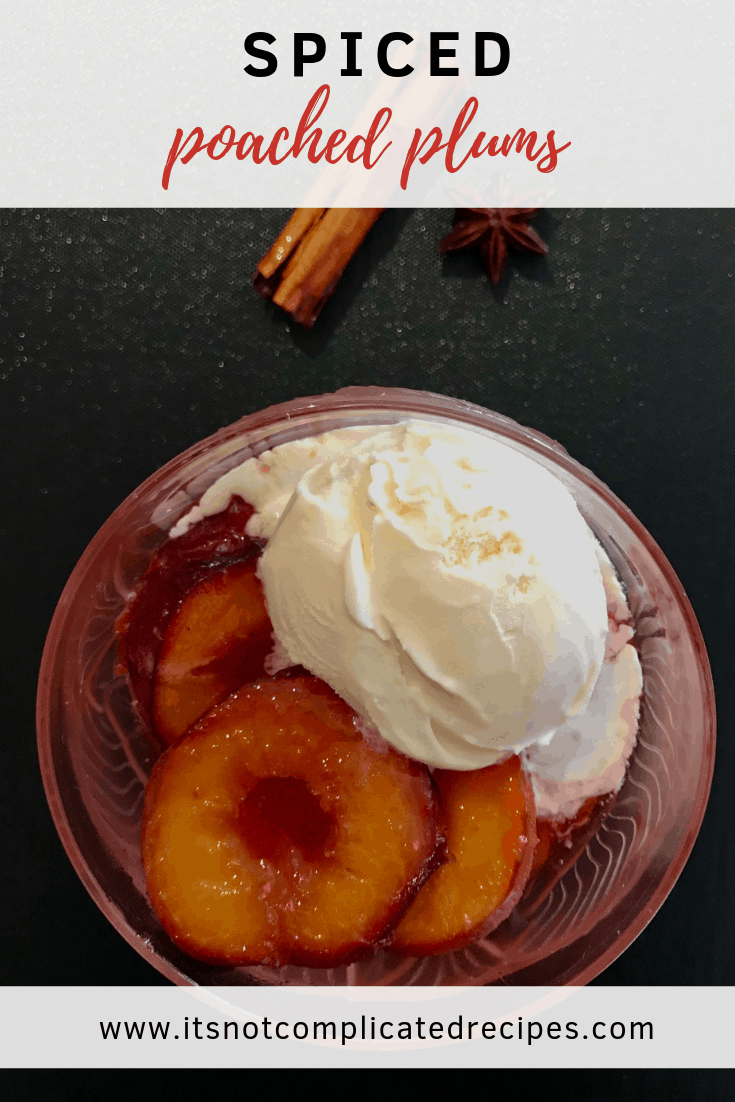 These Spiced Poached Plums are a perfect, easily prepared, summer dessert.
When it's just too hot to turn on the oven, as it has been here in Adelaide during record-breaking heat, I generally turn to desserts which do not require cooking. However, there are times when I long for a little more and it's then that I make desserts which I can prepare on the stove top. Whilst I like to eat plums raw, when poached in this fragrant, flavoursome syrup, they definitely seem more like a real dessert.
The Spiced Poached Plums are gently poached in a syrup infused with cinnamon and star anise.
Whilst many of us occasionally use cinnamon in our desserts, we may be less familiar with the use of star anise. This is a lovely example of an Eastern spice beautifully complementing a Western dish. Whilst not commonly used, I am certain you will enjoy the flavours in this recipe; plums and spices are great friends.
Poaching the plums enhances their natural sweetness and their beautiful, vibrant colour. Although I encourage you to try this spice combination, you could, if you wish, readily adapt the recipe to your personal taste. Vanilla, cardamom, ginger, pepper, orange or nutmeg are all good partners to plums.
To make this dessert, place the sugar, a little water, balsamic vinegar, spices and plums into a saucepan.
Heat gently, stirring occasionally to dissolve the sugar and enable the fruit to release its natural juice and form a syrup. Boil for 5-10 minutes or until the fruit is soft and tender. The timing will vary depending on the ripeness of your plums. I don't peel the plums, their skins are not tough and I like the added fibre and nutrients the skin contains. It is also where most of the antioxidants are located.
This is such a quickly and easily made dessert. You can have these delicious, Spiced Poached Plums on the table in a half hour. I like to serve them warm with my Vanilla Ice Cream, enjoying the juxtaposition of warm and cold. However, they are infinitely versatile and are beautiful when served at breakfast with pancakes or waffles. Slightly undercook them and bake them with a rich, crumble topping or enjoy them simply, with plain Greek yoghurt, the acidic tang of the yoghurt perfectly offsetting the sweet, spiced syrup and meltingly tender plums. Or, if you prefer a sweeter option, try with my Caramelised Yoghurt Cream.
I do hope you will try these Spiced Poached Plums. Please let me know in the comments below if you do.
Alex and Faye xx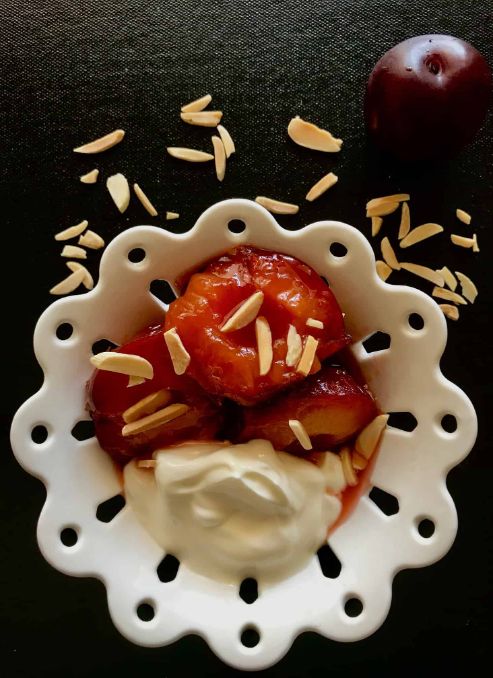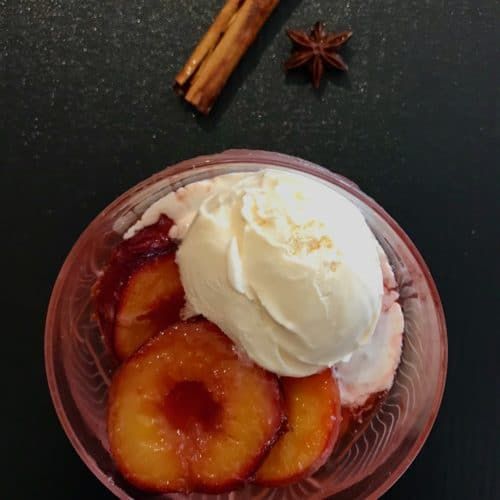 Spiced Poached Plums
You will love this beautifully fragrant and gently spiced plum dish, the star anise and cinnamon beautifully complementing the natural sweetness of the plums. It is quickly and easily prepared; you can have it on the table in 30 minutes.

Print
Pin
Rate
Ingredients
12

just ripe plums *

medium sized

1

cup

caster/superfine sugar *

1

tbsp

water

20 ml

1

tbsp

balsamic vinegar

20 ml

3

whole

star anise

2

cinnamon sticks

2

strips

orange peel *
Instructions
Wash the plums well and cut them in half following the natural indentation in the plum. Remove the stone.

Combine the plums, sugar, water, balsamic vinegar, star anise, cinnamon sticks and orange peel in a medium-size saucepan over low-medium heat.

Slowly bring to the boil, stirring gently, until the sugar has dissolved.

Cover the saucepan and cook for a further 5 – 10 minutes* or until the plums are soft and just cooked. The length of cooking time will depend on the ripeness of your plums.


When cooked, remove the star anise, cinnamon and orange peel. Gently transfer the plums to a heatproof serving bowl to stop

the plums from

cooking further.

Serve them warm, at room temperature or chilled with a little of the poaching liquid. There are further serving suggestions in the notes section.

Serve the Poached Spiced Plums with our Vanilla Ice Cream or Greek yoghurt.


For textural contrast, serve with toasted, slivered almonds.

Notes
*Plums come in a range of colours. My preference is for a darker skinned plum. When serving, it is more aesthetically pleasing and the vibrant colour of the skin contains more anti-oxidants. However, if only pale-skinned plums are available, these will also taste delicious.
*My preference is for caster/superfine sugar as it dissolves quicker than granulated sugar.
*I add just a little water to encourage them to release their natural juices and to stop them from catching whilst the sugar is dissolving.
*Remove the strips of orange peel using a vegetable peeler, being careful to avoid the bitter, white pith.
*My plums were quite firm and they took 15 minutes to cook so you will you need to time yours according to their ripeness. If yours are fully ripe, they may only take a few minutes.
Nutrition
Calories:
295
kcal
|
Carbohydrates:
75
g
|
Protein:
1
g
|
Sodium:
1
mg
|
Potassium:
321
mg
|
Fiber:
3
g
|
Sugar:
70
g
|
Vitamin A:
685
IU
|
Vitamin C:
19.5
mg
|
Calcium:
34
mg
|
Iron:
0.8
mg