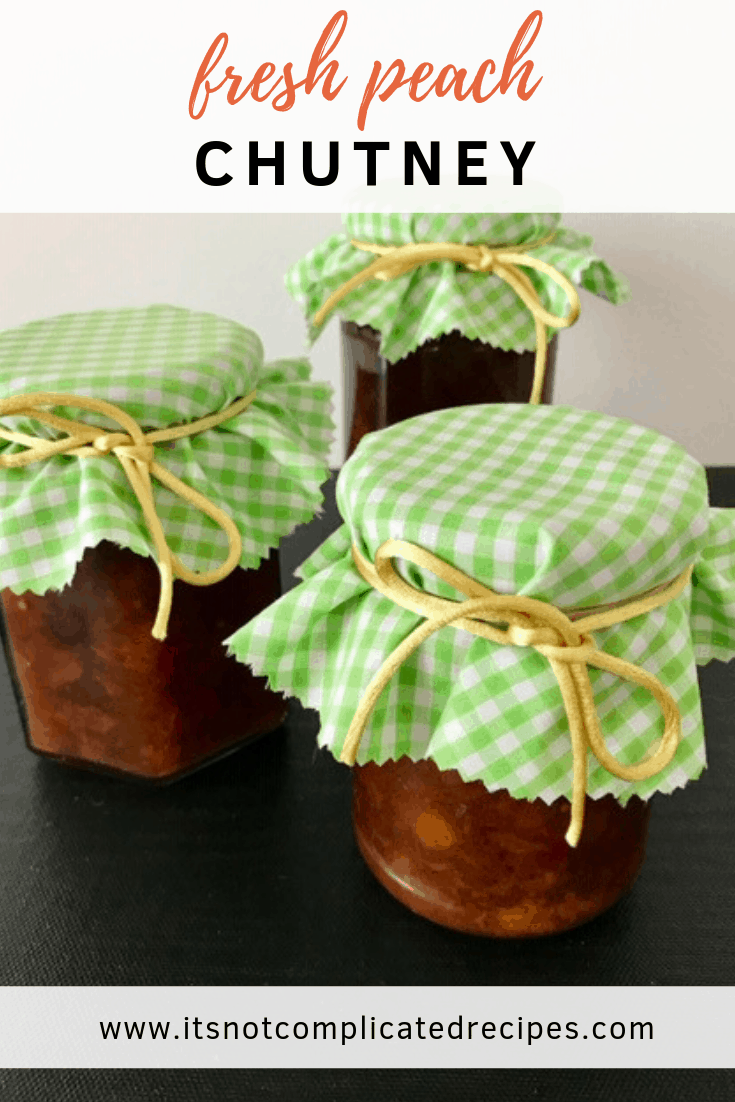 When peaches are abundant, I like to make the most of the season and one of the ways in which I use them is this Fresh Peach Chutney.
Once again, I have received some beautiful stone fruit from my friend Brad, who lives in the Riverland. We have been privileged to enjoy the deliciously sweet, juicy, fragrant fruit in so many ways. Without a doubt, a peach is one of the most beautiful fruits to eat natural and unadorned. However, it has also been a great opportunity to use the fruit in many different ways.
If you find yourself with an abundance of peaches, (sheer bliss!) or some that need to be used, here is a great recipe for Peach Chutney.
If the peaches are a little overripe or slightly blemished, this recipe is ideal. Just remove the blemishes and imperfections and proceed. If the fruit is too soft to enjoy eating raw this chutney recipe works beautifully as the long cooking, over high heat, breaks the fruit down anyway.
I love good Peach Chutney and I find that this versatile, sweet and spicy condiment goes well with almost anything. It perfectly complements roast chicken or grilled pork, works beautifully on a hamburger and is delicious in a toasted cheese sandwich. The flavourful zing this chutney provides adds a bright note to turkey or beef sandwiches.
To make the Fresh Peach Chutney, all of the ingredients are placed into a large saucepan or stock pot and brought to the boil over medium-high heat. The mixture is boiled for one hour before bottling in sterilised jars. Instructions for sterilising jars are detailed below.
One of the advantages of a recipe such as this is your ability to customise it.
If you don't have peaches, you could use nectarines. You could change the spices to suit your taste, perhaps adding some turmeric, garlic or freshly grated ginger. If you would like it extra spicy you could add some cayenne pepper. Brown or white onions could replace the red. With jars of this condiment on your shelves you will have the satisfaction of knowing you have preserved seasonal fruit to use throughout the year and that you have total control over the ingredients.
I do hope you will try this chutney. Please let me know in the comments below if you do. You may also wish to try our delicious recipes for Plum or Apricot Jam.
I have adapted this recipe from one in Stephanie Alexander's wonderful book, The Cook's Companion.

Enjoy!
Alex and Faye xx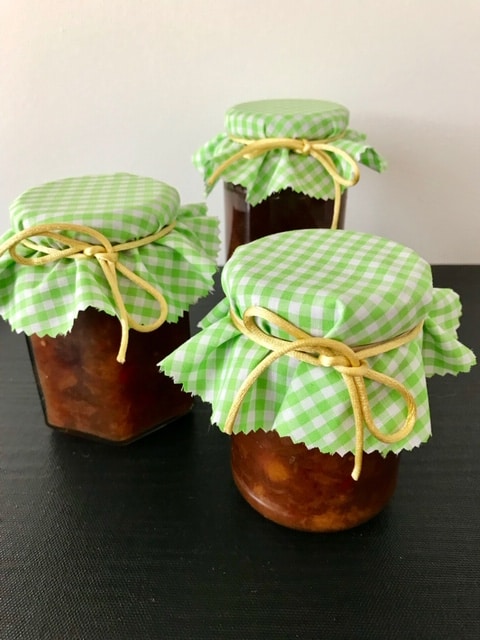 Fresh Peach Chutney
I encourage you to try this easily made Fresh Peach Chutney. If you have not made preserves before, you will find it a rewarding experience and a great way to make the most of Summer's bounty.

Print
Pin
Rate
Ingredients
1.5

kg

peaches

peeled *

750

g

brown sugar

1

cinnamon stick

1

tsp

yellow mustard seeds

2

tsp

ground ginger

8

whole

cloves *

1/2

cup

sultanas/golden raisins

2

tsp

sea salt

2

long red chillies

seeds removed and finely chopped *

3

cups

apple cider vinegar

750 ml

2

Granny Smith apples

unpeeled and grated

3

medium red onions

finely chopped
Instructions
To sterilise the Jars:
Choose glass jars with an airtight, metal lid and wash them, either in the dishwasher or by hand in hot soapy water, then rinse well and dry completely. Check that the metal lids do not have rubber inserts.

Preheat the oven to 130 Degrees C (270 F).

Place upright jars and lids on a baking tray. Heat in the oven for at least 20 minutes, then remove and immediately fill with chutney.
To make the Chutney:
To peel the peaches, half fill a medium sized saucepan with water and bring it to the boil.

Meanwhile, prepare a medium sized bowl of iced water.

Make a cross incision on the base of the peaches and place them in the boiling water for approximately 20 seconds.

Remove the peaches with a slotted spoon and place in the iced water bath to stop the cooking process.

Remove the peach when it is cool enough to handle. Use a small, sharp knife to peel the skin. It will easily peel off.


Cut the peach in half, cutting around the pit using the natural indentation of the peach as a guide. Gently twist the halves in opposite directions to separate them.

Carefully remove the pit with a sharp, pointed knife and discard the pit. Remove any bruises.

Cut the peaches into large chunks.

Place all the ingredients into a large, non-reactive saucepan or stockpot.

Stir over medium-high heat until the sugar has dissolved.

Bring the chutney to boiling point and boil vigorously for one hour, stirring from time to time. Toward the end of the cooking time, the liquid will have reduced and you will need to stir the chutney more frequently to avoid it catching and burning. Be aware that as the liquid reduces the mixture may bubble and spit and you need to take great care. I suggest that to be on the safe side, you wear a garment with long sleeves to protect yourself.

After one hour, remove the saucepan from the heat and stand for 10 minutes to allow the fruit to settle. Remove and discard the cinnamon stick.

Remove your sterilised jars* from the oven, and whilst they are still hot, fill with the chutney.

Seal the chutney immediately.

When the jars are cool enough to handle, remove any spills on the outside of the jars. It is wise to label and date the chutney. Store it in a cool, dark location.

The chutney will keep for about one year.

When removing chutney, always use a clean, dry spoon to avoid spoilage. Being extra cautious, I always store a jar in the fridge once it has been opened.
Notes
* I have used yellow peaches but you could also use white peaches or nectarines.
* If possible, choose freestone peaches over the clingstone varieties. As the names imply, the stones in freestone are easily removed but with clingstone, there is a little waste as you will need to cut around the stone.
* You could use ½ teaspoon of ground cloves.
* If you like a spicy chutney, you could add some cayenne pepper.
* I use recycled jars with metal lids that are in good condition. Choose glass jars with tight-fitting lids and ensure the lids do not have rubber inserts. See the notes above re sterilising jars.
* Please note, the nutritional information is based on one whole jar.
Nutrition
Calories:
526
kcal
|
Carbohydrates:
130
g
|
Protein:
3
g
|
Sodium:
619
mg
|
Potassium:
775
mg
|
Fiber:
5
g
|
Sugar:
119
g
|
Vitamin A:
745
IU
|
Vitamin C:
34
mg
|
Calcium:
125
mg
|
Iron:
2
mg