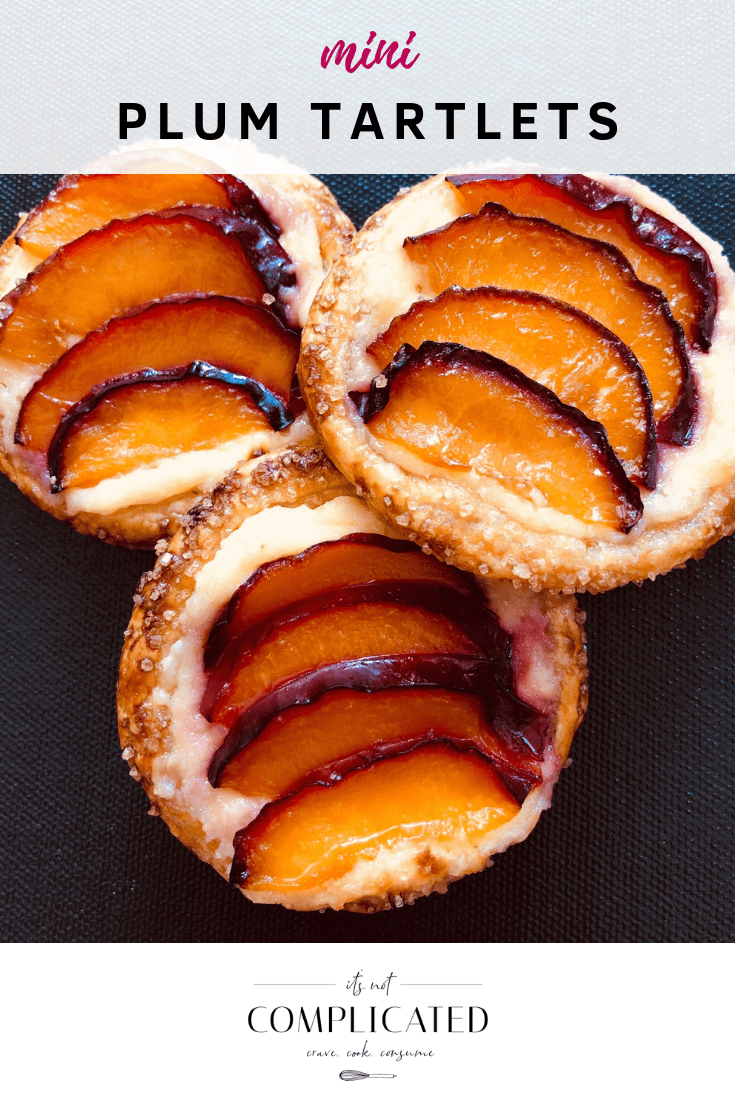 My Mini Plum Tartlets are quickly and easily made. They are perfect for breakfast, brunch, dessert, with a cup of coffee or as a snack. It is definitely a recipe worth making as we, sadly, near the end of the stone-fruit season here in Australia.
Whilst I have used plums in this recipe, if you prefer, you could use other fruits, depending on the season. The beauty of this recipe is that you can customise it, making it suitable to use 365 days of the year. You could use peaches, apricots, apples, pears, rhubarb or berries. Alternatively, use several fruits for a variety of colours and flavours. Regardless of the fruit you use, you will find that the tartlets are always enormously popular.
One great advantage with this recipe is that you don't have to be an experienced pastry cook to make these Mini Plum Tartlets.
The base of the tartlets is commercially prepared butter puff pastry. Whilst I generally prefer to make things from scratch, I draw the line at puff pastry. I find that the commercial varieties produce an excellent result and they save a great deal of time.
I always ensure that I have puff pastry in the freezer. It is such a versatile ingredient, being suitable for a number of quickly prepared dishes. It takes minutes to make appetisers, main courses or desserts. I find it especially useful for sweet or savoury tartlets.
However, although it's a simple matter of using ready-made pastry, there are a few tips to achieve the best result.
If you buy a roll of pastry, it is generally best to thaw it overnight in the refrigerator. Check the directions on the packet. Importantly, ensure that it has thawed before you attempt to unroll it or it will crack.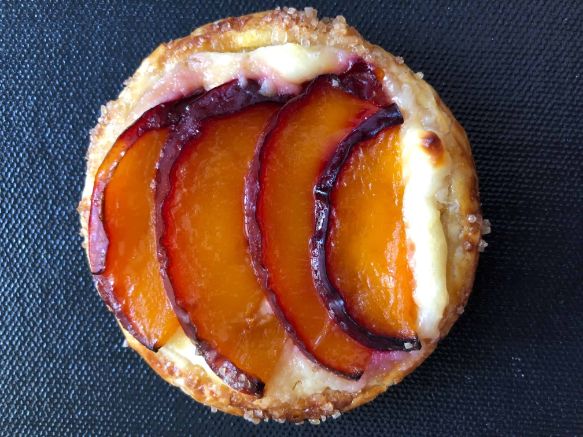 If you are using sheets of pastry, as I have here, you can thaw them quickly at room temperature. However, whether a roll or a sheet, the pastry must remain cold. When working with more than one sheet, keep what you are not using in the refrigerator. The pastry should feel cold and slightly bendable and for best results, you must work quickly. If the pastry reaches room temperature, it will wilt and become droopy. Therefore, it will be almost impossible to work with.
After thawing and cutting the puff pastry I top it with a simple cream cheese mixture which I prepare quickly and easily. I sweeten the cream cheese with icing/confectioners' sugar and flavour with vanilla and lemon zest. Then, I place sliced plum on the cream cheese. Finally, I sprinkle the fruit and pastry with demerara sugar; it provides a lovely crunch and assists with caramelisation. These tartlets contain some of my favourite things in one small package. Finally, one further tip. Never toss out your pastry scraps. You can use them to make small shapes, sweet or savoury, which are ideal for snacks.
For a sweet version, brush some of the off-cuts with melted butter and sprinkle with a mixture of sugar and cinnamon.
They're lovely with a coffee. For savoury bites that are great with a glass of wine, brush the off-cuts with melted butter and sprinkle with grated Parmesan cheese and sprinkle with paprika or cayenne pepper. Bake them on a tray lined with baking paper. For sure, the shapes are random but they still taste fantastic.
Like most pastry dishes, my Mini Plum Tartlets are at their best served warm from the oven.
I do hope you will try these Mini Plum Tartlets; please let me know in the comments below if you do. They are also delicious served with my Vanilla Ice Cream!
For further puff pastry ideas, see my recipes for Blue Cheese Tarts, Bacon and Onion Tarts, Apricot and Cream Cheese Pastry and Pepperoni Pastries.
Alex xx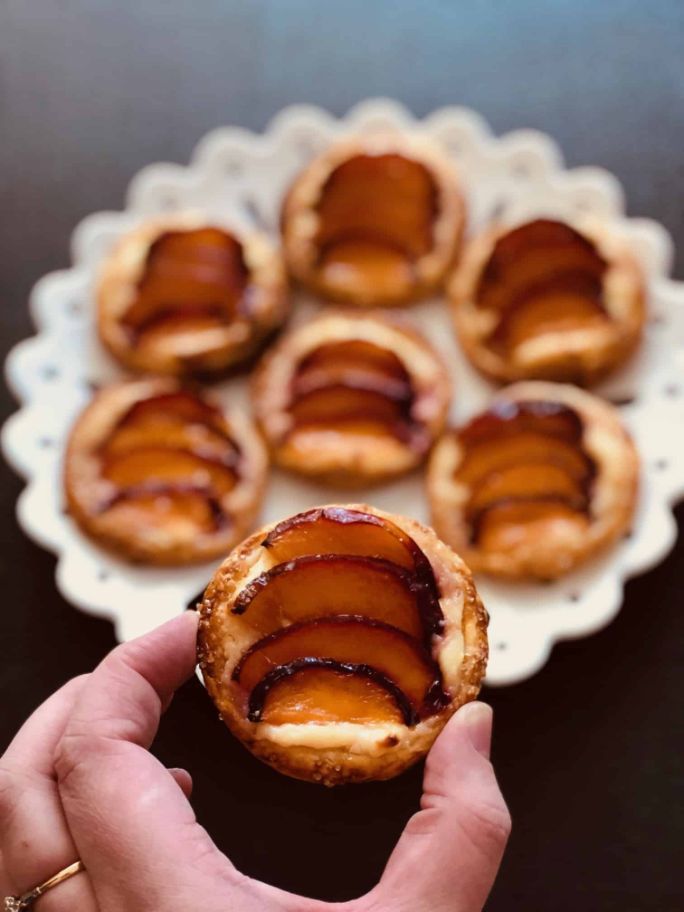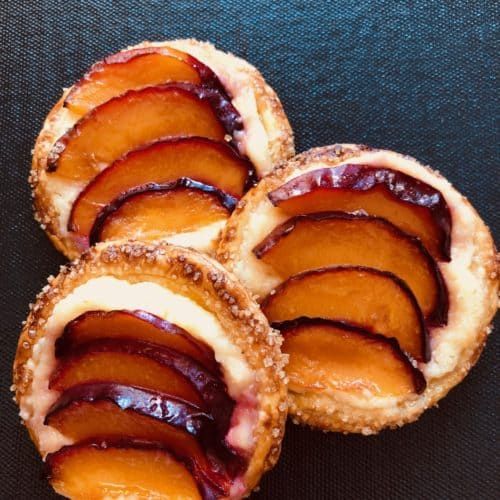 Mini Plum Tartlets
These Mini Tartlets are elegant yet easily prepared. Everyone will love them. They're crisp and flaky and impossible to resist. By using ready-rolled puff pastry you can prepare these Tartlets in minutes. Perhaps you could try them this weekend?

Print
Pin
Rate
Ingredients
2

sheets

frozen butter puff pastry

22 ½ cm/9" square

170

g

cream cheese, softened

3

tbsp *

icing/confectioners' sugar

1/2

tsp

lemon zest

finely grated

1

tsp

vanilla extract

9

fresh plums *

1

egg

beaten

4

tbsp

demerara sugar
Instructions
Preheat the oven to 200 Degrees C (400F).

Set the frozen pastry aside to thaw. Do not allow it to become too soft. Return it to the fridge to keep cool if necessary.

Place the cream cheese, icing/confectioners' sugar, lemon zest and vanilla extract in a medium-sized bowl. Using hand-held electric beaters*, beat until smooth and creamy. Set aside.

Halve the plums and remove the stone.

Using a sharp knife, cut each plum half in thin slices about ½ cm/1/8". Set aside.

Use a 7cm/2 ½" round cookie cutter to cut 9 circles out of each sheet of pastry.

Using a smaller cookie cutter, mark a circle about 1cm/ ¼" in from the edges of the pastry circles.

Use a fork to prick the pastry inside the smaller circle.

Dab about a teaspoon of the cream cheese mixture in the centre. Spread the filling inside the smaller circle of each pastry.

Arrange the slices of plum on top of the cream cheese mixture.

Brush the edges of the pastries with the beaten egg. Sprinkle each pastry with about a half teaspoon of demerara sugar.

Bake in the preheated oven for 10-15 minutes or until the edges of the pastry are a lovely golden brown.

Gently lift the pastries onto a cooling rack.

Allow the pastry to cool a few minutes before serving. The plum will be very hot.

The pastries are lovely served warm with our Vanilla Ice Cream.
Notes
*Always use butter puff pastry, it will produce a superior result.
*Always work with cold pastry. If it becomes too warm it will be difficult to work with and you will not achieve the best result. Place the pastry in the refrigerator to re-chill if necessary. See tips for pastry in the main text above.
*You could use a stand mixer or thoroughly mix the cream cheese by hand.
*The Australian tablespoon is 20ml or 4 teaspoons. In many other countries the tablespoon is 15ml or 3 teaspoons. Please adjust your measurement if necessary.
*You can use any type of fruit. Select your favourite fruit, depending on the season. You could use peaches, apricots, apples, pears, or berries.
Nutrition
Calories:
221
kcal
|
Carbohydrates:
21
g
|
Protein:
3
g
|
Fat:
13
g
|
Saturated Fat:
4
g
|
Cholesterol:
19
mg
|
Sodium:
101
mg
|
Potassium:
84
mg
|
Sugar:
8
g
|
Vitamin A:
255
IU
|
Vitamin C:
3.2
mg
|
Calcium:
15
mg
|
Iron:
0.8
mg