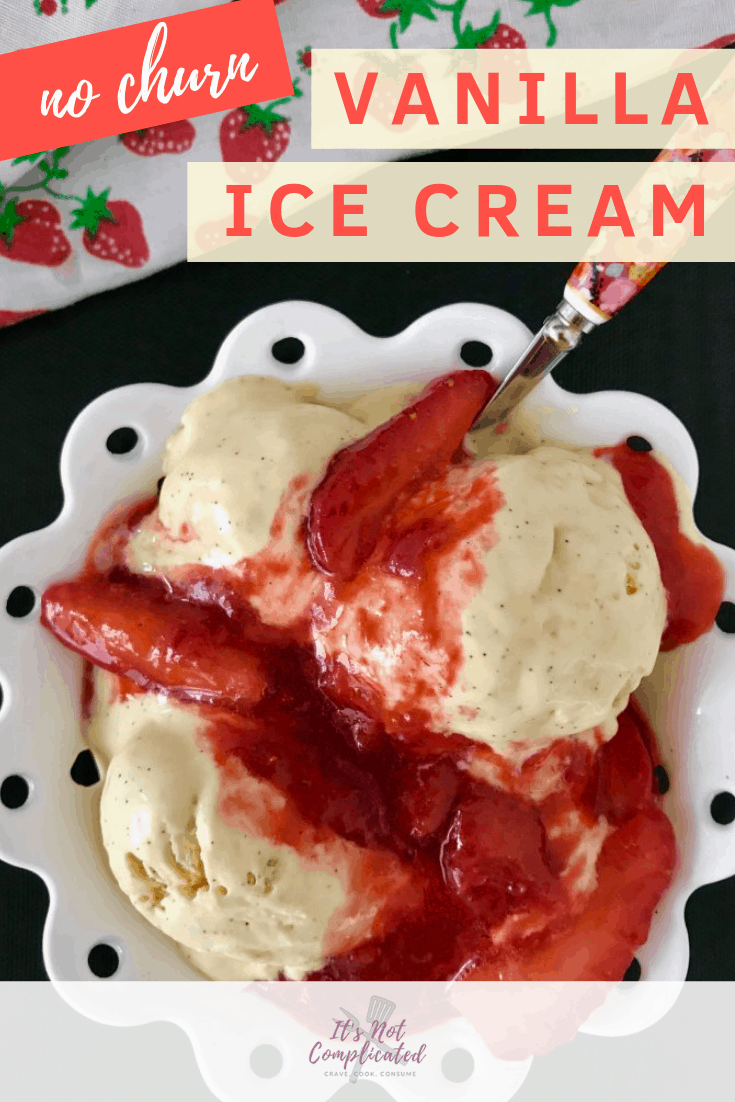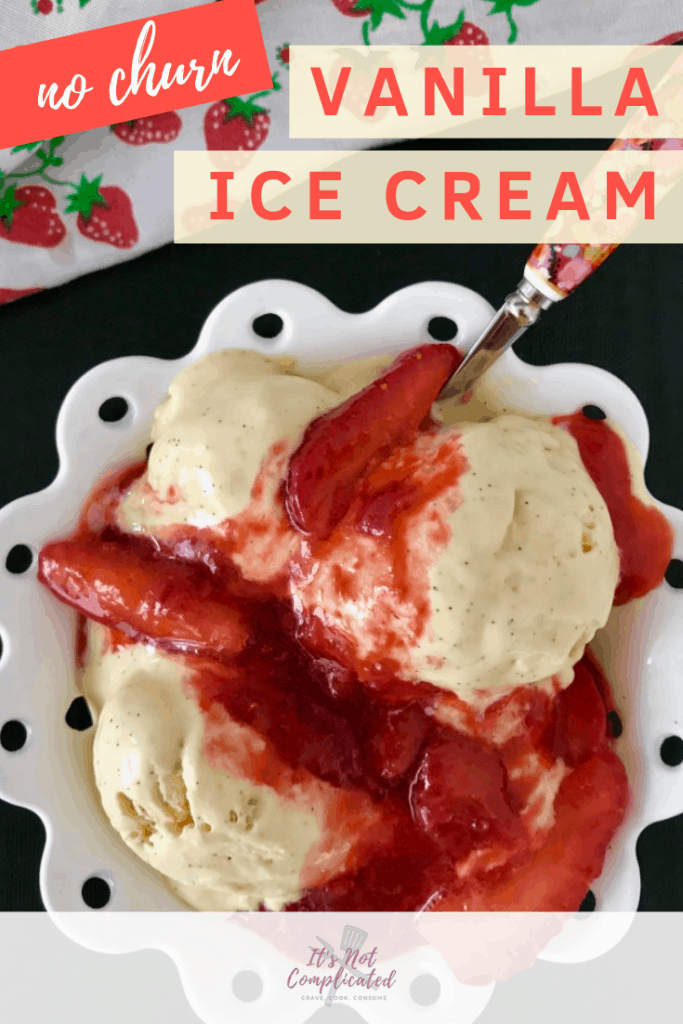 Vanilla Ice Cream is a classic recipe, and simple to make. I'm sure you will enjoy the freshness and velvety, creamy texture. Homemade ice cream is absolutely worth making, and it's much easier than you may think.
When it comes to homemade ice cream, you will have the satisfaction of knowing exactly what it contains. When it comes to store bought, there are many additives which help preserve the ice cream and keep its creamy texture. If you're like me, you will prefer to consume ice cream with more natural ingredients.
This recipe is ideal for anyone without an ice cream maker. It uses egg yolks to both thicken the ice cream base and give the finished ice cream a richer taste and creamy mouthfeel. Egg yolks prevent ice crystals forming, creating a smooth, creamy ice cream. In addition, yolks contain natural emulsifiers, mainly lecithin, which binds fat and water together in a creamy emulsion.
Custard in itself is not difficult to make, but it does require a fair amount of vigilance and care. The custard needs to be cooked over a very gentle heat and stirred continuously. Patience is required to obtain smooth, velvety custard. What you don't want is to end up with sweet scrambled eggs!
Enjoy this Vanilla Ice Cream served on its own or in a cone.
Or, I recommended trying the Vanilla Ice Cream with one of the following recipes we have already shared on the blog:
Decadent Chocolate Brownies, Brandied Oranges, Spiced Poached Plums, Mini Meringues or Easy Strawberry Sauce.
Home-made ice cream is made by hand with love.
Xx Alex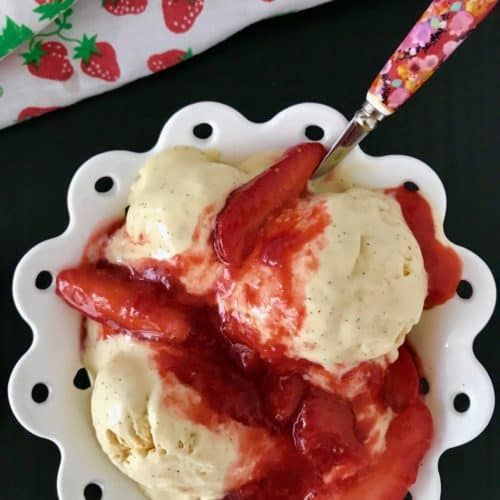 No Churn Vanilla Ice Cream
This velvety, creamy, vanilla ice cream is made using just 4 ingredients. Enjoy it on its own or as an accompaniment to many desserts.
Print
Pin
Rate
Ingredients
4

egg yolks

50

gm

caster sugar

superfine

400

ml

whipping cream

2

tsp

vanilla bean paste or extract

or to taste *
Instructions
Place an airtight container, which will contain the ice cream, into the freezer to chill.

Pour the cream into a heavy based saucepan and place over a medium heat. Bring the cream to just below the boil.

Prepare a double boiler by having a saucepan with lightly simmering water which will hold a heatproof bowl.

Meanwhile, combine egg yolks and caster/superfine sugar in the heatproof bowl. Using a whisk or hand held electric beaters, whisk them together until they are light, fluffy and lemon-coloured.

Slowly pour the near-boiling cream onto the yolk and sugar mixture, whisking vigorously. Do not pour too quickly, you need to temper the eggs.*

When all the cream has been added, place the bowl over the saucepan of barely simmering water on the lowest possible heat.

Stir constantly with a wooden spoon in a figure of 8 until the custard begins to thicken. Don't be tempted to do this over high heat. You may end up with scrambled eggs.

The custard is ready when it lightly coats the back of a wooden spoon. Run your finger along the back of the spoon – if it leaves a clear trace the custard is ready.

Strain the custard through a fine sieve into a clean bowl and leave to cool, stirring occasionally so that a skin doesn't form.

When the custard is cool, flavour with vanilla paste or extract to taste. It is important to over-flavour as the ice cream will lose flavour once frozen.

Pour the ice cream into the chilled container and place in the freezer.

Remove from the freezer and stir the mixture with a fork every half hour until the mixture is half set.

Leave to freeze – it's roughly a total of 4 hours. *




Before serving, remove the ice cream from the fridge for about 10 minutes to allow it to soften slightly.

Home-made ice cream does not keep well. I think, after a week or so, it loses its texture and flavour. But to me, the pleasure of home-made ice cream is its freshness and I've never found that it lasts long anyway.
Notes
*I like to use vanilla bean paste with seeds; it has a pure, sweet vanilla taste and gives the finished product the speckles of vanilla bean seeds.
*To temper the eggs, you slowly add the hot liquid to the egg mixture. If you just combined the two mixtures, you would end up with cooked eggs. The intention is to slowly raise the temperature of the eggs without scrambling them.
*Freezing time is approximate. Total freezing time will depend on the size of your container and the temperature of your freezer.
Nutrition
Calories:
304
kcal
|
Carbohydrates:
10
g
|
Protein:
3
g
|
Fat:
27
g
|
Saturated Fat:
16
g
|
Cholesterol:
221
mg
|
Sodium:
31
mg
|
Potassium:
63
mg
|
Sugar:
8
g
|
Vitamin A:
1155
IU
|
Vitamin C:
0.4
mg
|
Calcium:
59
mg
|
Iron:
0.3
mg