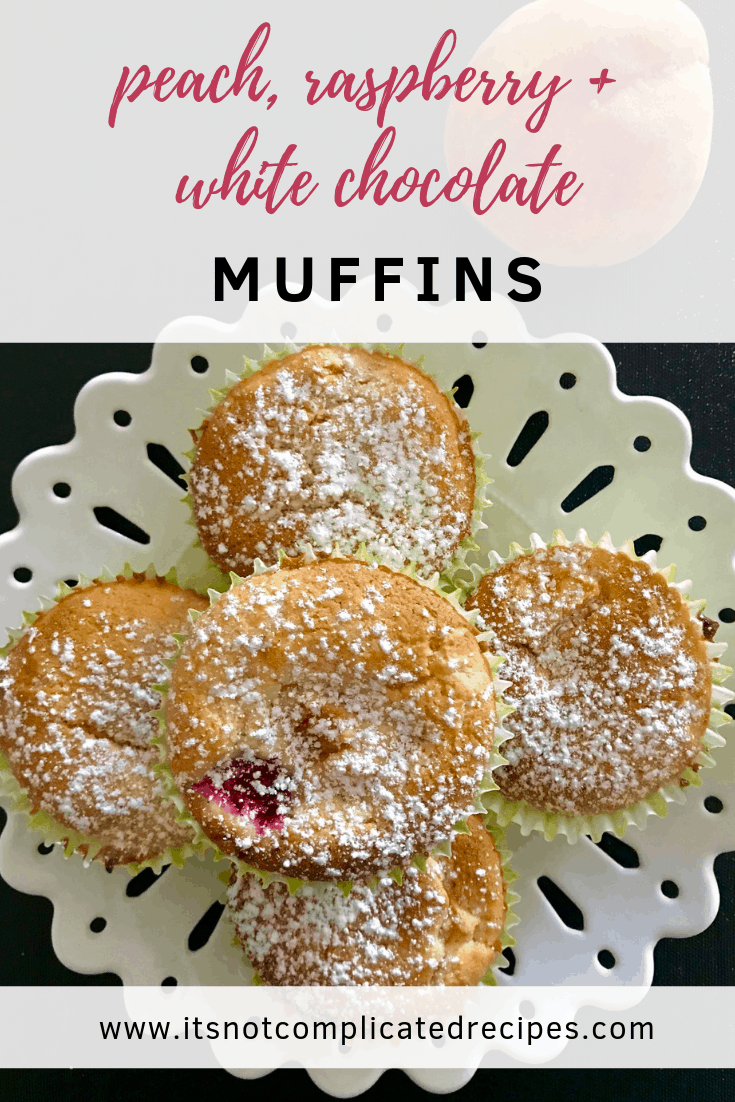 Chunks of sweet, juicy peaches, complemented by the tang of raspberries and lemon, fill these delicious Peach, Raspberry and White Chocolate Muffins. So if you're thinking that homemade muffins would make a great snack, breakfast-on-the-go, or you're planning a leisurely Sunday morning breakfast, this may be the recipe for you.
I love to make the most of summer's generous bounty and have been enjoying peaches in as many ways as possible.
Infinitely versatile, you can enjoy them raw or cooked, in sweet or savoury dishes, but today I'm making one of my favourite muffin recipes. My Peach, Raspberry and White Chocolate Muffins are moist and fluffy, packed full of sweet, juicy peaches and raspberries. You can, if you prefer, swap the peaches for apricots, nectarines or plums and the raspberries for blueberries or strawberries. I like to include some white chocolate chips but these are optional.
Furthermore, as these muffins are made with gluten-free flour, they are a delicious treat for those with gluten intolerance. And those who are able to eat gluten will also enjoy them. The muffins are so good they will never know.
The method is simple. Combine the dry ingredients in a bowl and set that aside. Then, add butter, sugar and lemon zest to the bowl of a stand mixer and blend together until they are well amalgamated and a pale, cream colour. Add the eggs, one at a time, beating well after each addition. Alternate the addition of the dry ingredients and liquids until combined and then fold the fruit and chocolate chips into the mixture. Just be sure to not overmix the batter.
In this recipe I like the addition of grated lemon zest and juice; I find lemon to be a great flavour booster.
The essential oils in the rind of the citrus add a lovely, bright note. If you prefer, you could use orange zest and juice. Both flavours work well with peaches and raspberries. When removing the zest, be careful to avoid the white part, the pith, as it has a bitter flavour.
For uniformly sized muffins, I use an ice cream scoop. It makes it easy to get just the right amount of mixture in the baking tin. I also like to use cupcake liners to ensure that the muffins don't stick to the tin. As with all muffins, they are best eaten on the day they are made but these re-heat very well on the second day. You can also freeze the muffins in a re-sealable freezer bag for 2-3 months and reheat them to serve.
Looking for more great Peach recipes? Try out Peach and Plum Crumble, or Fresh Peach Chutney!
I am sure you will enjoy these Peach Raspberry and White Chocolate Muffins. They are easily made and wonderfully moist and tender. Please let me know in the comments section below if you make them.

Alex xx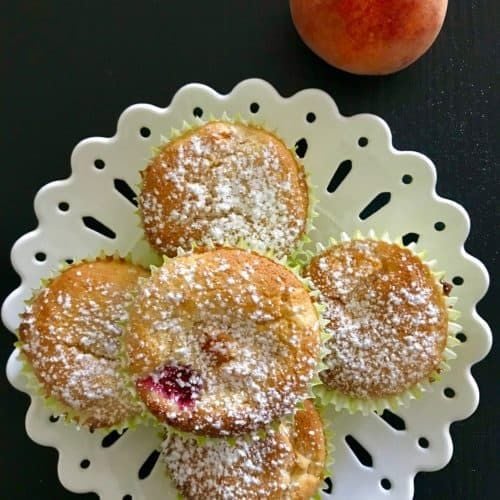 Peach, Raspberry and White Chocolate Muffins
In summer, these Peach, Raspberry and White Chocolate Muffins are a family favourite. They contain chunks of sweet, juicy peaches and vibrant, tangy raspberries, the flavours brightened by fresh lemon. They're easily made and even easier to eat. I am sure you will enjoy them.

Print
Pin
Review
Ingredients
1 ¼

cups

gluten free plain flour/all purpose flour

I use Orgran (155 g)

1

cup

almond meal

100 g

2

teaspoon

baking powder

gluten free

¼

teaspoon

salt

½

cup

butter, at room temperature *

115 g

¾

cup

caster/superfine sugar

165 g

1

tspn

lemon zest

finely grated *

2

large eggs, at room temperature *

½

cup

milk

1

tsbp

freshly squeezed lemon juice *

20 ml

1

teaspoon

vanilla extract

1

cup

fresh peaches cut into small chunks

1 large or 2 medium peaches

½

cup

raspberries

fresh or frozen *

¼

cup

white chocolate chips

optional
Recipe Measurements:
For accuracy, when weights are provided, we recommend weighing your ingredients. This will produce the best results.
Instructions
Preheat your oven to 180 Degrees C (350 F).

Grease the cups of a 12-hole muffin pan, or line them with paper liners.

Place the flour, almond meal, baking powder and salt in a small bowl.


With a fork, whisk the ingredients together until well combined.


In the bowl of a stand mixer, or, using a large bowl and hand-held electric beaters, combine the butter, sugar and lemon zest.*


Beat on medium-low speed until thick, pale and creamy, using a spatula to occasionally scrape down the side of the bowl.

With the mixer still running, add the eggs, one at a time, beating well after each addition.

Add half the dry ingredients and mix on the lowest speed. Add half of the milk, mix some more. Add the remainder of the dry ingredients, mix a little; then add the rest of the milk, the lemon juice and vanilla extract.

Mix until ingredients are incorporated.

Gently fold in the peaches, raspberries and white chocolate (if using) with a rubber spatula.

Spoon the batter evenly into the prepared muffin pans, or use an ice cream scoop for even distribution.

Bake about 25 minutes, or until a toothpick or skewer inserted into the centre of one of the muffins comes out clean.

Cool muffins in the pan for about 5 minutes; then transfer to a wire rack to cool completely.
Notes
*When measuring flour, do not push a cup into the container. Always fluff the flour a little with a spoon and then spoon it into the measuring cup. This is a more accurate way of measuring flour. Pushing a cup into the flour will compact it and you will use more.
*Always bake with ingredients that are at room temperature. Cold ingredients do not mix as well with room-temperature ingredients.
*When you're using both the lemon zest and the juice, always zest the lemon first. Avoid the white pith, it is bitter.
*I add the zest when creaming the butter and sugar. The abrasiveness of the sugar helps to release the essential oils in the zest. It brightens and heightens the flavour.
*The Australian tablespoon is 20 ml size (4 teaspoons), whereas it is 15ml (3 teaspoons) in many other countries.
*Instead of peaches, you can use apricots, nectarines or plums.
*I have used frozen raspberries. Use them directly from the freezer, don't defrost them first. They will "bleed" a little colour into the batter but I think that's quite pretty.
*You can use other berries. Strawberries or blueberries are also delicious.
*For a slightly different flavour, you could use an orange for the zest and the juice. Orange goes beautifully with peach and raspberry.
Nutrition Estimate:
Calories:
256
kcal
|
Carbohydrates:
28
g
|
Protein:
4
g
|
Fat:
15
g
|
Saturated Fat:
6
g
|
Cholesterol:
49
mg
|
Sodium:
135
mg
|
Potassium:
150
mg
|
Fiber:
2
g
|
Sugar:
17
g
|
Calcium:
91
mg
|
Iron:
1.1
mg
Tried this Recipe? Please rate and leave a comment!
Nutritional Disclaimer:
The nutritional information is an estimate only, and is derived from online calculators. For accurate results, we recommend calculating the nutritional information based on the ingredients and brands you use.