These Individual Lemon Curd Meringues are an elegant dessert and much easier to make than you may think. The crispy shells, which encase a tender interior, lend themselves to a variety of toppings. Here, I have used my homemade lemon curd, some lightly whipped cream and blueberries. However, there are numerous toppings which would be suitable and you are only limited by your imagination.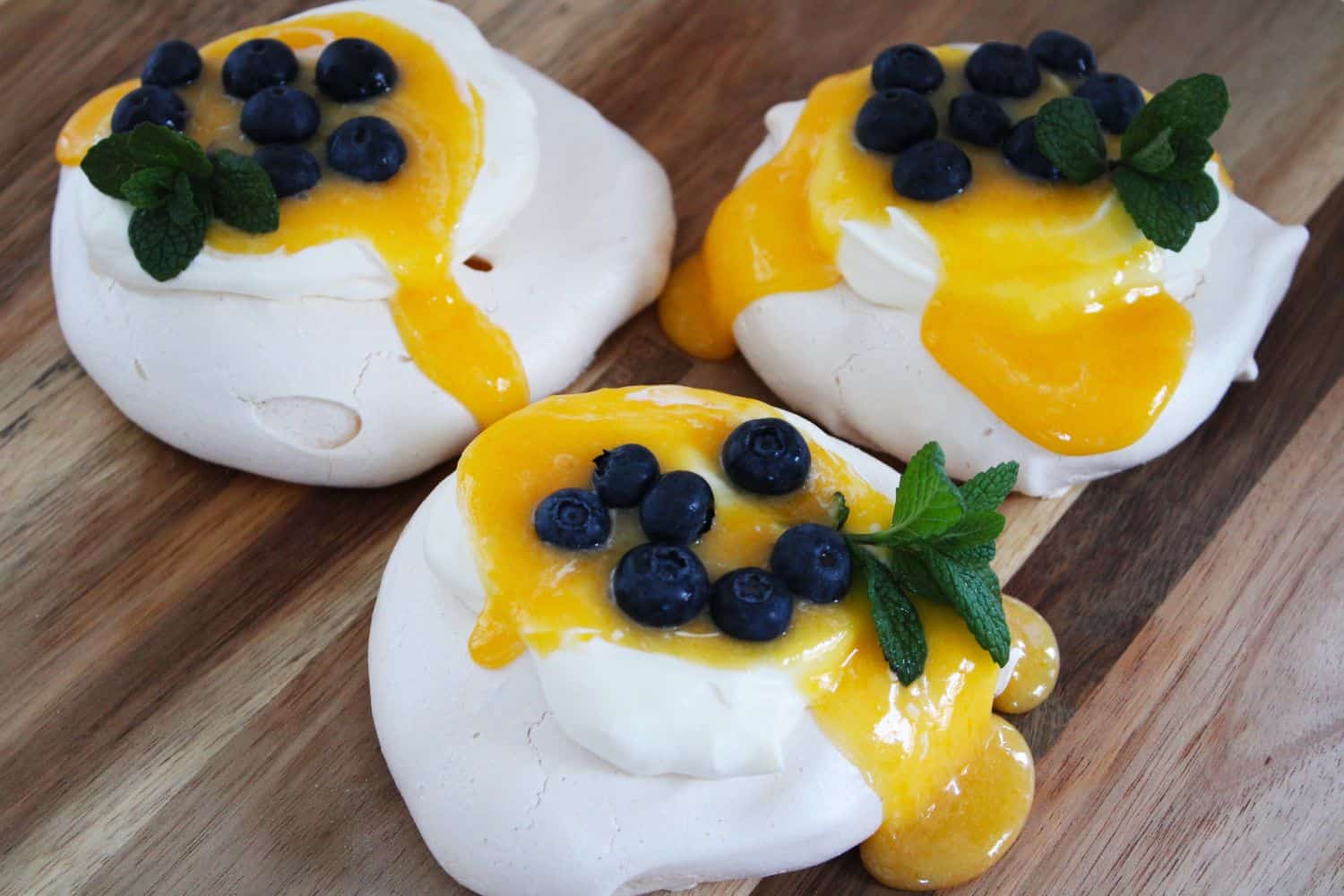 These delicious meringues are the perfect, easy, individual dessert. This recipe is as simple as it is stunning. My recipe includes just two ingredients, egg whites and sugar. I whip the whites until they form soft peaks then gradually add the sugar. I beat these two ingredients together until the sugar dissolves and the whites form stiff peaks. The meringue is now ready to shape and bake.
You can use a piping bag and nozzle to make elegant meringue cases. However, I have chosen the freeform route. It is quicker, easier, and there's less to clean. And also, I quite like the rustic simplicity of shaping them just with the back of a spoon.
Why we love these Individual Lemon Curd Meringues:
This is a beautiful dessert which will be enjoyed by most people and is certain to become a family favourite. The sweet meringue is perfectly balanced with tangy lemon curd and lightly whipped cream whilst berries add colour and additional flavour.
Furthermore, if you have friends or family who are unable to eat gluten, this is one of the most delicious, naturally gluten-free desserts that you can serve them.
You can make the meringues a day ahead and store in an airtight container. However, they are best assembled close to serving time.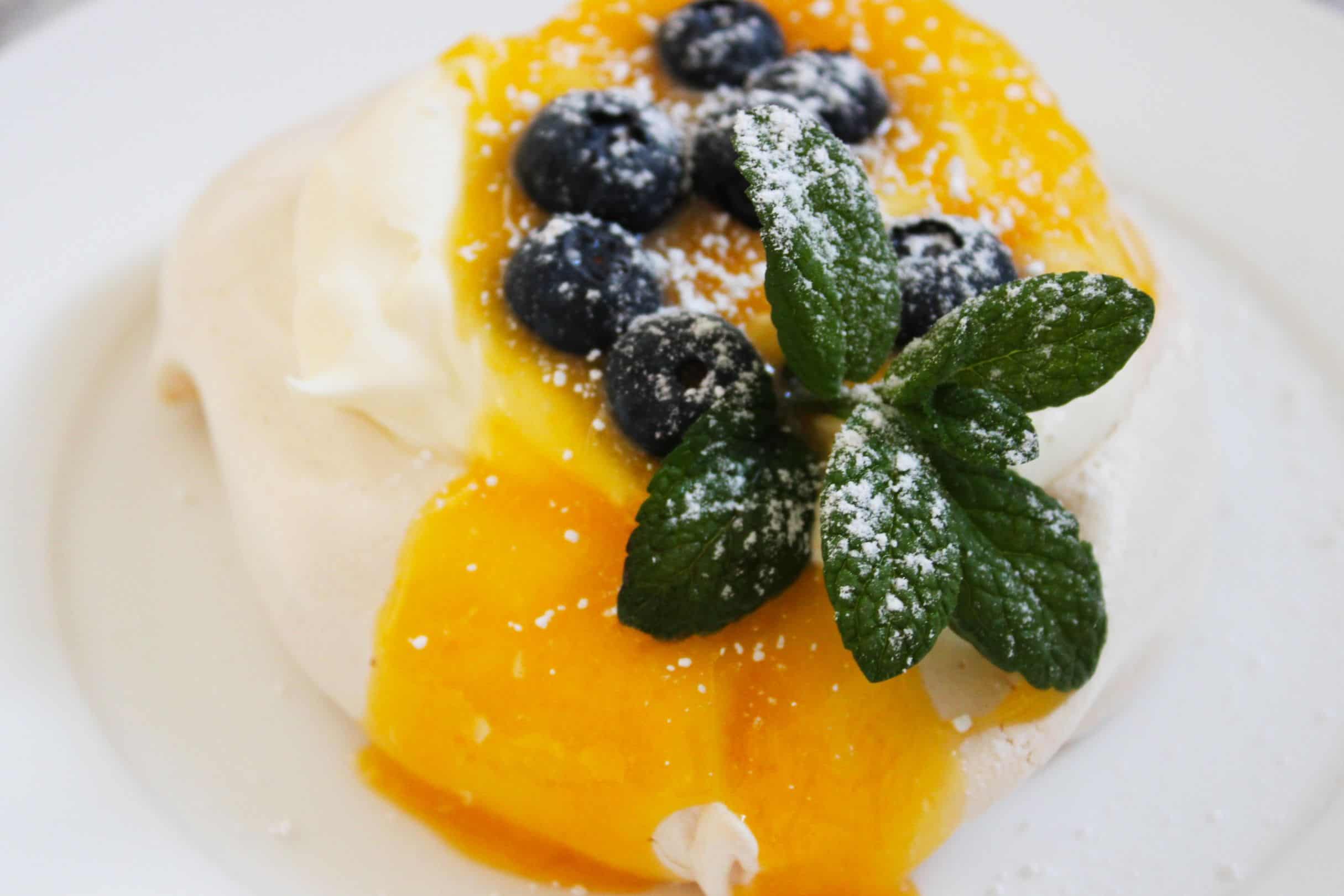 A fun way to serve this dessert is to consider the idea of a meringue bar at your next party. Serve them with a bowl of whipped cream, a variety of sauces and a platter of fresh fruit. Your guests can customise the meringues to suit their taste.
Although we have called these sweet treats meringues, you would be right in thinking they are not dissimilar to a pavlova. The main difference between a meringue and a pavlova is the ingredients. A meringue is a combination of whipped egg whites and sugar, whereas a pavlova contains cornstarch and sometimes vinegar, to ensure a marshmallow centre.
The wow factor of these Individual Lemon Curd Meringues completely outweighs the ease with which they are made.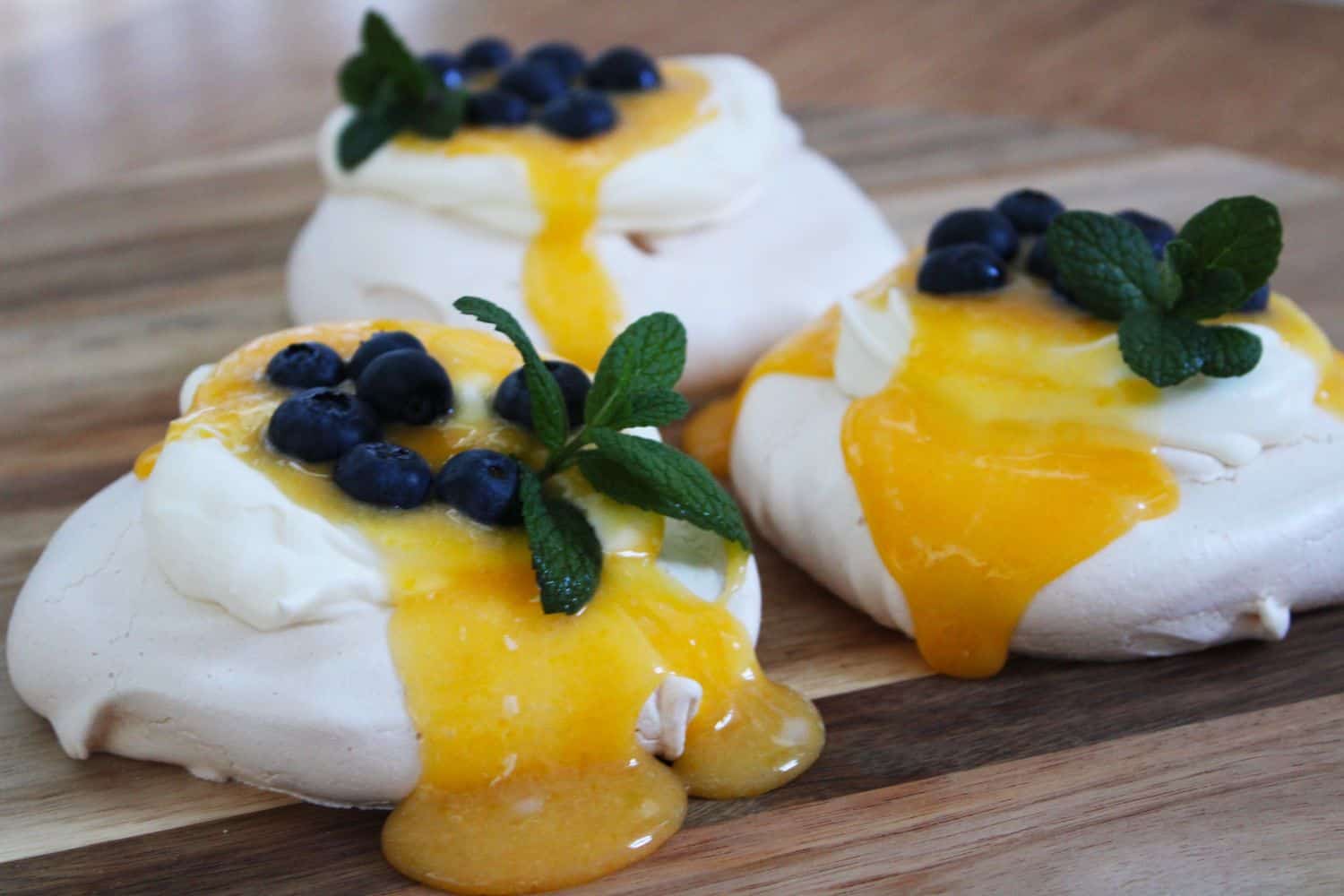 They are a great way to use leftover egg whites and are equally ideal for family meals or for entertaining.
On the other hand, if you want to take them to a party, lay them in a large container and cover them well. Pack whipped cream and toppings of your choice separately and assemble at the party.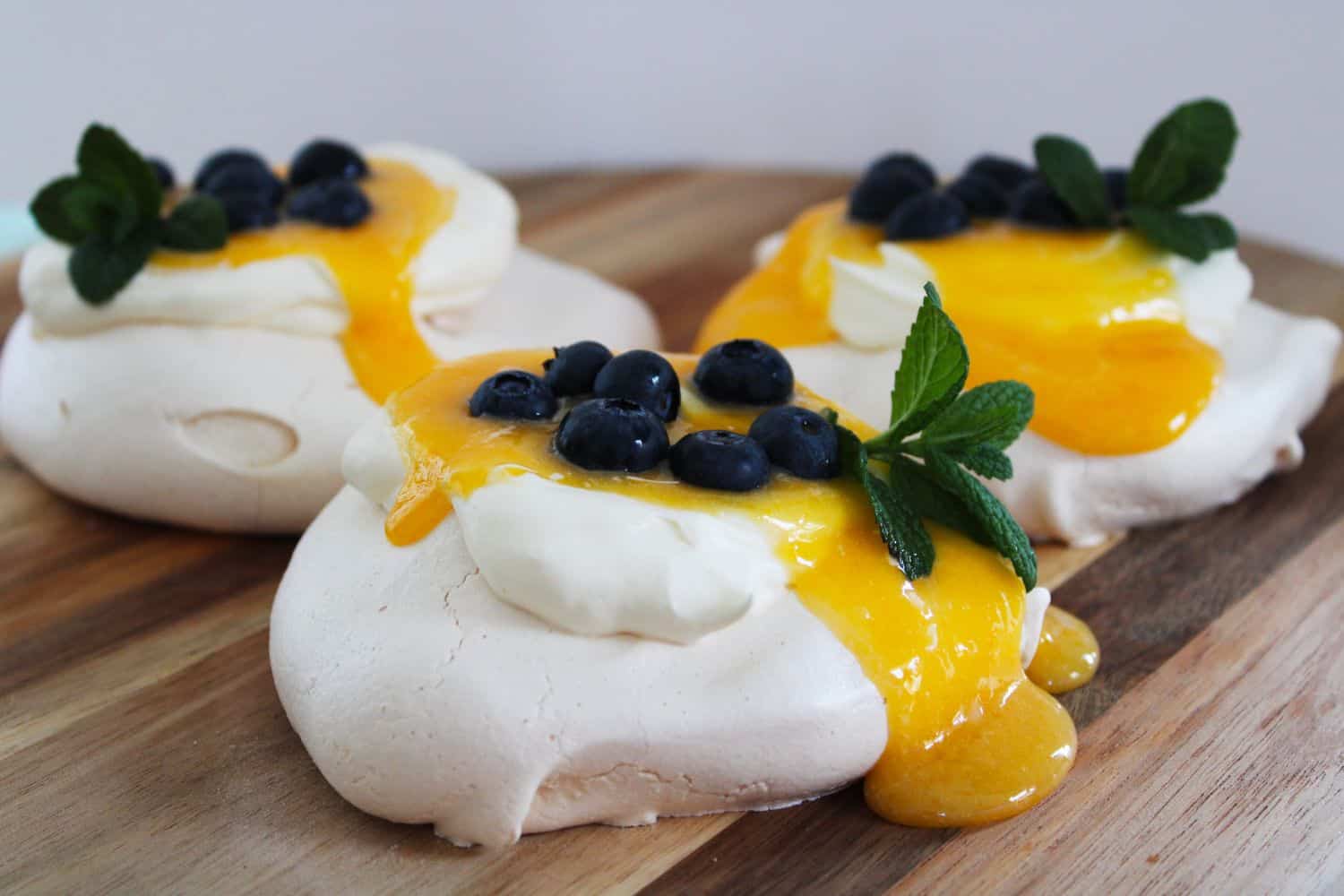 I use these ingredients:
Egg Whites:
All we require in this recipe is the whites of the egg. You will find some suggestions for your leftover egg yolks further down in the post.
Cream:
Cream is a lovely addition to any meringue dish! You could use Greek Yoghurt if you prefer.
In Australia, whipping/thickened creams contain 35% milk fat.
Caster Sugar:
Caster Sugar is also known as Superfine Sugar. We have used it in this recipe as opposed to regular sugar, as it is slightly finer and therefore dissolves easier.
Vanilla:
For the best flavour in your desserts, I recommend good quality vanilla extract, not artificially flavoured vanilla.
Lemon Curd:
I recently shared my recipe for Classic Lemon Curd. It contains just four ingredients and takes very little time to prepare. This delicious condiment, which is smooth, creamy and sweet, yet tangy, will delight all lovers of lemon.
Blueberries:
Blueberries rank as one of the highest sources of antioxidants. They're high in nutrients, and appear to help improve brain function, and improve your memory.
Aside from these fantastic health benefits, they also taste wonderful and provide a beautiful colour to any dish. Blueberries are delicious both fresh and frozen. As well as enjoying them in desserts, they make a welcome addition to your breakfast in the form of a smoothie or overnight oats.
Tips for success:
To achieve the greatest volume when whisking whites, it is essential that all cooking utensils are clean and free from grease.
The egg whites should be fresh and at room temperature as cold egg whites will not incorporate as much air as those at room temperature. That being said, egg whites do freeze well, just ensure that you defrost and bring them up to room temperature prior to whisking.
It is best to avoid making meringues on humid or rainy days as moisture and meringues are not great friends. Any moisture in the air will prevent them from drying completely and will cause make them to "weep".
How to separate eggs:
This task can seem a little daunting if you are not familiar with separating eggs, but here are some tips to help you get started!
Ensure the bowls you are using are completely clean and free of any traces of oil/grease;
Wash your hands prior to separating the eggs – again, to ensure there are no traces of oil/grease;
Be prepared! Have your bowls ready to go, so you're not searching through your cupboards with potentially "eggy" hands;
If you are not confident with separating eggs, get out an extra bowl and separate one egg at a time. That way, if some yolk does get in, it only spoils one egg white and not the whole mixture;
I prefer to crack my eggs and separate using the shell, but you can separate the eggs by carefully holding the yolk in your hand, and letting the white drip through to a bowl underneath.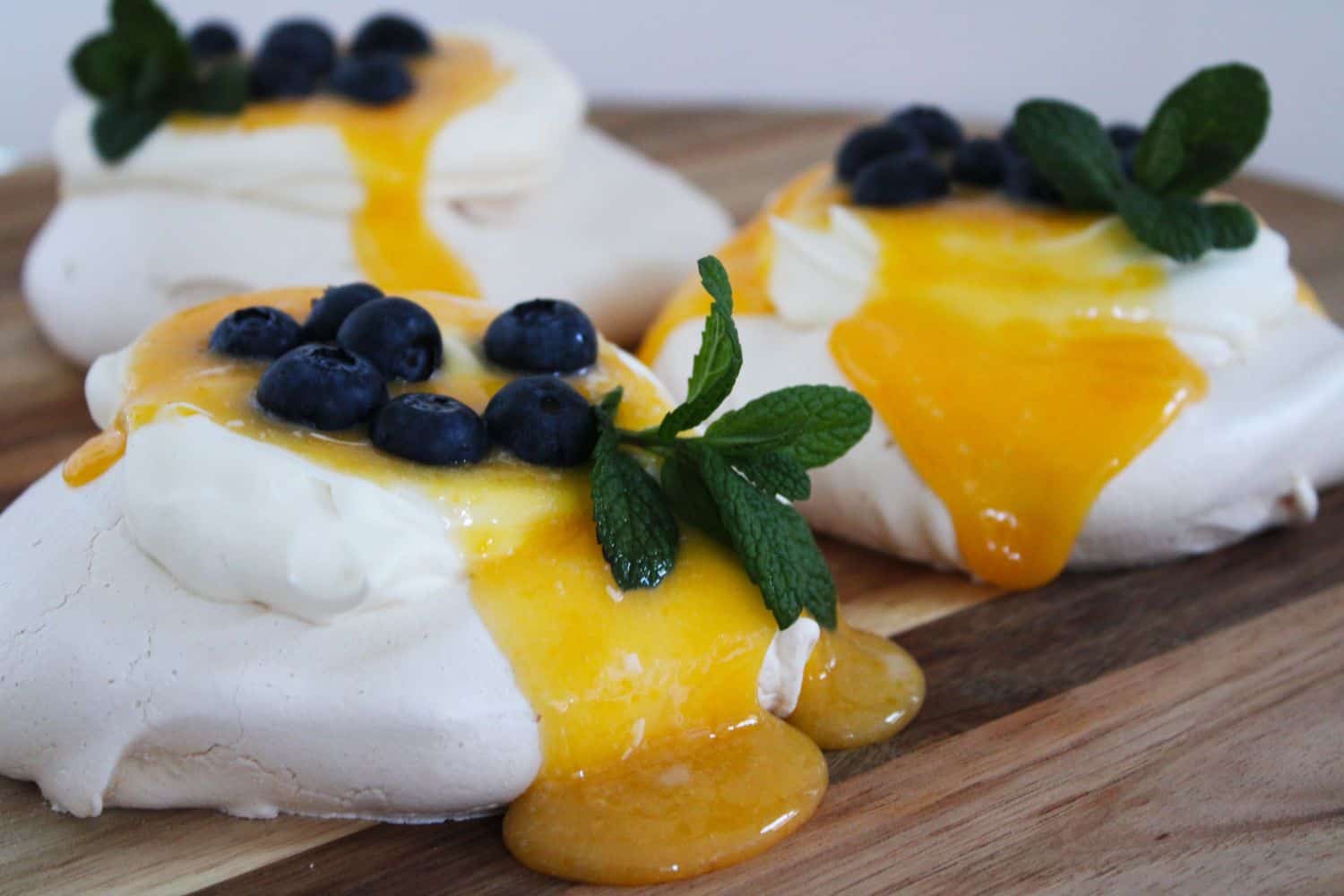 When it comes to serving:
Assemble the meringues close to serving time as the moisture will quickly cause the meringue to become soft.
We have chosen the combination of cream, lemon curd and blueberries, but the opportunities are truly endless! Try different fruits and perhaps a little grated chocolate for something different!
Another combination we love is our Strawberry Meringues, with a delicious five-minute strawberry sauce!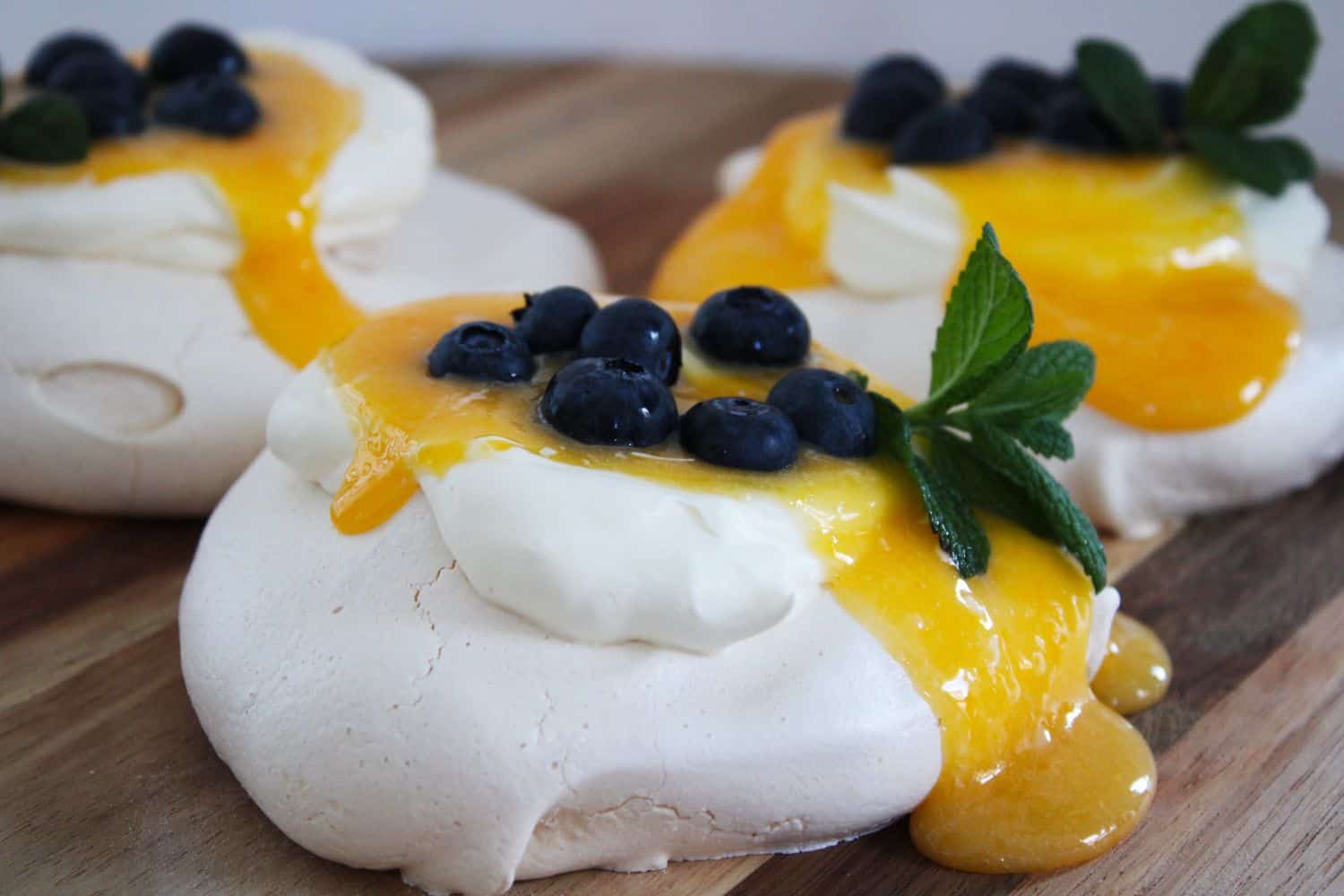 Other uses for these ingredients:
You can use Lemon Curd in these delicious recipes:
Use up your leftover egg yolks by:
Making our delicious Classic Lemon Curd! It is the perfect addition to these Individual Meringues. The tartness of the Lemon Curd works perfectly with the cool cream, fresh berries, and crisp, sweet meringue nests.
Use as an egg wash when baking pastries, such as our Spinach and Feta Galettes or Mini Plum Tartlets.
We really love blueberries, and they're perfect in: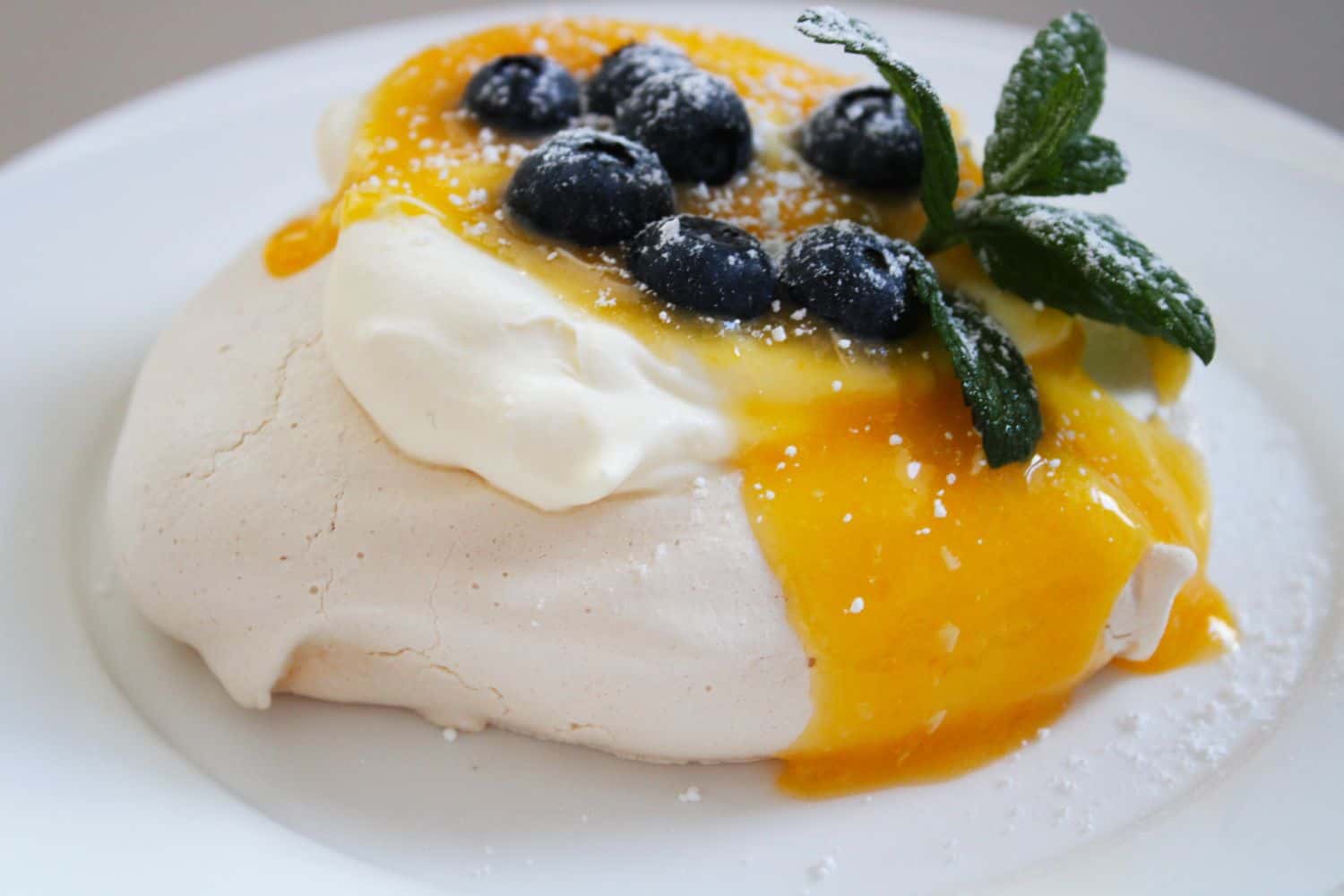 I hope you enjoy making (and eating!) this delicious dessert. Do let us know in the comments below when you try it!
Alex xx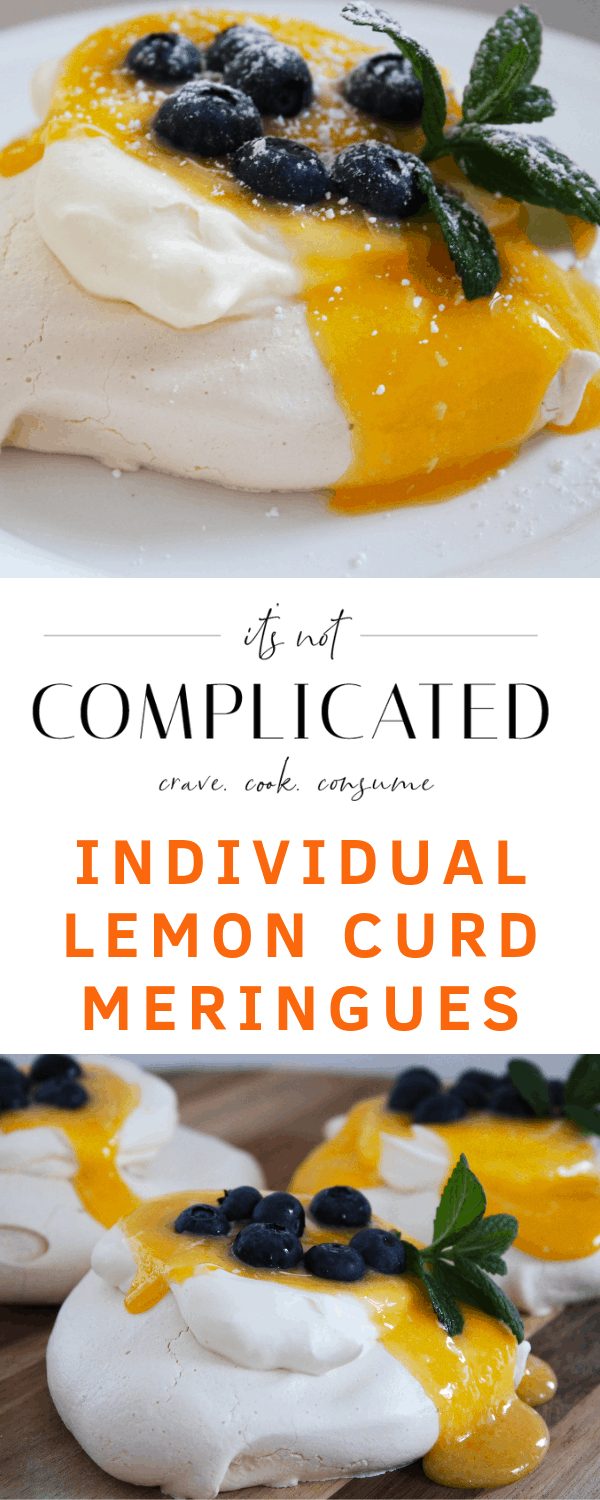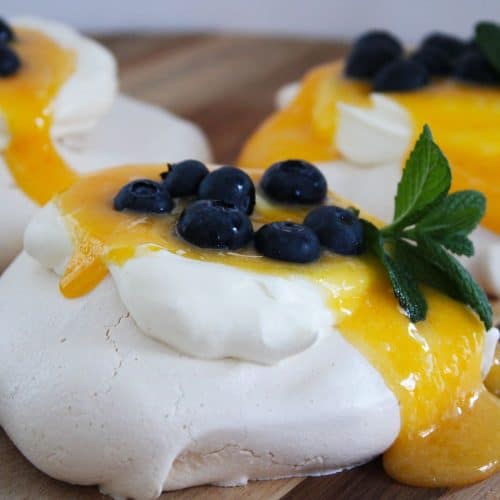 Individual Lemon Curd Meringues
This is one of the loveliest and lightest desserts, one which will be enjoyed by family and friends. These sweet delights of crispy, airy perfection are delicious. Here's a dessert that looks impressive but is easily and quickly made.
Print
Pin
Review
Ingredients
3

large

egg whites

See Note 1

¾

cup

caster/superfine sugar

See Note 2

1 ½

cups

whipping/thickened cream

See Note 3

2

teaspoon

vanilla extract

See Note 4

1

cup

blueberries

See Note 5

6

tablespoon

lemon curd

See Note 6

icing sugar to dust

optional
Recipe Measurements:
For accuracy, when weights are provided, we recommend weighing your ingredients. This will produce the best results.
Instructions
Preheat oven to 120 Degrees C (250F).

Line 2 baking trays with baking paper.

Separate three eggs. Save the egg yolks for another use.

Place the egg whites in the bowl of a stand mixer or use a bowl and hand-held electric beaters. Beat on low speed until soft peaks form.

Gradually add the sugar, about a tablespoon at a time, increasing the speed of the beaters. Beat constantly until the sugar dissolves, the mixture is thick and glossy and the meringue has stiff peaks. 

To check if the sugar has dissolved, rub a small amount of meringue between your thumb and a finger to check if it's gritty or smooth. If it's gritty, try beating for a little longer.

Spoon the meringue mixture onto the prepared tray in six mounds.

Using the back of a spoon, smooth the mixture out, leaving a little indent in the middle of the nest.

Bake for 45 minutes or until crisp.

Turn the oven off. Leave the meringues to cool in the oven.

Once cool, store the meringues in an airtight container until you are ready to serve.

Whip the cream in the bowl of a stand mixer fitted with the whisk attachment. Or, use hand-held electric beaters, whip until the cream has soft peaks.

Top meringues with cream, lemon curd and blueberries.
Notes
 Ensure your egg whites are at room temperature.
 Caster Sugar is also known as Superfine Sugar. It disolves easier than reguar sugar.
 Australian whipping/thickened creams contain 35% milk fat. Do not over-whip the cream or you will end up with butter.
 For the best flavour I recommend good quality vanilla extract, not artificially flavoured vanilla.
 I have used fresh blueberries in this recipe, but frozen are also fine – just allow to defrost prior to serving.
 I have used my my homemade Classic Lemon Curd in this recipe. 
 The Australian tablespoon is 20ml or 4 teaspoons. In most other countries the tablespoon is 15ml or 3 teaspoons.
 Gradually adding the sugar ensures that you do not destroy the aeration of the whites that you have achieved through whisking, keeping them light and fluffy.
 I have not added sugar to the cream as I feel the meringues are sufficiently sweet.
Nutrition Estimate:
Calories:
392
kcal
|
Carbohydrates:
42
g
|
Protein:
4
g
|
Fat:
24
g
|
Saturated Fat:
15
g
|
Cholesterol:
82
mg
|
Sodium:
108
mg
|
Potassium:
91
mg
|
Fiber:
1
g
|
Sugar:
39
g
|
Calcium:
39
mg
|
Iron:
1
mg
Tried this Recipe? Please rate and leave a comment!
Nutritional Disclaimer:
The nutritional information is an estimate only, and is derived from online calculators. For accurate results, we recommend calculating the nutritional information based on the ingredients and brands you use.