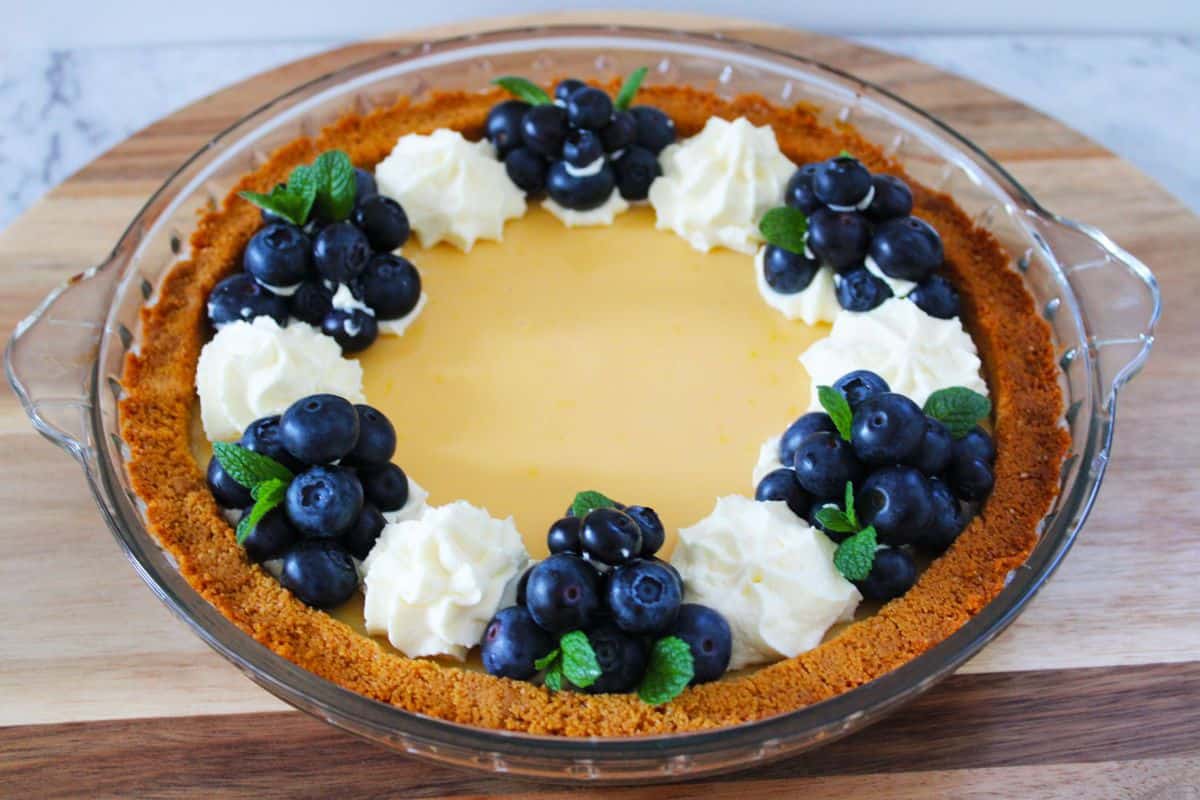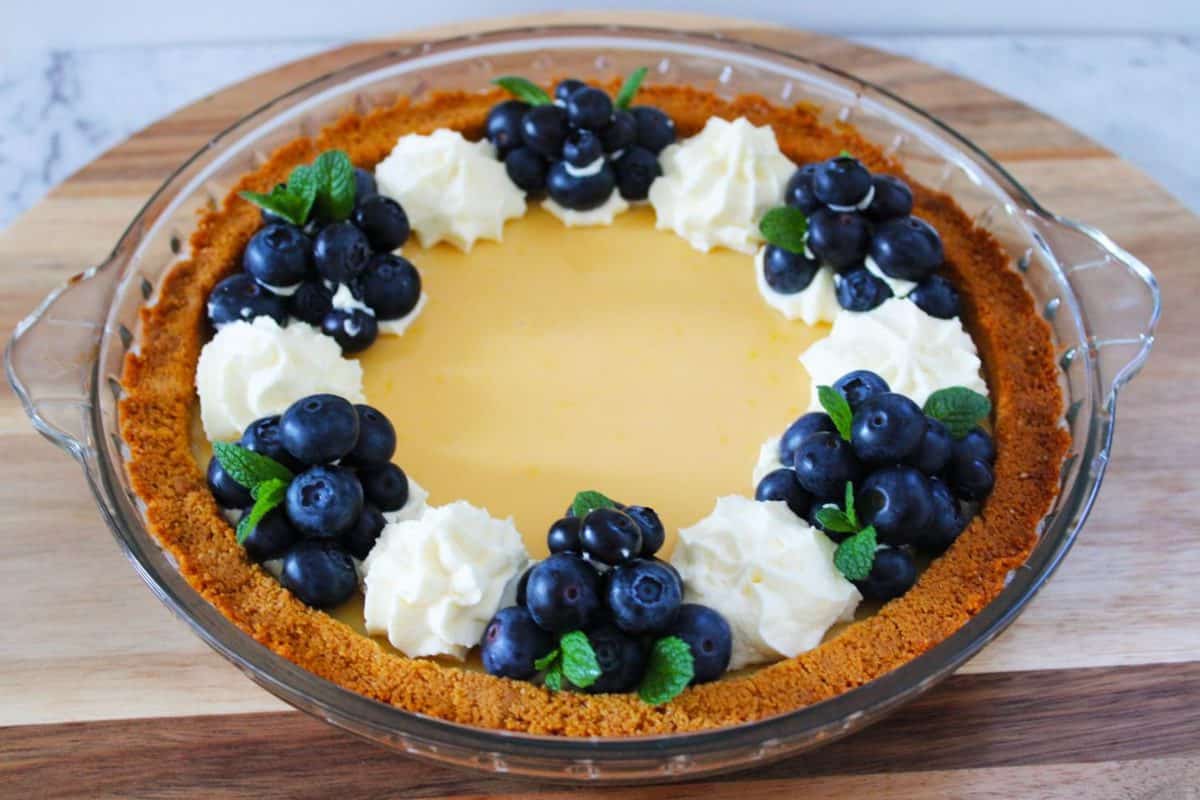 My Creamy Lemon Pie is the perfect dessert for those who love the flavour of lemons. There is so much to like about this pie. Every bite offers the refreshing, bright flavour of lemon, softened and smoothed by the luscious, creamy filling.
A simple, crisp crust perfectly offsets the creamy texture of the filling. You will find that the crust is easy to prepare. It is a traditional combination of crushed biscuits and melted butter, which means this pie can be gluten-free if required.
This is a special dessert, worthy of a place at any celebration or easy enough to make for a weeknight family dessert. A homemade pie is always well received by family and friends and I assure you, this dessert is always a crowd-pleaser.
Why we love this Creamy Lemon Pie:
There are many reasons to love this pie.
Firstly, it is simple and easy to make, with the bonus of being able to be made ahead of time.
Secondly, there is no long list of hard to find ingredients.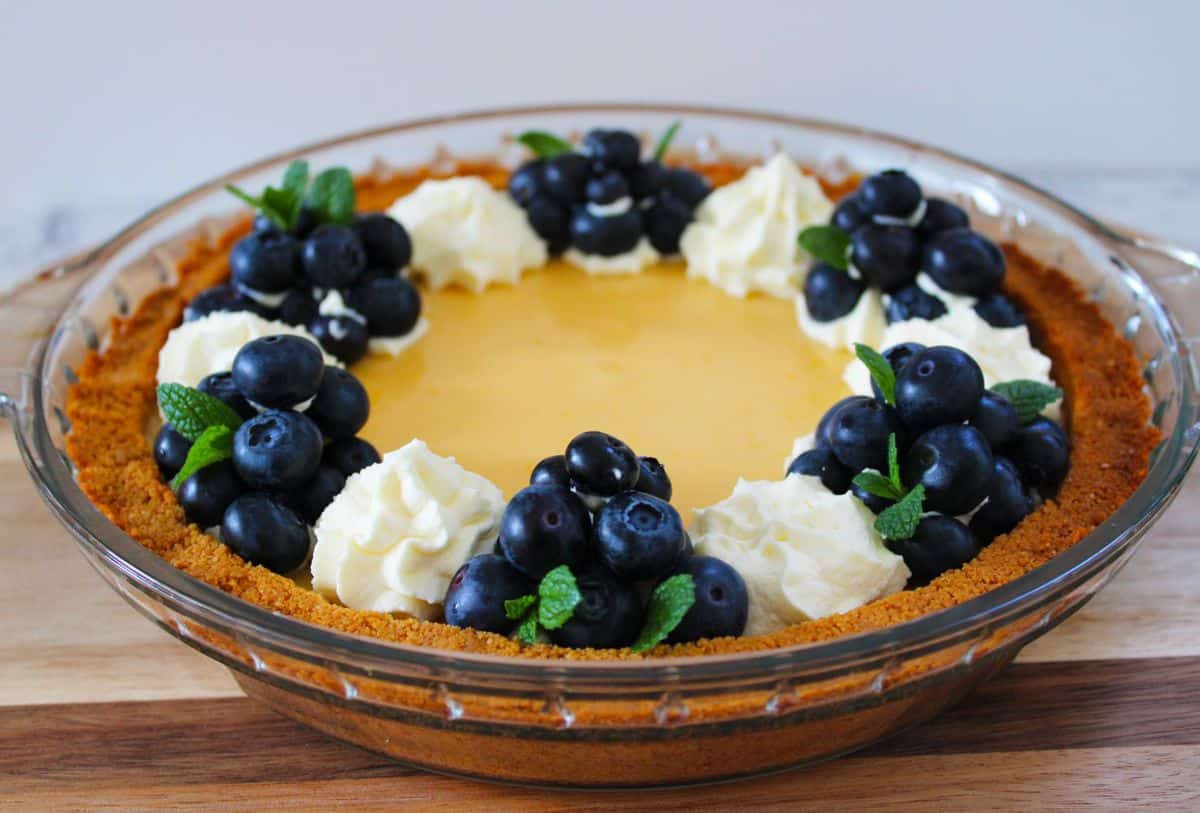 Inspiration for this Creamy Lemon Pie:
This recipe was created for two reasons.
When I shared my recipe for Key Lime Pie, a reader reached out asking for a lemon alternative. Of course, making another pie was no issue – who doesn't like eating pie?!
I was also inspired to make this Creamy Lemon Pie following a previous visit to the Amalfi Coast. Although lemons are grown in many parts of Italy, they are mostly grown on the Amalfi Coast and in Sicily.
There are some strong opinions regarding which region grows the best lemons. However, most Italians agree that lemons have an extremely important part to play in culinary matters.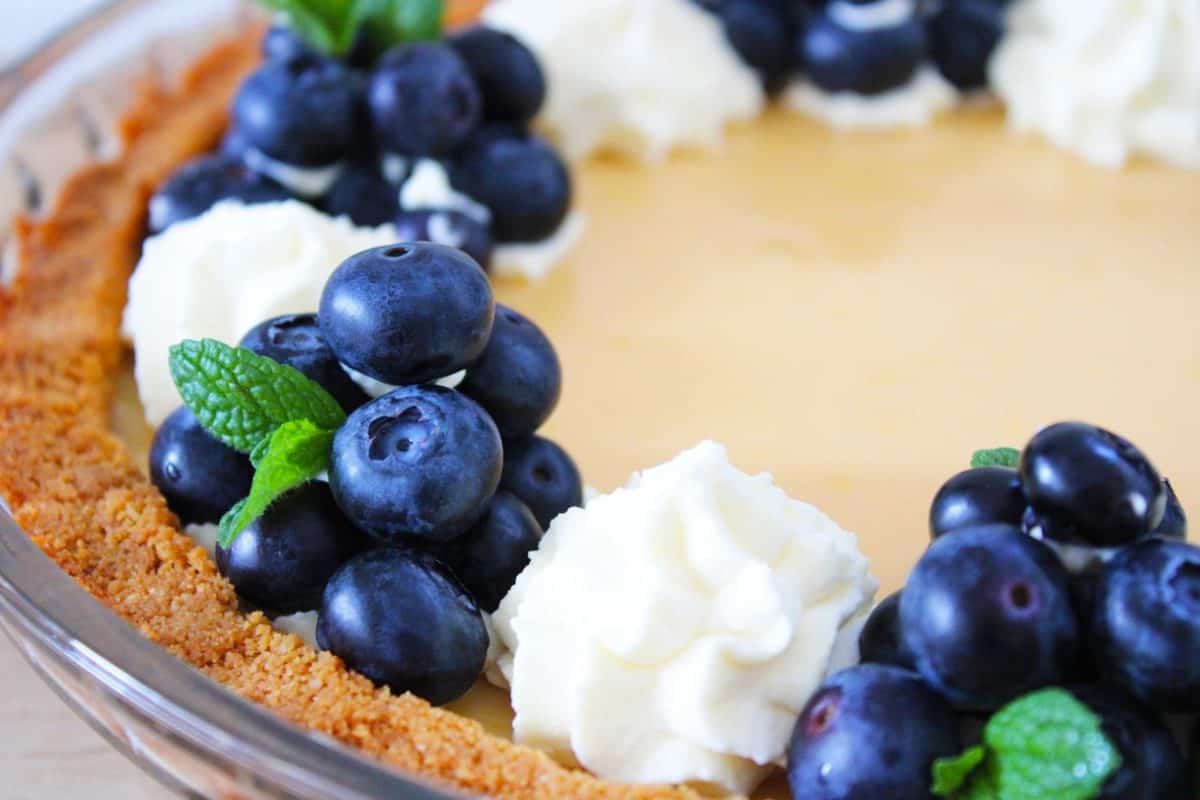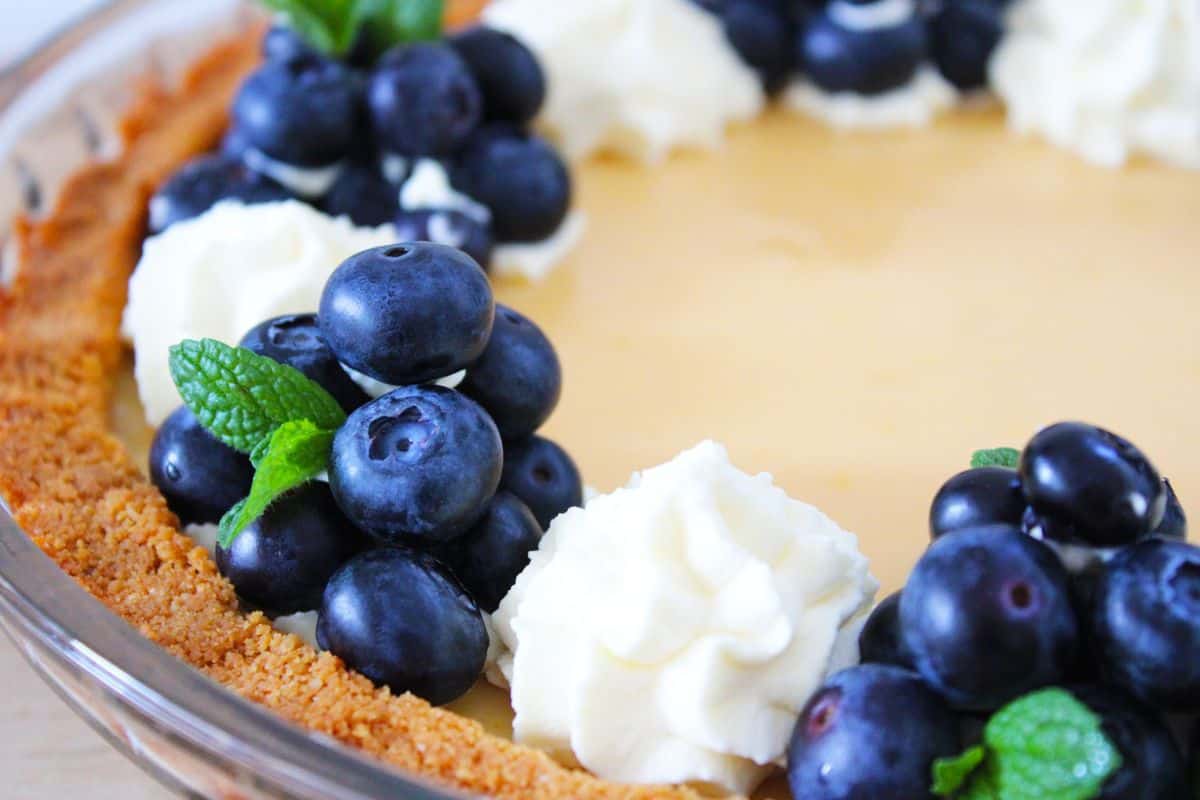 Ingredients in the Creamy Lemon Pie:
Granita Biscuits:
For this recipe, I have used the classic granita biscuit. Any plain sweet biscuit works well, however. Use a gluten-free plain sweet biscuit if you would prefer; it works just as well!
The trick to a good crust is the amount of butter related to the biscuits/crackers.
For instance, I often use a gluten-free, buttery, shortbread as my base and for this, I use a lesser amount of butter. If I used the same amount of butter for this biscuit the crust would be greasy and not crisp.
The butter is used to bind the crust together. Too much butter and the crust will be greasy and not crisp. Too little butter and the crust will not hold its shape, it will fall apart as you cut the pie.
This amount of butter is ideal for drier textured biscuits/crackers but if using more buttery biscuits add the butter slowly until you can press the mixture together with your fingers and it holds its shape.
Butter:
Butter is melted, and mixed with the biscuit crumbs. It is the binding agent and when baked adds crispness to the crust.
Egg Yolks:
I have used just the egg yolks here. The fat in the egg yolks adds a pleasant smoothness to the filling. They also add richness and creaminess and help to set the pie.
I have saved the egg whites to use in another recipe; you'll find some suggestions below!
Lemon:
I freshly squeeze lemon juice to add to this delicious pie.
I strongly recommend using freshly squeezed, as opposed to bottled lemon juice. The flavour is much more intense.
I love to use Meyer lemons when they are available. They contain copious amounts of juice and are less acidic than the kind usually found in supermarkets or grocery stores.
However, today I am using homegrown Lisbon lemons given to me by a friend.
They can be used interchangeably. However, the Meyer lemon will add more sweetness and regular lemons more acidity.
Condensed Milk:
I do love this ingredient so much! It adds richness and sweetness to many recipes.
Condensed Milk is, essentially, cows' milk with added sugar and about 60 per cent of the water content removed. It is rich and thick, lending the perfect consistency to this pie.
Heavy Cream:
Although optional, the topping of whipped cream makes a huge difference. It adds a lovely finishing touch and also compliments the citrus taste of the pie.
To make the whipped cream, I use heavy cream. It is also known as thickened cream or whipping cream and has a fat content of about 35%.
How to make the Creamy Lemon Pie:
This dessert may appear far more complex than it really is. Just two ingredients are required to make the simple biscuit crust, crushed biscuits of your choice and melted butter. After mixing them together they are pressed into a pie plate and then baked to further enhance the crispness.
In addition, it takes just three ingredients to make the filling, Lemons, egg yolks and sweetened condensed milk. The ingredients are mixed together and then poured into the prepared crust and baked. It doesn't get easier than that.
Finally, to finish the pie I whip some cream to decorate the top and add a few slices of lemon to illustrate the pie flavour.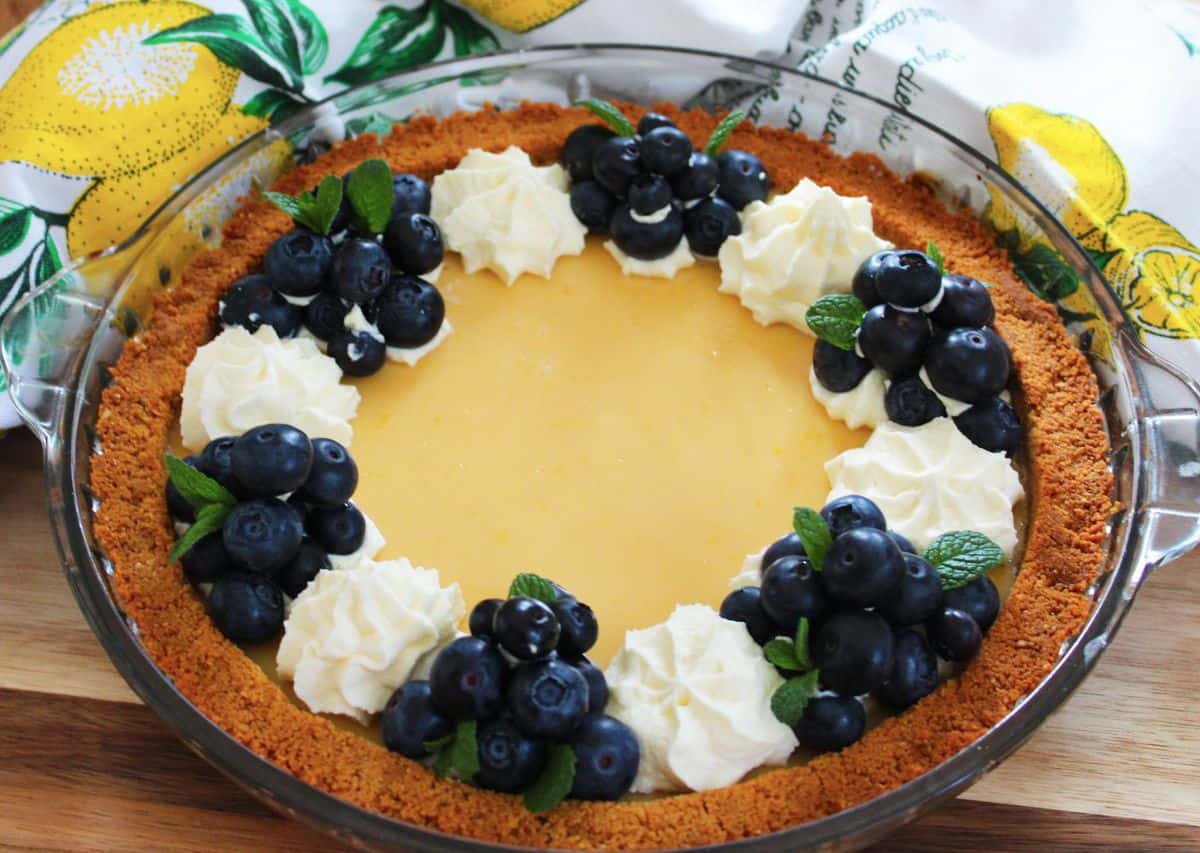 Tips for Success:
After chilling the pie, I top it with some whipped cream, either spreading it across the top of the pie or piping some rosettes around the edge.
I like to add fresh blueberries and mint leaves to the pie. Not only do they look attractive, but lemon and blueberry is a classic combination that works so well together.
You can bake the pie a day ahead. However, it is best to add the whipped cream shortly before serving. Store the leftovers in the refrigerator. (If you happen to have any!)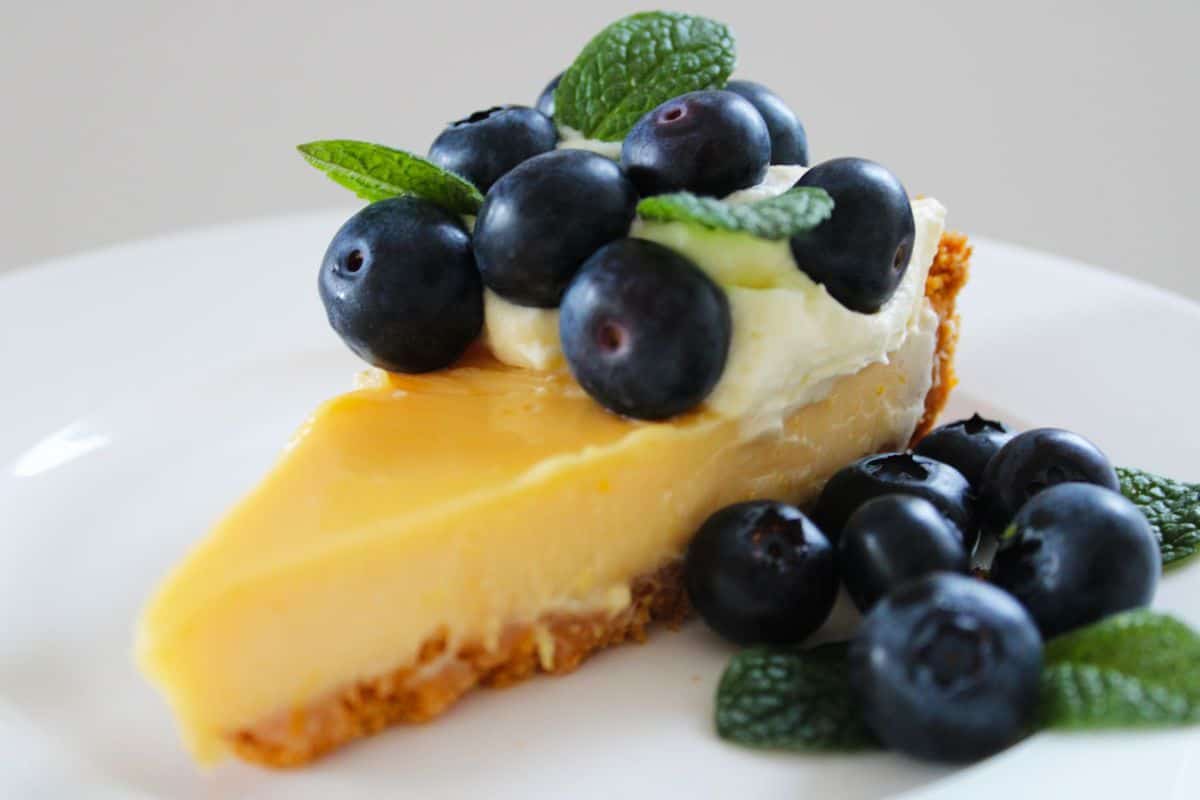 What to do with leftover egg whites:
You can freeze your leftover egg whites for future use. Simply add the whites to containers which are suitable for the freezer. Seal the container and then label with the date, the number of egg whites and then freeze. Individual egg whites can also be frozen in an ice cube tray. Once frozen, transfer to a container or zip-lock bag.
Alternatively, use them to make the following recipes: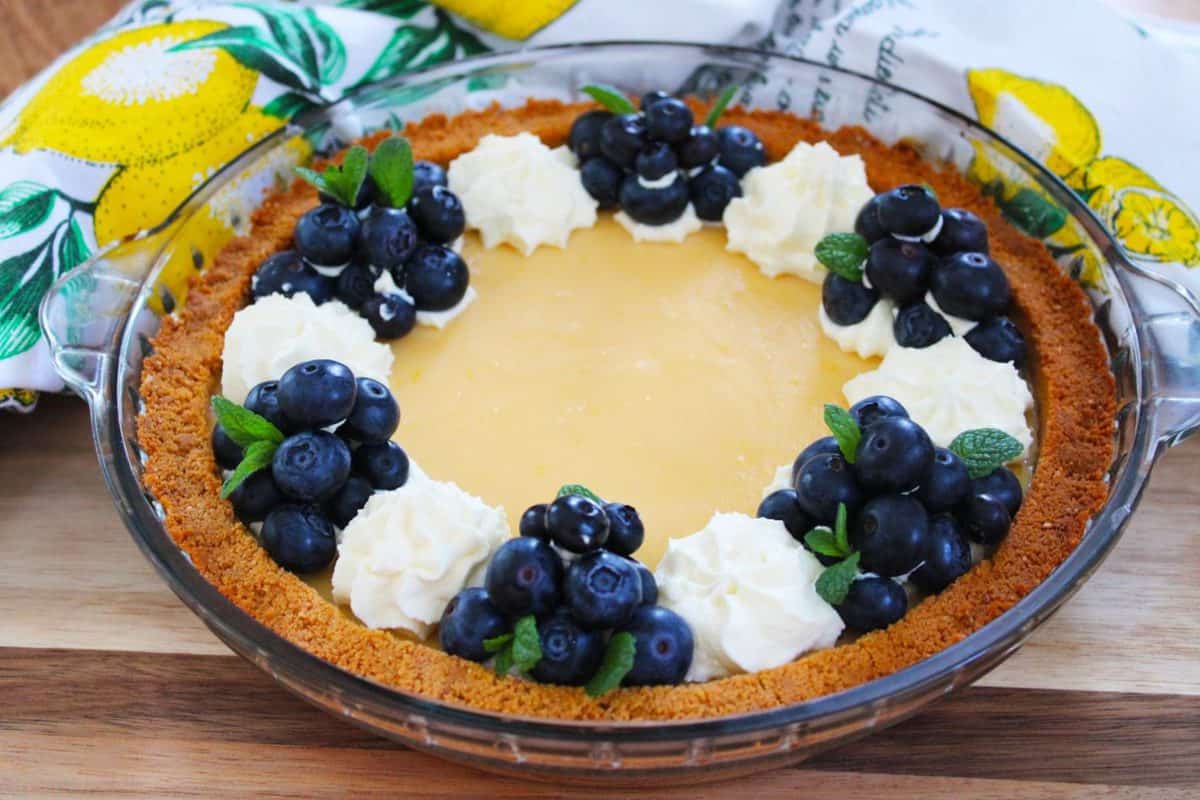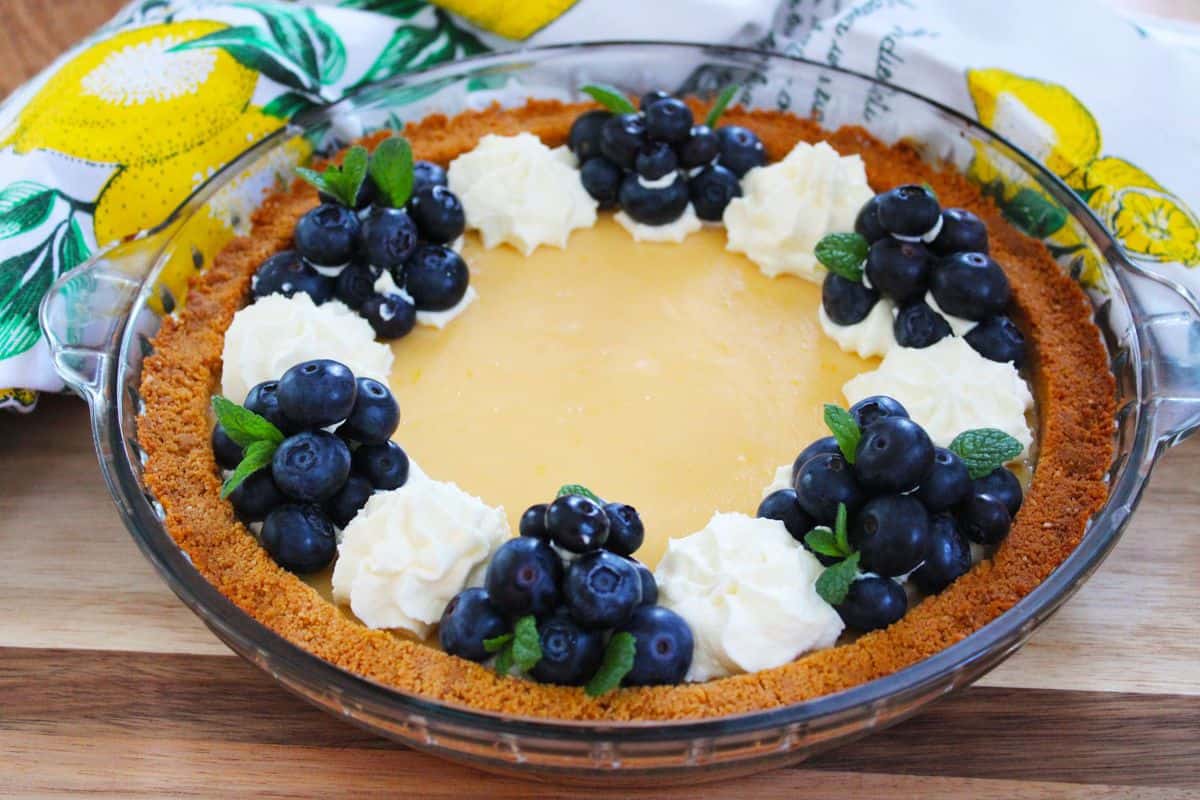 More suggestions for these ingredients:
If you love the flavour of lemon as we do, be sure to check out our other recipes which use this fantastic ingredient. We have listed some below, along with some favourites from our fellow food bloggers.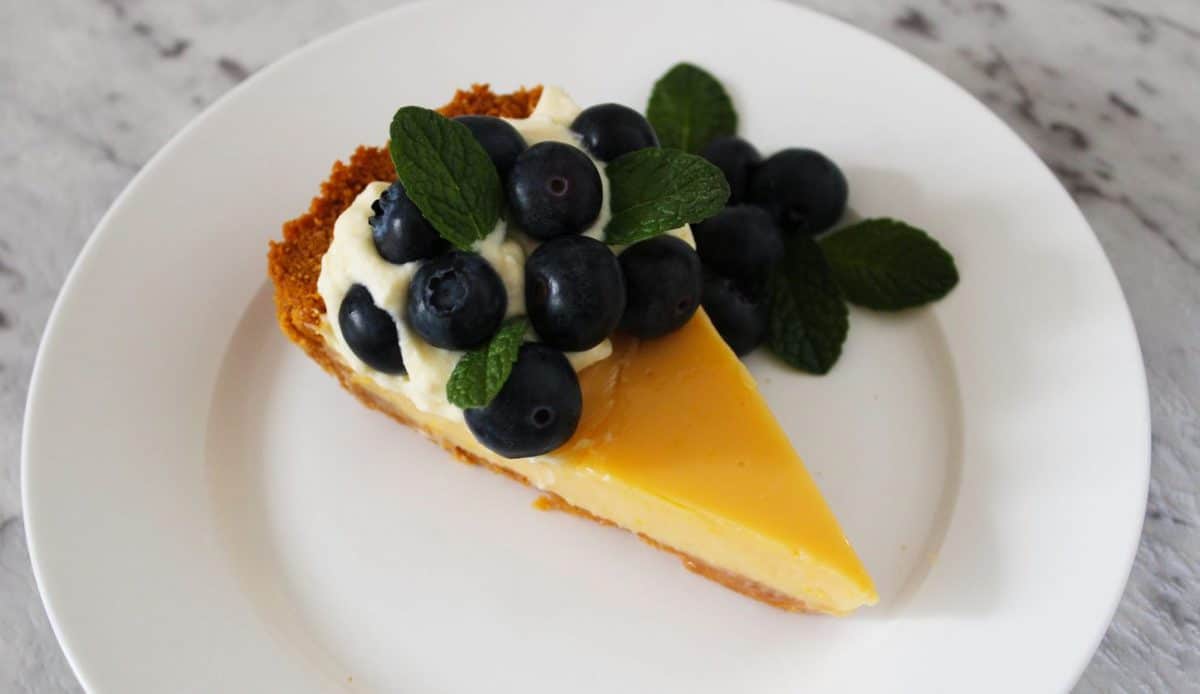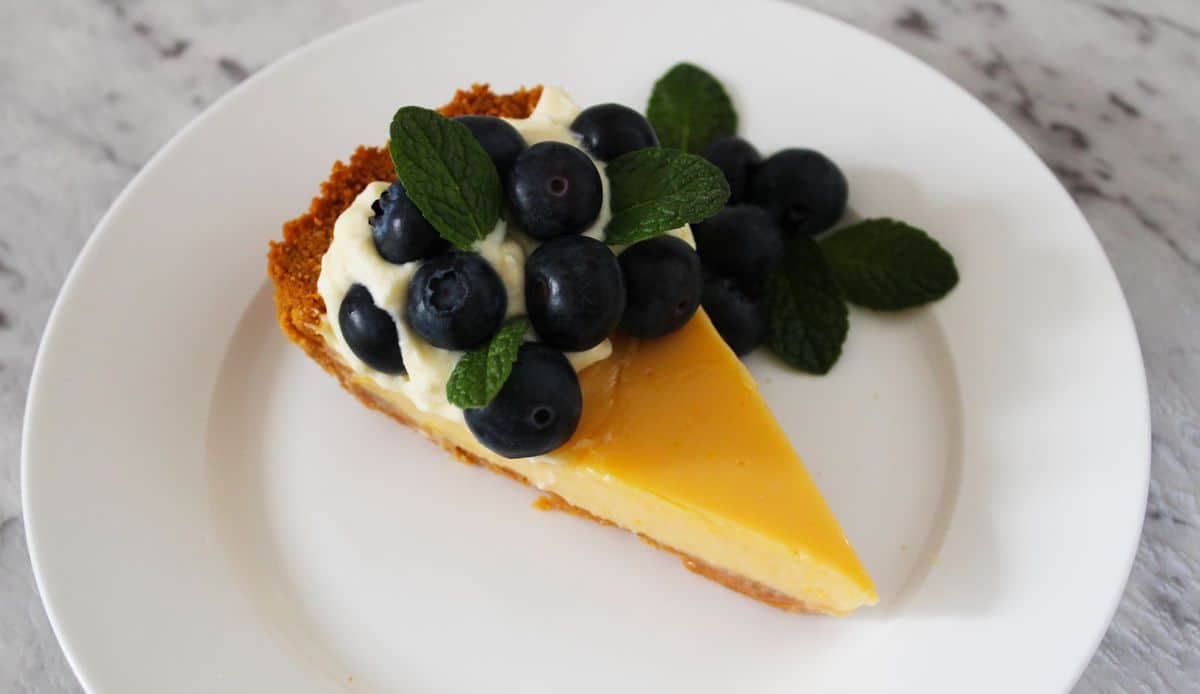 Other delicious dessert recipes for you try:
You can make all of these desserts in advance – ideal for when you're entertaining or looking to have a sweet treat on hand.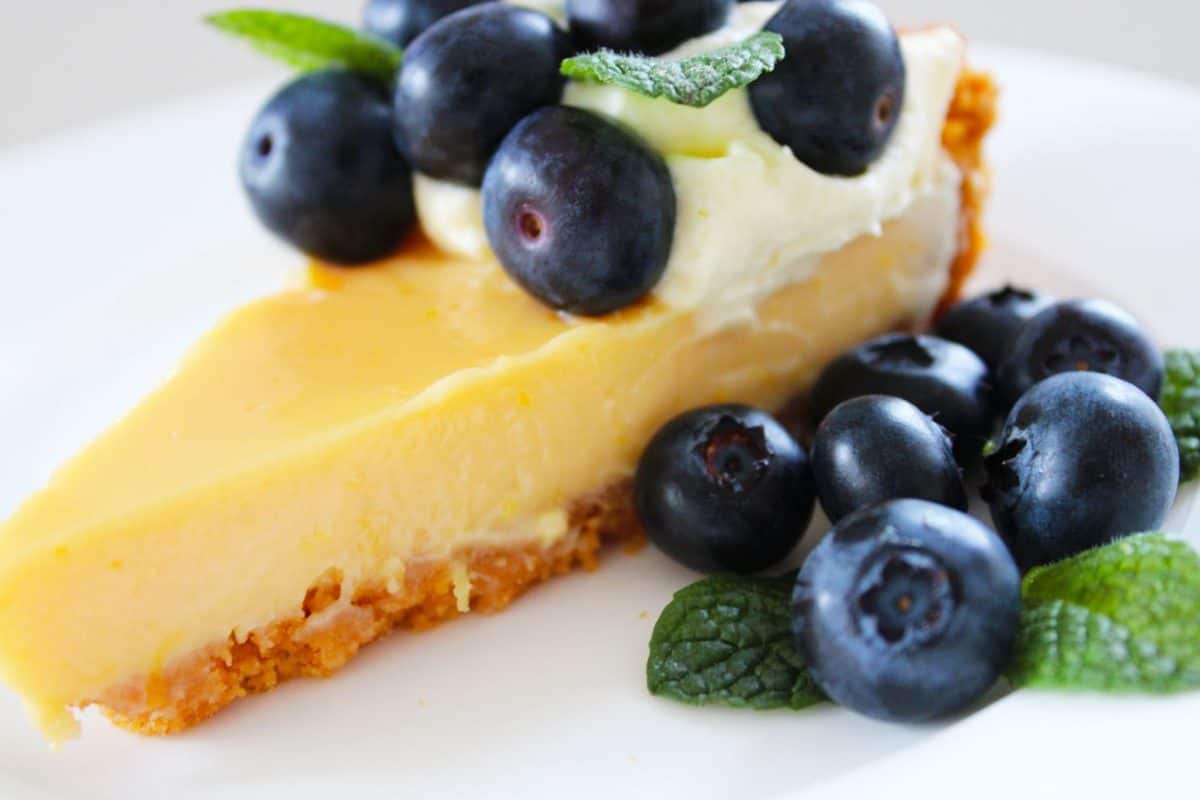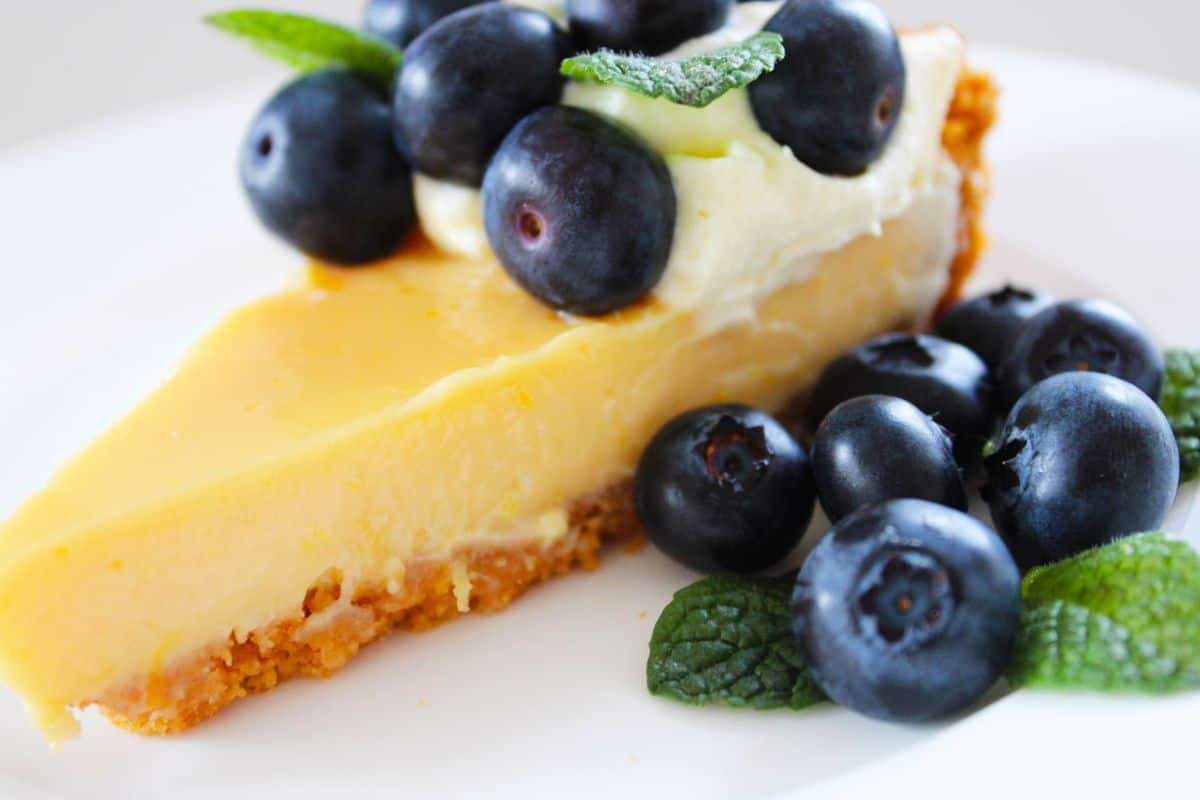 I hope you'll enjoy this delicious Creamy Lemon Pie. Let me know in the comments below when you have tried it!

Alex xx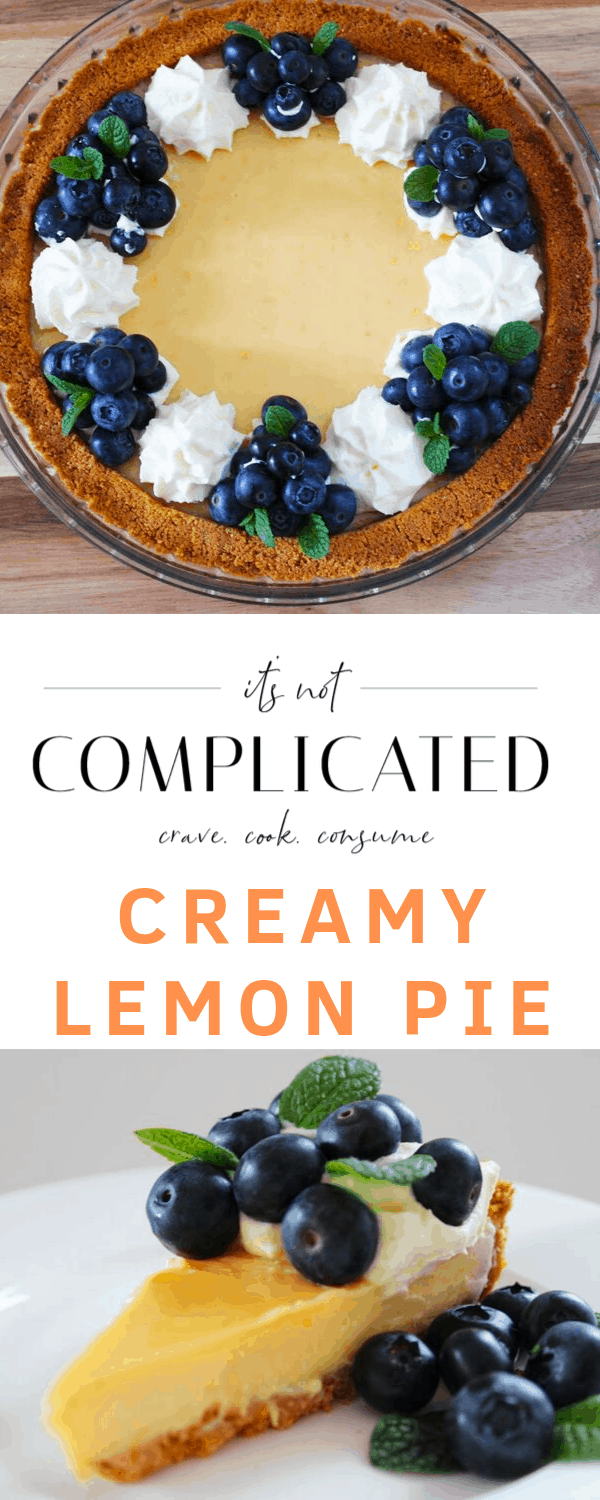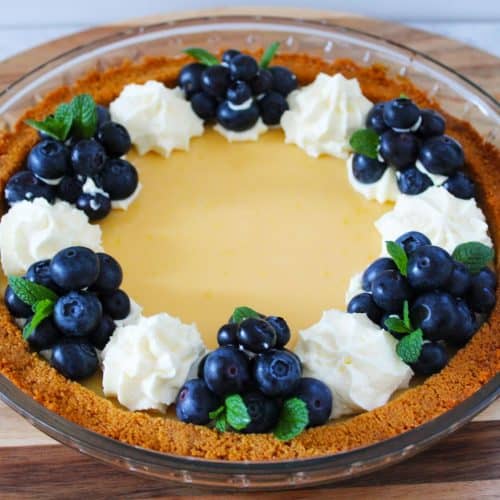 Creamy Lemon Pie
My Creamy Lemon Pie is a luscious dessert; the perfect combination of citrus and sweet. The delicious creamy texture is complemented by the crisp, biscuit crumb crust. So simple to make, and even easier to eat!
Print
Pin
Review
Ingredients
Pie Crust:
250

g

plain sweet biscuits

See Note 1

80

g

melted butter
Pie Filling:
395

g

sweetened condensed milk

4

large

egg yolks

See Note 2

½

cup

lemon juice, strained

See Note 3

3

teaspoon

lemon zest, loosely packed
Topping:
½

cup

heavy cream (optional)

See Note 4

1

teaspoon

icing/confectioners' sugar

blueberries and mint leaves to garnish (optional)
Recipe Measurements:
For accuracy, when weights are provided, we recommend weighing your ingredients. This will produce the best results.
Instructions
Pie Crust:
Preheat the oven to 180 Degrees C (350F).

Place the biscuits in the bowl of a food processor and pulse until they resemble fine breadcrumbs.

Add the melted butter to the biscuit crumbs and process until well combined.

You will need a 9" / 23 cm pie plate.

Tip your biscuit and butter mixture into the pie plate. Using the back of a dessert spoon, or the base of a flat-bottomed glass, press the mixture over the base and up the side of the pie plate.

Place your prepared pie crust into the pre-heated oven and bake until golden, about 8-10 minutes.

Remove the crust from the oven and set aside to cool completely. This will take about 15 minutes.
Pie filling:
In a large bowl, whisk the condensed milk and the egg yolks together.


Add the lemon juice and zest and continue to whisk until they are well combined.

Carefully pour the filling into the pie crust and bake for about 15 minutes or until the centre of the pie is just set.

Set the pie aside and allow it to cool completely. This will take approximately 1 hour.


Cover the pie with cling wrap and place it in the refrigerator until cold; for at least one hour.
For the topping:
Whisk the cream and icing/confectioners' sugar until it forms soft peaks. Do not over-whip the cream. Top the pie with the whipped cream or place it into a piping bag and pipe some rosettes around the edge of the pie.

Decorate with fresh blueberries and mint leaves.
Notes
As alternatives, you could use Graham Crackers or gluten-free biscuits.
In the main text I have suggestions for ways to use the leftover egg whites.
I only use freshly squeezed lemon juice as the flavour is brighter and fresher. Bottled lemon juice lacks the bright, zesty flavour of fresh lemon juice. Furthermore, the bottled variety often contains a preservative.
In Australia, heavy cream, which is also known as thickened cream or whipping cream, has 35% milk fat.
In Australia the tablespoon is 20 ml or 4 teaspoons. In many other countries the tablespoon is 15 ml or 3 teaspoons. This means you may have to adjust your measurement. In essence, my measure for lemon juice is 6 teaspoons.
Nutrition Estimate:
Calories:
446
kcal
|
Carbohydrates:
53
g
|
Protein:
8
g
|
Fat:
23
g
|
Saturated Fat:
13
g
|
Cholesterol:
151
mg
|
Sodium:
293
mg
|
Potassium:
261
mg
|
Fiber:
1
g
|
Sugar:
37
g
|
Calcium:
171
mg
|
Iron:
1
mg
Tried this Recipe? Please rate and leave a comment!
Nutritional Disclaimer:
The nutritional information is an estimate only, and is derived from online calculators. For accurate results, we recommend calculating the nutritional information based on the ingredients and brands you use.