My Individual Strawberry Meringues are an easily made, elegant dessert. They look impressive, however, they are very simple to prepare.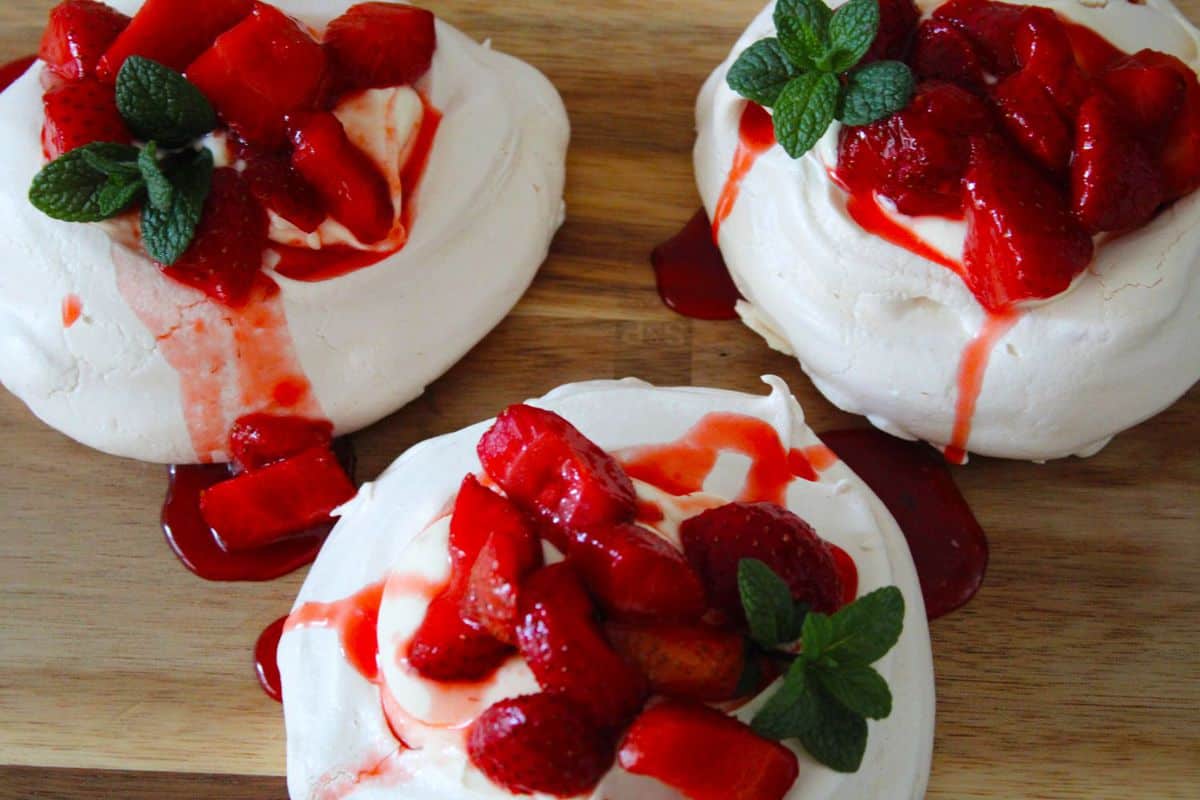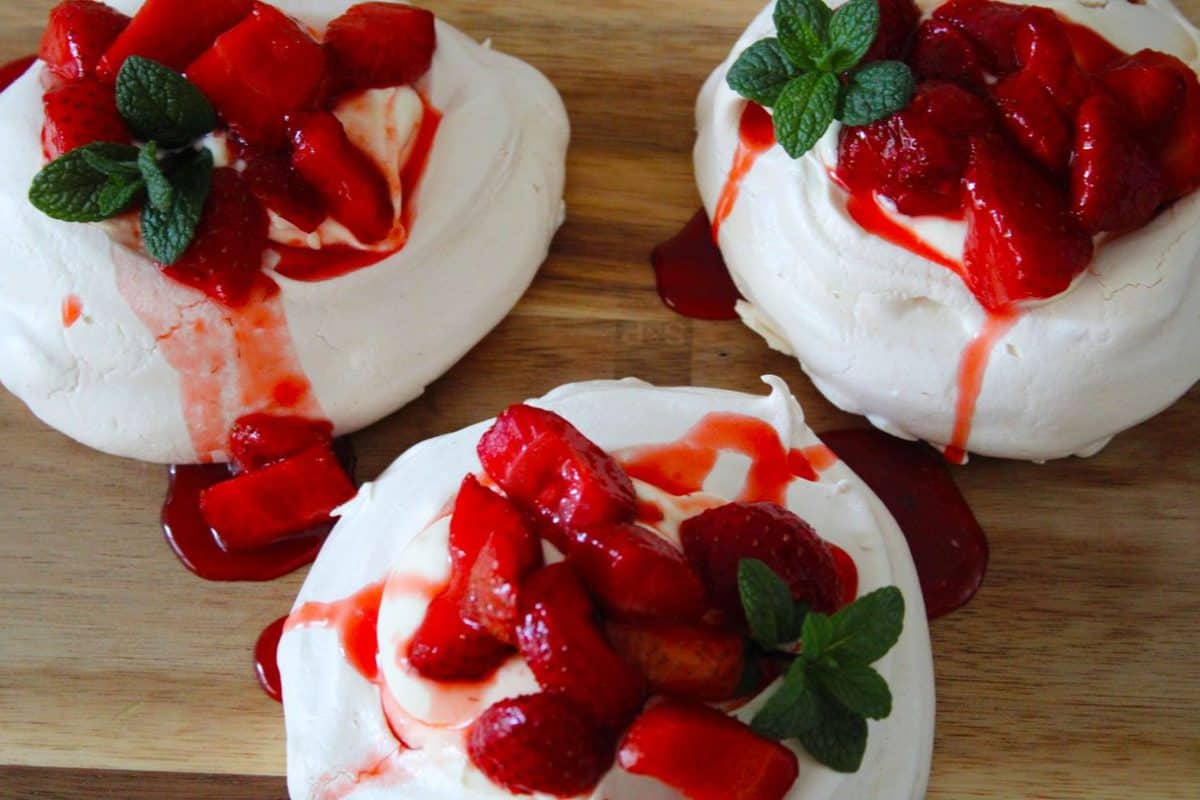 The crispy meringue shells have a slightly soft and chewy interior and are the perfect vessel for many different delicious toppings.
For this recipe, I have made a simple strawberry sauce and served them with some lightly whipped cream.
Inspiration for the Individual Strawberry Meringues:
After a morning of food shopping at my local market, I had arrived home with more strawberries than I would be able to eat. As such, I decided to experiment with some new recipes and invite some friends over!
The strawberry sauce is easy to prepare, and I thought the combination would work well.
As I mention in my previous recipe for Individual Lemon Curd Meringues, you are truly only limited by your imagination when it comes to serving the meringues.
I have many more delicious meringue ideas I look forward to sharing with you in the future.
Although we refer to this dessert as a meringue, you would be correct in thinking that they are not dissimilar to a pavlova. The main difference between the two desserts is the ingredients.
A meringue is simply a combination of sugar and whipped egg white. A pavlova, on the other hand, contains cornstarch and sometimes vinegar, to ensure the centre is a marshmallow consistency.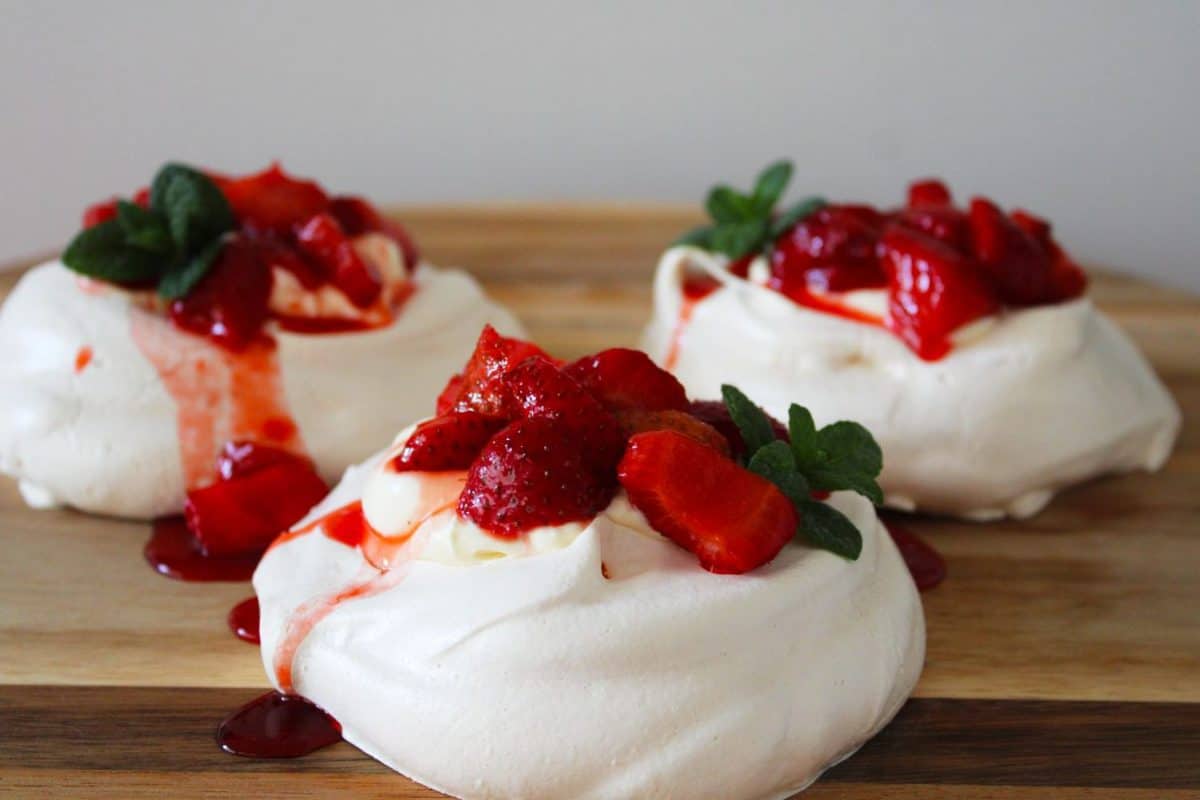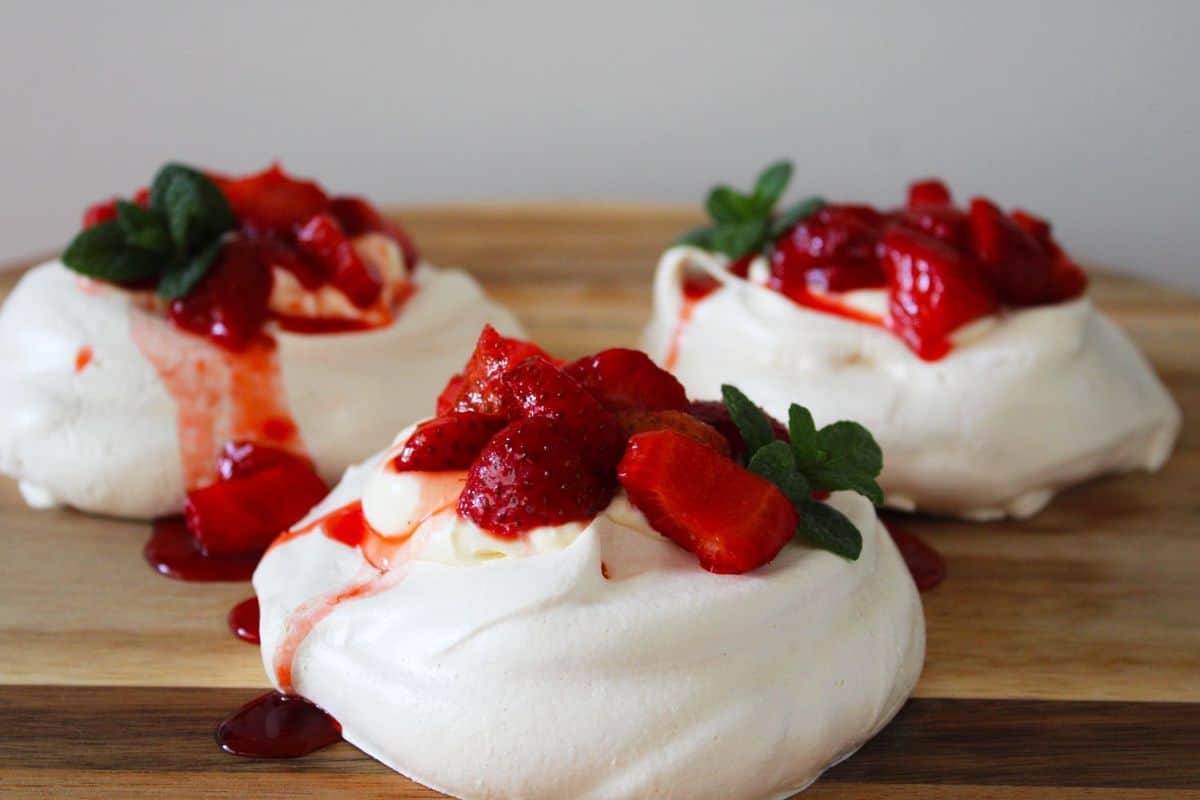 Why We Love These Individual Strawberry Meringues:
In my opinion, these delicious meringues are one of the best desserts to serve. They are so simple to make, impressive to look at, and delicious to eat!
I also love being able to prepare individual desserts when I am entertaining. There are a number of benefits to this:
Individual desserts give you the option to be more flexible; have a friend who doesn't like cream? Simply leave it off one dessert, and offer an alternative, such as yoghurt or ice cream.
They look elegant;
You can have them prepared on serving plates or bowls in advance;
Less waste – you can adjust this recipe accordingly.
This is a great dessert to whip up on the day, but the meringue nests can also be made one day in advance and stored in a sealed container. They are best assembled just prior to serving. This being said, it is easy to have all of the elements of the dish prepared in advance.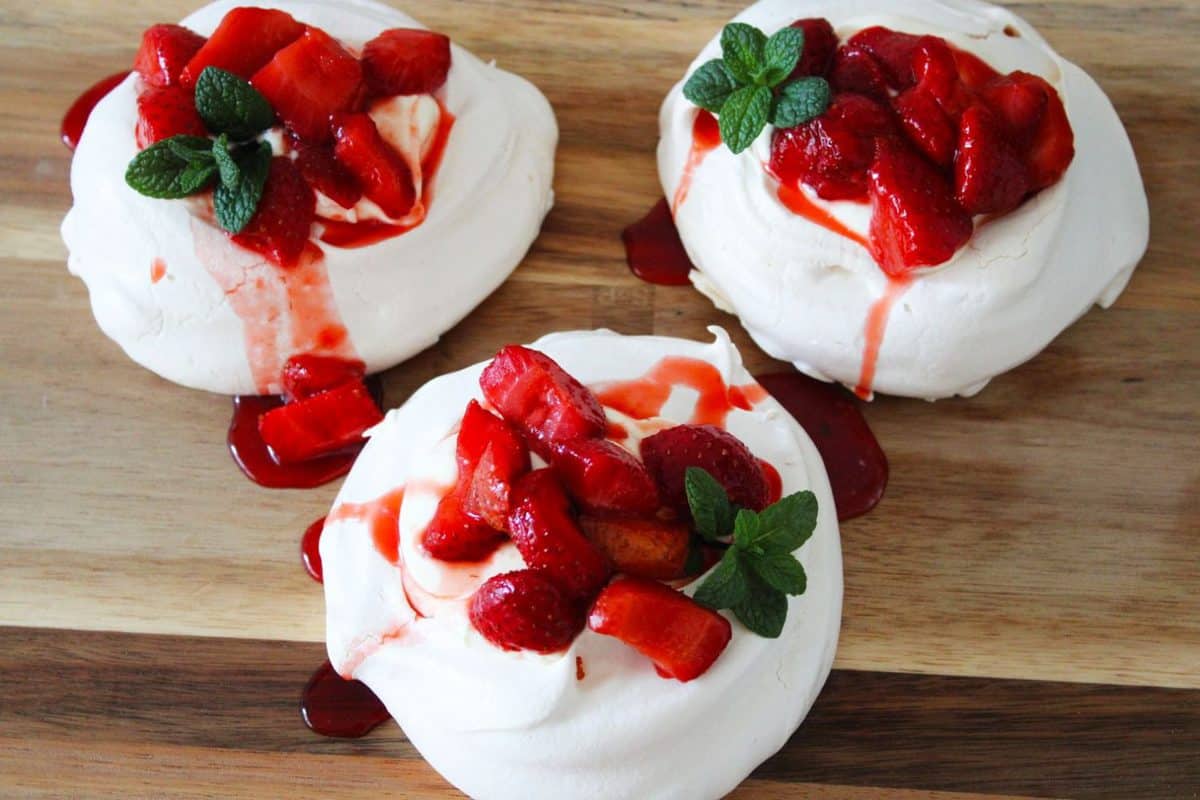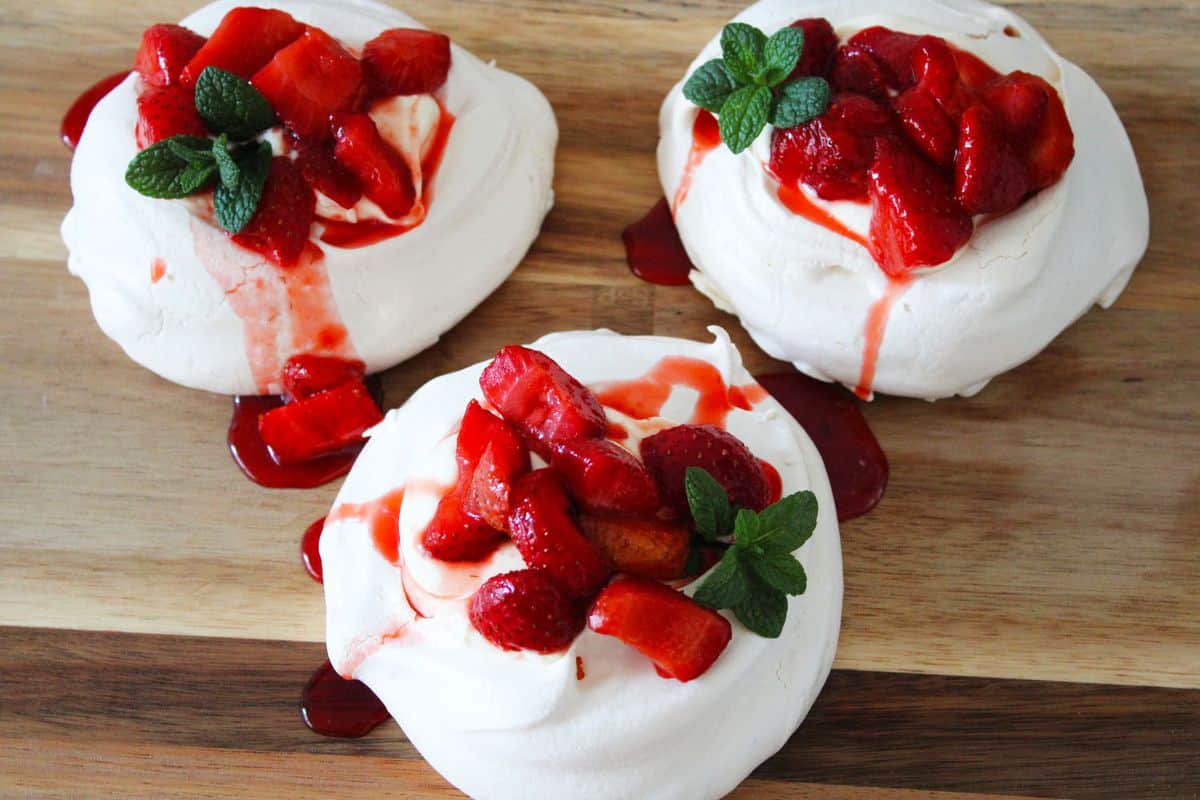 I use these Ingredients in my Individual Strawberry Meringues:
Egg Whites:
Just the white of the egg is required in this recipe.
I have included some ideas for how you can use the yolk further down in the post.
Caster/Superfine Sugar:
We prefer to use caster or superfine sugar in this recipe, as it dissolves quicker due to being slightly finer.
Cream:
Meringues and cream go so well together! For this dish, we have used heavy/whipping cream.
In Australia, this cream contains 35% milk fat.
If you prefer, Greek Yoghurt can be used in place of cream. It will cut through the sweetness beautifully.
Strawberries:
Strawberries are a delicious addition to many desserts. They also work well in several savoury dishes – add them to your salads for a splash of colour, or make a salsa to serve alongside grilled chicken.
They're an excellent source of Vitamin C and are high in antioxidants.
Like most berries, strawberries also freeze well, so if you ever find yourself with too many, wash and dry and freeze. They're great to add to smoothies, or to make sauces with, such as for this recipe.
Brown Sugar:
Brown sugar contains molasses, hence the colour and richer flavour. It complements the strawberries beautifully.
A little tip: sometimes brown sugar can go quite hard in the jar. It can almost be impossible to scoop out. Add a small piece of bread to the jar, and in a few hours, you will notice the sugar has softened again!
Lemon Juice:
A little freshly squeezed lemon juice is the perfect addition to the sauce and balances the flavours.
Aside from balancing the sweetness in food, lemon juice has a myriad of health benefits. It works well with many different sweet or savoury dishes and is a great addition to your glass of water.
Orange Liqueur:
An optional ingredient in the strawberry sauce, but it adds a lovely additional flavour.
How I Make the Individual Strawberry Meringues:
The meringues themselves contain just two ingredients, egg whites and sugar. I whip the whites until they form soft peaks and then gradually add the sugar. The egg whites and sugar are beaten together until the sugar dissolves and the whites form stiff peaks. The meringue is now ready to shape and bake.
To shape my Mini Meringues, I use a piping bag and nozzle for a consistent shape and size. However, for this recipe, I shape the meringues freeform. It is simple, easy and I like the rustic look it provides the dish. The back of a spoon allows you to smooth out the meringue to form a nest shape.
My Individual Strawberry Meringues are truly a beautiful dessert which will be enjoyed by most people and is certain to become a favourite amongst your family and friends. The sweet meringue is perfectly balanced with the luscious strawberry topping and lightly whipped cream.
Being a naturally gluten-free dessert also means more people can enjoy it. It can also easily be adapted to dairy-free also using the appropriate cream, yoghurt or ice cream alternative.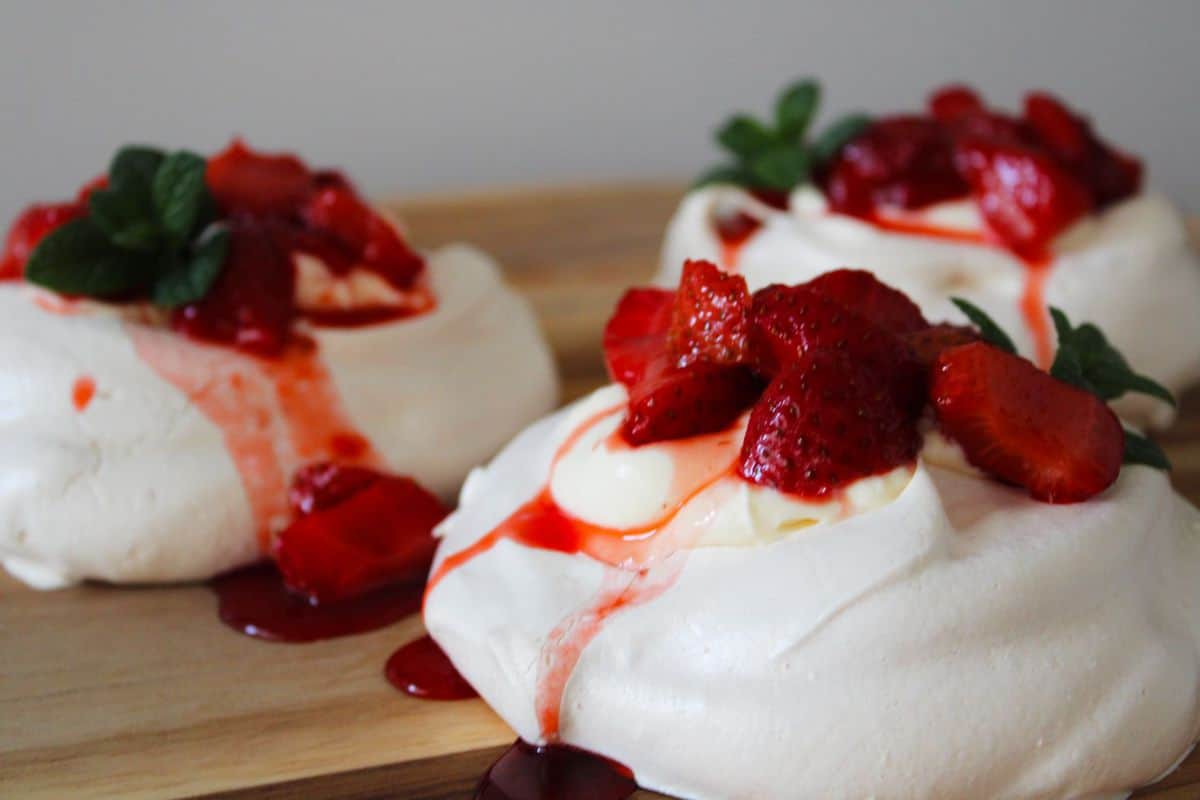 Tips for Success:
When whisking whites for meringue, you'll want to ensure that all cooking utensils are clean and free from grease. This will help your whites to achieve the greatest volume.
Allow your egg whites to come to room temperature before whisking. Cold egg whites will not incorporate as much air as those at room temperature.
The egg whites should be fresh.
That being said, egg whites do freeze well, just ensure that you defrost and bring them up to room temperature prior to whisking.
It is always best to avoid making meringues on humid or rainy days as moisture and meringues are not great friends. Any moisture in the air will prevent them from drying completely and will cause make them to "weep".
How to Separate Eggs:
Do not let this simple task daunt you! Here are some easy tips to help you master this once and for all:
Ensure the bowls you are using are clean and free of any traces of oil/grease;
Wash your hands prior to separating the eggs – again, to ensure no traces of oil/grease get in the egg whites;
Have all of your kitchen equipment ready to go; you do not want to be searching through your cupboards with "eggy" hands;
The method I use to separate eggs is to crack the egg and separate using the shell. This method allows you to retain the yolk in the shell and have the white drip into your bowl below. If you prefer, you can separate the eggs carefully by holding the yolk in your hand and letting the white drip through your fingers.
If you are new to separating eggs, try separating them into a bowl one at a time. That way, if you do allow some yolk to get in, you can just get a fresh bowl and start again. (Rather than getting to egg number three, only to ruin the whole batch!)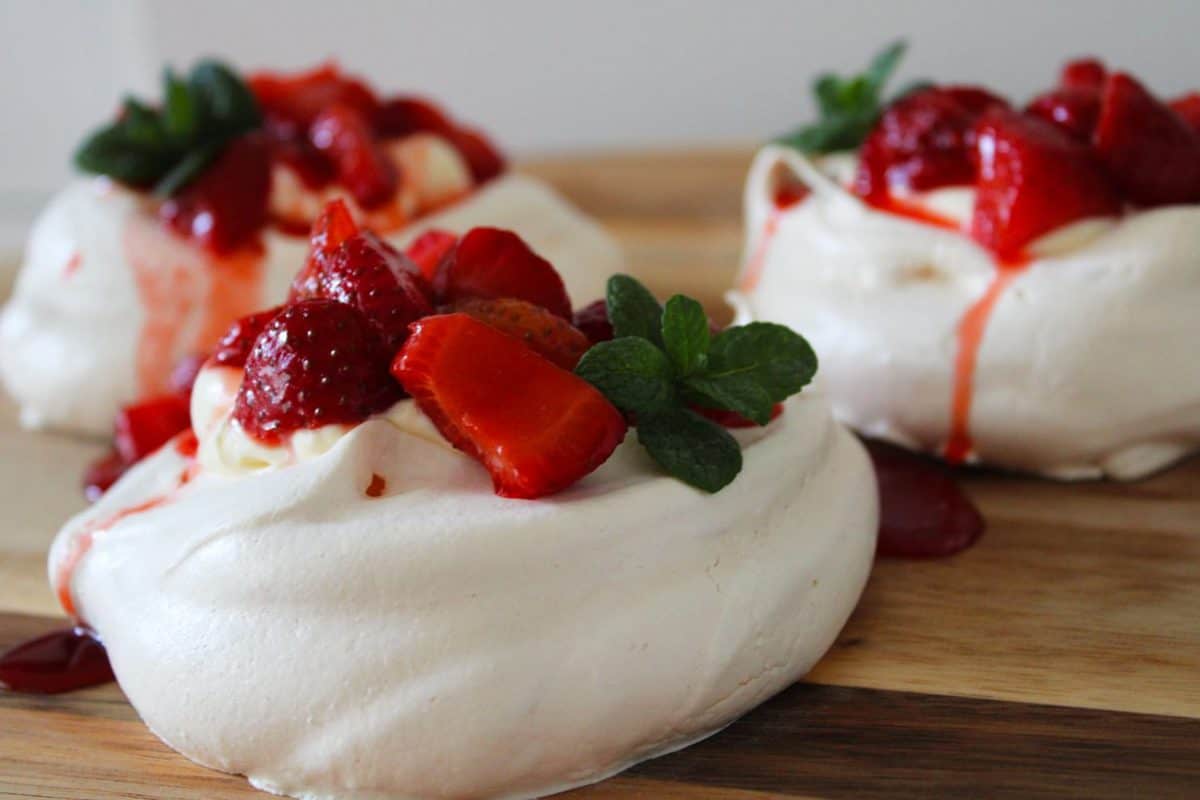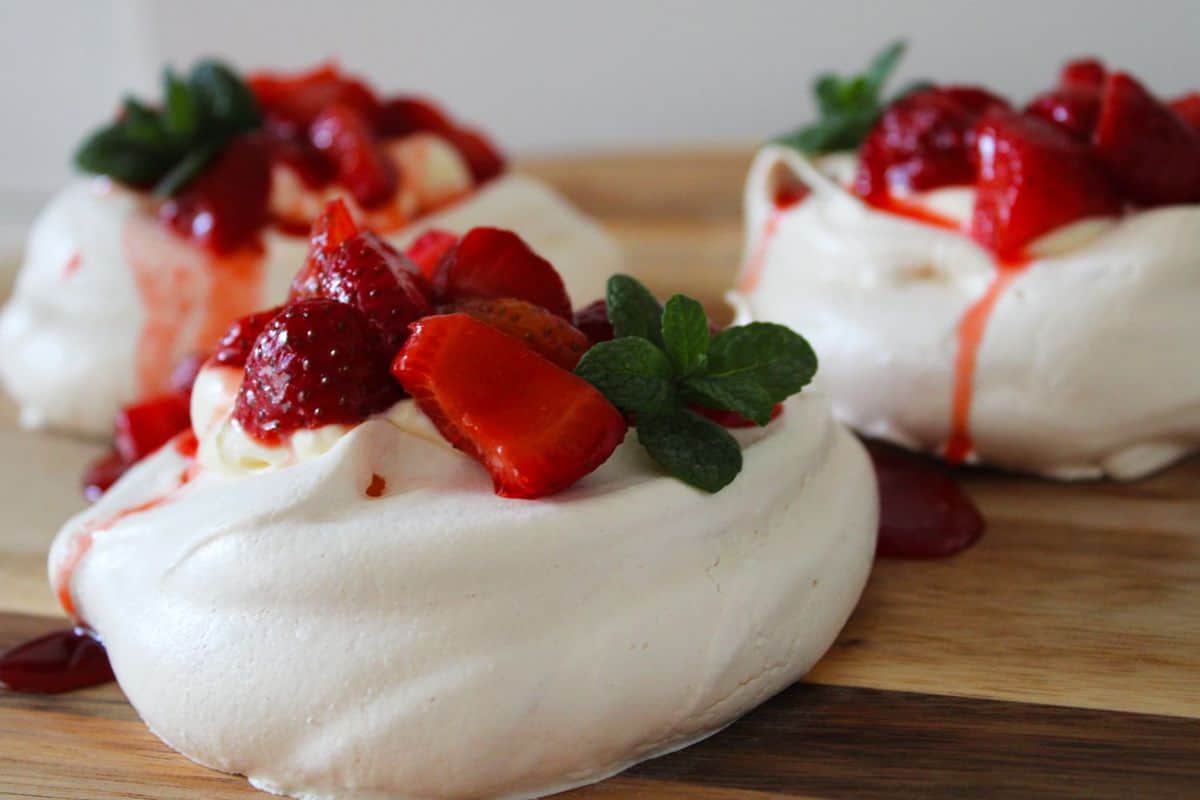 When it comes to serving the Individual Strawberry Meringues:
As I did mention above, all of the elements of this recipe can be prepared in advance. However, only assemble the meringues just prior to serving. This will ensure your base remains crisp.
Another idea to mix things up a little is to have a meringue bar at your next dinner party! Serve a plate of the meringues, a bowl of whipped cream and a selection of sauces and fresh fruit. It is lots of fun, will get people involved and everyone can enjoy their meringues to suit their own taste.
Other Uses for these Ingredients:
Strawberries are a favourite in our household! (All berries are, truth be told!) Here are some more great ideas to use strawberries: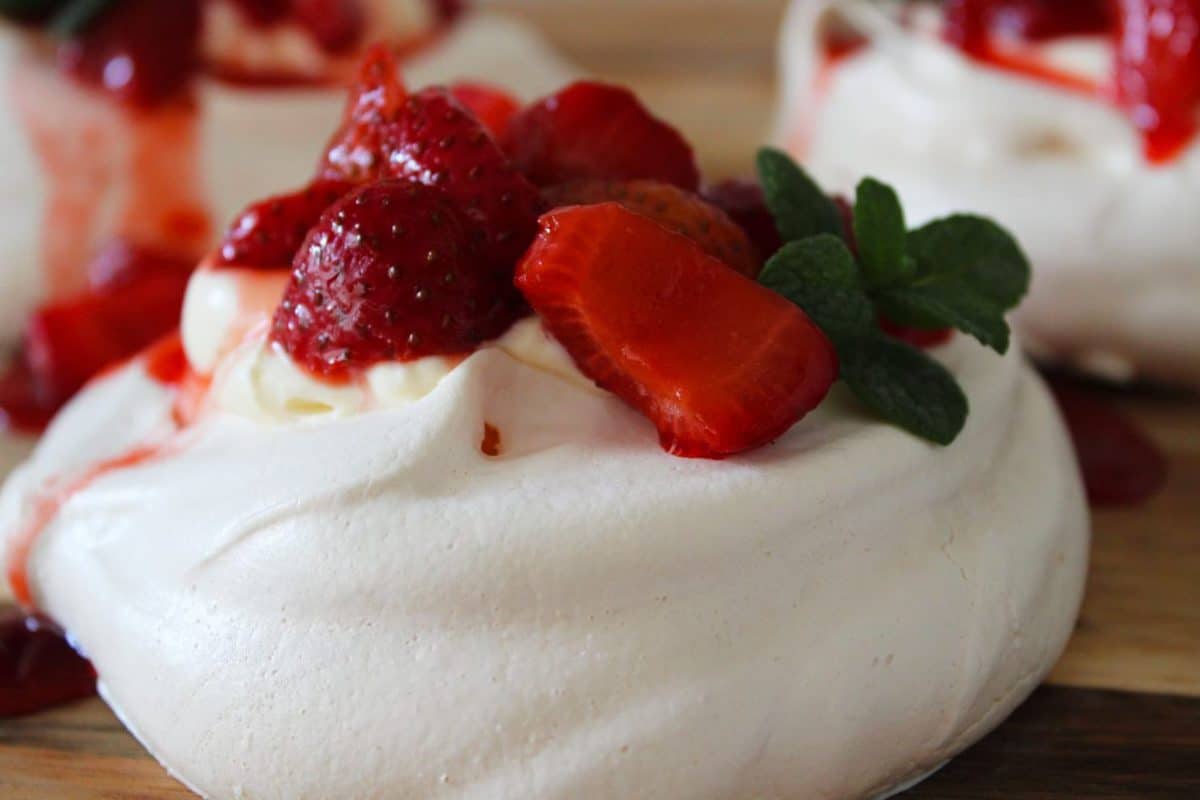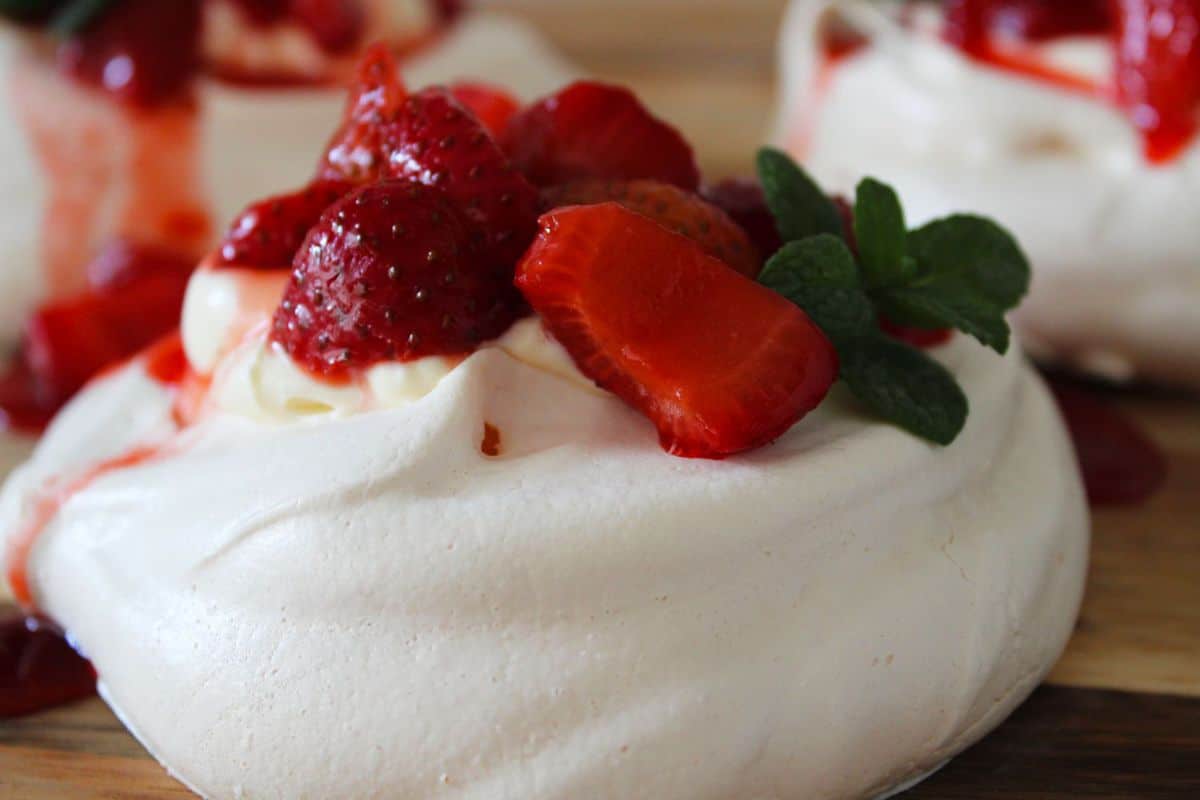 More ways to use the Strawberry Sauce:
Please do not restrict this scrumptious strawberry sauce to these meringues alone! It is also fabulous served with our:
Or on top of Greek Yoghurt.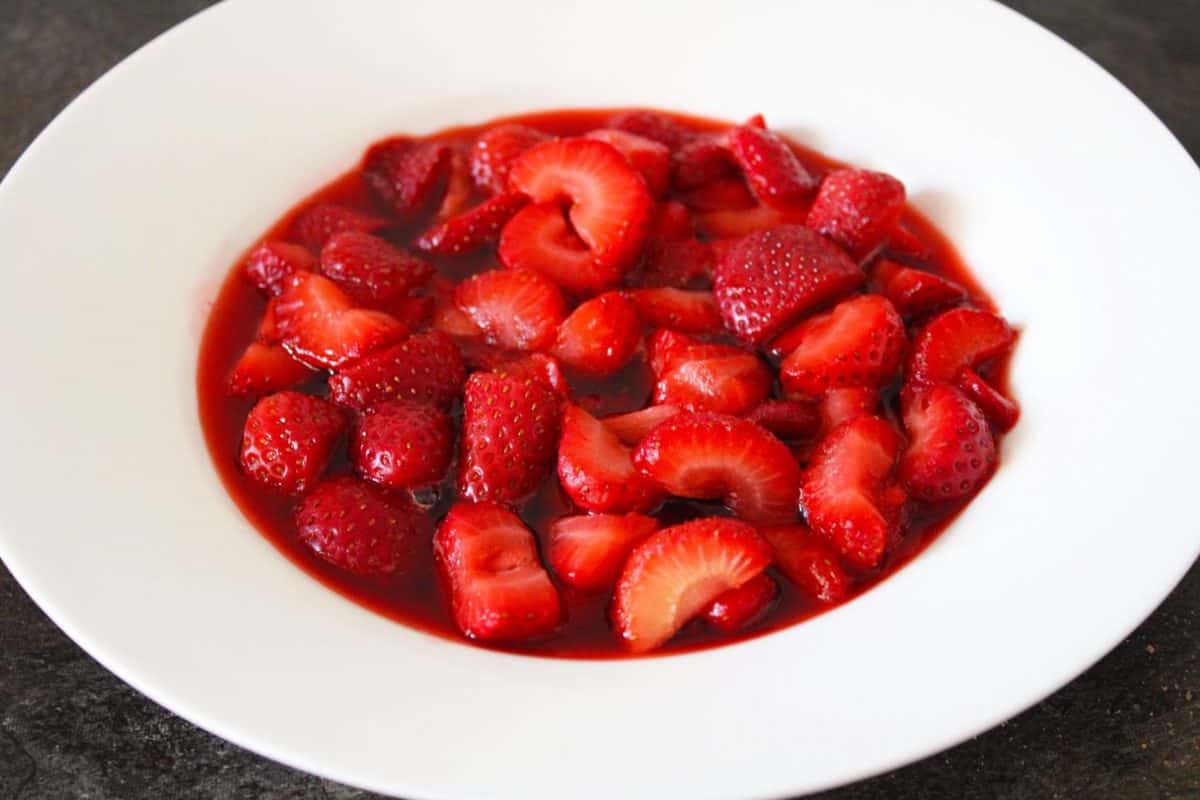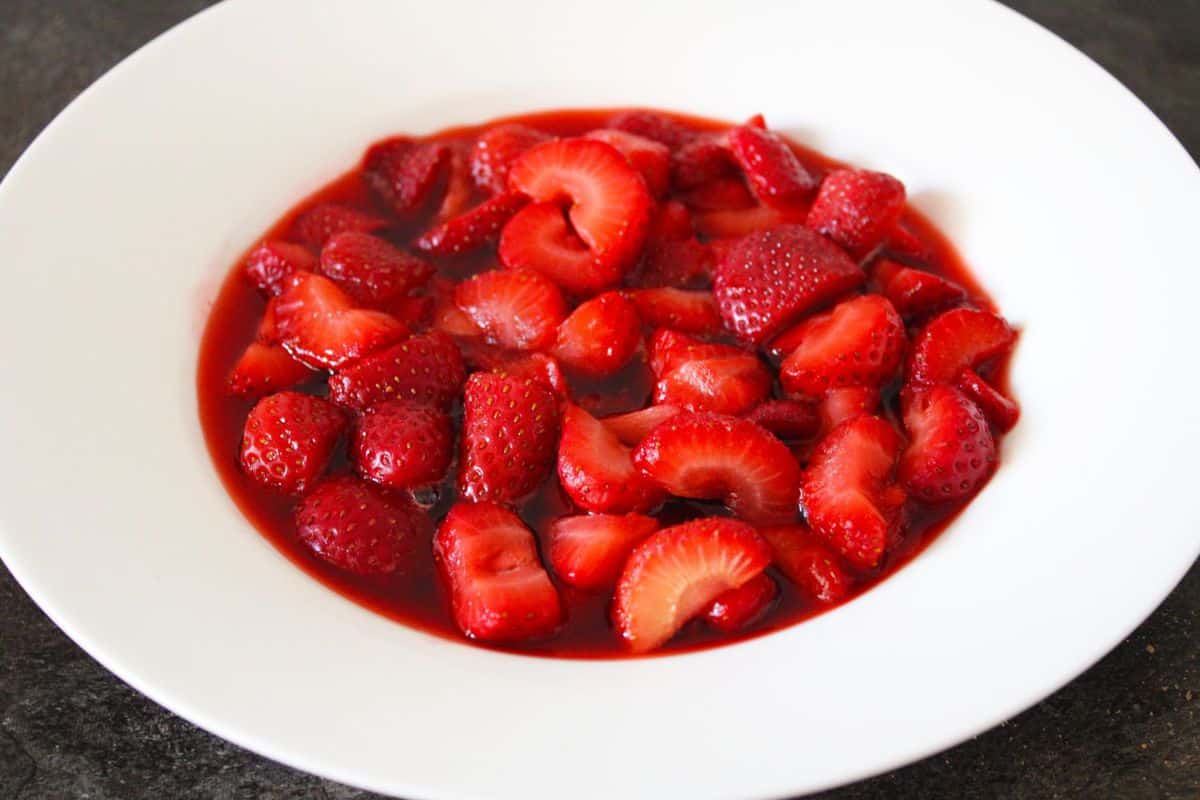 Ways to use up your leftover egg yolks:
Although this recipe just calls for the egg whites, I recommend saving your egg yolks for other uses. Here are some ideas:
Or, make a custard or use as an egg wash on pastry!
Other delicious desserts for you to try:
Whether you're serving up a sweet treat for your family and entertaining for your closest friends, we have some great dessert ideas that will be a hit and will not have you spending hours in the kitchen!
I hope you will love this delicious dessert as much as we do. I would love to hear what you think once you have tried it – be sure to let me know in the comments below!
Alex xx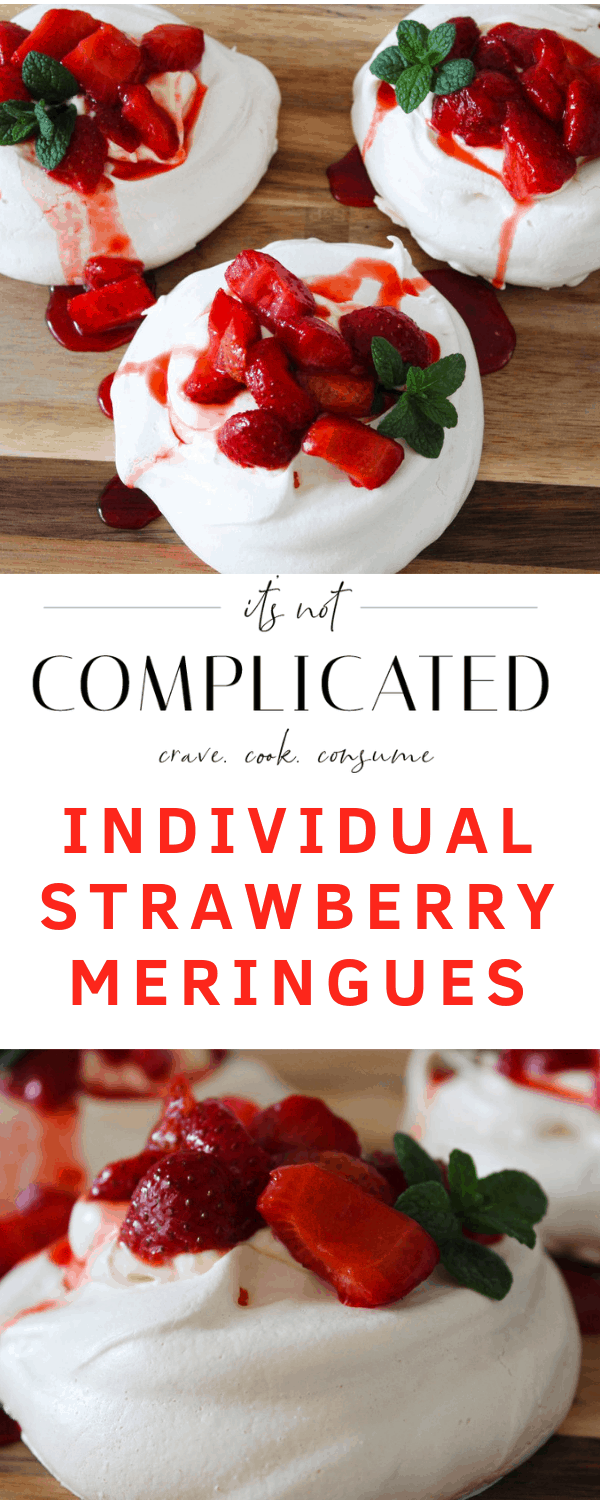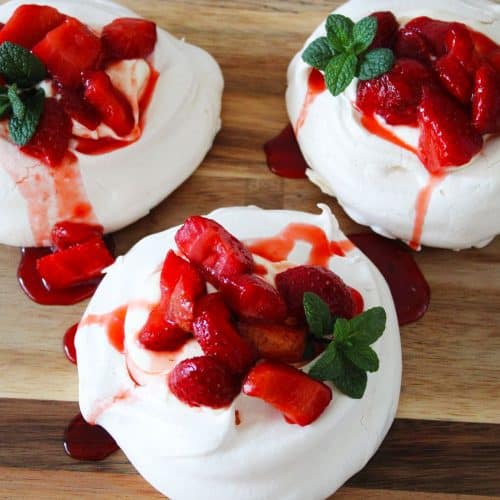 Individual Strawberry Meringues
An impressive dessert that is truly so simple to make, my Individual Strawberry Meringues are perfect for your next dinner party or catch up with friends and family.
Print
Pin
Review
Ingredients
Meringues:
3

large

egg whites

See Note 1

¾

cup

caster/superfine sugar

See Note 2
Strawberry Sauce:
250

g

strawberries

stems removed

2

tablespoon

brown sugar

See Note 3

2

teaspoon

lemon juice

freshly squeezed

1

tablespoon

orange liqueur

optional
Topping:
1 ½

cups

whipping/thickened cream

See Note 4

mint sprig or leaves to garnish

optional
Recipe Measurements:
For accuracy, when weights are provided, we recommend weighing your ingredients. This will produce the best results.
Instructions
To make the Meringues:
Preheat oven to 120 Degrees C (250F).

Line 2 baking trays with baking paper.

Separate three eggs. Save the egg yolks for another use. Place the egg whites in the bowl of a stand mixer or use a bowl and hand-held electric beaters. Beat on low speed until soft peaks form.

Gradually add the sugar, about a tablespoon at a time, increasing the speed of the beaters. Beat constantly until the sugar dissolves, the mixture is thick and glossy and the meringue has stiff peaks. 

To check if the sugar has dissolved, rub a small amount of meringue between your thumb and a finger to check if it's gritty or smooth. If it's gritty, try beating for a little longer. 

Spoon the meringue mixture onto the prepared tray in six mounds.

Using the back of a spoon, smooth the mixture out, leaving a little indent in the middle of the nest. 

Bake for 45 minutes or until crisp.Turn the oven off.

Leave the meringues to cool in the oven.

Once cool, store the meringues in an airtight container until you are ready to serve.

Whip the cream in the bowl of a stand mixer fitted with the whisk attachment.

Or, use hand-held electric beaters, whip until the cream has soft peaks.

Top the meringues with the cream and strawberry sauce. Garnish with a sprig of mint for extra colour.
To make the Strawberry Sauce:
Roughly chop the strawberries.

Add the strawberries to a saucepan, along with the brown sugar, lemon juice and orange liqueur.

Cook on a low heat for five minutes, stirring occasionally. The strawberries should be soft, but still retaining their shape.
Notes
 Ensure your egg whites are at room temperature.
 Caster Sugar is also known as Superfine Sugar. It dissolves easier than regular sugar.
 The Australian tablespoon is 20ml or 4 teaspoons. In most other countries the tablespoon is 15ml or 3 teaspoons.
 Australian whipping/thickened creams contain 35% milk fat. Do not over-whip the cream or you will end up with butter.
Gradually adding the sugar ensures that you do not destroy the aeration of the whites that you have achieved through whisking, keeping them light and fluffy.
 I have not added sugar to the cream as I feel the meringues and sauce are sufficiently sweet.
Nutrition Estimate:
Calories:
347
kcal
|
Carbohydrates:
35
g
|
Protein:
3
g
|
Fat:
22
g
|
Saturated Fat:
14
g
|
Cholesterol:
82
mg
|
Sodium:
52
mg
|
Potassium:
135
mg
|
Fiber:
1
g
|
Sugar:
32
g
|
Calcium:
49
mg
|
Iron:
1
mg
Tried this Recipe? Please rate and leave a comment!
Nutritional Disclaimer:
The nutritional information is an estimate only, and is derived from online calculators. For accurate results, we recommend calculating the nutritional information based on the ingredients and brands you use.