These Gluten-Free Lemon Madeleines are just as light and delicious as the regular version.
They have a tender crumb with the bright flavour of lemon. There is something very attractive and appealing about how elegant they are, thanks to their pleasantly curved, shell shape. Despite their exotic appearance, these little cakes are made from simple, everyday ingredients. However, you will need a special baking tray to achieve the distinctive shell shape.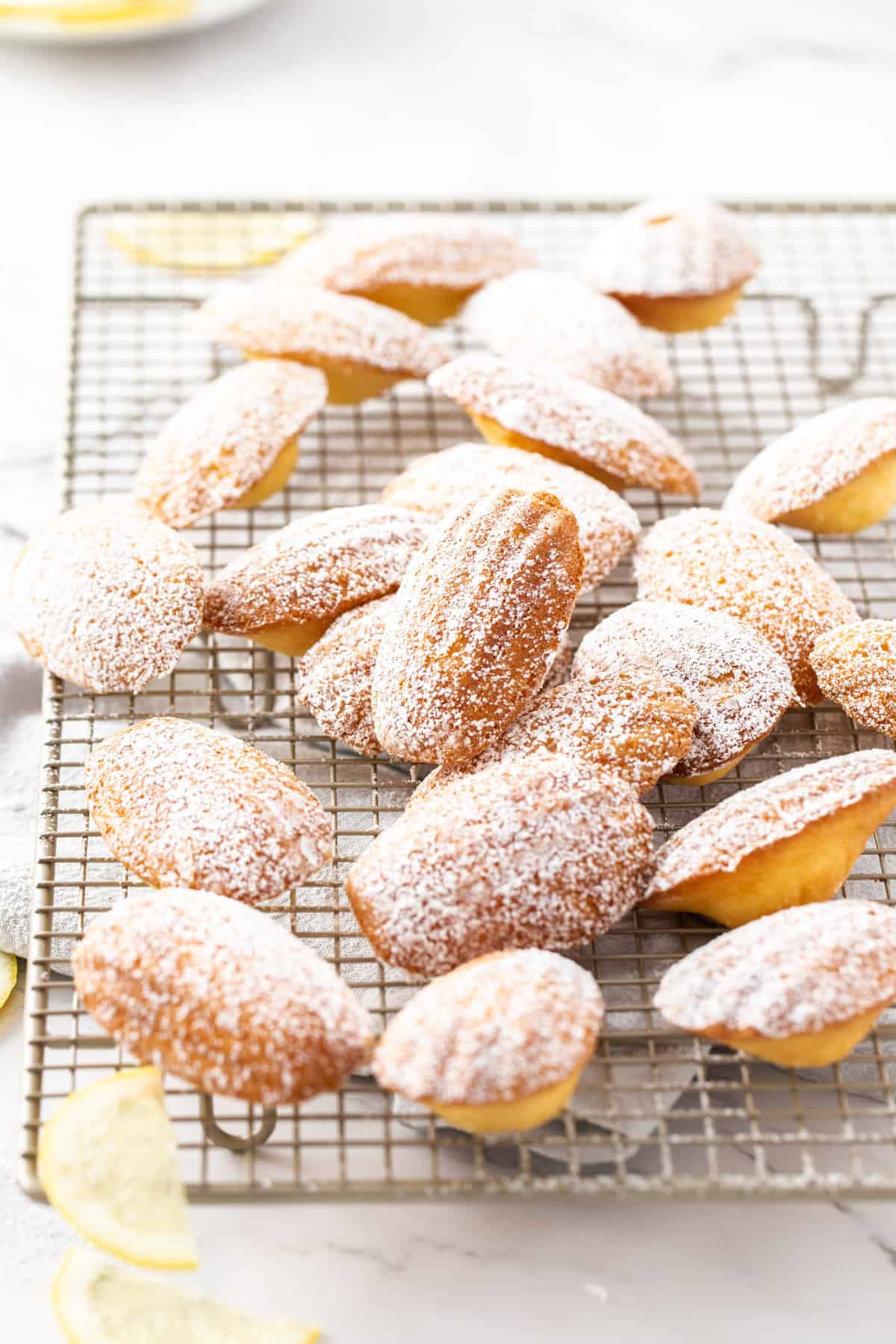 Jump to:
What are Madeleines?
The madeleine is a traditional, small, French cake from the Lorraine region of Northeast France. They are elegant little sponge cakes which have an attractive shell shape, acquired from the tins in which they bake.
Although some people refer to madeleines as cookies, they are, to me, delicate little tea cakes.
The origins of this French classic are not accurately known. There are several legends which centre on someone named Madeleine. Unfortunately, it is not possible to confirm the accuracy of any particular one.
Wikipedia advises that the term madeleine, to describe a small cake, seems to have first been used in France in 1758.
However, this little cake also has a literary connection.
It will be forever connected with French writer Marcel Proust. In the first volume of "Remembrance of Things Past", the act of eating a madeleine releases a torrent of memories for Proust. I think that we can all identify with that. Most of us are aware that certain foods will trigger memories, be they pleasant or not.
EQUIPMENT REQUIRED:
A food processor
A pastry brush
Lemon zester
2 X 12-hole madeleine baking trays
Ideally, you need two of the shell-shaped trays as the mixture makes 24. You can, of course, work with one, re-buttering and flouring the tin before the second baking. If you don't have the tins or are unable to borrow them from a friend, most baking supply stores will carry the tins. Or, you could check op-shops, Amazon or E-bay. Alternatively, patty pan tins will work as they are also shallow. The only drawback being the lack of the shell shape but they will still taste delicious. Deeper muffin tins will not produce the appropriate result.
How to make the Gluten-Free Lemon Madeleines:
For some reason, many people find these French tea cakes intimidating. Some recipes, unfortunately, will not offer them much encouragement. Some caution that madeleines are not for the inexperienced cook. On this point, I disagree. Whilst this may be so with some of the techniques, there is absolutely no need to fear them and I will show you how simple they can be. My method is suitable for beginners or experienced cooks alike.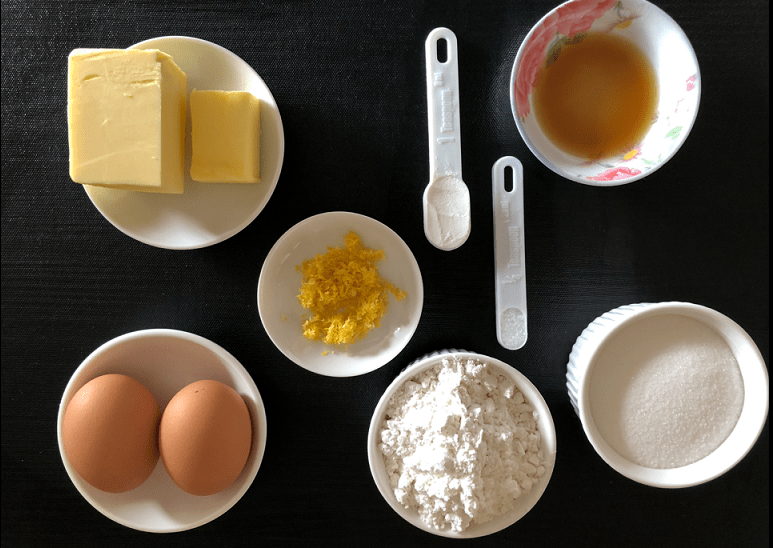 Some research has shown me that there are many different methods for making the madeleines and all of them more complex than the one I use. Some have eggs and sugar beaten together for 8 minutes to aerate the mixture, others require beaten egg whites to leaven the dough. Some recipes contain browned butter but I have chosen to not go this path. Browning butter can be challenging as it can quickly change from golden and fragrant to burnt and acrid.
So, I have simplified the recipe and I still achieve excellent results.
To begin, I melt the butter and allow it to cool. Whilst the butter is cooling, I prepare the baking tins. I brush each shell with melted butter and dust with flour. This will ensure that the little cakes will be easily released from the tin.
Next, I add the cooled, melted butter and the remaining ingredients to the bowl of a food processor. I whiz all the ingredients together until they are well blended.
Whilst many recipes recommend standing the mixture aside at this point for 30 minutes or up to overnight, I omit this step. I have tried both resting the mixture and not resting the mixture and I prefer the latter.
Supposedly, resting the batter gives the little cakes their characteristic "hump". However, I found this was best achieved by not resting the batter.
I spoon the madeleine mixture into the tins and bake them for 8-10 minutes. After a brief rest, I release the madeleines from the tins, cool them on a rack, then sit back and enjoy them with a cup of tea or coffee.
The fragrance of the madeleines as they are baking will fill your home. It is warm and alluring, attracting all within reach. But don't worry, as the little tea cakes are thin, they do not take long to cool and you will soon be able to enjoy them.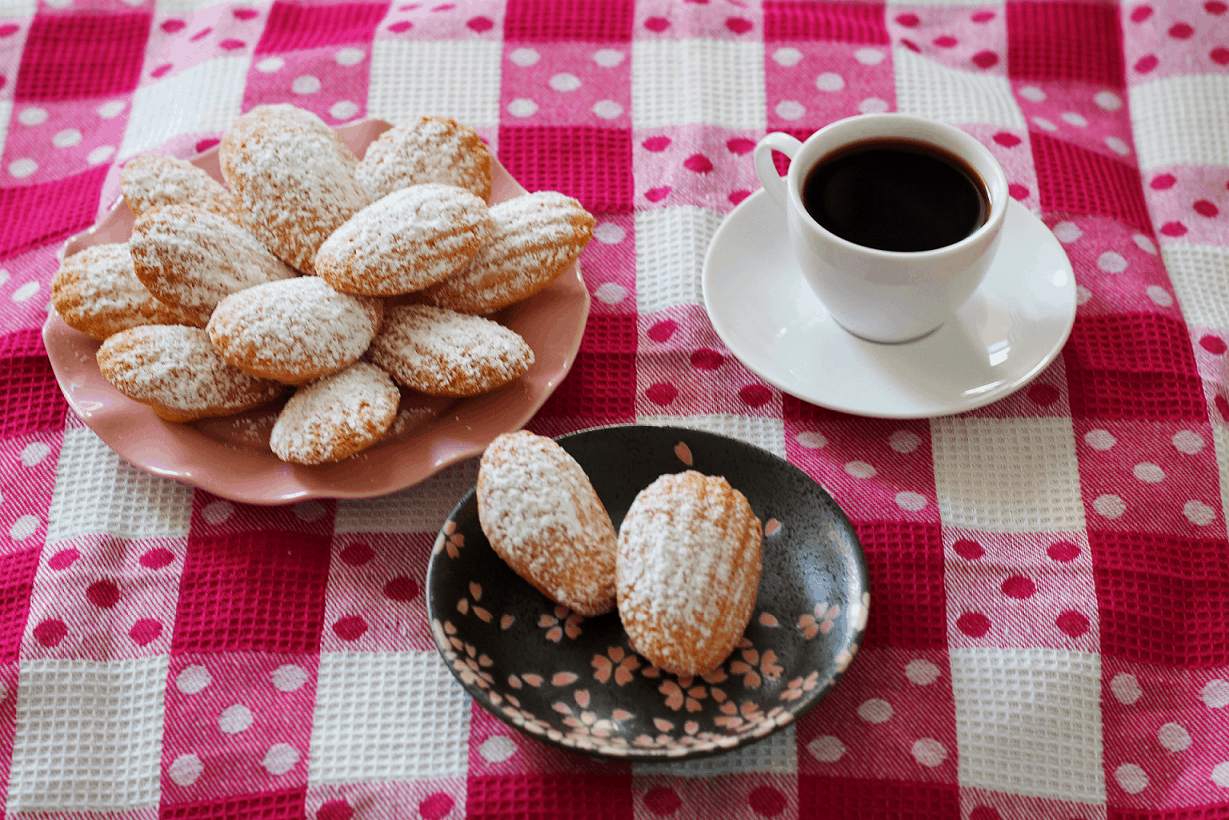 Tips for success:
These Gluten-Free Lemon Madeleines are a very simple recipe so there is not much to go wrong, but the few tips below will help achieve success.
It really is best, if possible, to use the appropriate, shell-shaped baking pans for this recipe. They add an elegant touch to this little, plain cake.
It is important when baking to have eggs and butter at room temperature. Room temperature ingredients will mix more thoroughly into the batter.
If I have not thought to bring my cold eggs to room temperature, I just put them in a bowl, cover them with warm water and leave them to sit for a few minutes.
As you are using the zest of a lemon, make sure that you do not use the bitter, white pith.
Perhaps the most important part of the recipe is that the tins be thoroughly prepared. The shell shapes require a generous coating of melted butter followed by a dusting of flour after which I shake off the excess. The careful preparation of the tins means that the madeleines are easily removed.
We look forward to sharing other delicious Madeleine recipes with you soon. You can also try my friend Sylvie's delicious recipe here.
Do you love lemon dessert recipes as much as we do? You can also try our Belgian Lemon Tea Cake or Lemon Ice Cream.
I am sure that you will enjoy these quickly and easily made Gluten-Free Lemon Madeleines. Make a batch then sit back ready to enjoy one (or more) with a cup of tea or coffee. Please let me know in the comments below if you try them.

Alex xx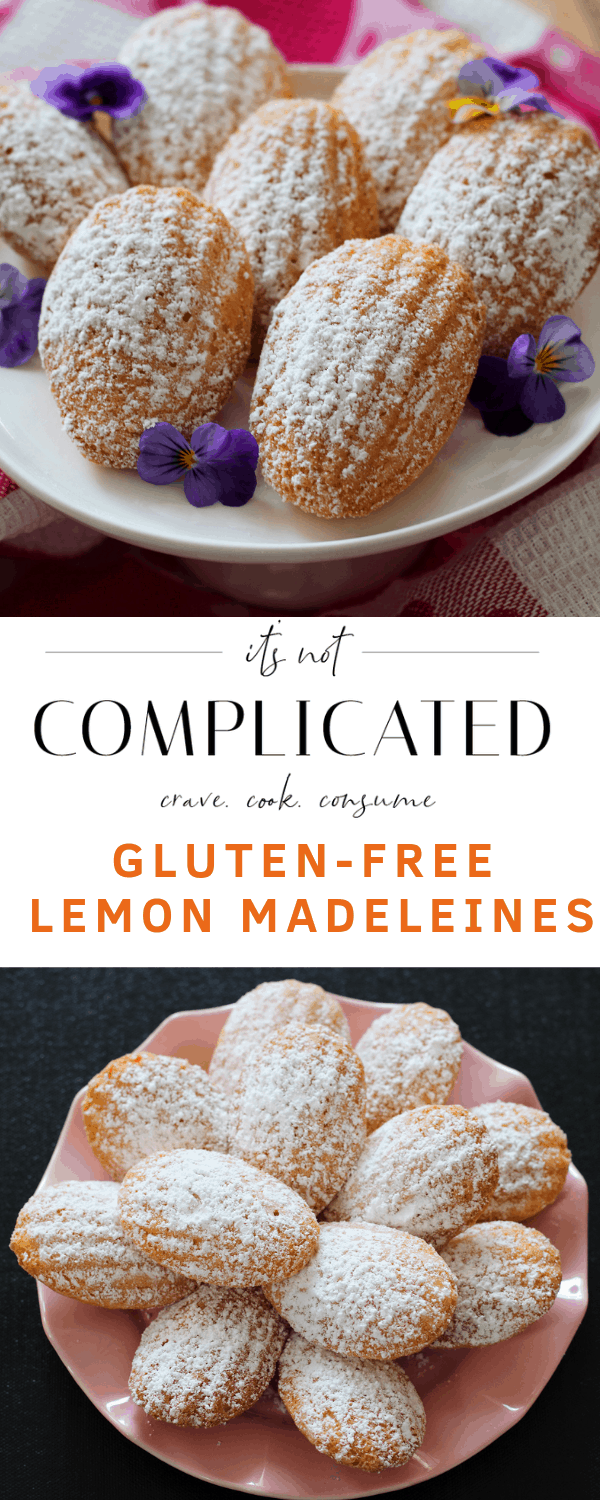 Gluten-Free Lemon Madeleines
Just like the classic little French tea cake, these gluten-free madeleines are tender, golden, shell-shaped and fragrant with the scent of lemons. These little delicacies are beautifully light and spongey, easily made and delicious to eat, perfect with a cup of tea or coffee.
Print
Pin
Review
Ingredients
110

g

unsalted butter, divided

8 USA tablespoons

2

large eggs

at room temperature

½

cup

caster/superfine sugar

1

teaspoon

vanilla extract *

¾

cup

(115 g) gluten-free plain flour

plus extra for the baking tins

1

teaspoon

gluten-free baking powder

¼

teaspoon

salt

2

teaspoon

finely grated lemon zest *

pure icing/confectioners' sugar *

for dusting, optional
Recipe Measurements:
For accuracy, when weights are provided, we recommend weighing your ingredients. This will produce the best results.
Instructions
Preheat the oven to 180 Degrees C (350°F).

Prepare the baking trays by heating 20 gm (USA 1 ½ tbsp) of butter in a small saucepan until it is almost melted. Use a pastry brush to generously paint the madeleine trays with the melted butter.

Dust the baking tins with a sprinkling of additional flour and shake off the
excess*.

Melt the remaining 90 gm (USA 6 ½ tbsp) of butter over low heat. Set aside to cool.

When the butter is cool, add it to the bowl of a food processor along with the eggs, sugar, vanilla, flour, baking powder, salt and lemon zest.

Whiz all the ingredients together to combine them, scraping down the sides of the bowl once during processing.

Evenly divide the batter between the moulds. They will be about ½ full. It is not necessary to spread the mixture in the mould; it will spread as it cooks.

Bake the madeleines for 8-10 minutes, until golden brown, the mixture has risen a little in the middle and they feel cooked. Cool them in the tray for one minute.

Set a clean tea towel on your bench and then remove the madeleines by sharply rapping an edge of the tray on the bench. They should easily fall out. Place them on a baking rack to finish cooling.

Dust with icing/confectioners' to serve*. (optional)

Although best eaten on the day they are made they are also delicious two days after – if they last long!
Notes
* Nutritional information is calculated per madeleine. 
* Our gluten-free flour blends contain either xanthan or guar gum to stabilise and provide structure to our recipes. If your flour blend already contains either of these gums, there is no need to add more. 
*For the best flavour I recommend good quality vanilla extract, not artificially flavoured vanilla.
* You could use orange or lime zest if you prefer.
*It is important to prepare the baking tins with melted butter and a dusting of flour. It ensures that the madeleines will be easily released from the tins.
*I like the madeleines dusted with icing/confectioners' sugar. However, you may prefer to leave them plain, dip them into a simple icing or you could melt some chocolate of your choice and dip the tips of the madeleines into that.
*Ensure that the icing/confectioners' sugar is gluten-free. To be certain, I use pure icing sugar; some icing sugar mixtures contain wheat flour.
* The madeleines freeze beautifully, but if you do freeze them, dust them with icing/confectioners' sugar just before serving.
*The Australian tablespoon is 20ml or 4 teaspoons. In most other countries the tablespoon is 15ml or 3 teaspoons.
Nutrition Estimate:
Calories:
69
kcal
|
Carbohydrates:
7
g
|
Protein:
1
g
|
Fat:
4
g
|
Saturated Fat:
2
g
|
Cholesterol:
23
mg
|
Sodium:
30
mg
|
Potassium:
30
mg
|
Fiber:
1
g
|
Sugar:
4
g
|
Calcium:
13
mg
|
Iron:
0.3
mg
Tried this Recipe? Please rate and leave a comment!
Nutritional Disclaimer:
The nutritional information is an estimate only, and is derived from online calculators. For accurate results, we recommend calculating the nutritional information based on the ingredients and brands you use.