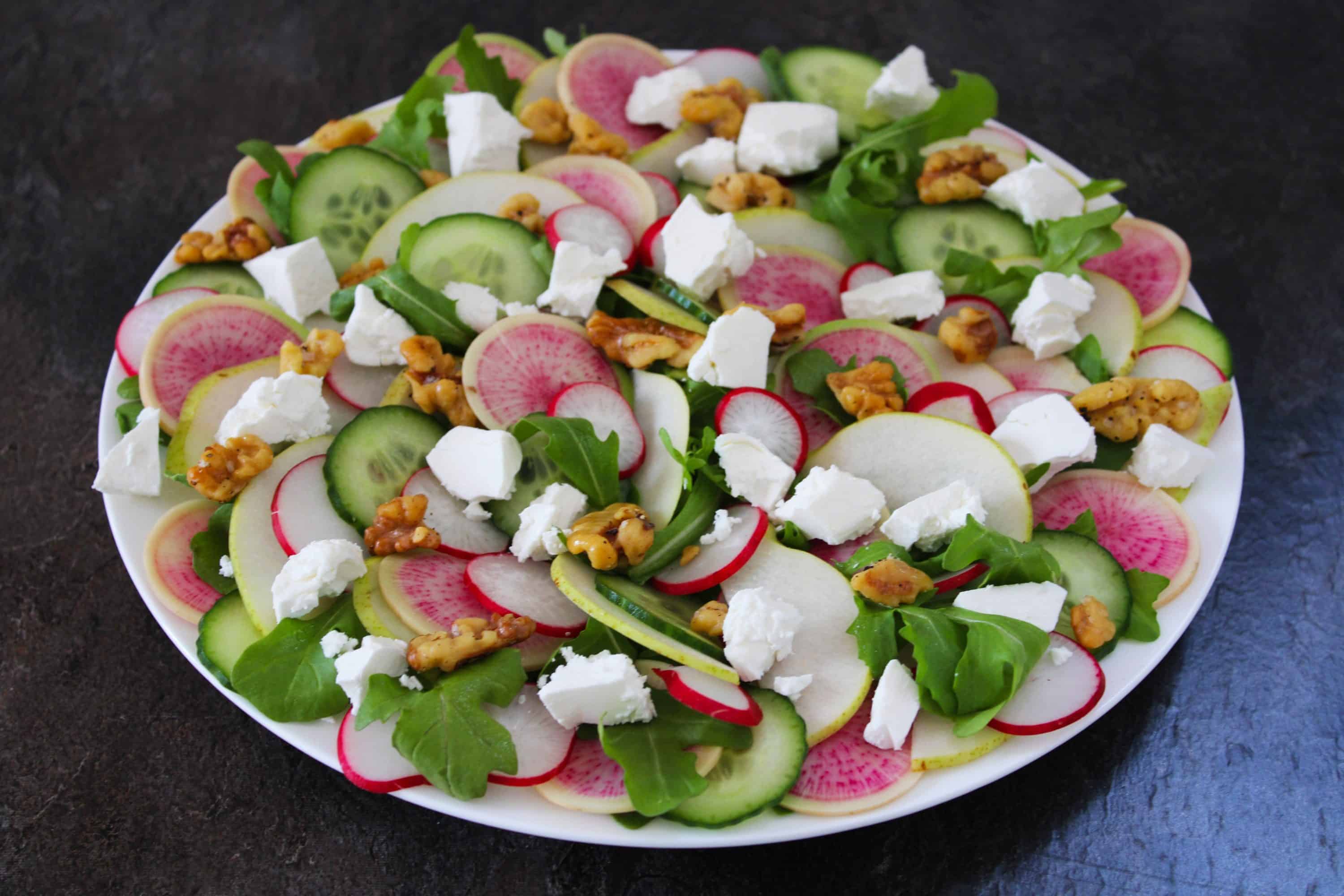 This Radish, Feta and Cucumber Salad came about following a visit to the Adelaide Central Market.
I was going to make a salad using red radishes – but then I came across some gorgeous watermelon radishes and I knew that I would love to include them.
The watermelon radish is an heirloom variety of the Chinese daikon radish. From the outside, it closely resembles a small turnip, but when sliced its glorious, pink interior is revealed. It is larger than the more familiar round, red radish and is milder in flavour.
When produce is as fresh and delicious as this, you don't need to do much to make a beautiful dish.
Here, you will find this simple salad is easily prepared and is an ideal side dish or a nutritious, light lunch.
The humble cucumber is such a common food item that, unfortunately, we tend to take it for granted. Moreover, radishes are often overlooked as an ingredient for a salad. So, it is with some trepidation that I present this salad which I think wins on all fronts.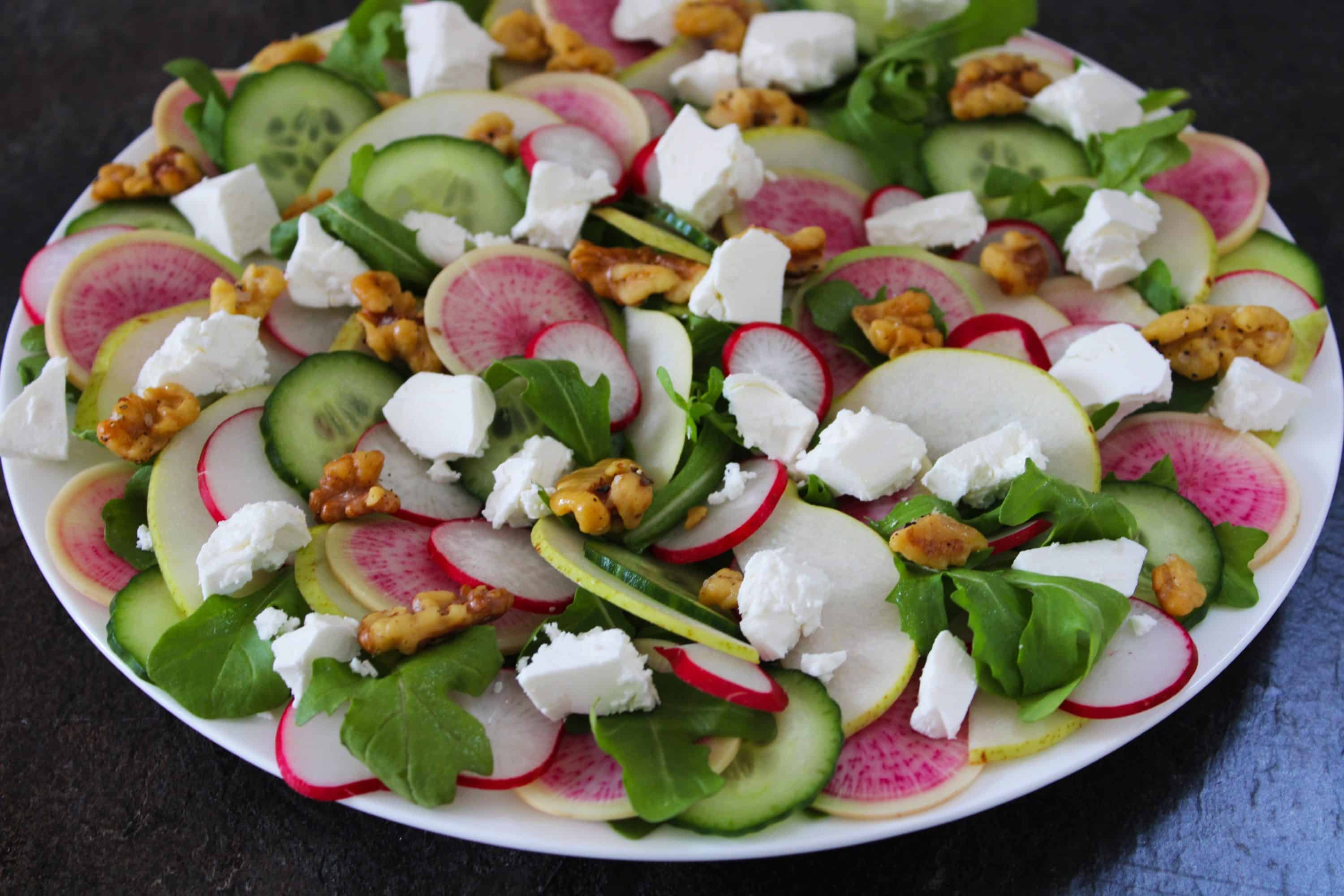 My Radish, Feta and Cucumber Salad is easy to prepare and is colourful, satisfying and refreshing.
The peppery, crunchy radishes contrast beautifully with the cool, fresh flavour of cucumber, the creaminess of feta cheese and the crispiness of roasted walnuts. Finely sliced fresh pear adds contrasting sweetness whilst all ingredients sit on a bed of vibrant, nutritious rocket/arugula leaves.
You can see the freshness in this beautiful salad which is light and refreshing whilst being full of health-benefiting nutrients. It is a versatile side dish, ideal to serve with meat, fish or poultry. Furthermore, it is ideal to serve as a meat-free lunch that won't weigh you down.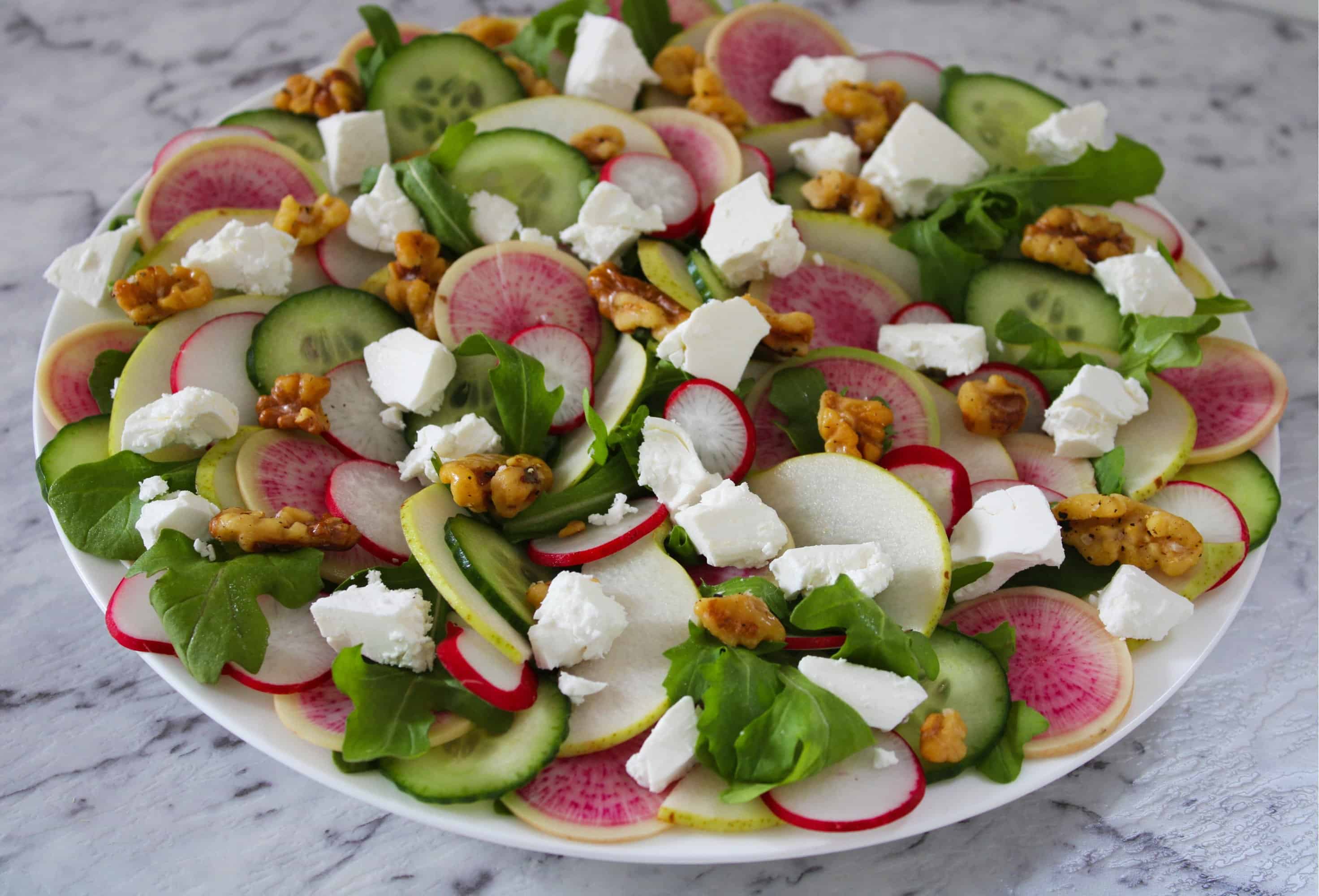 I use these ingredients to make my Radish, Feta and Cucumber Salad:
Rocket/Arugula:
Rocket/Arugula is a member of the Brassica family along with cabbage, broccoli and cauliflower. The leaves have a strong, peppery flavour and are mostly used raw in salads.
Rocket contains Vitamins A, K and C along with calcium, potassium and folate.
Radish:
Radishes are a root vegetable, also from the Brassica family. They come in different shapes and colours. Here I have used the more common round, red radish together with gorgeous watermelon radish. They are great to add to salads or delicious on their own. Not only do they provide glorious colour, but they are also packed with nutrients.
Radishes are low in calories, are an excellent source of Vitamin C and also contain potassium, folate, Vitamin B6 and manganese along with health-benefiting antioxidants. There are numerous reported health benefits which make radishes a welcome addition to our diet.
When buying radishes, choose those that are heavy for their size. They should be firm and without blemishes.
Feta:
For this salad, I use Danish feta, it is deliciously creamy, providing great textural and flavour contrast to the crisp, peppery radishes and crunchy walnuts.
Cucumber:
While many people think of cucumbers as a vegetable, they are actually a fruit. Cucumbers are very low in calories, being more than 95% water. They contain a generous quantity of Vitamin K along with magnesium, potassium, manganese and Vitamin C. In addition, they are a good source of dietary fibre and health-benefiting antioxidants.
Pear:
I have used the Packham pear here. It is one of my favourites, the other being the Beurre Bosc. My preference is for a just-ripe pear, one which is sweet but still firm and slightly crisp.
Pears contain Vitamins C and K, are a good source of dietary fibre and contain several important antioxidants.
Walnuts:
For this salad, I have used my Salt and Pepper Roasted Walnuts. They provide great textural contrast and flavour.
I use these ingredients for the dressing for the salad:
Extra virgin olive oil:
I prefer extra virgin olive oil for the health benefits and the flavour that it adds. It is the highest quality olive oil available and is at the heart of the much-acclaimed Mediterranean Diet.
White wine vinegar:
White wine vinegar, unsurprisingly, is made from white wine. It is less acidic than white distilled vinegar and is ideal to use in salad dressings.
Honey:
I use honey to slightly sweeten the dressing. Pure maple syrup is an excellent alternative.
Dijon mustard:
Adding Dijon mustard to the dressing serves two purposes. It adds flavour and works as an emulsifier which means that it helps the oil and vinegar to combine.
Sea salt and freshly ground black pepper:
I prefer to use sea salt as regular table salt often contains additives and I find that pepper which has been freshly ground has the best flavour.
This is how I make the Radish Salad:
I begin by laying a bed of rocket/arugula leaves on a large, white platter. From there I randomly distribute sliced radishes, cucumber and pear. I then top the salad with crumbled feta and roasted walnuts. Just before serving, I sprinkle on some salt and freshly ground black pepper and drizzle with the dressing.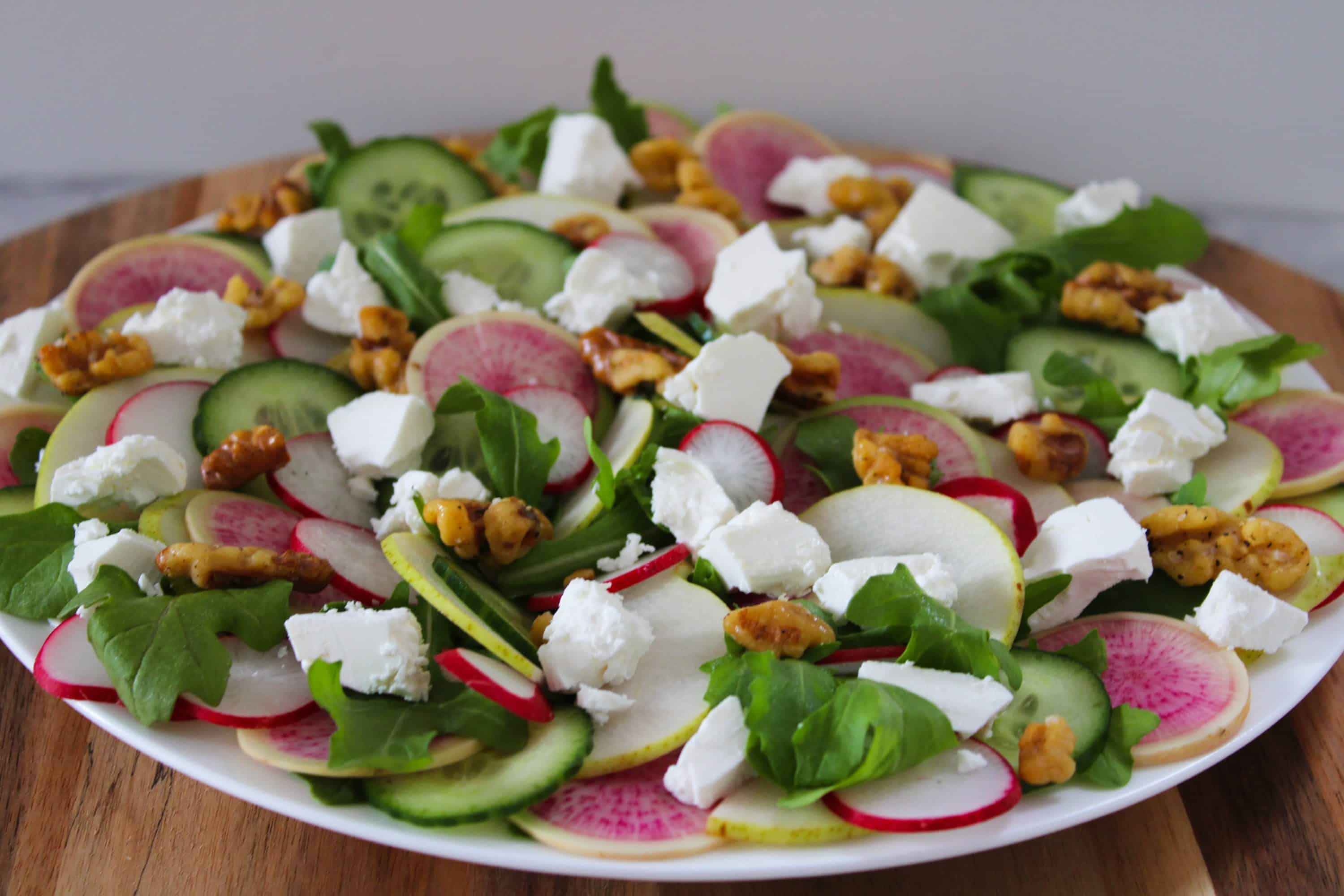 Tips for success:
The trick for this salad is to slice the radishes and cucumber very thinly. For ease and even slicing, I use a mandoline. However, whilst it does slice the vegetables quickly and evenly, it is very sharp. For this reason, a great deal of care and attention is required when using. Alternatively, you can use a very sharp knife.
For the freshest presentation, assemble the salad close to serving time as the pear may discolour and the rocket wilt.
Avoid very ripe pears. The pear should be just ripe and still a little firm.
When selecting radishes, they should be heavy for their size. Avoid any that are spongey. To buy watermelon radishes with the most colourful interior, look for pink tap roots.
It is best to assemble the salad shortly before serving and apply the seasoning and dressing just as you are about to serve.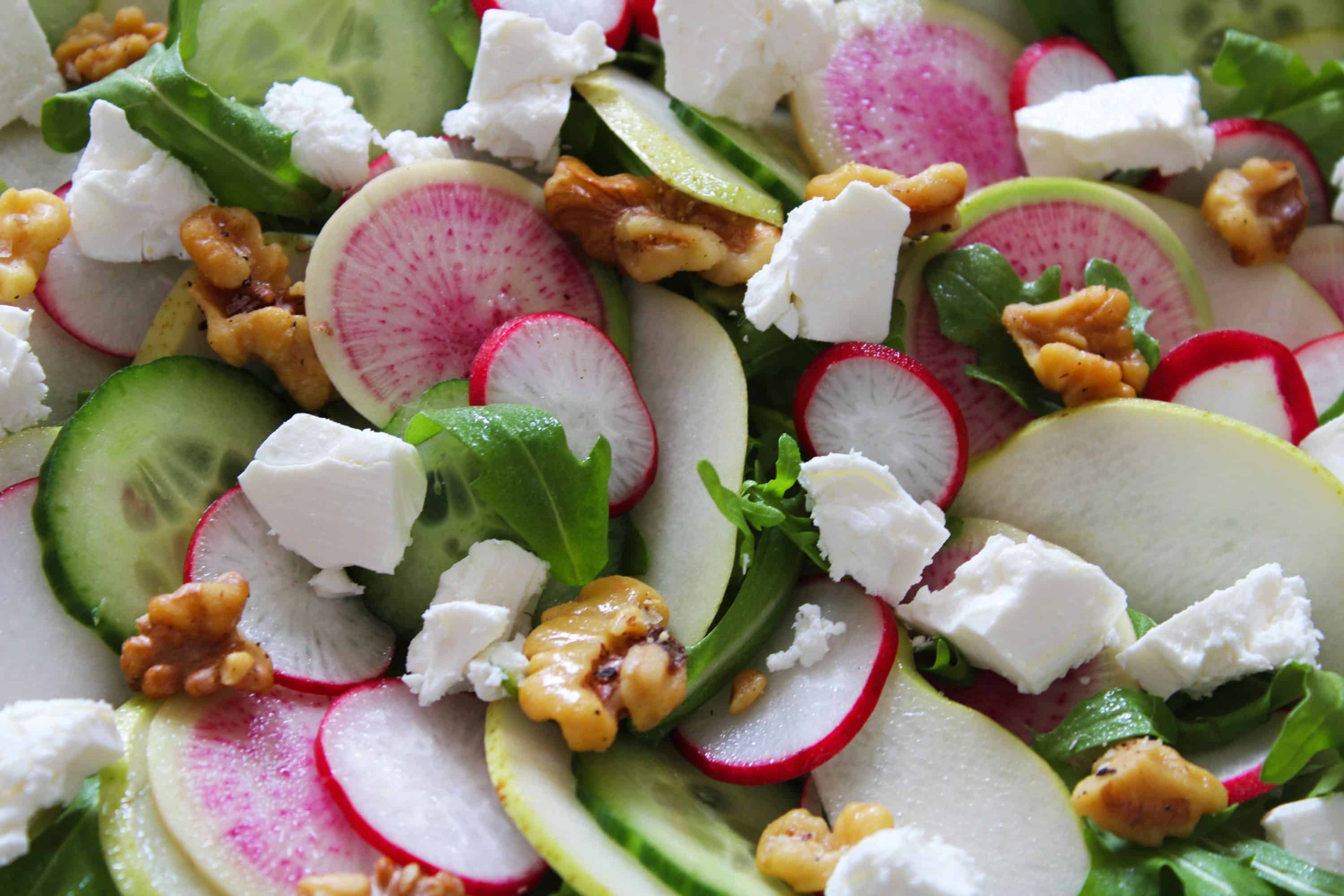 More suggestions for these ingredients:
The French understand the pleasure of food. They serve radishes very simply, just with butter and salt flakes. Cut the radishes in half and serve all ingredients on a wooden board. Guests assemble their own radishes. However, with such simple ingredients, they need to be good quality.
Here, you will find a delicious recipe from Sprinkles and Sprouts:
Roasted Radishes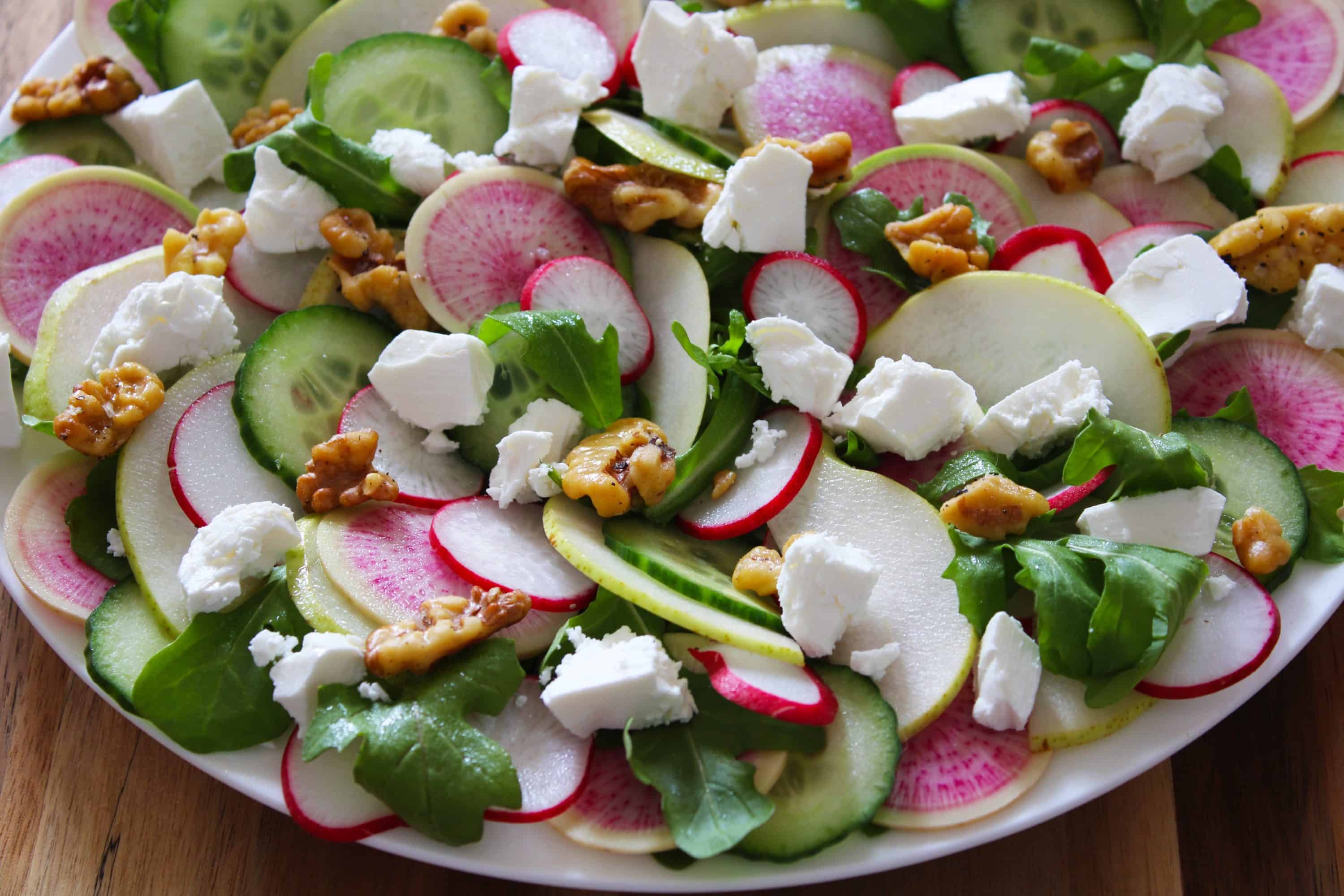 More delicious salad recipes for you to try:
When it comes to serving the Cucumber and Radish Salad:
For the freshest flavour and colour I recommend assembling the salad close to serving time or the pear will oxidise and discolour and the rocket will wilt. Add the seasoning and dressing just as you are about to serve.
This salad is an ideal accompaniment to meat, poultry or fish dishes. Alternatively, serve it as a light, refreshing lunch.
This lovely Radish, Feta and Cucumber Salad looks fantastic, is full of beneficial nutrients and is a combination of creamy and crunchy textures.
Please let me know in the comments below if you make it.
Alex xx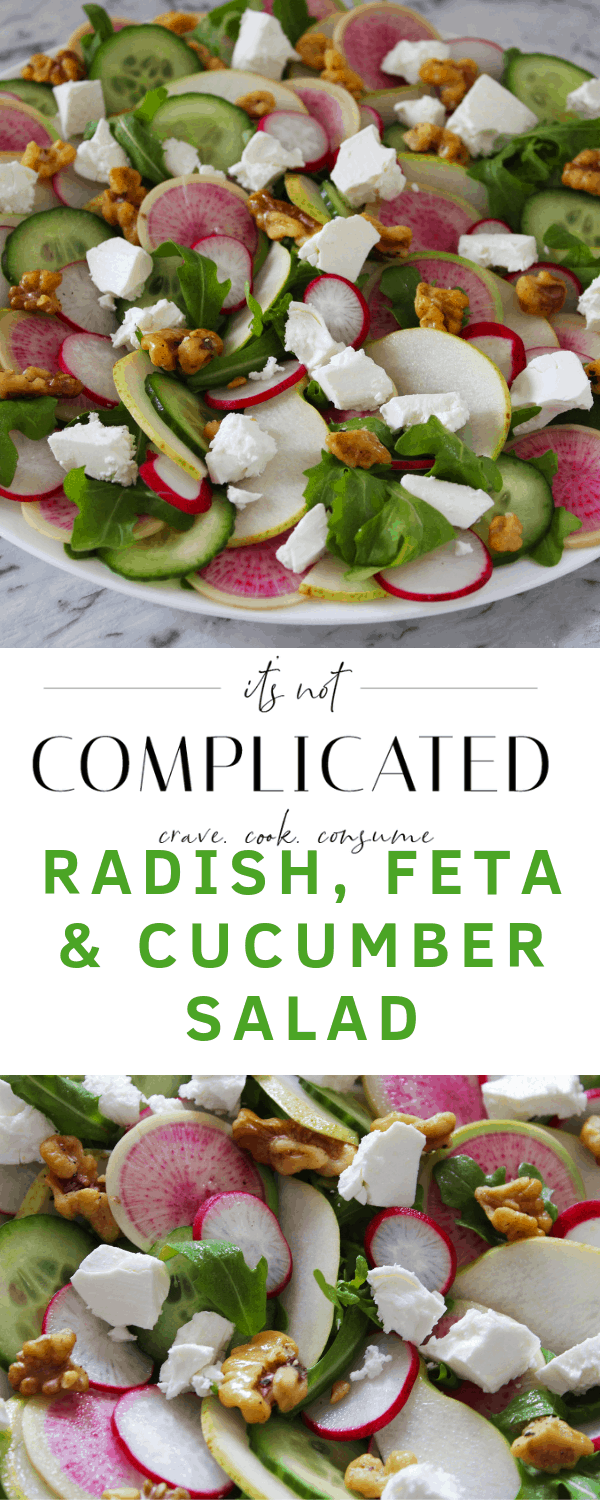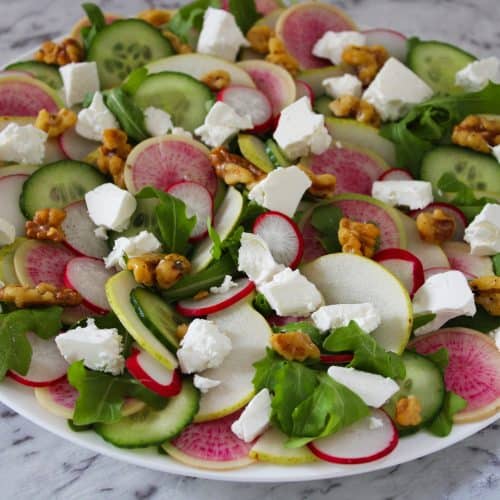 Radish, Feta and Cucumber Salad
There is a range of delicious, contrasting flavours and textures in this lovely salad. Cool cucumbers perfectly complement spicy radishes whilst sliced pear adds sweetness. The roasted walnuts add crunch and creamy feta brings all the ingredients together. This light, refreshing salad is easy to make and is ideal as a side dish or light, nutritious lunch.
Print
Pin
Review
Recipe Measurements:
For accuracy, when weights are provided, we recommend weighing your ingredients. This will produce the best results.
Ingredients
Salad:
50

g

rocket/arugula leaves

4

small round red radishes

2

watermelon radishes

⅓

English cucumber

See Note 1

½

pear, cored

See Note 2

80

g

feta, crumbled

½

cup

walnuts

See Note 3
Dressing:
1 ½

tablespoon

olive oil

extra virgin

2

teaspoon

white wine vinegar

½

teaspoon

honey

or maple syrup

½

teaspoon

Dijon mustard

sea salt and freshly ground black pepper
Instructions
Arrange the rocket/arugula leaves on a large white platter.

Using a mandoline or very sharp knife, slice the radishes, cucumber and pear very thinly. Arrange the sliced fruit and vegetables on the top of the rocket/arugula. Scatter the crumbled feta and roasted walnuts on the top of the salad.

Now that your salad is arranged on the plate, prepare the dressing in a small bowl or jar.

Season the salad with sea salt and freshly ground black pepper and drizzle on the dressing just prior to serving. – See Note 4  
Notes
The English cucumber is also known as a burpless, seedless or European cucumber. I have used this variety as it has fewer seeds than some varieties, the flesh is sweeter and it does not need to be peeled.  
For the best flavour and texture the pear should be just ripe but still firm.
For extra flavour and crispiness I have used my Salt and Pepper Roasted Walnuts.
For the freshest presentation and flavour, the salad should be assembled close to serving time. If assembled early the pear will discolour and the rocket will wilt. The seasoning and the dressing should be added just before serving.
Nutrition Estimate:
Calories:
232
kcal
|
Carbohydrates:
11
g
|
Protein:
6
g
|
Fat:
19
g
|
Saturated Fat:
5
g
|
Cholesterol:
18
mg
|
Sodium:
270
mg
|
Potassium:
393
mg
|
Fiber:
3
g
|
Sugar:
6
g
|
Calcium:
158
mg
|
Iron:
1
mg
Tried this Recipe? Please rate and leave a comment!
Nutritional Disclaimer:
The nutritional information is an estimate only, and is derived from online calculators. For accurate results, we recommend calculating the nutritional information based on the ingredients and brands you use.