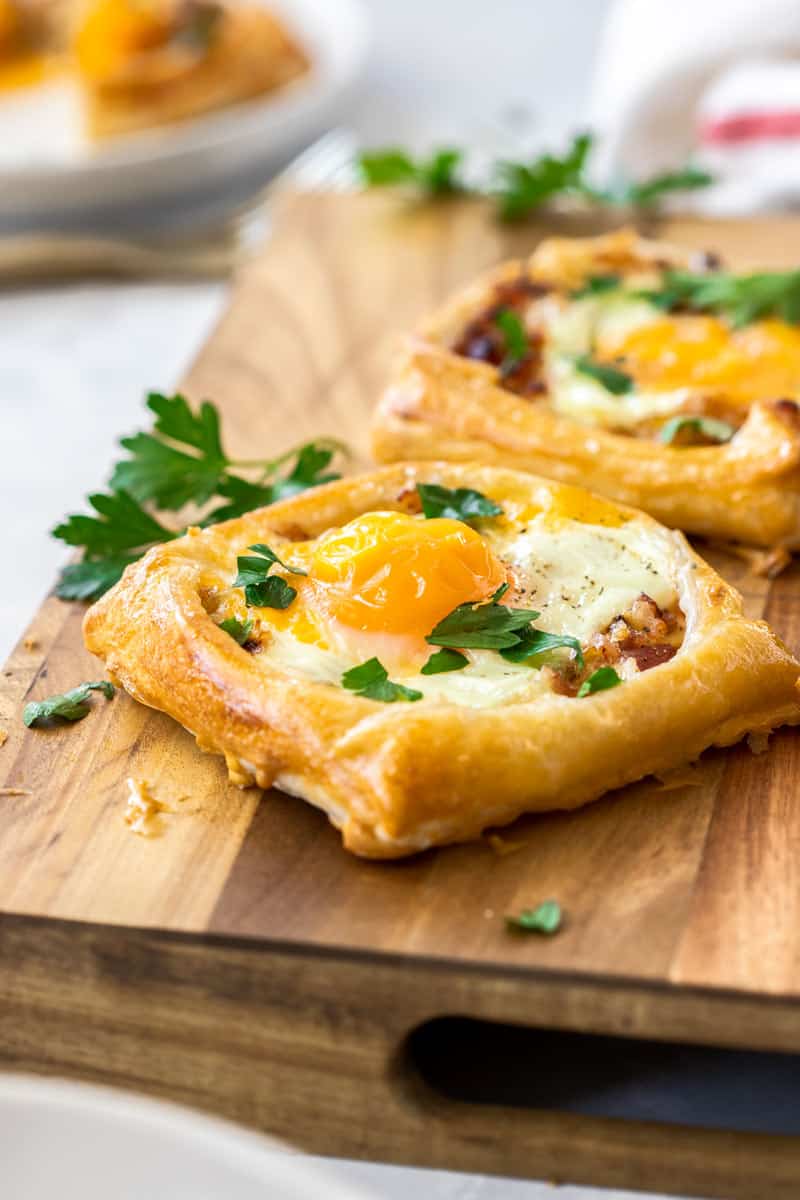 Many people say that breakfast is the most important meal of the day. I present to you a very delicious way to start your day: my Bacon and Egg Galettes.
Caramelised onions, tasty bacon, a delicious egg, all contained within a flaky pastry case. This is an ideal breakfast or brunch, and best of all, it is really simple to make!
I recently had the chance to share a similar recipe on the blog, my Spinach and Feta Galettes. It is a recipe that I have been making since my school days, (which, well, are a few years ago now!) and has been a family favourite ever since. Since I hit publish on that post, I have been keen to share some other variations of the galette – a delicious, rustic tart, that looks impressive but is so simple to make.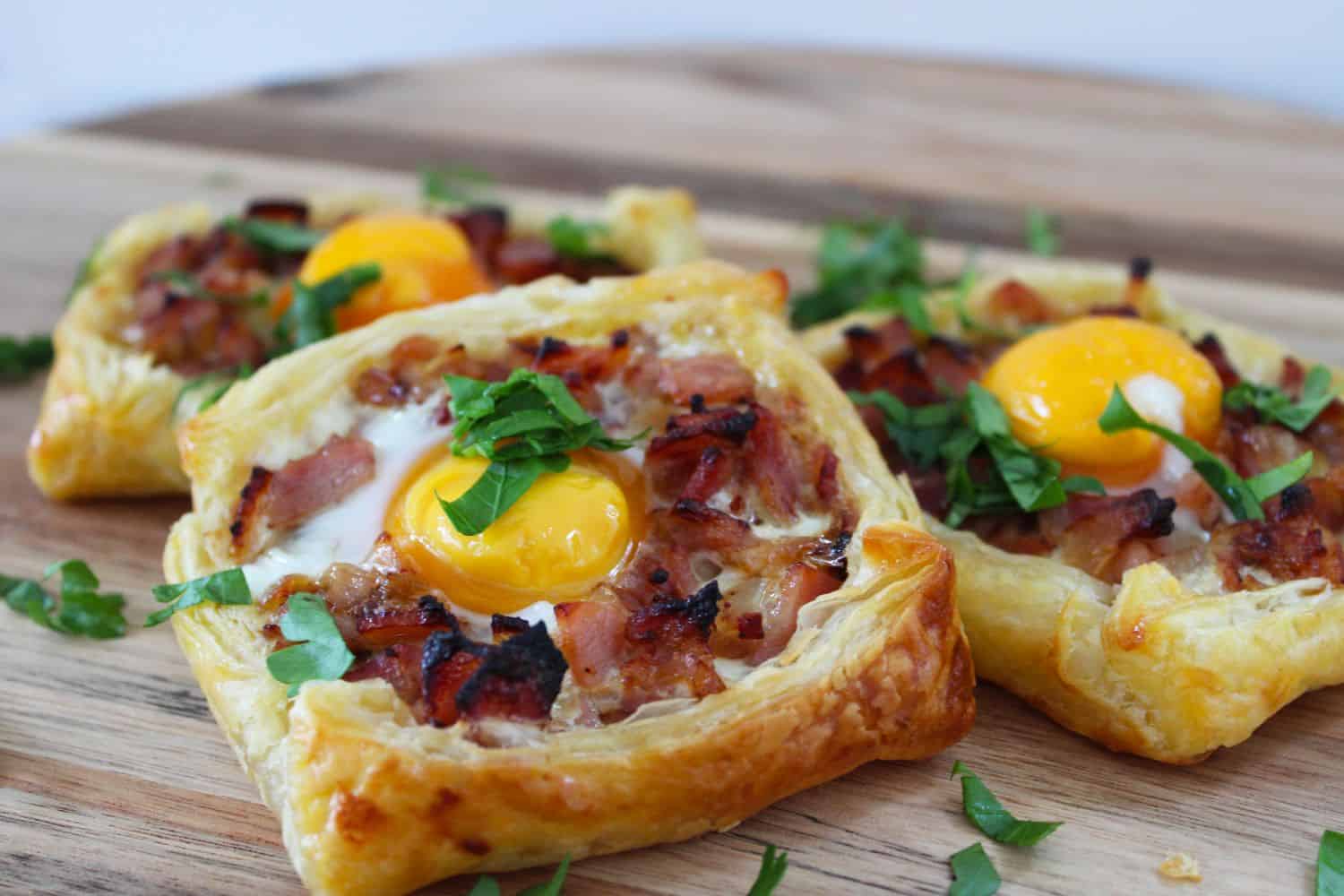 I use these ingredients in my Bacon and Egg Galettes:
Bacon:
I have used a good quality shortcut bacon here. I always feel you can tell the quality of bacon when you cook it – if the bacon starts to spit a lot in the pan, this tends to indicate that the bacon has high water content. Higher quality bacon should not spit nearly as much.
Eggs:
In general, my recipes call for large eggs. In this recipe, I prefer to use small, chicken eggs, to ensure they fit perfectly in the nest of onion and bacon. On this occasion, I have used some wonderful eggs gifted to me by a friend.
If your eggs are large, this is no issue – I would recommend cracking the egg into a small teacup first, so you can control the amount of egg white that goes into the galette. And if you have some leftover? Not a problem – you can use it as an egg wash on your pastry!
Frozen Butter Puff Pastry:
An ingredient I always have on hand! In general, I make most of the recipes on my website completely from scratch. However, I must confess to drawing the line at puff pastry. For a special occasion, I certainly would make my own.
As this food blog is all about simple and delicious recipes, I highly recommend using frozen puff pastry. I prefer to use butter puff pastry, for an extra flaky pastry base.
Brown Onions:
The brown onion, also known as the yellow onion, is the one you use most frequently. I have made this recipe before with both the white and red onion, however, so you can certainly substitute with these.
How I make the Bacon and Egg Galettes:
Ideally, I defrost the pastry sheets in the refrigerator but if I'm short of time I defrost the pastry on the kitchen bench. It is, however, essential that the pastry not become warm, it must stay chilled.
Then, I prepare my bacon and onion mixture. I finely dice my onion and bacon and caramelise in a little olive oil. The mixture is then set aside to cool slightly.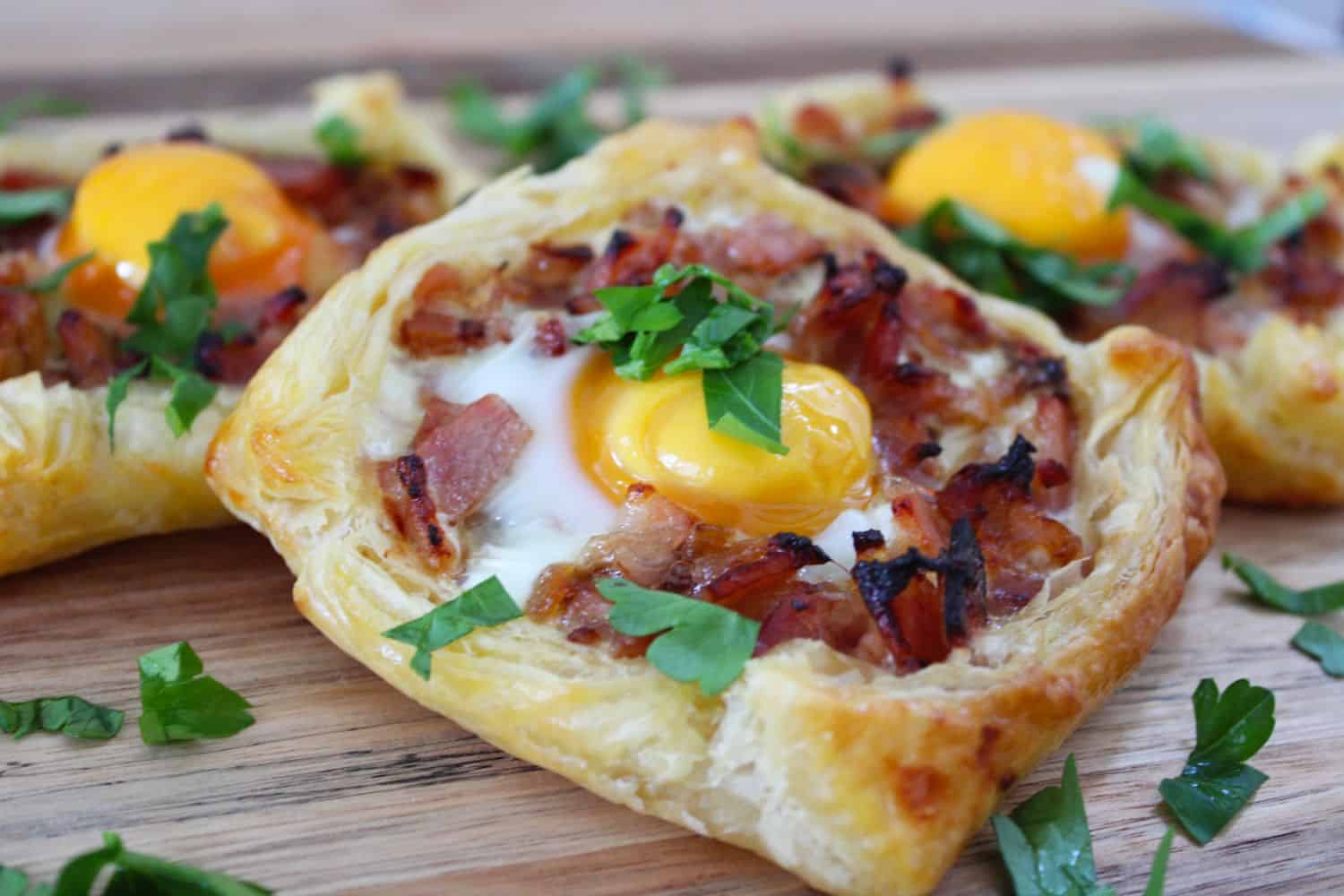 Once I am ready to assemble my galettes, I cut the pastry squares into 4 pieces and place them on a baking tray which I line with non-stick baking paper. It is easier to assemble the tarts whilst they are on the tray than to move them after they have been assembled.
I top my pastry squares with the bacon and onion mixture and make a little well in the centre. Carefully, fold the edges of the pastry evenly, to make a small border. I crack my egg, either directly onto the pastry in the well in the centre, or into a small cup. A little egg wash around the edges of the pastry, and they are ready for the oven.
I prefer to make individual Bacon and Egg Galettes when I am entertaining, but if it is just the family, it is lovely to make one large galette and cut into slices for serving.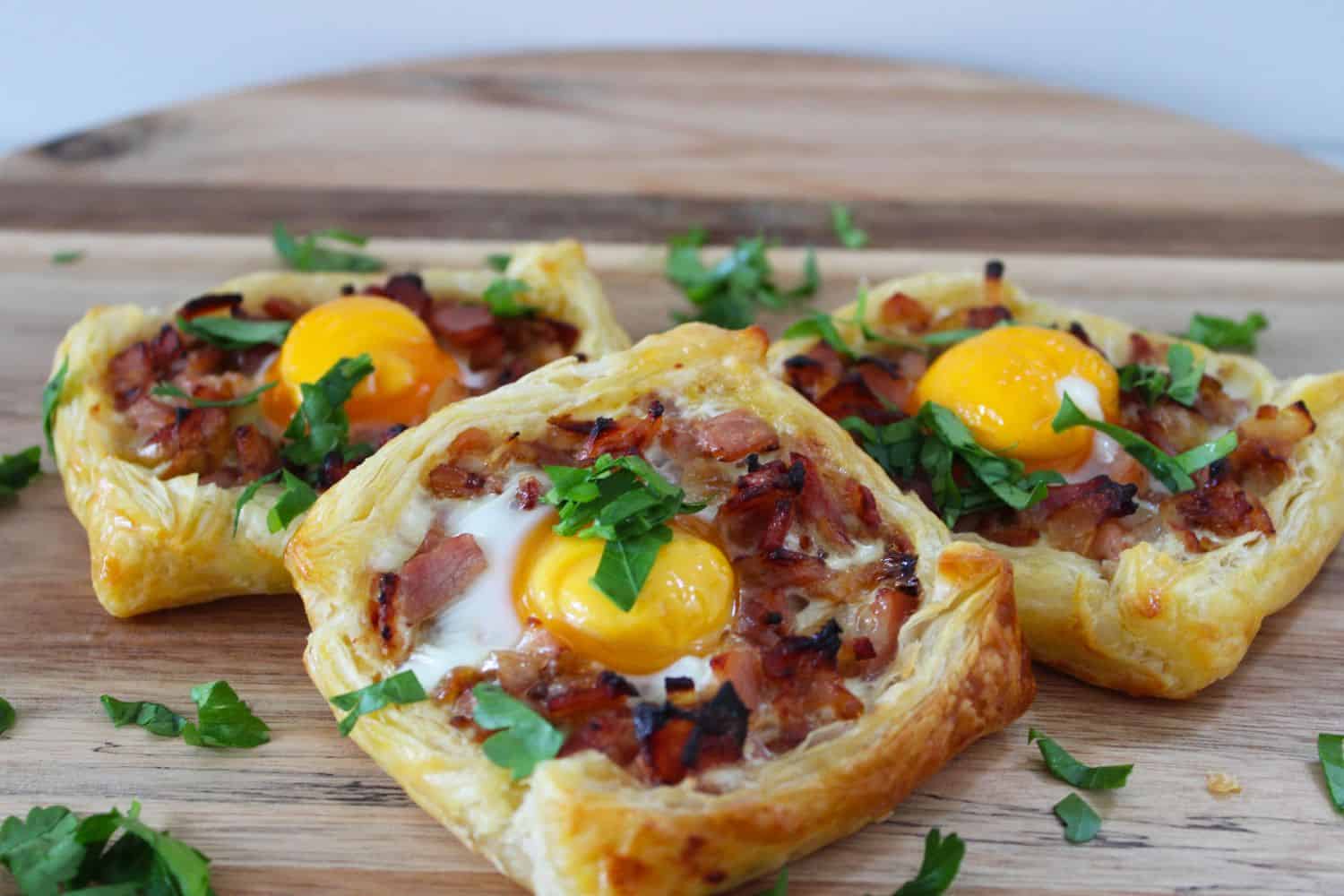 When it comes to serving:
The Bacon and Onion Galettes are delicious straight from the oven. They're also very enjoyable at room temperature, making them ideal to serve on a brunch buffet table.
The Galettes can be made in advance, and either stored in the refrigerator or frozen. They reheat well, at lower oven temperature. If you have frozen your pastries, I recommend defrosting prior to reheating.
When serving the Galettes, I garnish with a sprinkle of chopped fresh parsley and place on a large white platter for people to share. Alternatively, they are delicious served with a fresh green salad.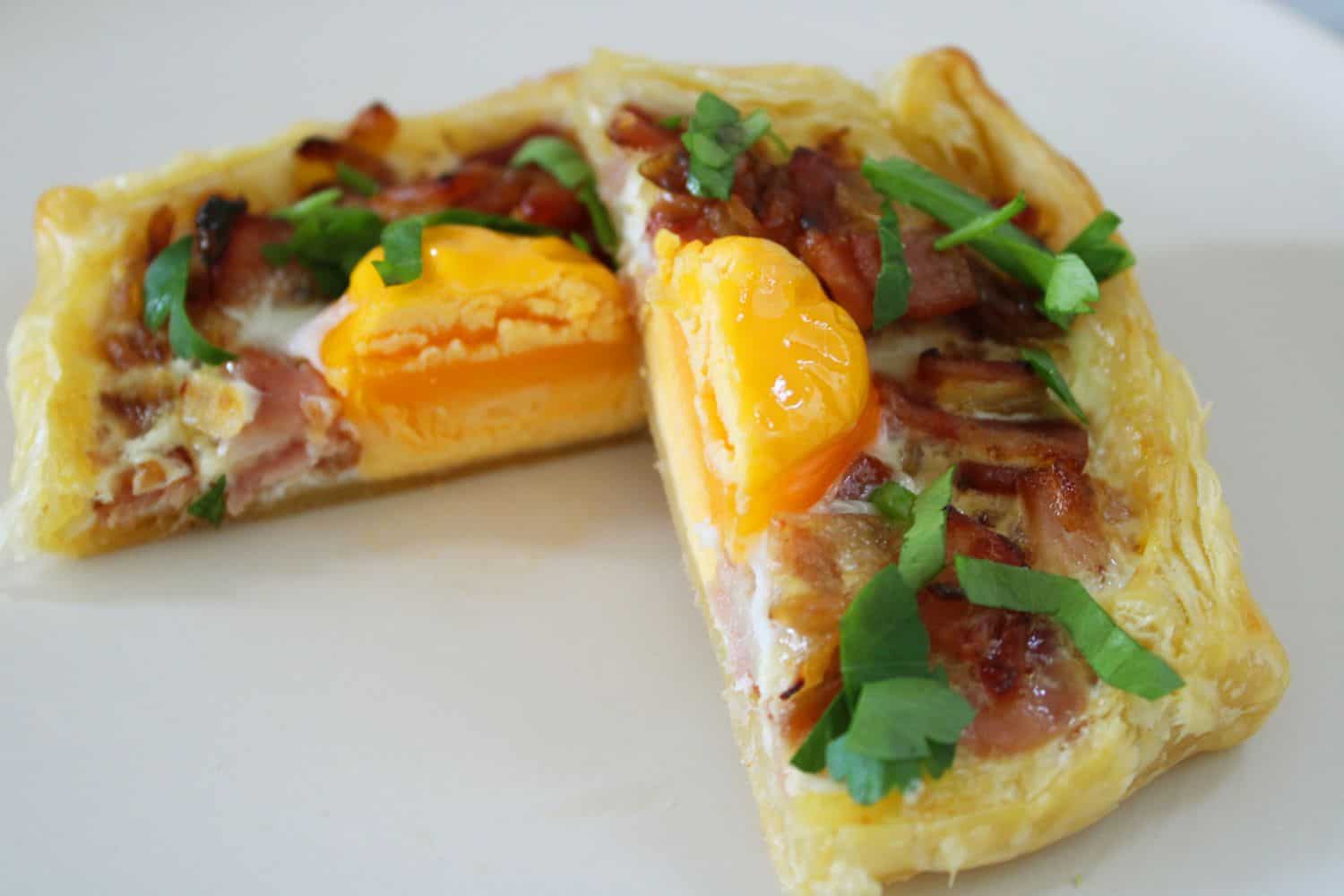 Other suggestions for these ingredients:
I am a huge fan of butter puff pastry. (In fact, my Mum, Faye and I were joking the other day that if we were to start another food blog, we would probably start one dedicated to this fantastic ingredient!
You will find Puff Pastry in these recipes: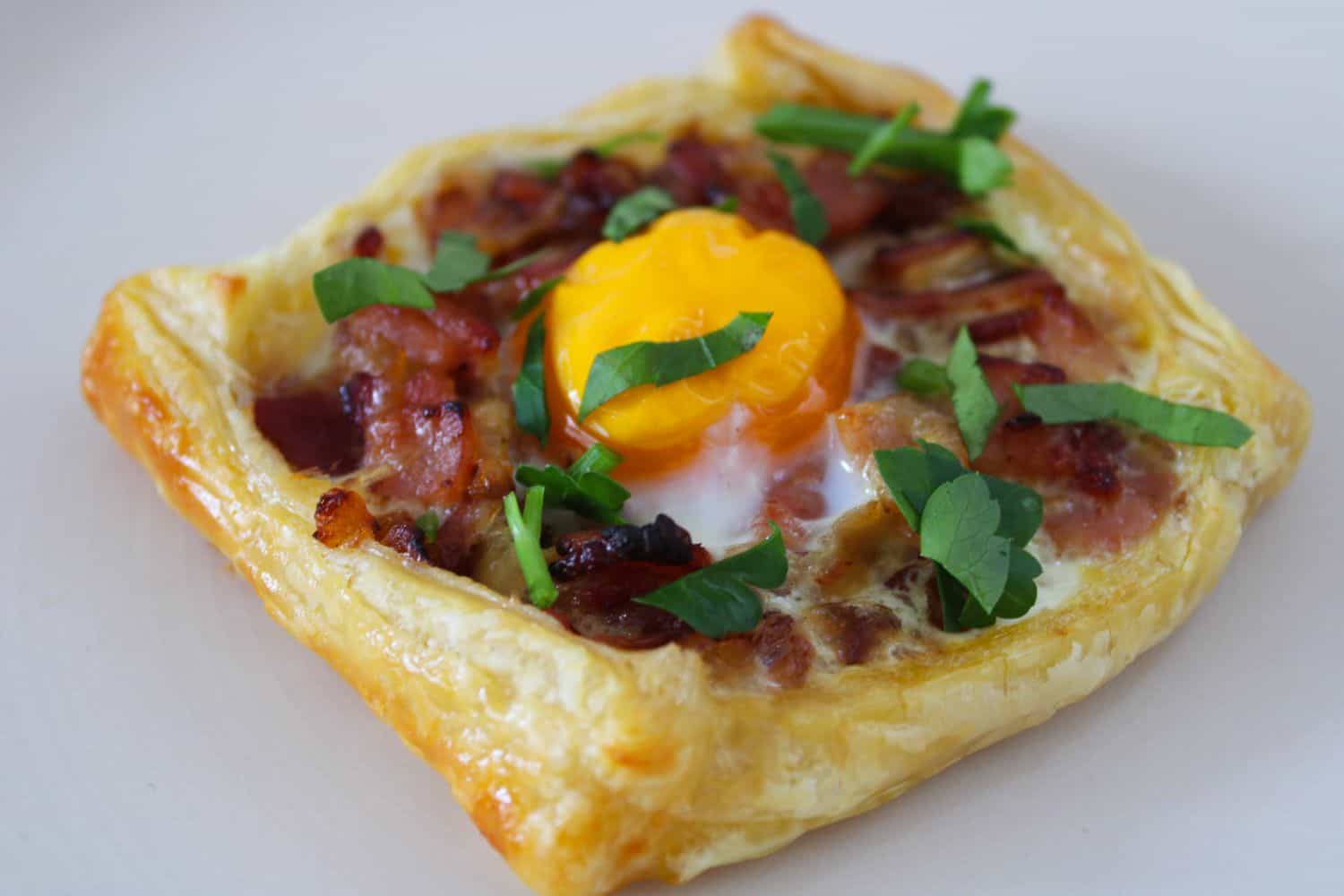 My Bacon and Egg Galettes are a recipe I am sure your family and friends will enjoy. These rustic tarts are full of flavour, simple to make, and great to have on hand for the perfect breakfast. I do hope you'll try them soon, and I look forward to hearing what you think!
Alex xx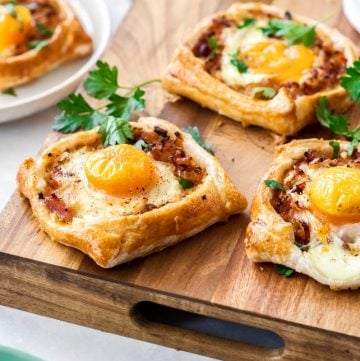 Bacon and Egg Galettes
With just a few ingredients, you will be able to quickly assemble these Bacon and Egg Galettes. Caramelised onion, bacon and egg sit on a golden, crispy, flaky pastry base.
Print
Pin
Review
Ingredients
2

teaspoon

olive oil

5

shortcut bacon rashers

1

medium

brown onion

1

sheet

butter puff pastry

22 ½ cm/9" square

See Note 1

5

small

eggs

See Note 3

sea salt and black pepper

to taste

fresh Italian/flat-leaf parsley to garnish

optional
Recipe Measurements:
For accuracy, when weights are provided, we recommend weighing your ingredients. This will produce the best results.
Instructions
If time permits, defrost the pastry in the refrigerator. However, this is not always suitable so you can defrost the pastry on the kitchen bench if necessary. Just ensure that the pastry remains chilled. Return it to the refrigerator if the pastry defrosts before you are ready to add the topping.

Preheat your oven to 200 Degrees C (390 F).

Finely dice the onion, and chop the bacon into small pieces. 

Heat up a frying pan, and add of oil to the pan. Once heated, add the chopped bacon and onion.

Fry until golden brown – this usually takes about 10-15 minutes. Stir regularly to ensure the mixture doesn't stick.

Set mixture aside to cool down. 

Line a tray with baking paper.

Cut your pastry into squares that are approximately 12.5cm/5 ".

It is easier to assemble pastries on the baking tray.

Distribute the bacon and onion mixture on top of the pastry squares.

Make a well in the centre of the pastry, being careful to leave a small border around the edge.

Fold up the sides of the pastry. Press firmly to secure the edges. Brush with a little egg wash.

Add egg to the centre of the pastry, in the well.

Baked at 200 Degrees C for 10 minutes, or until golden brown.
Notes
If you do not have specific dietary requirements I strongly recommend that you use all butter puff pastry; the colour and flavour are superior to that which is made from oils and margarine.
The Galettes can also be made gluten-free. You can purchase gluten-free puff pastry at most supermarkets and the toppings used in this recipe would be suitable.
To achieve crisp, flaky pastry it is essential that the pastry be kept cold until you are ready to assemble the Galettes. Place the pastry in the refrigerator if necessary whilst preparing the filling.
If you are rolling out your own pastry, and not using a sheet as we have here, you need to ensure it is thin so the pastry will be cooked all the way through.
Assembling the Galette is best done on a baking tray which is lined with baking paper.
I have used small eggs in this recipe. The fifth egg is used for the egg wash on the pastry.
If you are using a topping which requires cooking, it is vital that it be at room temperature before assembling to avoid melting the butter in the puff pastry.
The nutritional information is based on one galette per person.
Nutrition Estimate:
Calories:
559
kcal
|
Carbohydrates:
31
g
|
Protein:
15
g
|
Fat:
42
g
|
Saturated Fat:
12
g
|
Cholesterol:
216
mg
|
Sodium:
411
mg
|
Potassium:
205
mg
|
Fiber:
1
g
|
Sugar:
2
g
|
Calcium:
42
mg
|
Iron:
3
mg
Tried this Recipe? Please rate and leave a comment!
Nutritional Disclaimer:
The nutritional information is an estimate only, and is derived from online calculators. For accurate results, we recommend calculating the nutritional information based on the ingredients and brands you use.