Pea, Mint and Feta Frittata is simple to prepare and full of fresh, bright flavours. Made with the popular combination of pea and mint, it is a versatile dish and there are many ways in which to enjoy it.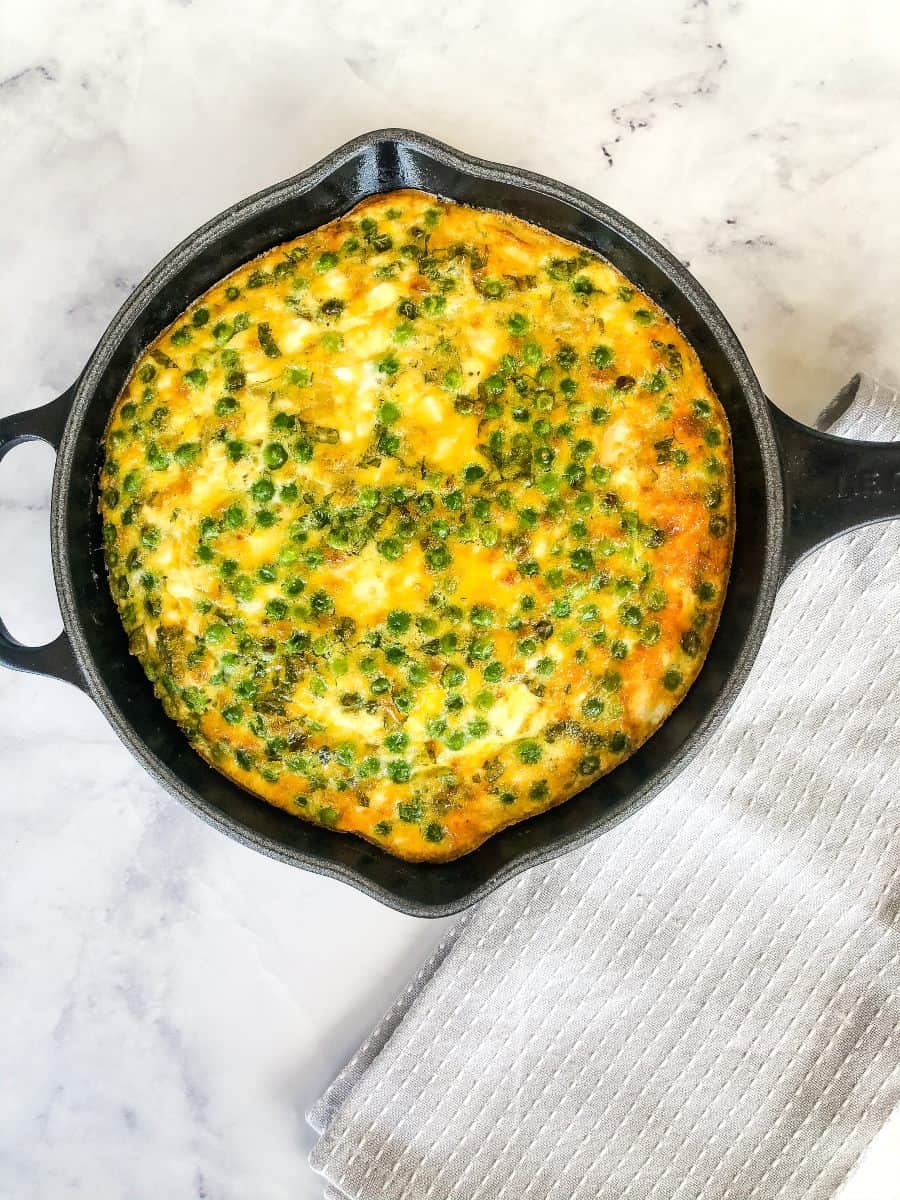 This post is in partnership with Everten. Thank you for supporting the brands who support It's Not Complicated Recipes.
While many frittata recipes are made in the frying pan on the stovetop, I have found that the easiest way to make one is to bake it in the oven.
So quick to cook and so satisfying to eat, this frittata has the fresh, bright flavours and classic combination of mint and peas.
It is a high protein dish, making it a nourishing and sustaining breakfast.
Inspiration for this Easy Pea Frittata:
I was inspired to make this frittata using ingredients which I had on hand. My thoughts first turned to frozen peas, a staple ingredient for me.
I had eggs in the fridge and mint growing in the garden. Peas and mint are a classic flavour combination. It seemed a logical step to make one of the easiest and most versatile dishes that I know; a frittata.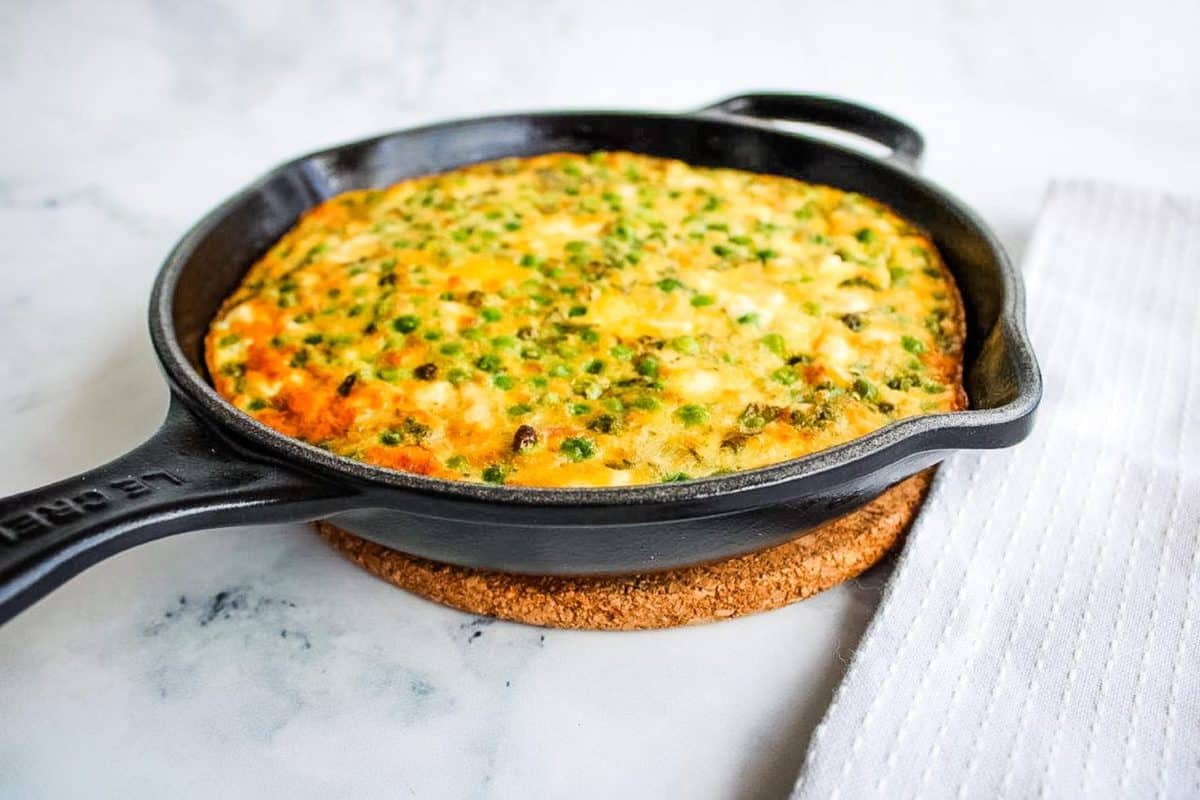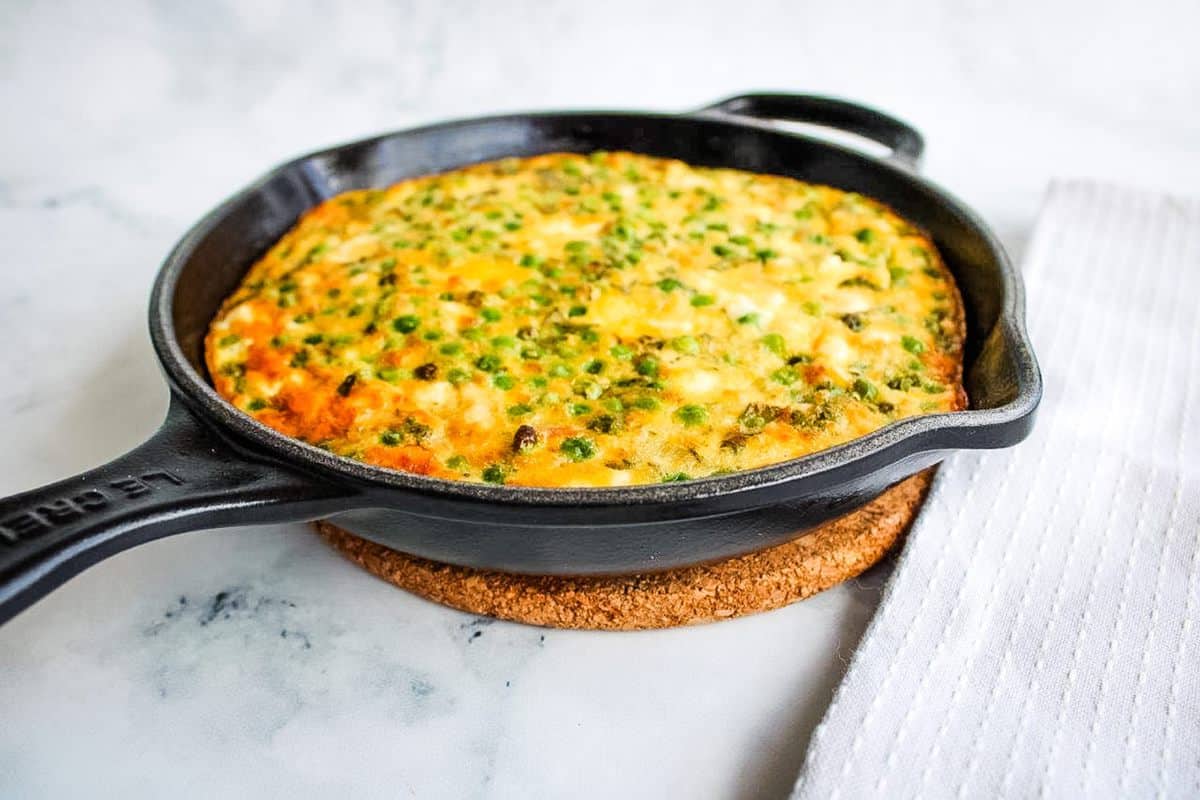 Why I love this recipe:
This pea and mint frittata is a favourite recipe of mine because it is so quick and easy to make.
I love the versatility of this dish. You can eat the frittata warm or serve it cold. It is ideal for breakfast, brunch, lunch, a light dinner or packed lunch. As well, it can be cut it into small slices or squares and served as an appetiser or part of a tapas spread.
The frittata is portable, making it ideal to take on picnics or to a pot-luck party.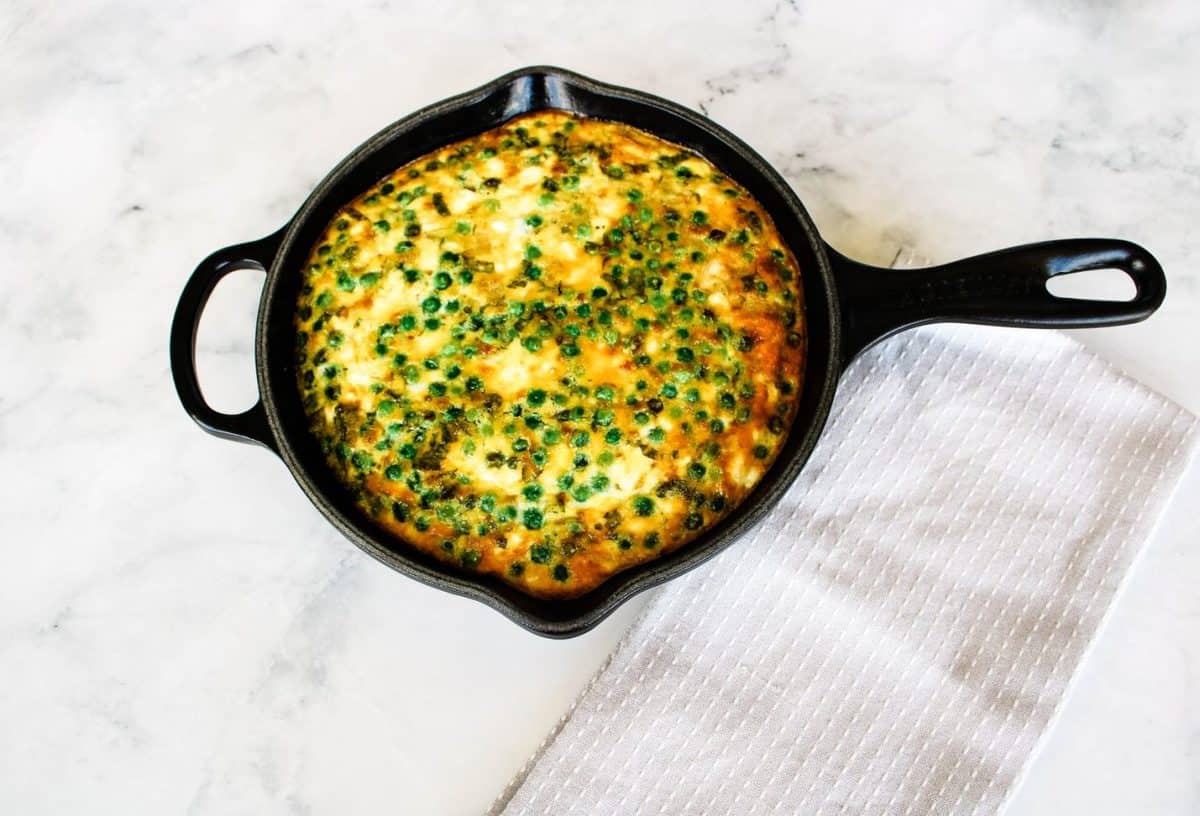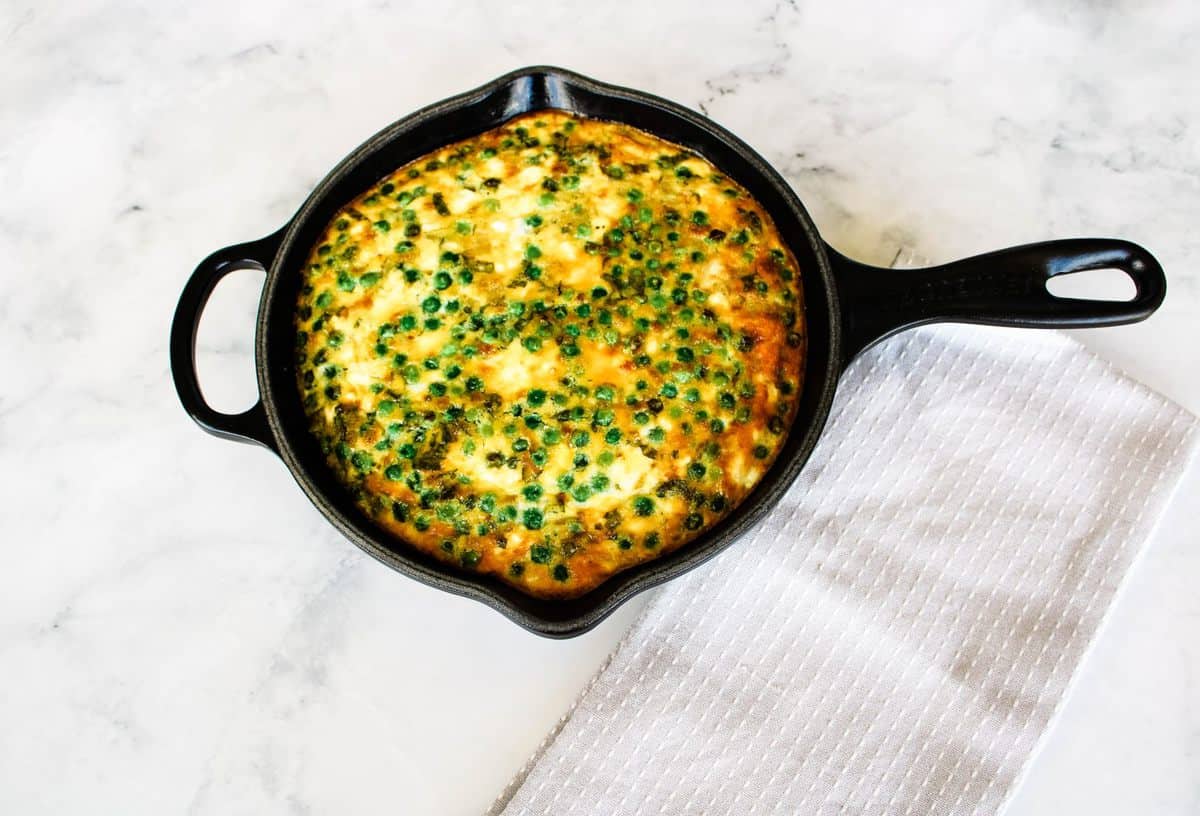 One of the great advantages of a frittata is that you can customise it according to the ingredients that you prefer or have on hand. In very general terms, you will choose a main ingredient, a herb which complements it and cheese of some kind.
Onions are standard, but this could mean that you use spring onions/green onions or leeks instead of a brown/yellow onion.
Although the ingredients are similar to those in a quiche, without the pastry base it is a lighter meal and is quicker and easier to make.
What is the difference between a frittata and crustless quiche?
The main difference is that a frittata is primarily made with eggs, with some full-fat dairy to lighten the mixture and prevent it becoming dry.
A crustless quiche, on the other hand, generally contains a greater amount of dairy, making for a more custard-like mixture.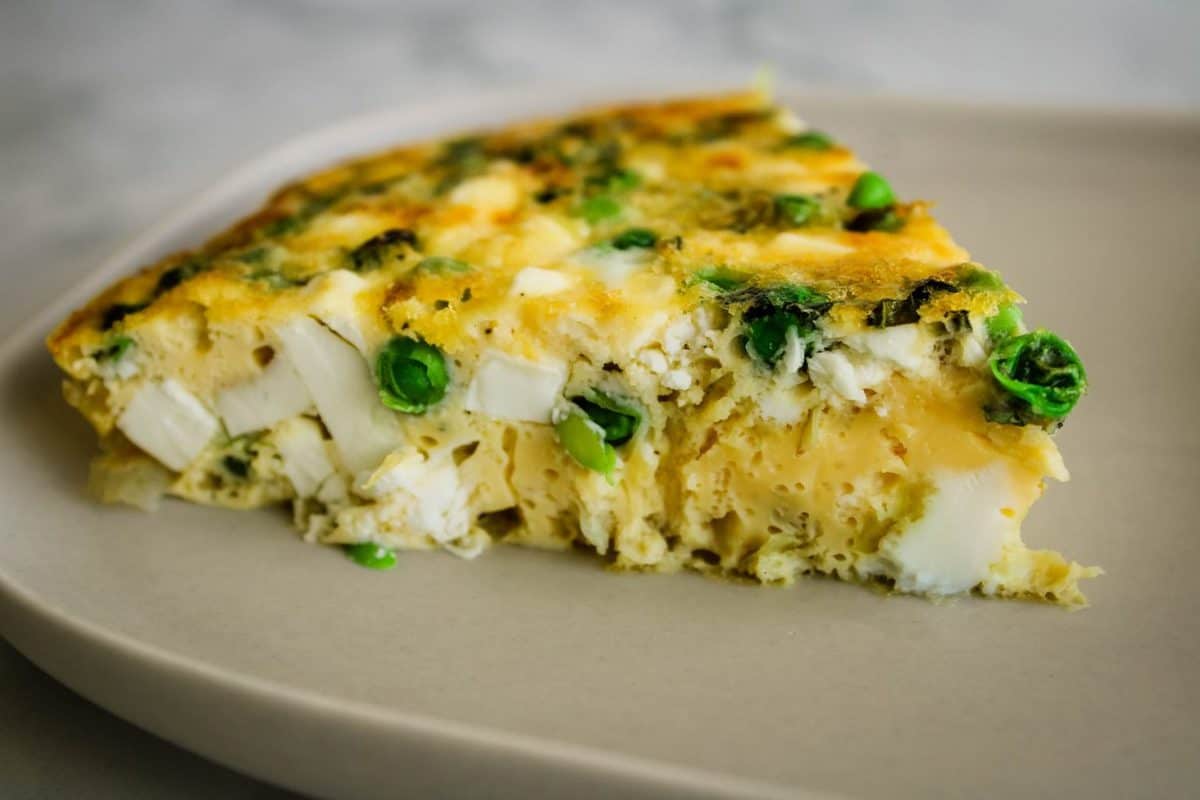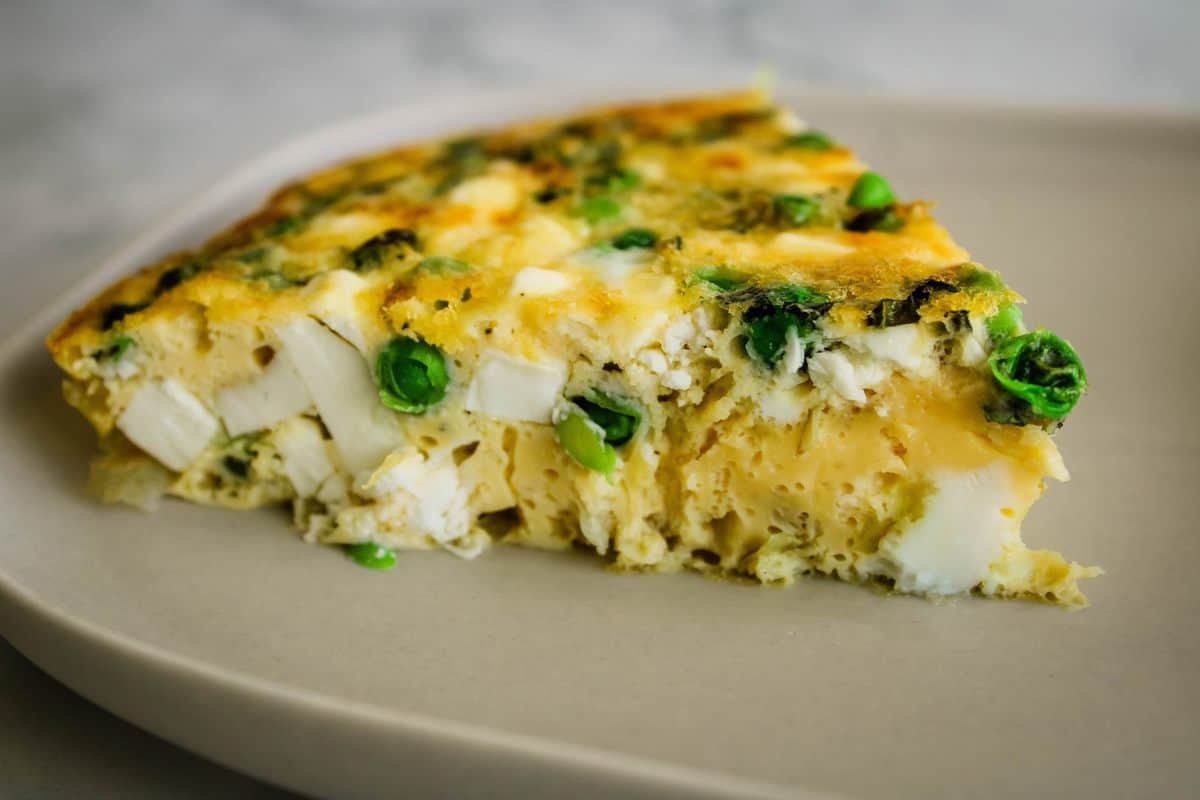 About this Cast Iron Skillet:
I was recently gifted with a Le Creuset Cast Iron Signature Skillet from my friends at Everten.
This quality product has become a staple in my kitchen. I love that I can take the dish from stovetop or oven, garnish and deliver straight to the table.
This durable dish is perfect for preparing your favourite sweet and savoury dishes – and I must admit, the opportunities are endless.
Today, I am sharing one of my favourite ways to use the Skillet – my Pea, Mint and Feta Frittata.
Ingredients in this Recipe: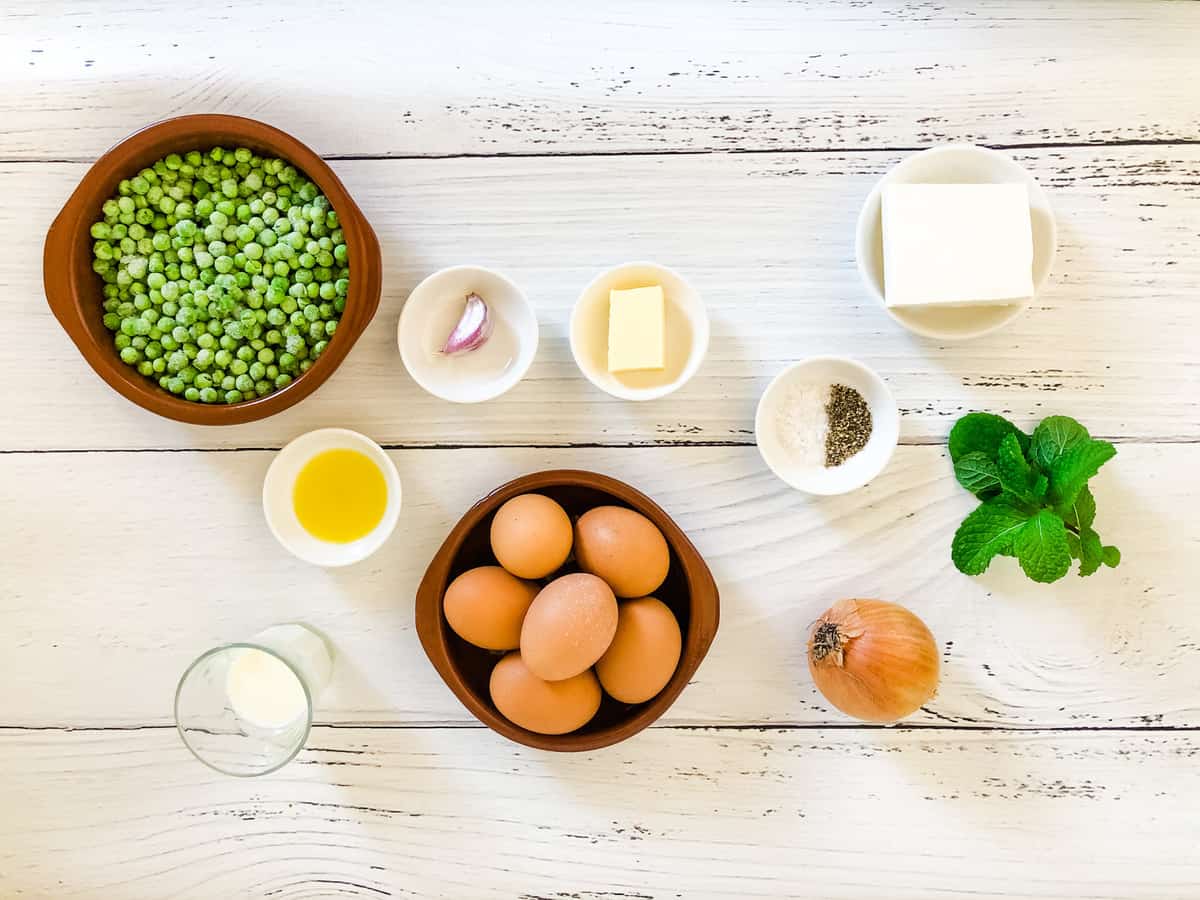 Brown/yellow onion:
This is the most popular onion, the one most widely cultivated. It is a good all-rounder able to be used raw or cooked.
Eggs:
Eggs are inexpensive and one of the best sources of protein. For ethical reasons, my preference is for free-range eggs.
Baby frozen peas:
Frozen peas are a staple for me. They are a quick, easy vegetable to have on hand. In no way are they inferior to their fresh counterpart. In fact, they are, in many ways, superior. The peas have been flash-frozen almost immediately after picking. This ensures that the peas retain their natural sweetness and their nutrients are preserved.
Fresh mint:
I am never able to choose my favourite herb; it really depends on which one I'm using at the time. However, mint is high on the list. It is a great flavour booster for many dishes.
Feta cheese:
I use Danish feta as it adds a lovely, creamy texture. I crumble it into the egg mixture, and it complements the other ingredients beautifully.
Milk:
I have used cow's milk in this recipe, but you could certainly use almond or soy milk instead.
Sea salt and freshly ground black pepper:
Season the dish according to your taste – you can always add more salt and pepper when serving if necessary. My preference is for sea salt flakes and freshly ground black pepper.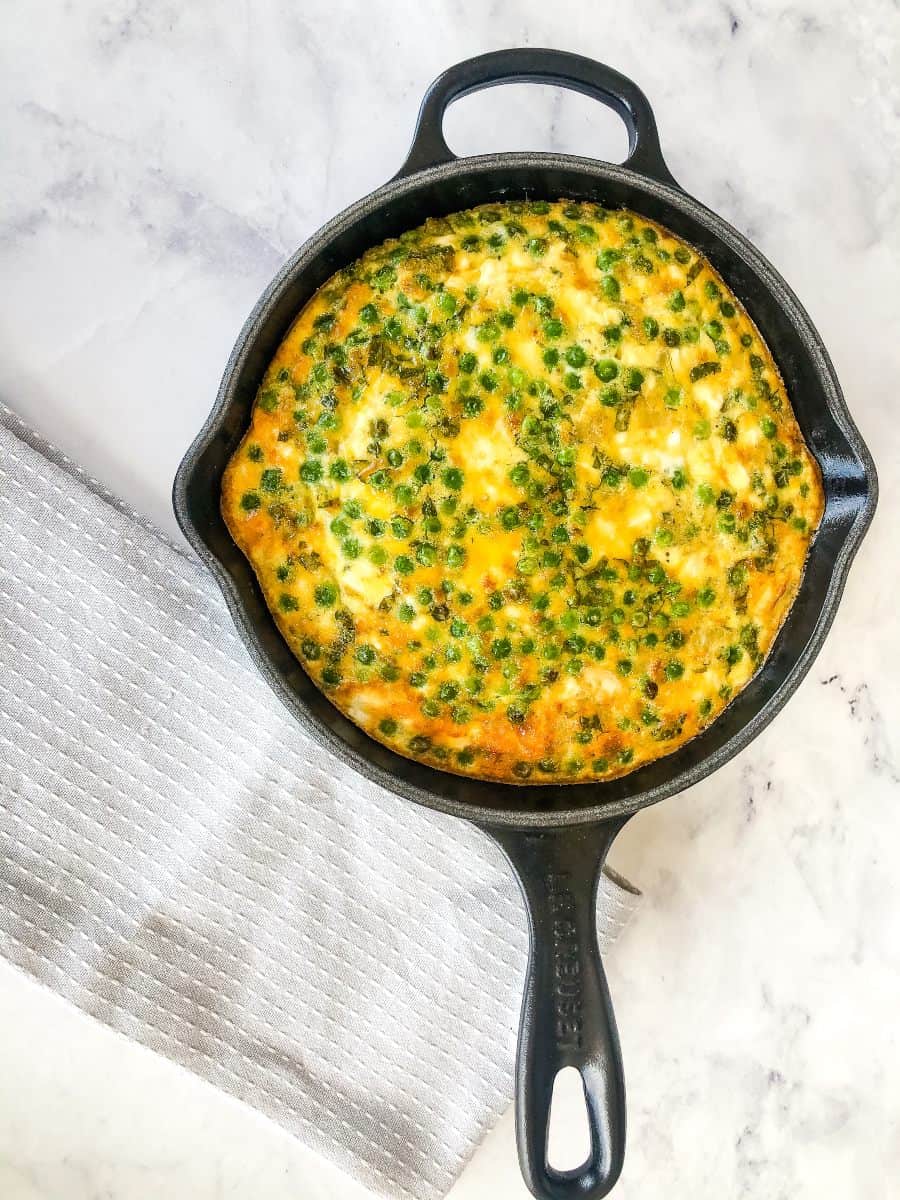 How To Make This Pea Frittata:
To begin, I add some butter to my skillet and saute some finely diced onion and garlic until it is translucent but not coloured. I season my onion mixture with salt and pepper. Once cooked, I remove it from the skillet and set this aside to cool slightly. Then I whisk the eggs together with the milk and add the peas, mint and feta. To this, I add my slightly cooled onion and garlic mixture.
I add a little oil to my skillet and use a pastry brush to ensure the oil evenly covers the base and the sides of the skillet. I add my egg mixture to the skillet.
The skillet is then placed into the oven and baked for 20 minutes until the mixture is still slightly soft in the centre. It will continue cooking after it is removed from the oven.
If necessary, place it under the grill for a minute or two until the top is golden.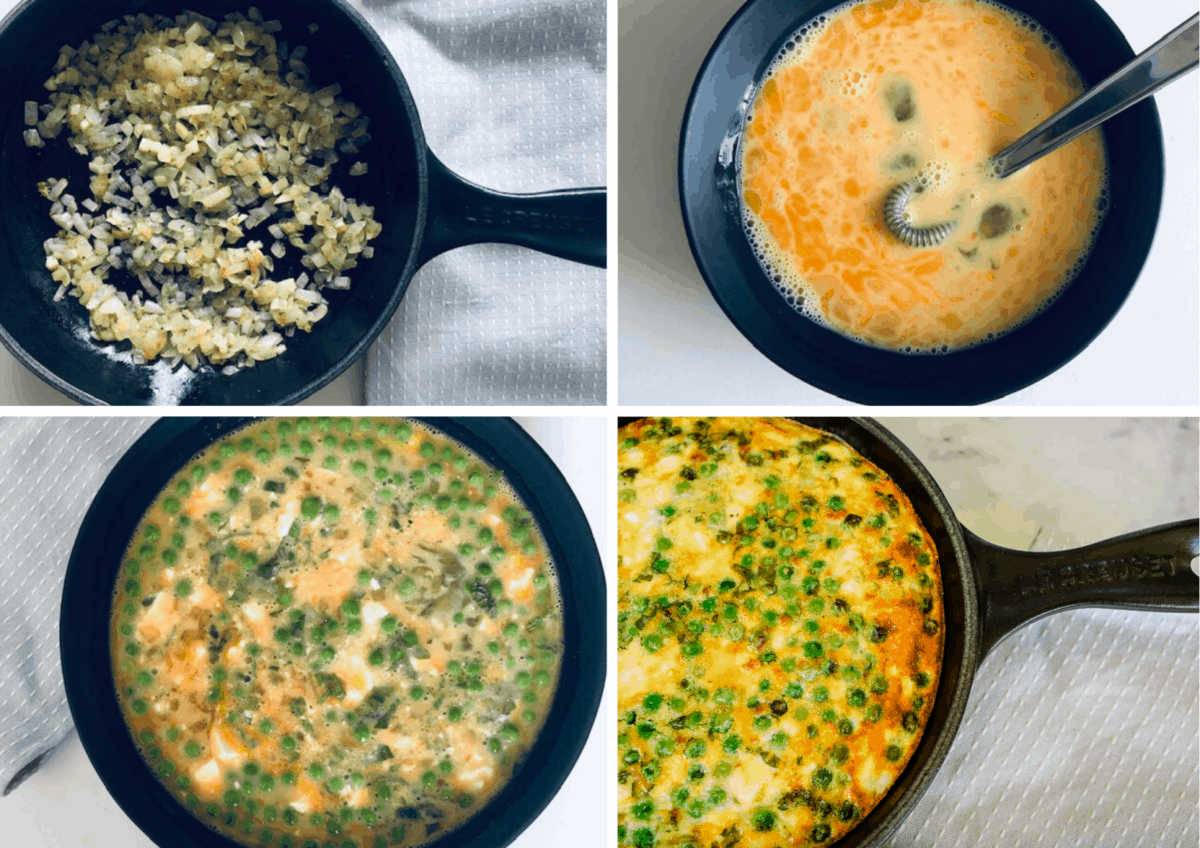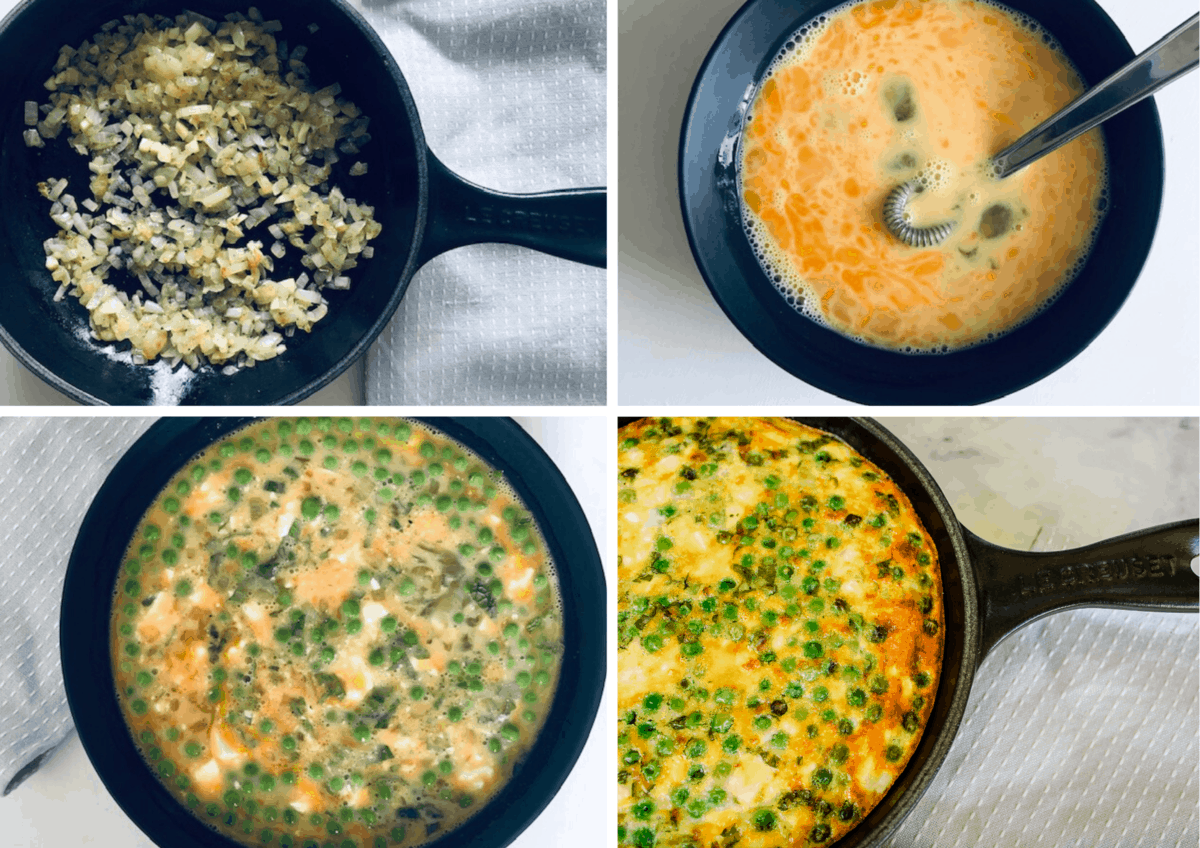 Tips for Success:
The key here is to cook the onion until it is translucent.
Cook the frittata until it is golden brown but it is still a little soft in the middle. The frittata will continue cooking after it is removed from the oven.
If the frittata is not sufficiently brown, it can be placed briefly under the grill. However, you need to be vigilant as it will burn quickly.
As this frittata begins by cooking the onion on the stovetop and is then finished in the oven, you need cookware that is safe for both. My Le Creuset pan admirably meets this requirement.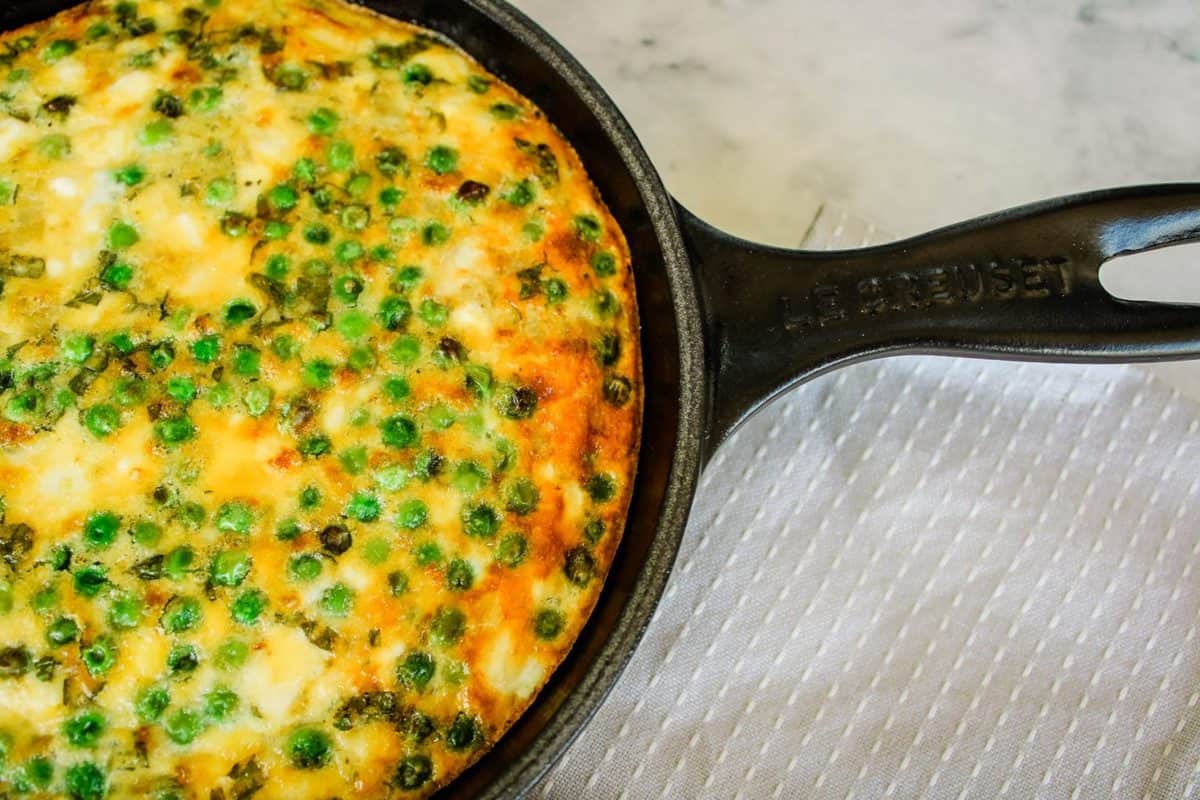 More Delicious Recipes featuring these ingredients:
This recipe demonstrates the benefit of always keeping a packet of peas in your freezer. There are so many ways in which to use them.
Other ways to use a Cast Iron Skillet:
I hope you enjoy this delicious recipe – do let me know in the comments below if you try it.
Alex xx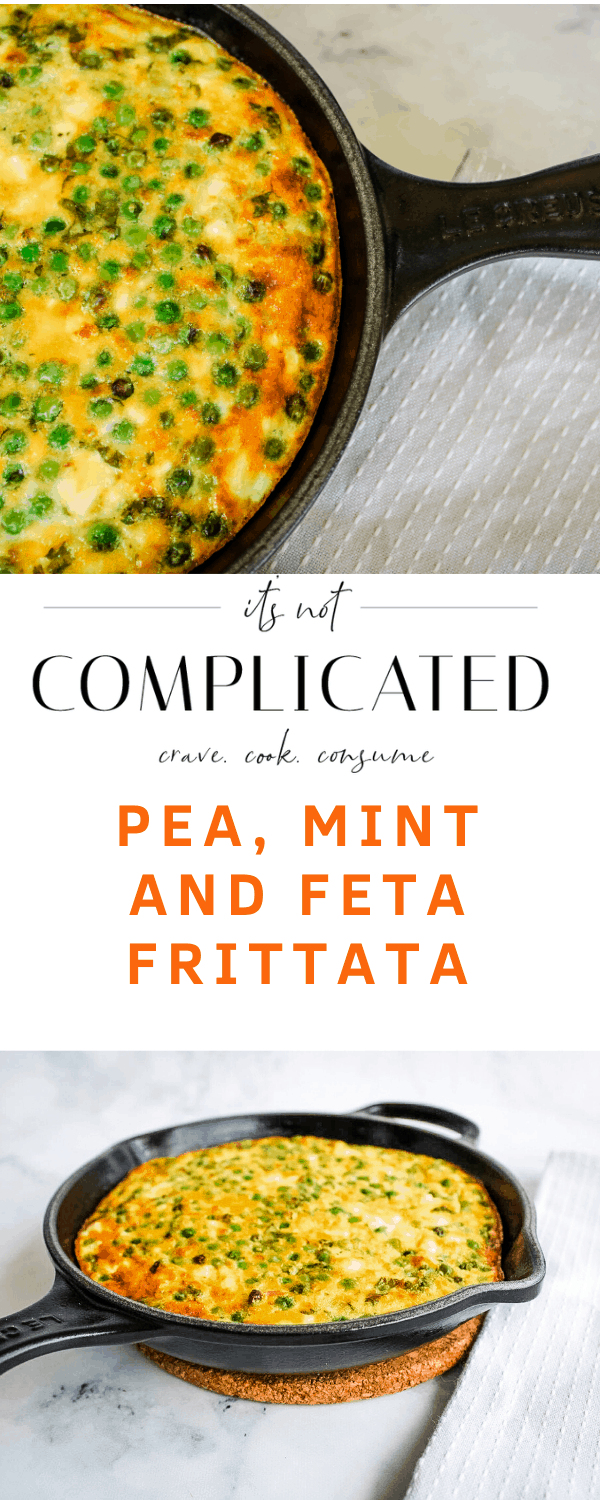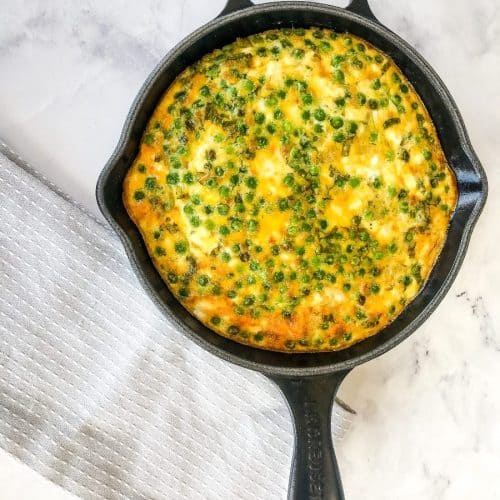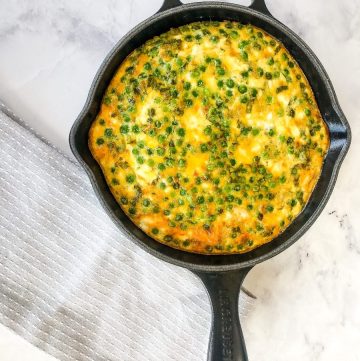 Pea and Mint Frittata
Pea, Mint and Feta Frittata is simple to prepare and full of fresh, bright flavours. Made with the popular combination of pea and mint, it is a versatile dish, and there are many ways in which to enjoy it.
Print
Pin
Review
Equipment
20 cm/8 inch Cast Iron Skillet
Ingredients
1

tablespoon

butter

1

brown/yellow onion, medium

1

clove

garlic

1

teaspoon

olive oil

6

eggs, lightly beaten

¼

cup

milk

See Note 1

2

tablespoon

fresh mint, finely chopped

1

cup

frozen peas

See Note 2

75

g

feta

See Note 3

sea salt and black pepper – to taste
Recipe Measurements:
For accuracy, when weights are provided, we recommend weighing your ingredients. This will produce the best results.
Instructions
Preheat your oven to 180 Degrees C (350 Degrees F).

Finely chop the onion and garlic.

Melt the butter in the skillet on a low to medium heat, and add the onion, garlic and salt and pepper.

Cook for about 8 minutes, or until the onion is translucent. Remove from the skillet, and set aside to cool slightly.

In a bowl, whisk your eggs and milk together. Add the finely chopped fresh mint, frozen peas and crumble in the feta. Add the cooled onion and garlic mixture.

Add the olive oil to the skillet, and use a pastry brush to ensure an even coating on the base and around the edges.

Pour the egg mixture into the skillet, and place in your pre-heated oven for about 20 minutes.

You want the frittata to be ever so slightly soft in the centre. It will continue cooking after it is removed from the oven.

For a little extra colour, turn the grill on for 1 minute.
Notes
I have used cow's milk in this recipe, but it would work fine with almond or soy milk.
I use frozen peas in this recipe – you do not need to cook them prior to adding to the dish.
I have used Danish Feta in this recipe, as I love the creaminess. 
Nutrition Estimate:
Calories:
134
kcal
|
Carbohydrates:
3
g
|
Protein:
8
g
|
Fat:
10
g
|
Saturated Fat:
5
g
|
Cholesterol:
181
mg
|
Sodium:
224
mg
|
Potassium:
118
mg
|
Fiber:
1
g
|
Sugar:
2
g
|
Calcium:
106
mg
|
Iron:
1
mg
Tried this Recipe? Please rate and leave a comment!
Nutritional Disclaimer:
The nutritional information is an estimate only, and is derived from online calculators. For accurate results, we recommend calculating the nutritional information based on the ingredients and brands you use.