Last Updated on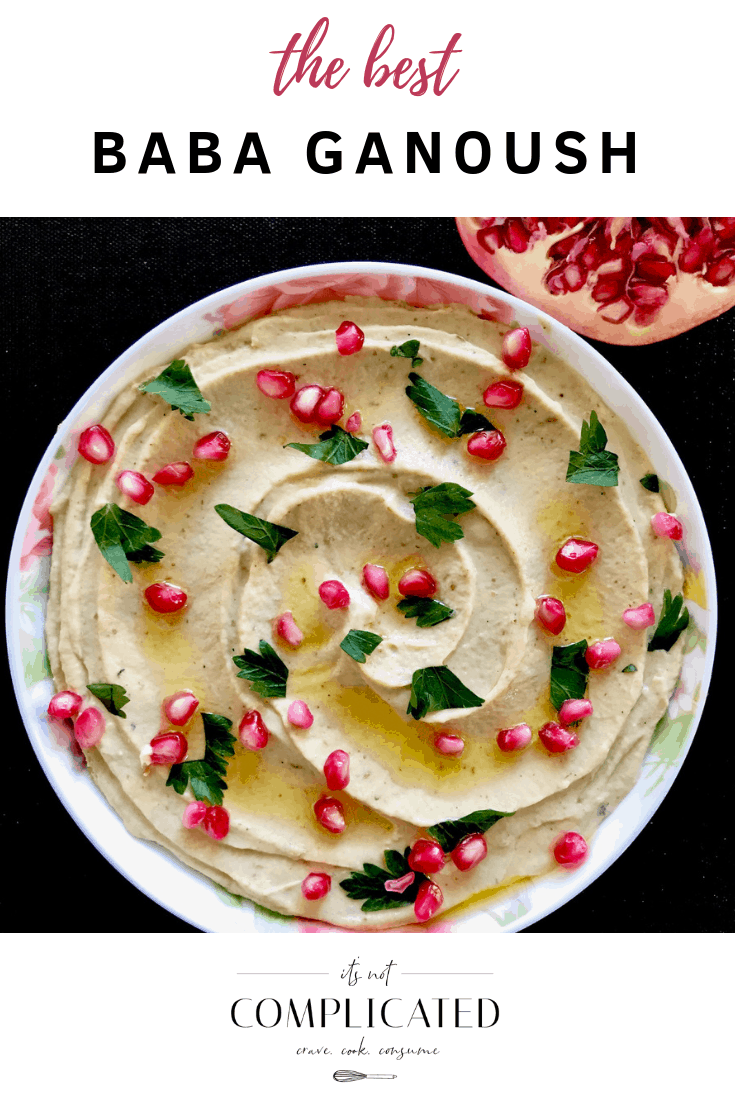 It is no exaggeration to call this recipe The Best Baba Ganoush. This classic Baba Ganoush is vegan, gluten-free and nut-free. That makes this dip a great appetiser for guests who have specific dietary requirements. It is a simple and delicious eggplant dip that is full of complexity and depth of flavour.
With good reason, hummus gets a great deal of attention; in fact, I have a recipe for it here. However, its near relative, Baba Ganoush, unfortunately, is often overlooked. If you've never had a really good Baba Ganoush, you won't know how delicious it can be. A good Baba Ganoush is smooth and creamy, with the smokiness of charred eggplant, the bright flavour that lemon provides and the nuttiness of tahini.
The key to making The Best Baba Ganoush lies in developing a smoky flavour in the eggplant.
To do this, it is best to cook the eggplant over an open flame. You can cook the eggplant outdoors on a gas or charcoal grill or indoors over a gas flame on your stove. The idea is to cook the eggplant until the skin is well charred and the flesh tender to the point that the eggplant is beginning to collapse. If cooking indoors over a gas flame on your stove I recommend that you line the burner with foil to minimise the clean-up.
However, if neither of these options is available, you will also achieve an excellent result by placing the eggplant under a grill/broiler. Do not place them too close to the grill; the skin will char before the flesh cooks. It needs to be about 15cm/6" below the heat source. Place the eggplants on a foil-lined and rimmed baking tray. It will take 30-40 minutes depending on the size of the eggplant.
Eggplant tends to divide people; they either or love it or hate it.
To fully appreciate and enjoy eggplant it must be completely cooked until it is soft, smooth, and creamy.
This enhances the natural flavour of the eggplant and makes it more receptive to the other flavours used with it. I wonder sometimes if the people who dislike eggplant have had it badly prepared and not fully cooked. Undercooked eggplant is tough, unappetising and devoid of flavour.
When it's made right, Baba Ganoush is irresistibly smooth, creamy and smoky. In its basic form, Baba Ganoush is made with eggplant, tahini, olive oil, lemon juice, garlic and salt. I like to add freshly roasted and ground cumin. Initially, I roast the seeds to release their volatile oils. I grind the seeds and add them to the eggplant. The roasted, ground cumin adds spicy and earthy flavour notes, taking the Baba Ganoush to the next level.
When buying eggplant, there are several things to consider.
Firstly, the skin should be smooth, shiny and bright and the flesh should feel firm. Avoid those that are dull or wrinkled; this is an indicator that the fruit is not fresh. Additionally, check for signs of bruising. This may mean that the flesh is also bruised. If the flesh feels soft the fruit is either old or over-ripe. Further, the eggplant should feel heavy for its size. Fruit which feels light may have a spongy texture. In this instance, I think that size does matter. I prefer to use small or medium size eggplant. Often I find that the very large ones have more seeds, making them potentially bitter.
Whilst we mainly think of Baba Ganoush as a dip, it has many other possible uses. Consider serving it:
· as a sauce alongside slow roasted lamb
· in a wrap with barbecued chicken and lettuce
· in pita bread with falafel
· as a spread on an open sandwich topped with tomato and cucumber
· with my Quinoa Tabouli and Greek-style Chicken and Salsa.
I encourage you to try this most delicious and versatile eggplant dip. I am certain that you will enjoy it. Please let me know if you try it.
Alex and Faye xx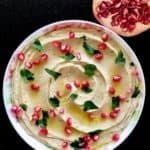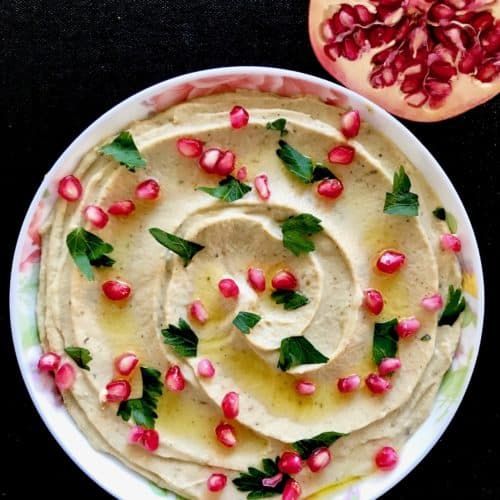 The Best Baba Ganoush
One of the best things to make with eggplant is this Middle Eastern dip. It is smokiness which defines The Best Baba Ganoush. The charring of the eggplant infuses the dip which is smooth, creamy and full of complex flavours. Make it a day ahead if possible to allow the wonderful flavours to fully develop.
Ingredients
2

medium

eggplant *

1

tsp

whole cumin seeds *

2

small

garlic cloves

sea salt * and freshly ground black pepper

to taste

3

tsp

lemon juice *

3

tbsp

tahini

3

tbsp

olive oil

extra virgin, divided
Suggested Toppings:
finely chopped flat-leaf parsley or mint

pomegranate seeds or finely diced tomato
Instructions
Place the eggplants on a barbecue over a charcoal or gas grill flame. Alternatively, place the eggplants over a gas flame* on your stove. The third method is to place them on a foil lined baking tray under a grill*. See advice in Notes.

Turn the eggplants with tongs until the skin is deeply charred and the eggplants completely tender and beginning to collapse, about 20 minutes.

Remove from the heat source and place on a plate until cool.

Drain in a colander for 1 hour*.

Meanwhile, heat a small, frying pan, without oil, over high heat. When the pan is hot add the cumin seeds. Shake the pan frequently to move the seeds about the pan. Continue until the seeds begin to slightly darken and become fragrant.

Immediately transfer the seeds to a mortar and pestle to halt the cooking process. Allow to cool.

Crush the seeds with a pestle. Alternatively, add them to a spice grinder* and process. A further option is to place the seeds in a strong plastic bag and crush with a rolling pin.

Place the eggplants in a food processor, add the garlic and ground cumin. Process until well combined and creamy.

Add the tahini and lemon juice. While processing, slowly drizzle in 2 tablespoons of the olive oil.

Check the Baba Ganoush for seasoning and texture of the dip. You may need to add extra lemon juice, salt or tahini to taste. If it needs to be a little thinner, add some extra olive oil. The dip should have the zing that the lemon provides, sufficient salt to enhance the flavour and the nutty flavour of tahini.

Spoon into a serving bowl. Make a well in the centre of the dip. Pour the remaining olive oil into the well.

Sprinkle with suggested and optional toppings. I have used parsley and pomegranate arils.
Recipe Notes
*If cooking eggplant over a gas flame on your stove, I recommend that you line the burner with foil to minimise clean up.
*If cooking eggplant under a grill/broiler, do not place them too close to the grill; the skin will char before the flesh cooks. They need to be about 15cm/6" below the heat source. Place the eggplants on a foil-lined and rimmed baking tray. Turn regularly to ensure even charring. It will take 30-40 minutes depending on the size of the eggplant.
* Eggplants should be very, very tender when cooked. Test near the stem and bottom ends; if a toothpick or skewer meets any resistance, continue cooking.
*It is important to drain the eggplant for this amount of time to extract as much liquid as possible.
*If you use your spice grinder to grind the cumin seeds, a handy tip to clean it between each use is to grind 1/4 cup of rice to a powder. Discard the rice. Wipe the grinder clean with kitchen towel.
*Do not skimp on the salt. Use ample salt to enhance the eggplant flavour.
*The amount of lemon juice required will depend on the variety of lemon; some have less acidity than others. You will need to add the lemon according to your taste.
* Gradually adding the olive oil emulsifies the dip and provides delicious creaminess.
Nutrition Facts
The Best Baba Ganoush
Amount Per Serving
Calories 221
Calories from Fat 153
% Daily Value*
Fat 17g26%
Sodium 9mg0%
Potassium 585mg17%
Carbohydrates 16g5%
Protein 4g8%
Vitamin A 55IU1%
Vitamin C 7.4mg9%
Calcium 44mg4%
Iron 1.4mg8%
* Percent Daily Values are based on a 2000 calorie diet.