You will love this Potato Salad with Peas and Mint. The mellow potato flavour is boosted by fresh mint which adds freshness and brightness. Lemon zest accentuates and lifts the flavours and the dressing is made lighter and tangy by the addition of yoghurt.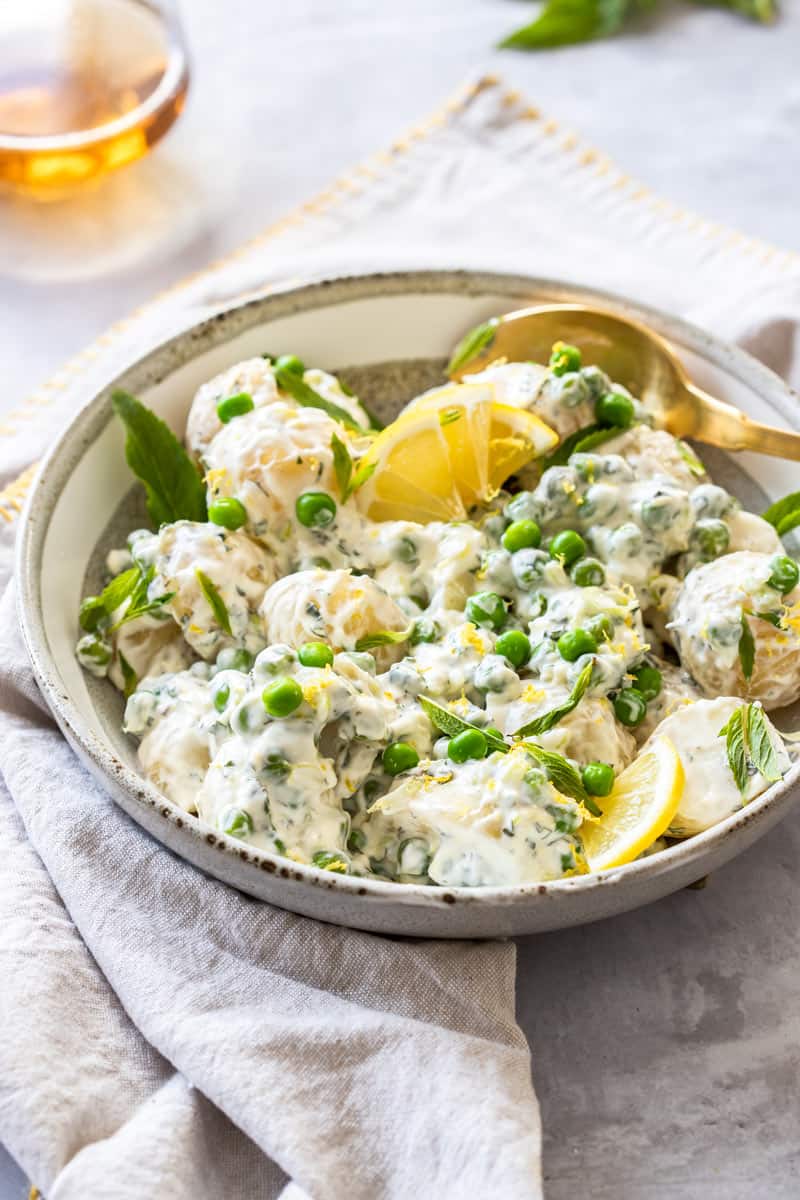 Why we love this salad:
There's no shortage of recipes for the workhorse of salads, the Potato Salad. It is almost guaranteed to make an appearance in one form or another at any barbecue. However, many are often heavy with mayonnaise and light on inspiration. But not this one. This is a zesty and refreshing salad, a lighter, brighter version of a classic Potato Salad.
To make this salad it may not even be necessary to go to the store. This is a side dish which is quickly and easily prepared from ingredients that you may already have in your store cupboard.
You can pair this salad with almost any main dish. It goes well with beef, lamb, pork, chicken or fish.
There are some lovely flavour combinations in this salad. Mint and peas are a classic pairing, perfectly boosting the flavour of the potatoes, whilst lemon zest adds a bright note and the addition of yoghurt gives the dressing a gentle tang.
Ingredients in this recipe:
Please see the recipe card further along in the post for exact quantities of ingredients and the full method.
Potatoes – look for waxy potatoes, they hold their shape.
Frozen baby peas – use regular frozen peas if you prefer. Fresh peas are a great substitute if you are able to find them also.
Mayonnaise – use a good quality, egg-based mayonnaise.
Greek yoghurt – this makes the dressing lower in fat whilst adding creaminess and a tangy flavour.
Fresh mint leaves – a great flavour booster for many dishes.
Lemon zest – adds a bright note to the salad.
Honey – adds just a touch of sweetness.
Spring onion/scallion – also known as green onions, they have a milder flavour than regular onions.
Step by step instructions:
To make my Potato Salad with Peas and Mint, I begin by boiling the potatoes in lightly salted water until they are tender then drain in a colander and set aside to cool.
Then, I cook the peas by boiling in salted water, draining them and refreshing them in iced water to retain their colour and then drain again.
To make the dressing I combine the mayonnaise, yoghurt, mint, lemon zest, honey and spring onions/scallions.
When the potatoes are cool, add them to a medium size bowl with the peas and fold through the dressing. Season to taste with sea salt and freshly ground pepper. Add more lemon zest and mint if desired. Garnish with extra fresh mint leaves, peas and a wisp or two of lemon zest.
Tips for success and FAQs:
Be sure to salt the water in which you boil the potatoes. This is important to add flavour to the potatoes throughout. You will not get as much flavour by sprinkling salt on the surface. As well, for even cooking, start your potatoes in cold water.
What are the best potatoes to use?
Avoid starchy potatoes, such as Russet or King Edwards which tend to fall apart, making the salad look mushy. Look for waxy potatoes which will hold their shape, such as Kestrel, Desiree or fingerlings.
How do I know when the potatoes are cooked?
You can check the potatoes by using a skewer, the tip of a paring knife or a fork. If the potatoes are easily pierced to their centre and feel tender, they are done. 
Should I dress the potatoes when they are still hot?
When using a mayonnaise-based dressing it is important to add it to potatoes which have cooled. Mayonnaise added to hot potatoes tends to melt and become oily. If using a vinaigrette dressing, the opposite applies. Toss the potatoes with the vinaigrette while they are still warm. This way, the potatoes will obtain greater flavour by absorbing some of the dressing.
How long will the Potato Salad with Peas and Mint last?
The salad is at its best on the day that it is made. If not serving immediately, it should be refrigerated. If the salad has been properly stored in the refrigerator, it will last 3 days. However, if it has sat out of the fridge for two hours, I would discard it. But please note, for the best flavour and texture, I do not recommend making it 3 days ahead of when you plan to serve it.
Suggestions to customise the salad:
Create diverse flavours with what you have on hand. The mellow flavour of potatoes marries well with a huge variety of ingredients. Consider hard boiled eggs, olives, crispy bacon, dill gherkins, celery, onion or sweetcorn. If you don't have fresh mint, parsley or dill would be lovely. The combinations are endless and the potatoes so accommodating that you can customise a potato salad to suit your taste.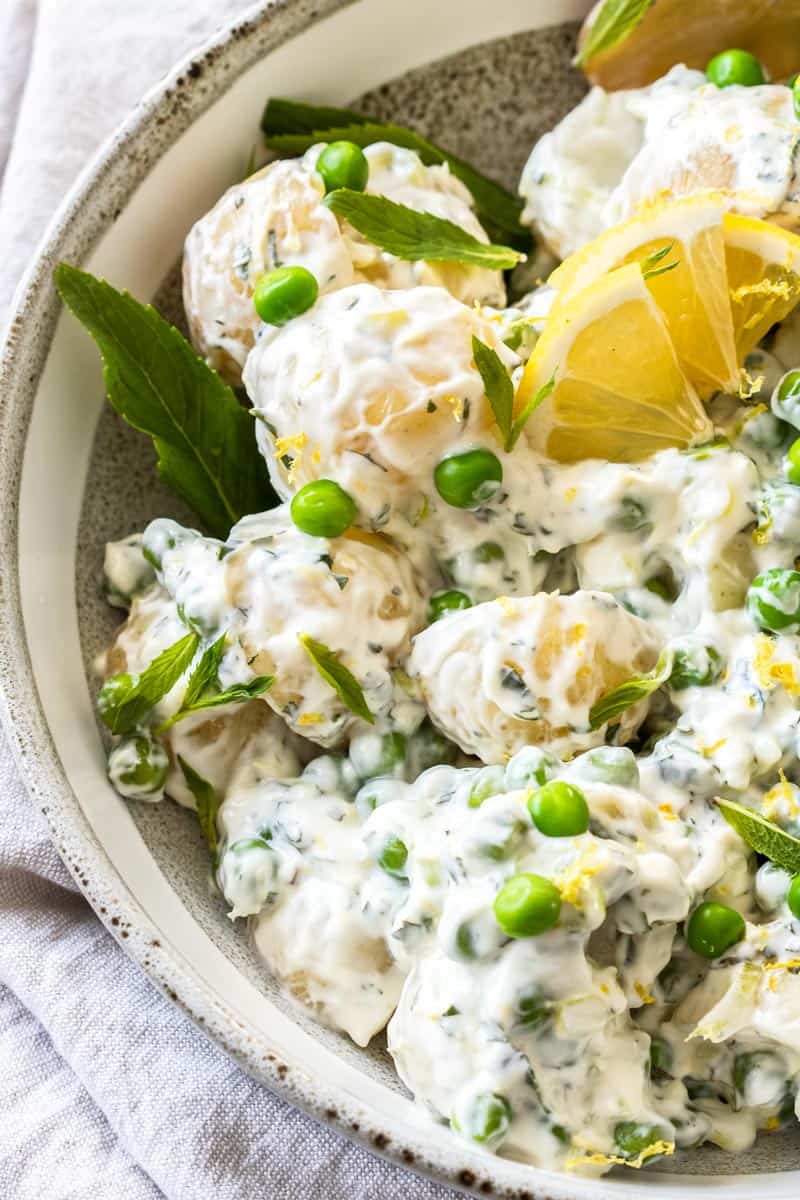 More delicious recipes for you to try:
We love salads, and don't believe they should ever be boring! Here are some more of our favourites for you to try:
My Potato Salad with Peas and Mint is a crowd-pleaser, enjoyed by young and old alike. It is a zesty and refreshing spin on a classic salad and is an essential inclusion at every picnic or barbecue. As well, it is an ideal side dish to many main meals.
Please let us know in the comments if you try this recipe.
Alex xx
This post was originally published in July 2018. It has been updated with new photos and more information. The recipe remains the same.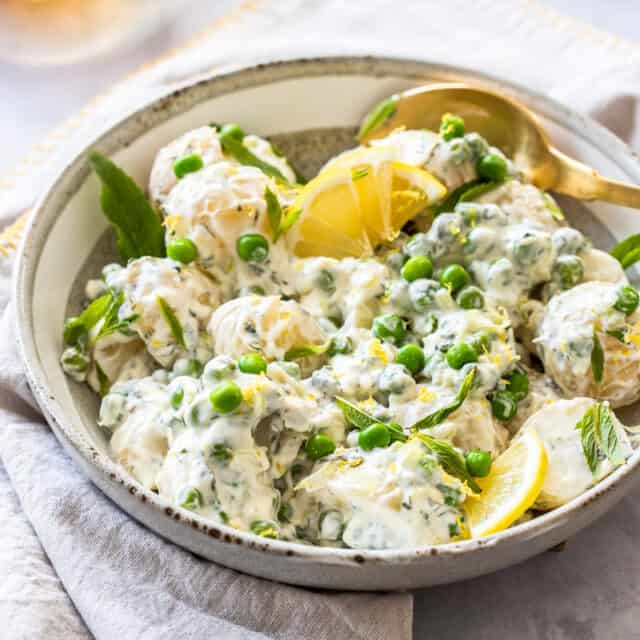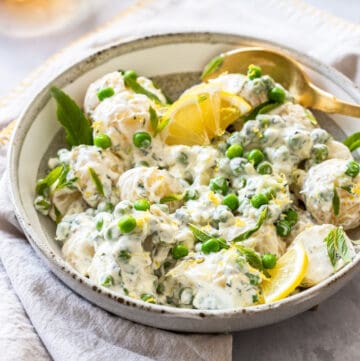 Potato Salad with Peas and Mint
A refreshing twist on a classic salad! My Potato Salad with Peas and Mint is creamy and delicious, with a hint of freshness from the addition of lemon zest and mint.
Print
Pin
Rate
Ingredients
500

gm

(17.5 ounces) baby new potatoes or large potatoes cut to size

See Note 1

¾

cup

frozen baby peas

See Notes 2 and 3

1/3

cup

good quality egg mayonnaise

1/3

cup

Greek yoghurt

½

cup

mint leaves – finely chopped

See Note 3

1

spring onion/scallion – finely sliced

1

tsp

lemon zest

or more to taste

½

tsp

honey

sea salt and freshly ground black pepper – to taste
Instructions
For even cooking, start the potatoes in a saucepan of lightly salted, cold water, ensuring that they are completely submerged. Bring to the boil and cook for 15 to 20 minutes or until tender, then drain in a colander. Set aside to cool. – see Note 4

Add some fresh water to the same saucepan, add some salt, bring to the boil and add the peas. Bring water back to the boil, drain, then add the peas to a bowl of iced water to cool them quickly and maintain the green colour. Drain when cool.

Mix together the mayonnaise, yogurt, mint, lemon zest, honey and spring onions to make the dressing.

Keep aside a few peas and small mint leaves for the garnish.

When the potatoes are cool, add them to a bowl, add the peas and fold through the dressing. Season to taste with sea salt and freshly ground black pepper. Add more lemon zest and mint if desired.

Garnish with fresh mint leaves, peas and a wisp or two of lemon zest.
Notes
You can also use regular potatoes, which you have cut to size if you are unable to find baby potatoes.
You can use regular size peas if you prefer.
Set aside a few peas and mint leaves for garnish.
The cooking time will depend on the size of your potatoes. If they are not large you should check to see if they are done at about 10 minutes.
Please note, the nutritional information is based on this salad being served as a side dish for four people. The nutritional information is an estimate only.
Nutrition
Calories:
267
kcal
|
Carbohydrates:
28
g
|
Protein:
6
g
|
Fat:
15
g
|
Saturated Fat:
2
g
|
Cholesterol:
9
mg
|
Sodium:
137
mg
|
Potassium:
625
mg
|
Fiber:
5
g
|
Sugar:
4
g
|
Vitamin A:
477
IU
|
Vitamin C:
39
mg
|
Calcium:
58
mg
|
Iron:
2
mg