When I want a quickly prepared appetiser, I invariably turn to my recipe for Easy Hummus.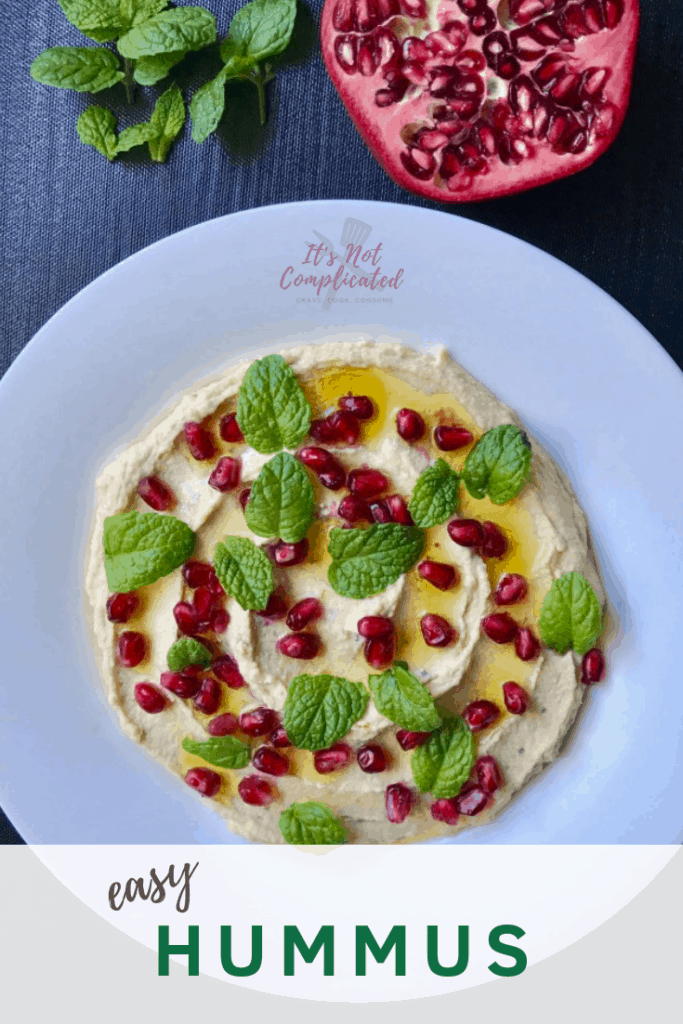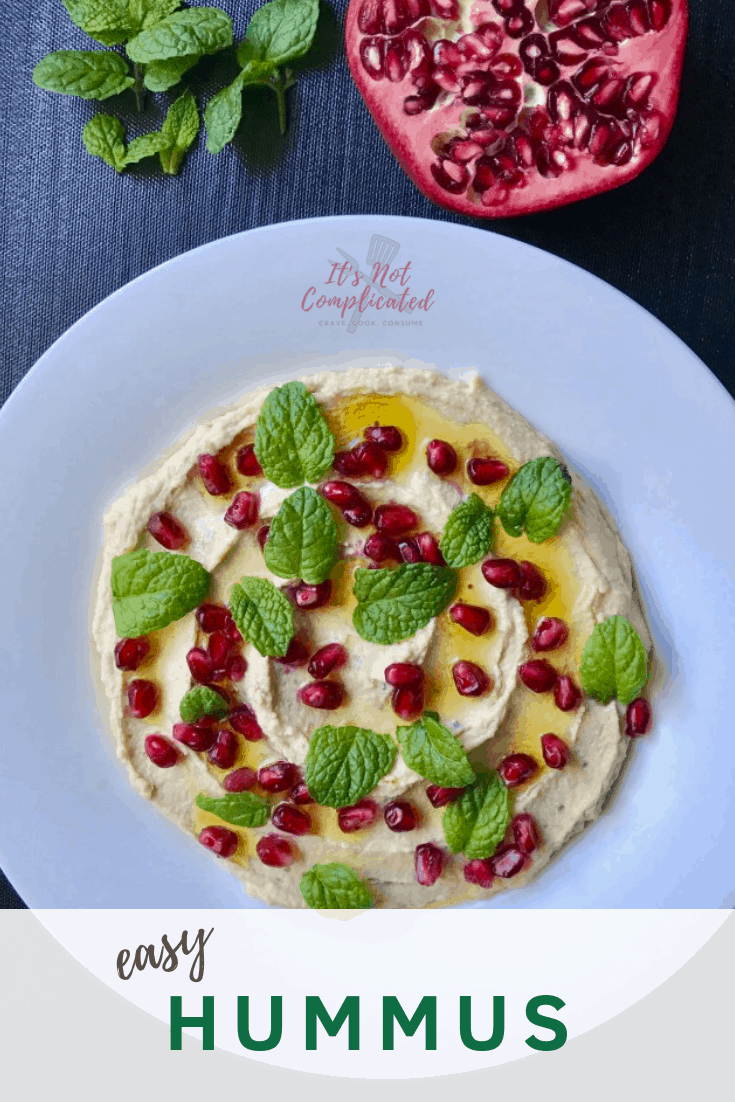 I can prepare it in minutes from ingredients I almost always have on hand, in less time than it takes to go to the store to buy a tub. Not surprisingly, the home-made version tastes infinitely better than the store bought. Plus, there is the satisfaction of knowing that you have made it yourself, and you know exactly what it contains; there are no unnecessary additives or artificial preservatives.
The exact origin of hummus is uncertain. It has crossed many borders, being enjoyed by people throughout the Middle East and Greece. Whatever its origin, almost everyone knows hummus, the quintessential chickpea dip. It contains just a few main ingredients; chickpeas, tahini (sesame paste), lemon juice, some fresh garlic and olive oil.
This hummus recipe is quickly and easily made using canned chickpeas, which are readily available and easily stored for spur-of-the-moment hummus making.
The purist, however, would use dried, pre-soaked and boiled chickpeas. To obtain the smoothest puree, they would peel the chickpeas. Yes, every single one. And one day, to satisfy my curiosity, I will try that method.
Meanwhile, I'm very satisfied with the result I obtain by using my easy recipe. The hummus comes together in minutes, all ingredients being whizzed together in a food processor or high powered blender. The resulting dip should be smooth, creamy and flavourful. I have a few tips to achieve that. When you drain the can of chickpeas, make sure that you reserve the liquid. This liquid is aquafaba, currently enjoying great popularity with vegans and those with egg allergies, for its use as an egg replacer. The reason you want to save the aquafaba is that you'll add some of it back into the hummus to thin and lighten the mixture.
With so few ingredients, it is essential that they be of the best quality.
I prefer to use canned, organic chickpeas. For the best flavour, it is essential to use fresh lemon juice; never use the bottled variety. Lemon is a fabulous flavour enhancer, adding brightness and zing to many dishes. Please, don't ever use garlic powder; always use a clove of fresh garlic. And the oil; always ensure it is extra virgin olive oil for maximum quality and flavour.
Hummus, of course, is an ideal dip; it is healthy and versatile.
Use it as a dip for vegetables, serve it with crackers, pita chips or bread; serve in pita bread with falafel or use it as a spread for sandwiches. You can serve hummus plain, with just a drizzle of olive oil. However, it also likes to dress up. Today I've chosen to use a drizzle of extra virgin olive oil, pomegranate arils and mint leaves. You could also try topping it with caramelised onion, lemon zest, some whole chickpeas, toasted pine nuts, a sprinkle of paprika, some fresh herbs, chilli flakes or za'atar. It is an ideal dip to customise, so make it your own.
Today, to keep this appetiser gluten free, I have chosen to serve it with rice crackers. It is also lovely served with pita bread or vegetables. Or, you could try our Mixed Seed Crackers
By the way, Hummus has a few different spellings – either way, it always tastes good ;). I hope you will enjoy this quickly and easily made appetiser. If you try it, please let me know in the comments below. Be sure to try my other version also: Roasted Carrot Hummus.
Xx Alex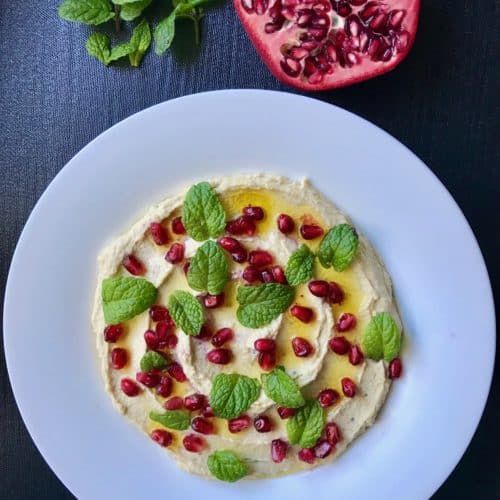 Easy Hummus
When you need a quickly prepared appetiser, this Easy Hummus recipe is a life saver. With just a few minutes' work, you will have a nutritious, very tasty, smooth and creamy dip which will be suitable for many people with specific dietary requirements. Serve it plain or dress it up. Serve it with pita bread, crackers or vegetables.

Print
Pin
Review
Recipe Measurements:
For accuracy, when weights are provided, we recommend weighing your ingredients. This will produce the best results.
Ingredients
425

g

cooked chickpeas

I used a can of chickpeas

1

clove

garlic

medium sized

3

tablespoon

hulled tahini

well stirred *

3

tablespoon

lemon juice

2

tablespoon

reserved chickpea water *

sea salt to taste

I use Maldon sea salt flakes
Serving Suggestions
pomegranate seeds and fresh mint

a drizzle of olive oil and a sprinkle of cayenne pepper

serve with crackers, pita bread, vegetables etc.
Instructions
Drain the chickpeas in a sieve, over a bowl. Do not discard the chickpea liquid.*

Add the chickpeas to the bowl of a food processor or high-speed blender.

Add the remaining ingredients to the chickpeas.

Blend until smooth.

Test for seasoning and add salt, and/or tahini and lemon juice to taste.

If the mixture is too thick, add more of the reserved chickpea liquid until it reaches the desired consistency.*

I like my hummus to have a fresh, lemony tang, so depending on the variety of lemon I use, I may add more lemon juice. Some lemons have more flavour than others.

*When you've blended your hummus and it is smooth, creamy and ready for serving, pour it into a serving bowl. Take a dessert spoon and press the back of the spoon into the centre of the hummus. With your other hand, rotate the bowl clockwise and you will create a spiral. This makes for a lovely presentation and allows a drizzle of olive oil to neatly pool in the indentation.

Serve the hummus with crackers, pita bread or an assortment of vegetables.
Notes
*The Australian tablespoon is 20ml.
*Tahini is a sesame paste, available in all major supermarkets. You may find with some brands of tahini that it has separated. There will be thick paste on the bottom of the jar and a fair degree of oil on the top. You will need to stir these two together to form a smooth paste.
*If you forget, and accidentally discard the chickpea liquid, just use water instead.
*I tested the recipe using three different brands of chickpeas and found that the amount of chickpea water I needed, to obtain the right consistency, varied between brands. Use your judgement, add more if you like a thinner consistency.
*One of the tins I used seemed to lack flavour, requiring much more salt and lemon than the others. Adjust the flavour and the texture to suit your requirements. 
Nutrition Estimate:
Calories:
163
kcal
|
Carbohydrates:
17
g
|
Protein:
7
g
|
Fat:
8
g
|
Saturated Fat:
1
g
|
Sodium:
299
mg
|
Potassium:
216
mg
|
Fiber:
5
g
|
Calcium:
53
mg
|
Iron:
1.8
mg
Tried this Recipe? Please rate and leave a comment!
Nutritional Disclaimer:
The nutritional information is an estimate only, and is derived from online calculators. For accurate results, we recommend calculating the nutritional information based on the ingredients and brands you use.