Last Updated on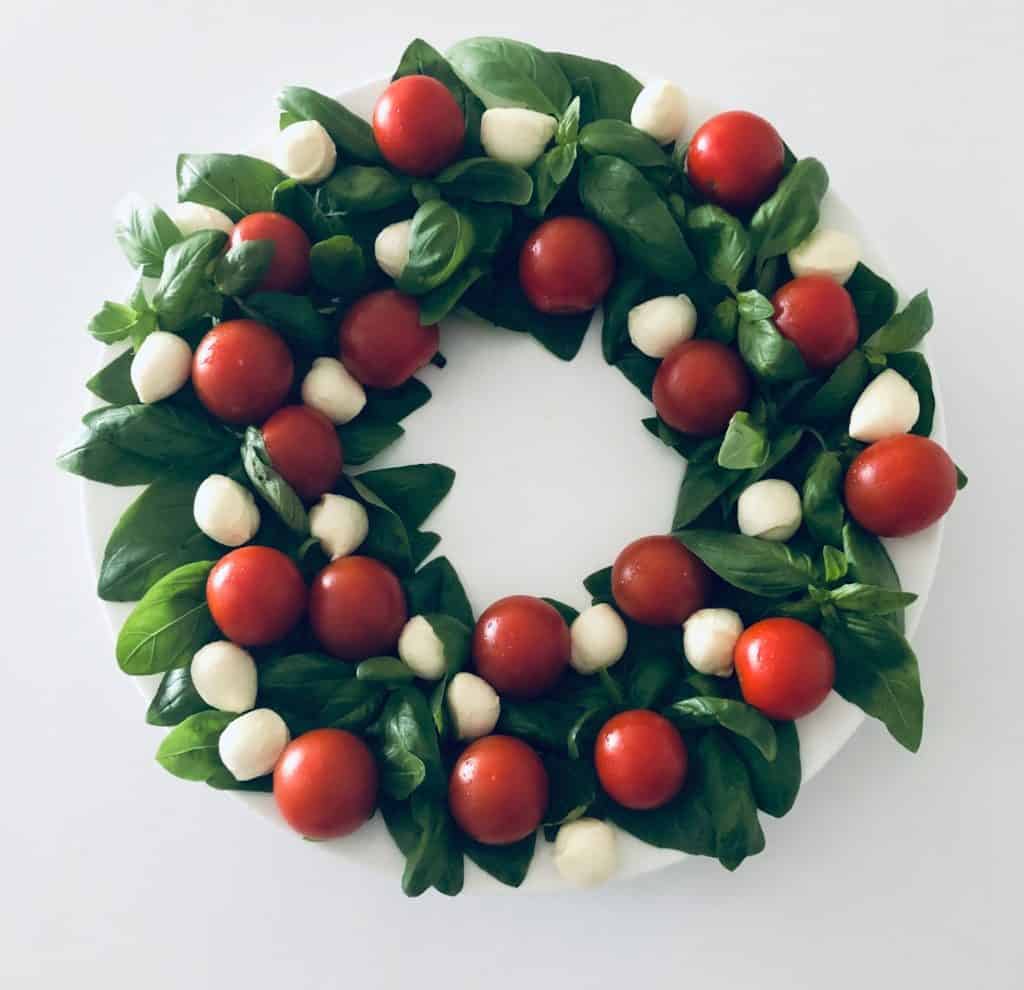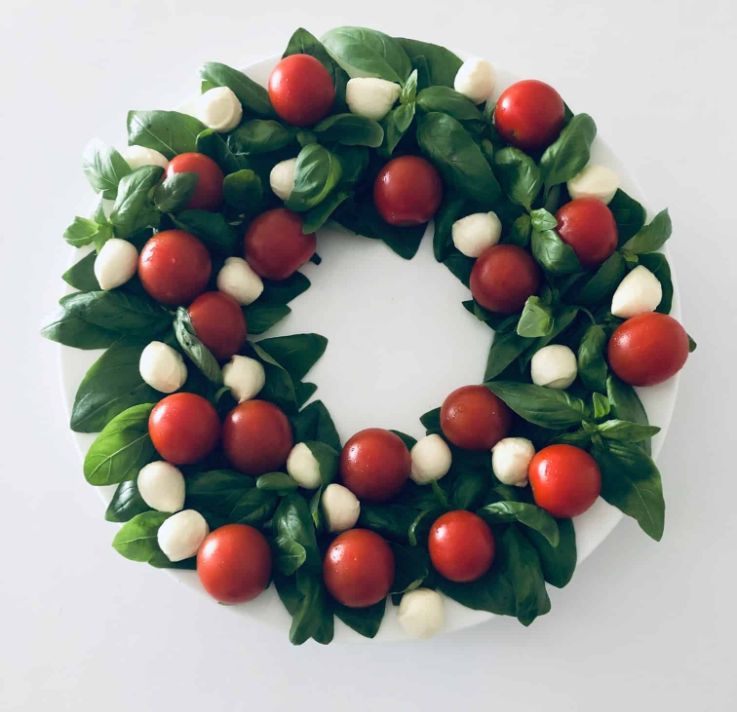 My Caprese Christmas Wreath is a festive and healthy dish.
It is a festive interpretation of the traditional and popular Italian appetiser. Insalata Caprese, which roughly translates as "salad of Capri", is a perfect addition to your Christmas entertaining. It is simple to prepare, light and healthy and is an ideal contrast to the heavier foods people will be consuming over the festive season. Despite being simple to prepare, it still provides a "wow" factor. It looks so good that it's perfect to use as your table centrepiece. It is a joy to look at and a joy to eat.
With summer almost here in Australia, and Christmas rapidly approaching, I relish the abundance of fresh, flavoursome tomatoes.
One of the great joys of summer is a freshly picked tomato. There is a sweetness and tanginess that requires very little in the way of adornment. With a freshly picked tomato, simple, as in this case, is most definitely best. And you can depend on the Italians to do simplicity in great style. Insalata Caprese, in its traditional form, consists of just tomatoes, fresh mozzarella, fresh basil and olive oil. However, when a dish is as simple as this one, it is essential that you use the best ingredients. The tomatoes must be perfectly ripe, the basil fresh and fragrant. Gorgeous balls of fresh mozzarella add creaminess to the dish. And for maximum flavour, you really must use extra virgin olive oil to drizzle over the salad.
Insalata Caprese is best served at room temperature. Ideally, for full flavour, tomatoes should be kept at room temperature.
However, if you have prepared the salad a little in advance, and refrigerated it, please allow time to bring it to room temperature. An icy cold tomato is not a joy to eat.
If you have not tried it before, you will discover that Insalata Caprese is a perfect combination of vibrant, fresh flavours. If you have tried it, what does it say to you? To me, it says sunshine, fresh produce and tomatoes that ripen naturally in the sun. And like Pizza Margherita, it displays the three colours of the Italian flag, red, white and green.
This patriotic Italian salad is ideal when you're short on time, and who isn't these days?
I will be having some friends for casual meals over the festive season and I like the idea of keeping the menu simple. I'm thinking colourful, festive platters of food that can be prepared quickly and easily, such as this salad. I also like to provide a healthy dish to help negate the less than healthy, but totally delicious food, we will also be eating.
Therefore, if you need to prepare something that's quick, tasty, and still "Christmassy" this will fit the bill. Not traditional, but still delicious, is to serve the Insalata Caprese Christmas Wreath with a drizzle of our Balsamic Glaze. Have some crusty Italian bread, or Foccacia on hand to mop up any juices. Caprese Salad goes deliciously with my Spinach and Ricotta Pasta Shells.
Another festive idea is our Smoked Salmon Wreath.
For a delicious spin on the classic dish, have a look at our Roasted Cherry Tomato Caprese Salad!
Enjoy!
Xx Alex
P.S. Have a look at our Chocolate Leaf Easter Wreath also!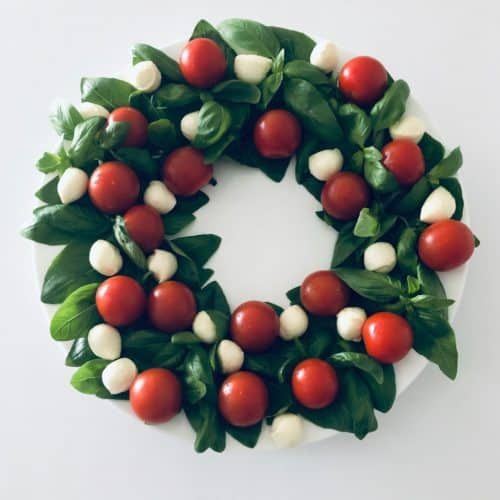 Caprese Christmas Wreath
My Caprese Christmas Wreath is a colourful and healthy dish that will be ideal for your Christmas table or festive celebrations. It's quick and easy to make, looks good and tastes great.
Print
Pin
Rate
Ingredients
1

bunch

basil

100

g

bocconcini

small *

250

g

cherry tomatoes

30

ml

olive oil

extra virgin, more to taste if needed

sea salt flakes and freshly ground pepper

to taste *

Balsamic Glaze to serve

optional
Instructions
For attractive presentation and the maximum effect, choose a large, white platter.

Gently wash and dry the basil.*

Remove leaves from the stems and arrange decoratively around the edge of the platter.

Arrange the cherry tomatoes and bocconcini on the basil leaves.

The salad can be prepared to this stage a little in advance. If you do refrigerate it, ensure that it has returned to room temperature prior to serving.

Season to taste and drizzle on the extra virgin olive oil just prior to serving so the salad doesn't wilt.
Notes
*Bocconcini are balls of fresh mozzarella, found in the refrigerator section at your supermarket. They range in size through large, medium and the very small ones that I have used here.
*I use Maldon sea salt for flavour and the flakes provide some texture.
*Fresh basil bruises easily so it is important to handle it gently.
Nutrition
Calories:
140
kcal
|
Carbohydrates:
2
g
|
Protein:
5
g
|
Fat:
12
g
|
Saturated Fat:
2
g
|
Cholesterol:
9
mg
|
Sodium:
24
mg
|
Potassium:
136
mg
|
Sugar:
1
g
|
Vitamin A:
410
IU
|
Vitamin C:
14.6
mg
|
Calcium:
100
mg
|
Iron:
0.5
mg