This very easy Quinoa, Mandarin and Spinach Salad will brighten even the dullest day.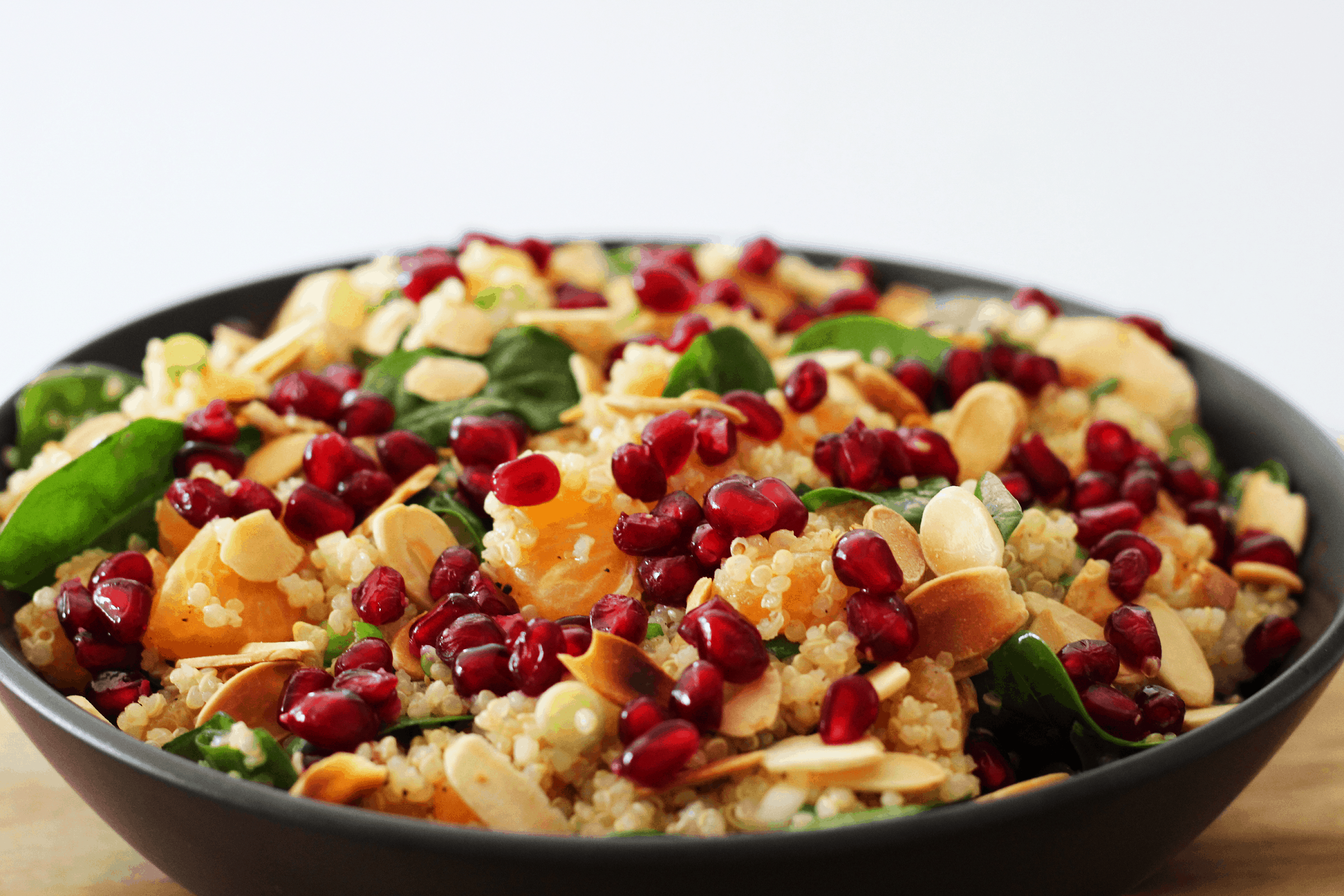 I developed this recipe after being captivated by a stand of gorgeous, orange mandarins at Adelaide Central Market. Whilst I immediately enjoyed them in their fresh, natural state I felt that there must be a way to use them in a side dish and so this recipe evolved. This vibrant, flavoursome salad is ideal as a side dish or a healthy lunch. The base of the salad is quinoa, one of my favourite ingredients.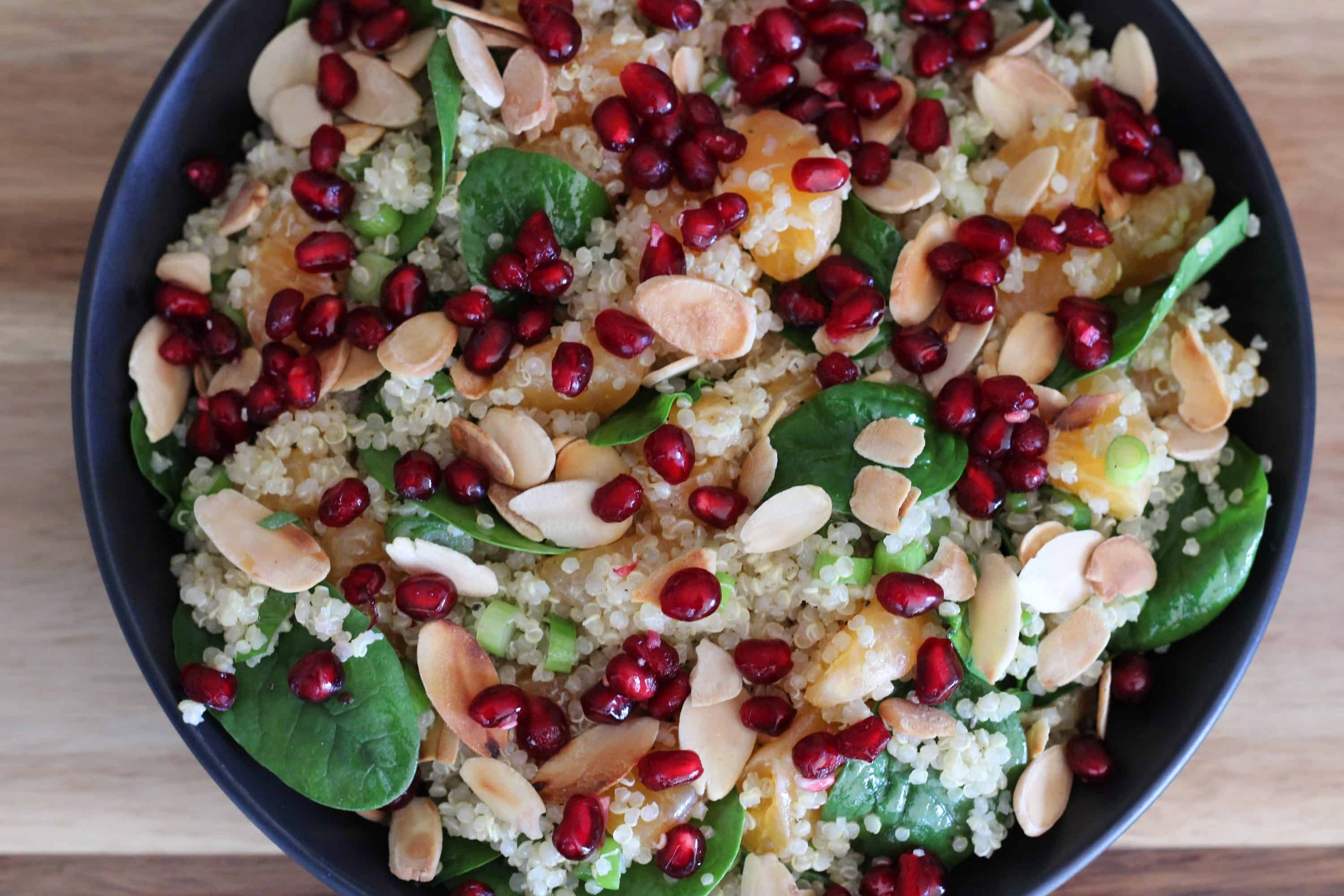 A little about Quinoa
In the culinary world, quinoa is something of a superstar. Quinoa, which is pronounced keen-wah, is a complete protein, which means that it is one of the few plant sources which contain all nine essential amino acids. As an added bonus it is naturally gluten-free.
Quinoa is an ancient grain which originated in Peru. It has been grown in South America for thousands of years. It was cultivated by the Incas and was an important part of their diet.
Quinoa is now one of the most popular health foods. It has a number of nutritional benefits. In addition to being high in protein, it is also high in fibre and a good source of iron, magnesium, phosphorus, potassium, calcium, zinc, copper, vitamin E, and a number of antioxidants.
Whilst quinoa is commonly referred to as a whole grain it is actually a seed and belongs to the same family as spinach, beets and Swiss chard.
Although there are many varieties of quinoa, the three most widely available are white, red and black. You can use the different colours interchangeably in recipes. However, you may prefer to use a particular colour to offset the food being served with it. The flavour and texture differences are, however, subtle.
· White quinoa
White has the most delicate flavour; it is the most tender and cooks the fastest. The white quinoa will be fluffier than the other colours.
· Red quinoa
Red has a slightly nuttier flavour than white and a slightly chewier texture.
· Black quinoa
Black is slightly sweeter than white and also a little earthier. Black takes a little longer to cook and has a little more crunchy texture.
Ways in which to use Quinoa
Quinoa is a versatile ingredient, suitable to use in sweet or savoury dishes. For the health conscious, vegans and vegetarians it has become a nutritious substitute for rice, potatoes and pasta.
It is ideal as a side dish for many meals; it is delicious served alongside stews, braises, curries or a stir fry. Additionally, try cooking it risotto-style making a high protein, more nutritious dish.
It is an ideal replacement for rice when making stuffed vegetables and provides additional nutrients and texture when added to soups and stews.
It makes a great base for salads, as used here and it makes fabulous vegetarian patties; the recipe is coming soon.
How to cook Quinoa
I begin by rinsing the quinoa before cooking. The grains are coated in a naturally occurring chemical called saponin. The chemical deters insects but it does have a bitter flavour. I place the quinoa in a fine mesh strainer and rinse vigorously under cold, running water, swishing the quinoa with my fingers. I then ensure that it is well drained.
I add 2 cups of water to a medium size saucepan, add the well-drained quinoa, bring to the boil then lower the heat and simmer, covered, for 8-10 minutes, until the seeds are tender. When they're cooked you will notice they have little curly "tails". There are, as mentioned above, slight differences in cooking times with the different varieties, with white cooking the fastest so you will need to judge for yourself. Further, times may vary depending on the age of the quinoa. I check the texture of the grain a few minutes before the suggested cooking time.
When the quinoa is to my liking I remove it from the heat, place a clean tea towel or 3 layers of paper towel over the saucepan, place the lid back on and stand 5 minutes. The tea towel/paper towel will absorb excess moisture. Turn the cooked quinoa into a bowl and leave to cool.
If cooking the quinoa for a side dish and you would like to add extra flavour you can cook it in stock instead of water and add herbs of your choice.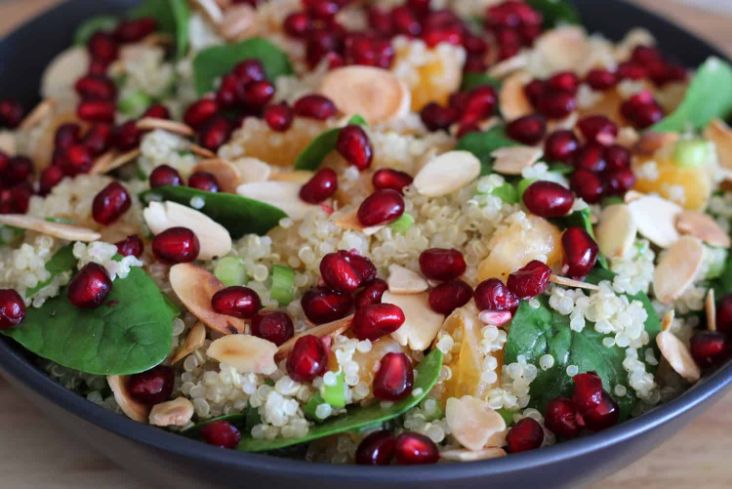 Some facts about Spinach
Quinoa is not the only superfood in this recipe. Further nutrients, colour and texture are obtained by adding baby spinach leaves. With its delicate flavour, tender texture and beautiful colour, baby spinach is an ideal addition to salads.
Spinach is low in calories and nutrient dense. It is an excellent source of vitamins A, B6, C and K along with iron, potassium and magnesium. Additionally, it contains a number of health-benefiting antioxidants and is a valuable source of dietary fibre.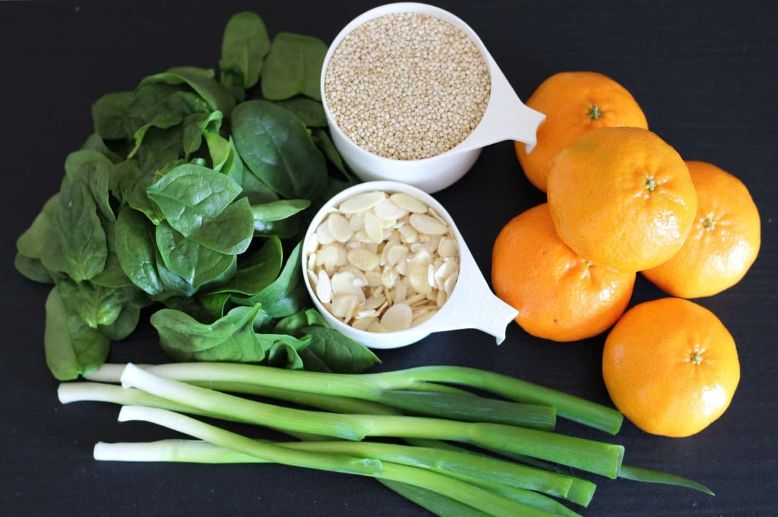 A little about Mandarins
Mandarins, sometimes called mandarin oranges, are smaller members of the orange family. Other members of this group include tangerines and clementines.
Originating in Southeast Asia and China, their name derives from the public officials of the Chinese Imperial Court, the Mandarins, who wore long, orange robes.
Mandarins were originally enjoyed by the privileged classes. However, nowadays, thankfully, we can all enjoy their fragrance and sweet flavour.
Most mandarins have bright, orange skin. They are ideal for children to enjoy as they are easy to peel and their segments easily separated. There are a number of varieties, both seeded and seedless.
Further, they are a valuable source of Vitamins A and C along with potassium, magnesium, dietary fibre and health-benefiting antioxidants.
They are suitable to use in main courses, salads, baking and desserts.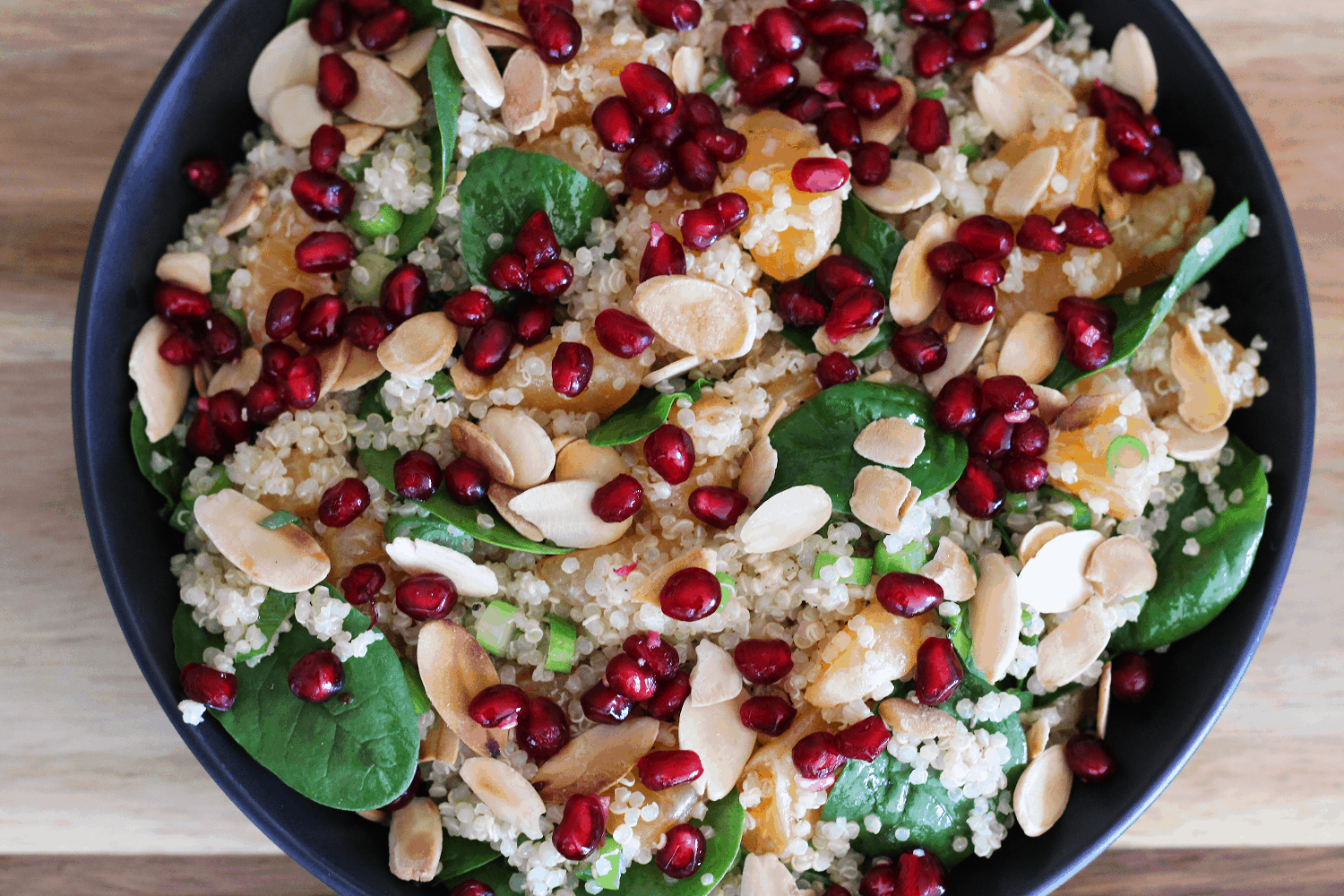 How to make the salad
My Quinoa, Spinach and Mandarin salad is bursting with flavour. It is refreshing, colourful and is extremely good for you. This salad is perfect in that it is suitable for almost every diet being gluten-free and vegan.
It is simple to make; I begin by adding the cooked quinoa to a large bowl. I then add the sliced spring onions, spinach leaves and mandarin segments. I add the dressing, toss all the ingredients together, season to taste and then top with toasted flaked almonds and pomegranate arils.
Quinoa salads are ideal to customise. Add ingredients that you would like. Some great additions to quinoa are kale, apples, avocados or dried cranberries along with parsley or mint.
So make a big batch of this easy, nutritious salad; it will last for several days in the fridge. Please let me know in the comments below if you try this recipe.
Alex xx

P.S. Love Quinoa? Be sure to try some of these other delicious recipes:
Moroccan Spiced Pumpkin and Quinoa Salad by The Foodie Journey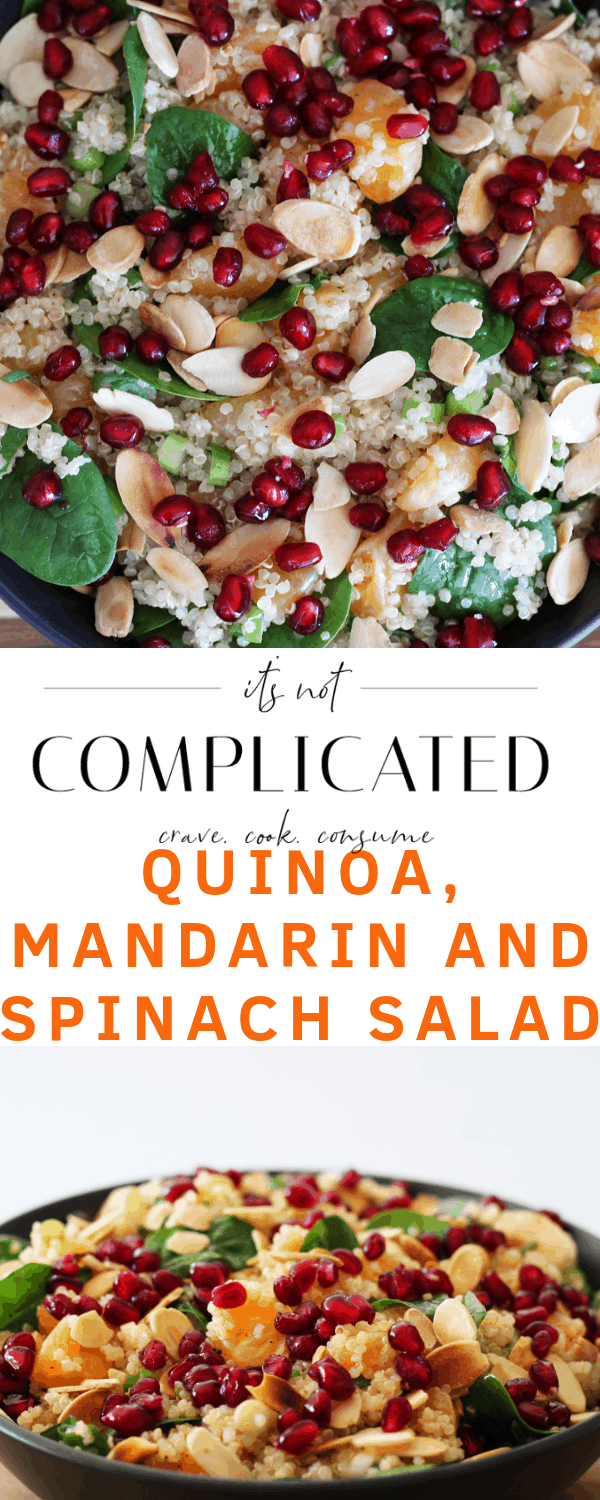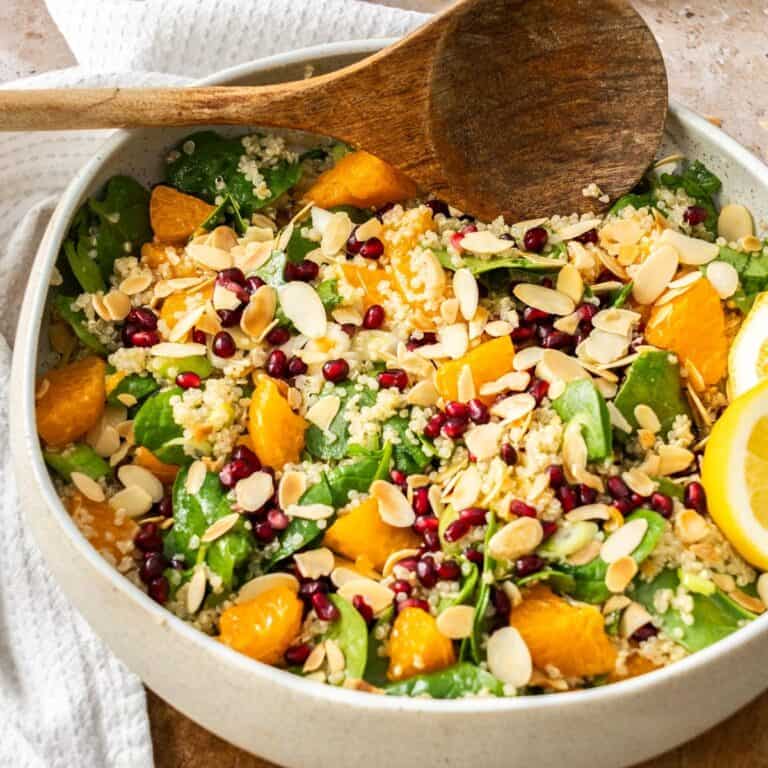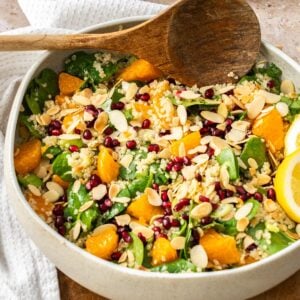 Quinoa and Spinach Salad
This very easy Quinoa and Spinach Salad is so delicious. As well as being nutrient-dense, it has vibrant colour and the flavoursome tang of citrus. It has a base of nutritious quinoa, with flavour, colour and nutrients added by spring onions, baby spinach, mandarin segments, pomegranate arils and slivered almonds. Enjoy it as a side dish to meat, poultry or fish or a nutritious, meat-free, light meal.
Print
Pin
Review
Ingredients
For the Salad:
1

cup

(175 g) white quinoa – rinsed well

2

cups

(500 ml) water – for cooking the quinoa

4

mandarins – segments separated, and white membrane removed

5

spring/green onions – finely sliced – the white and a little of the green part

1 1 /2

cups

baby spinach leaves

½

cup

flaked almonds

½

pomegranate – arils removed
For the dressing:
4

tablespoon

extra virgin olive oil

2

tablespoon

lemon juice – freshly squeezed

3

teaspoon

maple syrup
sea salt and freshly ground black pepper – to taste
Recipe Measurements:
For accuracy, when weights are provided, we recommend weighing your ingredients. This will produce the best results.
Instructions
Place the quinoa into a fine-mesh sieve and rinse vigorously under cold, running water, swishing the quinoa with your fingers. Drain the quinoa well. I sit the sieve on several layers of paper towel; it helps absorb excess moisture.

Pour 2 cups of water into a medium size saucepan, add the drained quinoa, bring to the boil then lower the heat and simmer, covered, for 8-10 minutes, until the seeds are tender*.

When they're cooked you will notice they have little curly "tails". Remove the pan from the heat, place a clean tea towel or 3 layers of paper towel over the saucepan, place the lid back on and stand 5 minutes. The tea towel/paper towel will absorb excess moisture.

Place the quinoa into a bowl and leave it to cool.

Cut the mandarin segments in half. If the mandarins contain seeds, simply flick them out with the point of a small, sharp knife.

To toast the flaked almonds I add them to a dry, non-stick frying pan. Over medium heat, I toss or stir them frequently until they are golden. Be careful, they will burn easily.

Add the halved mandarin segments, sliced spring onions/scallions and spinach leaves to the quinoa.

To make the dressing, combine the olive oil, lemon juice and maple syrup in a small bowl. Add sea salt and freshly ground black pepper and mix well.

Toss the salad with the dressing. Check that the seasoning is to your taste adding more sea salt and freshly ground black pepper if required.

Sprinkle the toasted almonds and pomegranate arils on top.
Notes
*It is important to thoroughly rinse the quinoa. Rinsing helps remove the outside coating of the grain, called saponin, which can cause a slightly bitter taste. The saponin is a naturally occurring chemical which is there to deter insects. It is vital that the quinoa is thoroughly drained after rinsing so that all the water is absorbed during cooking.
*As mentioned in the main text, different varieties of quinoa cook at different times. Check the quinoa after about 8 minutes to see if it is cooked to your liking. One indicator is that the cooked grains will have little curly "tails".
*My mandarins were small; if you are using large ones you may only need 4.
*If mandarins are not in season, you could use oranges or canned mandarin segments.
*My spring onions/scallions were small; if yours are large you may only need 4.
*I remove the stems of the spinach leaves for aesthetic purposes only; this is entirely optional. I use the stems in vegetable soups or add them to stock.
*To remove the arils from the halved pomegranate, I hold it cut-side down in my hand with my fingers splayed, over a bowl. I vigorously and firmly hit the top of the pomegranate with a wooden spoon and the arils fall into the bowl.
*The Australian tablespoon is 20 ml or 4 teaspoons. In many other countries, a tablespoon is 15 ml or 3 teaspoons so you may need to adjust your measurements accordingly.
*Some lemons are much more acidic than others. You will need to check that the dressing is to your taste and adjust the amount of lemon juice accordingly. And if you prefer a sweeter dressing you may want to add more maple syrup.
*I have used maple syrup as a sweetener to keep the recipe suitable for vegans. However, you could substitute with honey if preferred.
Nutrition Estimate:
Calories:
262
kcal
|
Carbohydrates:
27
g
|
Protein:
6
g
|
Fat:
15
g
|
Saturated Fat:
2
g
|
Sodium:
21
mg
|
Potassium:
276
mg
|
Fiber:
4
g
|
Sugar:
11
g
|
Calcium:
82
mg
|
Iron:
1.8
mg
Tried this Recipe? Please rate and leave a comment!
Nutritional Disclaimer:
The nutritional information is an estimate only, and is derived from online calculators. For accurate results, we recommend calculating the nutritional information based on the ingredients and brands you use.