This beautiful Sweet And Sour Carrot Salad is sure to impress and will forever change the way you look at the humble carrot. It will also simplify your entertaining as it is suitable for many people with specific dietary requirements, being gluten-free and vegan.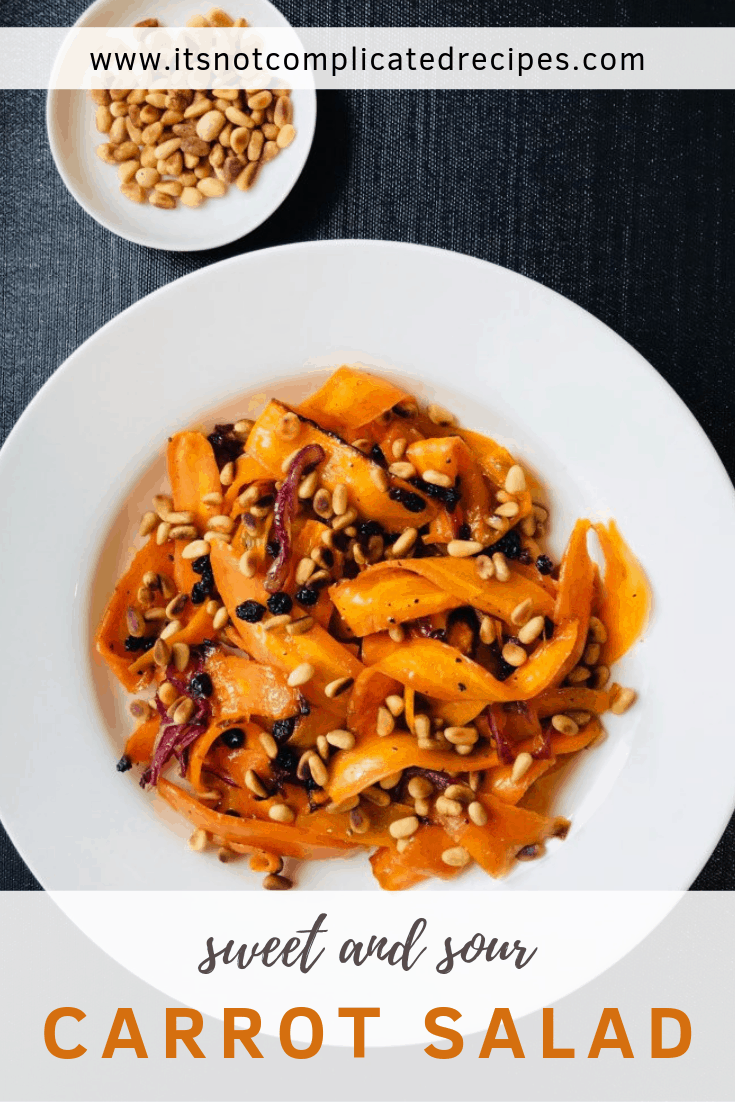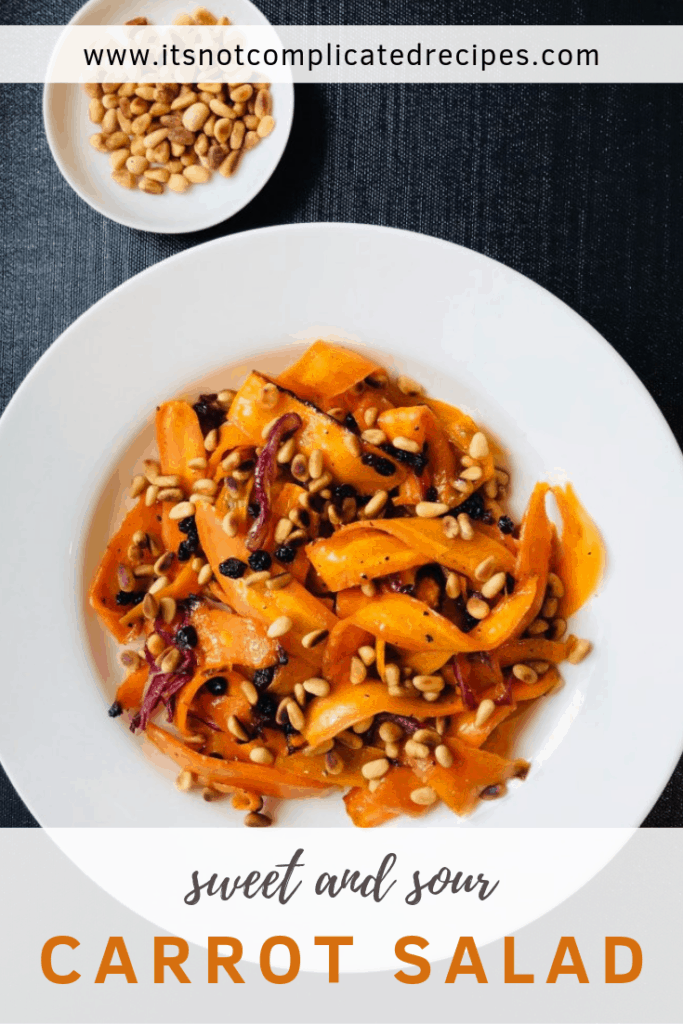 It contains roasted carrots which I toss in a Sicilian-style, agrodolce dressing. "Agrodolce" translates as "agro" meaning sour and "dolce" meaning sweet. Sweet and sour flavour combinations are popular throughout the world; there are versions in the USA, Asia and Europe. A little research has revealed that there is also dishes containing these flavours in Iran and Peru. This has caused me to ponder; are sweet and sour opposites? Or are they simply two different flavours? One thing is certain, these two contrasting flavours complement each other beautifully.
To make this salad, I begin by roasting the carrots. Without doubt, one of my favourite ways of preparing vegetables is to roast them. It brings out their sweetness, with the edges of the vegetables becoming slightly charred, adding depth of flavour.
I have sliced the carrots on a mandoline. If you don't have a mandoline, there are several optional ways to slice them. You could use a vegetable peeler but I find there's too much wastage that way. I suggest you use a very sharp knife, and either cut them thinly on the diagonal or cut them lengthways into thin batons. Some food processors have attachments for slicing, but the thickness of the slices tends to vary. To make it really simple, just cut thin rounds of carrot. The beautiful flavours of the salad will still be there, despite the shape of the carrot pieces.
After slicing the carrots, toss them in olive oil, season with salt and pepper, place them on a roasting tray and roast until they are tender and slightly charred.
Meanwhile, in a dry, non-stick frying pan, roast some pine nuts, being careful not to become distracted as they will burn the moment you turn your back. To make the dressing, use the same frying pan, wiping it out first with a piece of paper towel. Add some olive oil to the pan and fry some thinly sliced red onion. When the onion is tender, add the currants, sugar and white wine vinegar. Stir to combine and dissolve the sugar. That's the dressing prepared.
When the carrots are tender, turn them into a shallow dish, add the dressing and gently toss them together. Just prior to serving, top the carrots with pine nuts, and mint if using. Allow the salad to sit for an hour or two for the flavours to develop.
This is an adaptable salad. I like to include mint with the carrots, but today I have divided the salad into one bowl with mint and one without as I'm aware that some people don't like this herb. So, I encourage you to make it your own. Add a little chopped parsley if you like a touch of green, as I do. If you don't care for currants, add sultanas/golden raisins or slightly sweetened, dried cranberries. In place of pine nuts, you could use toasted, flaked almonds.
And if you ever have any roasted carrots left over from a previous meal, this would be a great way to dress them up and serve them as a salad, using them as a completely different dish.
I do hope you will try this lovely salad, or one of our other Delicious Salad Recipes. Please let me know in the comments below if you do.
Xx Alex and Faye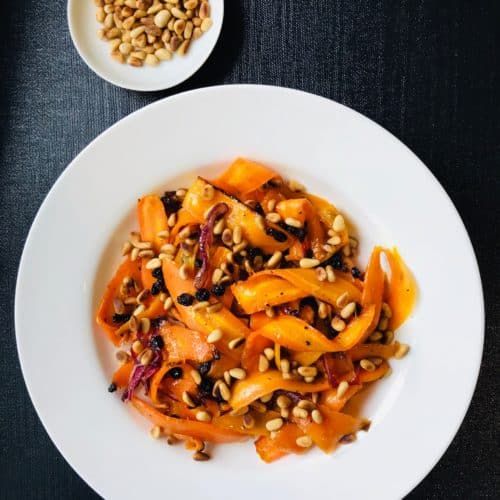 Sweet and Sour Carrot Salad
This roasted carrot salad, with a sweet and sour dressing, takes the humble carrot to new heights. It is simply prepared and makes an ideal side dish for poultry, fish or meat. It would be a great addition to your festive menu, being a perfect accompaniment to turkey or ham. The sweet flavours of roasted carrot are heightened by the addition of currants and complemented by earthy pine nuts and the tartness of white wine vinegar.

Print
Pin
Rate
Ingredients
500

g

carrots

washed and peeled, tops trimmed

3

tablespoon

olive oil

extra virgin, divided *

2

tablespoon

pine nuts

1

small

red onion

thinly sliced

1

tablespoon

white wine vinegar *

2

tablespoon

caster/superfine sugar *

2

tablespoon

currants

sea salt * and black pepper to taste

fresh mint, finely sliced

optional
Recipe Measurements:
For accuracy, we recommend weighing your ingredients. This will produce the best results.
Instructions
Pre-heat your oven to 200 Degrees C (400 F).


Using a mandoline, slice the carrots in long, thin strips.*


Place in a medium-sized bowl, and toss with 2 tablespoons of extra virgin olive oil & season to taste with sea salt and freshly ground black pepper.

Place onto a baking tray which is lined with non-stick baking paper.

Bake for about 15 minutes, turning once or twice until the carrot is tender and the edges are slightly charred.

Place the carrot in a shallow dish.

Meanwhile, place the pine nuts in a non-stick frying pan over medium heat, and toss or stir them until they are golden brown. I immediately turn them into a small bowl to stop them toasting further in the remaining heat.

Wipe the frying pan with a piece of paper towel.

Using the same frying pan, add the remaining 1 tablespoon of olive oil and the thinly sliced red onion.

Cook the onion over low-medium heat until it has softened.

Add the white wine vinegar, sugar and currants to the frying pan. Turn off the heat and stir to combine and dissolve the sugar.*

Do not leave the dressing to simmer; the vinegar will reduce too much.

Pour the dressing over the carrots and toss gently to combine.

Check to see if the salad requires more seasoning.

Stand for 2 hours if possible to allow the flavours to develop.

Before serving, top the salad with the toasted pine nuts and mint if using.
Notes
*It goes without saying, a mandoline is a dangerous piece of kitchen equipment. Please exercise great care if using one.
*If you don't have a mandoline, see the alternative slicing methods in the text above.
*I prefer to use extra virgin olive oil; it has a superior flavour.
*For best flavour, I always use sea salt. My preference is for Maldon sea salt flakes.
*Add a little more white wine vinegar if you prefer a sharper dressing. I taste the dressing before I add it, being mindful that the carrots will be carrying some oil.
*I use caster/superfine sugar as the finer granules dissolve more readily than regular sugar.
*I love the flavour of mint, but I am aware that not everyone feels that way. Serve the carrots plain, or, for a touch of green, some finely chopped parsley.
Nutrition Estimate:
Calories:
222
kcal
|
Carbohydrates:
24
g
|
Protein:
2
g
|
Fat:
14
g
|
Saturated Fat:
1
g
|
Sodium:
87
mg
|
Potassium:
496
mg
|
Fiber:
4
g
|
Sugar:
17
g
|
Calcium:
48
mg
|
Iron:
1
mg
Nutritional Disclaimer:
The nutritional information is an estimate only, and is derived from online calculators. For accurate results, we recommend calculating the nutritional information based on the ingredients and brands you use.