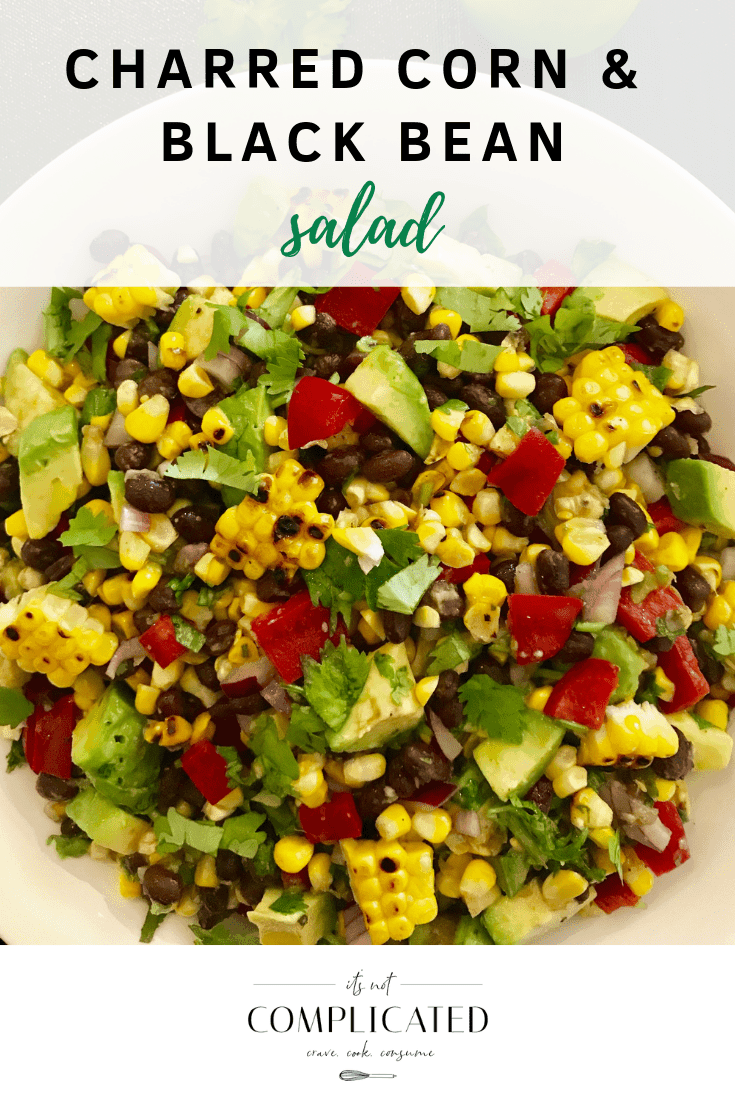 This Charred Corn and Black Bean Salad is a fresh and vibrant side dish. I love to eat colourful food and the colours in this salad are amazing. I believe in the notion that we "eat with our eyes first", finding that if the food looks good it is much more appetising.
It is full of flavour and the variety of colourful ingredients provides a range of valuable nutrients.
This salad is definitely not boring and bland. It is bursting with the slightly smoky flavour of the char-grilled corn, the sweetness of the red capsicum, the earthiness of the black beans and the nutty, creaminess of the avocado. The coriander adds a citrusy note and the lime juice in the dressing brightens all the flavours.
I love to make this Charred Corn and Black Bean Salad when I'm entertaining; its range of colours means that it looks great on the table.
I prepare most of the salad in advance. In fact, the flavours meld together beautifully if they have a little time to stand. I do, however, hold the avocado back so that I can add it at the last minute, thus maintaining its fresh appearance.
It's a very easily prepared and tasty salad.
I especially love the flavour of the lightly charred corn. I generally prefer to char the corn on the barbecue. However, today I have charred the corn indoors. It is 40C/104F in Adelaide today and the notion of standing over a hot barbecue just doesn't appeal! But, if you have a barbecue, and the weather is kind where you are, it would be lovely cooked on the grill.
After char-grilling the corn, I remove the kernels and add them to a bowl.
I then add black beans, cubed avocado, diced onion and red capsicum. I toss the ingredients with chopped coriander and a bright, zingy dressing made from olive oil, lime juice and a touch of maple syrup. Salt and pepper help to bring out the full flavours.
My Charred Corn and Black Bean Salad is a very healthy dish which contains a myriad of valuable, health-benefiting nutrients.
Black beans, which are legumes, are like other members of their family in that they are a valuable source of low-fat protein and dietary fibre. They are nutrient dense, containing several key vitamins and minerals that are known to be beneficial to health. There seems to be an ever-growing list of health benefits attributed to black beans so I like to always have some on hand. Additionally, they are a cheaper form of protein than poultry, fish and red meats.
Red onions contain Vitamin C, dietary fibre, health benefitting sulphuric compounds and generous quantities of antioxidants.
Sweetcorn is an excellent source of dietary fibre, has a generous amount of folic acid, contains Vitamin C and other nutrients. A tip to remember when buying corn is that it starts to convert its sugars to starches immediately after harvesting. Therefore, ideally, you want to buy it and eat it as fresh as possible.
Red capscium contains Vitamins A, C, E, B6, folate and dietary fibre.
Avocado is rich in healthy fats, dietary fibre, B Vitamins, a range of minerals, antioxidants along with Vitamins C, E and K. They are truly a nutrient powerhouse.
Coriander, also known as cilantro, is a good source of dietary fibre, Vitamins A, C, E and K, a number of minerals and contains strong antioxidant properties.
Extra Virgin Olive Oil is a very healthy fat. It has generous quantities of fatty acids and antioxidants which have some powerful health benefits, such as a reduced risk of heart disease.
The nutritional benefits of my Charred Corn and Black Bean Salad make it a dish which I like to make regularly.
It is a vibrant and fresh side dish which pairs well with many main courses. It is, however, sufficiently substantial to enjoy as a meat-free meal.
I'm grateful today that I have some leftovers.
Tomorrow I'm going to sandwich some of the salad with freshly grated mozzarella cheese in between two corn tortillas. I'll put them in my sandwich press to make a delicious quesadilla. Or, if the mood takes me, I'll put some of the salad in an omelette. Choices, choices!
How I love to have leftovers.
Please let me know in the comments below if you try my Charred Corn and Black Bean Salad. It is delicious served with my Tuna Patties!

Alex xx

P.S. For more great salad ideas, I recommend you check out the following recipes: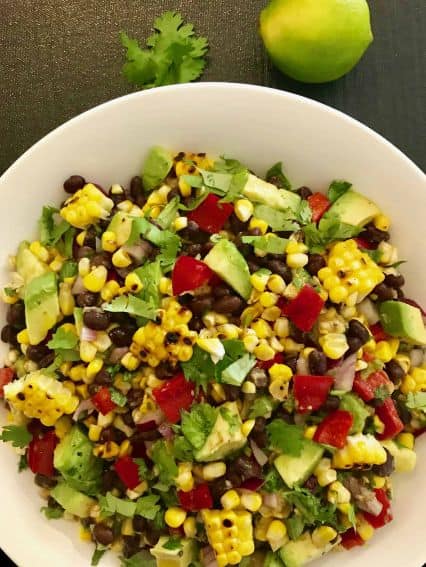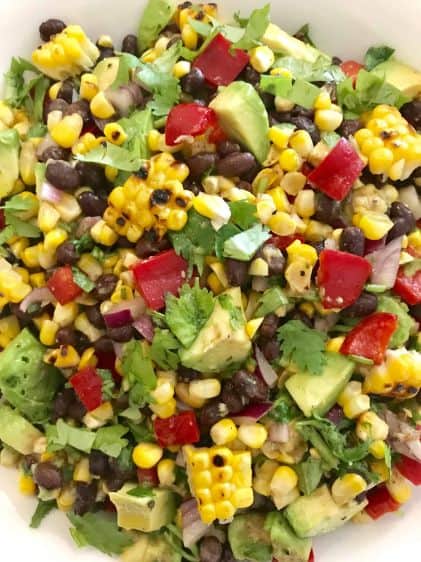 Charred Corn and Black Bean Salad
This simple, fresh-tasting salad is a great side dish to a variety of foods. However, it is also great as a stand-alone meal being suitable for vegans and those with gluten intolerance. With the variety of colours contained in the salad, you are assured of receiving a myriad of health-benefiting nutrients. It looks great and tastes even better. Do try it.

Print
Pin
Review
Ingredients
2

large

cobs of corn

1

tablespoon

olive oil

420

g

black beans

I used a can – rinse and drain beans

1

large

avocado

peeled, stone removed and cubed

1

medium

red onion

peeled and diced

1

red capsicum/bell pepper

core removed and diced

½

cup

fresh coriander/cilantro

chopped, stems included – set aside a few leaves for garnish
Dressing:
¼

cup

olive oil

extra virgin

2

tablespoon

freshly squeezed lime juice *

1

teaspoon

maple syrup *

sea salt and freshly ground black pepper
Recipe Measurements:
For accuracy, when weights are provided, we recommend weighing your ingredients. This will produce the best results.
Instructions
Remove and discard the husk from each corn cob. Thoroughly remove the silk. Brush or spray the cobs with olive oil.

Grill the cobs of corn, either on a char-grill pan, under a broiler or on a barbecue until the edges of the kernels are slightly charred, about 10-15 minutes.

Remove the corn from the grill and set aside until cool.

Remove the kernels from the cobs. I find the easiest way is to place a small bowl upside down inside a large bowl. Stand the cob on its flat end on the small bowl and, using a sharp knife, slice down the cob.

The kernels will fall into the large bowl. Remove the small bowl.

Add the black beans, cubed avocado, diced onion and capsicum along with the chopped coriander to the corn. Remember to reserve a few coriander leaves for garnish.

To make the dressing:




In a small bowl combine the extra virgin olive oil, freshly squeezed lime juice, maple syrup, sea salt and freshly ground black pepper.

Check that the dressing is to your taste. It should be bright with the zing of lime, but not so sharp as to be unpleasant. Add a dash more maple syrup if necessary.

Add the dressing to the corn mixture, toss gently to combine the ingredients and turn into a serving bowl. Add the reserved coriander leaves to garnish.
Notes
*The Australian tablespoon is 20ml or 4 teaspoons. In many other countries, the tablespoon is 15ml or 3 teaspoons. You may need to adjust your measurements accordingly.
*Prior to cutting the lime, roll it on a hard counter. It will soften the flesh and make it easier to extract the juice.
*When purchasing limes, don't reject those with a touch of yellow. They are not past their prime. They do, in fact, become yellow as they ripen. I prefer to use them this way; a riper lime is juicier, sweeter and less acidic than an under-ripe one.
*To keep the recipe vegan, I have used maple syrup. You could use honey if you prefer.
Nutrition Estimate:
Calories:
305
kcal
|
Carbohydrates:
32
g
|
Protein:
8
g
|
Fat:
17
g
|
Saturated Fat:
2
g
|
Sodium:
12
mg
|
Potassium:
615
mg
|
Fiber:
10
g
|
Sugar:
5
g
|
Calcium:
27
mg
|
Iron:
2.1
mg
Tried this Recipe? Please rate and leave a comment!
Nutritional Disclaimer:
The nutritional information is an estimate only, and is derived from online calculators. For accurate results, we recommend calculating the nutritional information based on the ingredients and brands you use.