When it comes to entertaining, my Spinach and Ricotta Pasta Shells are a dish that is always popular. This is a great make ahead dish, ideal for entertaining or when you are after a tasty family meal!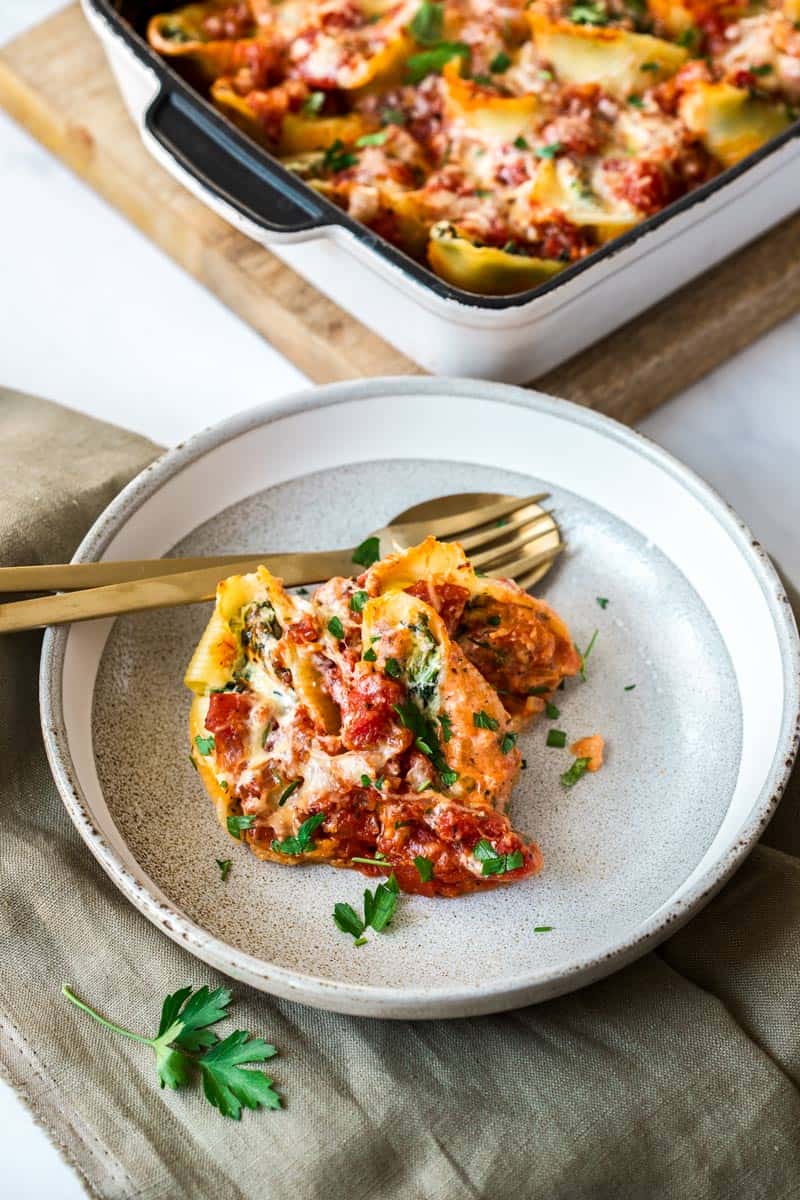 My preference will always be for food which is simple to prepare but has lots of flavour.
I love to entertain, and I do believe that a very important part of successful entertaining is a relaxed host. The key to being a relaxed host?
It is simple; the food should largely be able to be prepared in advance. And of course, a dish that is "not complicated" is always going to be our preference!
When I have family or friends over, I definitely want to be enjoying their company, and not spending half the night in the kitchen.
I really feel that these days, dinner parties are more about sharing a casual meal with family and friends. I think you will find that people are just grateful to be cooked for (I know I am).
Therefore, there really is no need to stress. The meal doesn't need to be complicated. If that means you prepare just a main course with a salad, that's fine.
A relaxed host encourages a convivial evening, and after all, good friends and good conversation are why you host a dinner party.
I find that a pasta dish which can be prepared in advance is ideal.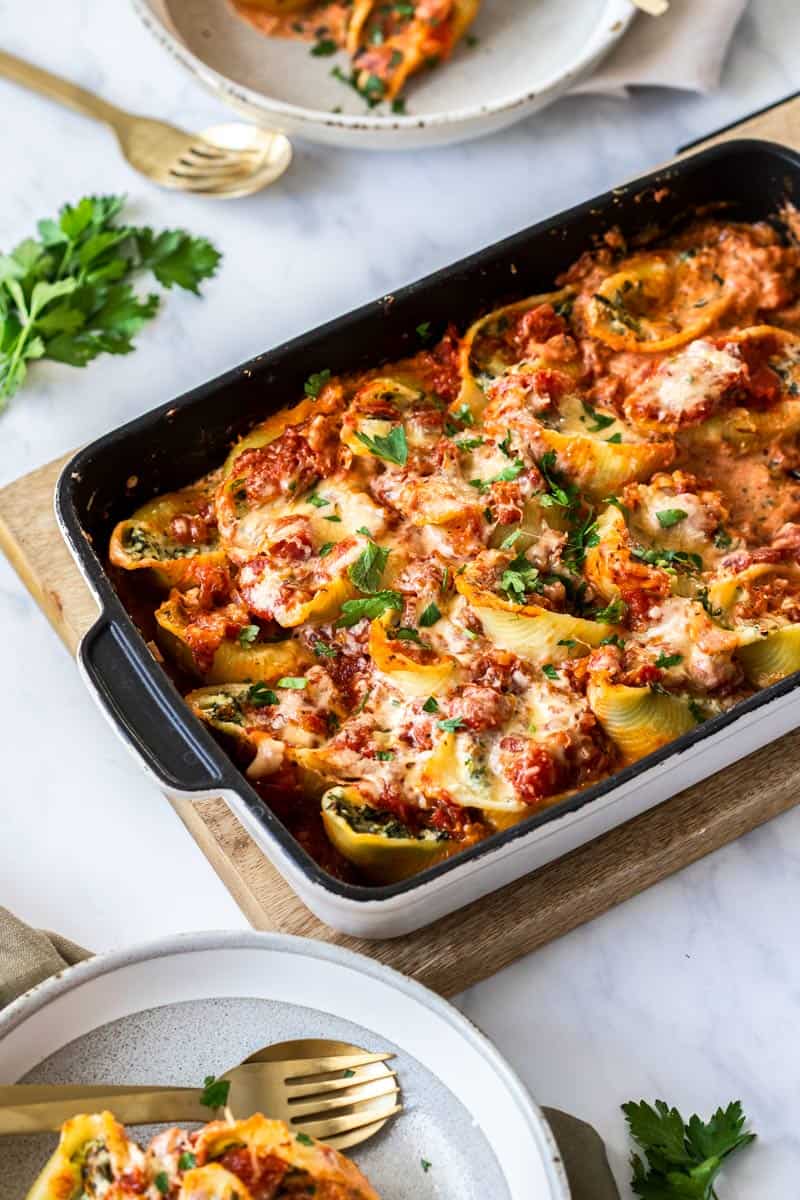 Inspiration for this Recipe:
This recipe for Spinach and Ricotta Pasta Shells was given to me many years ago by my beautiful godmother, Lesley.
Most of my friends would have been served this meal on more than one occasion as it fits the required criteria of simple, tasty and prepare ahead. Clearly, I'm not constrained by never serving the same dish twice!
Although there are a few stages, none of them are difficult. My preference is to prepare the shells a day in advance, if possible. I think the flavours develop better this way.
It also means less last-minute pressure and provides the opportunity to get rid of the dirty dishes, leaving you with a clean kitchen bench and a dish which just requires heating.
Ingredients in my Spinach and Ricotta Pasta Shells:
Frozen Spinach:
A true favourite freezer staple! This is a great item to have on hand, especially when you haven't had time to buy some fresh greens. Spinach is packed full of health-benefiting nutrients.
One of my favourite breakfasts is a poached egg on toast, with some spinach and tomato. I saute some frozen spinach with a little garlic and add some cubes of tomato.
Briefly cook it, season well and place on some toast. Top with a poached egg. Trust me, it is so good!
Ricotta:
I love the versatility of this ingredient. Perfect to use in both sweet and savoury recipes, this is an Italian whey cheese. It can be made from a variety of milks. However, the most common is cow's milk ricotta.
The literal Italian translation of the word ricotta is "re-cooked".
This is a creamy cheese and lends itself perfectly to stuffed pasta dishes. Being mild in flavour, it works so well with a variety of ingredients.
Large Pasta Shells:
We use large pasta shells or "Conchiglie" in this recipe. They are easy to fill and look beautiful.
If you are unable to find the shells, you could also use cannelloni tubes.
Nutmeg:
I absolutely love nutmeg. It is a warming, fragrant spice. I buy whole nutmeg and grind it fresh when needed. It is more fragrant and flavoursome than commercially ground nutmeg.
Parmesan Cheese:
For this recipe, I have used Italian Grana Padano. It is less expensive than Parmigiano Reggiano but has tremendous flavour.
I will always strongly encourage you to freshly grate your parmesan; the flavour is infinitely superior. Or, for convenience, buy a block of cheese and whiz it in your food processor.
You can store the ground Parmesan in an airtight container in the freezer.
Salt and Pepper:
In cooking, it is important to season as you go. Be sure to taste the sauce and taste the filling. The sauce and the filling for the pasta shells are both seasoned with sea salt flakes and freshly ground black pepper.
The difference between an ordinary dish and a great dish is often due to the lack of seasoning.
Extra Virgin Olive Oil:
An ingredient I use in so many of my recipes. I highly recommend Extra Virgin Olive Oil, for its beautiful flavour that works especially well in Italian dishes.
Canned Tomatoes:
You will also find cans of crushed tomatoes in my pantry. I could spend hours telling you of the wonderful ways in which to use them!
Some tomato sauces can be over complicated; a good quality can of crushed tomatoes, some good quality olive oil and some seasonings are all that you need for a delicious sauce.
Garlic:
Garlic is a staple ingredient in our household. It is an ingredient found in so many cuisines throughout the world.
Its small cloves provide an enormous flavour boost to many dishes, and it is essential in a good tomato sauce.
Onion:
We use brown onion in this recipe, also known as the yellow onion. Red onion will also work fine in this recipe.
Dried Basil:
Another classic ingredient used in Mediterranean cooking, basil is a hugely popular herb. In this recipe, we use dried basil. It has a concentrated flavour and provides depth to the tomato sauce.
You could, however, use fresh basil if you have some to hand. For the freshest flavour, be sure to add it toward the end of cooking the sauce.
Dried Oregano:
Oregano grows wild throughout the Mediterranean and is a staple ingredient.
I generally prefer to use fresh herbs. However, oregano is one instance when many cooks prefer the dried variety.
The flavour of dried oregano is more subtle than the fresh and works perfectly in the tomato sauce. It is a herb I highly recommend keeping in your kitchen cupboard – you'll find many uses for it!
Dried Chilli Flakes:
Dried chilli flakes or crushed red pepper flakes are an optional addition to the sauce; add some if you know your guests don't mind a little heat in their food! Or, serve a dish at the table for family and friends to help themselves.
Sugar:
A little sugar is used in this recipe to balance out the acidity in the tomato sauce and provide a lovely well-rounded flavour. You can certainly omit this if you are avoiding sugar.
Cream:
I use pouring cream in this recipe. It provides balance and a delicious richness to the dish.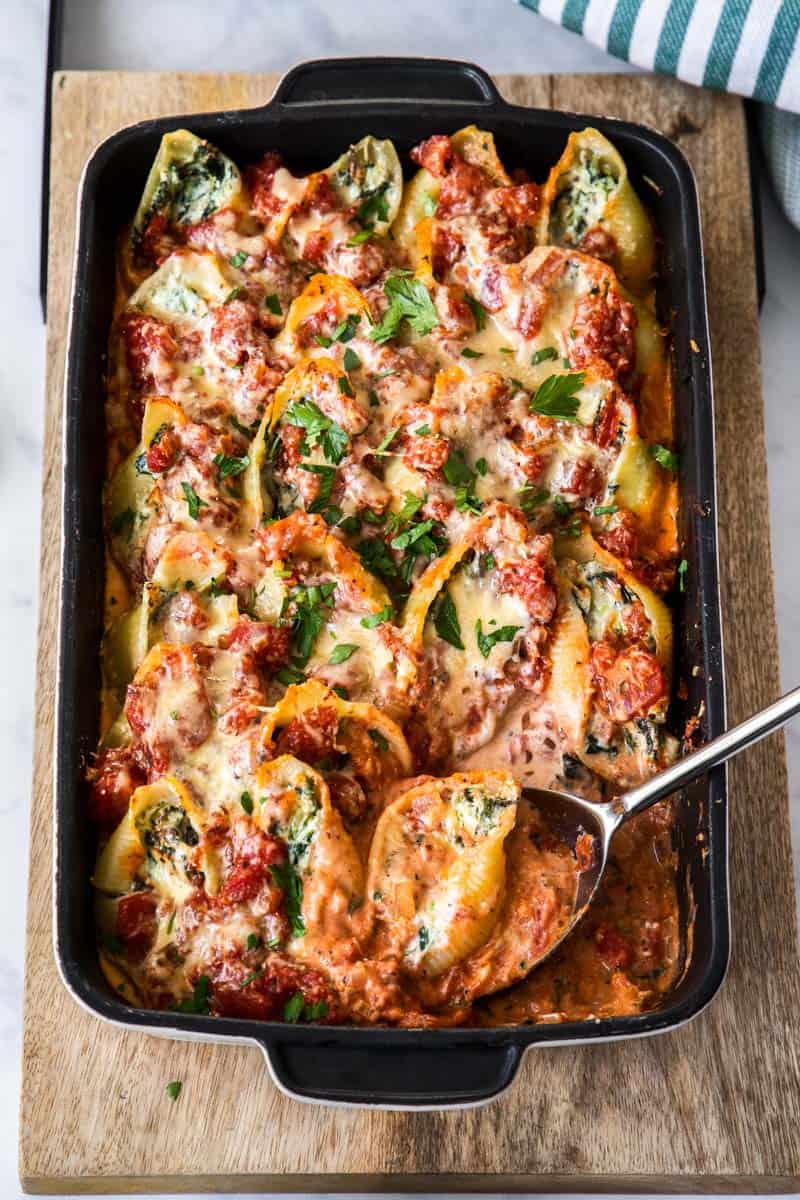 How I make the Spinach and Ricotta Pasta Shells:
I start by making a basic tomato sauce. Garlic and onion are sautéed together in a little olive oil, before adding crushed tomatoes. I season the sauce with dried herbs, salt and pepper.
If you like a little heat, now is the perfect time to add some dried chilli flakes to taste. A little sugar balances out the acidity of the tomatoes and gives the sauce a well-rounded taste.
In a pot of boiling water, I cook the shells. I like to undercook them slightly, as they will finish cooking later in the oven. So, I suggest that you cook them very al dente, that is, still slightly firm in the centre.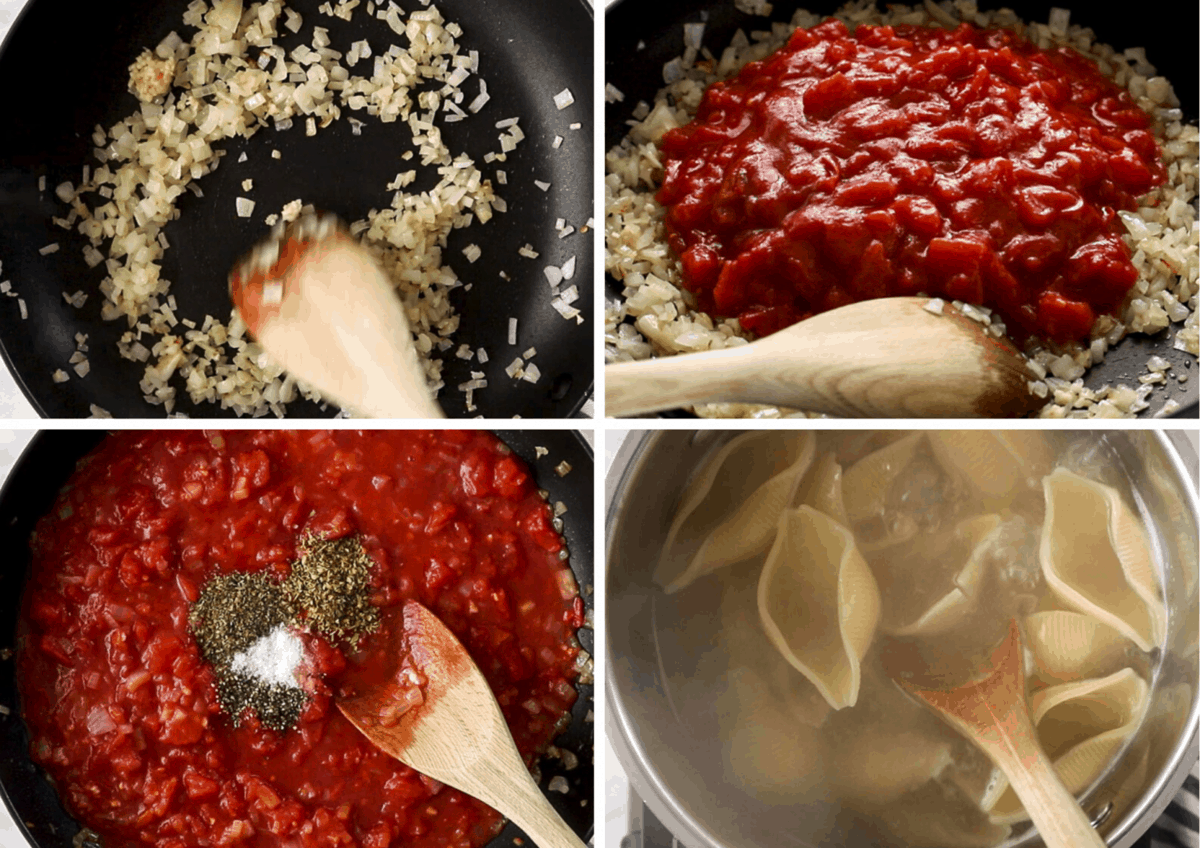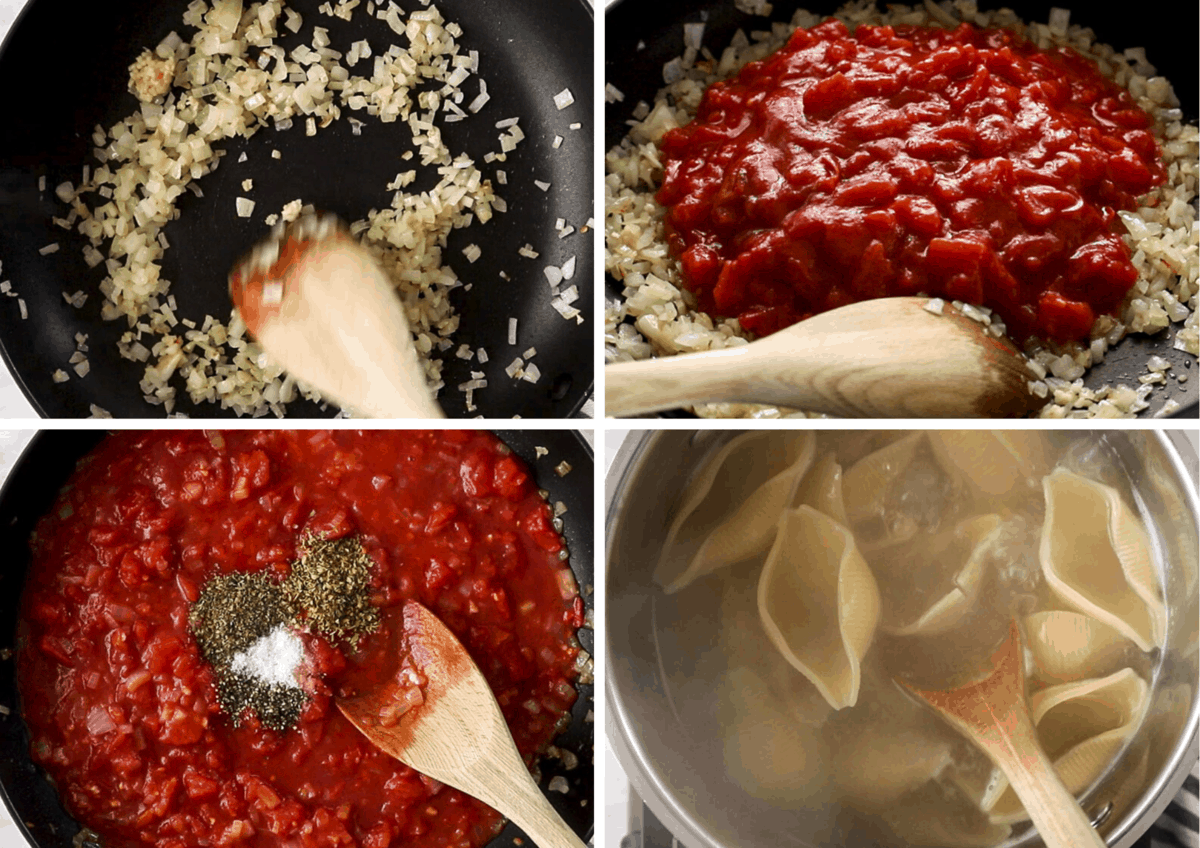 I drain the pasta shells, and then turn open side down on a tea towel, to allow any excess water to drain.
The next step is to prepare the filling for the shells. I cook the frozen spinach in a little butter. This will help get rid of any excess moisture. Allow this to cool, and then mix with the ricotta and parmesan.
Season with freshly grated nutmeg, salt and pepper to taste. Keep in mind that nutmeg is a very strong flavour, so add a little to begin with. You can always add more if needed.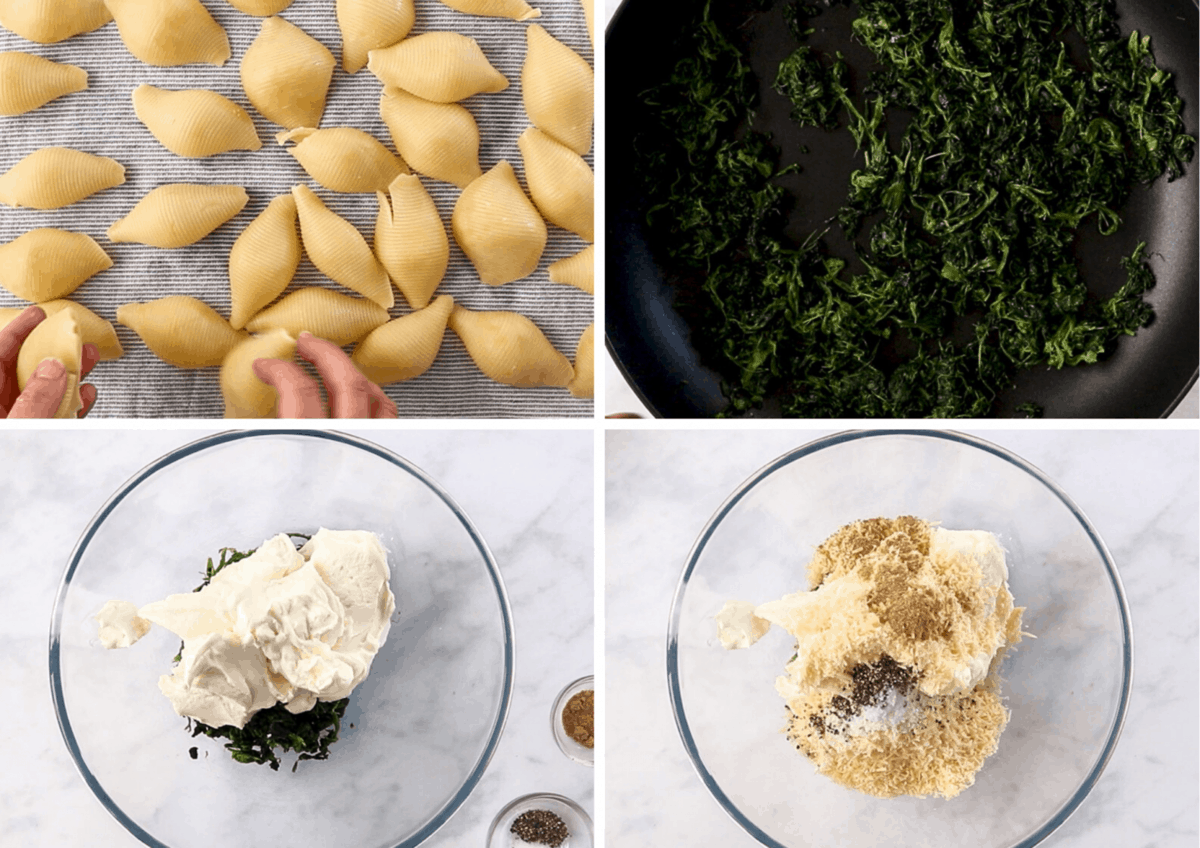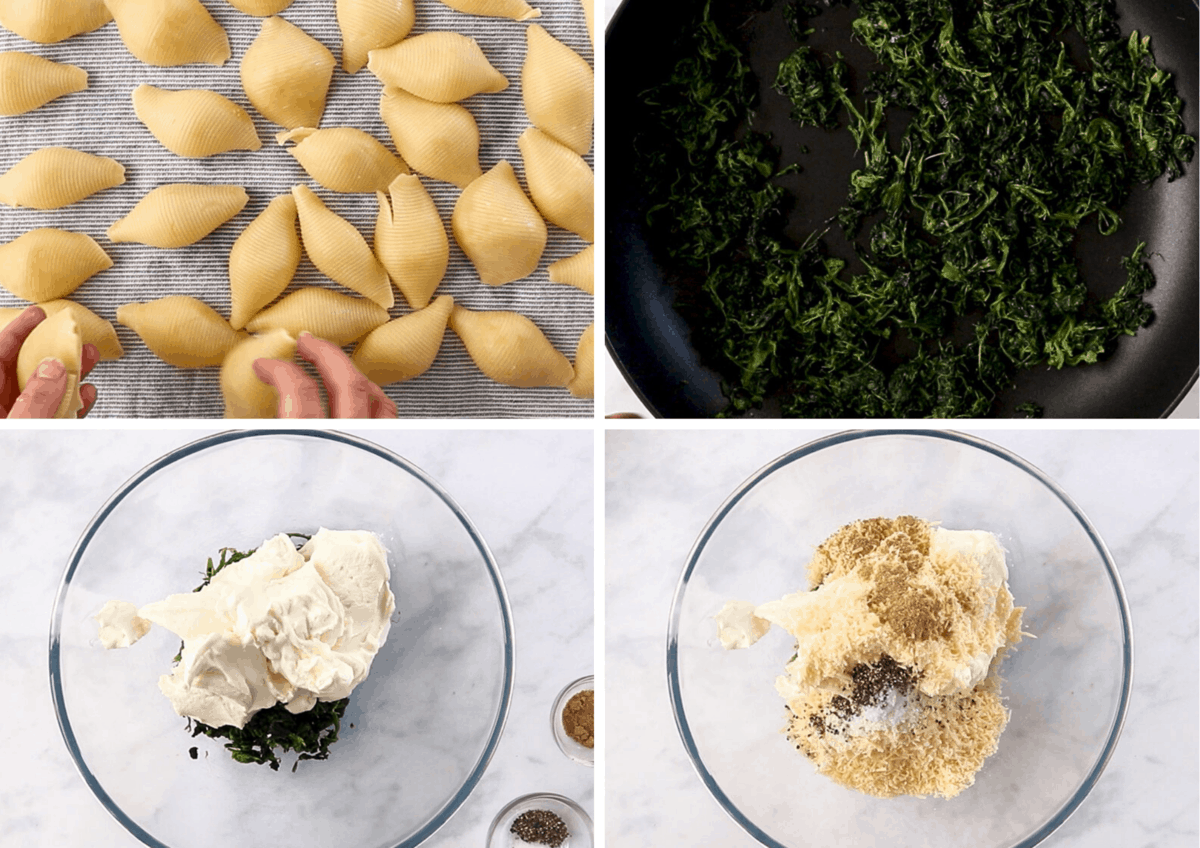 Now, it is time to assemble the dish. In a large ovenproof dish, I put a little of the tomato sauce and some cream. Spread the mixture around the dish.
Generously fill the shells with the ricotta and spinach mixture, using either a spoon or a piping bag. Place the filled shells in the baking dish.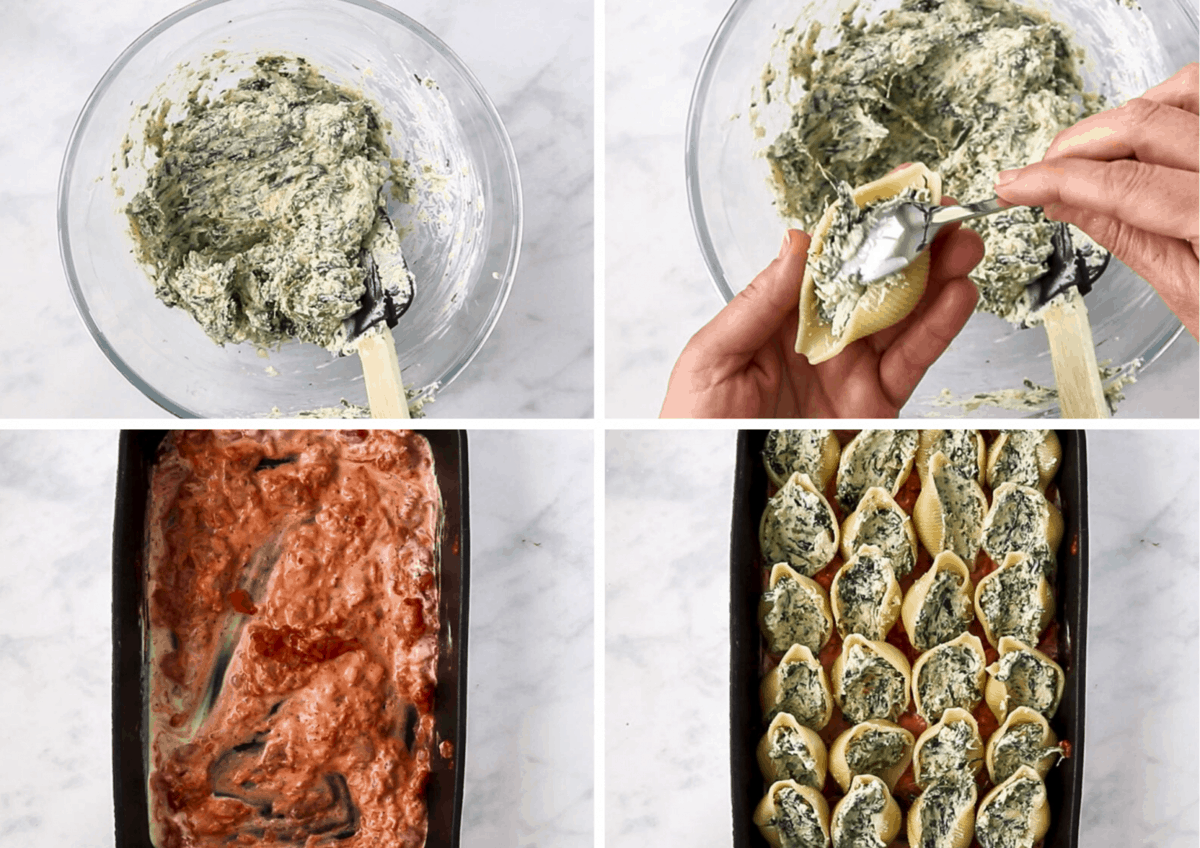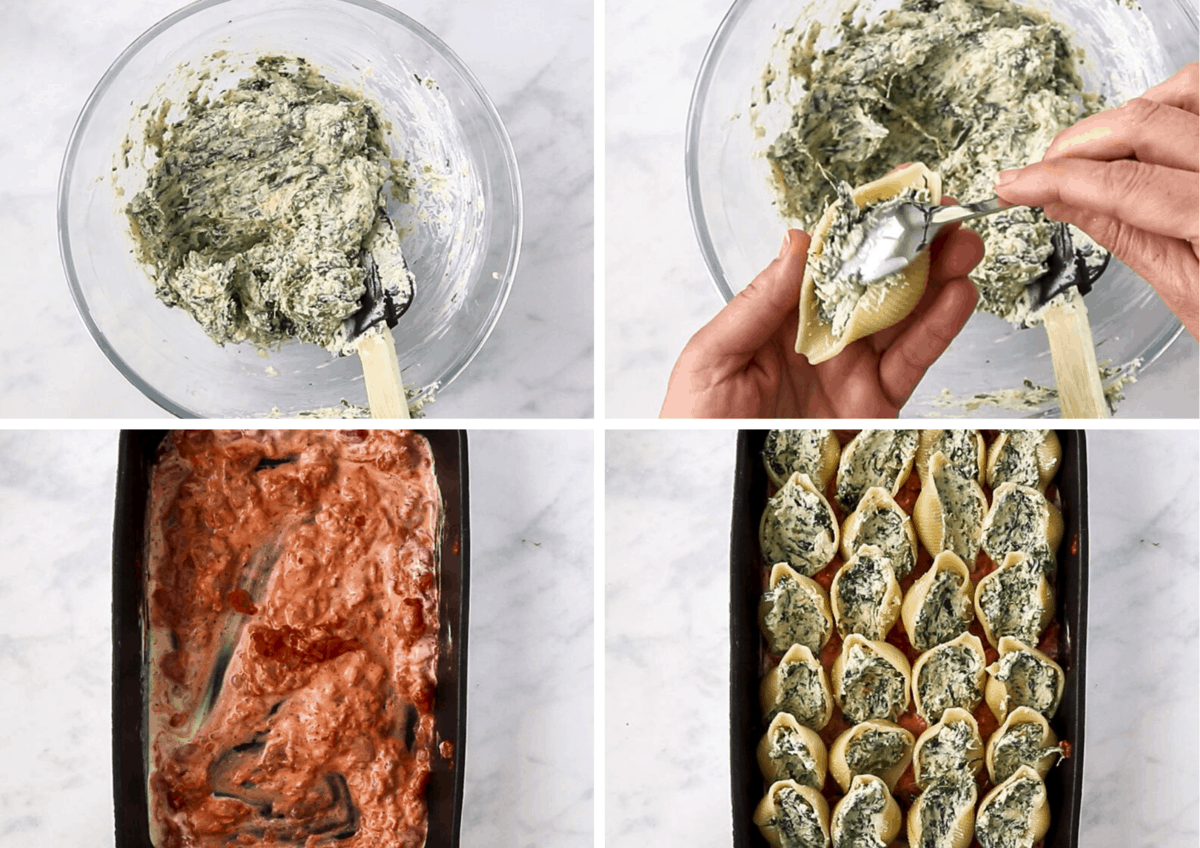 Once all the shells have been filled, top them with the remaining tomato sauce and cream and a little extra grated Parmesan cheese.
Then either put them in the oven to bake or refrigerate if you're making them in advance.
That's it; so easy and so delicious. Just serve the shells with a simple green salad and some garlic bread. Oh, a nice glass of wine goes well too!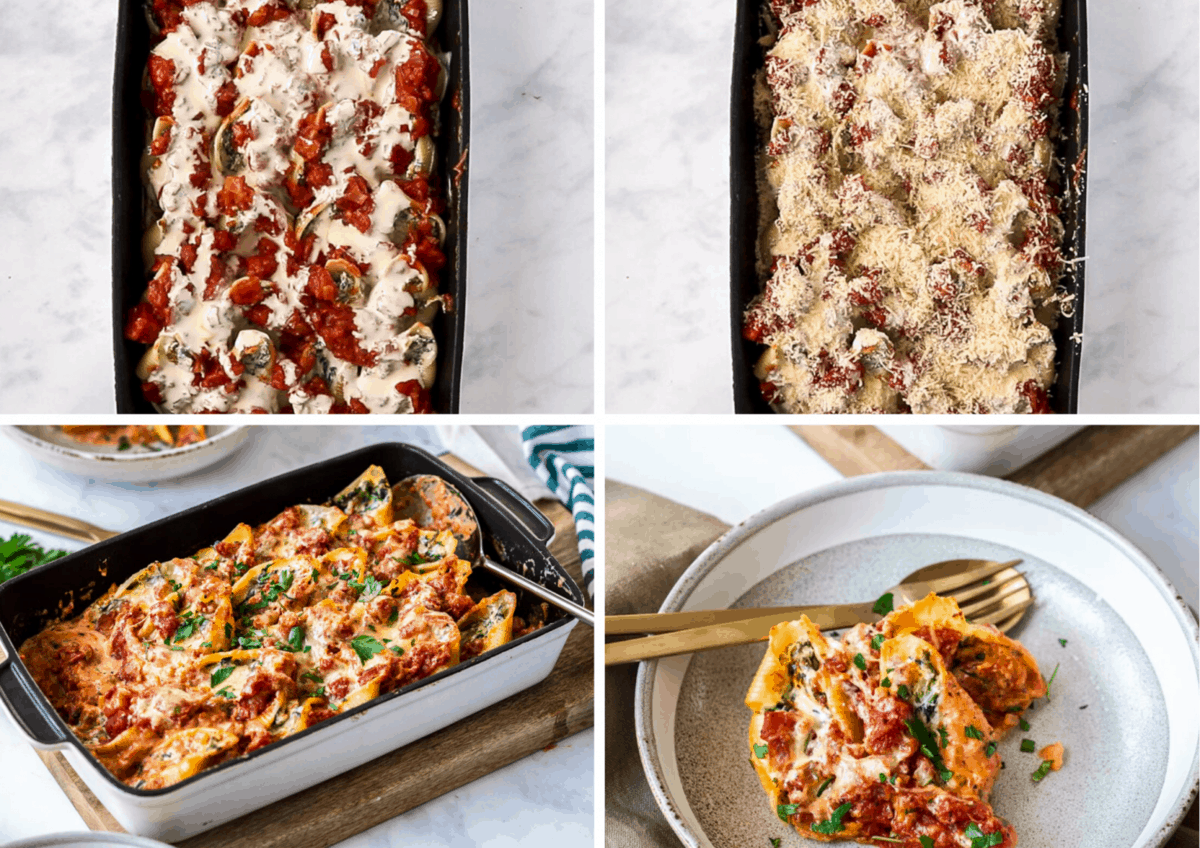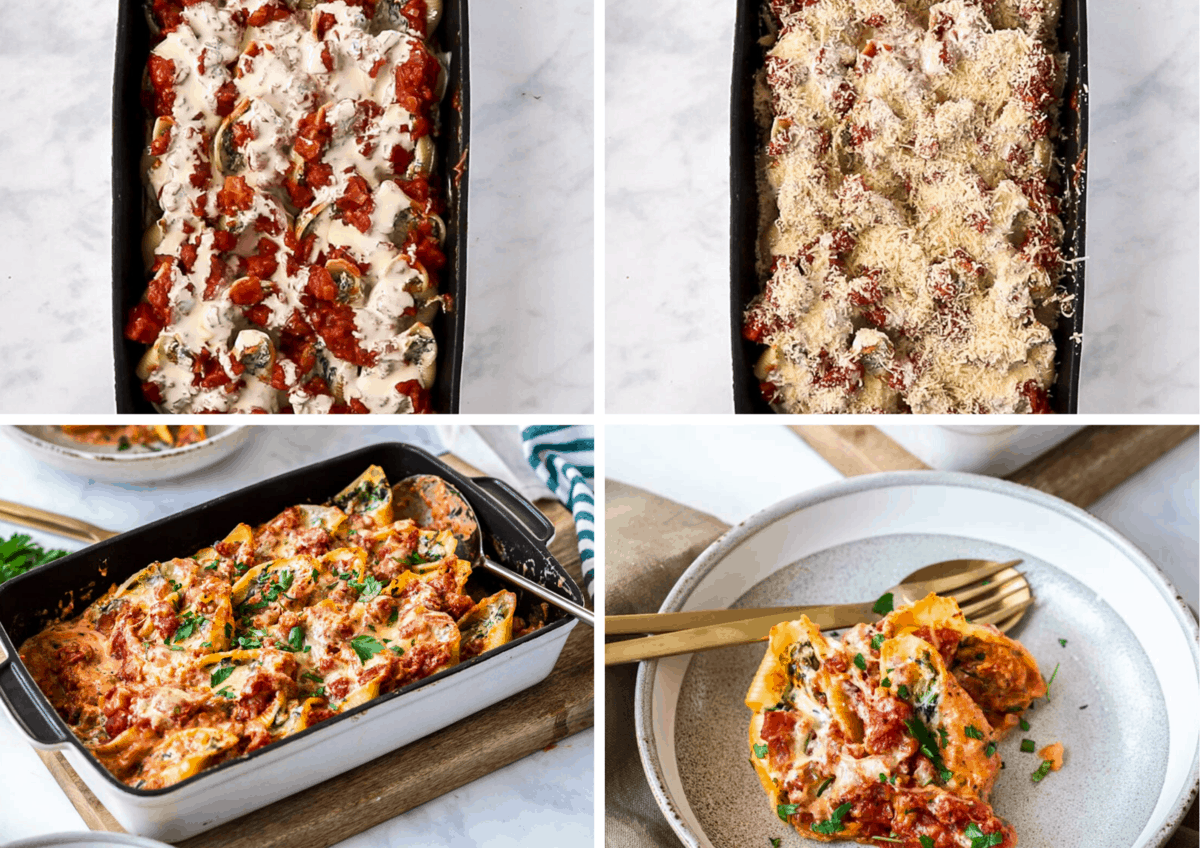 Apart from tasting delicious, here are five reasons we love this recipe:
Each element is simple to prepare;
It can be made 24 hours in advance of baking;
It is vegetarian – ideal for a Meatless Monday Meal;
Can be adapted to gluten-free by using the appropriate pasta;
Easily adjust the quantities – this is a recipe I have tested and made in both half and double batches.
Tips for success:
Be careful not to overcook your pasta shells when you are boiling them. We need them to be a little undercooked at this stage. It will also make them much easier to fill.
The shells do reheat well, but they are better freshly baked – so if you're not sure how much will get eaten, make them up in two smaller dishes instead of one large.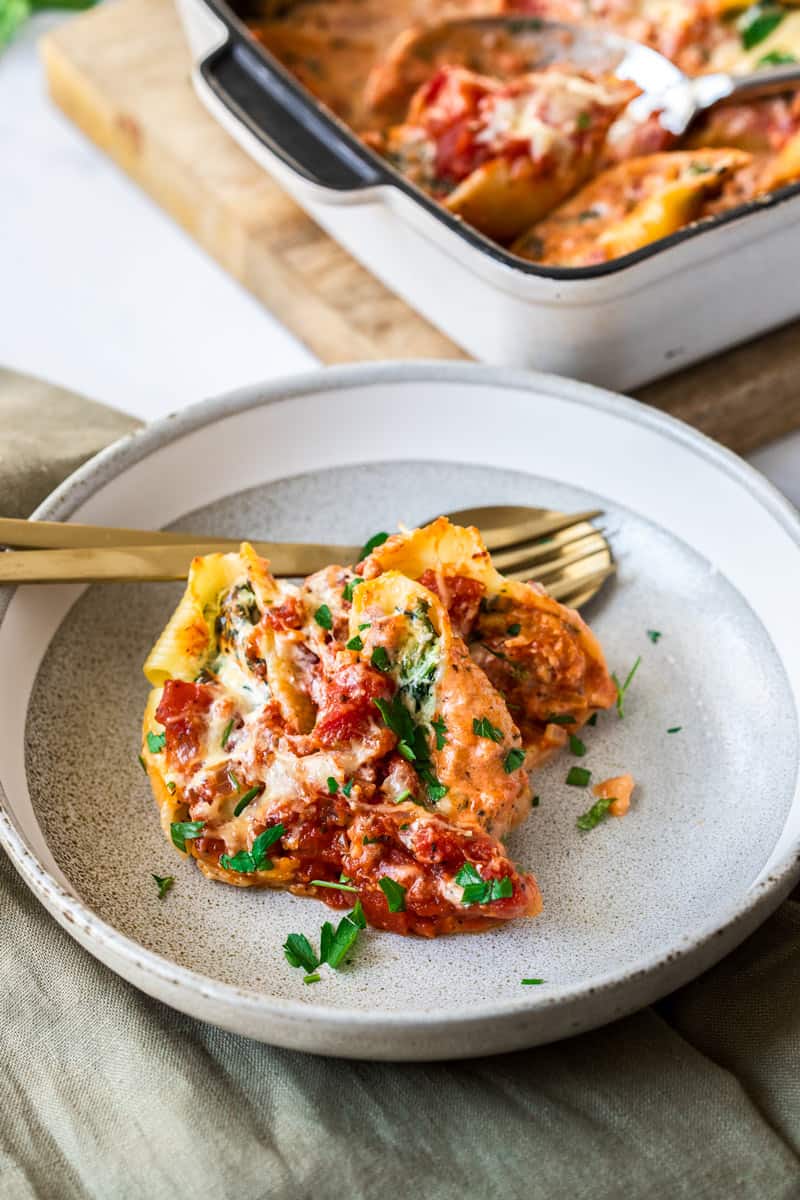 Time-Saving Tips:
This is a lovely recipe to make when you have a little bit of time. However, I certainly appreciate there are several steps involved.
Here are some tips that will save you time:
Buy a good quality jar of tomato passata; ensure it has some flavourings, such as garlic or herbs if you are really looking to save time!
Try putting your ricotta filling into a piping bag to fill the shells
If you are able, you can make the various elements of this dish in advance. That way, when it comes time to assemble, you're ready to go!
Prepare your sauce;
Cook your spinach;
Mix your spinach and ricotta mixture;
Par-boil your pasta shells and wrap in a tea towel so they don't dry out.
Truthfully, this is a very forgiving recipe. I have made it the day before, and the flavours develop beautifully. I have also still been making it as I have had friends arriving for dinner.
It is always delicious, and there are never leftovers. (Keep that in mind – you can always make a larger batch!)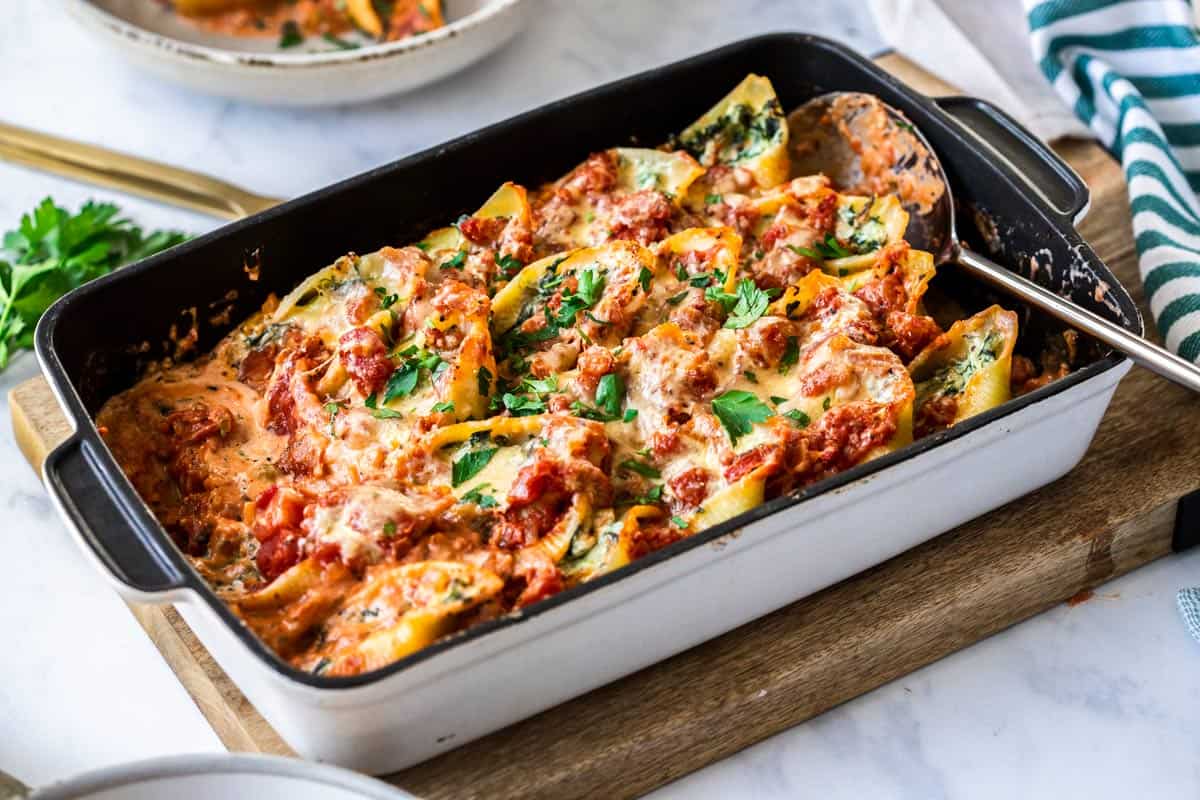 More delicious recipes using these ingredients:
Spinach:
I love both fresh and frozen spinach. I always have frozen spinach on hand; it is a delicious addition to pasta dishes, and great for a quick side dish, or even added to your morning green smoothie.
Fresh spinach is delicious as a salad green or when cooked. However, it cooks down a lot. Be prepared to cook much more than you think that you will need.
Cooked spinach is delicious with grilled meats or poultry. I like to add some garlic to cooked spinach and sometimes brighten the dish with a squeeze of lemon juice, added just prior to serving.
Spinach features in these recipes:
Ricotta:
I love ricotta cheese. I love an ingredient that can be used in both sweet and savoury dishes.
Ricotta cheese is used in these recipes:
Dinner inspiration that you can prepare in advance:
I love a good make-ahead meal. It takes the pressure off you at the end of the day, whether you're feeding a hungry family or entertaining friends. All you need to do is make a fresh green salad, heat up your main meal and serve!
Here are some more great ideas for dishes that can be made in advance:
I hope you will love these Spinach and Ricotta Pasta Shells as much as we do. This is a recipe which is close to our heart. I look forward to hearing in the comments below when you have tried the pasta shells.
Alex xx
This post was originally published in August 2018. It has been updated with new photos and more information. The recipe remains the same.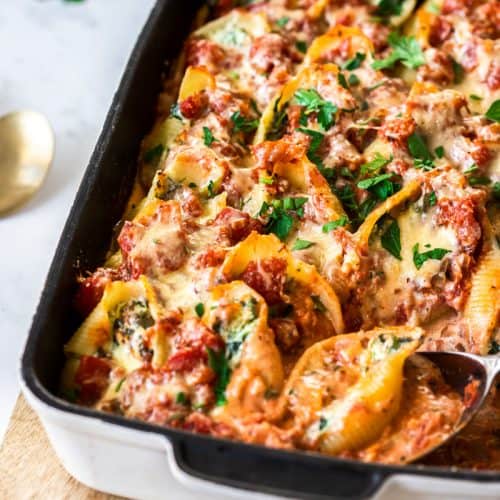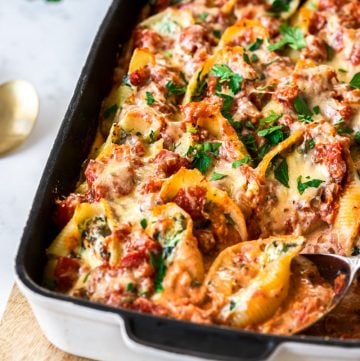 Spinach and Ricotta Pasta Shells
A dinner party staple, or delicious mid-week meal!
Print
Pin
Review
Recipe Measurements:
For accuracy, when weights are provided, we recommend weighing your ingredients. This will produce the best results.
Ingredients
26

large pasta shells

See Note 1
Tomato Sauce
3

tablespoon

extra virgin olive oil

See Note 2

1

medium

brown/yellow onion – finely chopped

2

cloves

garlic – finely chopped

800

gm

(28 ounces) diced tinned tomatoes

(2 x 400gm tins)

2

teaspoon

sugar

1

teaspoon

dried basil

1

teaspoon

dried oregano

salt and pepper to taste

chilli flakes (optional)
Filling
1

tablespoon

butter

See Note 2

250

gm

(9 ounces) frozen spinach – thawed

500

gm

(17 ½ ounces) ricotta – full fat

See Note 3

¾

cup

Parmesan cheese – freshly grated

See Note 4

½

teaspoon

ground nutmeg

salt and pepper to taste
To Assemble
¾

cup

pouring cream

½

cup

Parmesan cheese – freshly grated
Instructions
Tomato Sauce
In a medium sized frying pan heat oil over medium heat. Add the onion, lower the heat and cook gently, about 7 minutes. Stir the onion a few times, it should soften but not colour.

Add the garlic and cook, stirring occasionally, about 2 minutes.

Add the tomatoes – I always rinse the can out with a little water and add that also.

Add the sugar, dried herbs and some salt and freshly ground black pepper.

Bring to a simmer and cook gently, stirring occasionally for 20-30 minutes. Check the seasoning and set the sauce aside.
Pasta Shells
Bring a large pan of salted water to a boil.

Add the pasta shells and stir well. I cook them for about 8 minutes, stirring occasionally, but times differ between brands. When I use gluten free shells they take about 5 minutes. Don't be guided by the cooking time on the packet; the shells must be slightly under cooked as they will finish cooking when heated in the oven.


Drain the shells well and spread them out, concave side down, on a clean tea towel to prevent them cooking further and ensure all water drains off.
Filling
To defrost the spinach, I remove it from its packet and empty it into a bowl. When defrosted, the spinach will have released some water. Hold the spinach in place and tip off the excess liquid that has accumulated in the bowl. 

Melt the butter in a medium size frying pan and add the thawed spinach. Gently heat the spinach in the butter and stir occasionally to rid it of excess moisture. 

Allow the spinach to cool, then add it to a medium size bowl. Add the ricotta and ¾ cup grated parmesan cheese and mix the ingredients well to combine. Season with grated nutmeg, sea salt and freshly grated black pepper. Check that the seasoning is to your taste.
Assembling the Shells
Preheat oven to 180 Degrees C (350 F).

In a large ovenproof dish, I put a little of the tomato sauce and about two tablespoons of cream. Spread the mixture around the dish.

Generously fill the shells with the ricotta and spinach mixture, using either a spoon or a piping bag. Place the filled shells in the baking dish.

Dollop the sauce on and around the shells and smooth a little with the back of a spoon.


Drizzle the remaining cream on top and sprinkle with parmesan.

To prevent the shells from burning, cover with foil for the first 30 minutes that they're in the oven. Remove the foil and bake uncovered for the final 10 minutes. With the tip of a sharp knife, check that the pasta is completely cooked.
Notes
You will need to buy the appropriate pasta shells if you need this dish to be gluten-free.
In Australia the tablespoon is 20 ml or 4 teaspoons. In many other countries the tablespoon is 15 ml or 3 teaspoons. You may have to adjust your measurements accordingly.
I generally buy a tub of ricotta from the supermarket and gently turn it onto paper towel to absorb excess moisture. If you buy a wedge of ricotta from the deli section at the supermarket it has a drier consistency and you will not need to drain it.
For the best flavour, use good quality Parmesan, freshly grated. I use Grana Padano, it has excellent flavour but is less expensive than Parmigiana Reggiano. 
Please note, the nutritional information is an estimate only.
Nutrition Estimate:
Calories:
528
kcal
|
Carbohydrates:
40
g
|
Protein:
24
g
|
Fat:
30
g
|
Saturated Fat:
15
g
|
Cholesterol:
78
mg
|
Sodium:
473
mg
|
Potassium:
620
mg
|
Fiber:
4
g
|
Sugar:
7
g
|
Calcium:
543
mg
|
Iron:
3.3
mg
Tried this Recipe? Please rate and leave a comment!
Nutritional Disclaimer:
The nutritional information is an estimate only, and is derived from online calculators. For accurate results, we recommend calculating the nutritional information based on the ingredients and brands you use.