I am certain that you will love these gluten-free Jam Shortbread Cookies.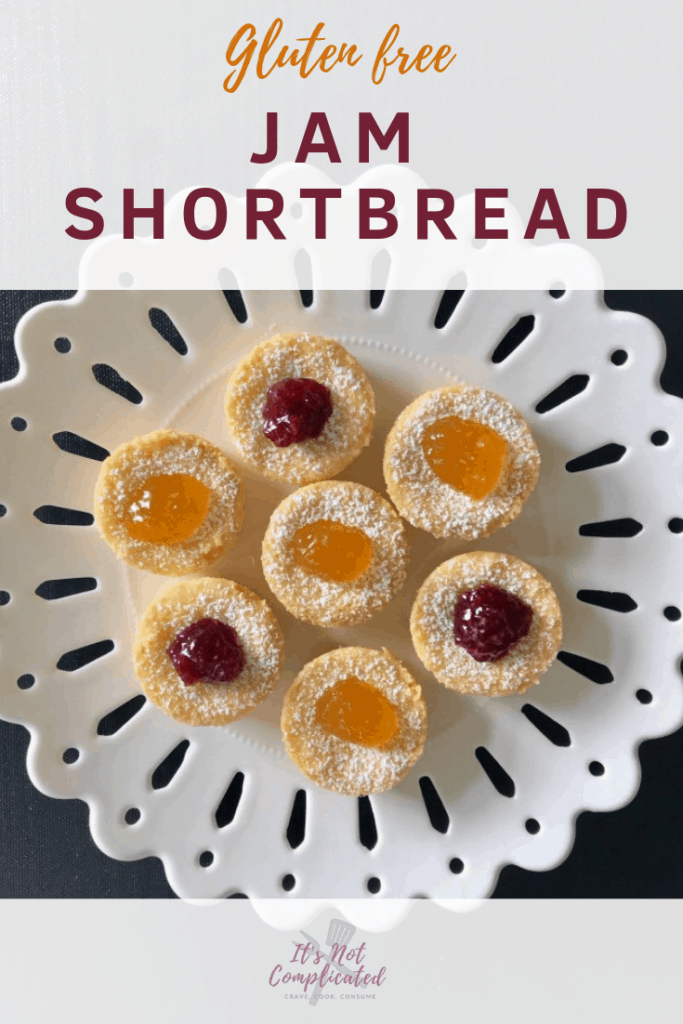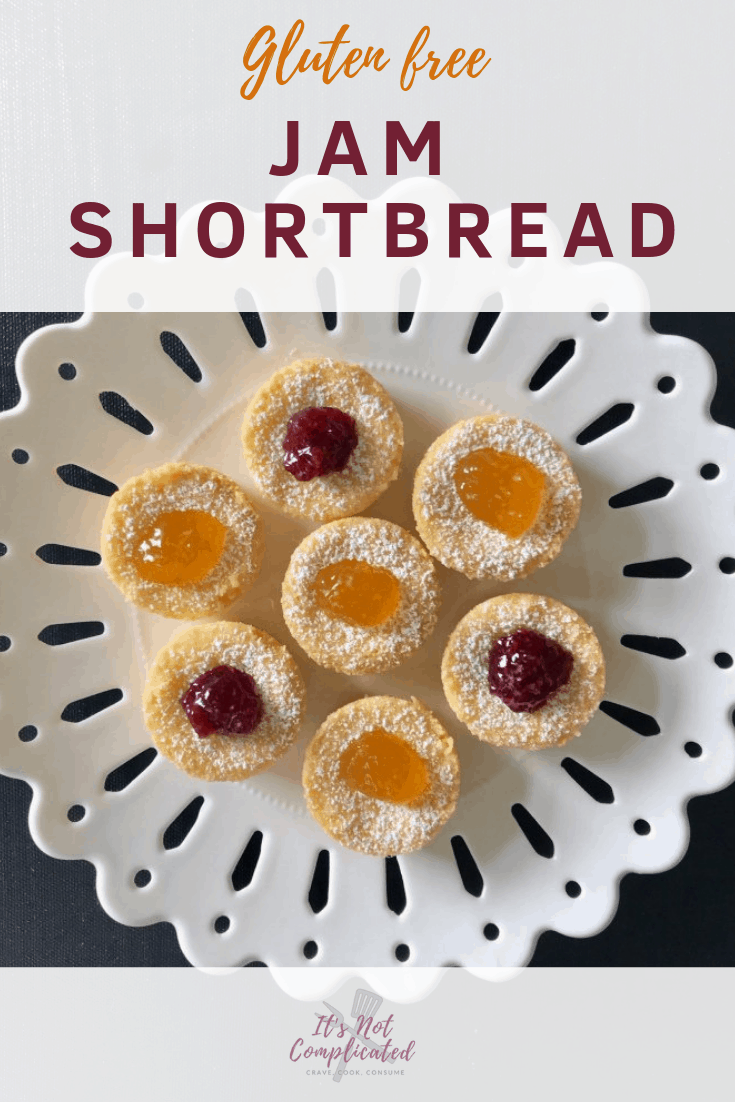 Their elegant appearance completely belies the ease with which they are made. The buttery shortbread is melt-in-the-mouth delicious and finished delightfully with a topping of jam. They are lovely served at any time but I find them an ideal addition to my Christmas baking.
I'm particularly fond of small bites of dessert; over time you will see a number of such recipes here.
Mini desserts may be small in size but they have enormous appeal. To me, they're an indulgent treat to enjoy without going overboard on calories. Besides, you can enjoy a greater variety if the foods are small.
If you've read the book "French Women Don't Get Fat" you will have learnt that French women eat bread and pastry and drink wine. They enjoy cream and butter. They enjoy it all; it's just that they have moderate amounts. It's all about portion control. So, using this strategy, it is possible to have your cake and eat it too!
Not only is this buttery shortbread irresistibly delicious, but it is also easily prepared. There's no blending of ingredients by hand; just put the icing/confectioners' sugar, flours, almond meal, butter and almond essence into a food processor. Whiz just until the mixture starts to come together. It's that simple.
The mixture is then rested in the refrigerator for a half hour before it's rolled into small balls and placed into a mini muffin tin. With the tips of your fingers, flatten the mixture a little before baking. After baking, whilst still warm, a small indent is made in the top of the shortbread. When cooled, they are carefully turned out. And I do stress carefully. This is the most difficult part of the recipe as the Jam Shortbread Cookies are very fragile. When turned out, fill the cookie indent with a jam of your choice. I feel that good raspberry or plum jam is a perfect choice, but today I have also used Apricot Jam to give a contrasting colour. A dusting of icing sugar is the final flourish.
These lovely gluten-free shortbread cookies are enjoyed equally by those who have a restricted diet and those who don't.
In fact, with some people, I frequently serve gluten-free food without declaring it. Do you notice that some people hear the words "gluten-free" and automatically reject the food? They've clearly had a bad experience. I assure you that any gluten-free recipes I share with you will be able to be enjoyed by all of your family and friends.
When ready to serve, place the shortbread cookies on a pretty serving platter. There won't be any judgement if they don't all make it. 🙂 After all, you need to practice quality control! Please let me know in the comment section below if you try them. Enjoy!
Xx Alex
P.S. For another delicious sweet treat, try out my Pecan Puffs or Decadent Chocolate Brownies!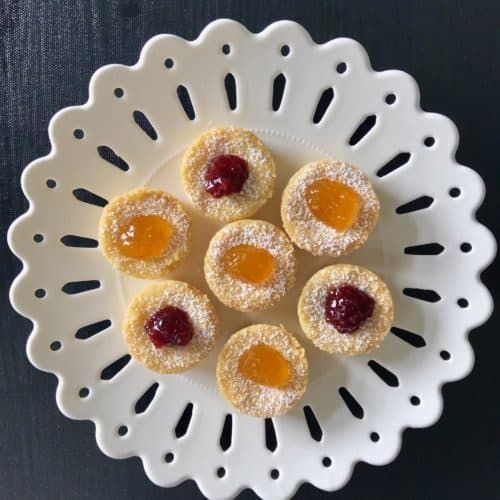 Jam Shortbreads
These Jam Shortbread Cookies are a must make. The base of tender, buttery, almond shortbread is made extra special by a touch of jam in the centre. They are easily made, gluten-free and melt in the mouth delicious.
Print
Pin
Review
Ingredients
70

g

pure icing sugar

confectioners' sugar

165

g

plain flour/all purpose flour

I used Orgran Gluten Free Plain Flour

65

g

corn flour

check it is made from corn and not wheat

30

g

almond meal

250

g

butter

cut into cubes

almond essence

a few drops

extra icing sugar for dusting

4

tablespoon

jam

I used raspberry and apricot
Recipe Measurements:
For accuracy, when weights are provided, we recommend weighing your ingredients. This will produce the best results.
Instructions
Preheat the oven to 180 Degrees C (350 F).


I used silicone mini muffin cases that do not require greasing*. If using metal tins you will need to grease each cup well with butter.

Sift together icing sugar and flours, add almond meal.

Put in a food processor.

Add cubed butter and a few drops of almond essence.

Process until the mixture just begins to come together.

Turn onto cling wrap, bring the dough together and form into a disc. Refrigerate for about a half hour so the mixture is easier to handle. If it is still too sticky, return to the refrigerator for a short time.

Roll the mixture into small balls, about the size of a rounded teaspoon.*

Place the small balls into the mini muffin cups, flattening the tops slightly with your fingers. If the dough is sticky, have a small bowl of flour nearby to lightly dip your finger-tips.

The dough should come about ⅓ of the way up the side of the tin.

Bake in the pre-heated oven until a light gold colour, about 12-15 minutes.

Remove from the oven and, using the handle of a wooden spoon, make a small indentation in the top of each biscuit.*

Cool in the tins. Place a clean tea towel on your bench, turn the silicone mould over and gently ease the shortbread cookies out. If using a metal mould, gently tap the mould on the bench so the shortbreads fall out. Be careful, the cookies are very fragile.*

Once cool, put some jam in the cavity and dust with icing sugar to serve.

Notes
*Pure icing sugar is, as the name implies, 100% natural and I prefer it for these shortbread cookies. I tried them once with a gluten-free icing sugar mixture but was not as happy with the result. Icing sugar mixtures have some additional cornflour, sometimes from wheat.
*Use the jam of your choice, or use two for contrasting colours.
*I mostly use silicone muffin cases for this recipe. The cookies are very fragile and the silicone cases make it very simple to remove them. The flexibility of the silicone means that the cookies are removed by holding the mould just above a tea towel and gently pressing the bottom of each cookie. I have also used metal tins. Just ensure they are well greased with butter. Hold the tin low over a tea towel and firmly tap one end on your bench or chopping board. They fall out very easily. Just ensure with either method you keep the mould low so the cookies do not fall from a height. They are extremely fragile.
*The amount of mixture you use will depend on the size of your mini muffin tin. I have three and they are all different sizes.
*The wooden spoon I use has a rounded end. If yours doesn't you may have another kitchen item which does. If the handle becomes sticky when making the indents, dip it into a small dish of icing/confectioners' sugar.
Nutrition Estimate:
Calories:
78
kcal
|
Carbohydrates:
7
g
|
Fat:
5
g
|
Saturated Fat:
3
g
|
Cholesterol:
12
mg
|
Sodium:
43
mg
|
Potassium:
7
mg
|
Sugar:
2
g
|
Calcium:
4
mg
|
Iron:
0.2
mg
Tried this Recipe? Please rate and leave a comment!
Nutritional Disclaimer:
The nutritional information is an estimate only, and is derived from online calculators. For accurate results, we recommend calculating the nutritional information based on the ingredients and brands you use.