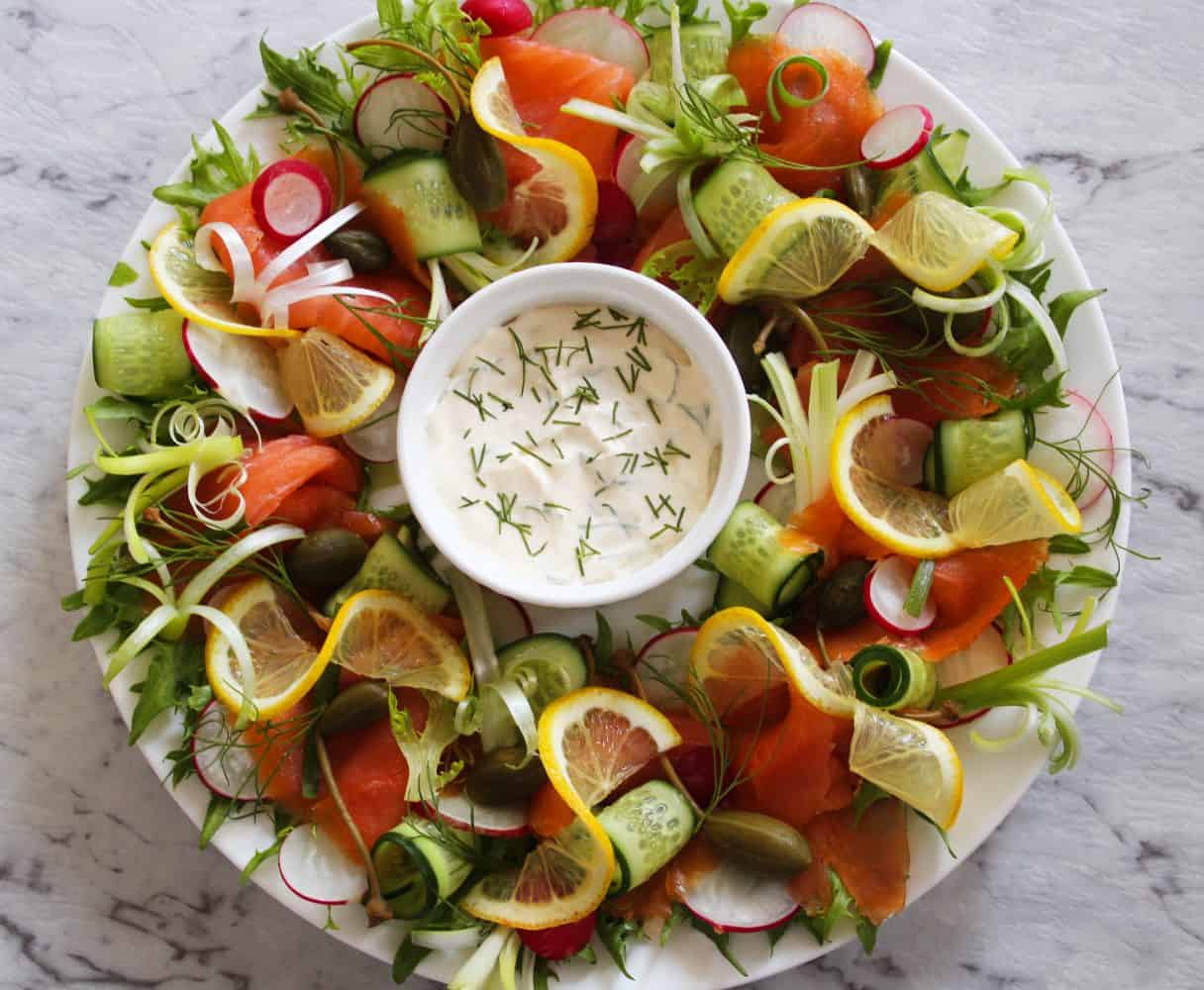 This Smoked Salmon Wreath is a quick, easy and elegant starter.
As a result, it will make a stunning centrepiece for your festive table. For this lovely appetiser, smoked salmon is truly the star of the show. It is accompanied by thin slices of peppery radish, in addition to curls of cooling cucumber, finely sliced lemon, tangy caper berries, spring onion curls and wisps of dill.
To begin, I arrange frisee lettuce on a large platter and then I add the remaining salad ingredients. In addition to these flavours and texture, the salad is complemented by the creamy horseradish and dill dressing.
I am a huge fan of edible wreaths for entertaining. They definitely make an impressive starter with minimal effort, due to being able to be quickly prepared. Certainly, you can present these ingredients, randomly arranged, on a large platter and they will taste the same. However, there is something alluring about artistically arranging simple ingredients in a wreath style. With some careful arrangement, your easy appetiser consequently becomes a show-stopping table centrepiece.
Last year, I shared my Caprese Christmas Wreath. At the present time, it is one of the most popular recipes on the blog. As such, I was inspired to share a new edible wreath with you.
Why you will love this Smoked Salmon Wreath:
This wreath is not a recipe as such. In fact, it is more an idea to show how to combine and arrange foods to make a beautiful, festive platter. This Smoked Salmon Wreath is ideal for you to customise. As such, regard it as a base from which to present foods that you like. For example, you could add egg, avocado, artichokes or tomatoes. Alternatively, if you don't like the texture of cold-smoked salmon you could use hot smoked salmon or meat such as rare roast beef or smoked chicken.
Give your smoked salmon platter the wow factor and present it wreath-style. Just don't tell your guests how easy it is to make.
A quick and easy way to make even simple dishes look special is to add some smoked salmon. It is such a versatile ingredient, suitable to serve in so many ways. In fact, there are several advantages to using this delicious protein. Firstly, there is no cooking required which is always an advantage when time is short. Further, no knife skills are necessary as it is already sliced. The most effort that you will need to make is to open the package and carefully arrange the salmon.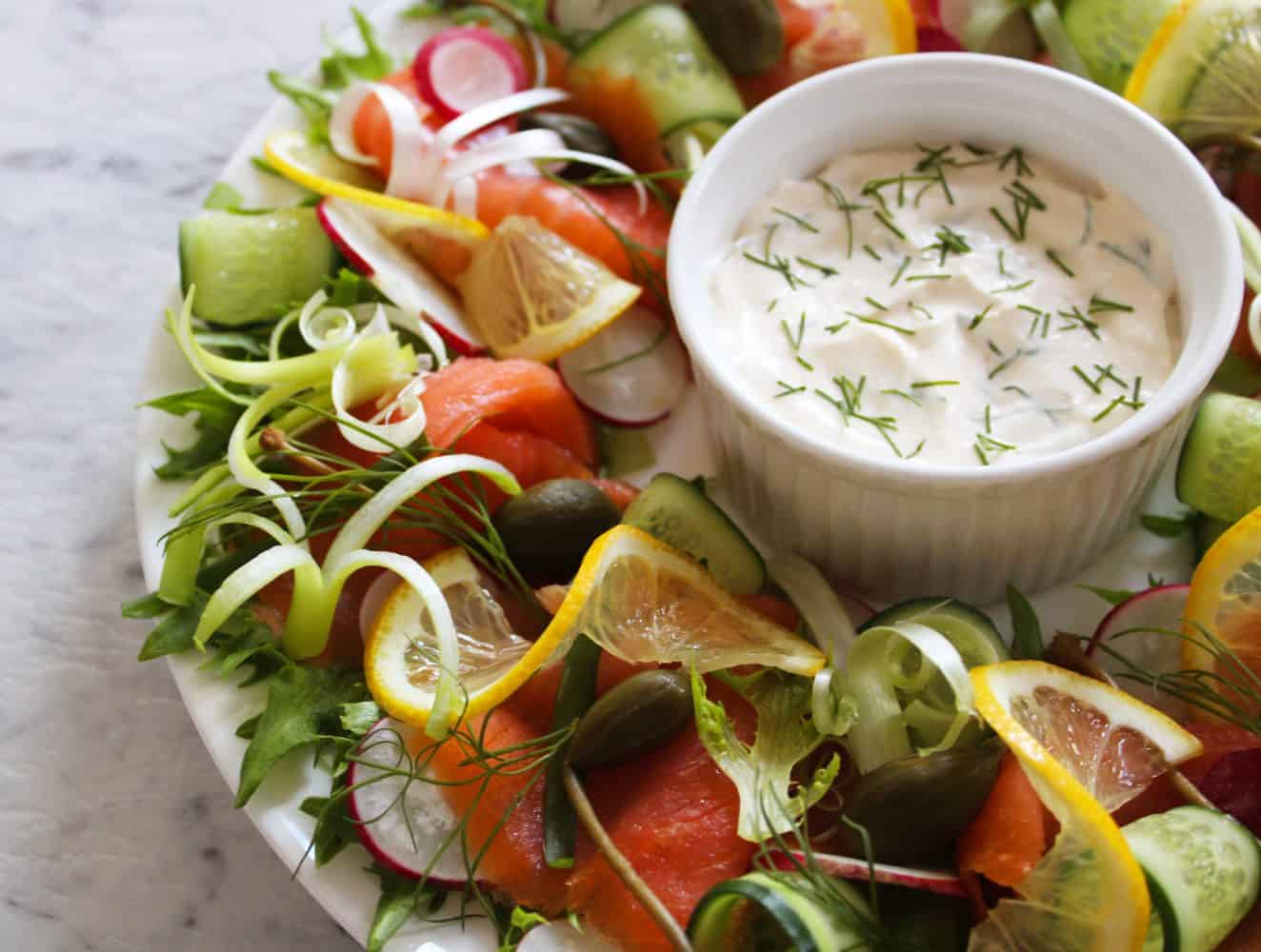 I use these ingredients in the Smoked Salmon Wreath:
Frisee Lettuce:
Frisee (pronounced free-zay) is also known as curly endive or sometimes as chicory. It has a slightly bitter flavour which complements the sweet smokiness of smoked salmon.
When buying frisee, look for one that has fresh looking leaves that pale from green to white. For the salad, I use the tender, inner leaves. I will use the outer leaves another time and cook them with olive oil and garlic.
While I like the flavour and frizzy appearance of frisee, you could use another green such as rocket/arugula or baby cos/romaine lettuce as the bed of the salad.
Smoked Salmon:
I have used cold-smoked salmon to make the Smoked Salmon Wreath. Smoked salmon is readily available in gourmet food stores or supermarkets. However, as the salmon is not cooked, some people do not like the texture. As an alternative, you could use hot smoked salmon which has been cooked and has firmer textured flesh.
Spring Onions/Scallions/Green Onions:
Although known by different names, these onions are the same. However, some may be picked when the onion bulb is more developed. Spring onions have a flavour which is milder than regular onions. I use the white of the onion and some of the green. Many cooks use just the white and discard the green part. However, it is all edible and the green leaves are delicious when sliced thinly and added to salads, top stir fries, a garnish for soups or stews or added to stocks.
Caper Berries:
Caper berries are the fruits of the caper bush whilst capers are the buds. If the caper buds are left unharvested they produce flowers followed by berries. They are about the size of an olive and are sold packed in salt or pickled in jars, with the stems attached.
Baby Lebanese Cucumbers:
Lebanese cucumbers are small and mild-flavoured with a very crunchy texture. As a bonus, they have very few seeds and a smooth skin that does not require peeling. They are ideal for salads or for pickling.
Lemon:
Lemon is an essential ingredient to pair with Smoked Salmon. It beautifully complements the delicate, smoky fish. Here, I finely slice the lemon, almost paper-thin. While offering a lovely bright colour to the dish, for those of us who enjoy the tang of lemon it can be eaten with the salmon.
Radish:
The finely sliced radishes add a lovely peppery note to the Smoked Salmon Wreath, contrasting well with the cool cucumber. They are a root vegetable from the Brassica family, along with cabbage, cauliflower, broccoli and Brussels sprouts. They come in different shapes and colours and not only do they provide glorious colour, they are also packed with nutrients.
Dill:
Dill, also known as dill weed, is from the same family as parsley and celery. It is such a pretty herb with feathery, wispy leaves which resemble the tops of fennel. The flavour is mildly anise. This herb pairs well with salmon and eggs and is ideal to use as a garnish on salad. Often, you will find dill in recipes for pickling.
Ingredients in the dressing:
Sour Cream:
Sour cream has many uses; we all know it with baked potatoes, it is a key ingredient with tacos and it is wonderful used in baking. In other words, you will find sour cream in many recipes and dishes, both savoury and sweet. Here, sour cream dressing is a traditional accompaniment to smoked salmon.
Greek Yoghurt:
Incorporating Greek yoghurt makes the dressing lower in fat, whilst still adding creaminess and a tangy flavour.
Lemon Juice:
Always use freshly squeezed lemon juice. You will find the flavour is fresher and brighter than the bottled variety.
Prepared Horseradish:
Prepared horseradish is a pungent condiment made from the root of the horseradish plant. It belongs to the same family as mustard and wasabi. Prepared horseradish is made with grated horseradish root, vinegar, salt and possibly some sugar. Prepared horseradish is not the same as horseradish sauce
Dill :
Dill leaves add their characteristic grassy, mildly anise flavour to the sauce. If you don't like dill you could use finely chopped chives, parsley or some lemon zest.
Black Pepper:
For the freshest flavour, always use freshly ground black pepper.
This is how I make the Smoked Salmon Wreath:
To begin, you will need a large, round platter or board. My platter had a diameter of 27 cm/10 ½". If you are making a wreath for a large number of people you may need a larger platter or board.
Assemble the salad leaves in the shape and size of the desired wreath.
Next, I prepare the remaining ingredients. Slice the cucumber, radish and lemon into thin slices. I use a mandoline to do this but you could also use a very sharp knife.
Then, I cut the spring onions/scallions into 4 cm/1 ½" length, thinly slice them lengthways and place into a bowl of iced water. After a few minutes, the onions will curl.
Finally, with ingredients prepared, I assemble the wreath. Casually arrange the ingredients on the lettuce leaves; don't lie the salmon flat, gently curl the salmon, roll the cucumber strips and aim to achieve a little height with your salad. Meanwhile, tuck in some caper berries and add some dill leaves.
For the dressing, simply mix all the ingredients together, put it into a small bowl and place in the centre of the wreath.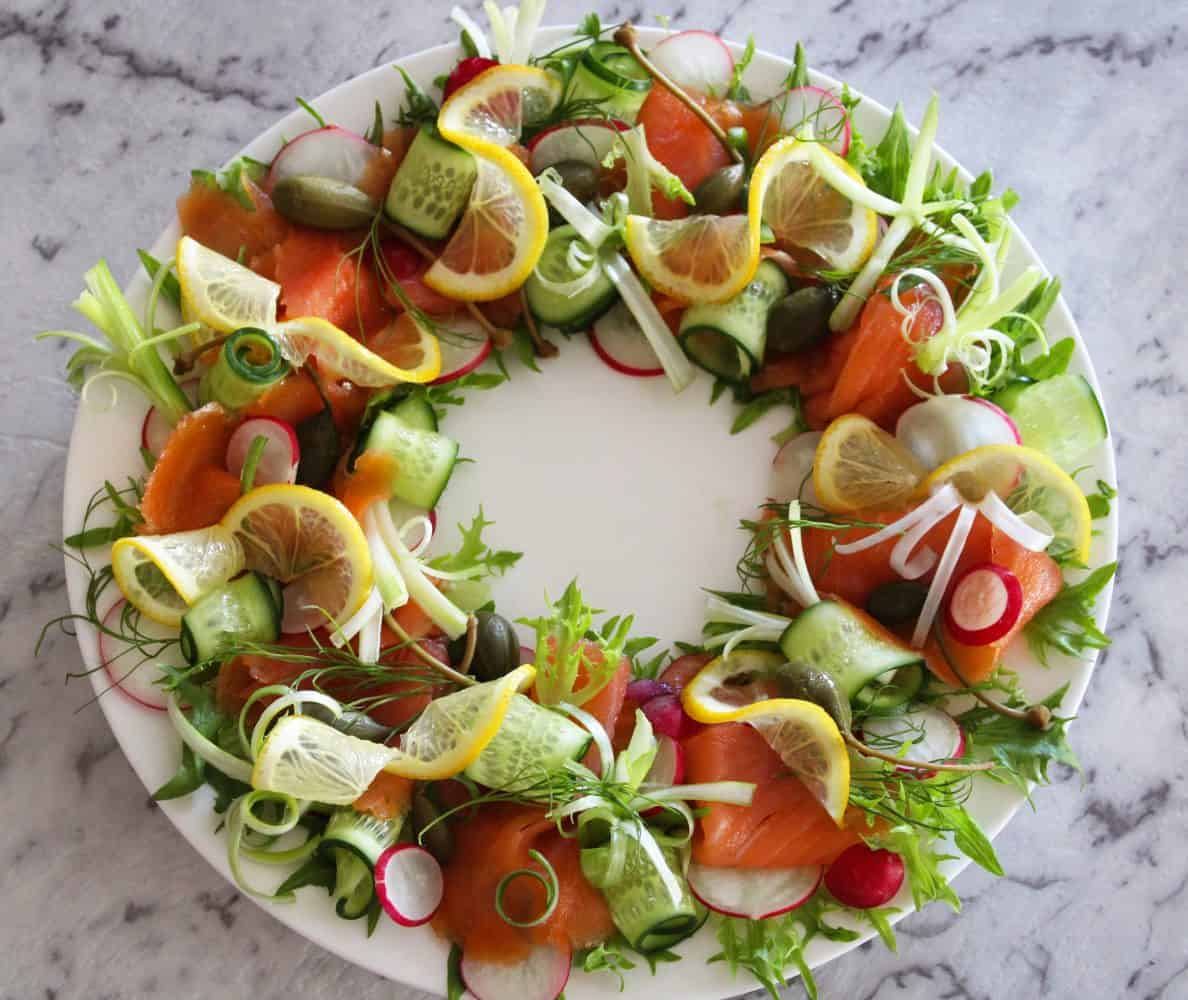 Tips for success:
When a salad is simple, success depends on the quality of the ingredients.
As such, the lettuce should be fresh, the leaves crisp and perky. The radishes should be heavy for their size, firm and crisp. Therefore, avoid any that are soft and spongey. The cucumber should be dark green, without blemishes, firm and crisp. When selecting dill, look for bunches that have bright green leaves and stems. Accordingly, the spring onions should be healthy-looking with bright green leaves.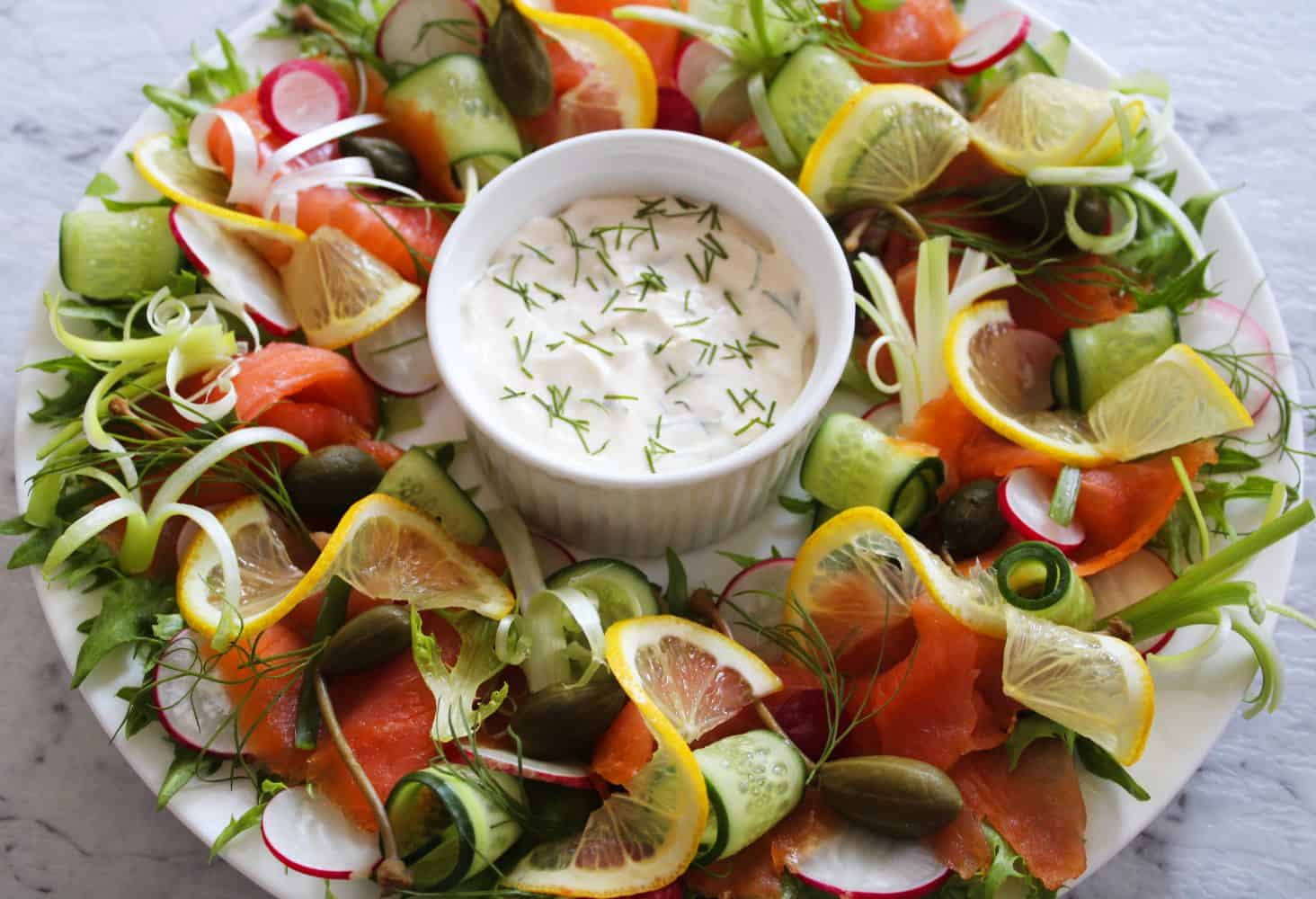 Other uses for these ingredients:
Smoked salmon truly is a versatile ingredient. Use it to make elegant canapes, add it to scrambled eggs, frittata or quiche. Whilst it is easily purchased in the supermarket, it remains an elegant addition to a meal.
Here are some recipes using Salmon:
Cucumber adds great texture to dishes, and can be found in these recipes: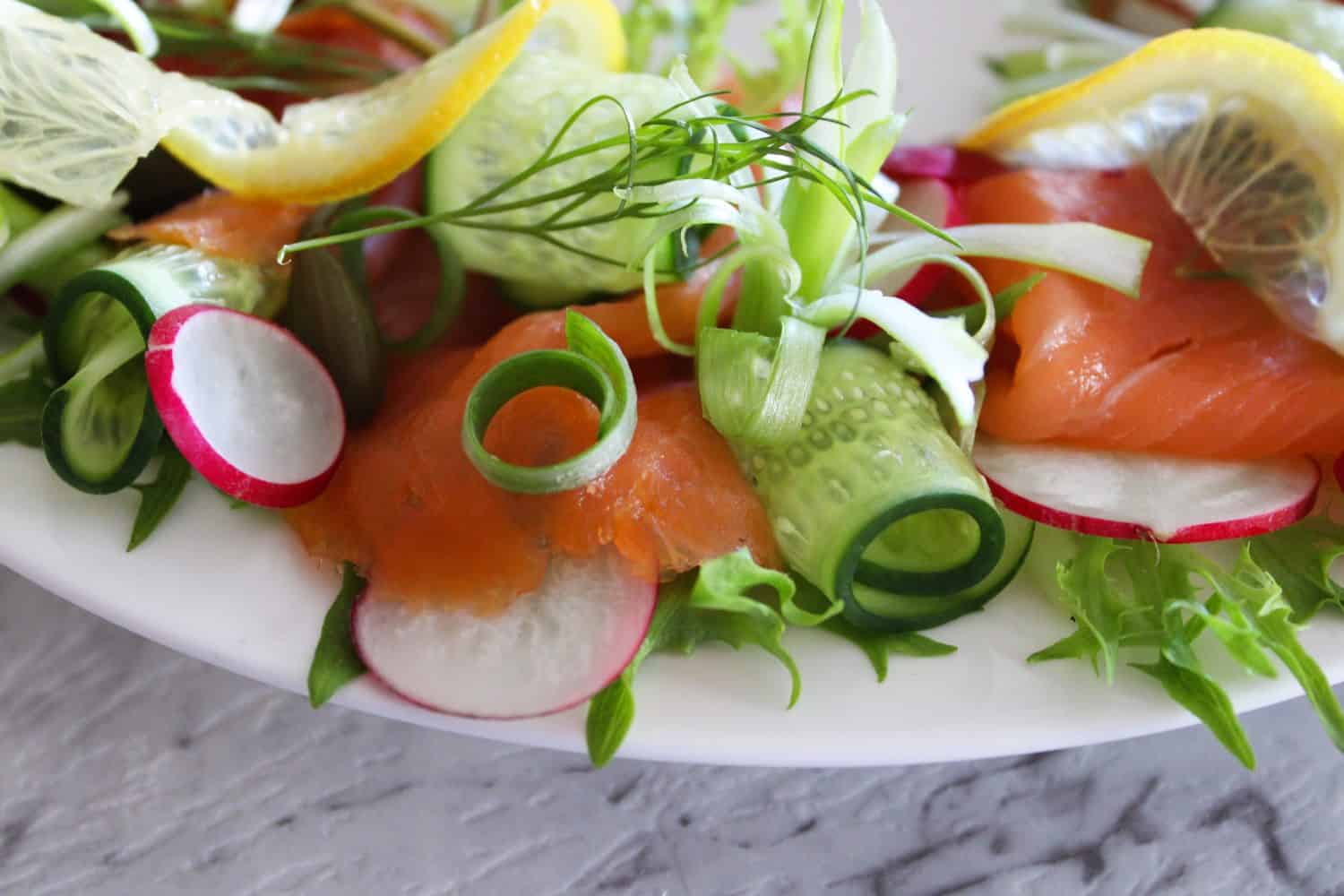 More delicious salad recipes for you to try:
When it comes to serving the Smoked Salmon Wreath:
You can prepare this refreshing salad and the dressing ahead of time. Cover them and refrigerate until ready to serve. Ideally, for freshest presentation, I suggest preparing the wreath the day that you are serving it. Meanwhile, the dressing can be prepared a day ahead.
Serve with some thinly sliced sourdough rye bread or crispbreads. Enjoy with a glass of Strawberry Prosecco or a Christmas Cosmopolitan!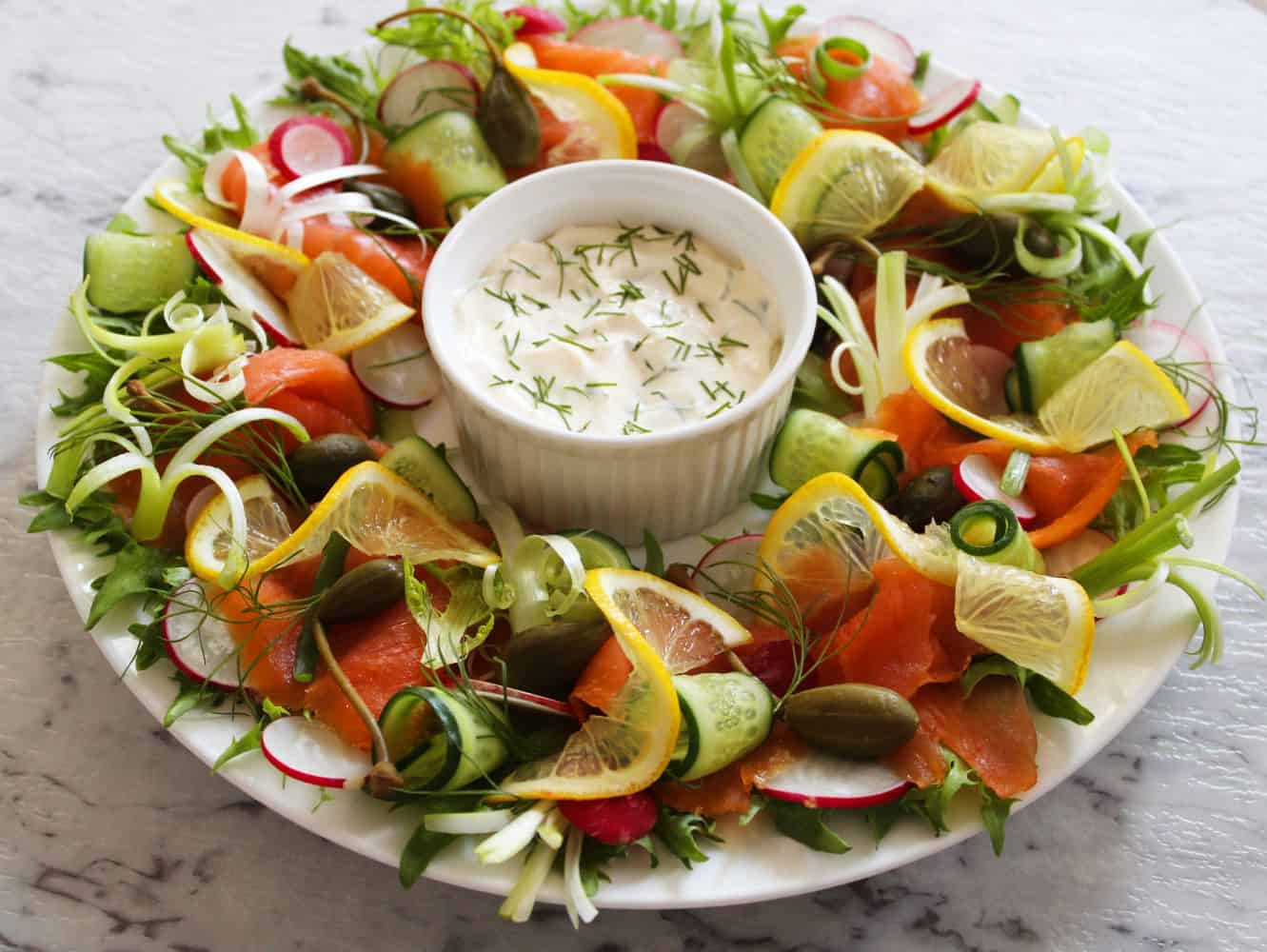 This beautiful, celebratory platter is the ultimate appetiser and will add flair to all your parties. It will make a fabulous brunch, lunch or table centrepiece for a special gathering. Further, it is perfect for Easter or Christmas celebrations. Arrange it in minutes.
This colourful platter has a delicious combination of savoury flavours and is a great starter which is light and won't weigh you down.

I certainly hope you enjoy!
By all means, please feel free to let me know your thoughts in the comments below.
Alex xx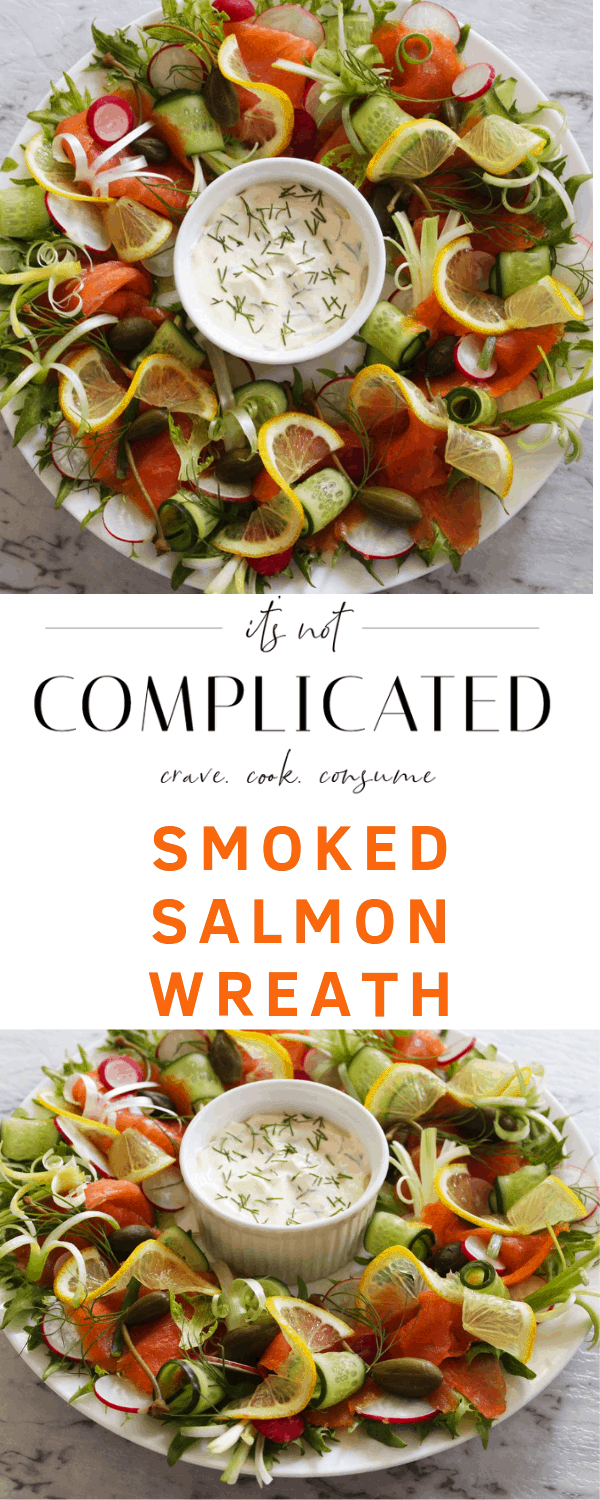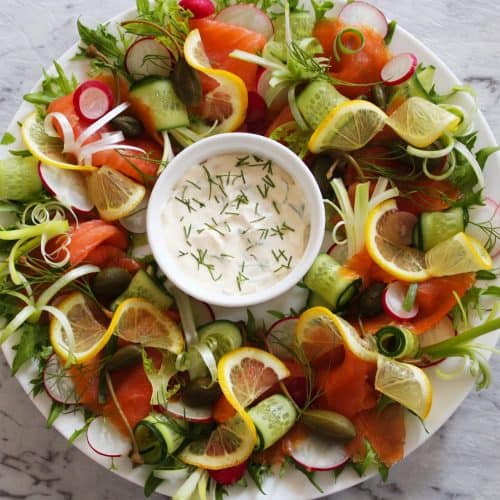 Smoked Salmon Wreath
This show-stopping platter will be a perfect centrepiece for your festive celebrations. It is simplicity-plus to make as no cooking is required. In addition, it has a variety of flavours and textures which are
perfectly balanced by the creamy, flavour-filled dressing. This no-fuss starter is so easy, so delicious
and as such, perfect for entertaining.
Print
Pin
Rate
Ingredients
Salad:
1

small head of frisee lettuce

See Note 1

200

g

smoked salmon

2

large

spring onions/scallions

4

red radishes, thinly sliced

See Note 2

1

lemon, thinly sliced

See Note 3

3

baby cucumbers, thinly sliced lengthways

See Note 4

12

caper berries

See Note 5

3

sprigs

dill leaves
Dressing:
2

tablespoon

Greek yoghurt

2

tablespoon

sour cream

1

teaspoon

freshly squeezed lemon juice

2

teaspoon

prepared horseradish

1

teaspoon

dill leaves

finely chopped

freshly ground black pepper

to taste
Recipe Measurements:
For accuracy, we recommend weighing your ingredients. This will produce the best results.
Instructions
Wash and dry the lettuce leaves and arrange in a wreath shape on a large white platter or board.

Lay pieces of smoked salmon, slightly folded, on the lettuce. For the best appearance, aim to give the platter a little height and not have the salmon lying flat.

Finely slice the radish and cucumber, using a mandolin or knife.

To make spring onion curls, cut them into 4cm lengths and thinly slice lengthways.

Place in a bowl of iced water for 3-4 minutes or until lightly curled. Drain well, and add to the platter.

Continue with the remaining ingredients, tucking them in and arranging them in a way which is balanced and pleasing to look at.

Make the dressing and put into a small bowl. Place in the centre of the wreath.

Serve alongside thinly sliced sourdough rye bread.
Notes
In this case, set aside the exterior, dark green leaves to use for another purpose. For the salad, the pale green leaves are tender with a milder flavour.
Before slicing, remove the top of the radish and the root end.
To make a lemon twist, cut a thin slice of lemon. Here, make a small cut from the rind to the centre of the lemon slice and twist the lemon
Roll the sliced cucumber into a circle and tuck it in around the other ingredients.
Leave the stem on the caper berries; in this case, they look better that way. 
Nutrition Estimate:
Calories:
124
kcal
|
Carbohydrates:
13
g
|
Protein:
12
g
|
Fat:
4
g
|
Saturated Fat:
1
g
|
Cholesterol:
15
mg
|
Sodium:
462
mg
|
Potassium:
499
mg
|
Fiber:
2
g
|
Sugar:
6
g
|
Calcium:
73
mg
|
Iron:
1
mg
Nutritional Disclaimer:
The nutritional information is an estimate only, and is derived from online calculators. For accurate results, we recommend calculating the nutritional information based on the ingredients and brands you use.